Travellers visit Uruguay to rough it with cowboys, explore culturally rich cities, and unwind on the continent's most exclusive beaches. They're rarely disappointed with the attractions on offer.
Visitors can sample the (cowboy) lifestyle at the country's (ranch-houses), and ride green plains in time-honoured fashion. On the cultural side, Montevideo's old town, Ciudad Vieja, offers a taste of Uruguay's historical architecture. Travellers who relish this sort of experience and want more should venture to Colonia del Sacramento, where they'll enjoy a generous helping of old-world charm. Located just outside Montevideo, the city is an excellent day-trip option.
Visitors should also try the country's beef, which is among the world's best. The coastal resort town of Punta del Este is a must for anyone seeking luxury, sun-filled action. By contrast, Punta del Diablo is home to Uruguay's backpacker beach scene.
Mercado del Puerto (Port Market)
Set under a vast, wrought-iron structure reminiscent of old European railway stations, Montevideo's port market is a lively affair. Historically, it has been a hive of trading activity since 1868. Today, it houses some of the city's finest steakhouses and seafood eateries.
It's a great place for people-watching, exploring the labyrinthine alleys crammed with stalls, watching buskers and entertainers, and generally taking in the city's atmosphere.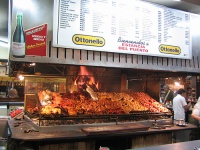 Mercado del Puerto Phil Whitehouse
National History Museum
For those interested in Montevideo's past, the Museo Historico Nacional is a good place to begin. Located in the Old City, it's made up of old houses where national heroes once dwelt.
The museum's collection traces the history of Uruguay from before its colonisation by Europeans up to the mid-20th century. History buffs will find it interesting.
Address:
Rincon (corner) 437, Montevideo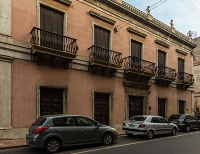 Casa de Antonio Montero, Museo Historico Nacional Nicolas Barriola
Plaza Independencia
Montevideo's showpiece plaza contains some of the city's most impressive architecture, including its best-known landmark, the Palacio Salvo. Designed by Italian architect, Mario Palanti, and completed in 1927 or 1928, it was originally intended as a hotel. It has never fulfilled that purpose. Instead, it is home to an elaborate collection of offices and residential apartments.
Once the tallest building in South America, it was built on the site where Gerardo Matos Rodriguez wrote La Cumparsita: one of the most famous and recognisable tangos of all time. The Plaza also contains a statue of Uruguay's national hero, General Artigas.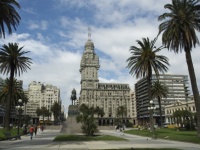 Plaza Independencia nouknouk
Montevideo
Uruguay's vibrant waterfront capital is a collage of modern skyscrapers, art deco and colonial buildings. Visitors can expect a rich cultural experience in one of Latin America's safest, most laidback cities.
The Old Town is a useful starting point for tourists. Important historical attractions include Plaza Independencia (Independence Square), Teatro Solis (Solis Theatre) and Palacio Salvo (Salvo Palace). Visitors could also walk along La Rambla. It stretches 10 miles (16km) and separates the city from the sea. Along with being a wonderful way to enjoy sunrise or sunset, it's a great place to spark up conversations with locals. Montevideo's many beaches are a must for hot days.
On the entertainment side, Montevideo can accommodate a variety of tastes. Indeed, beachfront clubbers will receive the same loving reception as dancers who fancy warm nights in cosy tango bars. Theatre lovers should visit the city's elegant older establishments.
From a culinary perspective, Montevideo has been described as slow-paced and old-fashioned. Its food scene is developing, though, thanks to a wave of trend-savvy millennials who are opening up restaurants. That said, the city's beef is timeless, given its quality. Travellers should visit the Mercado del Puerto (Port Market) for restaurants that specialise in grilled meat, sausage and seafood.
Ciudad Vieja
Montevideo's ancient city is a vibrant, fascinating district of old buildings and cobbled streets. Weekends see dancers and musicians gather for impromptu performances, while artists have turned many of the decaying, ground-floor apartments into studios and galleries. The old iron gates and street lamps are very photogenic.
All told, visitors will find a wonderful juxtaposition of old and new, making Ciudad Vieja the purest embodiment of Montevideo's evolution.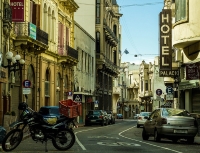 Ciudad Vieja Rubén Rojas Gratz
Estadio Centenario
Built between 1929 and 1930, the Estadio Centenario commemorates the centenary of Uruguay's first constitution. It also hosted the first-ever FIFA World Cup final, in which Uruguay beat Argentina by four goals to two.
Listed by FIFA as one of the world's Classic Stadiums, the Estadio Centenario has become a bucket-list item for many football fans. Indeed, thousands of tourists visit every year, either to attend a match, or to enjoy the fascinating Museo del Fútbol (Football Museum) housed within the stadium itself.
Visitors should do everything they can to attend an Atlético Peñarol home fixture. Football, as the saying goes, is a way of life in Uruguay, and watching a game with 90,000 passionate locals is an amazing cultural experience.
Address:
11400 Montevideo, Montevideo Department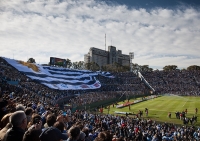 Estadio Centenario Jimmy Baikovicius
Montevideo's climate is mild, with an average annual temperature of around 55°F (13°C). During the height of summer (January), Montevideo's average temperatures range from 64°F (18°C) to 82°F (28°C), while winters (June to August) are much cooler and tend to be wet. Average temperatures range between 45°F (7°C) and 53°F (12°C). Autumn is the wettest season.
Given its temperate climate, Montevideo is a pleasant destination at any time of year, though summer and early spring are probably the best times to go.
Uruguay enjoys a subtropical climate. Temperatures can soar during the summer months (December to February), particularly along the Rio de la Plata, which separates the country from Argentina. The interior and Atlantic coast are slightly cooler. Strong winds and rainstorms can occur between late April and November.
Carrasco International Airport
Location:
The airport is situated 11 miles (18km) to the east of central Montevideo, in the suburb of Carrasco.
Time:
Local time is GMT -3.
Getting to the city:
Buses and taxis are available from the airport to the city centre.
Car Rental:
Car rental companies represented at the airport include Avis, Budget, Hertz and Europcar.
Airport Taxis:
Airport Taxi runs a metered service into Montevideo from the airport.
Fascilities:
Airport facilities include VIP lounges, a conference room, shopping (including duty-free shops), a bank, fast food outlets, car rental companies, a hairdresser, a travel agency and currency exchange facilities.
Parking
Parking is available at the airport. There are short-term and long-term parking lots.
Money:
The official currency of Uruguay is the Uruguayan Peso (UYU), but some tourist businesses, retailers and taxi drivers also accept US Dollars. The peso is divided into 100 centésimos. Currency can be exchanged at banks and Money Exchange Shops, which offer similar exchange rates. It is important to always keep some change. Exchange rates tend to fluctuate frequently. There are plenty of ATMs available in shopping centres and attached to banks in commercial areas, but not all cards are accepted. Credit cards, including Visa and MasterCard, are widely accepted by shops and restaurants.
Language:
The official language is Spanish.
Electricity:
Electrical current is 230 volts, 50Hz. There are various types of plugs in use, including 'Schuko' plugs and receptacles with side grounding contacts, and the plugs commonly used in Australia.
Entry Requirements:
US citizens require a valid passport, but a visa is not required for a stay of up to three months.
All British nationals require a valid passport for travel to Uruguay. A visa is not required for a stay of up to three months for all British passport holders.
Canadians require a valid passport, but no visa is required for a stay of up to three months.
Australians require a valid passport, but a visa is not required for a stay of up to three months.
South Africans require a valid passport, but a visa is not required for a stay of up to three months.
Irish nationals require a valid passport, but a visa is not required for a stay of up to three months.
US citizens require a valid passport, but a visa is not required for a stay of up to three months.
New Zealand nationals require a valid passport, but no visa is required for a stay of up to three months.
Passport/Visa Note:Visa:
All visitors to Uruguay must hold an onward or return ticket and documents for their next destination. It is highly recommended that passports have at least six months' validity remaining after the intended date of departure. Immigration officials often apply different rules to those stated by travel agents and official sources.
Travel Health:
A hepatitis A vaccination is recommended for visitors to Uruguay, and a yellow fever vaccination is required for those arriving from infected areas. Travellers are advised to take precautions against mosquito bites due to a high risk of dengue fever.
Medical facilities in Uruguay are adequate for general problems, with 24-hour emergency care available at the British Hospital in Montevideo. Most doctors and hospitals expect payment in cash. Serious medical problems require air evacuation to a country with better medical facilities, therefore comprehensive travel health insurance is strongly recommended. Pharmacies supply most drugs and medications imported from the USA or Europe, many of which are available without a prescription. Visitors are advised to take sensible precautions regarding the consumption of food and water; bottled or purified water should be used, and food should be eaten washed, peeled and well cooked.
Tipping:
Tipping is discretionary in Uruguay, but a gratuity of between five percent and 10 percent of the bill is usually offered in restaurants. Rounding up the bill is sufficient for taxi drivers, and hotel porters receive about US$1 per bag.
Safety Information:
Visits to Uruguay are generally trouble free, with a low risk of terrorism and no political instability to speak of. There are occurrences of street crime in Montevideo, but police patrols are active and act as a good deterrent. Uruguay, in fact, is renowned for having very little crime by South American standards. Visitors should, however, take sensible precautions with their valuables and when using ATMs, and be attentive particularly while driving at night.
Local Customs:
Uruguay is a secular and progressive state, and is welcoming to gay and lesbian visitors. In conversation, Uruguayans are direct and stand close together, and it is considered rude to back away. Close acquaintances may greet with a kiss on the cheek, but a handshake will suffice for introductions.
While gender equality is progressive in Uruguay, women may experience a fair amount of attention. Though largely ignored, the staring and comments can, at times, border on harassment. Visitors should avoid making critical comments about the country, or comparing it to Chile, Argentina, and Paraguay.
Business:
Uruguayans enjoy discussing politics and answering questions about their country. Meetings tend to be highly formal but seldom start on time. Most businessmen speak English, but it is good to suggest the hiring of an interpreter as a sign of consideration.
Communications:
The international direct dialling code for Uruguay is +598. The government-operated telephone service is efficient. Area codes are in use for cities, e.g. (0)2 for Montevideo. ANTEL is the major mobile phone operator and free wifi is widespread.
Duty Free:
Visitors to Uruguay do not need to pay customs duty on four cartons of cigarettes, six litres of distilled alcoholic beverages, 5kg of foodstuffs and goods up to US$500 if bought at the entry duty free shops. Certain foodstuffs, plants, narcotics, pornographic material and explosives are strictly prohibited. Live animals, endangered species, medication and large sums of money are restricted. Visitors should check with official government sources before bringing such items in to the country.
Buses run all over the city until around 11pm daily, and are cheap and easy to use. Visitors can buy tickets directly from the driver or conductor, who can also offer advice on routes and destinations. Taxis are metered and plentiful.
Otherwise, locals are generally friendly and willing to point travellers to various sights and attractions. A Spanish phrase book is useful for this reason.
Given its bargain shopping, beautiful beaches, atmospheric old town and excellent restaurants, Montevideo is well worth adding to the bucket list. All things considered, it's every bit as captivating as Latin America's more famous capitals.
Its gorgeous beach front will draw sun chasers, while the National History Museum will offer insight into Uruguay's links with Spain and Portugal. Visitors must also venture to Ciudad Vieja: the city's oldest area. More specifically, they'll find many of Montevideo's most striking landmarks in Plaza Independencia.
Football fans should take in a match at the frenetic Estadio Centenario. Foodies must enjoy Uruguay's world-class beef at one of the capital's restaurants. Otherwise, the charming old city of Colonia del Sacramento is only two hours' drive away, making it a perfect day trip.
Punta del Este
Punta del Este holiday resort is a favourite destination among upper-class South Americans. Located on Uruguay's southern tip, its pristine, sandy beaches, yacht marinas, luxury hotels and holiday condominiums scream money.
Thousands of wealthy visitors arrive during the summer holiday season, when sophisticated shops, clubs and restaurants do most of their business. The off-season sees many of Punta del Este's establishments close, transforming the area into something like a sleepy coastal town.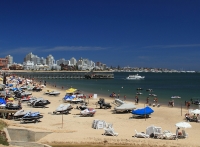 Punta del Este Gabriel Millos
Colonia del Sacramento
The historic town of Colonia del Sacramento is a must-see. Situated on the River Plate, it is the country's oldest settlement and a celebrated UNESCO World Heritage Site. Many visitors ferry across from Buenos Aires, which sits almost opposite the city.
Founded in 1680, the quaint town is home to cobbled streets, brightly coloured houses, vibrant bars and excellent restaurants. Gift shoppers will enjoy its art and craft shops.
Regarding access, Colonia is about two hours from Montevideo by road. Local operators offer day trips.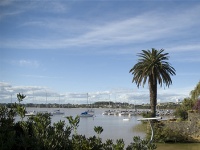 Colonia del Sacramento You Need Style
Estancias
Visitors can sample the gaucho (cowboy) lifestyle at Uruguay's estancias (ranch-houses). Fishing, star-gazing, occasional bonfires, horse-riding excursions across the country's pampas (grasslands), and visits to tanneries are all part of the experience. Options range from basic ranch-houses, where visitors breakfast on galleta de campana (a type of biscuit that lasts for a week), to establishments with pools, saunas and libraries.
All in all, Estancias are an integral aspect of the country's identity. Along with a taste for Asado (barbeque) and life in the saddle, visitors will come away with an intimate connection to Uruguay's culture.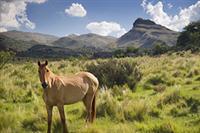 Dos Lunas Estancia David