Dallas Heritage Village
The city of Dallas' history is preserved in a living museum nestled in 13 wooded acres just south of downtown, known as Old City Park.
This historical village consists of 38 buildings and houses, including a working farm, elegant Victorian homes, a school, church, general store, saloon, and a bank that is alleged to have been robbed by Bonnie and Clyde, all dating from between 1840 and 1910. All the structures in this recreated turn-of-the-century village have been collected from various locations in and around Dallas, and restored and re-assembled here.
Visitors are encouraged to make themselves at home in the village and interact with the houses, shops and other buildings. Visitors are also welcome to bring picnic lunches along and enjoy them on the park's lawns. The museum hosts several seasonal and year-round programs, such as the Plow, Plant and Shear program that takes visitors through the farming process.
Address:
1515 South Harwood Street, Dallas
Opening time:
Tuesday - Saturday 10am-4pm, Sunday 12pm-4pm, closed Monday.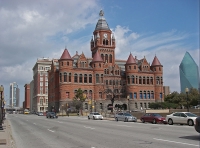 Tours of buildings in Dallas Leaflet
Sixth Floor Museum
The assassination of President John F. Kennedy is commemorated in the Sixth Floor Museum at Dealey Plaza where the 1963 shooting took place. Most chilling of the exhibits is the window area in the former Texas School Book Depository building from where sniper Lee Harvey Oswald allegedly fired the fatal shots at the 35th President's motorcade.
The sixth floor of the museum also documents Kennedy's life and legacy, featuring more than 20,000 artefacts and a large amount of archival material, recreating the socila and political climate of 1963 and making the assasination a reality to those who didn't live through it. The seventh floor hosts temporary exhibits related to the shooting in some way, such as A Photographer's Story: Bob Jackson and the Kennedy Assasination, and Dallas Law Enforcement: Voices from History.
A granite marker at the corner of Houston and Main Streets outside shows where Kennedy was assassinated and a memorial stands in nearby John F. Kennedy Plaza. Visitors to the museum can also view the Zapruder film of the assassination.
Address:
411 Elm Street, Dealey Plaza, Dallas
Opening time:
Monday 12am-6pm, Tuesday to Sunday 10am-6pm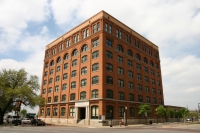 Sixth Floor Museum located at the former Texas School Book Depository Weatherdrew
Fort Worth Stockyards
Fort Worth is the place to experience the romance of the American Wild West, and the Stockyards National Historic District is the ideal starting point. The district encompasses 15 blocks packed full of exciting 'cowtown' attractions, from rodeos to cattle drives, country music shows, shops selling genuine cowboy gear, saloons, and Texan diners.
The Stockyard District is also the venue for several annual festivals and western events and home to the world-famous Billy Bob's Honky Tonk, a giant (three acre) country music club comprising an indoor rodeo, a massive dance floor, many bar counters, cafes and restaurants, and a general store. Further attractions in the district include the Texas Cowboy Hall of Fame, the Jersey Lilly Old-time Photo Parlour, the Fort Worth Stockyards Stables, and the Stockyards Museum. The area also offers plenty of barbecue restaurants and steakhouses.
Address:
Intersection of Main Street and East Exchange Avenue, Fort Worth
Opening time:
Monday - Saturday 9am-5pm, Sunday 11am-5pm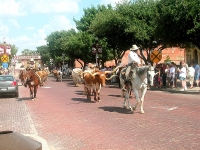 Fort Worth Stockyards Lyndi & Jason
Modern Art Museum of Fort Worth
Fort Worth's Modern Art Museum is second only in size to its counterpart in New York, and is the oldest art museum in Texas, having been chartered in 1892. It was initially conceptualised by a group of 25 women keen to make the town more than just a centre for cows and horses. The collection officially began in 1904 with the group's acquisition of George Innes' Approaching Storm. Five years later the museum had grown enough to host its first exhibition of 45 paintings. From there the museum continued to grow by leaps and bounds and became the impressive collection that it is today.
The museum's permanent collection of modern and contemporary paintings includes works by Picasso, Andy Warhol, Rauschenberg and Pollock, and is particularly strong on works in the Pop and Minimalist genres, as well as German art from the 1970's and 1980's. The museum also hosts visiting exhibitions and features a large sculpture collection. Altogether, the permanent collections on display amount to 3,000 works.
The museum is housed in an elegant building, consisting of five long flat-roofed pavilions atop a 1.5-acre pond, designed by Japanese architect Tadao Ando and opened to the public in 2002. The new space boast 53,000 square feet of gallery space and has a state-of-the-art auditorium attached to it. Performances and shows are regularly hosted in the auditorium.
Address:
3200 Darnell Street
Opening time:
Tuesday to Thursday and Saturday to Sunday 10am-5pm, Friday 10am-8pm, closed Monday.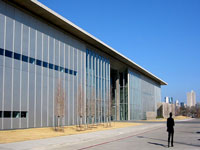 Modern Art Museum of Fort Worth Andreas Praefcke
Cattle Raisers Museum
Established in 1979, the Cattle Raisers Museum is dedicated to telling the story of the cowboy and cattle ranching industry of the southwest. Talking mannequins, interactive exhibits, authentic artefacts, and theatre presentations are used to bring alive the legends and lore of the Wild West, from Texas Rangers to rustlers.
The exhibitions cover four broad eras of cattle herding: the Open Range trail from 1850 to 1890, the New Horizons trail from 1890 to 1940, the Vision trail from 1940 to 2000, and the Digital trail, from 2000 to the present day. Several exhibits are named after those who donated to them or played an important role in cattle herding, such as the Ken Spain Saddle Collection, the Joe Russel Spur Collection and the Leonard Stiles Branding Iron Collection, the largest collection of branding irons in the world.
Address:
Located within the Fort Worth Museum of Science and History, 1600 Gendy Street, Fort Worth
Opening time:
Daily 10am-5pm.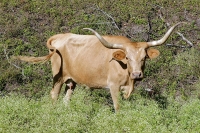 A Texas Longhorn cow. Ed Schipul
Fort Worth Zoo
Fort Worth's Zoo started off quite humbly in 1909 with one lion, two bear cubs, an alligator, a coyote, a peacock, and a few rabbits. Since then the zoo has grown and is now ranked as one of the top five in the United States, home to more than 5,000 animals living in natural habitat settings like Raptor Canyon, the Koala Outback, and Asian Falls.
A recently opened new eight-acre section called Texas Wild takes visitors on a journey through the state to see indigenous animals like swift foxes, ocelots and white-tailed deer. This section includes a mock-up of a Texas town with a restaurant, store, saloon, and jailhouse. Another popular diversion here is the chance to try managing a computer-simulated ranch.
Even more recently, a Parrot Paradise, Great Barrier Reef display, Penguins exhibition and a Museum of Living Art (MOLA) have been opened. In addition to wildlife focused attractions, there are further entertainments available, such as a rock-climbing tower, a movie theatre, a carousel, a small express train, a weather theatre, and a shooting gallery.
Address:
1989 Colonial Parkway, Fort Worth
Opening time:
Daily 10am-5pm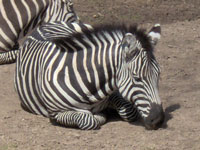 Zebra at Fort Worth Zoo Awesomenessiscool
Dallas Holocaust Museum
The Dallas Holocaust Museum, Centre for Education and Tolerance, is a non-profit organisation dedicated to memorialising the Holocaust and its victims. It provides guided tours for groups, audio tours for individuals, public lectures, and exhibits.
The current exhibitions at the museum's temporary location focus on the role of the bystander in the Holocaust. It portrays in detail three different bystander's behaviour, all on the same day during World War II. In this way, the exhibition brings to light both the courage and the indifference displayed in response to the Holocaust. The museum also contains archives and a library, and a Garden of Remembrance and Tolerance designed by a local boy scout.
Originally situated in the Jewish Community Center, the museum has relocated to a larger premises in the centre of Dallas' historical district, adjacent to the Sixth Floor Museum, due to lack of space and having to turn away thousands of visitors each year. But even this is a temporary measure as an even larger museum is planned, which will be a powerfully symbolic structure to support its profound educational message.
Address:
211 N. Record Street, Suite 100
Opening time:
Monday - Friday 9.30am-5pm, Saturday - Sunday 11am-5pm.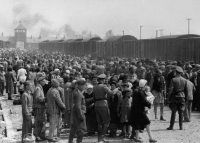 Remembering the Holocaust Yad Vashem
Six Flags Over Texas
The first of the Six Flags theme parks, Six Flags Over Texas has been a consistently popular family attraction for over 50 years. Situated in the small town of Arlington, midway between Dallas and Fort Worth, the amusement park is an ideal family day-trip destination. The park offers something for everyone, from 'thrill rides' (including the award-winning Texas Giant), to kids rides, to attractions and activities that can be enjoyed by the entire family at once.
Six Flags Hurricane Harbor, the largest water park in north Texas, is just across the road from the main Six Flags park and provides many water-based rides, pools and other water-based fun for the whole family. Six Flags Over Texas also stages events and festivals throughout the year - such as Spring Break Out, and Fright Fest (held over Halloween). With over a million annual visitors, Six Flags Over Texas has earned its reputation as one of the premier theme parks in America, and visitors to Fort Worth - and especially those travelling with kids in tow - would be ill-advised to miss it.
Address:
2201 Road To Six Flags, Arlington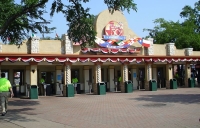 Six Flags Over Texas Mbrstooge
The weather in Dallas/Fort Worth is generally warm throughout the year, with high temperatures of up to 67°F (19°C) possible even in the midst of winter. Temperatures in January, however, usually average at cool but mild, with 37°F (3°C) lows. Snow falls roughly one to two days per winter (December to February), although freezing rain is more common. Springtime in Dallas is lovely with mild temperatures and wildflowers in bloom; however, the weather can be volatile with severe thunderstorms, hail, and occasional tornadoes. Summers (June to August) can be extremely hot and humid with average highs of 97°F (36°C), and hot, dry winds blowing in from the north and west. The northern region of Texas is among the hottest in the US during the summer months.
Dallas/Fort Worth International Airport
Location:
The airport is situated 18 miles (29km) from downtown Dallas and 24 miles (39km) from Fort Worth.
Time:
GMT -6 (GMT -5 from March to November).
Transfer Between Terminals:
The Skylink airport train provides fast connections between the five terminals inside of security. The airport's Terminal Link van service may be used for passengers needing to transfer to another terminal after they have exited security.
Getting to the city:
Charter buses, limousines, and Dallas Area Rapid Transit public buses are available at the airport; schedules and information are available from the Visitor Information Centres in the baggage claim areas. A free shuttle service links all the terminals to the CenterPort/DFW Trinity Railway Express Station about 20 minutes away, from where there are regular departures to Dallas Union Station and Fort Worth.
Car Rental:
Advantage, Alamo, Avis, Budget, Dollar, Enterprise, E Z Rent, Hertz, National, Payless, Sixt, and Thrifty operate from the airport. A Rental Car shuttle bus ferries passengers to the Rental Car Centre.
Airport Taxis:
Taxis into the city are available from the upper level of Terminals A, B, C and E, and on the lower level of Terminal D. An assistant is available to help passengers at the taxi stands from 8am till midnight, and phone calls can be made to request a taxi after hours.
Fascilities:
The airport is well supplied with ATMs and currency exchange and all terminals feature shops, restaurants and business services, including fax and internet facilities. Additional facilities include barber shops, a spa, and shoe-shine services.
Parking
Please note that the airport's Remote and Express Parking fill early during the holidays. The airport encourages travellers to park at the Terminal Parking, which provides convenient, closed-in parking that is a short walk to the departure gate. Parking fees at Dallas Fort-Worth start at $3 for the first two hours and go up to $24 per day.
The two biggest cities in North Texas, Dallas and Fort Worth, are 30 miles (48km) apart but have been brought together into one urban concentration known as the 'DFW Metroplex' with a combined population of more than four million.
The two cities are, however, very different halves of a whole. Dallas, its soaring glass-sided skyscrapers growing out of the prairie, is full of glitz and glamour. This thriving city is the ninth largest city in the United States, having grown from a frontier outpost with 20 streets in 1841 to a centre for big business and big banking. This was helped along a little by 'black gold', the oil that was discovered 100 miles (161km) east of the city in 1930.
Fort Worth, the western half of the Metroplex, is the gateway to the Wild West. Having started out as 'Cowtown', a base for cattle drives, Fort Worth still reflects a laid-back attitude, although surprisingly it has also developed into a cultural centre with world-class museums and a thriving performing arts sector.
Dallas is certainly the place for visitors to enjoy a rich shopping experience and upmarket wining and dining, but Fort Worth is the venue for exciting and interesting attractions and a taste of western culture.
Dallas is a huge and diverse city where visitors have no shortage of things to see and do.
Downtown Dallas is home to many of the city's iconic museums, including the Dallas Museum of Art, the Old Red museum of Dallas County History and Culture, the Nasher Sculpture Center, and of course the famous Sixth Floor Museum at Dealey Plaza. The downtown area is also home to the Dallas World Aquarium and Steinway Hall. Several companies offer Segway tours of downtown Dallas, which can be a fun and informative way to explore the area. South Dallas is home to the State Fairgrounds, which are open year round, and the Dallas Zoo.
Many famous attractions most associated with Dallas are actually located in the suburbs: Arlington is home to Six Flags Over Texas, Six Flags Hurricane Harbor, the Rangers Ballpark, and AT&T Stadium.
Fort Worth is just as fascinating as its more famous counterpart, with a plethora of museums that include the National Cowgirl Museum, the Stockyards Museum, the Texas Cowboy Hall of Fame, the Amon Carter Museum, the Kimbell Art Museum, and the CR Smith Aviation Museum.