Atlanta History Center
Explore the 13 hectares (33 acres) of beautiful gardens, award-winning exhibitions, and interactive activities at the Atlanta History Center.
The main attractions are two historic homes, open to the public offering informative guided tours. The Tullie Smith House originally stood outside the city limits but has been relocated to the History Center. The house was built in the 1840s and survived the near-total destruction of Atlanta in 1864 when General William Sherman burned almost two thirds of the city during his infamous 'March to the Sea'. The farmhouse is typical of most in Georgia at the time, despite popular belief that not all Georgians owned large plantations and mansions.
The Swan House, built in 1928, is a grand Italianate mansion that is an Atlanta landmark, once the home of Edward and Emily Inman, heirs to a cotton brokerage fortune. The History Center also features several other historic buildings and exhibitions.
Address:
130 West Paces Ferry Road
Opening time:
Museum: Monday to Saturday 10am-5.30pm, Sunday 12pm-5.30pm. Tullie Smith House and Swan House Tours: Monday to Saturday 11am-4pm, Sunday 1pm-4pm.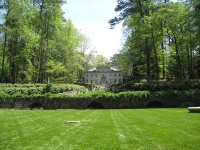 The Swan House Hellohowareyoudoing
Martin Luther King Jr National Historic Site
Venture through the Victorian house where Martin Luther King Jr. was born in 1929. Here visitors can see where America's Nobel prize-winning Civil Rights leader grew up and where the movement was birthed.
A half-mile stretch of Auburn Avenue, including King's birth home, the Ebenezer Baptist Church where he preached, and the memorial tomb at the King Center where he is buried has been made designated a historic site, drawing hundreds of visitors every day. The exhibits contained within provide insight into the life and times of this much-revered man. Tours are conducted every 30 minutes on a first-come first-serve basis.
Address:
450 Auburn Avenue NE
Transport:
Auburn Avenue bus 3 at the MARTA Five Points station, or MARTAs Atlanta Tourist Loop.
Opening time:
Daily 9am-5pm (until 6pm from mid-June to mid-August).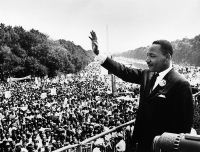 Martin Luther King Jr. Public Domain
World Of Coca-Cola
In 1886 Jacob's Pharmacy, a small drugstore in Atlanta, began selling a new headache and hangover tonic called 'Coca-Cola'. In 1891, entrepreneur Asa Candler paid $2,300 to acquire the rights of what is now the world's most valuable brand. The following year he founded the Coca-Cola Company.
The new, environmentally-friendly construction houses more than just a museum dedicated to Coca-Cola; it is an entire soft-drink experience. Thousands of Coke objects, trivia and memorabilia are contained among the interactive exhibits, backed up by commercials, radio jingles, a 4-D theatre, tasting, and a Pop Culture Gallery.
Address:
121 Baker Street, Pemberton Place
Transport:
MARTA stop W1 or N1
Opening time:
Sunday to Thursday 10am-5pm, Friday and Saturday 9am-5pm.
Coca-Cola Museum Melizabethi123
Kennesaw Mountain Battlefield
Kennesaw Mountain was the scene of a bloody Civil War battle, where in 1864, General Sherman led his Union forces against the entrenched Confederate forces at the site. This resulted in the death of more than 67,000 soldiers.
The park now consists of several thousand acres of protected land, covered with more than 17 miles (27km) of interpretive walking trails. The trails contain historic earthworks and cannon placements, wuere markers and memorials have been placed to commemorate the event.
A small museum at the site displays Civil War artefacts, and a visitor's centre provides information about the battle on the site. This popular park is visited by more than a million people each year, many of whom come to picnic and enjoy the views that the mountain has over Atlanta.
Opening time:
Daily 6.30am-8pm.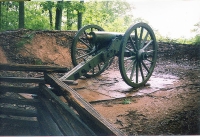 Kennesaw Mountain Mikereichold
Atlanta Botanical Garden
Be sure to visit the Atlanta Botanical Garden while in the city. The Fuqua Conservatory in particular is worthing seeing, a giant greenhouse containing different climate-controlled eco-systems. A walk through the conservatory takes visitors from a desert into a steamy tropical jungle. Outdoors the gardens are criss-crossed with dedicated nature walks, bypassing many quiet spots designed for peaceful contemplation. The garden permanently features numerous sculptures and art pieces, as well as hosting art exhibitions on a regular basis.
Address:
1345 Piedmont Avenue
Transport:
North Decatur bus 36 from the Arts Center Station; on Sundays, Monroe/Lindbergh bus 27
Opening time:
Tuesday to Sunday 9am-7pm (April to October), 9am-5pm (November to March). Closed Mondays.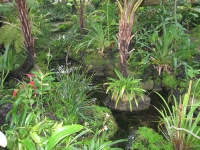 Indoors at Atlanta Botanical Gardens Daderot
Fernbank Museum of Natural History
As one of the South's pre-eminent museums, Fernbank Museum of Natural History is a gateway for discovery and exploration. It explores the story of the earth's history, the physical universe, the environment and human culture through exhibitions, programs and films in the IMAX Theatre. Opened in 1992, Fernbank is 'Atlanta's Home to Dinosaurs,' a reputation highlighted by , a distinctive permanent exhibition which features the world's largest dinosaurs.
Address:
767 Clifton Road
Opening time:
Daily 10am-5pm.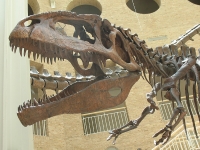 Fernbank Museum of Natural History James Emery
Turner Field
Originally built for the 1996 Olympic Games in Atlanta, Turner Field was converted after the event to serve as the home of major league baseball team the Atlanta Braves. Affectionately known as 'The Ted', the open-air stadium is a great place to spend a hot summer night in Atlanta. The stadium is also home to the Ivan Allen Jr. Braves Museum and Hall of Fame, with exhibits on famous Braves players like Greg Maddux, Bobby Cox, and Hank Aaron, as well as Braves owner and stadium namesake, Ted Turner.
Address:
755 Hank Aaron Drive SE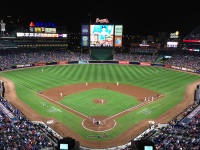 Turner Field, Atlanta. Zpb52
Georgia Aquarium
The Georgia Aquarium is the largest aquarium in America, containing over 100,000 animals from 500 species. Creatures from all around the world are are displayed here, from whale sharks and manta rays, to sea lions and sea otters, penguins, sharks and a riot of colourful fish. The Aquarium also has a 4-D theatre that features an animated 3-D film, interactive seats and live actors, as well as a café and the Ocean Ballroom for special events. A popular attraction is the Dolphin Tales show, where features choreographed musical performances by the dolphin stars.
Address:
225 Baker Street NW
Transport:
The Aquarium is connected to the Five Points MARTA Train station by bus.
Opening time:
Sunday to Friday 10am-8pm, Saturday 9am-8pm. Extended hours apply during holidays.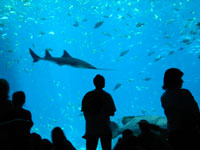 Georgia Aquarium Angela Grider
High Museum of Art
Located in deep in the city's art district, Atlantas's High Museum of Art is home to more than 15,000 pieces in its permanent collection. This includes 19th and 20th century American art, important and visiting European collections, as well as contemporary art and photography, and African art. The museum has an impressive collection of Civil Rights photography.
Address:
1280 West Peachtree Street
Transport:
Head northeast on Peachtree Street toward Walton Street NW.
Opening time:
Tuesday to Saturday 10am-5pm (open till 9pm on Friday); Sunday 12pm-5pm. Closed Mondays.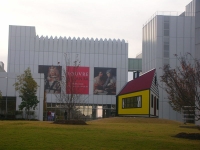 High Museum of Art Atlantacitizen
The Fox Theatre
Atlanta's Fox Theatre, otherwise known as the Fabulous Fox, is a movie palaces built in the United States during the 1920s. The theatre's unique beginnings and Moorish design set it apart from other theatres of that period. Today it hosts an array of artistic and cultural events, including a summer film series, the Atlanta Ballet, and performances by national touring companies of Broadway shows.
Address:
660 Peachtree Street NE
Opening time:
Box office is open Monday to Friday 10am-6pm, Saturday 10am-3pm. Closed Sundays.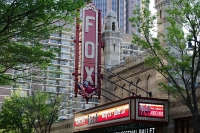 Fox Theatre Broadway Tour
Imagine It! Childrens Museum of Atlanta
The Imagine It! Children's Museum of Atlanta promised hours of exploring and learning. Aimed at children under the age of nine, the museum contains exciting interactive exhibits such as the Curious George Gallery or Healthyville. Children also get the opportunity to paint the walls, crawl through a playground, or even don a raincoat and play in a forest stream.
Address:
275 Centennial Olympic Park Dr. NW
Opening time:
Open Monday to Friday 10am-4pm; Saturday and Sundays 10am-5pm. Closed Wednesdays. Closed Thanksgiving and Christmas Day.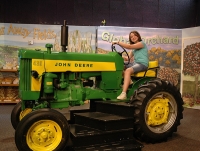 Imagine It! Children's Museum Jeri Gloege
Zoo Atlanta
Zoo Atlanta features around 1,000 animals representing 250 species from around the world and sees over 1 million tourists every year. Founded in 1889, the zoo has become one of Atlanta's top family attractions. It houses exhibitions on the African rainforest, a free-flying parakeet enclosure, and a reptile house.
Children will absolutely love discovering all the animals, including the rare the giant pandas, Sumatran tigers, clouded leopards, and komodo dragons. The zoo also has the country's largest collection of gorillas and orangutans.
For smaller children there is a petting zoo where they can interact with goats, pigs, and sheep.
Address:
800 Cherokee Avenue SE
Opening time:
Daily 9:30am-5:30pm. Closed Thanksgiving and Christmas Day.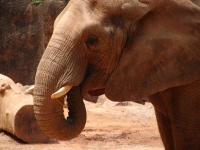 Elephant at Zoo Atlanta Gavemyheart3162
Six Flags Over Georgia
A great day out for kids of all ages, Six Flags Over Georgia is an amusement park filled with rides and thrills for every child to enjoy. Try the Acrophobia, the Superman, the Batman, or the Goliath for the really adventurous, while younger tots will enjoy the Thomas the Tank Engine ride, Up UP and Away, and the River Carousel.
Address:
275 Riverside Parkway, Austell
Opening time:
Gates open 10am; closing hours vary.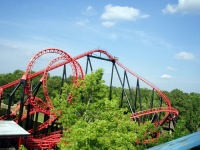 View form the top of the Scream Machine TimothyJ
Monetary Museum at the Federal Reserve Bank
Although it doesn't sound like much of a tourist attraction, a visit to the Monetary Musuem at the Federal Reserve Bank leaves visitors unexpectedly entertained.
Tour highlights include an extensive 'History of Money' exhibition, displaying antiquated currency from all over the world, and an interactive, multimedia displays that teach you how to spot counterfeit money. Tourist can try to lift a $450,000 gold bar, create their own currency, and take a free bag of shredded money to take home as a souvenir.
Whether part of a guided group tour, or just perusing the exhibitions on one's own, a visit to the Federal Reserve Bank is bound to instil in visitors a renewed appreciation for the rich history that informs present-day money use in America.
Address:
1000 Peachtree Street Northeast, Atlanta
Opening time:
Tours are offered from Monday to Friday, at 9:30am, 11am, and 1pm. Tours must be requested, by filling in a form on the Federal Reserve Bank website. Self-guided tours are possible Monday to Friday 9am-4pm. Self-guided tours are limited to the Visitor's Centre and the Monetary Museum, and do not need to be scheduled in advance.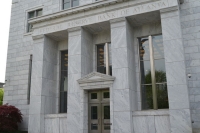 Federal Reserve Bank Andrey Dumchev
Ebenezer Baptist Church
Though small, Ebenezer Baptist Church has played a large role in America's history. Founded in 1886, the church functioned as the epicentre of the Civil Rights Movement in the 1960s. Martin Luther King Jr acted as co-pastor from 1960 to 1968, and worked toward equal rights for African-Americans during this time. The church has a new premises across the street, but visitors can still tour the old sanctuary where King preached, before walking around the Martin Luther King, Jr. Park just outside.
Annual events surrounding Martin Luther King, Jr. Day in January typically draw large crowds. Past speakers have included US Presidents, national and local politicians, and civil rights leaders. Remembrances are also held during Black History Month (February), and the anniversary of King's assassination on April 4, 1968.
Address:
101 Jackson Street NE
Opening time:
Tours are conducted Monday to Friday 9am-4pm, Saturday 9am-2pm, and Sunday 2pm-4pm.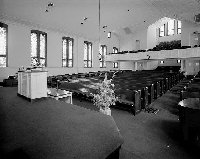 Ebenezer Baptist Church Library of Congress
One of the most exciting cities in the United States, Atlanta is a great place for children on holiday to explore and enjoy. Steeped in a rich cultural and political history, kids can learn and discover while having a great time sightseeing.
Pack a picnic basket and blanket and head off to the Atlanta Botanical Gardens for a day of sunshine and fresh air. For a slightly more active day, take the kids to the Six Flags Over Georgia Theme Park where plenty of thrills can be had enjoying the rides on offer. The Fernbank Science Center is a must for all inquiring minds, with a wonderful outdoor trails to be enjoyed. Stone Mountain Park is must, where families can traspe along the mountain trails and in the evening, enjoy the laser light show.
On quieter, days visitors can go to museums such as the Imagine It! Children's Museum of Atlanta where kids can crawl, paint, and enjoy all the fascinating exhibits on display. Most of the shopping malls in Atlanta feature indoor playgrounds, but one of the favourite has to be HippoHopp Indoor Playground, where kids will have fun jumping, climbing, and playing on inflatable equipment.
Atlanta has four distinct seasons, and a humid subtropical climate. Winters (December to February) are cold with temperatures below freezing for much of the time, but the daytime weather is mild enough to sit outdoors, with only an occasional snowfall. Summers (June to August) can be hot and humid with heat wave spells lasting days at a time. In mid-summer the average high temperature is 88°F (31°C), and in mid-winter the average low temperature is 32°F (0°C). Atlanta receives abundant rainfall, which is evenly distributed throughout the year.
Eating out in Atlanta is a sensory explosion, where visitors with a taste for excitement and variety won't be disappointed. One of the fastest growing metropolitan areas in the United States and the third largest city in the country, Atlanta caters to the tastes of the its sophisticated patrons.
From traditional Southern cooking like fried chicken, shrimp, fish, and okra to the legendary peaches, pecans, peanuts, and Vidalia onions that Georgia is known for, the food in Atlanta is second to none. Be sure to sample some peach cobbler and a slice of pecan nut pie for good measure.
You can't beat the hospitality of the south and the quality of the food isn't far behind. Head to Buckhead for trendy eateries and good home-cooked food, while Decatur, Midtown, and Virginia-Highland can't be beat when it comes to international cuisine. Most of Atlanta's finest restaurants require reservations and it is customary to tip waiters about 15 percent, while in expensive restaurants, tipping anything up to 20 percent is the norm.
Haven
One of the trendiest diners in Atlanta, Haven lives up to its name with lively atmosphere and seasonal American fare made in front of your eyes in the performance kitchen. The upscale urban eatery combines traditional American classics with local Georgian ingredients to maintain the friendly neighbourhood feel. Reservations should be made for daily lunch and dinner.
Address:
1441 Dresden Drive, Suite 100
Anns Snack Bar
Burger aficionados will literally have their hands full on Ann's famous Ghetto Burger, a monstrous pile of ingredients culminating in the award winning 'Hood" Burger. Consistently chosen as the best burgers in all of America, Ann's Snack Bar churns out delicious fast food treats to locals and the lucky few out-of-towners who catch wind of her fryer. This small establishment is well worth a visit. Monday through Saturday 11am to 7pm.
Address:
1615 Memorial Drive
Mary Macs
For nearly a decade, Mary Mac's has provided Atlanta with unpretentious, hearty meals that taste like the South. It is a classic not to be missed institution of southern dining and a litany of celebrity patrons and their pictures on the wall would attest to it. Hearty southern meals like fried chicken and barbecue are big pieces of evidence that cooking doesn't need to be fancy to be downright delicious. Open seven days a week 11am to 9pm.
Address:
224 Ponce de Leon Avenue
Bones
Bone's is Atlanta's most famous steakhouse, having become the key venue for America's movers and shakers. Bone's serves the best prime-aged Iowa beef, prepared to each patron's exact specifications. The lamb chops are another delicious option, as is the Maine lobster. Desserts include the decadent Mountain-high Pie (layers of chocolate chip, rum raisin, and vanilla ice cream). The wine gallery has hundreds of excellent wines, specialising in French and Californian bottles. Lighter entrees are optional for lunch and Bone's is open daily for lunch (except Saturday and Sunday) and dinner.
Address:
3130 Piedmont Road
Sotto Sotto
At ('hush hush' in Italian), the noise is incredible; with happy patrons delighting over their seafood risotto. The wood-roasted fish is Sotto Sotto's specialty. But the rich chocolate soup with dark Belgian chocolate, hazelnut whipped cream and sugar croutons is a close second. The bartender makes an excellent martini and the all-Italian wine list is extensive. Sotto Sotto is open all week from 5.30pm till late.
Address:
313 North Highland Avenue
Murphys
Murphy's was a wine-and-cheese shop that evolved into a cozy restaurant and bakery; one of the most popular venues in Atlanta for brunch. The bakery and wine shop has display cases overflowing with pastries, crusty fresh-baked breads, and luscious desserts. For dinner, Murphy's offers a variety of entrees, including sautéed rainbow trout with sweet-potato hash with a large selection of pastas, salads, waffles, and pancakes. Murphy's is open all week till late.
Address:
997 Virginia Avenue
Floataway Café
Hidden on a secluded industrial neighbourhood in a renovated warehouse, the Floataway Café is a foodie's paradise. The menu changes daily, with fresh and local organic produce and unusual ingredients being the order of the day. Enjoy succulent wood-grilled meats and seafood, or homemade pastas, or order the house speciality, grilled steak with pommes frites and red-wine shallot butter. The wine list is international and complements the food beautifully. Floataway Café is open Tuesday to Saturday, from 5.30pm to 10pm.
Address:
Suite 15, 1123 Zonolite Road
Hartsfield-Jackson Atlanta International Airport
Location:
The airport is situated 10 miles (16km) south of downtown Atlanta.
Time:
GMT -5 (GMT -4 from March to November).
Transfer Between Terminals:
The two terminals and six concourses are connected by an automated people mover which operates approximately every two minutes. A fifteen minute shuttle ride connects the International Terminal with the Domestic Terminal's ground transportation area.
Getting to the city:
The airport is serviced by the trains and buses of the local Metropolitan Atlanta Rapid Transit Authority (MARTA). Tickets to downtown Atlanta cost $2.50 and the journey takes around 20 minutes. Other options like taxis, shuttles and limousines are all available at the Ground Transportation Center, located near the baggage claim area of the arrival's lobby.
Car Rental:
Car rental companies represented at the airport include Avis, Alamo, Budget, Dollar, Enterprise, Hertz, National and Thrifty.
Airport Taxis:
Taxis are available at the Ground Transportation Center, located near the baggage claim area of the arrivals lobby. The fixed fare from the airport to downtown Atlanta is $30 and a $2-per-person fee applies for two or more passengers.
Fascilities:
The airport offers more than 250 concessions for services, food, beverages, and retail shopping. Additional services include currency exchange offices and ATMs, internet access, meeting rooms, and cell phone hire. Other facilities include an interfaith chapel, smoking lounges, a post office, nursing stations, and concierge services.
Parking
Parking is charged at $3 per hour for all lots, however daily rates range from $10 to $36 depending on their distance from the terminal. The hourly parking lots located in front of each terminal are the most convenient parking for picking up or dropping off. There are also daily lots adjacent to the airport's main terminal and economy lots nearby. The Park & Ride lots are the cheapest option and are connected by regular shuttle buses. Electrical vehicle charging stations are available at the airport.
Exlpore some of Georgia's best nightlife in this flashy city. Buckhead is a good place to start. The area has a festive night scene with a line of nightclubs, dance clubs, and pubs. But most venues close at 3am. Downtown has some chic lounges and cocktail bars, especially in the large hotels. The Virginia Highlands in particularly hosts young professionals in a stylish clubs.
Smaller venues scattered around the city are perfect for some southern baritone blues. Others prefer one of four huge concert venues, part of any major band's American tour. Of course, Atlanta hip-hop features many clubs with line-ups of rising and returning stars.
Atlanta's trains and buses reach most parts of the city, but they are not always the most convenient way to get around, and services are limited outside of the immediate city limits. The MARTA (Metropolitan Atlanta Rapid Transit Authority) network is inexpensive, safe, and well-integrated, but travel can be slow. A one-way MARTA pass, good for travel anywhere on the system, costs around $2.50. There are weekly, weekend, and visitor's passes available for various rates.
Atlanta is a car-dominated city, so there is plenty of parking, especially at tourist sights. But traffic on the freeways and in the city centre can be very busy, particularly during rush hours. During conventions and big sporting and entertainment events, it is easier to use public transport to get around. 'The Buc' is operated by BATMA; it is a free shuttle service connecting the two MARTA rail stations with many hotels, shopping areas and businesses in the city.
Taxis are available, but it is easier to order one by phone than to find one on the street; they can also be found in taxi stands around the city. Visitors should be cautious of unlicensed taxis, and women travelling alone at night should order taxis by phone.
Home and birthplace of the iconic Martin Luther King Jr, Atlanta is fill of history and culture. Visitors need look no further for exciting stories of the American South and for some of the United States' finest cultural exports, such as the Atlanta Symphony Orchestra.
History buffs will love the countless museums this city has to offer. From the Martin Luther King Jr National Historic Site and the Atlanta History Center, to the Atlanta Cyclorama, Civil War Museum and the Carter Center. A trip to the World of Coca-Cola is a must for lovers of the world's best known brand, while kids of all ages will love the Georgia Aquarium and Zoo Atlanta. Wander through the Botanical Gardens or wonder at the magnificent artwork in the High Museum of Art. The choices in Atlanta are endless!
An Atlanta CityPass can be bought for approximately $76 for adults and $61 for children and is valid for nine days. The pass allows the bearer free admission to six of the city's top attractions. The CityPass booklet provides attraction information, transport directions and best times to visit as well as coupons and other special features.
Stone Mountain Park
Stone Mountain is situated about 20 minutes from Atlanta and features man-made and natural attractions. The best of these is the huge relief carving of the three Southern heroes of the Civil War, which has been etched into the mountainside. The images of Confederate President Jefferson Davis, Generals Robert E. Lee, and Thomas J. 'Stonewall' Jackson cover an area larger than a football field and are part of the largest relief sculpture in the world. Three sculptors worked in succession on the carving, beginning with Gutzon Borglum in 1915. He later became famed for his carvings at Mount Rushmore. Subsequently two other artists pursued the work that was completed finally in 1972. Visitors can either walk up the mountain or take the Skylift to the top to see the breathtaking view over Atlanta and the Appalachian Mountains. Stone Mountain also features a restored Antebellum Plantation featuring a colonial mansion, slave cabins, coach houses, and barns. The park contains several lakes and hiking trails, a wildlife reserve, and petting zoo.
Address:
1000 Robert E. Lee Boulevard, Stone Mountain
Opening time:
Daily from 10am; closing hours vary according to the season and attraction. Summit Skyride opens daily from 10am to 5pm, with extended hours in summer and on holidays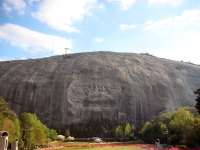 Stone Mountain Jtesla16
Jonesboro
About 15 miles (24km) south of Atlanta in Clayton County is the town of Jonesboro, a not-to-be-missed destination for movie fans and those hankering for a taste of the real 'Deep South'.
Jonesboro was the setting for Margaret Mitchell's acclaimed novel, and later film, Gone with the Wind. Devotees come to see the local historic plantation houses and learn about the real people whose lives inspired the fictional characters of the novel. In Main Street, the Road to Tara Museum is housed in the Jonesboro Depot Welcome Centre, containing original props, costume reproductions, doll collections, and an extensive photo gallery associated with the making of the movie.
The Welcome Depot is also the departure point for daily tours, starting at 1pm (except on Sundays). The tours offer a behind-the-scenes glimpse into the true life stories on which the book was based.
In Carriage Drive, a beautiful Greek Revival plantation home dating from 1839 is open to the public along with its authentic outbuildings.
Address:
104 N. Main Street
Opening time:
Road to Tara Museum: Monday to Friday 8:30am-5:30pm, Saturday 10am-4pm; Stately Oaks: Monday to Saturday 10am-4pm. Gone With the Wind Tour: Monday to Saturday 1pm, or by appointment.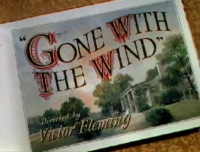 Gone With The Wind Public Domain
Georgia Mountains
Northern Georgia predominantly mountainous, dotted with numerous small towns, fascinating historic sites, and national parks and forests.
Among the highlights of this region are the New Echota State Historic Site (the last capital of the Cherokee nation), Chickamauga at Fort Oglethorpe, and Jasper, where the marble quarries produced the marble used in Washington, DC. Also worth seeing is the Blue Ridge Scenic Railway, at the end of the Appalachian Highway, and the spectacular Tallulah Gorge near the town of Clayton.
The northwestern Georgia region offers hundreds of wooded hiking trails, sparkling trout streams, scenic lakes, and camp sites. Most of the towns and attractions are within an hour's drive of Atlanta, making them perfect day trips or weekend breaks from the city.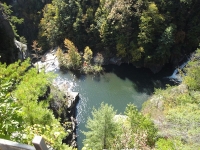 Tallulah Gorge Thomsonmg2000