Pembrokeshire Coast National Park
Located in the southwest corner of Wales, just a short drive from Cardiff, the Pembrokeshire Coast National Park runs along a coastline riddled with rugged cliffs, superb sandy beaches, rocky coves and tiny fishing villages. There is some spectacular scenery and wonderful coastal walks, including the well-trodden 167-mile (269km) Coast Path. Inland, the historic Preseli Hills conceal ancient trade routes, hill forts, standing stones and burial chambers. The tiny islands offshore are inhabited by colonies of puffins, guillemots, razorbills, gannets and grey seals. The area is an activity-lover's paradise, with a choice of hiking, pony trekking, surfing, windsurfing, kayaking and fishing opportunities. The best time to visit is in spring, when wild flowers abound and most ramblers have yet to arrive.
The town of Pembroke is worth visiting if only for its fearsome castle, which, founded by the Normans, has an intriguing history. Just south of the park is the city of St David's, which is actually only a little larger than your average village. The cathedral found there is the resting place of St David, the patron Saint of Wales, and during the Middle Ages was one of the most holy places in Britain. Two pilgrimages here were equivalent to one to Rome.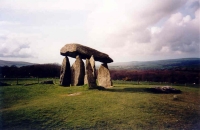 Pentre Ifan, Wales Paul Griffin
Cardiff Castle
Situated right in the heart of the city, Cardiff Castle is a unique complex of historical buildings incorporating a medieval castle, a Victorian Gothic mansion and a Norman keep, which in turn was built over a Roman fort. The city itself may have only been here for about a century, but Cardiff Castle stands as witness to more than 2,000 years of history. Roman soldiers and knights have lived in the castle, and the wealthy Bute family resided in it from early 19th century up until 1947. Those who visit Cardiff Castle will be rewarded with opulent rooms, Mediterranean gardens and Italian and Arabian décor.
The Essential Ticket includes access to a selection of the lavish Castle Apartments, the Norman Keep, the Battlement Walk, the Wartime Shelters, the Cardiff Castle Museum of the Welsh Soldier, the Interpretation Centre (including a film show), and an audio guide in multiple languages. The Premium Ticket offers all this plus a 45-minute guided tour with an expert guide, and access to some additional rooms in the castle. People of all ages will enjoy exploring the castle complex, and at least a few hours can be happily filled doing so. Cardiff Castle is one of the top tourist attractions in Wales and definitely worth a visit for anybody in the city with an interest in history.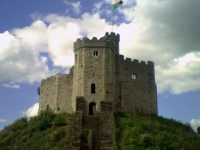 Cardiff Castle James Allen
St Fagans National History Museum
This open-air museum, located in St Fagans, chronicles the historical lifestyle, architecture and cultural heritage of the people of Wales. St Fagan's National History Museum is one of Europe's leading open-air museums, and the most popular heritage attraction in Wales. The 16th-century manor house in which the museum stands bears testament to the magnificent heritage of the Welsh, and the museum features more than 40 original historic buildings, moved from various parts of Wales and erected to show how the people of Wales have lived over the last five centuries.
Among these are houses, a farm, a school, a chapel and a splendid Workmen's Institute. Donated to the Welsh by the Earl of Plymouth, the museum first opened in 1948 and to this day, the original strain of native livestock can be seen in the fields and farmyards, and the musical Welsh language proudly heard in the air. Artisans bring the museum to life by demonstrating their traditional skills and techniques for visitors, and often selling their crafts. There are also many events and traditional festivals celebrated at the museum, with folk music and dancing showcased to the delight of visitors. St Fagan's National History Museum is a must-see attraction for any traveller interested in the Welsh culture and history.
Address:
St Fagans, Cardiff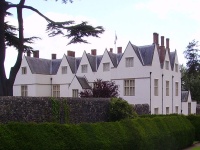 St Fagan's Manor House Immanuel Giel
Wales Millennium Centre
Nicknamed 'The Armadillo', this performing arts centre located in the Cardiff Bay area hosts performances such as operas, ballet and dance recitals, stand-up comedy and musicals. Known as one of the world's iconic performing arts venues, it features a world-class stage and also offers free foyer performances, tours and exhibitions for visitors to get an overall vision of the best of the arts world in Wales. The centre stages all the most popular and famous shows performed in London and all over the world, with classic favourites like Cats, West Side Story, Wicked, and Priscilla Queen of the Desert frequently performed, alongside the best in contemporary Welsh, British and international entertainment.
Guided tours of the centre are available, allowing guests to check out the dressing rooms, marvel at the sheer size of the stage, and find out what lies beneath the mystical inscription. There is also a wonderful restaurant, a coffee shop, an ice-cream parlour and some theatre bars to enjoy. The theatre is wonderfully accessible for wheelchairs. Even if you are not lucky enough to be seeing a show, the Wales Millennium Centre is worth a visit to enjoy the architecture, exhibitions and free performances.
Address:
Bute Place, Cardiff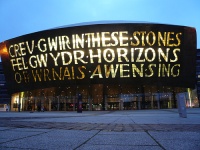 Wales Millennium Centre TFDuesing
Llandaff Cathedral
The Llandaff Cathedral, located on the western edge of Cardiff, is one of Wales' premier sights, not to be missed by visitors to the Welsh capital. Situated in what used to be the tiny village of Llandaff, the area surrounding the cathedral still retains a village-like feel, with stone-and-timber buildings and narrow and crooked lanes. The cathedral itself has a long and interesting history. Constructed in the 12th century on the site of an earlier church - of which, a pre-Norman Celtic cross is all that remains - the Llandaff Cathedral boasts some of the greatest medieval art to be found in all of Wales.
Suffering extensive damage during Nazi bomb raids in World War II, the cathedral was restored and received two modern additions: the Welsh Regiment Chapel, and the striking Jacob Epstein sculpture Christ in Majesty. The sculpture, made of aluminium and suspended from a concrete arch that dominates the cathedral's nave, is a controversial piece, dividing opinion between those who find it arresting, and those who find it garish and out of place. Head to the Llandaff Cathedral and see the interesting work for yourself, before relaxing in the tranquil public gardens that surround this significant religious site.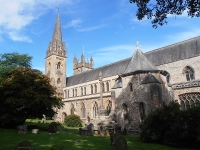 Llandaff Cathedral Ham
Gower Peninsula
This small peninsula on the southern coast of Wales packs a big punch with tourists. Designated an Area of Outstanding Natural Beauty by the UK government, Gower is home to some of the most popular holiday destinations in Wales, including the resort towns of Swansea, Mumbles, Rhossili, and Llangennith. Though it's just 16 by seven miles (26 by 11km) in size, the area has a large concentration of Blue Flag-certified beaches, including Bracelet Bay, Caswell Bay, Langland Bay, Port Eynon, and the Swansea Marina.
One of the best places to stay on the Gower Peninsula is Mumbles, a lovely resort village beautifully located beneath pine-forested slopes overlooking Swansea Bay, which is fast-becoming one of the United Kingdom's favourite seaside getaway destinations. With a history that dates back to the 12th century and a range of excellent seafront pubs and restaurants, Mumbles exudes charm. Mumbles is home to some great cultural sights, such as the ruins of Oystermouth Castle, a historic lighthouse and the pretty Mumbles Pier. Yet, despite these attractions, the real allure of Mumbles remains intangible - something to do with the the sunlight reflected by the bay, illuminating the age-old stone buildings that surround the water, intoxicating visitors with its sheer natural beauty.
The Gower Peninsula also contains a number of historical attractions, including the island of Burry Holms, which has been inhabited since the Iron Age; Cefn Bryn, home to Arthur's Stone; Giant's Grave, a prehistoric burial chamber containing 4,500-year-old skeletons; and the Norman castle ruins at Threecliff Bay. All things considered, the main reason to holiday in Gower is its natural splendour, beyond the beaches and the cities you'll find many miles of pretty walking trails, flowering gardens, scenic vistas, and abundant wildlife.
Gower Peninsula Theodore Scott
Cardiff has a maritime climate, characterised by mild weather. It is cloudy, wet and windy, and like the rest of the United Kingdom highly unpredictable. The average temperatures in summer, June to August, range between 51°F (11°C) and 71°F (22°C). Average temperatures in winter, December to February, range between 35°F (2°C) and 47°F (8°C). Rain is possible at any time of year, but summer is generally the driest season, with October, November, December and January the wettest months. Snow is rare in Cardiff. Springtime (March to May) is a popular time to travel to Cardiff, with mild weather and plenty of flowers to enjoy, though sporadic rain and wind is always possible. Summer, between June and August, is by far the best time to visit Cardiff, as the weather is at its best and many of the city's most popular events and festivals are held over this period.
The variety of restaurants in Cardiff has steadily increased with the burgeoning local food culture. Featuring a wealth of independent eateries; diners can choose from an abundance of good quality international fare, fusion, fine-dining and Welsh cuisine.
There are a number of good restaurants to visit in Cardiff and many celebrate classic Welsh dishes. Try the famous Welsh rarebit, a decadent bread and cheese sauce dish; Shepherd's Pie; or Welsh Glamorgan vegetarian sausage. The city boasts some atmospheric old pubs, which are the highlight for many visitors. Be sure to try the Goat Major, near Cardiff Castle, which opened in 1813; the Old Arcade, a world-famous rugby pub opened in 1844; and the Rummer Inn, opened in about 1813, which is rumoured to have a resident ghost in the cellar.
Mermaid Quay in Cardiff Harbour and the Brewery Quarter offer the biggest range of dining options, and tourists eating out in Cardiff will have no difficulty finding something they enjoy. Wales also has a number of wineries, distilleries, breweries and tea plantations, so there is no end of local food and drink to try!
Bayside Brasserie
This popular restaurant in the Mermaid Quay offers views of the harbour and the Millenium Centre through its big windows. You can enjoy cuisine from Wales and other parts of the UK, with a menu bursting with comfort food like chargrilled Welsh steaks, Scottish baked salmon fillets, and slow-cooked lamb shank. They have lunch specials on Sundays, and the chic dining room is both child and wheelchair-friendly.
Address:
Unit Upper 14, Mermaid Quay, Cardiff Bay
Zero Degrees
Located in bustling Westgate Street, Zero Degrees is popular as both a restaurant and bar. The menu focuses on pizza, pasta and salad, with fresh mussel pots being a house specialty. The real draw of Zero Degrees is the on-site microbrewery, which produces beers in a range of styles with international flavours. Open Monday to Saturday from 12pm-midnight, and Sunday from 12pm-11pm.
Address:
27 Westgate Street, Cardiff
The Goat Major
For an authentic Welsh pub experience, The Goat Major is one of the best in central Cardiff. The menu is made up of traditional Welsh pies, including Welsh Steak and Ale Pie, Pork and Cider Pie, Rabbit Pot Pie, and the award-winning Wye Valley Pie. With classic decor and a good selection of local beers, this is a good place to stop after a tour of Cardiff Castle, as it's just down the road.
Address:
High Street, Cardiff
Rhoose Cardiff International Airport
Location:
The airport is located 12 miles (19km) southwest of Cardiff city centre.
Time:
GMT (GMT +1 from last Sunday in March to Saturday before last Sunday in October).
Getting to the city:
The Cardiff Aiport Express bus service runs every 30 minutes during the day, seven days a week. Journey time to Cardiff from the airport is approximately 35 minutes and the bus fare is approximately £5 one way. A rail link also connects Cardiff International Airport to Cardiff Central and Bridgend. Trains run each direction every hour daily (every two hours on Sunday) with onward connections to other destinations on the rail network. A shuttle connects the airport to the nearby train station in 10 minutes, costing about £1.
Car Rental:
Enterprise, Europcar and Hertz are represented at the airport.
Airport Taxis:
Passengers can book a private taxi transfer with FlightLink Wales to and from Cardiff Airport.
Fascilities:
Facilities include a bureau de change, ATMs, baby changing facilities, faxing and photocopying, game zones, duty-free shops, restaurants, cafes and bars. There are also facilities for disabled passengers.
Parking
Short-term parking is right outside the terminal building and long-term parking is farther away from the terminal but is serviced by a free shuttle. There is pre-booking available.
Sparks in the Park
The grandest firework display in Wales brightens the sky above the capital, with Cardiff Castle looming memorably in the background. Held behind the castle in Coopers Filed, Sparks in the Park is organised by Cardiff Round Table with all proceeds going to charity.
The fireworks have been a feature on Cardiff's calendar for more than 30 years. Some of the favourite attractions at the event include a huge bonfire, funfair rides, live entertainment, and wonderful food and craft stalls.
Always held in November, visitors should be sure to dress warmly and take waterproof gear in case of rain. For those visiting Cardiff in November, this fun and festive event should prove to be a highly enjoyable experience, especially for family and kids. Tickets sell out quickly.
Venue:
Coopers Field, Bute Park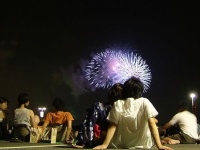 Fireworks Mr Wabu
Cardiff is considered one of the top nightlife cities in the United Kingdom, supposedly having more pubs per square metre than any other city in Britain. With a wide selection of bars, pubs, cafes and restaurants, Cardiff's nightlife is sure to please just about everyone.
Some of the most bustling areas for nightlife in Cardiff are located in the city centre. St Mary Street, Greyfriars Road, and Mill Lane are all busy and offer a number of options. Mermaid Quay in Cardiff Harbour is also a fun place to go for a night out. A little ways out of town, the Red Dragon Centre is a lively shopping centre with entertainment options for the whole family.
There are numerous live music venues in Cardiff; the hottest live music club is arguably the unpronounceable Clwb ifor Bach, which hosts live bands at least twice a week.
If it's a cultural experience you're after, Cardiff is the heart of the arts in Wales and offers plenty of theatre and performing arts venues. The architecturally beautiful Wales Millennium Centre is the base for the Welsh National Opera and the Dance Company of Wales, and also houses the Donald Gordon Theatre and the Weston Studio for all manner of performances. St David's Hall also hosts orchestral concerts, ballets, film screenings, and international touring bands. Sherman Cymru and the Chapter Arts Centre are smaller venues that host a variety of arts and entertainment performances, exhibitions and workshops.
Cardiff has a reliable and extensive bus service that operates between 5.30am and 11.30pm, with limited weekend and public holiday services. Exact change is required. The train services are also dependable, and taxis are easily hailed or ordered by phone.
Hiring a car in Cardiff is easy, with most companies requiring a license in English with a photograph, or an International Drivers Permit. A minimum age requirement may apply. The city is relatively easy to negotiate by car, but parking is often a problem, as many spaces downtown are for permit-holders only. However, Cardiff is compact and easily explored on foot. It is also flat, making it well-suited to cycling. The Taff Trail for walking and cycling runs right through the city.
Cardiff is home to many of the top tourist attractions in Wales. The Cardiff Castle with its Roman, Norman and Victorian history, and the St Fagan's National History Museum, an open-air museum which is said to be the most popular heritage attraction in the country, are highlights. The Wales Millennium Centre; one of the best performing arts venues in the UK, and the 12th-century Llandaff Cathedral, are also notable.
Cardiff is a popular destination for rugby and football fans from all over the world, who are not deterred by wintry weather when they flood into the city to support their favourite teams at international matches held at the world-famous Millennium Stadium. The National Museum and Art Gallery contains a world-class collection of art and artefacts, and Bute Park and the Cardiff waterfront are lovely places to stroll. Like many old UK cities, Cardiff has its share of ghost stories, and many tourists like to take one of the night-time ghost tours available in the city.
Cardiff is also beautifully situated and surrounded by the famously lovely Welsh countryside: one of the best places to experience this natural bounty is the Pembrokeshire Coast National Park, which is just a short drive from the city and home to wonderful beaches and a picturesque coastline.