Hagia Sophia (Aya Sofya)
The massive Hagia Sophia is one of Istanbul's most popular attractions, famous for its impressive size, remarkable architecture, and beautiful mosaics and frescoes. It was commissioned as a cathedral in the 6th century and remained the most important church in Christianity for over 900 years. In the 15th century Mehmet II conquered the city and converted it into a mosque, adding the minarets and fountains. It functioned as such for the next 481 years until the founding of the secular Turkish Republic in 1934 when it was declared a museum. Hagia Sophia is one of the greatest Byzantine buildings in the world, and the vast interior, with its huge, soaring dome, is extraordinary. The interior contains different features from its time as a cathedral and then as a mosque, including incredible Byzantine mosaics, icons, and marble columns, a mihrab (niche indicating the direction of Mecca), and Islamic calligraphy inscriptions on the dome from the Ottoman period.
Address:
Sultan Ahmet Mahallesi, Ayasofya Meydanı, Fatih/İstanbul, Turkey.
Transport:
Travellers should disembark at the Sultanahmet tram stop.
Opening time:
Open daily: 9am-7pm.
Hagia Sophia Dennis Jarvis
Blue Mosque (Sultan Ahmet Camii)
Commonly known as the Blue Mosque, the Sultan Ahmet Camii is one of the most striking structures on the Istanbul skyline. Constructed as an Islamic rival to the Hagia Sophia in 1609, its tiers of magnificent domes and six graceful minarets are immediately distinguishable. It is one of the finest examples of Ottoman architecture and is still used by hundreds of worshippers. The interior is splendidly decorated with thousands of blue and white Iznik tiles embellished with traditional Ottoman flower patterns, and it is this special feature that gives the mosque its name. Its design of successively descending smaller domes, soaring columns, and 260 stained glass windows leaves a lasting impression of graceful accord and open space. At the back of the mosque is a Carpet and Kilim Museum exhibiting antiques from all over Turkey.
Address:
Sultan Ahmet Mahallesi, Atmeydanı Cd. No:7, Fatih/İstanbul, Turkey.
Transport:
Disembark at the Sultanahmet tram stop.
Opening time:
Open daily, access restricted during prayer times, especially at midday on Fridays. The museum is open from Tuesday to Saturday between 9am and 4pm.
Blue Mosque Dennis Jarvis
Topkapi Palace Museum
Built by Mehmet the Conqueror as a sultan's palace, the Topkapi Sarayi consists of a collection of buildings arranged around several interconnecting courtyards. Situated on one of the seven hills of Istanbul with uninterrupted views over the Bosphorus River and the Golden Horn, it was the seat of the Ottoman Empire for almost four centuries. Home to nearly 3000 people, it served as a royal residence, harem, administration building, and military barracks. One of the most popular sections is the harem, once the quarters of about 300 women who were the sultans' wives and concubines, and their children. Visitors can view the apartments, halls, and terraces of the harem, and see the lavish royal bedchamber and imperial hall. No expense was spared in decorating the palace and its exquisitely designed rooms, intricately detailed fountains, and splendid treasury housing one of the greatest collections of treasure in the world. It affords insight into the opulent lifestyle of the sultans of the Ottoman Empire.
Address:
Topkapi Sarayi, Sultanahmet
Opening time:
Open daily except Tuesdays from 9am-5pm
Topkapi Palace Museum L.C. Nottaasen
Turkish and Islamic Art Museum
The grand 16th century palace of the sultan's Grand Vizier, Ibrahim Pasa, today houses the Turkish and Islamic Art Museum, containing what many consider to be the greatest collection of Islamic artefacts in the world. The palace itself was the finest private residence ever built in the Ottoman Empire. From its supreme position overlooking the Hippodrome, the sultan could enjoy excellent views of the celebrations in the square below. The museum is well laid out and contains more than 40,000 examples of Selçuk, Mamluk, and Ottoman Turkish art, including ceramics, Koran cases, calligraphy, textiles, metalwork, and illuminated manuscripts. Its antique carpet exhibit is renowned, with the carpets, kilims, and prayer rugs forming one of the richest and oldest collections in the world.
Address:
Ibrahim Pasa Sarayi, Atmeydani 46, Hippodrome, Sultanahmet
Transport:
Sultanahmet tram stop
Opening time:
Open daily except Mondays from 9.30am-5.30pm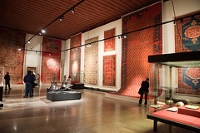 Turkish and Islamic Arts Museum Patrick
Grand Bazaar (Kapalicarsi)
The oldest and biggest enclosed bazaar in the world, Kapalicarsi is one of the most enticing and mesmerizing attractions in Istanbul. Also known as the Grand Bazaar, it consists of a vast labyrinth of twisting streets crammed with more than 4,000 shops, teahouses, Turkish baths, mosques, storehouses, and fountains. It's a fascinating experience to wander around the alleyways, looking at and bargaining for an array of goods and services. Here you can find almost anything, from meerschaum pipes, carpets, jewellery, and Turkish delight, to textiles, spices, clothing, and hand-painted ceramics. Protracted bargaining over a cup of tea is an important institution. Built during the rule of Sultan Mehmet the Conqueror in 1461, the bazaar grew by covering an increasingly large area of shops and streets with roofs, arches, and domes. Eventually it became the centre of trading during the Ottoman Empire. Caravans of silk traders traditionally stayed here and rested their camels while selling their merchandise, and many of these caravanserais still exist as storehouses today.
Address:
Kapali Çarsi, Beyazit to Eminönü Harbour.
Transport:
Tram to Beyazit, Üniversite or Sirkeci.
Opening time:
Open daily except Sundays from 8.30am to 7pm.
The Covered Bazaar michael_swan
Sunken Palace
Also known as the Underground Cistern or Yerebatan Saray, this eerie cavern was built by Constantine the Great around 532 AD and is supported by 336 columns below ground. Once as a location for the James Bond film, , today the cavern sees tourists crossing over 2 acres of 12 inch deep water on wooden walkways, taking in the occasional art exhibit or intricate designs on the columns themselves. There is a pleasant little cafe above where the eyes can adjust over some tea.
Address:
Alemdar Mh., Yerebatan Cd. 1/3, Fatih/İstanbul, Turkey.
Opening time:
9am-5.30pm daily.
Underground Cistern Brian Jeffery Beggerly
Galata Tower
The Galata Tower is a medieval stone tower in the Galata/Karakoy quarter of Istanbul, sitting north of the Golden Horn inlet to the Bosphorus. Called Galata Kulesi in Turkish, it was erected as a bastion for the walls of the 14th century colony of Galata. One of the city's most striking landmarks, the high cone-capped cylinder dominates the skyline and offers panoramic vistas of Istanbul's historic peninsula and old town. Today it is a sought-after conference venue, offering fine dining at its restaurant and belly dancing displays in its very own night club.
Address:
Bereketzade Mahallesi, Galata Kulesi, Beyoğlu/İstanbul, Turkey.
Transport:
Centrally located, the Galata Tower is within easy reach using Istanbuls public transport systems.
Opening time:
9am-8.30pm, Monday to Sunday.
Galata Tower cristic
Dolmabahce Palace
The Dolmabahce Palace was home to six Sultans from 1856, when it was first inhabited, up until the abolition of the Caliphate in 1924. The last royal to live here was Caliph Abdulmecid Efendi, before a law in 1924 transferred the ownership of the palace to the national heritage of the new Turkish Republic. Mustafa Kemal Ataturk, the founder and first President of the Republic of Turkey, used the palace as a presidential residence during the summers and enacted some of his most important works here. Ataturk spent the last days of his medical treatment in this palace, where he died in 1938. The palace has an ostentatious interior of crystal chandeliers, while the exterior of the palace has a vast and beautiful garden.
Address:
Vişnezade Mahallesi, Dolmabahçe Cd., Beşiktaş/İstanbul, Turkey.
Opening time:
Tuesday, Wednesday 9am-4pm. Friday to Sunday, 9am-4pm. Closed on Mondays and Thursdays.
Dolmabahce Palace DavidConFran
Istanbul Dolphinarium
Kids on holiday in Istanbul will jump at a chance to visit the dolphinarium. Its six pools are home to a collection of dolphins and seals, as well as white whales and walruses. Children will have the opportunity of a lifetime to swim with the dolphins and learn about sea life while they're there. The restaurant and cafe are great places for a snack or lunch break and there is also a gift store to buy a souvenir for your visit.
Address:
Silahtaraga Mahallesi, Silahtarağa Caddesi No: 2/4, Eyüp/İstanbul, Turkey.
Transport:
Disembark at the Çeltik or Sakarya Mahallesi bus stop.
Opening time:
Shows: Tuesday to Sunday, 1pm and 5pm; closed Mondays.
Playful dolphins dmytrok
Museum of the History of Science and Technology
The Museum of the History of Science and Technology is located in the Gulhane Park, one of the most beautiful areas of Istanbul. It extends over 3500 square meters along the old palace wall, on the former stables of the Sultan's Has Ahirlar. In front of the entrance, the visitor encounters a large globe, which is a reconstruction of one of the most important achievements of the Islamic scientific tradition. Decades of intensive research in the history of Arabic-Islamic manuscripts were necessary as a preparation for the creation of the wealth of objects in the museum. Visitors to the museum can obtain unique insight into the Islamic scientific tradition by looking at the details of the exact replicas of the scientific and technical achievements from the ninth through the seventeenth centuries.
Address:
Cankurtaran Mh., Taya Hatun Cd. 8a, Fatih/İstanbul, Turkey.
Opening time:
Daily from 9am-7pm.
Scientific Kids lorda
Hippodrome
The ancient Hippodrome of Constantinople was built between 200 and 300 as a stadium for horse racing, chariot racing, and other amusements. Seating up to 100,000 people, there isn't much remaining of the structure today. Now the site of the Hippodrome in Istanbul is a beautiful public park with a few remaining columns hinting at its grand past. The Obelisk of Tutmosis III, the Basilica Cistern, the Fountain of Wilhelm II, and the Serpentine and Constantine Columns are popular landmarks within the park, which also offers free wireless internet.
Address:
Binbirdirek Mh., Sultan Ahmet Parkı No:2, Fatih/İstanbul, Turkey.
Transport:
Sultanahmet tram.
Opening time:
Open 24 hours a day, seven days a week.
Hippodrome Arch2all
Istanbul is not a typical family holiday destination but there are plenty of quality attractions for the kids if you are spending a few days in this great city while en route to the beach resorts or islands. Children can delight in learning about the ocean at trip to the Istanbul Aquarium, or visit Miniaturk park and take in Istanbul's landmarks in miniature! For a more relaxing experience, parents can take their children on a boat tour of the Bosphorous.
In summer the weather in Istanbul is hot and humid, with the temperature between June and September averaging 82°F (28°C). Summers are relatively dry, but rain does occur all year round. During winter it is cold, wet, and often snowy. Snowfalls tend to be heavy, but temperatures rarely drop as low as freezing point. Istanbul also tends to be a windy city.
Istanbul not only bridges the cultural and geographical gap between Europe and Asia, but also blends its culinary offerings. Eating out in Istanbul restaurants gives diners a taste of the splendid fusion that can be created by combining the traditional cuisine of the two continents. Dining options abound in Istanbul. If in doubt, head for the Sultanahmet area which has the most restaurants. Traditional Turkish fare such as turbot with saffron and raspberry, or cinnamon flavoured chicken kebabs, can be enjoyed at restaurants in the Edirnekapi and Ortaköy areas, while the best seafood is in Kanlýca. Istanbul restaurants serving a fusion of Turkish, Mediterranean, and Asian cuisine are found in Beyoglu and Sisli, while Taksim and Ortaköy are home to some excellent cafés. With so many restaurants in and around the city, diners will find somewhere to eat any time of any day. Menu prices are generally quite fair and generally you get what you pay for. A tip of at least 10 percent is customary. At most Istanbul restaurants reservations are either required or strongly recommended.
360istanbul
An aptly named restaurant, 360istanbul is situated on a rooftop terrace with beautiful views and a sleek concrete and glass design. The menu offers fusion cuisine featuring Turkish, Mediterranean, and Oriental ingredients. There's a variety of options, with dishes including lamb rack confit, saffron risotto, and a popular rock lobster arrabiatta. Open for lunch and dinner Monday to Friday, and dinner only on weekends. Reservations required.
Address:
Tomtom Mahallesi, Istiklal Cd No:8 D:163, Beyoğlu/Tepebaşı/Beyoğlu/İstanbul, Turkey
Cezayir
Cezayir serves Turkish cuisine with an international influence. Indian spices are used in a Turkish samosa, and other menu favourites include the salmon carpaccio and the borek (grilled spinach and cheese pastry). With wicker chairs and pale yellow walls, the mood in this restaurant is very calm and relaxed. Open daily for breakfast, lunch, and dinner. Reservations essential.
Address:
Kuloğlu Mh., Hayriye Cd. No:12, Beyoğlu/İstanbul, Turkey
Asitane
Set in a 19th century mansion overlooking the Golden Horn, Asitane serves authentic Ottoman cuisine. Featuring Central Asian, Anatolian, Middle Eastern, and Balkan influences, some recipes span some 500 years. Veal in apple sauce and cinnamon flavoured chicken kebabs are just two of the delicious menu options. Open daily for lunch and dinner, and brunch on Sundays. Reservations recommended.
Address:
Edirnekapı Mahallesi, Kariye Cami Sk. No:6, Fatih/İstanbul, Turkey.
The House Cafe (Ortakoy)
Boasting two terraces on the Ortakoy's waterfront, this trendy restaurant's decor blends beautifully with its seaside location. While the menu features excellent seafood dishes, the pizza with pears, honey, and Roquefort is also sublime. Open daily, reservations required.
Address:
Yıldız Mh., Salhane Sk. No:1, Beşiktaş/İstanbul, Turkey.
Korfez
The Korfez lies nestled in a cove on the Asian side of the Bosphorus Straight, with tables set on a deck right over the water and a view of the bridge. Korfez is often purported to be the best seafood restaurant in Istanbul. Start the meal with Turkish vegetable starters or from a selection of seafood appetisers. Fish meals are salted lightly and grilled to perfection. The restaurant provides a ferry for customers coming to dine there from the European side of the straight. Open daily except Mondays. Reservations essential.
Address:
Anadolu Hisarı Mh., Körfez Cd. No:78, Beykoz/İstanbul, Turkey.
Feriye Lokantasi
The Feriye Lokantasi is a multi-purpose venue with its own bar, cafe, conference hall, and two separate seasonal venues for the one restaurant. The best way to enjoy this facility is on the outdoor terrace on a balmy summer evening. The menu, like the venue, is flexible and based on what is seasonal, offering Turkish cuisine cooked in the Ottoman tradition. The menu offers delicious meals such as grilled turbot, with saffron and courgette balls, in raspberry puree. Open daily for lunch and dinner, reservations required.
Address:
Yıldız Mh., Çırağan Cd. No:40, Beşiktaş/İstanbul, Turkey.
Mikla
Located on the top two floors of the 18 storey Marmara Pera Hotel, this gourmet restaurant offers glorious 360 degree vistas of the lights of Old Town. Chef-owner Mehmet Gurs prepares Turkish and Scandinavian meals such as sauteed scallops with vegetable risotto, and Ragu beef cheeks with porcini mushroom soup. An absolute favourite is the lamb escargot for mains, followed by a tachio and tahini ice-cream dessert. Reservations are essential.
Address:
The Marmara Pera Meşrutiyet Caddesi 15, Beyoğlu, İstanbul, Turkey.
Istanbul Airport
Location:
The airport is situated 25 miles (40km) northwest of Istanbul.
Transfer Between Terminals
There is one large, modern terminal at the airport, consisting of seven entrances. Gates 1 and 2 serve domestic flights, while the rest serve international flights.
Getting to the city:
While there are plans to connect the railway, shuttles are currently the only form of public transport serving the airport. Havaist and IETT offer shuttle services and tickets/smartcards can be purchased at the airport. Taxis are also readily available.
Car Rental:
Car rental companies include Europcar, Comet, Enterprise, Garenta, Hertz, Budget, Avis, and Dokay.
Airport Taxis:
Istanbul Airport is northwest of Istanbul and it takes around 45 minutes to an hour to reach the city centre by taxi. There are three main taxis: yellow economy taxis, blue comfort taxis, and black premium taxis.
Fascilities:
There are shops, banks, bureaux de change, prayer rooms, a large range of food and beverage outlets, bars, a duty free, and passenger lounges. There is also an airport hotel as well as tourism information centres.
Parking
Istanbul Airport boasts one of the largest multi-storey carparks in the world, consisting of five blocks with low-cost to premium options.
Sabiha Gökçen International Airport
Location:
The airport is 22 miles (35km) south-east of Istanbul.
Time:
GMT +2 (GMT +3 from the last Sunday in March to the last Sunday in October).
Transfer Between Terminals
Terminals are within one building.
Getting to the city:
Buses connect the airport to various parts of Istanbul. Tickets are TL 1.65 and the journey into Istanbul takes between 30 and 45 minutes. Shuttles to the historical centre of Istanbul run every half hour between 5am and midnight. Tickets are TL 18 for the 40 minute trip.
Car Rental:
Rental companies operating at the airport include National Alamo, Sixt, Payless, Central, Hertz, Europcar, Nord Travel, Budget, Avis, and Bostanci.
Airport Taxis:
Taxis can be found outside the arrivals section of the airport. Fares into Istanbul cost approximately TL 90, passengers have to pay highway and bridge tolls as well.
Fascilities:
The airport has ATMs, shops, restaurants, a first aid centre, pharmacies, a prayer room, hair salon, shoeshine stand, and meeting facilities. Currency exchange facilities and a post office are also available and there is a left-luggage desk.
Parking
Parking rates start at TL 8 for the first hour, TL 10 for 1-3 hours, TL 16 for 3-6 hours, and TL 35 for the day. Long-term reduced rates are also available.
International Istanbul Music Festival
One of the most prominent events on the city's cultural calendar and one of the foremost musical events in Europe, the International Istanbul Music Festival is a summer extravaganza of opera and ballet, as well as classical and traditional music. Over the years, the festival has hosted world-renown classical performers and groups from around the globe. Acts include local artists and traditional music groups, international philharmonic orchestras, distinguished chamber ensembles, and soloists, as well as dance and ballet performances and Sufi whirling. Concerts are held in various locations, including some of the historical buildings in Istanbul.
Guitar music Feliciano Guimaraes
Contemporary Istanbul
Every October, artists from across Turkey converge on the capital to showcase their latest creations in contemporary art. Exhibitions display paintings, sculptures, and crafts, and are sometimes sold or auctioned. Admirers show up for the week to asses, purchase, and critique.
Venue:
Lütfi Kirdar Istanbul Convention and Exhibition Centre
Contemporary Art in Istanbul Hendrik Wieduwilt
The Bosphorus Swim
This annual event sees over a thousand swimmers navigate the 4.3 miles (7km) of the Bosphorus Straight between Kanlica and Cemil Topuzlu Park, essentially swimming from Asia to Europe. Concurrently, rowers and sailors participate in longer races along the same route. Complementing the event are live brass band performances, water-ski exhibitions, and dance performances.
The Bosphorus halbag
For those in the know, Istanbul only comes to life once the sun sets. There is certainly an astounding range of nightlife in the city, from cutting edge techno to belly-dancing. The best place to start is BeyoÄŸlu, which is home to plenty of wine bars, jazz joints, and hip rooftop bars. In contrast, the tourist area of Sultanahmet has few venues worth mentioning. Start your evening off at one of the many which is a type of Turkish tavern famous for raki and mezze platters. Some of the best nightclubs are in Ortaköy, overlooking the Bosphorous. The most popular is Sortie, famous for supermodels, millionaires, and the effortlessly cool. For jazz music, head to enduring classic, Nardis Jazz Club. Clubs and bars stay open very late and drinks are affordable in comparison to European cities. Be careful of visiting adult entertainment clubs as these are notorious for ripping off tourists. Always establish prices before ordering anything. For local listings check out or the .
Shopping in Istanbul is a mixture of old, new, antique, exotic, and unadulterated kitsch. Souvenirs, spices, leather goods, carpets, kilims, and earthenware are all popular buys with tourists, but the experience is more about wandering through the winding streets and markets, taking everything in, and hunting for bargains.
The most notable market is the Grand Bazaar, which boasts over 4,000 shops and, just in case that's not enough, the entire market is surrounded by a maze of streets lined with even more shops! Just about everything and anything can be found at the Grand Bazaar and haggling is an essential skill. If you're looking to for more market experiences, check out the Egyptian market and the flea market in Beyazit Square are also worth a visit.
Outside the Grand Bazaar, to the east, Nuruosmaniye Caddesi is the place to buy jewellery, and fine art boutiques can be found nestled down the side streets. Aditionally, a shopping trip in Istanbul is not complete without buying a box of Turkish delights, which can be found all over the city in souks (markets) and specialist shops.
Most shops in Istanbul are open from 8am until roughly 9pm, and religious shopkeepers will close for an hour on Friday at lunchtime for prayers at the Mosque. In many areas shops are closed on Sundays. Non-European tourists can apply for a tax refund depending on the nature of the goods that have been purchased. In Turkey, the minimum purchase to qualify for a refund is TRY100 and visitors will need to request a VAT refund request form when making a purchase.
The best and easiest way to explore the old city is on foot, but to get to other areas there is a cheap public transport network consisting of buses, taxis or dolmuses (shared minibus taxis), tramways, and a metro system that has relieved some of the pressure on Istanbul's endless traffic. The rechargeable Akbil electronic transit pass, available from special kiosks, is a discounted way of using local buses, trams, the metro, and ferries.
A useful underground metro line runs from Aksaray to the main city bus station at Esenler, and another runs north from Taksim Square, passing the Levent districts. Buses are slow and crowded; tickets must be purchased at outdoor kiosks, as bus drivers do not sell them. Dolmuses and private yellow taxis are more comfortable than the city buses and very inexpensive, but it is advisable for foreigners to have their hotel call a private taxi for them and check that the meter is working, as overcharging is common. A taxi's night rate can be up to 50 percent more expensive than the day rate. Dolmuses can be hailed anywhere along their set routes. Passenger ferries are a pleasant way to see the city. Driving or hiring a car is not recommended due to traffic congestion and poor driving standards.
Istanbul's most prominent attractions are of the architectural variety, a selection of formidable and historical structures that make sightseeing in Istanbul educational as well as visually rewarding. Sightseeing in Istanbul offers attractions such as the Hagia Sophia, a huge museum and former cathedral, that is adorned with stunning mosaics. Another iconic Istanbul attraction is the Blue Mosque, with its graceful minarets and tiered domes. The 1st century Sunken Palace is supported by hundreds of underground columns, an essential Istanbul landmark. While sightseeing in Istanbul, Galata Tower offers visitors a 360º panoramic view of the old town. Nearby, the 5th century Land Walls stand testament to the city's resistance of its 1453 conquest by the Ottoman Empire. The Covered Bazaar, or Kapali Çarsi, is the oldest and biggest enclosed bazaar in the world, a must-see while in Istanbul.