Dotted with picturesque medieval villages, tranquil lakes, lush forests, coastal island archipelagos, and cosmopolitan cities, sightseeing in Sweden is anything but dull. For a break from historical and cultural attractions, hop on board a ferry or enjoy a picnic in one of Sweden's countless parks.
Head north to explore the icy tundra and UNESCO World Heritage Site of the Laponian area in Lappland, sample some reindeer steaks, marvel at the Northern Lights (Aurora Borealis), and explore the Ice Hotel which is sculpted each year by the Sami people in the winter months.
Head south to the capital of Stockholm, boasting more than a dozen islands to explore via day cruises, a wonderful arts and nightlife scene, and ocean fishing from the heart of the city. Visit the quaint Gamla Stan (Old Town), a maze of narrow cobble-stoned streets shaded by historic houses circling the Royal Castle where Swedish royalty has resided since the 13th century, or explore the canals of Gothenburg.
The west coast fishing villages are the place to be for seafood lovers, while those who are more into culture will be smitten with Uppsala, the ancient Viking city where the last building was constructed in the 18th century and more than 150 museums can be investigated.
The summer months are the most popular time to visit Sweden, but the country truly is a year-round destination, even though the winter months are short on sunlight. With a wealth of attractions and historical sites, visitors will need a few weeks, if not months, to fully enjoy the magic and charm of Sweden.
Gamla Uppsala
Three miles (5km) north of Uppsala, Gamla Uppsala was once an important town, the seat of Swedish royalty and the site of many historic funerals. It was an important religious and cultural centre as early as the 3rd century AD, and ancient sources identify the site as the power centre of the legendary Yngling dynasty of Swedish royalty. The Uppsala temple oversaw rites and sacrifices to the Norse gods in the pre-Christian era, and it was said that Odin himself resided there.
However, as Christianity overtook Europe, the ancient temple was burned and the stone church of Gamla Uppsala was built in the 12th century. The church still stands today, along with a grave field of about 250 burial mounds. Once, between 2,000 and 3,000 ancient burial mounds could be found at Gamla Uppsala but farmlands have encroached on the archaeological treasures. Gamla Uppsala also has a small museum detailing the rich history of the town, and a few historic old buildings.
Today, Gamla Uppsala has a population of under 20,000 and it is a picturesque little town, well worth a visit for its historical atmosphere and beautiful surroundings. Visitors can spend the day on a guided tour (available during the summer months). The main attractions include Gamla Uppsala Museum, Gamla Uppsala Church and the open-air museum behind it, and Odinsborg restauarant. The town is accessible from Uppsala by a quick bus trip.
Transport:
Visitors can reach Gamla Uppsala by taking the 110 bus from Uppsala C.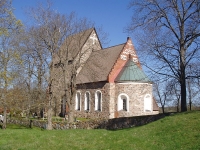 Gamla Uppsala, Sweden Lestat
Royal Djurgarden
Stockholm's main attractions are conveniently packaged close to the heart of the city on the island of Djurgarden, crammed with entertainment options, museums, restaurants, and wooded green space. Once upon a time the island was a royal hunting ground. Now visitors can hunt for souvenirs at the Handarbetets Vanner (handicraft centre), browse the art galleries, enjoy the exciting Grona Lund amusement park, explore Sweden's past at the Skansen open-air museum, meet Nordic wildlife at the zoo, and watch folk dancing. Also on the island, accessed by a pleasant stroll along the waterfront, is the Junibacken fairytale fun centre, the National Museum of Cultural History, and the fascinating Vasa Museum featuring a fully rigged, fully restored 17th-century galleon raised from Stockholm harbour. Top off the day with a meal at one of the many excellent restaurants, some of which are situated on boats and provide excellent views over the water. Djurgarden is one of Sweden's most loved recreational areas for locals and foreigners and the island attracts more than 10 million touristic visitors a year. Just a stroll around the island, on the many walking paths, nature trails, and waterfront promenades, is a joy.
Address:
A 10-minute walk from the city centre across the Djurgarden bridge.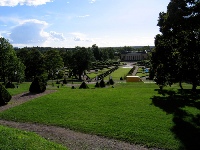 Royal Djurgarden hildgrim
Royal Palace and Gamla Stan
The official Swedish royal residence is one of the largest and grandest palaces in Europe, dating back to 1754 (although it was built on the remains of an earlier medieval castle). The Baroque edifice is in the heart of Gamla Stan, the old city, and many of its 608 state rooms are open to the public all year round. Visitors can admire the Hall of State, the Royal Treasury, the Apartment of the Orders of Chivalry, the Gustav III Museum of Antiquities, the Kronor Museum, and the Royal Chapel. In front of the palace the changing of the guard ceremony takes place (Wednesday and Saturday 12:15pm; Sunday 1:15pm) with splendid pomp and ceremony that rivals the similar tradition played out at Britain's Buckingham Palace. Visitors should note that the palace is used for most of the Swedish monarchy's official ceremonies and receptions and closes to the public during these events - check the calendar on the official website to avoid disappointment.
Gamla Stan itself is a treasure trove of Swedish architecture, much of which dates from the 17th century. Today tourists throng the alleyways once notorious for brothels, but now lined with shops and restaurants, peddling up cutting edge designs and traditional swedish fika. Other attractions in Gamla Stan include: The Nobel Museum, which offers a moving account of one of the world's most coveted prize in literature, economics, chemistry, physics, and medicine; the Royal Coin Cabinet, a museum dedicated to the history of money which contains some fascinating ancient artefacts; and Stortorget, the oldest square in Stockholm, from which the current city grew, where visitors can marvel at street performers and the iconic, multi-coloured building facades for which the square is famous.
Address:
Slottsbacken 1, Gamla Stan.
Transport:
Metro stop Gamla Stan, or bus 2, 43, 55, 71 or 76 to Slottsbacken station
Opening time:
Open daily 10am-5pm (14 May to 25 September), Tuesday to Sunday 10-4pm (26 September to 13 May). Royal Apartments may close fully or partly in conjunction with official receptions of His Majesty The King.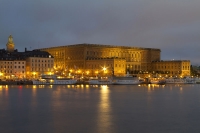 Royal Palace, Stockholm Brorsson
Stockholm City Hall
Stockholm's main landmark, the distinctive red brick City Hall (Stadshuset) building has stood on Kungsholmen (King's Island) since 1923 and has become world-renowned as the venue for the annual Nobel Prize Banquet. A visit to Stockholm's City Hall is a must for architecture lovers: the rather practical and austere façade, dominated by three golden crowns atop a tower, hides an extraordinary interior. The plush council chamber itself has a vaulted ceiling resembling an inverted Viking longboat, echoing the Viking tradition of using overturned vessels as shelter in winter. Most impressive, though, is the magnificent Golden Hall, its walls covered with handmade mosaics, while the view of Stockholm from the tower is unsurpassed. The Stockholm City Hall can only be visited on a guided tour, which can be done by joining one of the public tours that depart every day, or by arranging a private tour. Accredited guides can also bring groups into the City Hall for tours. The public tours last about 45 minutes; private tours can explore at their own pace.
Address:
Hantverkargatan 1, Stockholm, Sweden.
Transport:
Underground station T-Centralen/T-Rådhuset, or bus 48 and 62
Opening time:
Tours are available every day.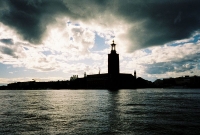 Stockholm City Hall, Sweden Christopher J. Martin
Museum of National Antiquities
Sweden's history from prehistoric times to the present day is fascinatingly laid out in the Museum of National Antiquities in Stockholm, often just called the Swedish History Museum. It contains a hoard of archaeological artefacts and treasures, including an impressive collection of gold objects recovered from the tombs and treasure caches of the Vikings (in the basement Gold Room), going back all the way to the Stone Age. The museum's most prized possession dates from the Middle Ages: the splendid gold reliquary, set with precious stones, which contained the skull of Saint Elisabeth of Thuringia. The museum has a gift shop and cafe with plenty of seating. Photography is allowed in the permanent exhibitions but tripods are not permitted. Free audio guides in English, German, French, Spanish, and a number of other languages can be downloaded on your phone or borrowed from the front desk. Guided tours are also available. The displays are well laid out and there is sufficient information for English speakers, but the audio guide greatly enriches the experience. This world-class museum can occupy visitors for a few hours at least, and even kids enjoy the experience.
Address:
Narvavagen 13–17, Stockholm.
Transport:
Metro station Karlaplan; bus 44 and 56
Opening time:
Open daily 10am to 6pm (June to August); open Tuesday to Sunday 11am to 5pm, Wednesday 11am to 8pm, and closed Mondays (September to May).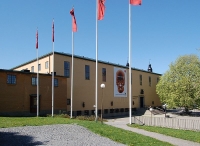 Museum of National Antiquities, Stockholm FriskoKry
Goteborg Botanical Garden
The Botanical Garden in Gothenburg is one of the largest in Europe and generally considered the most beautiful in Sweden, boasting about 13,000 different species of plant. The area covers 175 hectares (432 acres), most of which is a nature reserve including an arboretum. Inaugurated in 1923, on the city's 300th anniversary, the garden is one of the most popular tourist attractions in Gothenburg and indeed in Sweden. The pride of the garden is the Rock Garden, but other worthwhile areas to visit include the Japanese Glade and the Rhododendron Valley. The greenhouses display an impressive collection of about 1,500 orchids, among many other remarkable and rare plants, including extensive collections of Australian and South African flora. They host a series of exhibitions throughout the year so check the official website listed below to see what's showing during your visit. Well-maintained and extensive walking trails make the gardens a pleasure for hikers, and there are many beautiful nooks for picnics and relaxation. There is also a lovely cafe for refreshments. Travellers should note that although the botanical garden is open all year, in the cold months there is not much to see outside of the greenhouses.
Address:
Carl Skottsbergs Gata 22 A, Göteborg, Sweden.
Transport:
The gardens central location guarantees easy access by foot or tram.
Opening time:
The gardens are open year-round from 9am until sunset. The greenhouses are open from 10am to 5pm, May to August, and from 10am to 4pm, September to April.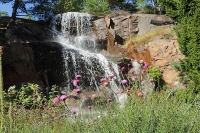 Gothenburg Botanical Garden, Sweden C T Johansson
Liseberg Amusement Park
One of the most popular tourist attractions in Sweden, Liseberg Amusement Park has been welcoming millions of visitors a year for almost 80 years. Besides popular rides like the wooden roller coaster Balder and tamer rides for the children, there are more than 30 different attractions, restaurants and entertainment venues where concerts and shows attract huge crowds. Apart from all the fun rides, Liseberg Amusement Park offers many diversions in the form of games, shops, and scenic or themed areas. Adults may enjoy strolling through the attractive garden area, with waterfalls and sculptures. There is a good range of restaurants and eateries in the park, with some fine dining options and plentiful fast food. Besides the ever-popular summer season, Liseberg is also open over the festive season for the biggest Christmas market in Scandinavia, as well as food specialities of the season, an ice bar, and holiday entertainment. This is a must for travellers in Gothenburg over Christmas, when many locals feel that Liseberg is at its most special. As opening times, dates, and prices all fluctuate according to season, visitors are advised to check the official website in advance to plan their trip.
Address:
Örgrytevägen 5, Göteborg, Sweden.
Transport:
Liseberg is easily reached by taking tram 13: Goteborg Sahlgrenska huvudentr, from central station.
Opening time:
Opening times vary widely depending on the season and day of the week. For a detailed schedule go to http://liseberg.com/en/home/Amusement-Park/Opening-Hours/.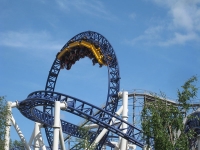 Liseberg Amusement Park, Gothenburg Albin Olsson
Alvsborg Fortress
The well-preserved, 17th-century Alvsborg Fortress is located on a small island at the entrance of the harbour, at the mouth of the Gota River near Gothenburg. With a fascinating history of battles against the Danes, the fortress was once the mightiest citadel in Sweden for coastal defence and is said to be the best preserved of its kind in the country. A boat trip to the fortress is one of the most popular activities for tourists in Gothenburg. Boat tours of the archipelago offer passage to the fort, along with views of the pretty waterways. There is also a good view of the harbour from the island and some walking trails around the fortress to explore independently. A dramatised tour in English or Swedish explaining the history of the castle is included in the admission fee. It tells the history of the region from the 1600s to the present, introducing visitors to the colourful characters of the past. There is a cafe and a small craft shop on the island for refreshments and souvenirs. It's also possible to bring your own picnic basket. The boat trip to the island takes about 30 minutes each way, and travellers should note that the boats only run seasonally.
Transport:
Boat tours depart daily to the fortress island from Lilla Bommen jetty between July and August, and weekends only in September. Boats sometimes also depart in May but it is recommended to confirm availability.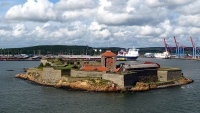 Elfsborg Fortress, Sweden Tomasz Sienicki
Gota Canal
One of the most famous attractions in Sweden, the Gota Canal was an important transport route for passengers and goods between Gothenburg and Stockholm throughout the 19th century. One of the biggest civil engineering projects to ever take place in the country, the canal stretches 118 miles (190km) from Sjotorp on Lake Vanern to the Baltic Sea at Mem and has 58 locks. Gothenburg is linked to the canal at Lake Vanern by the Gota River. The picturesque, tree-lined channels are popular for cruises, which pass through the beautiful lakes of Vattern and Vanern, usually lasting about five to six days. Many boat trips are available on the canal, but they are almost always seasonal and often only operate in the summer months. A good option for travellers visiting in spring or autumn is a cycling trip along the banks of the canal. Canal trips are wildly popular with visitors and locals, providing a glorious way to traverse the pretty countryside. The official website listed below gives details on the different cruises, activities, and accommodation options along the Gota Canal.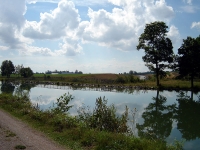 Gota Canal, Sweden Gus
Gothenburg Archipelago
Boat trips to the southern and northern archipelago of Gothenburg are popular with both visitors and residents. The southern archipelago includes eight car-free, sparsely inhabited islands that boast sandy beaches, good swimming, beautiful nature, walking paths, and a charm of their own. The southern islands frequently feature in Viking mythology, adding to their wild mystique. The island of Branno is thought to be the location for the famous Anglo-Saxon poem Beowulf. Vargo is a nature reserve and a great spot for bird watchers. Kopstadso is a small island with picturesque, narrow walking trails. Styrso is more developed and boasts some accommodation for holidaymakers, having been a kind of bathers' resort since the 1830s. The northern archipelago is more heavily populated and offers numerous hotels, restaurants, and sea-based activities. Although the islands can be explored independently by those who hire boats, and some travellers choose to spend some time staying in the archipelago, most tourists simply join the general boat tours of the archipelago, which take roughly four hours and show passengers the beauty of the River Gota, River Nordre, Bjorko Fjord and Goteborg's harbour as well as some of the islands.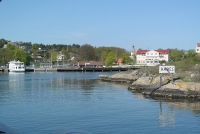 Gothenburg Archipelago, Sweden Adbar
Skansen
Visitors can explore Sweden's past at Skansen, the oldest open-air museum in the world. Historical buildings dating mainly from the 18th and 19th centuries have been relocated here from around the country. Visitors move through five centuries of Swedish history, gaining a real sense of the nation's character and past. The exhibits include a full replica of a 19th-century town complete with craftsmen in period dress who demonstrate the arts of tanning, shoemaking, baking, and glass-blowing. Many shops are available to visitors, selling everything from blown glass to cinnamon buns, making Skansen a good place to shop for souvenirs. On summer evenings there is often folk dancing and other cultural displays to enjoy. Skansen is also home to an aquarium and the World of Monkeys within the Skansen Zoo, which focuses on Scandinavian animals such as reindeer, wolverines, elk, lynx, and brown bears. Every December the central square hosts a Christmas market that attracts thousands of visitors every weekend. The various restaurants and shops have their own opening hours, which can be confirmed on the website; the many special events held at Skansen also make it worthwhile to check the website before planning your visit.
Transport:
Bus 47 from Central Station, vintage tram 7, or ferry from Gamla stan.
Opening time:
Daily 10am-10pm (20 June to August), 10am-8pm (May to 19 June and September), 10am-4pm (March, April and October); the rest of the year 10am-3pm (until 4pm on weekends). Market days 11am-5pm on weekends. Opening times are likely to vary frequently - check website for details.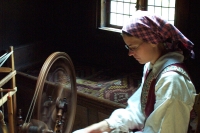 Skansen, Sweden Hal O'Brien
Grona Lund
Grona Lund is Sweden's oldest amusement park and an amazing attraction for families. Built in 1883, the park features a number of rides including classics like bumper cars, carousels, and Ferris wheels of varying thrill levels. There are also several fast-paced roller coasters and high-adrenaline rides to keep adults entertained. Height charts for the rides are available on the park's website so parents can see what is available to their children before going. There is also a crèche available. A great selection of restaurants and eateries, ranging from fine dining to buffet and fast food options, ensures nobody will go hungry in the park. Grona Lund hosts plenty of live music concerts during summer evenings, with some serious performers attracting big crowds. The amusement park only opens seasonally, with a calendar detailing opening days and times can be found on the official website listed below. Those likely to be enjoying lots of the rides should buy the ride pass which allows access to all rides all day, because buying the coupon booklets as required usually works out to be much more expensive.
Address:
Lilla Allmänna Gränd 9, Stockholm, Sweden.
Transport:
Ferry boats operate off Södermalm in the summer, while buses operate regularly from T-Centralen.
Opening time:
Open between June and August and for part of May and September. Opening times vary according to season, but in peak summer the park is often open from 10am to 10pm. Confirm opening dates and times on the official website to avoid disappointment.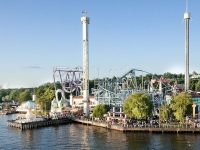 Grona Lund Grona Lund
Uppsala Cathedral
The Uppsala Cathedral dominates the city skyline as the tallest church in Scandinavia at 390 feet (119m). Also called the Uppsala Domkyrka, it was built in the 14th century for royal coronations and is now the seat of the Archbishop for the Lutheran Church of Sweden. A number of Swedish kings and other prominent citizens are interred inside. The exterior of the cathedral is made of red brick, with a French Gothic interior featuring murals of St Erik, the patron saint of Sweden. In the summer months there are often lunch-time concerts on the tower balcony. Those interested in the cathedral's history should consider hiring a guide as there is a wealth of history on display in the church. There is also a small museum housing ecclesiastical relics and a graveyard with elaborately-carved tombstones. The cathedral has a small gift shop and cafe. Considered by many to be the top attraction in Uppsala, and much-loved by the locals, the cathedral is a hub of activity in the community, frequently hosting events and plenty of live music.
Address:
Domkyrkoplan 2, Uppsala.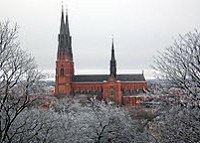 Uppsala Cathedral Wilson44691
Linnaeus Garden and Museum
The Linnaeus Garden was founded in 1655 as the first botanical garden in Sweden. It wasn't until the 18th century that Carl Linnaeus, a prominent Swedish botanist zoologist, physician, and father of modern taxonomy and ecology, redesigned the garden and began cultivating plants under his own system. It now contains roughly 1,300 plant species and is maintained by Uppsala University. Within the garden is the Linnaeus museum, which was the scientist's home for 35 years. The garden is a living complement to Linnaeus' work; he designed the plot to demonstrate his theories to his students, choosing each plant for a purpose. Although the garden fell into a state of disrepair for more than a century, it was faithfully restored in 1917 using the detailed plant lists and garden maps of Linnaeus himself. Although in many ways the garden is an academic exercise, fascinating for people interested in subjects like phenology, it is also a beautiful botanical space in its own right and can be enjoyed for its aesthetic quality alone. Guided tours of the garden are available but must be arranged in advance by phone or email. There is a restaurant in the garden for refreshments.
Address:
Svartbäcksgatan 27.
Transport:
Visitors can get to the gardens by city buses 2, 5, 13, 14 and 42, while regional buses 110, 111, and 115 are also suitable. All buses stop at Skolgatan, which is only a short walk from the Linnaeus Gardens.
Opening time:
May: Tuesday–Sunday 11am–5pm. June–August: Monday–Sunday 11am–5pm. Closed Midsummer Eve. September: Friday–Sunday 11am–5pm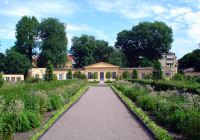 Linneaus Garden Andreas Trepte
Vasa Museum
One of the most popular attractions in Sweden, the 17th-century warship Vasa sank on its maiden voyage in 1628 and was salvaged in 1961, with thousands of artefacts, including coins, tools, clothing, and other historical items. The ship has been carefully restored, including the upper gun deck, the admiral's cabin, and the steering compartment. Exhibitions detail the hardships of life at sea, and showcase the primitive supplies and medical equipment sailors had to contend with. There is even a museum garden where the vegetables, herbs, and flowers once used by the crew for food and medicine are grown in season. Guided tours are included in the entrance fee. They are conducted in English and Swedish several times a day and take about 25 minutes, but the schedule varies according to season and day so travellers should check the website before visiting. Groups of more than nine people will need to book guided tours in advance for a fee. There is a restaurant and a shop at the museum for refreshments and souvenirs. The Vasa Museum is consistently one of the top rated tourist attractions in Stockholm and is an intriguing place to visit for people of all ages.
Address:
Galärvarvsvägen 14, Stockholm, Sweden.
Opening time:
Open daily 10am to 5pm, and Wednesdays 10am to 8pm (September to May); open daily 8:30am to 6pm (June to August).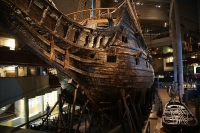 Royal Warship Vasa JavierKohen
The climate in Sweden varies from north to south. Despite its northerly placement, the country is generally temperate due to the warm offshore Gulf Stream currents. There are three different climatic zones in Sweden: the south has an oceanic climate, the centre has a humid continental climate, and the north has a subarctic climate.
Summers in the south and centre of Sweden are warm and pleasant, with average high temperatures ranging between 68°F and 77°F (20°C and 25°C). In the winter, temperatures in these regions average between 25°F and 36°F (-4°C and 2°C).
In the north it is substantially colder, with short, cool summers and long, snowy winters, while temperatures frequently drop below freezing between September and May. Rain is possible in Sweden at any time of year, but is most common in late summer. The southwest of the country receives the most rain.
The best time to visit Sweden is in the summer months from June to August, when the days are long and warm and the open-air museums and restaurants are open. As summer is the most busy and expensive time to visit Sweden, some travellers prefer to go in the spring or autumn, which are both very pleasant seasons and far less crowded.
Money:
The Swedish monetary unit is the Krona or Crown (SEK), which is divided into 100 öre. Banks exchange money during business hours from Monday to Friday. At other times money can be changed at airports, ferry terminals, post offices, and Forex exchange offices, which are open daily. There are numerous ATMs throughout the country, most of which accept MasterCard and Visa. Sweden is an almost cashless society so most major credit cards are accepted throughout Sweden, while mobile payment apps are very popular.
Language:
Swedish is the main language, with Lapp being spoken by the Sami population in the north. Most Swedes speak and understand English, while many are proficient in other European languages like German, French, and Spanish.
Electricity:
Electric current is 230 volts, 50Hz. Standard European two-pin plugs are used.
Entry Requirements:
To enter Sweden, US citizens require a passport valid for three months beyond intended stay. No visa is required for stays of up to 90 days within a 180 day period.
United Kingdom citizens require a passport valid for at least three months beyond period of intended stay, with the exception of passports marked 'British Citizen', 'British Subject' (containing a Certificate of Entitlement to the Right of Abode issued by the United Kingdom), and 'British Overseas Territories Citizen' issued by Gibraltar, which will be accepted if valid on arrival.
No visa is required for passports endorsed 'British Citizen', 'British Overseas Territories Citizen' issued by Gibraltar, Identity Cards issued by Gibraltar, and 'British Subject' (containing a Certificate of Entitlement to the Right of Abode issued by the United Kingdom). All other British nationals are entitled to a maximum stay of 90 days without a visa, within a 180 day period.
Canadians require a passport valid for the period of three months beyond the intended stay to enter Sweden. No visa is required for a maximum stay of up to 90 days within a 180 day period.
For entry to Sweden, Australian citizens require a passport valid for three months beyond period of intended stay. No visa is required for stays of up to 90 days within a 180 day period.
South Africans require a passport valid for three months beyond period of intended stay as well as a visa for entry to Sweden.
Irish nationals require a valid passport, but no visa is necessary.
To enter Sweden, US citizens require a passport valid for three months beyond intended stay. No visa is required for stays of up to 90 days within a 180 day period.
New Zealand nationals require a passport valid for three months beyond period of intended stay. No visa is necessary for stays of up to 90 days within a 180 day period.
Passport/Visa Note:Visa:
All visitors are required to have visible means of support as well as tickets and documentation for return or onward travel. The borderless region known as the Schengen area includes the following countries: Austria, Belgium, Czech Republic, Denmark, Estonia, Finland, France, Germany, Greece, Hungary, Iceland, Italy, Latvia, Lithuania, Luxembourg, Malta, The Netherlands, Norway, Poland, Portugal, Slovakia, Slovenia, Spain, and Sweden. All these countries issue a standard Schengen visa that has a multiple entry option that allows the holder to travel freely within the borders of all. It is highly recommended that passports have at least six months validity remaining after your intended date of departure from your travel destination. Immigration officials often apply different rules to those stated by travel agents and official sources.
Travel Health:
There are no health risks associated with travel to Sweden. Medical care in the country is excellent, and reciprocal health agreements exist with other European Union countries, including the United Kingdom. UK citizens in possession of a European Health Insurance Card (EHIC) will be entitled to emergency medical treatment on the same terms as Swedish nationals. All non-EU travellers should ensure they have comprehensive travel insurance.
Tipping:
A service charge is included in restaurant bills. Waitrons may see a tip as demeaning so it's best to make sure if it is fine before adding a tip. Generally customers round up the fare when using a taxi. Tips are welcome for exceptionally good service in hotels, but are not expected.
Safety Information:
Sweden is an extremely safe country to visit. There is some petty crime in the cities where tourists congregate, but crime is generally at much lower levels than elsewhere in Europe. Most visits to Sweden are trouble free.
Local Customs:
Swedish culture is very liberal and secular. Equality is an important part of Swedish culture, and boastfulness and open conflict is usually avoided, as is discussing work as an entry into a conversation.
Chivalry is often considered an outdated concept in Sweden, which is one of the most gender equal countries in the world, and gestures like opening doors for women are not considered necessary.
Smoking is not allowed in indoor establishments like restaurants and bars. Swedes have a reputation for being meticulously tidy, so it is polite to remove your shoes when entering a Swedish home.
Business:
Sweden is no stranger to corporate culture and is home to many global companies like Skype and Spotify, not to mention popular automotive company, Volvo. Scandinavians, and Swedes in particular, value the inherent equality and dignity of all people; this is reflected in business where consensus and compromise is valued in the decision-making process.
Decisions often take a long time to be made as all opinions are considered. Avoid overt displays of wealth or status. Business practice and personal conduct should always be rational, calm, and disciplined. As a result Swedes often come across as overly reserved, but it also makes business meetings efficient.
The business world in Sweden draws a strict line between work and social gatherings so don't expect many post-work social events or dinner invitations. The best way to circumvent the reserved nature of most Swedes in the business environment is at the twice-daily fika, or coffee break, when the general rules regarding business behaviour are relaxed a little.
Punctuality is vital and it is a point of pride for many Scandinavians, illustrating mutual respect. It is important to schedule an appointment in advance and have it confirmed shortly before any engagement. Handshakes for men and women are common after introduction and often first names are used instead of surnames.
Dress codes are conservative and smart, but suits are not always necessary. Business people in Sweden should endeavour to show honesty, transparency, professionalism, and mutual respect in all business dealings. Sweden is one of the least corrupt countries in the world, making it a pleasure to do business here.
Business hours run from 8am to 5pm from Monday to Friday. The language of business is Swedish, but English is generally spoken throughout the country and many multinationals will use it as the language of business when necessary.
Communications:
The country code for Sweden is +46. There is good coverage across the country for mobile telephones, and many Swedish networks are partnered with international providers to ensure seamless connectivity. Internet cafes can be found in all the cities and towns and public wifi is available in certain areas.
Duty Free:
Travellers to Sweden over 18 years from non-EU countries and residents who arrive on a commercial flight, from a trip exceeding 20 hours do not have to pay duty on the following items: 200 cigarettes, or 100 cheroots, or 50 cigars, or 250g tobacco, or a proportional mix of these. One litre of spirits with alcohol content higher than 22 percent, or two litres of fortified or sparkling wine, and two litres of non-sparkling wine and beer are allowed duty free; other goods to the value of SEK 1,700 are also allowed. Prohibited items include drugs, other than those for medical or scientific purposes; and potatoes that are grown outside the EU.