Gateway Arch
Within the riverside park known as the Jefferson National Expansion Memorial, the Gateway Arch is a soaring landmark above the city's skyline. The thin stainless steel arc reaches to twice the height of the Statue of Liberty, at 630 feet (192m) tall.
It symbolises the role of St Louis as the 'Gateway to the West' for the pioneers who journeyed along the Oregon and Santa Fe Trails towards the western frontier. It is also dedicated to the US president who was responsible for opening up the West.
An observation deck reached by a tram system provides magnificent views over the city, the Mississippi and the spreading plains. Also on the site with the Arch is the Old Courthouse Museum, the venue for the hearing of several momentous cases during the 19th century.
At the base of the monument is the excellent Museum of Westward Expansion, with exhibits covering exploration of the West and its honoured pioneers, including Lewis and Clark, the Plains Indians, and buffalo soldiers. The Odyssey IMAX Theatre shows big-screen films about the region and its history.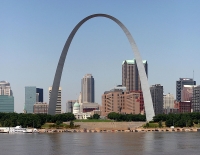 Gateway Arch Fetchcomms
Forest Park
Larger than New York's Central Park, the beautifully landscaped Forest Park is filled with attractions. The acclaimed St Louis Art Museum has a magnificent international collection of art covering works from the prehistoric to the contemporary, housing one of the most extensive collections of German Expressionism worldwide.
The St Louis Science Center features life-size dinosaurs along with displays and interactive exhibits on the environment, aviation, technology and more. There is also an OMNIMAX Theatre and Planetarium.
Thousands of animals roam the beautiful grounds of the St Louis Zoo, with indoor and outdoor displays, and a Living World Exhibition features an animated robotic figure of Charles Darwin who summarises his theories on evolution.
The Missouri History Museum documents life in St Louis with old photographs and displays on river life, local music, and western expansion. Forest Park is brimming with natural beauty and fun diversions for the whole family and can easily occupy visitors for hours.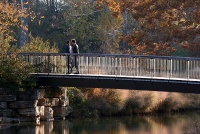 Forest Park Matt Kitces
Laumeier Sculpture Park
Laumeier Sculpture Park is an open-air museum containing more than 70 outdoor sculptures dotted along a 1.4 mile (about 2.3km) walking trail. The mission statement is to enrich lives and inspire creativity by expanding the context of contemporary sculpture, allowing people to see it in a natural setting.
Visitors to the Laumeier Sculpture Park are unanimous in their approval of this goal, with well over 300,000 people visiting the park every year. Laumeier also boasts outdoor movie screenings and a more traditional indoor gallery housed in an 1816 Tudor mansion.
Over and above being a wonderful picnic site, it offers visitors a fresh and exciting way to engage with the arts. The park is open year-round and entry is free, but admission to special exhibitions usually requires tickets.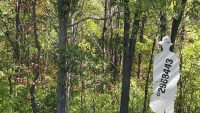 Laumeier Sculpture Park Joel Krauska
St Louis City Museum
One of the most popular attractions for kids in St Louis, the St Louis City Museum isn't a stuffy hall with dusty dioramas. It boasts attractions like a ten-storey slide, a rooftop Ferris wheel, treehouses, enchanted caves, a 200-year-old frontier cabin, an aquarium, and much more.
There are also educational exhibits on natural history and architecture, and special play areas for toddlers. There is a gift shop on the ground floor and several cafes throughout the building. With a reasonable admission charge and so much on offer, the St Louis City Museum is definitely a must for those travelling with kids in St Louis.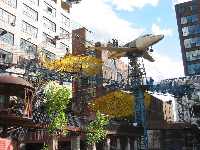 St Louis City Museum Raymond M. Reskusich
St Louis sits somewhere between a humid subtropical and a humid continental climate, with four distinct seasons and the possibility of stormy weather at any time of year. July and August, the peak summer months, are the hottest and most humid months of the year, and January and February are the coldest and likely to be snowy.
Winter temperatures average between 23°F (-5°C) and 45°F (7°C), while the average summer temperatures range between 66°F (19°C) and 89°F (32°C). Rainfall is fairly evenly distributed throughout the year, with some rain likely in every month.
St Louis Lambert International Airport
Location:
The airport is situated 14 miles (23km) northwest of St Louis.
Time:
GMT -6 (GMT -5 from mid-March to the first Sunday in November).
Transfer Between Terminals:
A free 24-hour shuttle service runs between the two terminals.
Getting to the city:
The Metrolink light rail system departs from both terminals to the city centre several times a day. Shared van services provide transport to city centre hotels; bus services, and airport taxis are also available from both terminals.
Car Rental:
Car rental companies include Alamo, Avis, Budget, Thrifty, Hertz, Enterprise, and National.
Airport Taxis:
Taxis are available outside Exit Door 14 of Terminal 1, and outside Exit Door 12 of Terminal 2. Ride-hailing apps Uber and Lyft are also in operation.
Fascilities:
Airport facilities include ATMs, currency exchange services, an interfaith chapel, restaurants, snack bars, shops, postal services, club lounges, and an information desk. Disabled facilities are good.
Parking
There is both short-term and long-term parking, with a myriad of locations and price differences. Parking can ranges from $5 to $23 and is cheaper farther away from the terminals. A free shuttle serves certain parking lots.
The pride of St Louis is the city's clean, efficient light rail system called the MetroLink, regarded as one of the best mass transit systems in the United States. Using the MetroLink, visitors can see most of St Louis' attractions without a car.
The system's zone covers the airport and East St Louis, stretching through downtown. Trains stop at multiple stations in Missouri and Illinois before the line ends at Shiloh-Scott. A basic MetroLink fare is $2.50.
The MetroBus network, which covers not only the city but also most of the county, also serves St Louis. Buses run to schedule from about 4am until after midnight. A basic bus fare is $2. There are taxi ranks near most major hotels and attractions in the city, while cabs can be ordered from various companies.
Those who opt for self-driving will find the city easy to navigate, as the downtown streets are laid out in a grid pattern and there is also a good network of highways. There is abundant parking in high-rise garages.
The city's distinctive neighbourhoods comprise the real heart of St Louis, retaining the influence of the many ethnic groups which settled the city. The Hill is known for its old-world charm and excellent restaurants imbued with a Latin flavour lent by its Italian community.
The Central West End is a trendy quarter filled with chic boutiques and antique shops, sidewalk cafes, art galleries, and some of St Louis's finest residential properties. The French neighbourhood of Soulard has a colourful Saturday produce market.
Free attractions are a St Louis tradition, and today's visitors can access more high-quality attractions at no cost than almost anywhere else in the USA. There are scores of interesting things to do for free, including numerous activities geared towards children. This makes it an excellent family destination and a good urban option for budget travellers.