Gold Reef City
This huge entertainment complex is essentially a theme park full of thrill rides, but was designed to recreate Victorian Johannesburg during the gold-rush era. Situated five miles (8km) south of the city centre via the M1 motorway, the park was built around the No.14 Crown mineshaft that began operations in 1887 and closed in 1971. During its production years, 1,400 tons of gold came out of the shaft. Visitors can now descend into the old mine shaft to experience life at the rock face, and watch gold being poured and minted. Gold Reef City also houses a number of museums, and offers performances by traditional gumboot dancers and the like. Youngsters particularly enjoy rides like the Anaconda roller coaster and Thunder Mountain River Rapids. The range of rides ensures that there is plenty for all age groups and a good mixture of the mellow and adrenalin-pumping. There are also plenty of restaurants, bars, a massive casino, and a Victorian hotel for those wanting to stay the night.
Gold Reef City is a must for families spending a bit of time in Johannesburg and is also located conveniently close to the Apartheid Museum, creating the ultimate touristic marriage of hard-hitting history and theme-park fun.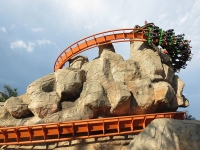 Gold Reef City, Johannesburg Ashleyflashley
Newtown Cultural Precinct
Located in the city centre, this complex of buildings has been upgraded and restored as part of the city fathers' urban renewal policy and includes several attractions. For instance, the Market Theatre and Museum Africa are housed in a Victorian building in Bree Street - originally Johannesburg's fresh produce market. The Museum of Africa is particularly worth a visit, as its exhibits tell the city's story from its beginnings to the present day. The display includes an interesting section about the Treason Trial of the 1950s, in which Nelson Mandela and other activists were accused of plotting against the state. The same building houses a photography museum and the Museum of South African Rock Art. At its eastern end is the Market Theatre, famed for being the venue for many protest theatre productions in the apartheid era. Also in the area is the South African Breweries Centre, which offers a tour detailing brewing history through some reconstructed gold-rush pubs and shebeens (township bars). Along Jeppe Street is the Oriental Plaza, the commercial centre for the Indian community.
Newtown is also renowned for its nightlife, with wonderful restaurants, jazz establishments, and clubs that stay open until the early hours.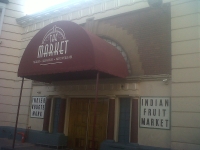 The Market Theatre, Newtown Bobbyshabangu
Johannesburg Zoo
The Johannesburg Zoo is a favourite place for locals to take a stroll. Its numerous enclosures house more than 320 species of animal, including polar bears that can be viewed underwater in their pool. Of course, the Big Five (elephant, rhino, lion, leopard, and buffalo) are all in residence, while other highlights include lemurs, gorillas, caracals, Siberian tigers, hippos, orangutans, brown bears, and cheetahs. The zoo's various monkeys are also very entertaining. Visitors will appreciate the large collection of birdlife, and parents will enjoy treating their kids to the farmyard section's activities. A tractor tram does circuits of the zoo for those who don't fancy walking. Travellers should check the official website below for details on feeding times. The penguins and seals are particularly active during feeds. The zoo is dedicated to conservation and rehabilitation and conducts some breeding programmes. It also hosts some interesting exhibits and events. The Museum of Military History on the zoo's eastern edge has some interesting exhibits like tanks, fighter aircraft, and submarines. Visitors will find many restaurants and food stalls for refreshments.
Address:
Jan Smuts Avenue, main public entrance on Upper Park Drive, Parkview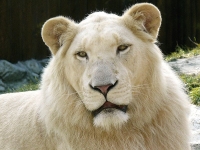 White Lion Stano Novak
Lost City
Situated in the Bojanala region of the North West Province, the 'Las Vegas of South Africa' is one of the largest entertainment centres for adults in the world. Visitors can look forward to casinos, golf courses, live shows, and the architectural wonder of the Lost City. The vast resort complex is one of South Africa's top attractions for gambling, entertainment, and opulence. Guests will find a luxurious palace at its centre, where frescoes, palm fronds, mosaics and elephant tusks complement the resort's life-sized model animals. Lakes, forests, and a tropical beach surround the Lost City. Along with a variety of water sports, guests can enjoy The Valley of the Waves, which is the most advanced waterpark in the country. Among other things, it has a wave machine capable of generating seven-foot (2m) waves. The waterpark's numerous slides and wonderful Lazy River are fabulous fun for the whole family. Buying a day pass for the Lost City waterpark allows visitors to explore the extensive grounds and access the casino.
There are a number of Sun International hotels on the property and the resort complex also borders on the Pilanesberg National Park. Home to the Big Five, it is a popular game-viewing destination.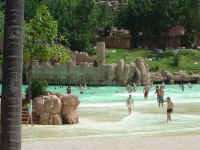 Valley of the Waves garybembridge
SAB World of Beer
SABMiller started in South Africa and has expanded to become one of the world's largest and most popular brewers of beer. The World of Beer offers a fun, short tour, which summarises the history of the company, beer in general, and details the brewing process. The tour begins with a televised talk from Charles Glass, the brew master of the famous Castle Lager and the man responsible for laying the foundations of South African Breweries (SAB). The tour also covers ancient beer brewing in Mesopotamia and how it spread through Europe and Africa. Visitors get to learn about and sample traditional South African sorghum beer, and explore the evolution of brewing in South African culture. They will then visit the green houses where the raw ingredients are grown. The price includes one beer during the tour, a souvenir glass, two drink vouchers redeemable in the Tap Room, and bar snacks after the tour. Only those over 18 (the legal drinking age in South Africa) will be allowed to partake in the beer drinking.
However, all ages are welcome on tours and the visit should prove interesting even for non-beer drinkers. Visitors are welcome to stay in the pub and have a few drinks for as long as they desire after their tour.
Address:
Corner of President and Miriam Makeba Roads, Newtown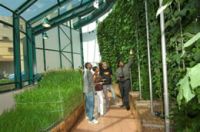 World of Beer SAB World of Beer
Walter Sisulu National Botanical Gardens
Johannesburg is one of the most densely treed cities in the world and has a number of pleasant parks and gardens. Among them, the Walter Sisulu National Botanical Garden is undoubtedly the city's most superb green lung. Located in the west of Johannesburg, this urban oasis covers 741 acres (300ha), and offers lush gardens and scenic hiking trails. The botanical garden was founded in 1982, with the area used consistently for hiking and outdoor excursions since the 1800s. Locals consistently rate it the best place to explore nature in Gauteng. The gardens are a terrific place for birdwatchers and garden-enthusiasts interested in seeing a variety of fauna and flora. There are over 200 bird species as well as over 600 plant species in the gardens. The landscapes are a mixture of grassland and savanna, with some rocky outcrops and lots of little streams and kloofs. Parts of the garden are beautifully landscaped but swathes have been left as unspoilt wilderness.
After a walk or hike, it is common practice to enjoy a picnic on the lawns at the foot of the breath-taking Witpoortjie waterfall.
Address:
End of Malcolm Road, Poortview, Roodepoort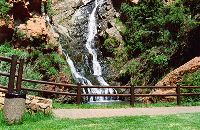 Witpoortjie Waterfall mister-e
Melville
Melville is an old suburb known for its quirky, artistic atmosphere, eclectic little shops, pavement cafés, fun bars, restaurants, and clubs. This trendy suburb is a hive of activity on any given night of the week. It is the place to go out and carouse in Johannesburg for visitors who prefer a bohemian vibe to the preppy, upmarket nightlife that generally characterises the city. Seventh Street is the central zone from which all the character emanates and is a great place to start. Its collection of book and antique shops, cafés, and other interesting storefronts are well worth exploring. Partygoers barhop into the small hours, but tourists should refrain from walking around too much at night, and be aware of pickpockets.
Address:
West of the city centre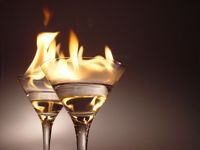 On fire Nik Frey
The Apartheid Museum
Situated near Gold Reef City, the Apartheid Museum chronicles South Africa's tragic and shameful history of black oppression. On display are relics of the apartheid system, an abhorrent regime which denied non-whites basic freedoms and an equal life in the country. Visitors often describe the experience of the Apartheid Museum as harrowing. At the same time, the story of the struggle over adversity is inspirational and serves as an integral and important part of the new South African narrative and its reflections on history. To give some idea of the everyday realities of racial classification, visitors arbitrarily are classified as either 'white' or 'non-white' upon arrival and can only enter through their designated entrance. Due to graphic content, the museum does not allow children under the age of 11. Probably South Africa's most impressive and hard-hitting museum, a visit to the Apartheid Museum is a must for visitors to Johannesburg interested in the country's history. The museum often ranks as the number one tourist attraction in the city. Allow at least three hours if you want to explore thoroughly.
Address:
Northern Parkway and Gold Reef Road, Ormonde, Johannesburg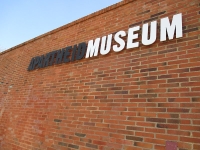 Apartheid Museum, Johannesburg Katangais
Constitution Hill
A guided tour of the National Heritage Site of Constitution Hill takes visitors on a journey through South Africa's turbulent past, but also illustrates its incredible transition into democracy. There a number of tours of Constitutional Hill. Tourists can visit the Number Four prison, a dark and terrible place where Mahatma Ghandi, Robert Sobukwe, and Nelson Mandela were all incarcerated, along with many other victims of the racial hierarchy. The Old Fort is also open to the public. Built in 1893, it was a prison for white men (including British prisoners of war) during the South African War, and one of Johannesburg's oldest buildings. Visitors may also be interested in the Women's Prison, a pretty Victorian building where political activists like Winnie Madikizela-Mandela and Albertina Sisulu endured terrible suffering, and infamous murderess Daisy de Melker was incarcerated. Lastly, tourists might want to visit the Constitutional Court. It is the institution responsible for ensuring that the human rights horrors that once characterised Constitution Hill will never occur again. Tours must be booked in advance via the official website listed below. Tours take about an hour and a half and are very informative. The Constitutional Court is open to the public. Exploring Constitution Hill provides an interesting overview of the prison system during apartheid and it is one of Johannesburg's most fascinating historical attractions.
Address:
Constitutional Court, Johannesburg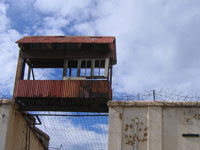 Old Fort Prison on Constitution Hill cardamom
Hector Pieterson Memorial Site and Museum
Hector Pieterson became the iconic image of the 1976 Soweto Uprising in Apartheid South Africa, when a news photograph of the dying Hector being carried by a fellow student was published across the globe. He was just 12 years old when the police opened fire on school children who had gathered to protest the imposition of Afrikaans as a medium of instruction in township schools. The protest was intended to be peaceful but became a violent confrontation when police demanded that the students disperse; students threw stones and police fired bullets. News of the bloodshed ignited uprisings across the country in which 550 people were killed. Hector was one of the first to die on that tragic day. The museum fuses memorabilia with modern technology and cultural history and is located two blocks away from where Hector was killed. Hector's sister, Antoinette, who is seen in the famous photograph holding her hands out in panic, worked for many years as a tour guide at the museum. The 16th of June is a public holiday named National Youth Day in South Africa. It honours the youth who bravely stood up to the apartheid regime, and young people in general.
Address:
Hector Pieterson Sq., corner of Khumalo and Pela, Orlando West, Soweto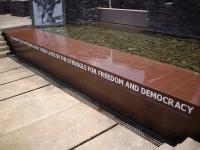 Hector Pieterson memorial, Johannesburg Thomas.macmillan
Soweto
Soweto's history goes back to 1903, when Kliptown was established as the first black settlement on the outskirts of Johannesburg. An abbreviation for South-Western Township, Soweto has had a turbulent history and was at the centre of the Apartheid struggle in South Africa. The ANC and other organisations adopted the Freedom Charter in Kliptown in 1955, and the Soweto Uprising of 1976 was one of the pivotal events in the struggle. Soweto is home to several famous landmarks, including Chris Hani Baragwanath Hospital in Diepkloof, Walter Sisulu Square in Kliptown, Regina Mundi Catholic Church in Rockville, and the Freedom Towers. In Orlando, tourists can visit Vilikazi Street, which is the only street in the world to have been the home of two Nobel Peace Prize winners (Nelson Mandela and Archbishop Desmond Tutu). On the street, Mandela House has been restored to the state it was in when the former president lived there.
A number of historic museums are also popular attractions in Soweto, including the Hector Pieterson Museum, the Kliptown Open-Air Museum, and the Apartheid Museum. The Orlando Cooling Towers are a fun, popular attraction. Part of a decommissioned coal-fired power station, the towers have been brightly painted and offer rap jumping opportunities.
Tours of Soweto are a must for any first-time visitor to Johannesburg and South Africa, and a number of tour operators offer trips into Soweto. The most popular are the historical tours, stopping at museums and famous sites, and the nightlife tours, which include stops at local shebeens (township bars).
Soweto is also home to some excellent restaurants, ranging from five-star establishments to holes-in-the-wall, which serve local African cuisine. Although many tourists have concerns about whether it's safe to visit Soweto, most visits are completely trouble-free when organised by a reputable tour operator.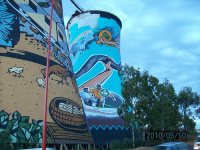 Painted power stations in Soweto Creative Commons
Johannesburg does not have a reputation as a family-friendly destination, mainly because it has a high crime rate. But in reality, there's no end to entertainment and attractions for kids in this bustling and busy city. Importantly, families should be perfectly safe if they take basic precautions and stick to safe areas.
A family holiday wouldn't be complete without a visit to the Johannesburg Zoo or the ever-enticing Gold Reef City. One of the most exciting attractions for kids in South Africa is the mammoth Lost City waterpark, casino and resort, which is a short drive out of the city.
Other great Johannesburg attractions for kids include fairy gardens, ice skating rinks, skate parks, adventure golf, go-kart courses, and adventure centres.
Johannesburg is a great city for shopping malls and these shopping centres tend to include all the indoor attractions kids might desire. There are also numerous beautiful wilderness areas nearby and families that love the outdoors can enjoy some spectacular hiking, camping, and mountain biking close to the city.
For a picturesque picnic setting, head to the Walter Sisulu Botanical Gardens. The world-class Maropeng Visitor Centre and famous Sterkfontein Caves at the Cradle of Humankind are also a must for those travelling with kids in the region.
Situated on the highveld plateau, Johannesburg has a subtropical highland climate with generally mild weather and plenty of sunshine. Between October and April (late spring, summer, and early autumn) it is hot with frequent thunderstorms in the afternoon. These dramatic storms are usually short-lived and shouldn't disrupt a holiday too much. It is just best to plan outdoor activities for the morning and midday when possible.
Between May and September (late autumn, winter and early spring) it is dry and sunny with cold nights. The sunny winter weather takes the edge off the cold, but after dark it can be freezing and the city is often covered in a layer of frost early in the morning. Snow is extremely rare. The average temperatures in summer, between December and February, range between 58.5°F (14.7°C) and 78°F (25.6°C), and in winter, between June and August, the average temperatures range between 39°F (4°C) and 62°F (16°C).
Johannesburg is a year-round destination but the best time to visit the city is over the festive season (December and January) when it is hot and sunny and the afternoon storms ensure the city is at its most lush and attractive. As an added bonus, the locals tend to spend holidays on the coast making Johannesburg pleasantly empty over the Christmas period. The winter months are also good for travel, but the city gets very dry and is not as attractive.
Johannesburg's role as the economic hub of South Africa, if not the entire continent, has attracted businessmen and investors from all over the world and a wealth of restaurants to cater for them. Johannesburg restaurants offer a wide range of cuisine, with ethnic African fare and traditional Afrikaans dishes, as well as international options to satisfy every craving imaginable. Dining out is a fun and important part of Johannesburg's social culture and should delight tourists.
Eating out in Johannesburg offers not only variety in cuisine ethnicity but price and quality too, with a range of upmarket, casual, fast-food, and street vendor options. Upmarket Johannesburg restaurants, featuring both local and international menus, are located in areas like Rivonia, Sandton, Illovo, and Melrose Arch. More casual eateries, such as cafés and steakhouses, can be found in Parktown North and Benoni.
There are fast-food outlets throughout the city, as well as various local street vendors selling savoury pies, (sausage) rolls and flame-grilled (maize) cobs. The more adventurous diners could venture out to Soweto to dine at one of its numerous (communal bars/canteens). This huge variety of Johannesburg restaurants makes eating out in the City of Gold quite a rewarding experience.
Many restaurants are closed on Mondays, and reservations are recommended for fine-dining venues. Credit cards are almost always accepted at restaurants, but American Express cards are sometimes declined. A service fee may be added for large tables, but a tip of minimum 10 percent is expected by waitrons for good service.
Moyo
This restaurant takes up five floors, decorated with a combination of modern African designs. Traditionally attired staff serve locally inspired dishes, and live African music enhances the wonderful atmosphere even more. The varied menu has dishes from around the continent, such as fragrant North African stews, East African fish curries, and huge Mozambique prawns. The unusual African desserts, like sweet potato and chocolate pudding, are not to be missed. Booking is essential; the restaurant opens daily for lunch and dinner.
Address:
5 Melrose Square, Melrose Arch
Wombles
Wombles Steakhouse serves steak to suit all tastes and appetites, complementing their cuts with fresh vegetables and a choice of potato dishes. Reminiscent of its 1980s predecessor in Harare, Zimbabwe, it is furnished with ornate, high-backed chairs and luxurious sofas set within a candle-lit décor. The efficient staff are incredibly attentive, working to make the patron's dining experience a memorable one. The establishment is open Monday to Friday for lunch and dinner, with dinner also served on Saturdays. Reservations are recommended.
Address:
88 Hobart Road, Bryanston
Browns of Rivonia
Found in one of Johannesburg's most affluent suburbs, Browns of Rivonia offers a truly upmarket, fine-dining experience. This establishment is set amongst vineyards in an old farmhouse, adding to its charm and intimate atmosphere. Outside seating is available on the veranda for those balmy summer evenings, and a neat dining area occupies the interior. The food is of the highest quality, especially the roast duck with a Drambuie and orange glaze. The restaurant offers a separate menu for functions and for Sunday lunches. Browns of Rivonia is closed for lunch on Saturdays and reservations are recommended.
Address:
21 Wessels Road, Rivonia
O.R. Tambo International Airport (ORTIA)
Location:
The airport is 12.7 miles (20.5km) east of Johannesburg.
Transfer Between Terminals:
The terminals are all connected.
Getting to the city:
The Gautrain provides fast and easy access to the Johannesburg city centre from the airport, with regular express trains to Sandton. An airport bus departs regularly to the city centre. Authorised shuttle buses and taxis are available; these display the ACSA logo on their vehicles. Hotel shuttle buses depart every 15 minutes from the bus terminal.
Car Rental:
Car rental companies represented at the airport include Avis, Tempest, and Europcar.
Airport Taxis:
A metered taxi will take 30-40 minutes to the city centre. Taxis wait opposite the international arrivals terminal (Terminal A). Only official metered taxis should be taken.
Fascilities:
Facilities at the airport include bureaux de change, banks, a post office, shops, restaurants and bars, viewing decks, a medical clinic, conference rooms, accommodation, free wifi, and a prayer room.
Parking
Short-term parking charges at OR Tambo Airport range from around ZAR 30 for the first two hours in Parkade 1, to ZAR 20 for the first hour or ZAR 30 for two hours in Parkade 2. Official long-term parking lots cost approximately ZAR 55 per day and are connected to the airport via shuttle bus.
Rand Show
For more than a century, the renowned, annual Rand Easter Show has drawn Johannesburg's crowds during the Easter break. It started as an agricultural show but has grown in popularity, size, and scope to become South Africa's largest consumer exhibition, as well as an entertainment extravaganza that is eagerly awaited every year.
Exhibitions cover a range of categories, offering entertaining stalls and shopping specials, while a varied live entertainment programme keeps show-goers buzzing until late each night. Exhibition categories include a Kids Expo, Sports Expo, Showcase SA, Lifestyle Expo, and Into the Future.
The vast entertainment programme includes a diverse array of attractions, including things like show-jumping, working dog displays, and, in keeping with its agricultural origins, livestock judging. This is in addition to live music concerts, circus performances, snake shows, fireworks displays, parades, and stunt shows. Anyone interested in attending should check the official website to see the full programme.
Venue:
The Nasrec Expo Centre at the corner of Randshow and Nasrec Roads.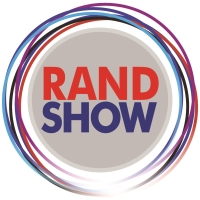 Rand Show Rand Show
Joy of Jazz Festival
Every year, top South African and international jazz performers come to Johannesburg's vibrant Newtown complex to revel in the joys of jazz music. The festival features concerts and collaborations among the artists, often spontaneous and experimental, in the true spirit of jazz. More experienced artists give workshops and classes to budding artists and work closely with them, offering a rare platform to showcase their talents at the festival. The festival now attracts about 20,000 people to seven pumping venues in Newtown.
The growing popularity of Newtown as a centre for creativity, culture and nightlife has played an integral role in the regeneration of Johannesburg's inner city, and the jazz festival has played a big part in this exciting revitalisation process. There is a five month build up to the main festival, which sees various live jazz concerts piquing the excitement of audiences across Johannesburg in preparation for the main event. The festival also organises community concerts to bring jazz to audiences that don't usually get the chance to enjoy it, like hospices, orphanages and retirement homes.
Venue:
various venues in Newtown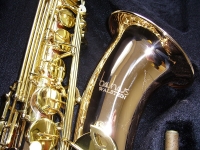 Saxaphone Nabokov
Vaal River Meander Wine Route
As the name suggests, travelling this route is a casual, relaxed experience. Much like a fine wine, it's meant to be enjoyed at leisure and taken in stride. 20 venues along the banks of the picturesque Vaal River are selected every year to showcase South Africa's most elegant wines over a designated period of time. The route can be travelled by car, taxi or river cruiser. Game drives at the neighbouring reserves, golf on the nearby courses or a visit to the Emerald Casino (which has an indoor water world, bowling and miniature golf facilities) are optional side meanders for an enjoyable family outing.
The Vaal is South Africa's second longest river and the Upper Vaal is the main recreational hub, where guesthouses and lodges line the riverfront and various watersports are popular. The Upper Vaal is centred on the towns of Vereeniging and Vanderbijlpark. Power-boating, jet-skiing, canoeing, fishing and even white-water rafting are enjoyed on the river, making it a fun excursion from Johannesburg, even when the wine route is not active. The wine route gives the area a festive atmosphere and the event is eagerly awaited by locals.
Venue:
Various estates along the Vaal River. Inventory available online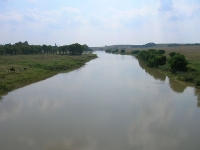 Vaal River Kierano
South Africa's biggest and richest city has got the nightlife to match, from world-class theatre and live music to mega-hip lounge bars and epic nightclubs. The locals are known to be keen socialites and tend to be very friendly and happy to meet new people.
Jazz fans should make their way to legendary Kippies in Newtown, and to the nearby Bassline. In fact, the young, hip and multicultural Newtown is a great place to begin night-time explorations of the city for anybody. The Civic Theatre hosts major live productions, while plenty of smaller venues have minor plays, cabaret shows, and reviews.
Nightclubs tend to open around 11pm and will charge an entrance fee. They stay open into the early hours and drinks can be expensive. Many top clubs are positioned in the lively city centre of Johannesburg, or areas such as Orange Grove and Melville.
The affluent suburbs of Sandton, Hyde Park, and Melrose Arch are home to the more plush and modern clubs frequented by an unlikely collection of models, stock brokers, and bikers.
Travellers who live for thrills should head for the many casinos on the outskirts of the city. Montecasino, near Fourways, and The Emperors Palace, near the OR Tambo Airport, are considered the best. Apart from the various gaming tables and slot machines, there are live shows aplenty.
Johannesburg is a sprawling city and the lack of convenient and safe public transport is often an obstacle to visitors. City transport consists of an unreliable bus network and a series of minibus taxi routes, neither of which operate much after dark.
The main bus terminus is at Ghandi Square in the city centre where there are timetables and route maps, but times are rarely accurate. Gautrain bus services only run to stops around Sandton. Alternatively, a sightseeing bus provides hop-on hop-off tours around the city in open-topped buses.
The quickest and cheapest way to get around is on a minibus taxi, an informal bus service that goes everywhere but has no schedule or formal stops and can be picked up at taxi ranks or hailed anywhere along its route. However, dangerous driving, overcrowding, and high crime rates at taxi ranks have deterred many from using them as a means of transport. If necessary, use them for short hops only and never with baggage.
Safer but far more expensive are metered taxis, which need to be booked in advance. The best way to get around is by private car and there is an excellent network of highways and well-maintained roads. There are a number of car rental agencies that require drivers to be over 23 years old and hold a full driving license.
A passport and credit card are also necessary. Drivers should keep their windows up and doors locked at all times, never leave anything visible in a parked car, and never stop for hitchhikers. They should also be aware that there is a risk of car hijacking. Visitors should remain alert, especially when leaving or returning to their car, and seek out secure parking.
Johannesburg has a variety of tourist attractions, including museums, art exhibitions and cultural experiences. There are also fun family outings and remarkable displays of local innovation and productivity. With good weather throughout most of the year, sightseeing in Johannesburg is always a rewarding adventure.
The first stop on any list of things to see in Johannesburg should be the Apartheid Museum, which documents South Africa's history of black oppression and its move towards democracy. Another must-see is the Cradle of Humankind, a UNESCO World Heritage Site which features the Sterkfontein Caves where the archaeologists excavated the ancient fossil of Mrs. Ples in 1947.
A tour of the Soweto township is an eye-opening experience. The tour will normally include several informative visits to museums and historic sites, as well as more relaxed laughs and adventures in the shebeens (bars).
On a lighter note, a fantastic Johannesburg attraction is Gold Reef City, a gold-rush-fashioned theme park full of exciting thrill rides. It incorporates some of the city's old gold mines and guides visitors down the old shafts if they want something more educational than rollercoasters.
While sightseeing in Johannesburg, visitors can tour the SAB World of Beer, which documents South Africa's proud beer brewing traditions, or take a scenic hike through the Walter Sisulu National Botanical Gardens. Newtown Cultural Precinct's Market Theatre and Museum Africa are also Johannesburg attractions worth seeing.
Kruger National Park
The Kruger National Park is South Africa's oldest, largest and best-known wildlife conservation area, home to a huge variety of wildlife and most famous for its 'Big Five' viewing opportunities. Visitors have an excellent chance of seeing lion, elephant, leopard, buffalo and rhino among the enormous variety of wildlife, including over 140 species of mammals, 500 species of birds, reptiles and amphibians. Situated on South Africa's northeastern border, Kruger is a primary destination for international tourists, and is visited by more than half a million local and international visitors every year who are attracted by the different safari options as well as the park's excellent range of visitor facilities and choice of accommodation, from luxurious game lodges to cottages and camping. Because of the park's popularity, it is advisable to book far ahead for both day visits and extended stays. Bookings can be made through the park's website.
Kruger is a year-round destination, but the game viewing is at its best in the winter months, between June and August. The park is more lush and the landscapes more beautiful in summer but it gets very hot and the animals are more difficult to spot. The Kruger Park is generally very safe and tourists should be in no danger if they abide by the rules and treat the animals with respect; these are, after all, wild animals in their natural environment and some of them can be dangerous if they feel threatened.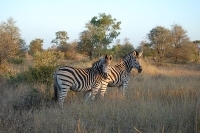 Kruger National Park, South Africa Nithin bolar k
Warmbaths
The area known as Springbok Flats is part of the Great Rift Valley and lies on the national road north from Johannesburg. Bela-Bela town is located on the area's edge. Still commonly known as Warmbaths (the name officially changed in 2002), it is famous for its hot mineral springs. The springs yield about 20,000 litres of water every hour, all of which is enriched with sodium chloride, calcium carbonate, and other minerals. The town is a popular spa and holiday resort. The main resort, Warmbaths, has a large indoor pool with underwater jets, outdoor hot and cold swimming pools, jacuzzis, a wave pool, and several water slides. The resort also includes facilities for waterskiing, go-karting, quad biking, pedal boating, miniature golf, archery, tennis, squash, and volleyball, as well as several shops and restaurants. Accommodation is varied but the resort is open to day visitors as well, who can enter anytime between 7am and 5pm daily.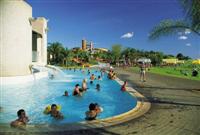 Warmbaths Southern African Places cc
Cradle of Humankind and Maropeng Visitor Centre
The Cradle of Humankind is a UNESCO World Heritage Site and contains a complex of dolomitic limestone caves, including the well-known Sterkfontein Caves, where the fossil Australopithecus africanus (nicknamed Mrs. Ples) was found in 1947 by Dr Robert Broom and John Robinson. 'Mrs Ples' is estimated to be between 2.6 and 2.8 million years old and ranks high on the long list of australopithecine discoveries for which Sterkfontein is now famous. At present, only the Sterkfontein Caves and the Wonder Cave are open to the public. The Maropeng Visitor Centre is a stirring, world-class exhibition space, focusing on the development of humans and our ancestors and evolution over the past few million years. The museum has fun interactive exhibits which the whole family will enjoy. Visitors should note that the best option for fully appreciating the visit is buying the combination ticket for the caves and the museum. However, this ticket is only available before 1pm as the tour takes some time.
There are a number of restaurants at the centre, both upmarket and casual, and some picturesque picnic sites for those who prefer to bring their own food. There is a range of accommodation at the centre for those who want to spend a night or two.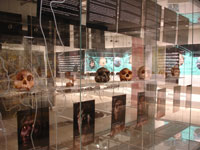 Exhibition at the Maropeng Visitor Centre thomas_sly