President Brand Street
President Brand Street has been declared a national conservation area, and is home to a number of monuments and buildings of historical value. Nobody visiting Bloemfontein should pass up the opportunity to stroll down one of the city's most stately and historically important streets, encountering striking examples of 19th and 20th-century buildings along the way. The South African Court of Appeal and the Supreme Court of South Africa are located on this street, as is the National Afrikaans Literature Museum. Travellers can view the original transcript of South Africa's former national anthem, Die Stem, at the Literature Museum. Travellers will find the equally interesting National Music Museum on President Brand Street too. Bloemfontein's City Hall is another of the street's important addresses. Completed in 1936, its cornerstone was laid by Prince George, Duke of Kent. The Old Presidency was built in 1861, on the spot that was once the British Major Henry Warden's farmhouse. The sandstone buildings give the area a distinct character and aesthetic, creating some great photographic opportunities.
Address:
President Brand Street, Bloemfontein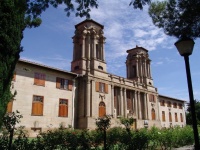 Bloemfontein City Hall Mangaung Local Municipality
Oliewenhuis Art Gallery
From its distinguished setting in a Cape Dutch mansion, the Oliewenhuis Art Gallery is a must-see Bloemfontein attraction that features an expansive display of South African art. Designed in 1935 and completed in 1941, the Neo-Dutch mansion was built as the residence of the Governor General of the Union of South Africa, and once hosted King George VI and his family on their visit to Bloemfontein. The residence was opened as the city's art museum in 1989, after long-term petitioning by Bloemfontein's artistic community. Contemporary paintings and sculptures are exhibited here, as well as acclaimed masterpieces from days gone by. One of the most exciting and unique aspects of the museum is the remarkable exhibition space in the old underground reservoir. The gallery also has a café and outdoor sculpture park for visitors to enjoy. Kids will love the colourful Africa Carousel. It was created by multiple artists crafting each individual creature to integrate European and African mythology. Located on Grant's Hill and surrounded by miles of unspoilt nature, visitors can also enjoy exploring the walking trails that wind around the museum.
Address:
16 Harrismith Street, Bloemfontein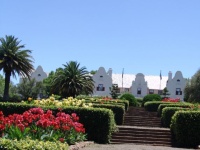 Oliewenhuis Art Gallery Mangaung Local Municipality
Kings Park
Opened by the Prince of Wales in 1925, King's Park boasts over 4,000 beautiful rose bushes. In fact, Bloemfontein literally means 'flower fountain' and is often referred to locally as the 'city of roses'. It is the city's largest and loveliest green space and a nice spot to unwind and escape from the hustle and bustle of the city. A colourful and fragrant park set on a lake and with grassy areas where children can expend some energy, the park is a good attraction for those travelling with kids. King's Park is also home to the Bloemfontein Zoo, established in 1906. There is a popular arts and crafts market at King's Park on the first Saturday of each month, where food stalls compete with paintings and sculptures as well as other crafts like jewellery and some wonderful bargains can be found. The market is open from about 7am to 1pm. Those looking for other outdoor areas in Bloemfontein should head to Naval Hill, which provides striking views over the city and borders the Franklin Game Reserve.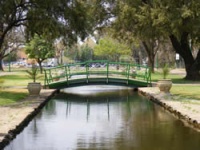 King's Park Bloemfontein Tourism
Bloemfontein straddles the meeting point of the Highveld and the semi-arid Karoo region and the city experiences a semi-arid climate, with hot summers and cold, dry winters. The city gets plenty of sunshine, but by South African standards, it experiences extreme temperatures in mid-summer and mid-winter.
The average temperatures in summer, between December and February, range between 59°F (15°C) and 88°F (31°C), and in the winter, between June and August, average temperatures range between 28°F (-2°C) and 63°F (17°C).
The city tends to be dry and dusty in winter, with most of the rainfall coming in the summer months. This rainfall normally arrives in the form of dramatic and short-lived afternoon thunderstorms, often serving as a relief from the heat. In winter, snow is rare, but frost is very common.
The best time to visit Bloemfontein is in the shoulder seasons of spring (September to November) and autumn (March to May) when the weather is less extreme, but summers can be pleasant despite the heat, particularly as the frequent thunderstorms are rather refreshing. Bloemfontein tends to empty out over the festive season, when many South Africans migrate to the coast for holidays.
Bram Fischer International Airport
Location:
The airport is located 8 miles (13km) from the city centre.
Getting to the city:
Public transport servicing the airport is limited. Minibus taxis are available but are unreliable and often overcrowded. The best way to get to the city is by hired car or taxi.
Car Rental:
Car rental companies at the airport include Avis, Hertz, Europcar, National, National Alamo, and Tempest.
Airport Taxis:
Taxis and shuttles, which should be booked in advance, are available just outside the terminal building. One should consider private services such as Uber.
Fascilities:
The airport has a mobile phone rental shop, ATM, restaurants, and an information desk.
Parking
Covered parking is available, starting at ZAR 20 per hour, while open parking begins at ZAR 13 par hour.
The best way of getting around Bloemfontein is by car. Visitors can hire a car at the airport where Avis, Europcar, and Hertz are represented. To hire a car in South Africa, foreigners are required to have a valid international driving licence and at least one year of driving experience. Road conditions and signage in Bloemfontein are generally of a good standard and most people have no trouble getting around in the Free State. Those wanting to travel outside Bloemfontein to more rural parts of the Free State should consider hiring a 4x4. Visitors can also use a metered taxi to get around in Bloemfontein. While metered taxis are available 24 hours a day, travellers are advised to pre-book a vehicle in advance.
Bloemfontein sometimes seems to be on the way to everywhere in South Africa and its central location and position on main highways makes it a popular, and often necessary, stop for road trippers. Tourists seldom choose to stay in the city for long, but this is more a testament to the other fantastic things to see and do nearby, than a negative judgement on Bloemfontein itself. Although it may pale in comparison to cities like Cape Town, Bloemfontein is certainly not without charm and the youthful and proud population are good at making their own fun.
Travellers who pass through the city should look out for the lovely gardens, particularly the roses for which the place is named, and the stately old architecture of this judicial hub. President Brand Street is the best road to stroll down to appreciate the rich history of Bloemfontein, and King's Park is a pleasant place to have a picnic and get some exercise.
The top attraction is the Oliewenhuis Art Gallery, which houses some great South African art in interesting exhibition spaces, including an old underground reservoir which has been converted into a gallery. The National Museum and the Anglo Boer War Museum are also rewarding stops. Bloemfontein takes its rugby very seriously and has an exciting local team, the Cheetahs. Sports fans should take in a game at the stadium if possible.