Agura Waterfalls
Also known as Agursky, the Agura Waterfalls are one of the most famous tourist attractions in Sochi. Located just outside the city, these majestic waterfalls cascade from a height of 98 feet (30m) and are a popular stop off along hiking trails that wind through the forest along the Agura Ravine in the Sochi National Park. At the Eagle's Rocks, hikers can enjoy the view of the crystal clear waterfalls crashing down to the oval pool below and admire the panoramic views over the city and Black Sea. Swimming is allowed and a very popular activity in the warmer months. It is possible to organise tours to the waterfalls, but also easy to seek them out independently.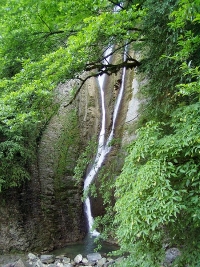 Agura Waterfalls, Sochi National Park Yufereff
Matsesta Spa
Matsesta is a micro-district in Sochi, on the Black Sea coast, primarily renowned as a health resort. Matsesta, meaning 'fiery water', has harnessed the powers of the hot sulphur springs that have become synonymous with Sochi and become the city's most renowned health spa district. The water from the hot springs naturally contains more than 27 types of minerals and is used to treat people with respiratory and cardiac problems, though it is also perfect for simple relaxation. Featuring a number of different spa facilities which all have bathing rooms, massage tables and inhalation cubicles, Matsesta Spa is a major tourist attraction and a big draw card for travellers to the region.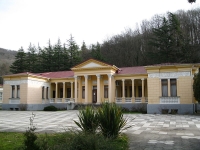 Matsesta, Sochi Alexander V. Solomin
Dagomys
Located just outside of Sochi, the small village of Dagomys is a popular holiday resort on the Black Sea. The former haunt of Russian nobility in the 19th century, the holiday residence of Tsar Nicholas II is still standing and travellers can play royalty by spending a night there as it is now a large hotel. The scenic village boasts lovely pebble beaches, which are set against the dramatic backdrop of the Caucasus Mountains, and visitors can tour local tea plantations and the mineral springs of Matsesta. Dagomys is also a paradise for outdoor activities, including hiking and bird-watching in the Dendrarium Botanical Gardens. Summers in Dagomys are noticeably cooler than in other coastal areas due to mountain air currents, earning the village its name, which means 'a cool and shady place' in the Adyghe language. While Dagomys is not as lively as nearby Sochi, the resort's quiet and relaxing atmosphere makes for a great weekend getaway.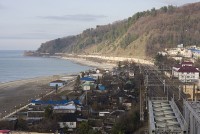 Dagomys, Russia Rdfr
Dombai
One of the more popular ski resorts in the Caucasus region, Dombai is a scenic mountain valley located at the confluence of three rivers, 37 miles (60km) from the Black Sea coast. Famous for its pure air, Dombai is frequented mostly by Russian holidaymakers, lending it a unique and lively atmosphere and preserving the town's authentic character. The facilities at Dombai are old and fairly worn, but there is a tourist complex comprising hotels and a recreation and sports centre. Five lifts and three ski trackers operate on a pay-as-you-go riding system serving varied pistes (tracks) that cater for all levels of skiers. The gentle slopes near the top of the mountain are better suited to beginners, as the incline becomes very steep toward the bottom.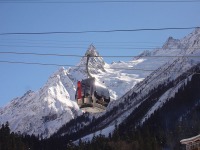 Dombai Ski Resort, Russia Webster
Gelendzhik
The laidback seaside resort of Gelendzhik has been around for several millennia, having been founded as a Greek outpost around 64 BC. The town is set along a curving bay with calm pebble beaches that are ideal for swimming and watersports, and land-based activities like horseback riding, quad biking and hiking. Gelendzhik is best known for its spa and waterparks, and there is a cable car line specially built for tourists to take in the scenic views from the top of the mountain. A new airport opened in 2010, making it easy to get to Gelendzhik from Moscow and St Petersburg.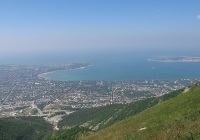 Gelendzhik, Russia Vihljun
Krasnaya Polyana
Set 1,968 feet (600m) above sea level, Krasnaya Polyana, ('red meadow') is fast becoming the most popular ski resort in Russia. Skiers and snowboarders in Krasnaya Polyana can enjoy magnificent panoramic views of the West Caucasus. Located just 25 miles (40km) from Sochi and the Black Sea coast, Krasnaya Polyana is sometimes called the 'Russian Courchevel" for its well-groomed pistes (tracks), good après-ski nightlife, and high prices. The resort owes much of its popularity to its excellent heliskiing opportunities, but there are also good runs for beginners. The resort underwent massive renovations ahead of the 2014 Winter Olympics in Sochi. Olympic facilities located in Krasnaya Polyana include the Russian National Sliding Centre (luge, bobsleigh, and skeleton), Psekhako Ridge (biathlon, cross-country skiing, and Nordic combined), Roza Khutor Alpine Resort (Alpine skiing and snowboarding), Alpika Service Mountain Resort (freestyle skiing), and Russian National Ski-jumping Centre (ski jumping and Nordic Combined).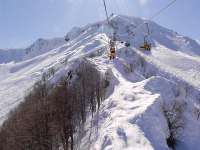 Krasnaya Polyana, Russia Lite
Sochi experiences a humid subtropical climate with warm summers and mild winters that seldom see the temperature drop below freezing. Average summer high temperatures reach up to 83ºF (28ºC), while average winter lows drop to 37ºF (3ºC). The Krasnaya Polyana mountains experience perfect snow conditions and are largely protected from the wind - unique conditions that cannot be found anywhere else in Europe. The ski season is from October through May.
Adler-Sochi International Airport
Location:
The airport is located 19 miles (30km) from downtown Sochi.
Time:
Local time is GMT +3
Getting to the city:
The Aeroexpress train is the fastest way to get from the airport to Adler or Sochi. A number of Sochi Autotrans buses connect the airport with the city centre, Adler and the 'Rosa Khutor' Alpine Centre in Krasnaya Polyana. There is also a Skybus offering direct connection to accommodation at Gorki Gorod, Laura and Rosa Khutor resorts.
Car Rental:
Avis and Sixt offer car rental services at the airport.
Airport Taxis:
Taxis are always available outside the airport. The official airport taxi provider offers a set rate according to the price list.
Fascilities:
Sochi International Airport offers cafes, restaurants, a post office, banks and currency exchange offices, baggage storage, a pharmacy, first aid and a baby-care room.
Parking
Short-term parking is available. Parking is free for the first 15 minutes, RUB 200 per hour and RUB 1,000 per day. Daily and VIP parking is also available.
Trolleybuses and minibuses run frequently throughout the city of Sochi. Taxis are also readily available but can be quite expensive; it is best to negotiate a price with the taxi driver before setting out. Car rental is another option in the city, but the chaotic driving style, heavy traffic, and lack of parking makes it inconvenient for most short-term city trips.
Sochi offers travellers a varied sightseeing buffet. The beaches, ski resorts, health spas, and scenic wilderness areas ensure that a holiday in there can be a very healthy one, and also that most tourists will travel well beyond the city centre to explore the wider region's offerings.
Sightseeing in Sochi is less about iconic cultural and historical attractions and more about recreational fun, with spas, malls, parks, and sporting facilities often taking centre stage. Popular attractions within the city include the Arboretum Botanical Garden (Dendrarium), which allows for beautiful views over the city; Riviera Park, where recreational facilities are plentiful and open-air concerts are held; the Zovokzalny War Memorial, dedicated to local soldiers killed in World War II; the Loo Temple, including ruins dating back to the 12th century; and the Discovery World Aquarium, a world-class marine facility.
Beyond city limits the Sochi National Park beckons visitors with striking natural features like the Agura Waterfalls. The seaside resort towns of Dagomys and Gelendzhik draw beach bums, and ski resorts like Krasnaya Polyana and Dombai lure snow enthusiasts.