Romania has myriad sightseeing attractions on offer. Visitors can marvel at the many medieval villages and castles throughout the country, such as Brasov or Bran Castle, visit the museums or feast their eyes on the brilliant old architecture of the cities.
Bucharest's National History Museum is certainly a must when in the capital, and for those who admire architecture as well as history, a trip to the Stavropoleos Church and Monastery, as well as the Palace of Parliament, will keep visitors enthralled for hours. Tourists should definitely include a visit to the Village Museum on their list of things to do in Romania. The museum offers visitors a walk back in time with the multitude of open-air exhibits on display.
Romania also has a number of festivals and events happening throughout the year, which are always full of fun and festivity, and offer visitors the opportunity to experience local culture at its best. Visitors can also choose to step back into the Middle Ages at the Sighisoara Medieval Festival or watch some of the top local and international films at the Bucharest International Film Festival. For serious music-lovers the Europafest, Bucharest's main cultural event, attracts artists, performers and festival goers from across the globe to the capital for a few nights of fun and good music.
Finally a trip to Romania would not be complete without a visit to the beautiful UNESCO Heritage sight of the Painted Monasteries.
Palace of Parliament
Built by former dictator Nicolae Ceausescu, the colossal Palace of Parliament is the largest civilian administrative building in the world. It is an immense structure that took 20,000 workers and 700 architects to build, and cost billions. It has 12 stories, 1,100 rooms, a 328 foot-long (100m) lobby, and four underground levels including an enormous nuclear bunker.
Started in 1984, the dictator intended it to be the headquarters of his Communist Government, but it was still unfinished when he was executed in 1989. Today it houses the seat of Romania's Parliament (which occupies only 30 percent of the building) and is an international conference centre. Widely viewed as a personification of his obsession with the grandiose and excessive, the construction entailed the demolition of a quarter of Bucharest's historic centre, including 26 churches, and the relocation of 40,000 inhabitants from their 19th century homes to new developments on the outskirts.
Built and furnished exclusively from Romanian materials, the building reflects the work of the country's best artisans. A guided tour takes visitors through a small section of dazzling rooms, huge halls and quarters used by the Senate (when not in session). The interior is a luxurious display of crystal chandeliers, mosaics, oak panelling, and marble, gold leaf and stained glass windows, and even the floors are covered in rich carpets. The largest room has a sliding roof wide enough for a helicopter to enter. Tour guides delight in recounting tales of the vast amounts of money that went to waste in decorating and re-decorating its rooms.
Address:
Strada Izvor 2-4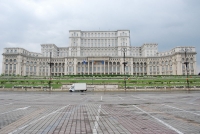 Palace of Parliament George Groutas
The Village Museum
One of Bucharest's finest sights is the Village Museum, situated within the Herastrau Park alongside a picturesque lake. It is a fascinating outdoor museum with a collection that spans more than 300 buildings representing the history and design of Romania's rural architecture, including peasant homes, barns, wooden churches, and Transylvanian houses from all regions of the country to recreate a village setting.
Traditionally dressed peasant workers portray life during the 16th and 17th centuries along with everyday tools and accessories. Traditional crafts are also for sale around the site.
Address:
28-30, Șoseaua Pavel Dimitrievici Kiseleff
Opening time:
Tuesday to Sunday 9am-7pm, closed Monday.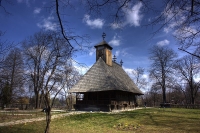 The Village Museum Klearchos Kapoutsis
Stavropoleos Church and Monastery
The tiny but remarkable Stavropoleos Church was built in 1724, designed by a Wallachian prince renowned for his religious architectural accomplishments, and is one of the oldest churches in Bucharest. Built using a combination of Romanian and Byzantine architecture, the beautiful façade and a delicately carved columned entrance, give but a taste of the beauty that lies within. Surrounded by a peaceful garden, it is an architectural jewel, with intricate frescoes and religious icons.
Attached to the church is Stravropoleos Monastery. The Monastery specialises in Byzantine music and has an impressive choir and Romania's largest collection of Byzantine music books. The monastery's library contains more than 8,000 books, including a significant number of old manuscripts and printed works.
Address:
Stavropoleos Street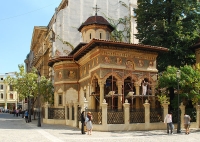 Stavropoleos Church and Monastery Andrei Stroe
National History Museum
Housed in the former 1900 Post Office building is one of Bucharest's most important museums, the National History Museum. Spread throughout 41 rooms, the exhibits recount the country's development from prehistoric times to the 1920s.
Located inside the former Postal Services Palace, the museum is housed next to a philatelic museum, housing hundreds of thousands of historic stamps. Interestingly, the museum had to be closed briefly for reconstruction in 2012 when a late-medieval archaeological site was discovered under the building.
The highlight is the basement National Treasury, which is crammed with a dazzling display of gold, jewellery, and valuable Neolithic curios. It is the biggest and best museum in the country and affords an excellent opportunity to get to grips with the exciting history of Romania.
Address:
Calea Victoriei 12
Opening time:
Wednesday to Sunday 10am-6pm, Monday and Tuesday closed.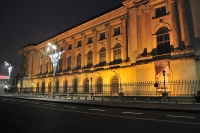 National History Museum Joe Mabel
Bran Castle
Often referred to as Dracula's Castle, the fortified medieval Bran Castle is a national monument and landmark of Romania. Looking exactly as a vampire count's abode should, the forbidding façade, towers, and ramparts rise out of the forest, perched high on a steep cliff face against a dramatic mountain background. Despite its aesthetic, there is little evidence to suggest Vlad Tepes, the speculated inspiration for Dracula, ever stayed there.
Bran Castle was built in 1377 to protect nearby Brasov from invaders, later becoming the favourite summer residence of Queen Marie, offered to her by the people of Brasov. The rooms and towers surround an inner courtyard with a sculpted stone fountain. A warren of narrow, winding stairs, secret chambers, and underground passageways lead between vaulted halls, a prison, a living area, and watchtowers with sweeping views.
The rooms are decorated with a collection of Baroque furniture, elaborately carved four-poster beds, weapons and armour dating from the 14th to 19th centuries. On the grounds below is an open-air ethnographic Village Museum consisting of old local-style architecture with household objects, costumes, and furniture on display. At the entrance to the castle grounds is a large handicraft market to entice tourists with souvenirs from the fantastical castle.
Address:
Strada General Traian Moșoiu 24, Bran
Opening time:
Tuesday to Sunday 9am-4pm, Monday 12pm-4pm.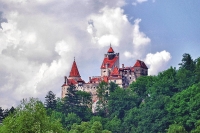 Castle Bran Florin73m
Peles Castle
The quintessential fairy tale castle, complete with turrets and surrounded by forests, the neo-classical Peles Castle was the summer residence for Romania's kings. Built by King Carol I in 1883, the castle is a masterpiece of German-Renaissance architecture with an exquisite exterior, and emerges from fir forests and the towering peaks of the Carpathian range.
The castle's 160 rooms are magnificent; lavishly decorated in ebony, mother of pearl, walnut, and leather with crystal chandeliers, fine collections of sculptures, paintings and tapestries, and stained glass windows and furniture. It is set within a large park with a statue garden in front. Further up the hill from the main palace is the smaller Pelisor Palace, built for Carol I's son and decorated in the Art Nouveau style.
Address:
Aleea Peleșului 2
Opening time:
Wednesday to Sunday 9.15am-5pm, closed Monday and Tuesday/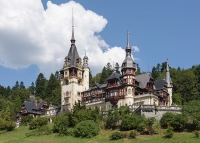 Peles Castle in Sinaia, Romania Myrabella
The Painted Monasteries
The 15th century painted monasteries of Southern Bucovina have been declared UNESCO World Heritage Monuments, they represent some of the greatest artistic monuments in Europe and are among the most picturesque treasures in Romania. Most of the churches are fortified with strong defensive surrounding walls as protection against Turkish invaders that sheltered large armies of soldiers awaiting battle.
The exterior walls of the monasteries are richly decorated with vivid frescoes depicting dramatic Biblical scenes, intended to teach Christianity to the illiterate. The artwork has amazingly survived harsh exposure to the elements for over 450 years and the intense colours have been well preserved. The five main painted monasteries near Suceava are Humor, Voronet, Moldovita, Sucevita, and Arbore. The predominant colour of the artwork at Voronet is a vivid blue that serves as a background to the designs.
The quality of the frescoes, the magnificent Last Judgement and the brilliant colour has earned it the moniker of 'Sistine Chapel of the East'. Humor is characterised by its predominant red colour; and the largest and finest of the monasteries, Sucevita, has its thousands of painted images on a background of emerald green. Moldovita, situated in the middle of a quaint farming village, consists of a strong fortified enclosure with towers and heavy gates, with the beautiful painted church in the centre. Also nearby are Dragomirna and Putna monasteries, the latter home to an active community of monks and a small museum containing medieval manuscripts and rare textiles.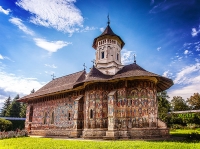 The Moldovita Monastery, a Romanian Orthodox monastery. Alex Moise
Sighisoara
Sighisoara is a beautifully preserved medieval town, renowned as the birthplace of 'Dracula', or Vlad the Impaler. It is also a UNESCO World Heritage Site and one of the seven fortified towns founded by the Saxons in the hills of Transylvania. The hilltop citadel dominates the town with the original medieval settlement enclosed within the fortress walls, surrounded by nine surviving towers.
Within the old town, the narrow cobbled streets and steep alleyways, brightly-painted, lopsided houses, ancient churches, stone archways, and covered stairways are watched over by the striking Clock Tower, the control tower of the main gate with magnificent views over the whole town and countryside. At the foot of the Clock Tower is the simple yellow building where Vlad was born and lived with his father, Vlad Dracul, and is marked by a hanging wrought-iron dragon. It now houses a restaurant with medieval furnishings.
The ancient cobblestone street that passes beneath the Clock Tower leads to the lower town, and although shabbier than the citadel, it has some interesting little shops where 'Vampire Wine' and locally made products can be bought. There are also lively markets here and pretty stone squares where townsfolk gather to chat animatedly about daily affairs. Every year in July the town is host to the Sighisoara Medieval Festival, one of Romania's biggest and most popular festivals.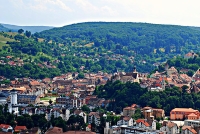 Sighisoara MarculescuEugenIancuD60Alaska
Brasov
Nestled at the foot of Mount Tâmpa, is the charming medieval town of Brasov, one of the seven fortified towns settled by the Saxons, with a distinct Germanic flavour to its history and culture. The Saxons built massive stone walls and seven bastions around the city that are still visible today, as well as ornate churches, elaborately trimmed buildings, and a fine central square that is said to be where the legendary Pied Piper led the children of Hamlin.
Lining the square are the red-roofed merchant's houses, now occupied by cafes and shops surrounding the 15th-century Old Town Hall, home to the History Museum. The town's landmark is the impressive Gothic structure known as the Black Church, so named because a fire blackened its outer walls in 1689. The interior represents the quintessential East European church, with balconies, stained glass windows, an enormous organ, stone columns, and walls adorned with fabulous Turkish carpets. Many people use Brasov as a base for visiting the nearby attractions of Dracula's Castle at Bran, as well as Râsnov Castle and the ski resorts of Sinaia and Poiana Brasov.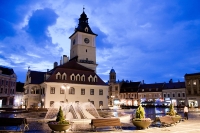 Brasov, Piata Sfatului Constantin Barbu
Money:
The Leu (RON) is the official currency, which is divided into 100 bani. Money can be exchanged at banks, international airports, hotels, or authorised exchange offices (casa de schimb or birou de schimb valutar). ATMs are available at large banks, airports, and shopping centres in cities. American Express, MasterCard, and Visa are accepted in the main cities. It is recommended to travel with some cash in case of difficulty using credit cards.
Language:
Romanian is the official language, but English will be understood in Bucharest and other tourist areas.
Electricity:
Electrical current is 230 volts, 50Hz. Two-pin European-style plugs are standard.
Entry Requirements:
United States nationals require a passport valid for three months beyond period of intended stay. No visa is required for stays of up to 90 days within a 180 day period.
UK nationals with passports endorsed 'British Citizen' require passports valid for period of intended stay, but no visa. British passports with other endorsements require either validity for period of intended stay, or three months validity beyond period of travel; all British passport holders are entitled to visits of at least 90 days visa-free within a 180 day period. UK nationals who are not British citizens are advised to check the specific requirements applicable to their status.
Canadian nationals require a passport valid for three months beyond period of intended stay, but no visa for stays of up to 90 days within a 180 day period.
Australian nationals require a passport valid for three months beyond period of intended stay, but no visa for stays of up to 90 days within a 180 day period.
South Africans require a passport valid for three months beyond period of intended stay and a visa to enter Romania. Holders of a valid Schengen visa, or holders of a short stay visa issued by Bulgaria, Croatia, or Cyprus do not require a visa to enter Romania for a stay of up 90 days within a 180 day period. South African temporary passports are not accepted by the Romanian government.
Irish nationals require a passport valid for period of intended stay, but no visa is required.
United States nationals require a passport valid for three months beyond period of intended stay. No visa is required for stays of up to 90 days within a 180 day period.
New Zealand nationals require a passport valid for three months beyond period of intended stay, but no visa for stays of up to 90 days within a 180 day period.
Passport/Visa Note:Visa:
Visitors must hold all documents required for further travel, onward or return tickets, sufficient funds for the period of stay, and proof of reserved accommodation. It is highly recommended that passports have at least six months validity remaining after your intended date of departure from your travel destination. Immigration officials often apply different rules to those stated by travel agents and official sources.
Travel Health:
Medical facilities in Bucharest are good, but poor in the smaller towns and basic medical supplies are often in short supply. There is a reciprocal health agreement with the UK and most EU countries, whose citizens are entitled to free or low-cost emergency medical treatment on presentation of a European Health Insurance Card (EHIC), but travel health insurance is strongly advised. There have been a number of Hepatitis A cases in Romania and visitors are advised to seek medical advice about inoculations before travelling. Tap water is safe to drink, although bottled water is widely available. Stray dogs carry rabies and should be avoided.
Tipping:
Tipping is becoming increasingly common in Romania, and is now expected in all restaurants and bars. A service charge is often included in restaurant bills but a further 5 to 10 percent tip is expected. Though it is not always necessary to tip them, taxi drivers can be rewarded for good service.
Safety Information:
Visitors should take normal safety precautions in Romania; keep valuables safe and be aware of pickpockets and scam artists in major cities. Corruption is rife and visitors should be cautious of policemen demanding fines for spurious offences, or asking to see documents as a way of stealing cash; if approached in this way visitors should offer to go with them to the nearest police station before handing over any money or documents. Valuables, including passports, should not be left in hotel rooms, or near the window of a hotel room when you are there.
Local Customs:
It is illegal to change money on the streets. Homosexuality, although legal, is frowned upon. A small and still largely closeted gay scene exists in the Romania's largest cities, particularly in Bucharest, which has a few gay clubs. Photography at airports is forbidden.
Business:
Business can be quite bureaucratic and old-fashioned. The country adheres to an imbedded hierarchical structure and often it is the eldest who receive the most respect in business and social meetings. It is important to address each person according to their title followed by their surname; 'Domnul' for Mr. and 'Doamna' for Mrs. Romanians prefer a face-to-face approach and like to strengthen personal relationships. Appointments should be made in advance and confirmed. Although the visitor is expected to be punctual the host may be late to arrive. Meetings are often quite formal and a general 'Western' set of old-world manners applies. Business suits are appropriate for meetings. Romanians dislike an overt display of achievement or exaggerated conversation. Business hours are generally 9pm to 5pm Monday to Friday with an hour taken at lunch.
Communications:
The direct dialling country code for Romania is +40, and the outgoing code is 00, followed by the relevant country code (e.g. 0044 for the UK). There are numerous area codes applying to cities, towns and villages, for example (0)21 for Bucharest. Free wifi is available at cafes, hotels and restaurants. Public phone cards can be bought from kiosks, post offices and some tourist offices. A local SIM card can be purchased as a cheaper alternative to using international roaming for calls.
Duty Free:
Travellers to Romania do not have to pay duty on either 40 cigarettes, 50 cigars or 250g of tobacco. 2 litres of spirits, 16 litres of beer, 4 litres wine, and gifts to the value of US$450 are also duty free. Valuable goods, such as jewellery, art, electrical items, and foreign currency should be declared on entry.