Norway is a famously good destination for outdooradventure tourism, with fantastic skiing, cycling, hiking,climbing, river rafting, and even scuba diving opportunities. Thespectacular scenery is popularly enjoyed on cruises and trainrides, with much of the tourist activity centring on the famous andextensive network of fjords.
Sognefjord is the largest of the fjords and luresmany tourists to Norway with its dramatic vistas and the naturaland cultural wealth along its banks. Many visitors start theirfjord explorations in Bergen, but Tromsø also offers some gloriousfjord cruises.
Tromsø is the gateway to the Arctic and the mainattractions in the north are the phenomena of the Northern Lightsand the Midnight Sun, which keep travellers arriving year round.Like all the main cities in Norway, Tromsø also boasts some goodmuseums, as well as the unique Arctic Cathedral.
Oslo, the capital, is a cosmopolitan, sophisticatedcity, surrounded by glorious countryside and promising manysightseeing opportunities for rainy days. The heritage of theVikings and the great Norwegian explorers can be investigated inOslo, as well as some of the country's best art galleries. Otherpopular urban destinations in Norway include Stavanger, Trondheim,and Bergen, the gateway to the fjords which also boasts thehistoric neighbourhood of Bryggen.
Vigeland Park
Vigeland Museum and Park is Oslo's most visitedattraction, and one of the most popular tourist attractions inNorway. It is a vast green area of duck ponds, trees, and lawnsthat is a monument to the celebrated Norwegian sculptor GustavVigeland. He spent 40 years creating the life-size statues thatdecorate the walkways and open spaces.
There are more than 200 works presenting the humanform in a variety of poses and conveying a range of emotions. Atthe centre of the park is the most impressive piece, the Monolith,a gigantic mass of writhing bodies carved from a single column ofstone and believed to be the largest granite sculpture in the worldat a height of 46ft (14m).
Surrounding the column are groups of human sculpturesin various forms of interaction with each other. The most famousand most photographed piece is the Angry Boy, a fat child stampinghis foot. There are many more sculptures to be seen in the park andin the nearby Vigeland Museum, featuring a display on thedevelopment of the artist's work and his sketches and plasteroriginals.
Visitors should note that although the attraction iscommonly called Vigeland Park, the collection of sculptures istechnically in a middle section of Frogner Park. Guided tours areavailable for the museum.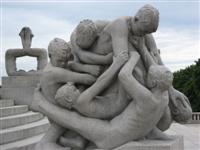 Vigeland Park gerry.scappaticci
The Kon-Tiki Museum
Situated on the Bygdoy Peninsula, the Kon-Tiki Museumcontains the iconic balsawood raft, the Kon-Tiki, on which ThorHeyerdahl made his famous journey across the Pacific in 1947 toprove the theory that the first Polynesian settlers could havesailed the 4,300 miles (6,923km) between Peru and Polynesia.
The museum also contains the original reed raft, RaII, on which Heyerdahl sailed across the Atlantic in 1970. Besidesthe rafts, there is a huge stuffed whale shark, artefacts from hisexpeditions, and exhibits of his visits to Easter Island, as wellas an intriguing collection of archaeological finds from EasterIsland, Galapagos, East Polynesia, and Peru.
For travellers interested in the seafaring adventuresof Norwegian explorers, this museum is a gem: seeing the craft usedto make the famous expeditions is thrilling and the voyages can betracked through news articles and other memorabilia.
It is a speciality museum and may not appeal toeverybody visiting Oslo. But for those who enjoy such things, theKon-Tiki is an informative and interesting museum which generallyscores high with tourists. The museum is located just opposite theFram Polar Ship Museum, and the two attractions are best combined.Entry to the Kon-Tiki Museum is free with the Oslo Pass.
Address:
Bygdoynesveien 36, Bygdoy Peninsula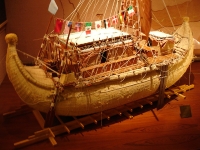 Kon-Tiki Museum, Oslo Jim G
The Viking Ships Museum
Found on the Bygdoy Peninsula, the Viking Ship Museumhouses three 9th-century Viking ships that were excavated fromritual burial mounds in the south of Norway. Their excellentcondition is due to the clay in which they were preserved. Vikingships were used as tombs for royalty who were buried witheverything they might need in their life after death.
The biggest and best preserved of the ships is theGokstad, and the finest is the Oseberg, a richly ornamented dragonship with an intricately carved animal head post, that was theburial chamber of a Viking queen. The elegantly carved sleigh usedby the Viking royalty and a hoard of treasure was found on theburied ship and is displayed at the back of the museum.
Raised platforms allow visitors to view the inside ofthe ships' hulls. The museum is small and not interactive, but theships are fascinating and make an impact the moment you see them.The museum is considered a must in Oslo and a visit is one of thebest ways to get a taste of the intriguing Viking culture.
Most of the displays have some explanation inEnglish, but there is also free wifi in the museum which can beused to get additional information in English. Entrance to themuseum is free with the Oslo Pass.
Address:
Huk Aveny 35, Bygdoy Peninsula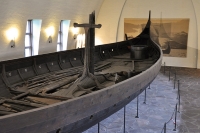 The Gokstad Ship Helen Simonsson
Bryggen
The site of the old medieval quarter of the city ofBergen, Bryggen is a charming, compact area of brightly colouredwooden homes that traditionally housed the city's merchants. Alsocalled Tyskebryggen, its steep cobbled lanes are lined with avivacious blend of cafes and artisans' workshops.
With many buildings dating from before the 17thcentury, The Hanseatic wharf area has been declared a UNESCO WorldHeritage Site and is considered to be one of the most importantexamples of a medieval settlement in the world.
Bryggen was once the working area of the merchantsand is the oldest part of Bergen, characterised by a maze oflopsided wooden buildings with pointed gables facing the harbour.The Bryggen and Hanseatic Museums, as well as the 12th-century StMary's Church, are all in the Bryggen area.
At one end of the wharf is Bergen's famous fishmarket, a colourful market also selling flowers, fruit, vegetables,and souvenirs. Because of its predominantly wooden buildings,Bryggen has struggled with fire throughout its long history andmany of the structures have been rebuilt several times. One of theunexpected advantages of the destruction caused by fire was thediscovery of a wealth of runic inscriptions, now housed in theBryggen Museum.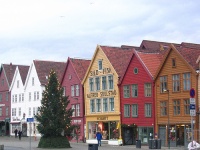 Bryggen historic houses charley1965
Hanseatic Museum
The Hanseatic Museum is housed in one of the oldestand best-preserved wooden buildings in Bryggen, the former home ofa wealthy merchant. Furnished in the 18th century style, itprovides a glimpse of the working and living conditions of theHanseatic merchants during the Middle Ages.
The austere layout and maze-like rooms are saturatedby the smell of fish and leave a lasting impression. Although anumber of historic houses remain in the medieval district, theHanseatic Museum is the only house left in Bryggen that hasretained its original interior.
A short walk away next to St Mary's Church is theSchotstuene, a museum consisting of three assembly rooms and akitchen once used by the Hanseatic merchants. Cooking was conductedin the Schotstuene as it was the only place in Bryggen where it waspermitted to use fire. As a precaution, it was kept removed fromthe other buildings.
The ticket price for the Hanseatic Museum includesentry to the Schotstuene on the same day. The Hanseatic Museum isbest visited on the guided walking tour which begins at theBryggens Museum. For many travellers, the Hanseatic Museum is oneof the best historic attractions in the city and if you only visitone museum in Bryggen, it should probably be this one.
Address:
Finnegardsgate 1A, Bryggen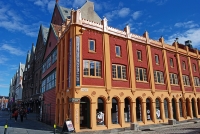 The Hanseatic Museum Harvey Barrison
Bryggens Museum
This fantastic archaeological museum was built aroundthe remains of the oldest buildings discovered in Bergen, datingfrom the 12th century, and the ruins have been incorporated intothe exhibits along with excavated tools, ceramics, and evenskeletons.
In 1955, parts of historic Bryggen were destroyed byfire and the subsequent excavations revealed some fascinatingobjects now on display in the museum. Bryggens Museum housesvarious artefacts and traditional costumes and imaginativelyattempts to recreate life in the Middle Ages with displays ofdomestic implements, handicrafts, runic inscriptions, and itemsrelating to seafaring and trade during medieval times.
The Bryggens Museum is the starting point for awonderful historical walking tour through the UNESCO-listeddistrict. This tour is really good value for money as it includesentry to two other museums as well. The guided tours are offered inseveral languages and depart every hour or so, depending on demand.The Bryggens Museum also houses temporary art and historyexhibitions. The museum itself doesn't require much time to exploreand is best seen as part of a wider exploration of the historicarea.
Address:
Dreggsallmenning 3, Bryggen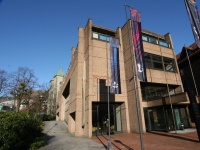 Bryggens Museum Nina Aldin Thune
St Marys Church (Mariakirken)
Bergen's oldest surviving building, the beautifulstone Church of St Mary's, dates from the beginning of the 12thcentury. The interior is decorated with old frescoes and a splendidBaroque pulpit donated by the Hanseatic merchants in 1676.
The twin towers of the church are distinctiveamong the low red-tiled roofs of the old quarter. St Mary's isconstructed mainly of soapstone and the architectural style ispredominantly Romanesque.
The Church of St Mary's is the only one survivingof 12 churches and three monasteries built around the time ofBergen's foundation. Its survival is mainly due to the fact that itwas the chosen place of worship for the wealthy German merchants ofBergen, whose patronage ensured it never fell into ruin.
Like many buildings in Bergen, St Mary's has beendamaged by several fires through the centuries and has thereforebeen repaired and renovated. But even considering these slightalterations, the structure remains remarkably intact and hasultimately changed very little through the ages.
The church is an active place of worship and thosewanting to attend services will find them listed on the websitebelow. Sightseeing visitors are also welcome.
Address:
Dreggen 15, Bergen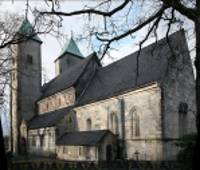 St Mary's Church Nina Aldin Thune
Tromsø Museum
The Tromsø Museum is northern Norway's oldest andlargest museum with exhibitions devoted to the cultural and naturalhistory of the region. It is located on the university campus, justoutside the city, and is run by the university.
There is a comprehensive display relating to thetraditional culture and music of the Sami or Lapp people and theirnomadic, reindeer-herding way of life, and for many people this isthe highlight of the visit. The Tromsø Museum is possibly the bestplace in Norway to learn about the fascinating Sami culture andhistory.
There are also daily films about the Northern Lights,particularly good for those visiting outside of the months when theAurora might be seen. Apart from the Northern Lights display, thereare numerous other science and nature exhibits, including thingslike earthquake sensors, which the kids will enjoy testing.
Most of the exhibits have some information availablein English. There is a good cafe for refreshments when you need abreak. The bus ride to the museum is scenic and many travellersfind it a fun part of the visit, but it is also possible to walkthe distance and it is a pleasant stroll if you have theinclination.
Address:
Lars Thoringsveg 10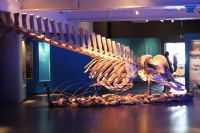 The Tromso University Museum Nigel Harper
Arctic Cathedral
The spectacular design of the white and ultramodernArctic Cathedral is visible from afar, situated on a small hill onan island and linked to the mainland by the spindly Tromsø Bridge.It is an architectural masterpiece, made up of eleven largetriangular sections representing the eleven faithful apostles andsymbolising northern Norwegian heritage, culture and faith.
It bears an interesting resemblance to the SydneyOpera House in Australia, but its colour and shape can also belikened to an iceberg. The cathedral has one of the largest stainedglass windows in Europe, and an interior decorated with grandchandeliers made up of many prisms of colours and lights,representing hanging ice formations.
Built in 1965, the church is not technically acathedral, despite its commonly used name. The actual TromsøCathedral is the only wooden cathedral in Norway and is also wortha visit. Travellers should note that the church is usually onlyopen for two hours in the winter months, in the late afternoon, andopening hours can fluctuate so it is best to check the officialwebsite to confirm opening hours before visiting. Look out for thewonderful midnight music concerts in the church.
Address:
Hans Nilsens vei 41, Tromsdalen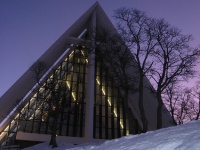 Arctic Cathedral Carlton Browne
Polaria
Polaria is an information and experience centre forthe whole family, combining interactive experiences withinformation about the arctic environment. There is a panoramic filmabout the arctic wilderness of Svalbard, an Arctic Walkway thatcreates a snowstorm experience and the Northern Lightsspectacle.
As the Northern Lights are famously unpredictable, itis nice to know that you can at least see the effect recreated atPolaria even if the lights elude you in real life. The bearded sealpool is especially exciting at feeding time, and an aquariumprovides a close look at arctic sea mammals and life in thefreezing waters.
There is a little gift shop for those wantingsouvenirs. Polaria is best suited to families and is a good optionfor those travelling with kids in Tromsø. A visit will only takeabout one to three hours and ideally should be timed to coincidewith seal training and feeding. These usually take place daily at12.30pm and 3.30pm in the winter months, and at 12.30pm and 3pm inthe summer.
Those wanting a more grown-up investigation of arctichistory, particularly the explorers and seal hunting tradition,should visit the Polar Museum housed in a converted warehouse bythe harbour.
Address:
Hjalmar Johansens gate 12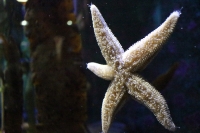 Starfish in Polaria Lee Dyer
Lillehammer
Lillehammer is best known for hosting the 1994 WinterOlympics and the area does offer excellent opportunities for wintersports such as skiing and snowboarding. In fact, Lillehammer isconsidered Norway's oldest winter sports resort.
Lillehammer is picturesque, overlooking Lake Myosaand surrounded by mountains. The village transforms from season toseason: a beautiful frozen world in winter and a lush green valleyin summer.
In the cold, snowy months, visitors can find some ofthe best cross-country ski trails in northern Europe at nearbyNordseter and Sjusjoen, and a great ski centre at Hafjell.Lillehammer itself is a very small ski resort, with only about 630feet (192 metres) of vertical descent and wonderful hikingopportunities in the summer months some.
This small town has other attractions too, includingMaihaugen, the largest open-air museum in Norway; the 12th-centuryGarmo stave church; and the PS Skibladner paddle steamer. Thepicturesque main street of Lillehammer is not to be forgotten,lined with charming 19th-century wooden houses. There is a wideselection of shops, restaurants, and accommodation inLillehammer.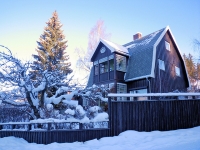 Winter in Lillehammer Leimenide
Sognefjord
Sognefjord is the largest fjord in Norway and thethird longest in the world, stretching 127 miles (205km) from thecoast to the village of Skjolden. Sheer cliffs rise to heights of3,300 feet (1,000m) and more above the water.
In addition to some of the most dramatic andmagnificent scenery in the world, Sognefjord contains or providesaccess to many of Norway's most famous tourist attractions. Theseinclude three popular national parks, two UNESCO World HeritageSites, and much more.
Sognefjord offers once-in-a-lifetime experiences forvisitors: travellers can see, touch and even walk on the largestglacier in Europe in the Jostedalsbreen National Park; investigatenumerous heritage treasures, like the UNESCO-listed Urnes StaveChurch in Luster, the oldest church in Norway; marvel at thethundering waterfalls, wild rivers and pristine mountain lakes thatfeed into the fjord; and explore the steep mountains on either sideof Sognefjord, which boast an impressive network of hiking,climbing and skiing trails.
Gorgeous, mostly dry summers and mild winters meanthat the fjord can be explored at any time of year, depending ondesired activities and adventures. Popular activities in and aroundSognefjord include cycling, fishing, hunting, hiking, climbing,kayaking, river rafting, skiing, and canyoning. But those who justwant to sit back and enjoy the splendid scenery can take one of themany fjord cruises or even enjoy a train trip.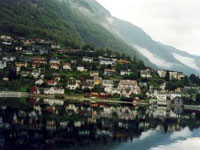 Sognefjord Judith Duk
Despite its northerly location, the coastal climatein Norway is temperate, thanks to the warming effects of the GulfStream flowing along its coast. Summer, between late June and earlyAugust, brings long, hot days with temperatures reaching 86°F(30°C), and sea temperatures averaging a comfortable 64°F (18°C).Even in the north of Norway, summer temperatures rise to 77°F(25°C) or more. However, summer weather can be changeable in Norwayand the summer months can be wet.
In winter much of Norway is snow-clad with very lowtemperatures in the north and the low-lying inland regions of thesouth. Temperatures can drop below -40°F (-40°C). In contrast, thecoast enjoys mild winters, although gales and rain are common. Inspring, between May and mid-June, Norway is at its prettiest, witheverything coming to life and blossoming and snow melt swelling thewaterfalls.
June and July is often considered the best time tovisit Norway because of the warm weather and the long days, whichsee sunlight until nearly 10pm. These peak summer months are alsothe most crowded in Norway. March is the best time to go skiing inNorway, and May and September offer nice weather and slightlysmaller crowds. The Northern Lights are famously elusive andunpredictable, but there is a possibility of seeing them any timebetween late September and March.
Money:
The official currency is the Norwegian Krone (NOK), divided into100 ore. Larger establishments accept major credit cards. Use ofcredit cards is widespread, with Eurocard/Mastercard, Visa,American Express and Diners Club being the most common. Foreigncurrency can be exchanged at banks and major post offices, as wellas many hotels and travel agents, although for poorer rates. ATMsare available in all towns and cities.
Language:
Norwegian is the official language, but English is widelyunderstood.
Electricity:
Electrical current is 230 volts, 50Hz. Round two-pinplugs are in use.
Entry Requirements:
United States citizens require a passport valid for three monthsbeyond period of intended stay, but no visa is needed for stays ofup to 90 days within a 180 day period.
British Citizens, British Overseas Territories Citizens, andBritish Subjects must have valid passports, but require no visa toenter Norway. For British passports with any other endorsement novisa is required for stays of up to 90 days within a 180 dayperiod.
Canadians must have a passport valid for three months beyondperiod of intended stay, but no visa is required for a stay of up90 in any 180 day period.
Australians must have a passport valid for three months beyondperiod of intended stay, but no visa is required for a stay of upto 90 in any 180 day period.
South Africans require a passport valid for at least threemonths beyond period of intended stay. Holders of temporarypassports are not allowed. A visa is required for travel toNorway.
Irish nationals must have a valid passport but no visa isrequired.
United States citizens require a passport valid for three monthsbeyond period of intended stay, but no visa is needed for stays ofup to 90 days within a 180 day period.
New Zealand citizens must have a passport valid for three monthsbeyond period of intended stay, but no visa is required for a stayof up to 90 days within a 180 day period.
Passport/Visa Note:Visa:
All visitors to Norway must have sufficient funds, return oronward tickets and all documents needed for further travel.Passports should be valid for at least the period of intended stay.Some European countries require only their National Identity Cardif coming as a tourist to Norway. The borderless region known asthe Schengen area includes the following countries: Austria,Belgium, Czech Republic, Denmark, Estonia, Finland, France,Germany, Greece, Hungary, Iceland, Italy, Latvia, Liechtenstein,Lithuania, Luxembourg, Malta, The Netherlands, Norway, Poland,Portugal, Slovakia, Slovenia, Spain, Sweden and Switzerland. Allthese countries issue a standard Schengen visa that has a multipleentry option that allows the holder to travel freely within theborders of all. It is highly recommended that passports have atleast six months validity remaining after your intended date ofdeparture from your travel destination. Immigration officials oftenapply different rules to those stated by travel agents and officialsources.
Travel Health:
There are no real health risks associated with travel to Norwayand the standard of healthcare is high throughout the country. Areciprocal agreement exists between the UK and Norway under whichBritish nationals are covered for emergency treatment whilevisiting Norway as long as they hold a European Health InsuranceCard (EHIC). Travellers should ensure that they have adequatetravel and medical insurance.
Tipping:
Norwegians generally earn good salaries and, while it'sperfectly alright to tip, a tipping culture doesn't really exist inthe country. But customers do usually round up bills to the nearest10 or 100 NOK.
Safety Information:
Norway is a safe country in which to travel. However, travellersshould still take sensible precautions to avoid petty theft, asthey would anywhere in the world. Petty theft is most common atairports and bus and train stations in Oslo.
Local Customs:
Smoking is prohibited in all public places and on publictransport in Norway, unless otherwise indicated. Norwegians tend tosee everyone as being equal; they do not flaunt their wealth orfinancial achievements and frown on those who do. Travellers shouldnote that whale meat is available legally in Norway, but that it isillegal to bring it into most other countries.
Business:
Business in Norway is conducted formally, with an emphasis onpunctuality and direct communication. Business attire is usuallysmart and fashionable, though not ostentatious. Titles and surnamesare predominantly used on introduction, but may be dropped later,and greetings are usually made with a handshake.
Business cards are commonly exchanged. Expect business to beconducted in a direct and forthright manner, with little small talkor socialising. It is worth bearing in mind that Norway is anexpensive country and that any services from lawyers, consultantsetc are subject to hefty VAT charges.
Business hours are usually 9am to 4pm, Monday to Friday.Norwegians highly value family and believe in a healthy balancebetween work and leisure. They are hard-working but overtime isfrowned upon and workers in Norway are entitled to more leave thanforeigners may be used to.
Communications:
The international access code for Norway is +47. Hotels, cafesand restaurants offering free wifi are widely available. Asinternational roaming costs can be high, purchasing a local prepaidSIM card can be a cheaper option.
Duty Free:
Norwegian residents over 18 years who have been abroad for 24hours or more don't have to pay duty on goods worth up to NOK6,000. This includes up to 200 cigarettes or 250g of tobaccoproducts.
The amount of alcohol depends on the purchase of tobacco. Inaddition to tobacco, one can declare 5 litres of beer or 2 litresof beer with 3 litres of wine or 1 litre of spirits, 1.5 litres ofwine, and 2 litres of beer.
Without tobacco, one may include 1 litre of spirits, 3 litres ofwine, and 2 litres of beer, or 4.5 litres of wine and 2 litres ofbeer. The last option is having 6.5 litres of beer only. Travellersarriving from outside of the EU should confirm their duty freeallowance prior to arrival in Norway.