Auckland Museum
The Auckland Museum overlooks the city and the attractive Waitemata Harbour. It is one of the most visited attractions in the city, housing a remarkable collection of Maori and Pacific Island artefacts and cultural displays. Originally built as a World War I Memorial in 1929, the building was dedicated to the memory of New Zealand victims in both World War I and II. The 'New Zealand at War' exhibition has since been joined by extensive displays about the people and the country, its cultures, art and natural history. A highlight is the Maori cultural performance of song and dance, performed three times daily.
Address:
Domain Drive, The Domain, Parnell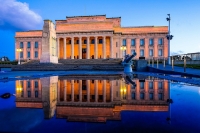 Auckland Museum Siyamalan
Auckland Sky Tower
At 1,076 feet (328m), Auckland's Sky Tower is the tallest freestanding structure in the Southern Hemisphere and has unforgettable views over the city, the harbour and the gulf islands. It is part of the Sky City Entertainment Complex, with a casino, theatre, hotel, and conference centre. Visitors to the tower can splash out on dinner in the revolving restaurant, or admire the view from one of the four circular observation decks, reached by a glass lift. There is an outdoor deck, glass floor panels, an audio visual guide, and a number of touch computer screens providing geographical information. The Sky Deck is the highest viewing level with spectacular 360-degree views.
Address:
Sky City Complex, Victoria and Federal Streets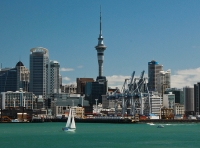 Sky Tower Janayna Velozo
Tiritiri Matangi Island
Tiritiri Matangi Island is a wildlife sanctuary and one of New Zealand's most important and exciting conservation projects. A hundred and twenty years of farming had seen this 220-hectare island stripped of almost all its native bush but between 1984 and 1994, volunteers planted between 250,000 and 300,000 trees. The Island is now sixty percent forested with the remaining forty percent left as grassland for species preferring open habitat. Visitors can access the island by a regular ferry service, which leaves from Auckland and Gulf Harbour. When on the island, visitors can enjoy a guided walk, explore the beaches or simply admire the natural beauty of the place.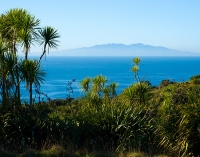 Tiritiri Matangi Island Claire Gribbin
Auckland has an oceanic climate, with warm, humid summers and mild, damp winters. The city experiences plenty of rain throughout the year, but predominantly in winter; the summer months are the driest. In summer, between December and February, temperatures average between 57°F (14°C) and 74°F (23°C); and in winter, between June and August, temperatures average between 44°F (7°C) and 59°F (15°C). The weather can be very changeable in Auckland year-round, with tropical cyclones and cold fronts causing occasional extreme conditions like hailstorms.
Auckland has a diverse and full-flavoured variety of eating establishments. From Indian to Japanese, and Turkish to French, there is a veritable rainbow of cuisine available from which visitors can choose.
Fuelled by entrepreneurial immigrants and New Zealand's strong focus on artisanal food, wine, and beer, the bustling local markets of the country's biggest city are excellent shortcuts to understanding Auckland's cultural mosaic. With well-established farmers' markets complemented by newer specialist markets, Auckland emerges as New Zealand's only truly international city and it is certainly reflected in the variety of its restaurants.
Although Auckland's food scene is a melting pot of national cuisines, locals still love their traditional New Zealand cuisine. Staples, such as roast lamb are a favourite, along with all kinds of fresh seafood, including of course, the famous New Zealand mussel. Auckland has no shortage of brilliant restaurants serving this type of local cuisine, with establishments such as One Tree Grill creating inspired Pacific Rim style dishes for patrons to enjoy, which can be deliciously paired with a wide selection of New Zealand's world famous wines.
There are many areas in Auckland to enjoy a bite to eat, but if one wants an authentic seafood experience why not cruise around the Viaducts and Waterfront where one can find a variety of fresh seafood treats to choose from. Other popular clusters of eateries can be found in High Street, Queen Street, the Wynyard Quarter, and the Arts Precinct, each with own unique atmosphere and speciality restaurants.
Bodrum Restaurant and Bar
Bodrum is arguably one of the best Turkish restaurants in Auckland. It was created in late 2015 by Turkish restaurateur duo, Alex Isik and Nigar Ivgen. People visit for the fall-off-the-bone lamb, and stay for the Turkish Delight and coffee. Bookings recommended.
Address:
3058 Great North Road, New Lynn.
Punjab Palace
Punjab Palace is one of Auckland's many Indian restaurants. What sets Punjab Palace apart is their extensive menu and the pride and personal involvement that the owners take in the day to day running of this great restaurant. With piping hot curries, perfectly cooked naan and meat dishes done to perfection, Punjab Palace serves food fit for royalty. Try the Mango Chicken for something different, or the Lamb Rogen Josh for some of India's finest spices and New Zealand's best lamb. Bring along a bottle of wine and enjoy a great Indian feast. Bookings essential.
Address:
71 Great South Road, Papakura.
Saison: The French Cafe
For French cuisine at its best visit Saison. This French restaurant serves up an exciting array of stylish dishes. Using seasonal vegetables and only the best meat available Saison will tantalise your taste buds in all the right ways. Saison has a great wine selection including local and international wines. The tasting menu comes highly recommended. Reservations essential.
Address:
210 Symonds St., Eden Terrace
Industry Zen
Auckland has a large selection of Japanese restaurants and sushi bars, but Industry Zen is a cut above the rest. With authentic Japanese decor and traditional Japanese meals this restaurant will transport you to Japan for the evening. Industry Zen is definitely one of the best sushi restaurants in Auckland and is often fully booked. Their sushi is made to perfection and the sushi wraps are a hit. Industry Zen also serves a decadent selection of Japanese tapas including crumbed rock oysters, fried squid legs and traditional Japanese Gyoza. The green tea ice-cream is the perfect way to end your meal. Bookings essential.
Address:
104D Customs Street
One Tree Grill
One Tree Grill Restaurant is an upmarket dining experience which serves up traditional Pacific Rim cuisine and boasts a very impressive array of wines from the region and abroad. The restaurant prides itself on its professional service and quality food, making every dining experience a unique and special evening out for its customers. The food is beautifully presented and tastes equally as delicious. Although rather a bit more expensive than other options in the area, the quality certainly lives up to the price point. Bookings are essential.
Address:
9 Pah Road, Epsom
Auckland International Airport
Location:
The airport is situated 13 miles (21km) south of Auckland.
Time:
Local time is GMT +12 (GMT +13 from the last Sunday in September to the first Sunday in April).
Transfer Between Terminals:
A free bus links the two terminals, and walking is also possible.
Getting to the city:
SkyBus is the airport's transfer bus service and leaves regularly (roughly every 10 minutes during the day on weekdays, every 15 minutes during the day on weekends, and every 30 minutes overnight) for the city centre. Taxis are also available, as is car rental.
Car Rental:
There are numerous car rental companies including Avis, Budget, Hertz, Thrifty, and Europcar.
Airport Taxis:
Taxis are available in ranks outside both terminals. Any taxi can transport passengers to the airport, but only authorised taxis can pick people up from the airport.
Fascilities:
Facilities at the airport include left luggage, business facilities, a medical centre, banks and ATMs, bars, restaurants and shops, a crèche, a post office, a hairdresser, supermarket, internet kiosks, tourist information and hotel reservations desks. Disabled facilities are good, but those with special needs should inform their airline or travel agent in advance.
Parking
There is plenty of parking adjacent to both terminals including a 'wait zone' where cars can park free of charge for 30 minutes. Fees range from about NZD 7 to NZD 13 per hour to NZD 50 per day. There are also cheaper long-term parking options located off site with free shuttle services to the terminals. Substantial parking discounts are available for those who book online in advance.
Auckland's 'city of sails' reputation and natural beauty make it an ideal destination for tourists wishing to take part in sightseeing. But never fear, party-goers: Auckland comes alive at night. With clubs, bars, cinemas, and pubs, Auckland is arguably the kiwi nightlife capital. The Tourist Times is a great source of hip and happening entertainment listings and is distributed free of charge throughout the city.
The city has a great selection of clubs and bars catering for up and coming businessmen, highflyers and young students. The main nightlife areas include High Street, Ponsonby, Viaduct Harbour, Parnell, and Karangahape Street. There is a great mix of bars, clubs, and quirky establishments in Auckland from which visitors can choose, including a great live music scene.
If one is looking for something totally different, Auckland does provide some places that are a bit of an oddity, such as a bar which constantly has the temperature set to minus five degrees Celsius and another which is furnished with a variety of beds and pillows which patrons can snuggle up in while enjoying a beverage.
Auckland has a fairly comprehensive public transport network, including buses, trains, and ferries. Buses serve most of the city every day of the year, with special NiteRider services after dark. The Link bus offers three bus loop routes in downtown Auckland which pass many of the major tourist attractions and are useful for travellers; the routes are colour-coded and buses pass frequently.
The city train service is aimed primarily at commuters and is of limited use to tourists. Ferries connect to the north shore suburbs and take passengers to the Hauraki Gulf Islands. Taxis can be hailed on the street, but are more commonly booked by phone. Despite all this, many visitors find getting around Auckland frustratingly slow without a car, and for many hiring their own vehicle is still the most convenient option, especially if planning to explore beyond the city.
As the largest and most cosmopolitan city in New Zealand, Auckland has plenty to do and see for visitors, ranging from scenic cityscapes to beautiful wildlife reserves which surround the city. If visitors are heading out with the kids or just want to learn more about Auckland, Maori culture, or New Zealand in general, a great place to start would be the Auckland Museum. The museum overlooks the city and the attractive Waitemata Harbour and is one of the most visited attractions in the city. Apart from the museum there is also the recently refurbished Auckland Art Gallery, housing some amazingly creative installations and free tours starting daily around midday.
After soaking up some local knowledge and culture, why not take a daring venture up the Auckland Sky Tower, one of the tallest freestanding buildings in the Southern Hemisphere, from which there is a breathtaking 360 degree view of the city, the harbour, and the gulf islands. Other attractions include taking a turn at the Auckland Zoo, catching a show at the Civic Theatre, or enjoying a lazy walk through Albert Park. A popular way to enjoy many of these sites is to purchase a tourist card, called a multipass, which allows access to numerous venues within a one month period.
For those keen to explore the wilder side of Auckland, there is a ferry from Auckland Harbour to Tiritiri Matangi Island, one of New Zealand's most important wildlife sanctuaries. Visitors can admire the beautiful flora and fauna of Auckland while on a tour led by expert guides of the island.
Hauraki Gulf Islands
The Hauraki Gulf is studded with numerous islands, some recreation retreats and others conservation islands with restricted access for the protection of rare bird, animal, and plant life. Waiheke is the most popular, with picturesque bays and white sandy beaches, rolling farmlands, and hills cloaked with vineyards and fine wineries. Uninhabited Rangitoto is a large volcanic cone with an unusual landscape of black distorted lava shapes. It is possible to hike up to the crater rim and explore the lava caves on the slopes. Each island has its own distinct character, so tourists can decide if they want to explore natural geographic features, relax on the beach, or simply wander around galleries and cafes.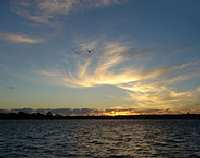 Hauraki Gulf Ingolfson
Bay of Islands
The Bay of Islands is famous for its beautiful coastal scenery. Interspersed with numerous little coves, inlets and sandy beaches, the historical townships of Paihia, Waitangi and Russell are the central hubs of the area. Sailing and boat cruises around the islands are the main attraction, but the natural surroundings and warm waters of the bay make it an ideal place for kayaking, swimming, diving, and fishing. The bay is also of historical significance as the place where the Treaty of Waitangi was first signed between the European settlers and Maori chiefs in 1840.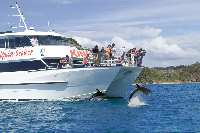 Dolphins off bow Public Domain
Hamilton
Hamilton is a pretty town 80 miles (128km) south of Auckland. Its proximity to the bigger city means it is often overlooked by tourists in New Zealand. However, as an excursion from Auckland, Hamilton has some worthwhile sights to offer. There are several hot springs around Hamilton, and the city is full of gardens, parks and river walks. Not far out of Hamilton is Matamata, home to the Hobbiton Movie Set, the 'Hobbit village' created for The Lord of the Rings film trilogy. Guided 'film and farm' tours are offered for fans of the movies.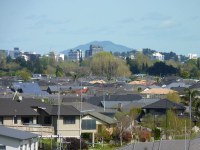 Hamilton Nzwj