Montenegro, while a small country, certainly does not lack in character and beauty. Considered to be the pearl of the Mediterranean and located in the south region of the Adriatic sea, this unique Balkan country has breath-taking scenery and is home to both rugged mountain terrain as well as a spectacular strip of beach and shoreline.
The Bay of Kotor is a beautiful region to visit and explore. The Bay, resembling a fjord, is home to some quaint coastal churches and towns, such as Kotor and Herceg Novi. Although the region can get incredibly busy during the summer months, Kotor somehow manages to hold on to its charm.
The Ostrog Monastery is a must-see sight when in Montenegro. Set into a mountain face, the Monastery is considered to be one of the most important pilgrimage sites in the Balkans. Visitors enjoy receiving a blessing once there, and can experience the eerie atmosphere off the cliff-side holy place too. The Durmitor National Park is worth a visit for those who enjoy outdoor activity; not only is it one of Montenegro's most spectacular national parks, it also offers skiing and snowboarding in the winter months and hiking and kayaking in the summer making it a versatile destination. Those still chasing open-air entertainment will also enjoy Lake Skadar National Park, made notable for its scenery and outstanding wildlife.
Maritime history buffs will enjoy the Maritime Museum; one of the most popular cultural sites in Montenegro and suitable for all ages. The Budva Riviera is also a brilliant tourist spot; a 22-mile (35km) strip of Adriatic coastline offering tourists more than 20 beaches and some lively restaurants and nightlife too.
A wonderfully unique destination, offering outdoor splendour as well as history, those who visit Montenegro will not leave disappointed.
Maritime Museum
Kotor's Maritime Museum is one of the most popular sights in Montenegro. Housed in a stately Baroque palace that used to belong to the noble Grgurina family, the Maritime Museum proudly displays artefacts and documents chronicling Kotor's rich naval heritage. A well-run and ably financed operation, the exhibitions at the Maritime Museum are filled with some truly beautiful pieces that will capture the imagination of young and old visitors, 'sea-dogs' and 'land-lubbers' alike. In addition to bronze reliefs, old portraits, ancient maps, and aquarelles, there are also antique navigational instruments and models of old galleys and sailboats on display, as well as a poignant collection of bottles that, presumably once carried messages from sailors back to shore.
Address:
Square of Boka Marine 391, Kotor
Opening time:
From 15 April to 1 July: Open from 8am to 6pm (9am to 1pm on Sundays); From 1 July to 1 September: Open from 8am to 11pm (10am to 4pm on Sundays); From 1 September to 15 October: Open from 8am to 6pm (9am to 1pm on Sundays); From 15 October to 15 April: Open from 9am to 5pm (9am to 12pm on Sundays)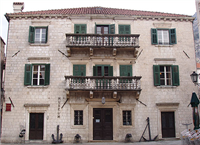 Maritime Museum Montegorn
Stari Bar
Ideal for tourists who like their holidays off the beaten the track, the ruins of Stari Bar provide a dual-attraction of being a fascinating archaeological site as well as being located in simply gorgeous natural surrounds. Situated at the top of Lundza Hill, in the shadow of the towering Mount Rumija, the ruins of Stari Bar fit seamlessly into this rugged terrain, giving visitors the rare sensation of having 'discovered' something when they arrive. The ruins themselves have an extraordinary history, having been inhabited by various civilisations since the year 800 BC. Turned into a Roman settlement, then invaded by the Turkish before being wrested back by the Montenegrins in 1878. The sheer scale of the ruined city and its fortifications is guaranteed to impress even the most jaded of travellers. Budget at least half a day to explore the area properly, and don't forget to wear comfortable walking shoes.
Address:
Off Ulcinj Road, Bar
Opening time:
Open from April to October, from 9am to 5pm daily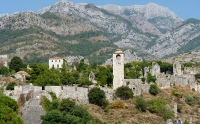 Stari Bar Dudva
Budva Riviera
One of the European tourist scene's best-kept secrets is surely the Budva Riviera, a 22-mile (35km) strip of Adriatic coastline surrounding the town of Budva on Montenegro's west coast. For most people, Montenegro does not immediately spring to mind when considering ideal destinations for a beach holiday in Europe, but for those in the know, it provides the perfect setting for a holiday filled with sun and surf. The Budva Riviera is the heartbeat of Montenegro's tourism industry, attracting 300,000 visitors in 2010, only to rise as word gets out of its spectacular jagged coastline, which is home to bays, inlets, caves, small islands, and more than 20 beaches - not to mention a vibrant nightlife and plenty of sophisticated restaurants, cafes and bistros.
Tourists looking for a piece of sand to call their own will be spoilt for choice, but highlights include Jaz Beach, Mogren Beach, which gets the most sun, Milocer Beach, which is surrounded by woods filled with rare tree species, including Lebanese cedar, and Becici Beach, the most famous of Montenegro's beaches, and winner of the 1935 Grand Prix prize for most beautiful beach in Europe.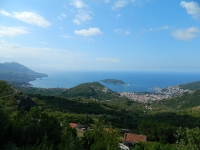 Budva Riviera Tanovic
Ostrog Monastery
The Monastery of Ostrog, the Serbian Orthodox Church, dedicated to Saint Basil of Ostrog, is the most-visited pilgrimage destination in Montenegro. Thousands of devotees travel here every year to pray by the remains of Saint Basil for good health and alleviation of their suffering. However, the Ostrog Monastery also happens to be a massively popular tourist attraction in Montenegro, drawing day-trippers to gape at its truly remarkable construction, and to savour the unforgettable views of the Bjelopavlici Plains that it affords from its balconies. Set within the huge rocks of Ostroska Greda, the monastery has a nearly vertical backdrop of sheer cliffs. The Ostrog Monastery is said to have been constructed in this way to fill approaching pilgrims with a sense of God's grace, but even non-religious visitors are sure to be spellbound by its unique beauty.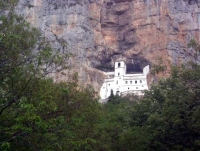 Ostrog Monastery Klackalica
The coast of Montenegro enjoys a typical Mediterranean climate, with hot, dry summers and mild, wet winters. The capital, Podgorica, on the central plain is the hottest spot in the country, with mid-summer temperatures averaging 81°F (27°C). The northern mountains are much cooler and snow-covered throughout the winter where temperatures average
Podgorica International Airport
Location:
The airport is situated seven miles (11km) south of Podgorica.
Time:
GMT +1 (GMT +2 in summer).
Getting to the city:
A minibus service runs from directly in front of the terminal building. Taxis are available, costing in the region of €10 for the journey to the city. Various bus services operate from the airport to other Montenegro destinations.
Car Rental:
Several major car hire companies are represented at the airport.
Fascilities:
A new modern glass and steel terminal building has recently been opened at Podgorica Airport (2006). Facilities include a cafe, bakery, bank, ATM, gift/book shop, and a duty free shop.
Money:
The official currency is the Euro (EUR). Visitors entering Montenegro with more than €10,000 (including travellers cheques or the equivalent in another currency) should declare the amount on entry. Without declaration on entry large amounts may be confiscated on departure. Serbian Dinars are not accepted in Montenegro and should be exchanged for Euros. There are ATMs, which accept international bank cards in major cities and towns, and most of the larger hotels, shops and main restaurants accept Diners Club, Visa, American Express, Maestro, and MasterCard. Money can be exchanged at the numerous banks in the towns and cities.
Language:
Montenegrin (very similar to Croatian) is the official language of Montenegro, although Serbian and Albanian is commonly used in some areas. English is widely understood in the capital, Podgorica, and in the coastal resorts.
Electricity:
Electrical current in Montenegro is 220 volts, 50Hz. Two-prong round pin attachment plugs are in use.
Entry Requirements:
US citizens must have a passport that is valid upon arrival in Montenegro. No visa is required for touristic stays of up to 90 days.
British citizens must have a passport that is valid upon arrival in Montenegro (or for at least three months beyond the period of intended stay in Montenegro, if their passport is not marked 'British Citizen' or 'British National (Overseas)').
No visa is required for British Citizens and British Nationals (Overseas) for touristic stays of up to 90 days, but British nationals with any other endorsement in their passport should confirm official requirements before travel to Montenegro.
Canadian citizens must have a passport that is valid upon arrival in Montenegro. No visa is required for touristic stays of up to 90 days.
Australian citizens must have a passport that is valid upon arrival in Montenegro. No visa is required for touristic stays of up to 90 days.
South African citizens must have a passport that is valid for at least three months beyond the period of intended stay in Montenegro. A visa is required, except for a max stay of 30 days for holders of a valid visa issued by Ireland, the UK, the US, or a Schengen Member State.
Irish citizens must have a passport that is valid upon arrival in Montenegro. No visa is required for touristic stays of up to 90 days. If the traveller only has a passport card, the visa-free stay is reduced to 30 days.
US citizens must have a passport that is valid upon arrival in Montenegro. No visa is required for touristic stays of up to 90 days.
New Zealand citizens must have a passport that is valid upon arrival in Montenegro. No visa is required for touristic stays of up to 90 days.
Passport/Visa Note:Visa:
Visitors are advised to carry their passports on them at all times. Furthermore, visitors must register with the local police within 24 hours of arrival in Montenegro (however, this is done automatically when checking into a hotel or official tourist accommodation). Failure to do so could mean a fine or imprisonment. Travellers must only enter Montenegro through recognised border crossings, and may be required to show proof of a return or onward ticket, the necessary travel documentation for their next destination, and proof of sufficient funds to cover their expenses while in Montenegro. NOTE: It is highly recommended that your passport has at least six months validity remaining after your intended date of departure from your travel destination. Immigration officials often apply different rules to those stated by travel agents and official sources.
Travel Health:
Montenegro is generally a healthy country with few risks. Only bottled or purified water should be consumed, and food should be well prepared and well cooked. Those intending to hike in the countryside should take precautions against ticks. Medical facilities in Montenegro are limited, and supplies are lacking. Medical insurance with evacuation cover is strongly recommended. There are some private clinics in Podgorica, which treat travellers, but payment in cash is expected. A reciprocal health agreement entitles visitors from the UK to free emergency treatment.
Tipping:
Service charges are generally not included in restaurant and hotel bills in Montenegro. A tip of 10% is appreciated. Taxi drivers do not expect tips; but a small gratuity would be appreciated.
Safety Information:
Montenegro is a safe destination for travellers, although it is wise to take sensible precautions against street crime in the towns and cities, as you would in any other European country. Travellers should note that car thieves tend to target four-wheel-drive and luxury vehicles and that unexploded landmines may still remain along the Kosovo border, so necessary precautions should be taken.
Local Customs:
Wearing shorts is not permitted inside public institutions such as hospitals and dress should be modest when visiting monasteries in Montenegro. There are designated nudist beaches and over-exposure is frowned upon elsewhere. Being drunk in public is considered in bad taste, as is discussing national politics and ethnic issues. Littering is considered the ultimate insult.
Business:
Business relationships in Montenegro are founded on hospitality, so expect to be wined and dined. Dress is formal and conservative, and handshakes are the norm at the beginning and end of meetings. Business hours are generally between 8am and 4pm.
Communications:
The international dialling code for Montenegro is +382 (the previous code of +381 is still in use). The outgoing dialling code is 99. There are local area codes (Podgorica is (0)81). The telephone system is undergoing modernization with digital lines being slowly introduced. There is good GSM mobile network coverage throughout the country provided by two operators. There are Wi-Fi Internet zones available in Podgorica and all the main towns have Internet cafes, charging around €1 an hour.
Duty Free:
The following can be brought into Montenegro without paying duty: 200 cigarettes or 50 cigars or 250g tobacco; two litres of wine and 750ml of spirits; perfume for personal use; personal jewellery and clothing; up to two cameras and one movie/video camera; electronic equipment (such as radio) for personal use; and sports equipment. Pets can be brought into the country with a veterinary certificate of good health.