Chichen Itza
Chichen Itza, with its famous pyramids and temples, is the Yucatan's most visited ancient Mayan site, set in the jungle and said to have been inhabited for more than 2,000 years. The main attraction at Chichen Itza is the Pyramid of Kukulkan (the plumed serpent god), or El Castillo, a grand pyramid topped by a temple that dominates the site and has been declared one of the 7 New Wonders of the World. Inside the pyramid is a smaller pyramid, the inner sanctum, containing one of the greatest finds on the site, the brilliant red jaguar throne with jade spots, inlaid eyes and real jaguar teeth. Another building of interest is El Caracol (The Giant Conch Snail), an observatory with slits in the dome aligned with certain astronomical appearances at specific dates. Visitors should bring drinking water, sunscreen and comfortable walking shoes.
Transport:
Bus services from Cancun or Playa del Carmen (2.5hrs by bus)
Opening time:
Daily 8am to 4.30pm. Light and sound show begins 7pm (autumn and winter) and 8pm (spring and summer).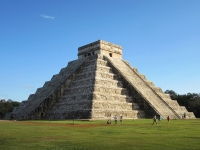 Chichen Itza David Stanley
Isla Mujeres
Located just a short ferry ride from the resort, Isla Mujeres is a stunning island with quiet villages and beautiful views that make for a great excursion from Cancun. The calm atmosphere is a relaxing break from the bustle of Cancun's busy beaches, and Isla Mujeres offers some excellent restaurants serving freshly-caught seafood. Hidalgo Street in El Centro is the main dining, shopping and entertainment area. Popular activities on Isla Mujeres include lounging on the pretty beaches, swimming with dolphins, snorkelling and scuba diving, exploring the remarkable Underwater Sculpture Museum, swimming with sharks, deep-sea fishing, and kayaking. The most popular beaches are on the north and west sides of Isla.
Transport:
Regular ferries are available from Puerto Juárez or Gran Puerto on the mainland.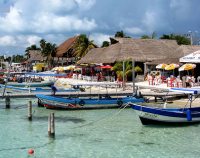 Isla Mujeres Cameron Wears
Wet n Wild Cancun
The Wet'n Wild Waterpark in Cancun claims to be the best waterpark in Latin America. The park works in conjunction with a splendid dolphinarium which is a very popular attraction in Cancun. Many resorts offer joint packages to the waterpark and dolphinarium. Attractions at the waterpark include a wave pool, a lazy river, a kiddies pool, bumper boats, and four or five waterslides including the Twister, the Kamikaze and the Bubble Space Bowl. There are also plenty of beach loungers for those who just want to relax in the sun. Tickets are expensive, but include unlimited beverages, ice-cream, snacks and meals. There are lifeguards on duty and medical attention on standby.
Address:
Blvd. Kukulcan Km. 25 Hotel Zone Cancun.
Opening time:
Open daily 9am to 5pm.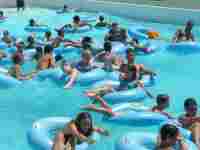 Pool lounging Solitude
Museo Maya
Cancun's archaeological museum, the Museo Maya, is new, modern and air-conditioned and a visit can be a welcome relief from the heat outside. The museum consists of three large exhibition halls and houses about 350 Mayan artefacts discovered in the region. Artefacts include carvings, pottery, weapons, tools, ritual objects and burial masks. One of the highlights is the 14,000-year-old skeletal remains found in Tulum's underwater caves, which greet visitors as they enter. The museum is enclosed by lovely landscaped grounds and nestled within are some fascinating Mayan ruins, including a small pyramid. This site, called the San Miguelito Archaeological Site, is possibly the best part of a trip to the museum.
Address:
Blvd. Kukulkan km. 16.5, Zona Hotelera, Cancun
Opening time:
Open Wednesday to Monday 8am to 5pm.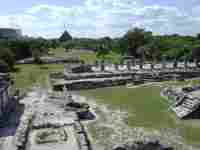 Ancient ruins Cancun Jok2000
Cancun Beaches
When it comes to watersports, people watching, sun-lounging, clear blue water, beach bars and restaurants, and great tourist facilities, Cancun is unbeatable. Beach resorts and powdery white sand are the order of the day. The northern stretch of Mujeres Bay includes the popular Playa Langostina, Playa Las Perlas and Playa Tortugas, all great for watersports, bars and restaurants. Playa Linda is a launching point for boat and dive tours, while Playa Caracol and Punta Cancun are excellent for family fun. East side beaches are breezier with rouger surf. Chac Mool, Playa Marlin, Gaviota Azul and Playa Ballenas are ideal for parasailing, windsurfing, while Punta Nizuc and Playa Delfines are beautiful beaches perfect for a day of sand and surf. The best dive sites lie between Cancun and Isla Mujeres, at the colourful reefs of El Tunel, Grampin, Chuchos and Largo. The Cancun Underwater Museum (MUSA) is also a fantastic option for divers.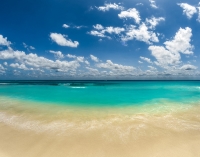 Cancun Beach Rick Gonzalez
The Yucatan Peninsula, including Cancun, is the hottest and most tropical part of Mexico, especially from June to August when humidity is high and average highs peak at 93°F (34°C). Low temperatures rarely drop below 68°F (20°C) and humidity tends to be high all year, although coastal breezes have a pleasant cooling effect on hot days. The rainy season runs from May to October and is characterised by late afternoon tropical showers, usually lasting for a short time only. Cancun lies within the Atlantic Hurricane Belt and the flat terrain makes the Yucatan Peninsula especially vulnerable to storms, particularly between June and October. In fact, big storms can affect Cancun at any time of year, but although they can be violent they are usually short-lived. On average April is the driest month and October is the wettest.
The peak tourist season in Cancun runs from December to April, when the weather is warm and the sea reliably calm, making it a good time for watersports and scuba diving. Out of this peak season, prices at the resorts tend to drop dramatically and the peninsula is less crowded. Although the threat of hurricanes puts some travellers off, between June and October the weather can be wonderful - hot with cooling winds - and can be a great time to visit if no storms hit.
Mexican cuisine is recognised as one of the three most popular food styles in the world and Cancun is as good a place as any to sample authentic Mexican meals. The city's status as a celebrated holiday destination also ensures that there is a huge variety of international cuisines on offer, and although eating out in Cancun can be expensive it is also extremely rewarding.
The Yucatan Peninsula has its own unique flavours and specialities and Yucatan cuisine is often less spicy than that from other regions in Mexico, making it a good option for foreigners with sensitive palettes. On the other hand, those who relish the burn should look out for dishes spiced with hot habanera chilies!
Seafood restaurants dominate in Cancun, which should be no surprise considering the quality and quantity of fresh seafood in the region. Popular seafood dishes in Cancun include a variety of lobster specialities and ceviche (a kind of raw seafood salad). For fine dining there are many upmarket restaurants. Some of the most highly acclaimed can be found in the Ritz Carlton Cancun Hotel and in the Fiesta Americana Gran Coral Beach Hotel. In downtown Cancun there are some hidden gems and the far cheaper fare found where the locals eat is often the best authentically Mexican food you can find in the city. Tulum Avenue and Yaxchilan Avenue have some of the best restaurants.
Les Cepages
For a stylish gastronomical experience in Cancun, Les Cepages is the favourite. The restaurant serves international cuisine, with a French influence, and meals are creatively and beautifully presented. Specialties include lamb chops with mint sauce, duck with honey caramelized apples and roasted quail. There is a good wine selection and the service is superb. This world-class restaurant is slightly off the beaten tourist track in Cancun but well worth seeking out. Les Cepages is open 6pm to 11pm on Monday, 2pm to 10pm from Tuesday to Saturday, and is closed on Sundays.
Address:
Plaza Nichupte Local 15, Downtown, Cancun
Tacun
This small, simple restaurant serves fantastic, authentic Mexican food in a friendly and laid-back setting. Tacun is great value for money - a rare thing in Cancun - and serves yummy food in liberal helpings. Locals and tourists alike consistently rate the spot highly. The restaurant doesn't accept credit cards so be sure to take cash. Tacun is open daily for lunch and dinner.
Address:
Blvd. Kukulcan Km 11.5, Cancun
La Dolce Vita
Consistently rated as one of the top restaurants in Cancun for many years, La Dolce Vita serves fresh seafood, pizza and home-made pasta in the Italian tradition, and has a good selection of international wines. One of their signature dishes is Boquinete Dolce Vita, which is local snapper topped with shrimp and mushrooms, enclosed in puff pastry, and served with lobster sauce. La Dolce Vita is elegant but friendly. The restaurant is open daily from 8am to 11pm.
Address:
Avenue Coba N. 87, Downtown, Cancun
Cancun International Airport
Location:
The airport is situated eight miles (13km) from downtown Cancun and 12 miles (20km) from the Hotel zone.
Time:
GMT -6 (GMT -5 between the first Sunday in April and the second last Sunday in October).
Transfer Between Terminals:
A shuttle bus runs between the main entrances of the terminals every 10 minutes.
Getting to the city:
Taxis can be used to get to the town. An official taxi company provides services from the airport and can be paid for at the airport. Airport ADO buses leave the airport from all three terminals every 30 to 45 minutes and go to downtown Cancun as well as Playa del Carmen.
Car Rental:
Major car rental companies are represented at the airport, along with a number of local companies.
Airport Taxis:
Official taxis provide services from the airport and can be paid for at the airport just outside the arrivals hall. Taxis go to both Cancun and Playa del Carmen.
Fascilities:
Cancun airport has all the facilities one would expect at one of the world's mega-airports. Facilities include ATMs, a bureau de change, restaurants, shops, a pharmacy, medical services and tourist information. There are facilities for disabled passengers but those with special needs are advised to contact their airline in advance.
Parking
Parking is available near to each terminal entrance, starting at MXN 28 per hour, up to a maximum of MXN 165 per day.
Cancun is celebrated for its rollicking nightlife and there are bars, lounges, live music venues and dance clubs enough to keep even the most determined party animals entertained. The club scene is feisty and energetic and tailored mainly to please the young Americans that flock to the resort, although anybody who is game for foam parties, bikini contests and boat races (the drinking contest, not the watersport) will be well catered for. Familiar chains like Hard Rock Cafe and Senor Frog's are safe favourites with the international crowd and have been going for many years. Organised party tours like Cuncrawl and Party Hopper are a great way to sample the best of Cancun's party venues. Most clubs open around 10pm and the music pumps until sunrise or later in peak tourist season.
Those seeking out something more sophisticated, romantic or sedate will find numerous stylish bars and lounges in Cancun. One of the best venues for cocktails is the Thai Lounge. Culture vultures should try their best to see a performance by the internationally-acclaimed Ballet Folklorico, which performs a variety of traditional and performing arts shows at various venues in Cancun.
Buses are the cheapest way to get around in Cancun. Intercity buses are available from the station on Avenida Tulum, including service to Playa del Carmen, Tulum, Merida, and Campeche.
Taxis are perhaps the most convenient method of getting around, and tariffs are loosely based on a zone system. Fares should be agreed on upfront, and travellers should note that taxis located outside restaurants and hotels often charge higher rates. It is also important to know that only approved airport taxis are allowed to collect passengers from the airport.
Car and scooter rental is another popular way to get around in Cancun, although it is considered dangerous and only experienced drivers should attempt it. Hiring a car can also be stressful, as traffic is chaotic and police are quick to pull tourists over.
Unsurprisingly, the vast majority of Cancun's activities and attractions revolve around the beach. The area is blessed with many beautiful beaches and the variety of watersports is somewhat overwhelming. Some scuba diving or snorkelling is a must as the underwater world is just as lovely as the white beaches. There are some gorgeous dive sites between Cancun and Isla Mujeres, where coral reefs abound, and exploring the Cancun Underwater Museum (MUSA) is an exciting adventure for divers. Other favourite water activities include swimming with dolphins (or even sharks!), visiting the water park, or taking an excursion to the sleepy paradise island of Isla Mujeres.
If tourists can manage to drag themselves off the stunning white beaches and away from the plethora of fun water activities, Cancun has some cultural and historical diversions as well. The Museo Maya is a brand new and impressively large museum showcasing Mayan artefacts found in the region and providing some fascinating historical context for visitors to the peninsula. The San Miguelito Archaeological Site (in the museum grounds) and the El Rey Ruins are both intriguing examples of ancient Mayan remains in Cancun. The famous ancient site of Chichen Itza, with its impressive pyramids and mysterious jungle setting, is one of Mexico's greatest attractions and a must for visitors to Cancun.