Boasting miles of verdant landscape with pretty beaches, wildand beautiful rainforests, and scenic towns and ports, Madagascaroffers some lovely attractions for those who choose to visit thisinspiring and unique land. With a number of reserves and nationalparks boasting a variety of magical wildlife, including the famouslemurs, Madagascar's unique creatures and botanicals have earnedthe island the title 'the eighth continent' and visitors will beenchanted by the beauty of this mysterious land. Madagascar is noteasy to get around and sightseeing can be challenging as a result,but with a little effort travellers can reap exciting rewards.
Head to the town on Antsirabe to view the volcanic lakes ofAndraikiba and Tritriva, or relax in the therapeutic thermal baths;visit Ile Sante Marie for some of the best whale watchingopportunities, to wander through herb gardens and enjoy the scentsof vanilla and lemongrass, or to take a spooky tour of the piratecemetery; explore Toamasina to see some fantastic architecturalwonders as well as the popular Jardin D'Essel and the ParcIvoloina.
For active travellers, water sports abound off the island,including scuba diving, swimming, snorkelling and canoeing, to namea few; while landlubbers can enjoy the plentiful walks and hikesthrough the many reserves Madagascar offers, while viewing some ofthe most fascinating birds and animals on the planet.
Andasibe-Mantadia National Park
The Andasibe-Mantadia National Park situated in theeastern rainforests is Madagascar's most popular reserve for goodreason. The park contains unique wildlife, including 13 species oflemurs, more than a hundred bird species and fauna and flora uniqueto the area. Andasibe has two sections. The more accessible of thetwo is the Indri Special Reserver. Here, visitors can take a hikeat dawn to hear distinct siren-like Indri call over the misty andobserve the lemurs in their natural habitat.
The second section of the park, Mantadia, has agreater variety of wildlife and a more challenging trail for theadventurous. Night hikes allow guests to see a whole new side ofthe forest as nocturnal animals emerge. Hikes in the park rangefrom three to six hours. A local guide is required for entry intothe park. Private tours need to be booked in advance.
Transport:
The Andasibe-Mantadia National Park is easily accessiblefrom the capital Antananarivo. A three hour drive along the RouteNational 2 will bring you to the reserve.
Opening time:
Open daily 6am-4pm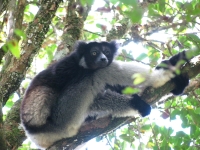 Indri lemur Karen Coppock
The Royal Hill of Ambohimanga
The Royal Hill of Ambohimanga is the ruined remnant of the 15thcentury Madagascan kingdom. Located just 12 miles (20km) fromAntananarivo, the Hill features a ruined royal city, several royaltombs and numerous holy sites. This spiritual attraction is widelylauded as the premier symbol of the cultural identity of theMadagascan people. It is still a place of worship to both localsand foreigners. Set in lush green countryside overlooking a ricepaddy, visitors can explore the burial grounds, historic villageand palace complex. The palace itself houses artefacts whichinclude gifts from Queen Victoria.
Opening time:
Open daily 6am-6pm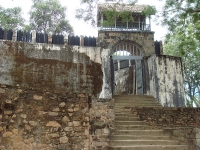 Royal Hill of Ambohimanga Olivier Lejade
Ranomafana National Park
Explore the lush and misty rainforests of the RanomafanaNational Park, with its rare species of flora and fauna, and uniquewildlife. This UNESCO World Heritiage is home to 12 species oflemurs and an incredible selection of indigenous birds. Visitorscan explore the park on its numerous trails and hikes, escorted byguides that can call the animals using a series of clicks andwhistles. There are also jungle waterfalls and pools to cool off inafter a long day trekking through the humid jungle.
The best time to visit Ranomafana National Park is betweenAugust and December. The park office is located at the entrance tothe reserve in the village of Ambodiamontana. This is wherevisitors will find the privately owned and eco-lodges to spend thenight. Guided night walks are available to seek out the nocturnalanimals in the reserve. Ranomafana is relatively well-developed fortourism and has comparably good facilities and infrastructureincluding a decent access road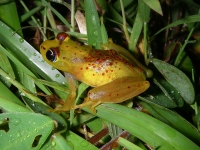 Frog, Ranomafana National Park Axel Strauß
Berenty Reserve
The Berenty Reserve is a small private reserve set along theMandrake River in Southern Madagascar. Its gallery forest and arrayof indigenous wildlife and birds, such as ring-tailed lemurs,white-browed owls and giant couas make it an eco-tourist's dream.The de Heaulme family first formed the Berenty Estate to conservethe natural forest in the area. Through their efforts with theTandroy tribe, more than 2500 acres (1000 ha) of forest has beenmaintained. For its relatively small size, the reserve has aremarkable variety of topographies, ranging from dry, open scrub,'spiny' forests, and closed canopy jungles. Day visitors can enjoya walking tour through the wilderness, while others can stay longerat the guest lodge. Get up close and personal with nature at theBerenty Reserver, where the semi-tame sifaka and ring-tailed lemursoften sit with guest as they eat.
Address:
Réserve de Berenty, Amboasary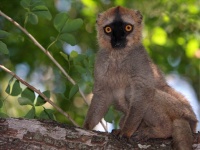 A Lemur in the Berenty Reserve David Dennis
Antsiranana Bay
One of the finest natural harbours in the world, Antsiranana Bayis a vibrant and cosmopolitan seaport located at the northernmosttip of Madagascar. Formerly known as Diégo Suarez Bay, this tinyisland is haven for nature lovers with wonderful lakes, rainforestsand waterfalls to explore, and wildlife such as lemurs, crocodiles,and an array of indigenous birds. Visitors can relax at the quietbeach at Ramena, while others can take a boat to nearby Nosy Be toexplore the lush inland areas. The bay has been the setting forsome major historical events, such as the invasion of Madagascar bythe Allied forces in 1942, to protect the territory from theJapanese after the surrender of France, and a submarine attack onthe British fleet by Japanese submarines.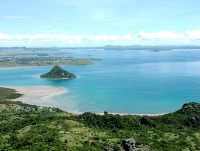 Antsiranana Bay Masindrano
Avenue of the Baobabs
According to the Madagascan legend, the Baobab tree was plantedupside down, so its roots are on top and its branches underground.There is no better place to observe these giant trees than at theAvenue of the Baobabs. it is located in the Menabe region ofMadagascar, along the road between Morondava and Belon'iTsiribihina. This distinctive cluster of trees stands 100 feet (30metres) high, each roughly 800 years old. The Avenue of the Baobabsis truly an escape into nature, unspolit as it is by mainstreamtourism. It contains a simple picnic area and a baobab 'farm' wherevisitors can see the different kind of baobab saplings.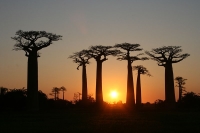 Avenue of the Baobabs Gavinevans
Amber Mountain National Park
Madagascar's most famous park, Amber Mountain (Montagne d'Ambre)National Park is known for its array of colourful orchids foundexclusively on the island. Located in the northern part of theisland, the mountainous park is predominantly tropical rainforest.The altitude and lush vegetation makes it pleasantly cool comparedto the surrounding lowlands. Animal lovers will delight in theunusual animal species that inhabit the park like the blue-nosedchameleon and seven different kinds of lemur. The park is also atreat for bird lovers, with 75 different bird species, 35 of whichare endemic. There are many waterfalls and some beautiful volcaniclakes to hike to. The trek to the Sacred Waterfall (Cascade Sacree)is one of the most popular.
Amber Mountain is one of the most accessible parks inMadagascar, with comparably good infrastructure including widetrails and camping areas as well as an in-park lodge. However,electricity is not always available, and the nearest banks andmedical facilities are several hours away in the town ofAntsiranana. The tracks and landmarks are well-maintained andsignposted, making it easy to explore the park without a guide. Infact, it is the only park in the country where tourist can visitwithout the compulsory assistance of a guide.
The best time to visit the park is between September andNovember, when the animals are at their most active and are mosteasily observed.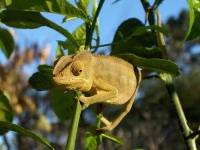 Chameleon LyWashu
Generally the climate of Madagascar is subtropical, with a hotand rainy season between November and April, and a cooler dryseason from May to October. However, there is a big variation inclimate depending on altitude and geographical position within thecountry. Travellers should be sure to check up on the climate ofthe particular region they are visiting. For instance, the westcoast is drier than the east coast and the central highlands, whilethe far south and southwest is a semi-desert region thatexperiences very little rainfall. The east coast receives the mostrain and is hot and humid during the wet season, and also prone tocyclones between February and March. Temperatures are much coolerin the highlands. Antananarivo has a pleasant, temperate climate.Along the coast temperatures range from 81°F to 90°F (27°C to 32°C)in the wet season, and 64°F to 72°F (18°C to 22°C) in the dryseason. The cooler and drier months between May and October aregenerally the most pleasant time to travel to Madagascar.
Money:
The official currency is the Malagasy Ariary (MGA), which hasbeen reintroduced to replace the Malagasy Franc. Coins and notesdisplay both currencies, but newer notes display the Ariary moreprominently than the Franc. One Ariary is equal to five Francs.Foreign currencies can be exchanged at banks and official bureauxde change, but the Ariary cannot be changed back into hardcurrency. Some banks will only accept US Dollars or Euros. ATMs areavailable in Antananarivo. Most major credit cards are starting tobe accepted in top hotels and major travel agencies in the capitaland other major towns, but have limited usage elsewhere.
Language:
Malagasy is the official language, but French is used inbusiness and government and is widely spoken in the main cities inMadagascar. A few people involved in the tourism industry might beable to speak some English, but it is not widely spoken.
Electricity:
Electrical current is 220 volts, 50Hz. Plugs aregenerally of the two-pin variety.
Entry Requirements:
US citizens must have a passport that is valid for at least sixmonths beyond the date of their arrival in Madagascar. A 90-dayvisa can be obtained on arrival.
British citizens must have a passport that is valid for at leastsix months beyond the date of their arrival in Madagascar. A 90-dayvisa can be obtained on arrival.
Canadian citizens must have a passport that is valid for atleast six months beyond the date of their arrival in Madagascar. A90-day visa can be obtained on arrival.
Australians must have a passport that is valid for at least sixmonths beyond the date of their arrival in Madagascar. A 90-dayvisa can be obtained on arrival.
South African citizens must have a passport that is valid for atleast six months beyond the date of their arrival in Madagascar. A90-day visa can be obtained on arrival.
Irish citizens must have a passport that is valid for at leastsix months beyond the date of their arrival in Madagascar. A 90-dayvisa can be obtained on arrival.
US citizens must have a passport that is valid for at least sixmonths beyond the date of their arrival in Madagascar. A 90-dayvisa can be obtained on arrival.
New Zealand citizens must have a passport that is valid for atleast six months beyond the date of their arrival in Madagascar. A90-day visa can be obtained on arrival.
Passport/Visa Note:Visa:
Foreign visitors to Madagascar of most nationalities can obtaina tourist visa on arrival, provided they have at least one blankpage in their passport reserved for the Immigration Authorities ofMadagascar, and return/onward flight tickets. Tourist visas arevalid for a maximum of 90 days and cost around MGA 200,000 (orequivalent in USD or EUR). Shorter stays cost less. A yellow fevervaccination certificate is required to enter Madagascar, ifarriving within six days of leaving or transiting through aninfected area. NOTE: It is highly recommended that your passporthas at least six months validity remaining after your intended dateof departure from your travel destination. Immigration officialsoften apply different rules to those stated by travel agents andofficial sources.
Travel Health:
Malaria is a risk throughout the year and the risk of infectionis highest in coastal areas; visitors should take appropriatemeasures to avoid contracting the disease. All travellers comingfrom a country with yellow fever risk are required to prove theyhave been vaccinated against the disease to enter Madagascar.Vaccinations are also recommended for hepatitis A, hepatitis B,typhoid and influenza, and those at risk of animal bites shouldalso consider a rabies vaccination. Tap water should not be drunkunless it has been boiled or chemically treated.
Medical facilities are severely limited in Madagascar, andoutside of the capital medical care may be difficult to find.Limited French medications are available in Tana; however, it isadvisable to bring along a medical kit for private use. If yourequire specific prescription medications it is best to bring themwith you, in their original packaging, along with a signed anddated letter from your doctor stating what they are and why theyare needed. Comprehensive medical insurance is advised.
Safety Information:
The political situation in Madagascar is unstable, especially incentral Antananarivo and the Ambohijatovo, Lac Anosy,Antaninarenina and Analakely areas. Violence is possible at anylarge gatherings and political or military installations. It isadvised to travel with an established agency, and solo travellersshould continually monitor the local media. Precautions againstopportunistic crime, especially in the urban areas, should betaken. Pickpockets operate at the airport and in crowded areas suchas markets. Travellers should carry a photocopy of their passportat all times. At night, avoid walking around city centres and roadtravel outside urban areas as there have been occasional hold-upson the main routes. The height of the cyclone season is fromJanuary to March and affects the coastal regions. Piracy is asignificant concern in the Gulf of Aden and Indian Ocean, and therehave been several attacks against private vessels andkidnappings.
Local Customs:
Do not photograph military or police establishments while inMadagascar. Identification should be carried at all times byvisitors. In rural areas, locals may abide by a number of tabooscalled fady, which should be respected by visitors at alltimes.
Communications:
The international dialling code for Madagascar is +261. Theoutgoing code is 00 followed by the relevant country code (e.g.0027 for South Africa). To make an international call toMadagascar, the dialling code of 261 must be followed by atwo-digit operator code (e.g. 34 for TELMA, the most reliable),then the regional code (e.g. 22 for Antananarivo) and then thefive-digit number. A GSM 900 network is in use, covering majorcities and main roads, and some operators have also introduced 3Gnetworks. Public internet access exists in large cities.
Duty Free:
Visitors may bring 500 cigarettes or 25 cigars or 500g tobacco,as well as one bottle of alcohol into the country without incurringimport duty.