That Luang Stupa
That Luang Stupa is a symbol of Buddhism and Lao rule, and is the country's most important religious building. The golden temple and its spire are visible from afar, and are an unforgettable welcoming sight for travellers. King Setthathirath built the shrine in 1566 and his statue stands in front of the temple, where the setting sun enhances the beauty of its already stunning golden surface. The central stupa is deeply symbolic. Resembling a curved lotus bud, its three tiers represent different aspects of Buddhism. More specifically, the base deals with hell, the middle revolves around 30 Buddhist teachings and the top tier is about heaven. Visitors should explore the area with a local guide, who can explain the site's significance. They will also need to dress modestly, covering their knees and shoulders. Women can borrow traditional Lao skirts at the entrance. Regarding fees, visitors must pay to access the base of the stupa, while access to the Reclining Buddha and surrounding temples is free.
Address:
That Luang Village, Xaysettha District, Vientiane
Opening time:
Tuesday - Sunday: 8am to 12pm; 1pm to 4pm. Closed on Mondays.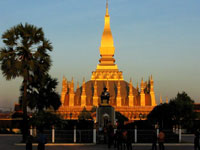 Royal Stupa at Sunset Oliver Spalt
Victory Gate (Patuxai)
Modelled to mirror the Arc de Triomphe in Paris, Laos' Victory Gate is definitely a sight to behold. Indeed, Laotians decided to one-up their former colonial masters by building theirs slightly higher and with four gates instead of two. Patuxai also has a number of decorative Buddhist ornamentations. As a matter of fact, the Royal Laotian Government constructed the monument with American funds and cement that were intended to build an airport, earning it the nickname, 'vertical runway'. Seven flights of stairs or a lift lead to the top, which offers great views of downtown Vientiane. Visitors will find souvenir shops in between flights of steps, though they're quite expensive. The area is also home to the World Peace Gong (presented to Laos by Indonesia), and a musical fountain. Travellers won't struggle to find excellent photo opportunities.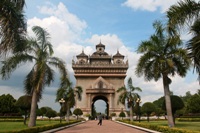 Victory Gate Tim Wang
COPE Visitor Centre
The COPE Visitor Centre can be a sobering reality-check for many tourists, but is definitely worth a visit. Statistically, Laos is the world's most bombed country, made so by a US precautionary policy during the Vietnam War. Essentially, the US military considered it unsafe for planes to land with unused ordinance, so they dropped their bombs over Laos. Many are unaware of this tragic and embarrassing aspect of the Vietnam War. Today, Laos still has a significant amount of unexploded ordinance (UXOs), particularly in rural areas along the border with Vietnam, where many residents have been victims. The COPE Visitor Centre does vital work in educating the public and tourists. It also provides help for those who have lost limbs or loved ones to bombs. The centre includes a gift shop and a selection of short films on Laos and UXOs. Visitors may have to request to see the films, but the staff are helpful and knowledgeable. As the centre isn't far out of town, many tourists hire bikes and cycle to it. Visitors will only need an hour to tour the place and explore an important aspect of the country's past and present. Also, anyone planning to travel off the beaten track in Laos should know how to recognise and react to UXOs.
Address:
Boulevard Khou Vieng, Vientiane, Laos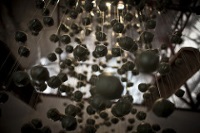 Cluster bombs Department of Foreign Affairs and Trade
Ho Phra Kaew
Ho Phra Kaew is one of Vientiane's oldest and most grandiose temples. Its extremely interesting history sheds light on Laos' past relations with Thailand. More specifically, King Setthathirath built the temple in 1565 for the express purpose of housing the Emerald Buddha, which he had pilfered from Chiang Mai City in Northern Thailand. Made of gold and green jadeite, the statue was recaptured by the Siamese army in 1778 and returned to Bangkok - where it has remained. Yet even without the Emerald Buddha, Ho Phra Kaew should easily make the bucket list of anyone interested in the region. Indeed, this national monument exposes visitors to Laos' varied cultural heritage. The museum's displays include a heavily lacquered 16th-century door carved with Hindu images, and a collection of stone-cut figures representing Khmer deities. Photographs are permitted and there is a small entry fee.
Address:
Rue Setthathirath, Vientiane
Opening time:
Daily: 8am to 12pm; 1pm to 4pm.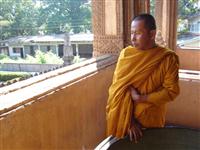 Monk at Ho Phra Kaew Tevaprapas
Talat Sao (Morning Market)
Vientiane's Talat Sao (Morning Market) has two decidedly different sections. Depending on their budget and the type of experience they're looking for, visitors can choose between the shopping mall and the original Morning Market. The mall has a range of shops and services over five floors, and its air-conditioning provides a much appreciated break from the country's tropical heat. Shoppers will find a food court, a cinema, a supermarket and a children's play area in the complex. Clothes stores stock practical rather than cutting-edge-fashion items; naïve travellers have unwittingly bought replica electronic products in the past. The bustling market operates from early morning to mid-afternoon, and is a labyrinth of clean, tiled alleyways. Shoppers can expect an authentic experience, with vendors coming from all over Laos to sell and source goods. Hand-woven fabrics, silver jewellery and other local handicrafts are favourite purchases. Bargaining is expected and generally good-natured, so tourists should remember to smile while trying to beat down a price.
Address:
Talat Sao Mall, Lane Xang Avenue, Vientiane
Opening time:
Monday to Friday: 7am to 6pm (some stalls may close earlier).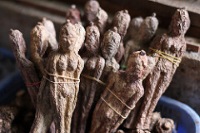 Talat Sao yeowatzup
Vientiane has a tropical monsoon climate with short, dry winters that last between December and January. Winter minimum temperatures rarely drop below 60°F (16°C). The warmest time of year (March to the beginning of May) sees maximum temperatures peak around 91°F (33°C), and minimum temperatures rarely drop below 68°F (20°C).
The rainy season lasts from April to October, with thunderstorms being the most common form of precipitation. The city generally has very high humidity levels and muggy conditions throughout the long wet season. The best time to visit Vientiane is in its mild winters.
Wattay International Airport
Location:
The airport is six miles (10km) from Vientiane.
Time:
Local time is GMT +7
Transfer Between Terminals:
The terminals are within easy walking distance of each other.
Getting to the city:
Taxis and tuk-tuks are available outside both terminals. Many local hotels offer free shuttle transfers for guests by prior arrangement.
Car Rental:
Avis by Asia Vehicle Rental and Sixt are represented at the airport. However, visitors are advised not to hire a car. Instead, they should book a car with a driver through their hotel or travel agent.
Airport Taxis:
Taxi counters are located near the exit of each terminal; passengers must buy a taxi coupon before leaving the airport.
Fascilities:
Facilities at the airport include banks, bars, restaurants, duty-free shopping, a post office and a couple of shops.
Parking
Parking is available at the airport.
For short distances, the tuk-tuk is Vientiane's primary mode of transport. These privately owned, three-wheeled motor vehicles carry passengers in and around the city, charging flat rates for different destinations. Taxis tend to gather at busy locations, such as markets and bus terminals.
The Talat Sao Bus Station is Vientiane's main terminal and offers routes to neighbouring cities and Thailand. Buses can be badly maintained and lack air-conditioning. They are, however, a major source of transportation for locals.
Bicycle and scooter rentals are available from private businesses and some guesthouses. It is illegal to ride a scooter without a helmet and fines are known to be costly. Transport in rural areas may be difficult to find or unreliable, meaning tourist might simplify their plans by hiring a car for longer distances.
Vientiane hasn't got the obvious charm of Luang Prabang and sometimes suffers by comparison. Against that, Laos' capital has more in the way of traditional tourist attractions, and has put much effort into encouraging sustainable tourism. Visitors won't struggle to find interesting things to see and do, and many fall in love with the city's relaxed atmosphere and sleepy riverside scenes.
Vientiane's many Buddhist temples are its main drawcard and are interspersed with modern and colonial architecture - as they are throughout the country. The old and grandiose Ho Phra Kaew and the famous That Luang (the golden Royal Stupa) are among the city's best. Wat Si Saket is another favourite, and is known for its thousands of Buddha images. Travellers should note that although the temples in Laos are incredible, they tend to be fairly similar. Tourists should only stop at the best ones to avoid temple fatigue.
A visit to Vientiane should also include shopping in the Morning Market (Talat Sao), a stroll through Victory Gate, a cooking course on the banks of the Mekong River, a craft class at the Houey Hong Vocational Training Centre for Women, and an educational trip to the COPE Visitor's Centre. Regarding excursions, the weird but wonderful Buddha Park (Xieng Khuan) is a good option. So too is the small, laidback town of Vang Vieng, which is surrounded by green agricultural fields, friendly Hmong and Yao villages, and mountains that hold fascinating limestone caves.
Xieng Khuan (Buddha Park)
The site known as Buddha Park is an otherworldly collection of Buddhist and Hindu statues scattered around a riverside meadow. Priest-shaman, myth-maker and sculptor, Luang Pu, designed and built the park in 1958, fusing philosophy with mythology and iconography. Visitors will discover that the detail on many of the statues is decidedly atypical of Laos. Indeed, much of it is quite unique. Visitors are sure to enjoy climbing and exploring the structures and should look out for tourist pleasers such as the beautiful Tree of Life sculpture and a pumpkin-like statue. The latter's steps lie inside its gaping mouth and lead to a viewing platform. Visitors are free touch the statues, take photographs and explore without much restriction. They'll also find a restaurant that serves decent food. The trip to Buddha Park is fairly lengthy, though the region's rural scenery is interesting in its own right.
Address:
Thanon Tha Deua, Vientiane, Laos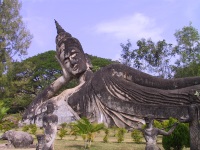 Buddha Park Preetam Rai
Si Phan Don
The famous 4,000 Islands region of Laos unfolds at the Mekong River's tail end. Situated in the far south and lapping over into Cambodia, the area is renowned for its tranquil village life, spectacular waterfalls, and unspoiled natural beauty. It's also home to the rare pink Irrawaddy Dolphin. The two most popular islands are Don Khong, which is the largest and most developed in the region, and backpacker-magnet Don Det. Prices for food and accommodation are some of the cheapest in Asia. Many tourists use the area as an entry point into Cambodia, with buses frequently making the one-hour journey to the border. Action lovers can look forward to plenty of hiking, biking and swimming opportunities, while relaxation seekers can enjoy bungalows with waterside balconies. Water safaris are a great way to see the dolphins, though travellers should ask guides not to go too far. They'll owe border-crossing fees if they stray into nearby Cambodia. All things considered, Si Phan Don is a tremendous stop for young travellers or those operating on a tight budget.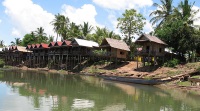 Don Kong Island Dario Severi
Houey Hong Vocational Training Center for Women
In recent years, the Houey Hong Vocational Training Center for Woman has been among the most popular tourist attractions in Laos. The centre's mission is to provide training and education for Lao women from disadvantaged backgrounds. Ultimately, the institution helps them transition into the contemporary economy by teaching them skills such as natural dyeing, traditional Lao weaving, tailoring and small business administration. Visitors are not just casual observers. Instead, they partake in half-day or full-day courses of their choice, and are taught skills ranging from tie-dyeing silks to traditional Lao weaving with a loom. The Houey Hong Center is a short tuk-tuk ride from downtown Vientiane and offers tourists an unforgettable experience of traditional textile manufacturing. Visitors keep whatever items they make, meaning they leave with special souvenirs.
Address:
Lane 22, Houey Hong Village, Chantabury District, Vientiane
Opening time:
Monday through Saturday: 08.30am - 12.00pm, 1.30pm - 16.30pm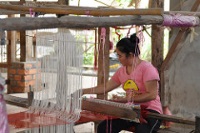 Houey Hong Vocational Training Center for Women Shankar S