The Grand Canal (Canalazzo)
Venice's main waterway splits the city in half, with sestieri in equal parts to the west and east of it. It is the hub around which much activity in Venice is concentrated and is encircled with the elegant facades of the palazzi, which testify to the city's past opulence. Many of the picture-perfect scenes that make Venice famous can be discovered along the Grand Canal.
The best way to explore the architectural splendour of these Renaissance buildings is on board a vaporetta. Pedestrian access across the canal is only provided along three bridges situated at the station, Rialto and Academia. Gondolas cross the canal at regular intervals and provide a romantic interlude to the sightseeing itinerary. Although a gondola ride along the Grand Canal is glorious, it is often better to explore the smaller waterways by gondola, as the Grand Canal can become crowded and stressful in peak season.
Grand Canal palaces and buildings to look out for include the Ca da Mosto, with its rounded arches in low relief; the 'House of Gold' (Ca d'Ora), a beautiful Gothic building constructed between 1424 and 1430; and Palazzo Corner-Spinelli and Palazzo Vendramin Calergi, which combine classical and Byzantine elements designed by Mauro Codussi. Architect Jacopo Sansovino was inspired by Codussi's style and infused this in his creation of the Palazzo Corner (Ca Granda). Another notable Palazzo is the Grimani di San Luca, designed by Michele Sanmicheli.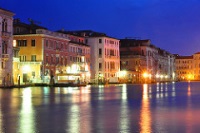 Grand Canal By Night Mike Norton
St Marks Square
St Mark's Square (Piazza San Marco) has always been the nucleus of Venice. The city's first citadel and church were erected on its stony foundations: the Palazzo Ducale and the Basilica di San Marco, respectively. The Basilica di San Marco is a unique juxtaposition of Byzantine, western European and Islamic architectural styles. The Basilica's most precious relic is the Pala d'Or, a Venetian-Byzantine gold relief adorned with precious gems. Travellers and pigeons flock to the Piazza with equal zeal. It is the tourists, however, who pay dearly to eat or drink at the elegant cafes that spill onto the pavements. The pigeons are an attraction in themselves for children, and if you are travelling to Venice with kids they will relish the chance to feed the birds in this romantic place. Designer shops line the streets that radiate from the square. There are worthwhile places of interest to explore beyond the square that include the Museo Correr, the Archaeological Museum and the Museo del Risorgimento, which are housed within the Procuratie Nuova. Attached to the Procuratie Vecchie is the triumphal Torre dell'Orologio. The adjoining archway guides one through to the Mercerie, Venice's main commercial street, that stretches to the famous Rialto Bridge.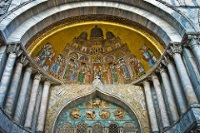 Basilica di San Marco Gary Ullah
Rialto Bridge
One of Venice's most iconic landmarks, the Rialto Bridge has long been the commercial core of Venice and is often described as the heart of the city. It is the oldest bridge spanning the Grand Canal, and is one of only four that do. The structure standing today is over 400 years old, but it isn't the original bridge: the original wooden bridge collapsed under the strain of crowds gathered here to admire a wedding procession long ago, legend has it; it was replaced by the (sturdier) single stone arch design of Antonio da Ponte, built in 1588. Whether you're sailing under it, or walking over it, the Rialto Bridge is a must-see in Venice. Today the Rialto area still resembles the bustling fruit and vegetable market of former times, but is additionally swamped with tourists and accompanying souvenir shops and gift kiosks, and it is possible to find almost anything in the markets these days. It gets very crowded but is definitely worth a visit and will delight those who enjoy bustling markets with surprises round every corner. If you are visiting Rialto to take pictures of the bridge or explore the area for the first time it is best to go early in the morning when the throngs of visitors won't disturb you. There are lots of lovely restaurants and cafes in the area as well.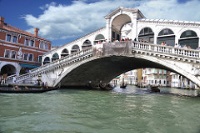 Rialto Bridge gnuckx
Basilica dei Frari
This great Gothic Franciscan church was constructed in the 14th century, and is primarily known as the burial place of Titian and the Venetian sculptor Antonio Canova. Titian's tomb in the south aisle watches over the large marble pyramid created for Canova. The interior of the church is adorned with the works of a number of famous artists. These include Donatello's St John the Baptist, Giovanni Bellini's triptych of the Madonna and Saints, Titian's famous Assumption of the Virgin and his Madonna of Case Pesaro. There is an audio guide available for a small additional cost, and for those interested in the art and architecture this is a great addition to a visit. Look out for lovely little details, like the individually designed choir stalls.
Venice is packed with impressive churches and it can be rather hard to select which are worth seeing - the Basilica dei Frari (St Mary of the Friars) is well worth the effort for art lovers and anybody interested in Gothic architecture. The church receives rave reviews from tourists and is consistently one of the top rated attractions in Venice according to visitor reviews. Despite this, the church is seldom crowded and it is usually possible to soak up the special atmosphere and incredible art work in peace and silence.
Opening time:
Visiting hours of the Basilica on weekdays 9am to 6pm; Sundays from 1pm to 6pm.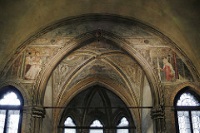 Basilica dei Frari Julia Kostecka
School of St Roch
A 'scuola' in Venice was a mixture of guild and religious fraternity, where members paid annual fees to support fellow members and to decorate the school's premises. The School of St Roch is known for the canvasses of Jacopo Tintoretto that adorn its interior. Tintoretto was commissioned to decorate the School in 1564, and dedicated 23 years to this task. The paintings are arranged in chronological order that can be followed by beginning on the second floor in the Sala dell'Albergo. Notable among his works are the scenes from the Life of the Virgin and the Crucifixion. San Rocco, as the school is known, is one of the top ranked attractions in Venice on tourist review sites and a visit is guaranteed to impress. Although much of the amazing art inside is not labelled or accompanied by much information there is a good audio guide included in the admission price which tells you all you need to know. Many of the rooms are full of mirrors to help visitors see the intricate detail of the art which covers the ceilings and walls without craning their necks. The interior is ornate and quite overwhelming in its artistry and you would be hard put to find somebody who doesn't rave about the experience of exploring San Rocco.
Address:
Campo San Rocco, San Polo 3054
Transport:
San Toma stop on the Vaporetto lines, or take the train to St Lucia railway station.
Opening time:
The Scuola Grande is open daily from 9:30am to 5:30pm, except on New Year's Day, Easter and Christmas Day. The church is also open daily from 9:30am to 5:30pm. Holy Mass is generally at 8am on weekdays and 11am on Sundays and religious festivals.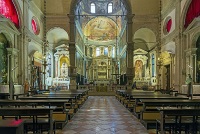 School of St Roch Interior Didier Descouens
Gallerie Accademia
This famous gallery was established in 1807 to house the artwork removed from Venetian churches and public buildings on Napoleon's orders. It is housed in three old religious buildings: the Scuola Grande di Santa Maria della Carità, built in 1344; the Church of the Carità; and the Convento della Carità, a monastery begun in 1561 but never quite completed. The Gallerie dell'Accademia houses one of Europe's finest art collections. Its display follows the progression of Venetian art from the 14th to 18th centuries. Notable works in the gallery include Paolo Veneziano's Coronation of Mary, Carpaccio's Crucifixion and Apotheosis, Giovanni Bellini's Madonna with Child between Saints Catherine and Mary Magdalene, Giorgione's Tempest, Lorenzo Lotto's Portrait of a Young Gentleman in His Studio, Paolo Veronese's Feast in the House of Levi, and Tintoretto's Theft of St Mark's Body and Crucifixion.
Unfortunately, art lovers may find that the gallery has insufficient information on all its treasures, and most of what there is is in Italian; it is a good idea to hire a tour guide, especially as the amount of art can be overwhelming and it is useful to have someone to point out the highlights. The collection also marks many historical events for Venice and a local guide can explain the subject matter and significance of the work.
Opening time:
Mondays 8.15am to 2pm. Tuesday to Sunday 8.15am to 7.15pm.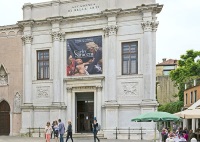 Gallerie Accademia Didier Descouens
Peggy Guggenheim Collection
The Peggy Guggenheim collection is housed in the former Palazzo of the wealthy American heiress, the Palazzo Venier dei Leoni, situated on the Grand Canal, and has become one of the most illustrious collections of modern art in Italy. It spans the artistic movements of Cubism, European Abstraction and Surrealism, with notable works by Brancusi, Marino Marini, Kandinsky, Picasso, Magritte, Rothko, Max Ernst, Dali, Jackson Pollock and many more. The impressive permanent collection is further enriched by temporary exhibitions of high quality. Guggenheim built up her collection between 1938 and 1947, and bought the Palazzo Venier dei Leoni in 1948, where she lived until her death in 1979. This exciting, prestigious and often bizarre collection is a great departure from the overwhelming amount of Gothic, Byzantine and Renaissance art and architecture in Venice, and exploring the museum is a fun and atypical sort of way to spend a few hours in the city. There are wonderful views of the Grand Canal from the terrace and there is a good little gift shop and popular cafe at the palazzo. The small outdoor area showcases a number of sculptures and has some pleasant spots to rest and take in the surroundings.
Address:
Palazzo Venier dei Leoni, 701 Dorsoduro
Opening time:
Open daily 10am to 6pm. Closed Tuesdays.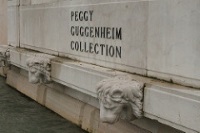 Peggy Guggenheim collection Julie Mac
Bell Tower (Campanile di San Marco)
Originally built in the 9th century, this 318-foot (97-metre) bell tower is the highest structure in Venice and offers visitors breathtaking views of the cupolas of St. Mark's, the lagoon, its neighbouring islands and the red rooftops and church domes of Venice. When the air is clear, one can even spot a snow-capped peak of the distant Dolomite Mountains but, strangely enough, not one canal can be seen from this bell tower. Despite the fact that Venice appears to be a dry city from this vantage point, the tower once served as a kind of lighthouse to assist navigation on the lagoon, and the views of this piece of water are magnificent. The tower collapsed unexpectedly in 1902 and was rebuilt exactly as before, even rescuing one of the five historical bells that are still in use today (each bell was rung for a different purpose, such as war, the death of a doge, religious holidays, etc). The bell tower is extremely popular, for good reason, and queues for visitors can get very long, especially on weekends, so it is best to visit during the week if possible and to arrive early to avoid the crowds. Be sure to take along your camera! Kids will love this attraction as well, so it is a great outing for the whole family.
Address:
San Marco, Piazza San Marco
Opening time:
Open November to April from 7am to 3.45pm; and in July to September from 9am to 9pm.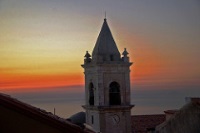 St Mark's Bell Tower Luca Volpi
Gondola Rides
Surely one of Italy's most iconic images is that of gondolas being oared through the narrow canals of Venice by stripe-shirted, serenading gondoliers. These flat-bottomed boats are unique to the canals and waterways of Venice, and taking a ride in one is considered by many to be an obligatory tourist activity while on holiday in Italy. Although you will pay dearly for the experience (roughly €80 - €90 for a 40-minute trip), taking a gondola ride in Venice is sure to leave you with a warm and lasting memory of your vacation in Italy. Tourists are encouraged to make the most of the investment, however: take a trip down the back canals of Venice, and not the Grand Canal which is too crowded and impersonal; pick an ornately-carved gondola, with a comfortable seat and blankets if it's cold; and be sure to ask your gondolier if he is of the singing variety before getting into the boat - although it is compulsory for them to wear black pants, striped shirts, closed shoes and (weather-permitting) their straw hats, they are not actually required to sing.
Gondolas are available throughout Venice and can be hailed as one would an ordinary taxi. If you book one through a hotel or tour company, you will probably end up paying a surcharge.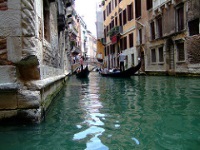 Gondolas In Venice Andy Hay
With such a rich and diverse cultural history, many would think that Venice would be a dull holiday destination for kids. But on the contrary, this beautiful canal-lined city offers its younger visitors plenty to see and do.
Obviously a ride on one of the famed gondolas will be a memorable experience for children of all ages, and highlights are guaranteed to include spotting the fire fighters' boat, the ambulance boat and many more. While parents are admiring the architecture in St Mark's Square, be sure the kids have enough breadcrumbs to feed the hundreds of pigeons this square is known for. Kids will also enjoy the Peggy Guggenheim Collection, as there is lots of space to run around outside, and Parco delle Rimembranze is probably the best-suited park for children in Venice and a great place to head for a picnic or a stroll. For outdoorsy families, a hike or walk in the Po Delta Natural Park is a must.
On rainy days, visit some of the museums this historic city has to offer, such as the Naval Museum or the Museum of Natural History. Kids will love the Museum of Natural History, which is home to the skeleton of an Ouranosaurus found in the Sahara Desert by a Venetian palaeontologist in 1973. The museum also features an aquarium where children will be able to view and learn about the marine life living off the Venetian cost. Venice's Naval Museum is also a great place for kids to explore, displaying intricate models and, in many cases, the real-life thing. A trip to the nearby island of Murano is also a must, where children will be mesmerised by the glass-blowers and their incredible creations.
Venice has a Mediterranean climate and experiences very high humidity, with hot weather in July and August, the height of summer. Average temperatures in summer (June to August) usually range between 64°F (18°C) and 82°F (28°C), dropping in winter (December to February) to between 32°F (0°C) and 37°F (3°C). Venice often experiences thunderstorms and rain showers which, particularly in spring and autumn, tend to cause flooding. It is best to pack waterproof shoes or boots to avoid a soaking in these seasonal floods. Spring, summer and autumn are all considered peak tourist season, with April to October being the busiest. However, it is a popular destination all year round and can get uncomfortably crowded.
While Venice's cuisine can't quite compare with many other Italian destinations, the city does have some wonderful restaurants featuring the cuisine of the Veneto. Near the Rialto Bridge there is a string of restaurants with tables along the canal, where you can enjoy the quintessential Venetian practice of dining by the canal lights. The Dorsoduro area has the highest concentration of places where locals, especially students, go to eat.
One of Venetian cuisine's most celebrated ingredients is cuttlefish, and its ink. This powerful black ink serves as an ingredient and a sauce in polenta (corn meal), risotto (rice), and pasta dishes. Despite the intensity in colour, the ink has an unexpectedly mild taste. Also popular in Venetian restaurants and bars is cicchetti (Italian tapas), which is usually made up of small servings of fish, little sandwiches, plates of olives, or even very small servings of regular full-course meals.
For fresh fruit, including chilled coconut, visit the street market stalls. If self-catering, the Rialto food markets are the best place to find fruit, vegetables and cheese; and a huge range of seafood, most of it fresh out of the lagoon.
Travellers looking for authentic Venetian cuisine and prices should avoid establishments with menus in six different languages displayed in the windows, and rather head away from the tourist centre to look for quaint and welcoming eateries tucked away in the city's nooks and crannies.
Ristorante Quadri
Oozing with old-fashioned romance and elegance coupled with breathtaking views across St Mark's Square, Ristorante Quadri lays it on thick when it comes to fine dining and style. Try the steamed Sea-bass in rosemary flavour with vegetable ratatouille or the lamb cutlets and loin flavoured with thyme and parsley and seved with a foundant of potato and eggplant. This restaurant might be perceived as being kitsch, but it definitely doesn't disappoint. Open daily, closed on Mondays between 1 November and 31 March. Reservations essential.
Address:
Piazza San Marco 120
Lineadombra
Enjoy sitting outside on a starry night, taking in a beautiful view of the Giudecca from the deck at Lineadombra, one of Venice's most modern restaurants. The bass fillet with potatoes and vanilla perfume comes highly recommended.
Address:
Ponte dellUmilta, Dorsoduro, 19
Antico Martini
Popular with tourists and featuring grand paintings that occupy entire walls, Persian carpets and beautiful views onto the square of the Fenice Theatre, Antico Martini is one of the oldest restaurants in Venice, steeped in almost 300 years' history. The superb cuisine will not disappoint and is always made from the freshest ingredients. Open daily from 11.30am to 11.30pm. Reservations essential.
Address:
Campo San Fantin (on the same square as La Fenice opera house)
Trattoria alla Rivetta
This bustling seafood eatery serves some of the most authentic Venetian cuisine and for the right price. Locals and tourists alike flock to this restaurant for delicious pastas, seafood and other mouth-watering Italian fare. Even in off-season there can be a waiting list. Open from Tuesday to Sunday for lunch and dinner. Closed Mondays. Reservation recommended.
Address:
Castello 4625, Salizzada San Provolo
Ca dOro (Alla Vedova)
Located away from Venice's tourist hubs, you know Alla Vedova must be good because this is where all the locals eat. With marble counters, charismatic furniture, a cosy atmosphere and some of the tastiest Venetian cuisine in town, diners can feast on dishes such as the delicately grilled cuttlefish , (lasagna with sausage, radicchio, and béchamel sauce).
Address:
Calle del Pistor, Cannaregio
Grand Canal
Located in Calle Vallaresso, this elegant restaurant belongs to the Hotel Monaco and Grand Canal, and serves traditional Venetian cuisine, including seafood and fresh vegetables. Celebrities such as Brad Pitt and Angelina Jolie have been spotted dining here and, only a few metres from the Vaporetto stop, the location is both convenient and appealing, with a very romantic terrace to sit on.
Address:
Hotel Monaco, Calle Vallaresso, 1325
Ristorante Ai Quattro Rusteghi
The airy spaciousness of this Venetian restaurant, owned by the local Rossi family, coupled with its wonderfully varied menu creates a wonderful dining experience. Located in the heart of the city's Jewish 'Ghetto' of the Cannaregio district, this eatery is popular with both locals and tourists alike. Try the delicious homemade pastas with mouth-watering sauces, or the fish baked with tomatoes, olives, capers, potatoes, and white wine in parchment paper and then folded to look like a gondola. Indoor and outdoor dining available. Open daily for lunch and dinner.
Address:
Campo del Ghetto Novo, Canareggio 2888
Cantinone-già Schiavi
This authentically Venician restaurant is famous for its great wine selection from the Veneto region and for its flagship dish, (Italian tapas) made up of wedges of Mortadella sausage speared with curly, piquant Tuscan peppers and crostini topped with creamy tuna and shredded leeks. Cantinone-già Schiavi's lively atmosphere and warm and friendly locals is what Venice dining is all about. Travellers will love the food, prices and authentic Italian cuisine at one of Venice's best kept secrets. Closed on Sundays.
Address:
992 Fondamenta San Trovaso, near the Accademia Bridge
La Cantina
Not somewhere many tourists would know about, unless escorted here by a local, La Cantina is run and owned by the passionate Francesco who is temperamental yet obsessive about food. Come here for some indulgent and lip-smacking crostini piled with tongue, chopped pickle, smoked ricotta and layers of fresh horseradish shavings, washed down with a glass of local wine. Open when the owner feels like it - usually closed on Sundays and Mondays.
Address:
Campo San Felice (Strada Nuova), Cannaregio
Il Refolo
This cosy pizzeria is located alongside the canal where diners can pull their boats in, sit under an umbrella at a shady table and feast on homemade crusted pies filled with roasted figs and prosciutto, among other exotic flavour combinations. Open for lunch and dinner from April to October. Closed for lunch on Mondays.
Address:
1459 Santa Croce, Campo San Giacomo dallOrio
Venice Marco Polo Airport
Location:
The airport is located five miles (8km) north of Venice.
Time:
GMT +1 (GMT +2 between the last Sunday in March and the last Sunday in October).
Getting to the city:
Buses go to the Venice-Santa Lucia railway station, via Piazzale Roma, every 20 minutes. The ATVO bus and ACTV buses leave regularly for the Piazzale Roma and Mestre Railroad station. The Alilaguna boats are a faster way into central Venice. The dock is a 5-10 minute walk from the airport.
Car Rental:
Car hire companies with offices at the airport include Autoeuropa, Maggiore, Avis, Europcar, Hertz and Locauto Rent.
Airport Taxis:
Both regular and water taxis are available from the airport. An authorised (yellow) taxi cab to the city centre takes between 40 minutes and an hour.
Fascilities:
Facilities at the airport include ATMs, currency exchange facilities, banks, a tax-free customs service, VIP lounges, a business centre, a prayer room, information desks, travel agencies, baby-changing facilities and first aid facilities. There are also a range of shopping and dining options.
Parking
Short-term parking is available and starts at €6.50 for the first hour and €3.00 each following hour. Long-term options are available in car parks 4 and 5 and range from €14 to €15 per day, depending upon the parking lot. All parking lots are within easy walking distance of the terminal.
Rimini-Miramare Airport
Location:
5 miles (8km) southeast of Rimini
Time:
GMT +1 (GMT +2 between the last Sunday in March and the Saturday before the last Sunday in September).
Getting to the city:
There is regular bus and train service to the airport from the downtown Rimini Railway Station.
Car Rental:
Avis, Hertz, Europcar, Maggiore, Travel Car and Sixt operate car hire facilities from Rimini Airport.
Airport Taxis:
There are metred taxis available outside the terminal. Tariffs are increased at night.
Fascilities:
The terminal contains restaurants, duty-free shopping, banks, ATMs, and information services.
Parking
There is short and long-term parking available at the airport. Parking is free up to 20 minutes, hourly and daily rates vary. See the airport website for detailed rates.
Carnival of Venice
Originating in the 12th-century, the Carnival of Venice is one of the world's most famous festivals, and fills the whole city with musicians, acrobats, clowns, magicians, puppeteers, beautiful masks, elaborate costumes, and parades. People come from around the world to participate in masked balls and general festivities in the ancient Venetian tradition, and to enjoy theatrical performances, exhibitions and concerts along the canals, squares and the magnificent palaces of the city. The Carnival begins 14 days before Ash Wednesday and culminates in Mardi Gras on Shrove Tuesday. Carnival traditions are the same, but every year the theme is different. Masks are central to the Venetian celebrations, and although the reason they were originally worn is not certain, some historians argue that being in disguise allowed class distinctions to dissolve; the thrill of anonymity still plays a big role in the mystique of carnival. One of the biggest parties in the world, Carnival is a special time in Venice and the romance of the festival never seems to fade.
Venue:
Centred on San Marcos Square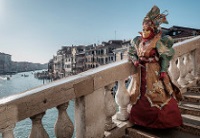 Masked Venetian Andrew Stawarz
Festa del Redentore (Feast Day of the Redeemer)
One of Venice's most important religious festivals, the Feast Day of The Redeemer (Il Redentore) is also one of the most traditional. The festival dates back to 1576 in commemoration of the end of the plague that wiped out a third of the city's population. The Church of the Redentore was built on Giudecca Island, and a promise was made by the Doge to lead a procession of thanksgiving every year to the church. At sunset on the third Sunday of July annually the waterways are filled with hundreds of brightly lit and decorated boats, while the banks of the canal are lined with crowds of people celebrating, feasting and dancing. The highlight is the tremendous fireworks display accompanied by music, considered by many to be one of the most spectacular in the world. Regattas, rowing competitions, and special services in the Redentore Church (reached via the boat bridge) also form part of the festivities. Venice is great at spectacle and this religious festival is also a big party and a visual extravaganza.
Venue:
Giudecca Canal and St. Marks Basin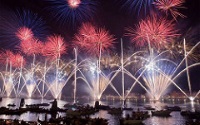 Festa del Redentore Viaggio Routard
Venice Film Festival
The Venice Film Festival (Mostra Internazionale d'Arte Cinematografica di Venezia) was founded in 1932 and is the oldest film festival in the world as well as one of the most prestigious and famous. The festival takes place at the end of August and beginning of September each year on the island of Lido. Screenings take place in a number of wonderful venues including the historic Palazzo del Cinema. Take a water bus to the Lido to enjoy the presentations, mingle with the stars and catch sneak previews of some of the top films of the forthcoming year. Just be sure to book your accommodation and cinema tickets early because the Venice Film Festival is extremely popular and this is a busy period to visit the city.
The Venice Film Festival is part of the Venice Biennale, an extremely well-respected cultural institution, founded in 1895, which also hosts Venice's International Art Exhibition, International Architecture Exhibition, Festival of Contemporary Music, Theatre Festival, and Festival of Contemporary Dance, which all contribute to Venice's status as a hotbed of cultural activity.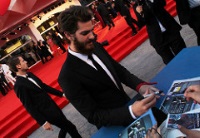 Actor Andrew Garfield at the Venice Film Festival Alice Barigelli
Venice is not famed for a hectic nightlife (outside of carnival) but persistent party animals will find some excitement if they look in the right places. Piazza San Marco has the most popular social venues, and the tourist information centres have current English-language schedules of special events which are very useful to travellers in search of a good time. The Ospite di Venezia guide is available in the more expensive hotels.
Cafés abound in Venice and some host live music performances; the Rialto Bridge and St Mark's Square are good areas to start when looking for sedate evening entertainment. Nightclubs are more limited and generally more plentiful in summer; some venues close down during the colder, quieter months. Visitors are often better off trying their luck at one of the city's casinos when looking for round-the-clock jollity and entertainment: the most acclaimed is Casino Municipale di Venezia (note: a passport and jacket are required for entry). Otherwise, there are regular classical-music concerts, with the Vivaldi Church, San Stefano, Chiesa di Vivaldi and the Scuola di San Giovanni Evangelista being popular venues.
As you might expect from a city famous for its canals, water is the main medium of transport in Venice. Water buses, known as Vaporetti, ply the Grand Canal and make scheduled stops. The Vaporetti are a far cheaper way to get around Venice than the famous gondolas, piloted by stripe-shirted gondoliers, who for an extra fee will serenade passengers. Travelling down the Grand Canal is obligatory but the Vaporetti are well-suited for this purpose. Once ashore the only way to explore is on foot, through the narrow alleys and lively squares; there are no cars at all in Venice. Make sure you have a good map as the city can be confusingly labyrinthine.
Mention Venice and the image of beautifully-lit canals and graceful gondoliers come to mind. This romantic city does, however, boast many more excellent tourist attractions.
The Grand Canal (Canalazzo), Venice's main waterway, divides the city with sestieri to the west and east of it. It is the core around which much of the activity in Venice is conducted, surrounded by the elegant facades of the palazzi. A 'must-see' is St Mark's Square ( ), in the heart of Venice. Basilica dei Frari, a Gothic Franciscan church, was constructed in the 14th century and is mostly known for being the gravesite of Titian and the Venetian sculptor, Antonio Canova.
Explore the School of St Roch or the Gallerie dell'Academia, which houses one of Europe's finest art collections from the 14th to 18th centuries. Visit the historic La Fenice Theater or the Jewish Ghetto of Venice, where the word 'ghetto' derives from. Life is still very active in the ghetto, home to five synagogues, as well as various shops and restaurants.
The traditional mode of transport in Venice is by foot or boat, so enjoy the strolls and relaxed boat trips. All visitors to Venice should buy a Venice Card, as it gives you use of the main tourist services, including optional discounted airport transfers, vaporetto services and admission to some museums and attractions.
Aqualandia
On the Lido de Jesolo is Aqualandia, an extremely popular water and theme park that has been earning rave reviews from visitors to Italy. Aqualandia is situated on an island near Venice, and just strolling around the place and lounging on the beaches is an adventure. Much more than a water park, Aqualandia has something like 26 attractions, including one of the highest water slides in the world and one of Europe's highest bungee jumping towers. All the expected, tried and tested water park attractions can be found, as well as lots of extra entertainment.
A huge central pool is the hub for swimming and relaxation on the many comfortable loungers, and there are some fun shows and music events as well as lots of restaurants and shops, and the popular Vanilla Club for those who want to party. There is plenty to entertain people of all ages. A fun day at a water park is a great treat for children and a nice break from traditional cultural sightseeing. All attractions, shows and activities are included in admission, except bungee jumping. In the peak summer period visitors should be prepared for long queues; it is best to arrive early to avoid a long line at the entrance.
Address:
Via Buonarroti 15, Lido de Jesolo
Transport:
By car, exit the motorway before reaching Mestre; take the Mestre bypass toward the Marco Polo Airport. Continue along this road to Jesolo and follow the road signs to Lido di Jeselo. Signs to Aqualandia are displayed prominently.
Opening time:
Opening dates and times vary seasonally, but when open the park is generally open between 10am and 6pm. Check website for details.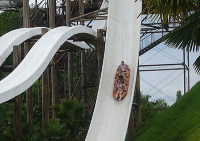 Aqualandia Waterslide Sarah
Padua (Padova)
Padua is often tragically overlooked due to its close proximity to Venice; it is also almost always described in terms of comparison with Venice. Luckily, Padua, once second only to Rome in terms of wealth, is a gorgeous city with lots to offer visitors and plenty of charm all of its own. The fabulous architecture of the old town, dating back as far as 1,000 AD, is a magnificent backdrop for the wealth of culture the city contains. The main attraction is the cathedral dedicated to St Anthony. The high altar is decorated with bronzes by Donatello, who is also responsible for the proud equestrian statue of General Erasmo da Narni (il Gattamelata) that stands in the Piazza del Santo. Padua also has picturesque canals, a number of interesting markets, and many impressive landmarks. It is a city seemingly full of beautiful frescoes, with many lovely churches to house them. It also boasts Europe's oldest botanical garden, established in 1545. Some people argue that the city also has a more fun and festive nightlife than Venice, due to its youthful population - the University of Padua is Italy's second oldest, established in 1222. Padua is situated just 21 miles (35km) west of Venice, and is a very worthwhile daytrip destination.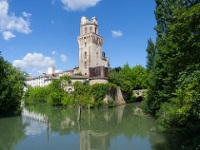 Torre della Specola Dave Collier
Murano
The Venetian Islands of Murano, joined by several bridges, make for a great trip for the whole family and the perfect place to seek out special Venetian souvenirs. In 1291 all the glass makers in Venice were sent to the islands for fear of fires starting in the wooden buildings of the city, and Murano has been a centre of glass crafts ever since. Visitors can enjoy watching the local art of glass-blowing, developed over the centuries in the place that made Venetian glass so famous and sought-after, and be amazed by the products that are created. And since glass-blowing is the thing to do on Murano, there are plenty of glassware shops and factories, most of which can be visited free of charge and where visitors can get some souvenirs to take home, or else simply enjoy looking around. The Museo Vetrario is another great place to admire glassworks.
Murano has more than just glassware on offer: it is a picturesque mini-Venice with its own Grand Canal, colourful old buildings and great restaurants. It is small and best explored on foot or by boat. There are also some interesting churches to visit: the Basilica dei Santa Maria e San Donato has stunning 12th-century mosaics; and the Church of Saint Peter the Martyr, built in the 12th-century, houses two art works by Bellini.
Address:
Isola di Murano, Venice
Transport:
Via vaporetto: line 41, 42 or DM from Fondamente Nuove; or 71 and 72 from San Zaccaria or Piazzale Roma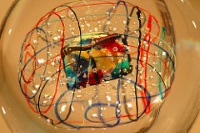 Murano Glasswork Aaron Logan
Po Delta Natural Park
Italian National Parks may be different to what some foreigners expect in that they are not fenced in, pristine wilderness areas, but large inhabited swathes of land deemed worthy of environmental protection. The vast Po Delta, a flatland along the Adriatic coast, is one of the most stunning natural landscapes in Italy. The Po Delta is divided into two regional parks, the Emilia-Romagna and Veneto. The latter, easily accessible from Venice, encompasses woodlands, extensive farmlands, marshes, lagoons, beaches and rivers, as well as historical monuments and even cities.
Visitors to the Po Delta Natural Park can enjoy a day exploring the great outdoors. Discover the park by bike, boat, canoe, horseback or on foot. Tours are also available for those who want to visit the more protected areas of the park, and avid fisherman can enjoy the fishing lagoons, where bream, bass and grey mullet are plentiful. There are great bird-watching opportunities here too, so pack your binoculars. There are many areas to camp and wonderful walking trails. Travellers exploring Venice, who feel they would like some experience of the natural wonders of the region, will be delighted with Po Delta, and it is a great excursion for those travelling with kids.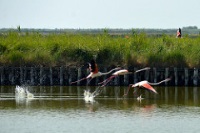 The Po Delta Mario Fornasari