Ireland is truly one of the great sightseeing destinations. Thelocal people are wholeheartedly welcoming and entertainingsocially. Travellers can expect an abundance of beautiful naturallandscapes and there are cultural and historical attractionsaplenty. Also, the Guinness really tastes better here at thesource. The country has a wider significance for many Americanvisitors, whose ancestors came from these shores in greatnumbers.
Although there are must-see attractions like Blarney Castle,Trinity College and the soaring Cliffs of Moher, the real magic ofIreland lies in the unexpected encounters with the local people andunplanned evenings in country pubs, where impromptu gigs can setthe soul alight. Ireland is full of music and good cheer and noamount of rain can dampen local spirits.
Winter is not the best time to visit, as it is cold and rainy.Travellers should plan trips for the summer months between Apriland September. The ideal ways to get around are by rented car orbicycle, which visitors can use to explore the photogenic countrylanes. The roads are good in Ireland and driving around is notunduly stressful.
Trinity College Dublin
Trinity College is Ireland's oldest university and countsJonathan Swift, Samuel Beckett and Oscar Wilde, along with manyother great thinkers and writers, among its past students. It wasfounded in 1592 by Queen Elizabeth I. The complex is home to manyglorious buildings, beautifully manicured lawns, cobbled squaresand the campus of the University of Ireland.
The main attraction for many is the Trinity Library. It housesthe celebrated Book of Kells, which dates from the 8th century andis considered to be one of the oldest books in the world. Othermanuscripts taken from ancient monasteries are also on display.Note that photography in this gallery is strictly forbidden.
The library is also home to the remarkable Long Room, which willdelight the scholarly. The chapel on the grounds is absolutelybeautiful and a must-see for anybody interested in ecclesiasticalarchitecture. There are lots of sculptures, statues and monumentsdotted around the grounds to investigate. One of the best things todo at Trinity, however, is to simply make like a student and loungeon the lovely green lawns!
Address:
College Green Dublin 2, Ireland
Transport:
The easiest way to access Trinity College is by bus.There are a number of stops around the campus.
Opening time:
The Book of Kells is open Monday to Saturday8.30am-5pm from May to September, and Sundays 9.30am-5pm. FromOctober to April, it's open Monday to Saturday 9.30am-5p, andSundays 12pm-4.30pm.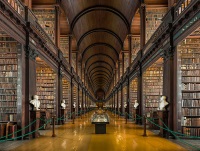 The Long Room David Iliff
Temple Bar District
The Irish capital is known for its nightlife and many visitorscome to Dublin primarily to enjoy the great beer, food, traditionalmusic, and friendly locals that make the pub scene so famous.
This quaint, cobbled district is the hub Dublin's toursitnightlight. There are shops, traditional pubs, theatres, cinemasand trendy clubs laid out on pedestrianised streets. Buskingfiddlers, an overwhelming choice of restaurants, and beautifullyrestored buildings add to the feel of the place and make it worth avisit. The streets and drinking holes are always bustling in TempleBar and the area has been immortalised by many photographers.
The area is bordered by the Liffey River on one side and DameStreet on the other. The main street running through the area isalso called Temple Bar. The weekly Temple Bar Food Market takesplace between 10am and 4.30pm on Saturdays at Meeting House Squareand this is a must for foodies. There are also several regular bookmarkets in the area, and lots of little gems for clothes shoppers.The area has become rather expensive and some find it too touristy.That said, it's the place to be for the young and fashionable.
.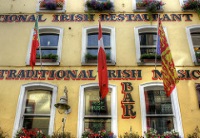 Temple Bar District psyberartist
Dublin Castle
Dublin Castle is at the very heart of the historic city. It wasfounded in 1204 by order of King John, who wanted a fortressconstructed for the administration of the city. It has been addedto and rebuilt many times so that all that remains of the originalstructure is the Norman Tower. By the early 17th century, thecastle was fully developed with Law Courts, meetings of Parliament,the residence of the viceroy and a council chamber. Themagnificent, gilded State Apartments were added in the 18th centuryand are still used for state occasions today.
Highlights of the castle include the Throne Room, St Patrick'sHall and the Ladies Drawing Room. The gardens are also great for astroll or relaxing, and there are some interesting sculptures toinvestigate. The gardens can be accessed by the public for free.There is a restaurant and a Heritage Centre, as well as a giftshop. You can only explore the castle on official guided tourswhich start every 20 minutes and take about an hour. Groups arerequired to book in advance. There are plenty of attractions at thecastle to explore in your own time though, like the Chester BeattyLibrary. Note that the castle is used for state functions and issometimes closed on short notice. Check the website to ensure it isopen for your visit.
Opening time:
Monday to Sunday and Public holidays 9.45am-5.15pm.Admission is by guided tour, with a self-guiding optionavailable.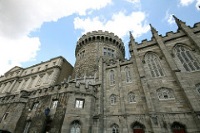 Dublin Castle Barnacles Hostels
National Museums of Ireland
The National Museum's permanent collection is broken up intofour seperate museums, which have different locations in Dublin.The National Museum of Archaeology is on Kildare street, theNational Museum of Decorative Arts and History is on Benburbstreet, the National Museum of Country Life is in Turlough Park,and the National Museum of Natural History is on Merrion street.All four establishments are great.
The Natural History Museum is particularly good for kids, butthe most popular and impressive is the Archaeology Museum, wheremany of the treasures of ancient Ireland can be found. Included inthis museum is jewellery dating back to the 8th century BC andmedieval antiquities such as the Tara Brooch and the ArdaghChalice. Also housed here is the 12th-century Cross of Cong, anornate reliquary of wood, bronze and silver, said to contain afragment of the True Cross. The museum showcases importantexhibitions on Irish history, including Prehistoric Ireland, VikingIreland and The Road to Independence (1900-1921). There are alsosections on Ancient Egypt and Life and Death in the Roman World.This is a truly world-class museum, which brings ancient Irishhistory to life.
Address:
Varied locations. Check website for details.
Opening time:
Tuesday to Saturday 10am-5pm, and Sunday 1pm-5pm.Closed Mondays.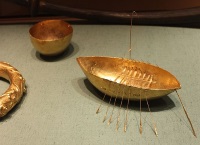 Artefacts from the Iron Age Ardfern
Guinness Storehouse
Although Guinness is now brewed all over the world, St James'sGate, in the heart of Dublin, was where Arthur Guinness set up thebusiness in 1759. The Guinness Storehouse celebrates Ireland'sfavourite brew by taking visitors on a journey, floor by floor,through the past, present and future of the world-famous beer. Theglass atrium is shaped like a pint glass and each floor explores adifferent aspect of 'everything anyone ever wanted to know aboutGuinness', from the brewing process to who drank the firstpint.
Visitors can't view the actual brewing process but will beintroduced to the machinery used through the ages, and watch videosexplaining how it all works. The tour finishes with a complementarypint of the famous stout in the top-floor Gravity Bar, which isalso the ideal place to watch the sun set over Dublin and admirethe 360° views.
Visitors can enjoy tasting sessions during the July and Augustsummer program, as well as exhibitions and delicious Irish mealsfrom a table d'hôte menu in the Brewery Bar or Source Bar. Theonsite shop sells some excellent merchandise for Guinness lovers.There is very good wheelchair access to the whole facility.
Transport:
Bus 51B and 78A from Aston Quay, bus 123 from OConnellStreet or Dame Street.
Opening time:
September to June: 9.30am-7pm July and August:9am-8pm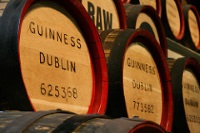 Guinness Storehouse Corey Harmon
National Library of Ireland
The highlight of this historic library is its great, domedreading room, which has been home to many Irish students, includingJames Joyce. This is a light-filled, peaceful and inspiring placeto work, write or read, and should be on every scholar's bucketlist. The reading room is open from 9.30am to 7.45pm between Mondayand Wednesday, 9.30am to 4.45pm on Thursday and Friday, and 9.30amto 12.45pm on Saturday. Anybody is allowed to enter provided theyrespect the strict note about silence.
The library also contains a heraldic museum, which exhibitscoats of arms and banners. But, the genealogical office, wherestaff can help trace any Irish roots, may be of of most interest totourists. Its consultation service on ancestry is available Mondayto Wednesday 9.30am - 5pm, and Thursday to Friday 9.30am - 4.45pm.It's a free service and no appointment is required.
One of the library's most famous and popular attractions is theaward-winning Yeats exhibit: The Life and Works of William ButlerYeats. The exhibit is magical and compelling, taking visitorsthrough Yeats' fascinating life. The collection includes rarematerial, which has been generously donated by Mrs George Yeats,the poet's wife, and Michael Yeats, his son, over several years.The library hosts other wonderful temporary exhibitions but theYeats exhibit has been on show since 2006. It has become apermanent addition due to popular demand. There is also a cafe onthe premises.
Address:
2 Kildare Street
Opening time:
Monday to Wednesday 9.30am-7.45pm; Thursday andFriday 9.30am-4.45pm; Saturday 9.30am-12.45pm.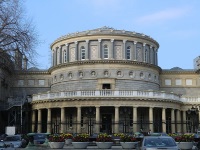 National Library of Ireland YvonneM
St. Patricks Cathedral
St Patrick's Cathedral is Ireland's largest church. It's erectedon the site where St. Patrick is believed to have baptized hisconverts to the Christian faith when he visited Dublin. The currentbuilding dates back to the 12th century, although it has beenrestored and altered over the years.
Jonathan Swift was dean of St. Patrick's from 1713 to 1745,during which time he penned Gulliver's Travels. Visitors can stillsee his tomb and pulpit. There are many tombs and memorials in thecathedral and it is interesting to get a guided tour to learn moreabout all the history on show. The cathedral has a nice little giftshop and really lovely grounds to enjoy. Marsh's Library is rightnext to the church. It is worth a visit for anybody interested inold, rare and unusual books. The cathedral still has dailyservices, which are open to the public.
The church has a particularly impressive Boys Choir. Touristshave to pay a small fee for entry, with all proceeds going towardsmaintenance of the magnificent building. If, however, visitors wantto attend a service to worship, there is no admission fee. Thecathedral is sometimes closed for special services.
Address:
St Patricks Close
Opening time:
March to October: Monday to Friday 9am-5pm; Saturday9am-6pm; Sunday 9am-10.30am, 12.30pm-2.30pm, 4.30pm-6pm. Novemberto February: Monday to Saturday 9am-5pm; Sunday9am-3pm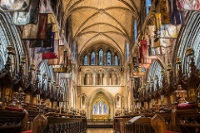 St Patrick's Cathedral Tony Webster
Old City Gaol
The old Cork City Gaol looks the same as it did in Victoriantimes, with its barred windows, cells, bare corridors and ironstairways behind the unwelcoming gateway. The gaol onceincarcerated 19th century prisoners. The building was built in 1824and is considered one of the finest examples of Georgianarchitecture surviving in Cork.
Self-guided audio tours are an option. Life-size figures, soundsand exhibitions tell the story and social history of 19th centuryCork and the reasons people turned to crime, which was mainly dueto extreme poverty. Visitors can still see the graffiti thatprisoners carved or wrote on the walls, and there are manyinteresting facts and stories to be heard. Unsurprisingly, the CorkCity Gaol is said to be haunted, which is very easy to believe whenstrolling through the formidable building.
The tour is available in 13 languages and it really doestransport visitors into another century. Children will enjoy thisattraction and it is a good activity for the whole family. Althoughit is popular, it never seems too crowded, which adds to the eerieatmosphere.
Address:
Convent Avenue, Sundays Well
Opening time:
October to March 10am-4pm, April to September9.30am-5pm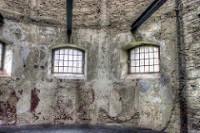 Cork City Gaol Interior psyberartist
Dublin Zoo
The Dublin Zoo is one of Ireland's most popular attractions forchildren. It takes visitors on a voyage of discovery from theArctic to the Plains of Africa via an Indian Rainforest. The zoohouses more than 600 animals and the habitats are impressive, withlots of information provided on each species.
The zoo provides plenty of entertainment for kids, with freearts and crafts activities like face painting, and a number oflittle playgrounds dotted around the park. Visitors can see lionsand tigers, Asian elephants, gorillas, chimpanzees and orangutans,rare monkeys, rhinos, hippos, giraffes and many more exotic andendangered species, including extremely rare species like the snowleopard. There is also a pet's corner for children, a city farm anda safari train ride around the African Plains.
Although it is an old zoo, it is recognised as one of the mostmodern in Europe, and it places emphasis on learning about wildlifeand conservation. The Dublin Zoo is a registered charity and allprofits will go towards maintenance and improvement. There are anumber of snack stalls and a restaurant on the premises, butvisitors can also bring their own picnics.
Transport:
Buses:
 Nos. 25, 26, 46A, 66 / 66A / 66B, 67, 69 LUASRed Line:
 Dublin Zoo is a 15 minute walk from the Heuston Stationstop.
Opening time:
Open from 9.30am Monday to Sunday. Closing times varybetween 4pm and 6pm, depending on the season.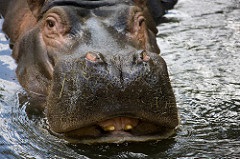 Hippo at Dublin Zoo William Murphy
The Old Jameson Distillery
Jameson, who was actually a Scotsman, moved to Dublin to start awhiskey distillery in the 1770s and clearly made a lastingimpression on the industry, despite the many distilleries makingfine Irish whiskey in Dublin at the time.
The Old Jameson Distillery is located in the heart of Dublin.Visiting is a treat for whiskey lovers, and there's a taste ofIrish culture and history thrown into the bargain. This museumillustrates the history of Irish whiskey, known in Irish as (the water of life). The expert guides willanswer any questions whiskey lovers might have. The tour takesvisitors through the triple distillation process that sets Jamesonapart. In the beginning there is a film explaining the 'Angel'sShare', which is very interesting. A free glass of Jameson Whiskeyis included in the tour and visitors can choose to partake in awhiskey tasting in the bar after their tour and sample differentIrish, Scotch and American whiskeys.
The tour lasts just over an hour, but guests can stay afterwardsto enjoy the bars, restaurant and gift shop. A popular souvenirfrom the gift shop is a personalised bottle of whiskey, which willdelight any whiskey drinkers back home.
Address:
Bow St, Smithfield Village
Transport:
Both the Dublin Bus and the Sightseeing Hop On Hop Offbus stop at Smithfield (Stop 20). From there, its a short walk upChurch Street and left on to May Lane/Bow Street.
Opening time:
Open daily: Monday to Saturday 9am-7pm, Sunday10am-6pm (last tour at 5:15pm). Closed Good Friday and Christmasholidays.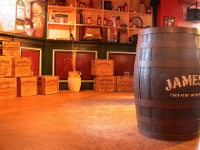 The Old Jameson Distillery German Poo-Caamano
Airfield House and Farm
Kids love nothing more than farms, and there's no better placefor them to explore than an actual working one. Airfield is theonly active farm left within Dublin's city boundary and the ownersaim to connect people of all ages to nature through farming andgardening. Indeed, they want to instill a respect and love for thenatural environment. The sheep, horses, goats and pigs will provideendless entertainment for young ones and, with plenty of space torun around and activities for children to get involved in, parentswill enjoy themselves too.
The farm has learning programmes for primary school children,secondary school children, and adults. Children participate inseasonal activities and help tend to the animals. They may even belucky enough to witness a lamb being born. The adult courses teachsustainable living skills, such as cultivating a vegetable garden,keeping chickens, and making cosmetics. The Airfield House and CarMuseum are also great to explore, and there is a lovely cafe on thepremises as well. Airfield hosts art exhibitions and the like forentertainment, though many visitors come just for the pleasure of astroll around the farm.
Address:
Overend Way, Dundrum.
Opening time:
September to June: Monday to Sunday 9.30am-5pm Julyand August: Monday to Sunday 9.30am-6pm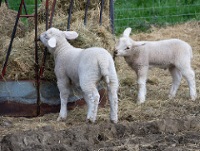 Lambs at Airfield William Murphy
Imaginosity
Imaginosity is an innovative children's museum aimed atstimulating children's imaginations and curiosity. The two-storeyclimbing structure is a favourite, while the art studio, theatresand galleries provide endless hours of fun. Parents will bethrilled to sneak some education in without the kids even realisingit! The museum is designed for kids under nine, but the idea is toengage in creative play as a family, with parents and oldersiblings getting involved.
Imaginosity is great for a rainy day in Dublin, or as a chancefor kids to take a break from traditional sightseeing and let theircreativity flow. The museum holds numerous events and competitions- things like Superhero Training Camps and storytellingcompetitions.
Guests should book ahead to avoid disappointment, particularlyon holidays and weekends, as the museum only accepts a certainnumber of children per session.
Address:
The Plaza, Beacon South Quarter, Sandyford
Transport:
Carmenhall Road is the closest bus stop. The LUAS busstops at Stillorgan.
Opening time:
Mondays 1.30pm-5.30pm Tuesday to Friday and BankHolidays 9.30am-5.30pm Saturday and Sundays 10am-6pm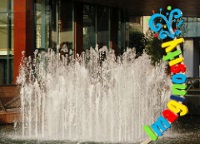 Imaginosity Maurice Frazer
Church Tower of Shandon
Positioned on a hill overlooking the River Lee, the Church Towerof Shandon (Old Fort) is possibly Cork's most famous landmark. Thered sandstone and white limestone tower is crowned by a large,salmon-shaped weather vane. It was built in 1722, making it one ofCork's oldest buildings, and is still perfectly preserved. TheChurch of St Anne is famous for its bells, which inspired the song'The Bells of Shandon', and also for its clock, which is referredto as 'the four-faced liar' because each of its four faces reads adifferent time. Visitors can ring the famous bells on a visit to StAnne's and view the internal workings of the clocks.
The views of the city from the bell tower's balcony arestunning. The staircase up to the top of the tower gets quitenarrow, which is a delight for some but perhaps shouldn't beattempted by the claustrophobic. The church itself is also a joy toexplore for those who are interested, and the people who work thereare very helpful and friendly. The church is located in thehistorical section of the city, so a visit can be combined with astroll through the charming old area, which has many otherattractions.
Address:
Church of St Anne Shandon, Church Street
Transport:
Its a 5-10 minute walk from the city centre. Tour busesstop here too.
Opening time:
June to September: Monday to Saturday 10am-4pm,Sunday 11:30am-4:30pm. March to October: Monday to Saturday10am-4pm, Sunday 11:30am=4pm. November to February: Monday toSunday 11am-3pm.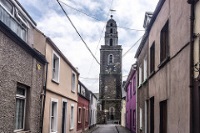 The Four Faced Liar William Murphy
The English Market
The 16th century Princes Street Market is a covered food marketin the centre of Cork. A large sign now designates it the OldEnglish Market (and the nearby St Peter's Market is referred tolocally as the Irish Market), although it is certainly Irish incharacter. The Queen and Prince Philip visited the market in June2011, cementing its association with the English.
Merchandise on sale includes fresh fruit and vegetables, bakedgoods, cheese, meat, seafood, gourmet chocolate, sweets, clothes,and local crafts, trinkets and souvenirs. It is well known amonglocals and tourists alike for its varied selection of produce fromall over the world, and especially for its fresh fish. Themerchants are very friendly and the place has a wonderfulatmosphere. It's a good idea to ask the stall owners for theirrecommendations and try out some local specialties. Visitors canbuy a take-away meal, gifts for those back home, or groceries atthe Old English Market. Those who enjoy the place should try theFarmgate Restaurant, where they can sit on the balcony overlookingthe stalls and relish the smells and sights along with a greatmeal.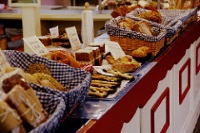 Baked goods at the English Market LWYang
Ireland is notorious for experiencing cold, damp weather formuch of the year. This is due to its temperate climate, but iscompensated for by its delightful green countryside. It is,however, possible to enjoy some warm, sunny and dry days during thepleasant summer months between May and September, and those whotravel to Ireland in winter will find that the weather is far lesssevere than in the UK. Summer (May to September) is the warmest anddriest season and is the best time to visit Ireland, thoughattractions can get crowded in July and August. Winter ischaracterised by short, wet, foggy days and long nights, but thetemperature rarely gets below freezing due to the tempering GulfStream winds that buffet the west coast of Ireland. Someattractions are only open in summer but many tourists visit Irelandin the off-season when accommodation is cheaper. Spring and autumncan also be very pleasant times to visit. The southeast is thedriest region of Ireland, enjoying more sunny days than the rest ofthe country. It seldom snows in Ireland.
Money:
The unit of currency is the Euro (EUR). Currency can beexchanged at banks and bureaux de change, and ATMs are widelyavailable. Credit and debit cards are widely accepted.
Language:
English is the principal language, although a minority ofpeople speak Irish (Gaelic).
Electricity:
Electrical current is 230 volts, 50Hz. UK-stylethree-pin and round three-pin plugs are in use.
Entry Requirements:
US citizens must have a passport that is valid for the period ofintended stay in Ireland. No visa required.
British citizens must have a passport that is valid upon theirarrival in Ireland. Passport exemptions apply to holders of proofof nationality issued to nationals of Ireland and British subjects,for travel between Ireland and Great Britain and Northern Irelandonly. No visa is required for holders of British passports endorsedBritish Citizen, British National (Overseas), or British OverseasTerritories Citizen.
Canadian citizens must have a passport that is valid for theperiod of intended stay in Ireland. No visa is required.
Australian citizens must have a passport that is valid for theperiod of intended stay in Ireland. No visa is required.
South African citizens must have a passport that is valid forthe period of intended stay in Ireland. No visa is required.
US citizens must have a passport that is valid for the period ofintended stay in Ireland. No visa required.
New Zealand citizens must have a passport that is valid for theperiod of intended stay in Ireland. No visa is required.
Passport/Visa Note:Visa:
All foreign passengers to Ireland must be able to show proof ofsufficient funds to cover their stay in the country. Additionally,passengers should hold return/onward tickets, and the necessarytravel documentation for their next destination, as immigrationofficers might demand that they demonstrate proof of theirintention to leave Ireland. If the traveller's passport bears aBritish inadmissable stamp, unless the immigration officer isconvinced that they will not travel on to the United Kingdom, entrymay be refused to Ireland. Note that all visitors need to contactthe Garda National Immigration Bureau (GNIB), if their stay inIreland exceeds their visa-free period, or their stay is longerthan the period for which their visa is valid. NOTE: It is highlyrecommended that your passport has at least six months validityremaining after your intended date of departure from your traveldestination. Immigration officials often apply different rules tothose stated by travel agents and official sources.
Travel Health:
There are no special health requirements for visitors toIreland. Health insurance is advisable unless travellers arevisiting from the UK or other EU countries, most of which havereciprocal agreements with Ireland. A European Health InsuranceCard (EHIC) should be obtained before departing for Ireland.Medical facilities are good and medicines are widely available;payment for treatment is usually required in cash. If travellersrequire specific medication, it is always advised that they bringit with them. Travellers should make sure to carry all medicationsin their original containers, clearly labeled. They should alsohave a signed, dated letter from their doctor describing allmedical conditions and listing all prescribed medications,including generic names.
Tipping:
A 10 percent tip will be welcomed in restaurants and cafes, andoccasionally a service charge will be added to the bill. Tipping isnot usual in bars and pubs, or for other services.
Safety Information:
Most visitors to Ireland enjoy a fairly high level of personalsafety. Ireland has a very low level of violent crime, but there isa high incidence of petty theft in tourist areas and foreigners aretargeted by pick-pockets. Travellers should take sensibleprecautions against petty theft, including duplicating importantdocuments, carrying valuables in separate bags or pockets, andleaving valuables in hotel safes whenever possible. Terrorism is nomore a threat in Ireland than in other Western countries and safetyin the country has improved significantly with peace in NorthernIreland. Those travelling into Northern Ireland should note thatthe safety alerts for that country are completely seperate and canbe found in the United Kingdom travel guide.
Local Customs:
Smoking in pubs, cafes and restaurants is illegal. Visitorsshould refrain from forcing discussions of political and religiousdifferences, and show respect if the topics are brought up.
Business:
The Irish are very sociable and although the usual elements ofbusiness etiquette apply (punctuality, formal wear, a courteousmanner), expect good conversation and a rather relaxed air.Handshakes are customary on introduction, and take the lead fromthe host with regards to using first names or surnames. Businesshours are usually from 9am to 5.30pm Monday to Friday, with a lunchbreak from 1pm to 2pm.
Communications:
The international access code for Ireland is +353. City/areacodes are in use, e.g. 1 for Dublin. When making outgoing calls,dial 00 followed by the relevant country code (e.g. 0044 for theUnited Kingdom). Hotels, cafes and restaurants offering free wifiare widely available. As international roaming costs can be high,purchasing a local prepaid SIM card can be a cheaper option.
Duty Free:
Travellers over 17 years old arriving from non-EU countries donot have to pay duty on most products. Regulations allow 200cigarettes, 100 cigarillos, 50 cigars, 250g tobacco; one litre ofspirits with more than 22% alcohol volume, two litres of dessertwine, port of sherry with a maximum 22% alcohol content; and fourlitres of wine or 16 litres of beer. Other duty free productsinclude perfume up to 50g or 250ml eau de toilette; and other goodsfor personal consumption to the value of €430 per adult or €215 forchildren under 15 years.
All of these products are allowed on a fractional basis, so aproportional mix of each category is permitted. Prohibited itemsinclude meat and dairy products or raw vegetables.