Jalan Jaksa
Most South East Asian capitals have a backpacker area, and Jakarta's Jalan Jaksa district is grubbier than most. Plopped in an unremarkable part of downtown, it is thick with travel agencies, laundromats, currency exchange offices and guesthouses. A few bars and live music venues cater to the travel crowd. The cheapest guesthouses are bare to say the least, and it is perhaps worth spending the extra money on renting a nicer room. Jalan Jaksa is a good place to stay if you want to spend as little as possible on accommodation in Jakarta, but don't expect to get much real local flavour.
Jalan Jaksa is actually the name of a single street but a wider area around the road has started catering to budget travellers. The street was once frequented by students studying at the Jakarta Law Academy, which is perhaps the origin of the area's youthful vibe. It is friendly and cheap, good for those travellers who want to save their money for attractions and activities and don't mind simple sleeping arrangements.
Jalan Jaksa hosts a street festival annually to encourage tourism and showcase local traditions, cuisine, dancing and music.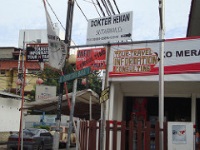 Jalan Jaksa VasenkaPhotography
Indonesia Miniature Park/Taman Mini
Indonesia is a vast place and it would take many holidays to explore the whole archipelago. A trip around Indonesia Miniature Park is useful and interesting because it offers samples of the different cultures and architecture to be found on some of the islands, including replicas of famous landmarks. Contrary to its name, the park itself is not small and covers 100 hectares of land. It includes examples of traditional buildings and cultural artefacts from all of the 27 provinces that make up Indonesia.
The park also regularly hosts food sampling, dancing and other cultural performances from each province. For those who like even more variety the park has a great orchid garden, fauna museum, and bird aviary - useful for those interested in seeing some of the wildlife found around the archipelago. Visitors can get a bird's eye view of the exhibits on the cable car, and there is even an IMAX movie theatre in the grounds.
Attached to Taman Mini is the Museum Indonesia which exhibits both historic and contemporary art collections. Visiting the museum and the park together gives tourists a great overview of the country and it isn't a bad place to start your Indonesian travels if you have some time to spare in Jakarta.
Address:
Ceger, Cipayung, East Jakarta City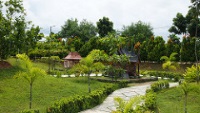 Taman Mini Tun Tun Win
National Monument of Indonesia
Visitors will inevitably be pulled to the National Monument (MONAS) to inspect the enormous obelisk that can be seen from much of the city. The first president, Sukarno, began to build the structure as a symbol of nationalism complete with an impressive weight of gold shaped into the tip's flames. For visitors it serves as a great landmark in an otherwise confusing city centre. Elevator rides to the top are available, providing a bird's eye view of the city. The monument and surrounding park are open to the public and there is a museum to visit which documents the Indonesian fight for freedom and independence; there is also a hall of mediation at the monument's base.
People often gather in the monument grounds at night and it is a popular meeting place for locals and tourists. The grounds are big and there is plenty of room for picnics and social gatherings - on weekends the park can get quite full. Although it is the city's main landmark, and a pleasant place for a stroll, the National Monument has little to offer except the views from the top and the small museum. However, it is still true that a visit to Jakarta would seem incomplete without seeing MONAS, and as it is situated near many other attractions you are unlikely to get through the city without stumbling across it.
Address:
Lapangan Merdeka, Monas, Gambir

National Monument of Indonesia Midori
Kota
Kota, also called Old Batavia or Old Town Jakarta, is the only surviving piece of the Dutch colonial district. The Dutch had their Indonesian heyday in the 16th century when Jakarta was at the centre of Asia's trade with the West. Today, many of the area's colonial buildings are falling into disrepair but the central cobblestone square, Taman Fatahillah, still invites visitors to imagine life in the 16th century, when there was little outside the colonial fortifications of Kota save for orchards and rice fields. The area is open to roam about in and there is no admission charge or distinct boundary to delineate the old district. Although information on what you are seeing is non-existent and landmark attractions are lacking, exploring Kota still allows for a rare glimpse into the city's history which has been mostly swallowed up by new developments.
A few somewhat dilapidated but still interesting landmarks in the area include the Luar Batang Mosque, the Maritime Museum, the Jakarta History Museum (housed in the former City Hall building), the Jin De Yuan Temple, and Sunda Kelapa Harbour. The area is set pleasantly on the waterfront and gives a quiet and cool reprieve from the bustle of Jakarta's inner city. There are plans to rejuvenate this historic area and some of the roads around the square have been pedestrianised as a first step in this process.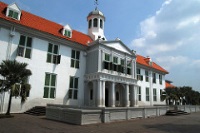 Fatahillah Square Hans Hansson
The climate in Jakarta is a tropical monsoon climate, which is hot and humid with year-round rainfall. There is little fluctuation in temperature throughout the year: in summer (June to September) temperatures average around 82°F (28°C), while winter (December to February) has an average of 80°F (26°C). The wet season officially runs from November to June, while July to September is the driest and is considered the best time to visit Jakarta.
Soekarno-Hatta Jakarta International Airport
Location:
The airport is situated 12 miles (20km) northwest of Jakarta.
Time:
Local time is GMT +7.
Transfer Between Terminals:
A free bus connects the terminals.
Getting to the city:
Shuttle buses run hourly to the city centre and various other destinations in and around Jakarta until about 11pm. The bus that terminates at Gambir Station passes through the city centre. Taxis are metered and will be more expensive as a single traveller, but about the same price if you are sharing with three or four people; note that road tolls may be added to the fare.
Car Rental:
Avis, Hertz and Europcar are represented at the airport, along with a number of local car rental companies.
Airport Taxis:
Official taxi booths are located in the arrival terminal, where a host of unofficial taxi drivers also vie for business with varying prices. Depending on traffic, the 12-mile (20km) trip to the city centre will take between 30 and 45 minutes, but can be as long as an hour and a half if traffic is bad.
Fascilities:
Facilities are limited but the airport is clean and the staff are friendly and efficient. There are shops, banks, bars and restaurants, and tourist information and hotel reservations at the airport. There are facilities for disabled travellers; passengers with special needs are advised to inform their airline in advance.
Parking
There are more than 2,000 parking bays at the airport, all within easy access of the terminals. Short and long stays available.
Travel across Jakarta often requires a combination of many forms of transport. Commonly used is the Transjakarta, a modern bus system that is allocated special street lanes to circumnavigate the often hectic traffic in the city centre. These buses are cheap and plentiful although going long distances can become confusing when transferring. Other bus lines are more crowded and less safe and do not run on a fixed schedule.
Taxis are abundant but can be expensive for longer rides. Blue Bird taxis are the most trusted, although there are many impostors with questionable reputations. Many narrow street lanes are better suited for ojeks, also known as motorbike taxis. Also popular for shorter trips are three-wheeled vehicles known as bajaj. Be sure to bargain with both ojek and bajaj drivers before accepting rides.
Jakarta is a difficult city to navigate through and unfortunately, as it lacks a coherent city centre, attractions are spread quite far apart. For this reason walking is not really an option when sightseeing. Crime is also a problem and if you are walking from place to place you should be conscious of your possessions and ensure that they are difficult to access for pickpockets. It is best to leave valuables in hotel safes when possible.
Jakarta can be a challenge for travellers as it is sprawling, dirty and confusing, but it is also interesting: a collision of people and cultures and religions which may be a bit overwhelming but can also be entertaining. The city's attractions, for the most part, are sprawled across varied regions making it difficult to know where to start as a tourist seeking worthwhile things to see and do.
A great starting point, particularly if you've just landed in Indonesia, is Indonesia Miniature Park (Taman Mini), which showcases the cultures and some of the treasures of the different islands and regions in the archipelago, giving visitors a good overview of the whole country. Here you can find recreations of famous temples and statues and examples of the architectural styles of different Indonesian cultures. A good way to get a sense of the layout of Jakarta is to pay a visit to the National Monument of Indonesia, the city's landmark obelisk, which you can ascend for impressive views, and which houses a small museum showcasing the fight for Indonesian independence. This is also one of Jakarta's main meeting points for locals and is a lovely spot to indulge in some people watching.
Those interested in the colonial history of Jakarta should stroll around Old Batavia, the rundown waterfront area surrounding Taman Fatahillah Square, which was once the centre of Dutch rule in Indonesia. Although not well maintained this old district still boasts some 16th-century buildings and other unexpected relics. Other popular attractions in Jakarta include the Istiqlal Mosque, the largest mosque in Indonesia, and the Museum Bank, a beautiful old building that once housed one of Indonesia's first banks and is now an intriguing banking museum.
If you are travelling with kids in Jakarta be sure to check out Kidzania theme park which is one of the city's most celebrated fun zones.