Tanah Lot
Meaning 'land in the middle of the sea', Tanah Lot is an exquisite sea temple built atop a rock formation off the island of Bali. A very popular tourist spot and a great location for photographs, Tanah Lot sits on a rocky island, in waters occupied by poisonous sea snakes which are believed to guard the temple from evil spirits and intruders. If you think its sounds like a fairytale you're not wrong; the place has a mystical quality. Despite the alleged presence of the snakes it is possible - and fun - to walk or wade to the temple cave at low tide. The temple was built by one of the last priests to arrive in Bali from Java in the 16th century and unfortunately the main temple can't be entered.
Sunrise and sunset are the best times to visit, although sunset is the most popular time and the crowds can somewhat ruin the atmosphere. There are a number of vantage points from which you can get lovely views of the temple, so its best to find one of them and settle down to admire the views and take some photographs. The complex is very touristy and commercial, with lots of shops and stalls selling souvenirs, snacks and the like, but it is still a remarkable attraction to visit and the coastline is very beautiful in itself.
Address:
Located at Beraban village, Kediri district, Tabanan Regency on the South Coast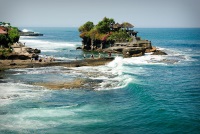 Tanah Lot Jos Dielis
Ubud
Set in the hills north of Denpasar, Ubud is the cultural centre of Bali. The major attractions of the town and its surrounding villages are the art museums and galleries, notably the Neka Museum, containing a huge collection of traditional and modern Balinese paintings. An enormous variety of Balinese art and crafts line the streets and crowd the marketplace of Ubud. Frequent performances of traditional dance and music, and restaurants offering some of the best food on the island, compel visitors to stay much longer than intended.
In response to the demand from visitors all sorts of interesting attractions and activities have sprung up and you can now do things like attend silver smithing classes, learn yoga, or watch locals perform the Kekac Fire and Trance Dance. Ubud is also close to several sites of interest, including the 'Mother Temple' of Besakih, majestically situated high on the slopes of the Agung Volcano, and the popular Monkey Forest, where you can feed the many macaques in the temple complex. Hiking in the scenic Batur region with its volcano and lake are popular excursions. Many adventure trips can be organised from Ubud including canyoning, hiking, bird watching tours and the like.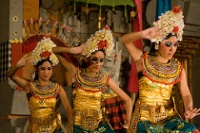 Traditional dancers performing in Ubud Vincent
Gunung Batur Volcano
The still-active Gunung Batur volcano is known as Bali's second holiest mountain and symbolises the female element of the island. The male element is symbolized in Gunung Agung, a neighbouring smaller volcano. The walk up Mount Batur is not easy, but the views are spectacular and if you're lucky you might even spot a few monkeys along the way. Gunung Batur rises from a volcanic crater which also contains a lake and the view of this otherworldly landscape from the crater rim is spectacular. Look out for the remanants of black lava flows on the western side of the mountain from this vantage. There is also a great lookout point for those who'd rather hire a car and drive to the old crater rim overlooking Lake Batur.
The sunrise walks are recommended, and remain the best way to avoid hiking during Bali's infamous year-round heat. Unfortunately, those visiting during the rainy season may be unlucky with the views as visibility is often poor. There is a guide hut situated at the bottom of the path and passing by usually attracts a mob of eager locals who insist on your taking one of them along for safety. If you want a guide, then this arrangement is convenient, however the hut can be avoided by taking alternative paths. It is safe to ascend on your own, but caution is always advised for less experienced hikers.
Mount Batur Jessy Eykendorp
Pura Besakih
Locally known as the Mother Temple of Bali, Pura Besakih is located on the slopes of Mount Agung and is the biggest and holiest of all Balinese temples. Dating back to the 14th century, the three main temples are dedicated to Shiva, Brahma and Wisnu, and another 18 separate sanctuaries belonging to different regencies and caste groups surround these. The complex has been built over centuries and is very impressive.
However, the magnificence of the experience can be somewhat blighted by the insistent local touts at the site. Apart from paying the official entrance fee, visitors are coerced into paying 'donations' to the temple and are forced into hiring tour guides. For this reason you may be advised to skip Pura Besakih in favour of some of the less famous and less crowded temples. Being aware of some of the common tourist scams, however, does makes the visit easier: it is possible to explore without a guide but you will be endlessly bothered, so it may be preferable to be with a local. If you do visit Pura Besakih, or any other temple for that matter, it is customary to wear a sarong out of respect for local traditions. Despite the hassle of dealing with touts, this is a beautiful and interesting attraction and many will find it rewarding regardless.
Address:
Desa Besakih, Kec. Rendang, Karangasem, Besakih, Karangasem, Kabupaten Karangasem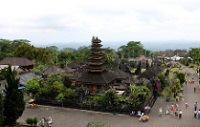 Pura Besakih Benjamin
Pura Kehen
One of the most valued temples in Bali, Pura Kehen is a garden temple located in the town of Bangli in East Bali and can be traced back to the 11th century. Founded by Sri Brahma Kemuti Ketu, Pura Kehen is the second largest temple on Bali and the most sacred in the region. Many visitors are mesmerized by the temple's grandeur and the steep steps leading dramatically up to the gateway. Like the Mother Temple of Pura Besakih, Pura Kehen was built on the slope of a hill and has eight terraces. The temple complex is surrounded by palm tree plantations which adds to the visitor's impression of being a jungle explorer discovering something ancient and profound. The fire god, Brahmen, protects the temple and it is named for him - kehen means hearth or fireplace. The 38 steps lead to an ornately carved entrance and through this doorway there are three courtyards. There is a lot to see but be sure not to miss the remarkable stone lotus throne dedicated to Brahma, Shiva and Vishnu in the third, main courtyard.
You will need to dress appropriately to visit the temple which means that your legs must be covered and you must have a temple-scarf (sarong) around your waist. You can rent sarongs at the temple.
Address:
Desa Cempaga, Cempaga, Kec. Bangli, Kabupaten Bangli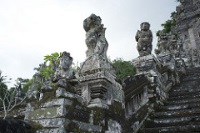 Pura Kehen Aleksandr Zykov
Batubulan
The small village of Batubulan is marked by stone figures of gods and demons on the side of the road. Known mostly for its stone carvings, Batubulan is a popular centre for cultural tourism and attracts travellers looking for a unique souvenir to take home with them. Visitors to the village can even enjoy visiting the workshops and watching the artists at work. Batubulan actually means 'moonstone' and stone carving has been the main industry of the village for a long time. Everybody seems to be an expert in the art and children learn how to coax statues out of rock at a young age. The village does also showcase other crafts, like woodwork and textiles, and is known for its antiques but the stone work dominates.
The temples in the area reflect the traditional talent of the local inhabitants and some remarkable stone carvings are on display at temples such as Pura Puseh. Another of the village's specialities is the performance of the blessing dance of Barong, which is performed on a daily basis at five different locations or stages: the Puseh Temple, Tegal Tamu, Denjalan, Sahadewa and Sila Budaya. As the village has become such an artistic hub, other villages nearby have perfected their own crafts, and the whole region is slowly transforming in to a vast open-air market.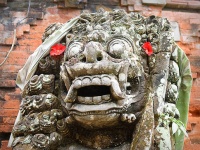 Stone Carving Jos Dielis
Elephant Cave
Built in the 9th century, Goa Gajah, or Elephant Cave, is located near Ubud and originally served as a sanctuary; it is now a UNESCO World Heritage Site. With a wonderfully carved entrance featuring menacing creatures and demons, children will find a visit to this historic cave an unforgettable experience (as will adults!). The main figure was once thought to be an elephant, hence the name, and in the 1950s a bathing pool was excavated, thought to have been built to ward off evil spirits. Visitors can wash their hands and feet in the fountains and there are usually locals on hand selling prayer offerings and the like - sometimes monks will offer blessings for travellers. Those who would like a tour guide will find that there are always locals offering this service and the tours can be very informative. The entrance is the most impressive feature of the cave and the interior will not take long to explore. There are some lovely gardens and trees surrounding the cave though, and a few stone carvings, so it is worth having a stroll around.
All visitors will require a sarong or cover-up to enter the temple and there are many shops selling them on the way but they will lend you one for free (or a very small price) at the entrance. In the early morning the temple grounds are almost deserted and this is a magical time to explore if you prefer to avoid crowds.
Address:
Bedulu Village, Jalan Raya Goa Gajah, Blahbatuh, Gianyar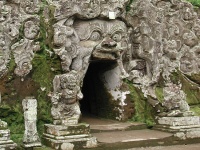 Elephant Cave entrance Jack Merridew
Bali Bird Park
The Bali Bird Park is home to a spectacular collection of more than 1,000 birds of about 250 different species. Kids will love spotting their favourite birds and learning about the exotic species they have never encountered before. Birds such as Macaws, peacocks, parrots, white herons and many more can be seen. The park is divided into regions that recreate natural habitats for the birds, complete with indigenous plant life and other artefacts from the region in question. Regions represented in the park include Bali, Papua, Java, Sumatra, South America and South Africa.
Visitors stroll through giant aviaries on winding pathways and bridges under a jungle canopy, and there are several special vantage points for spotting birds. In the Guyu-Guyu Corner you can experience the creatures in close contact, with birds perching comfortably on your shoulders or in your hands. Visitors can also participate in park feeding times (these times are subject to change - check the website or contact the park for details). A Free Flight Bird Show showcases various birds in flight. The bird park also features a restaurant, café and gift shop for visitors to get refreshments and take home a souvenir. The experience should delight the whole family.
Address:
Jl. Serma Cok Ngurah Gambir, Singapadu, Batubulan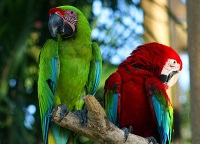 Macaws Andrea Lawardi
Sacred Monkey Forest of Padangtegal
Featuring more than 180 species of trees, many of which are considered holy and used in various Balinese spiritual practices, the Monkey Forest in Ubud is a fantastic place for kids and adults to spend the day exploring. The forest is seen as a marriage of nature with human endeavour and is considered a sacred place - in Balinese culture it is not just the temples which are considered holy but the surrounding gardens and forests as well. Traditionally monkeys are often seen as guardians of temples and are thought to ward off evil spirits. Children can see the Balinese long-tailed Macaques up close as they scramble through the forest of banyan trees and lush tropical vegetation. There are about 700 macaques in the forest which move in four distinct troops. Evidence suggests that although these monkeys can live in developed areas like villages, their survival ultimately depends on the conservation of their natural forest habitat because people tend to eradicate them when they interfere with farmlands, crops and food.
There are also a few temples to explore while visiting the forest: the Bathing Temple seems like part of its natural environment and feels magical. The Cremation Temple is interesting and a good place to learn about Balinese Hindu burial traditions.
Address:
Jalan Monkey Forest, Padangtegal, Ubud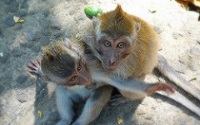 Balinese long-tailed macaques Farley Roland Endeman
Sidemen Valley
A typical Balinese village tucked away in a lush green valley, Sidemen is a popular excursion on Bali for tourists looking for peace and quiet. Terraced rice paddies lie under the shadow of a volcano, which offers good opportunities for hiking. Other active pursuits in the valley include cycling and whitewater rafting.
The village of Sidemen is known for its skilful weavers, who make the intricate silver-and-gold songket fabric used in traditional weddings. The Pelangi Workshop allows visitors to watch the weaving process, and there are several shops in town to buy songket fabric along with other souvenirs.
One of the most pleasant activities for those who want a relaxed break is strolling through the rice paddies and exploring the enchanting scenery of the valley. Most of the hotels have basic maps to give visitors and there are some beautiful little temples hidden in the countryside. Getting lost round here is a joy. There are some hotels and restaurants to cater to tourists but there are no real banking facilities and only limited internet access. Sidemen is a truly wonderful place to visit if you want to experience a quiet, traditional village, and it is worth spending at least one night to experience the surroundings. Many choose to spend more than that.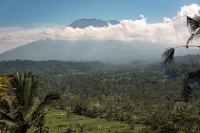 Sidemen Valley Keith Yahl
Bali is the ideal holiday destination for children. Beyond the sun-drenched beaches, there are a multitude of attractions and activities for kids of all ages to enjoy.
Tourists can take the family to the Bali Butterfly Park in Tabanan, explore the Ubud Monkey Forest, or enjoy an exciting encounter with some of Bali's wildlife by taking the kids on an elephant safari to explore the Bali Elephant Safari Park of Desa Taro, north of Ubud. The wonderful forests and parks also provide plenty of open space for children to let off some steam and families to relax together.
With thrilling rides, a spa, pool bar and even a food hall, the water park called Waterbom Bali is the perfect place to take the family for a day to cool off from the Balinese heat. Older kids will love rides such as the race track, the Superbowl, the Macaroni, Jungle Ride and even the Smashdown, while the younger ones will enjoy paddling round the Kiddy Park. For a seriously lazy day, families can pack the bucket and spade and head to any one of Bali's beaches to relax in the sunshine.
On days when outdoor activities are not an option, kids will love a shadow puppet play - an unforgettable and unique experience.
Lying just south of the equator, Bali has a tropical monsoon climate with two distinct seasons: wet (November to March) and dry (April to October). Bali, and in fact the whole Indonesian archipelago, experiences only slight temperature variations from season to season due to the warm ocean currents that keep heat fairly constant on land. There is also very little variation in daylight hours from season to season.
The dry season has hotter temperatures, but the humidity levels are much higher during the rainy season. The height of the summer season also brings cool breezes to temper the hot weather. Temperatures are cooler in the mountainous areas and it is less humid. The average annual temperature is about 86°F (30°C). Although it is generally better to travel to Indonesia in the dry season - between April and October - Bali is one of the best islands to visit if you are travelling in the rainy monsoon season as it experiences fewer weather-related travel disruptions and less flooding than many other islands. Even when it is rainy there will often be sunshine to enjoy on a daily basis. May, June and July are generally considered the best months to visit Bali.
Ngurah Rai Airport
Location:
The airport is situated eight miles (13km) southwest of Denpasar and one and a half miles (2.5km) south of Kuta.
Transfer Between Terminals:
The terminals are within easy walking distance of each other.
Getting to the city:
Buses leave regularly for Denpasar city centre and the main holiday resorts, including Kuta. Metered taxis are available and passengers should insist that the driver uses a meter, even if he claims it is broken.
Car Rental:
Avis, Budget, Europcar, Hertz and Sixt operate from the airport.
Airport Taxis:
The official taxi counter is located outside the Arrivals hall. Fares are paid in advance, then a receipt is given to the driver.
Fascilities:
There are shops, restaurants, banks and a bureau de change at the airport. Other facilities include a post office, pharmacy, duty-free, tourist information and hotel reservation kiosks. The airport has facilities for disabled travellers; those with special needs are advised to inform their airline in advance.
Parking
Short and long-term parking is available in a parking lot in front of the terminal building.
The nightlife in Bali is mostly centred around the busy resort town of Kuta, where everything from karaoke bars and pubs, to discos and clubs can be found bustling until the early hours. Enjoy sundowners at a rustic beach bar followed by dinner and a pub crawl, until the bass lines thump and the party animals start crawling out of the woodwork around midnight. Hot nightlife spots include the main drag of Kuta and the Legian Beach area, which is the place for rockers. There are events like full-moon and half-moon parties taking place frequently, especially on Legian Beach - just look out for the flyers. Seminyak also pulsates after dark and countless clubs, bars and sexy dancers can be found.
Lovina, Nusa Dua, Ubud and Sanur offer a more low-key variety of night-time entertainment, which is mostly confined to restaurants and hotels. However, there is always something happening to keep the young at heart entertained. For a vibe that is halfway between the sleepy streets of Ubud and the heaving clubs of Kuta, head to Canggu. With plenty of hip bars and beach shacks to drink, chill and kick back at, revellers will be up until sunrise, but perhaps without the pulsing headache that the clubs down the coast promise.
Many travellers like to stop at the Bali bombing memorial site outside Paddy's Pub, which was destroyed in the 2002 bombings, to pay their respects to the victims. Paddy's: Reloaded was reopened further down along Legian Street and sees many travellers from across the globe coming together for a toast.
Bali can be a challenge to navigate, as the aging infrastructure struggles to support rapid development. Road rules are practically non-existent, and traffic can be chaotic with frequent jams in Denpasar and other major centres. Renting a motorbike is an adventurous way to see the island, although only recommended for very experienced drivers. Cars are available for hire with a driver, which can be the most stress-free way to get around.
There is limited bus service in Bali, and this can be an inexpensive way to get around for travellers willing to be very patient. Shared minivans (bemo's) are available, however in Denpasar and southern Bali metered taxis are much more common.
Sightseeing in Bali is usually a relaxing undertaking, with many of the island's best attractions being conveniently centred around its breathtaking beaches. A step away from these sugary white sands and warm waters lands tourists in Bali's verdant, tropical interior; enough to confirm that there is much more to this popular island than just its glorious beaches.
Kuta beach is without a doubt beach to visit for sun and surf, but there are plenty of others worth exploring, such as Legian and Sanur. Seminyak beach is the place for art lovers to peruse the tiny shopping galleries. Nature lovers will have a great time exploring Bali's waterfalls, such as Gitgit and Blahmantung Falls, while the very fit will love a sunrise climb to the top of Mount Batur, or one of the other volcanoes that form the island's peaks. After a long day of exploring, the hot springs of Banjar will rejuvenate tired muscles. Tourists can see Bali's wildlife up close at the Sangeh Monkey Forest, or the Bird Park in Singapadusuch. For something a little more exciting, it is possible to book an elephant safari.
Aside from the natural wonders available, Bali has many cultural gems as well. Every village is required to maintain at least three Hindu temples, including the largest on the island, the Nine Directional Temples. Pura Luhur Uluwatu, perched on the cliffs above Uluwatu, is regarded as the most spectacular temple on the island. There is also a wealth of local art, best showcased in Ubud's museums.