Anjuna Flea Market
Once just a backpacker and hippie hangout selling kaftans and chillums, the Anjuna Flea Market is now more commercial, with a broad range of high-quality goods on sale. Traders from all over India come to sell their wares: Lamani women from Karnataka, dressed in their traditional garb, sell colourful, elaborately woven clothes; Kashmiri stalls display silver and papier-mâché boxes; and Tibetans preside over orderly rows of sundry Himalayan curios. Visitors are expected to bargain - often the starting price will be more than double what something is worth and rule of thumb is to try and haggle down to 50 percent of the original asking price - but the stall owners tend to be friendly and less pushy than in some other markets. Even if not planning to haggle for anything, the market is a great place to watch the world go by and mingle with bands of musicians, snake charmers, beggars and the inevitable juggling hippies. The place is colourful and vibrant, and conveniently located right on the beautiful coastline. It is a good idea to go early to avoid the crowds and midday heat. The market takes place every Wednesday.
Address:
Anjuna, beach town in north Goa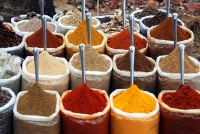 Spices at the Anjuna Flea Market sara marlowe
Panaji
For most visitors to India, Panaji is simply a busy bus terminal, offering connections between India's southern cities and the beautiful beaches of Goa. However, this most sedate of state capitals has plenty to offer tourists, and should rightly have a day or two devoted to it on any Indian travel itinerary. Situated on the southern banks of the Mandovi River, Panaji only became the capital of Goa in 1843, after the harbour at Old Goa silted up and disease had driven its inhabitants out. The best way to explore the town is on foot, wandering around the old cobbled alleyways, colonial villas, red-roofed houses, taverns and cafes, all of which has the look and feel of a small Portuguese town. There are some wonderful old government buildings, dating back to before colonisation, and some elegant Catholic churches. Most memorable is the Church of the Immaculate Conception: built in 1541, it's topped with a huge bell that sits between two delicate Baroque-style towers, and has been declared a UNESCO World Heritage Site. Panaji is a delightful place to explore and has an extremely laid-back atmosphere and small town feel unusual for a state capital.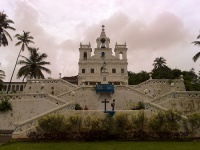 Church of the Immaculate Conception Olof Werngren
Old Goa
Old Goa was the state's capital city until 1843, when it was moved down river to Panaji. Once a byword for splendour, with a population of several hundred thousand, Old Goa was virtually abandoned from the 17th century, as the river silted up and a series of malaria and cholera epidemics drove out the inhabitants.
It takes some imagination to picture the once-great capital as it used to be. The maze of twisting streets, piazzas and grand Portuguese villas have long gone: all that remains are a score of extraordinarily grandiose churches and convents. Old Goa has been declared a UNESCO World Heritage Site, and today is the state's main cultural attraction. Tourists take a break from the beach resorts to come and admire the massive facades and beautiful interiors of the city's well-preserved churches.
The Tuscan St Catherine's Cathedral is the largest church in India and took eighty years to build, finally being consecrated in 1640. The scale and detail of the Corinthian-style interior is overwhelming: huge pillars divide the central nave from the side aisles, and no less than fifteen altars are arranged around the walls. An altar to St Anne treasures the relics of the Blessed Martyrs of Cuncolim, whose failed mission to convert the Moghul emperor Akbar culminated in their murder; while a chapel behind a highly detailed screen holds the Miraculous Cross, which stood in a Goan village until a vision of Christ appeared on it. Reported to heal the sick, it is now kept in a box; a small opening on the side allows devotees to touch it.
Other sights worth seeing include the Arch of the Viceroys, built in 1597 to commemorate Vasco da Gama's arrival in India, and the distinctive, domed Church of St Cajetan (1651), modelled on St Peter's in Rome. Old Goa is a major site for Christian pilgrims from all over India who come to visit the tomb of St Francis Xavier, the renowned 16th-century missionary whose remains are enshrined in the Basilica of Bom Jesus.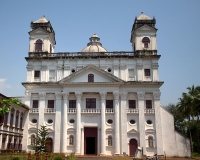 Chapel of St. Cajetan Hemant192
Goa Beaches
Goa has some amazing beaches, and draws a steady stream of local and international tourists.
In the north, Anjuna Beach once played host to hordes of hippies, but is now home to a number of trendy beach bars as well as the famous Wednesday Market. The new hippie haven is Arambol beach, also good for dolphin-viewing and paragliding. With its white-sand beaches, Vagator is gaining in popularity. However, the sea is not safe for swimming due to the rip tides. The busiest, most commercial beach is Calangutell, while neighbouring Baga Beach has great nightlife spots.
In the south, Agonda is a quiet stretch of beach with a few souvenir stalls and restaurants, while Benaulim Beach, south of Colva, is known for its fishing and laid-back atmosphere. In recent years, Benaulim has become popular with tourists wanting to get away from Goa's party reputation and just lay back, jog along the long stretch of beach and indulge in the city's fresh and healthy culinary fare. The shady palm trees and soft sands of Palolem Beach, also known as Paradise Beach, are backpacker territory. However, it's also a great place for a dolphin cruise or picturesque sundowner at one of the many beach bars lining the water. Nearby Patnem has some lovely beach huts available to rent.
There are a couple of great beaches to take the kids to in Goa. The fishing village of Benaulim, near Colva, has a few quiet spots with soft sand and beautiful clean water. A firm family favourite is the Mandrem beach area, which offers shallow waters for kids to play in, and beach beds for parents to relax on. Between the beach at Mandrem and the dunes, there's a little wooden bridge crossing a river that kids love to play on.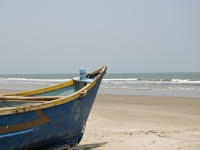 Mandrem Beach Paul Mannix
Dudhsagar Waterfall
A great outing in Goa is a trip to the Dudhsagar Waterfall, which is one of the most popular natural attractions in the area. The falls are located in a tropical jungle near the Goa-Karnataka border, and are surrounded by a network of gently flowing streams and pools. Swimming, hiking and picnicking are popular pastimes at the falls and the deep pool beneath the falls is a favourite nature spot. The waterfalls are among the 100 highest in the world, and visitors who take the difficult climb to the top will be rewarded with breathtaking views of the Western Ghats' wooded mountains. There are usually monkeys to be found in the jungle and around the falls and they tend to be very tame because tourists often feed them. Feeding the monkeys is prohibited because they quickly become a nuisance when they associate people with easy food. They are fun to watch and interact with but be cautious with your food and possessions as they may try to take something. The most common way to get to the falls is to take a fun 30-minute Jeep ride from the entrance to the jungle, but some intrepid travellers choose to walk along the train rails from Castle Rock Station. The hike is beautiful but it is over eight miles (14km) and should only be attempted by the fit.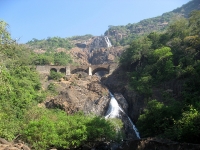 Dudhsagar Waterfall wonker
Dr Salim Ali Bird Sanctuary
The Dr Salim Ali Bird Sanctuary is home to around 400 species of birds, both local and migratory. Here visitors can expect to see kingfishers, pintails, coots and egrets, as well as a few crocodiles, jackals and foxes inhabiting the mangroves. Although this is one of the smallest bird sanctuaries in Goa, it is among the most famous in India. It is important to go at the right time of year: the best time to see the migratory birds is after the monsoon season, from October to March; and bird and animal sightings are likely to be better early in the morning. The sanctuary is not a zoo and the animals are in no way enclosed so experiences vary hugely with regard to how much people see. The mangroves themselves are interesting and beautiful and for many nature lovers a boat ride through this unusual landscape is reason enough to visit the sanctuary. For those who prefer to explore on foot, guided walks through the mangroves are also available. Bear in mind that exploring a swamp invariably means there will be mosquitoes - insect repellent and long-sleeved clothing are in order. Photography is welcomed but there is a small extra fee for cameras.
Address:
Chorao Island, on the Mandovi River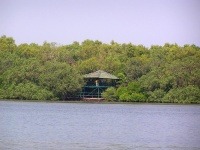 Dr Salim Ali Bird Sanctuary Elroy Serrao
Anjuna
Famed as a hippie hangout since the 70s, the main source of Anjuna's enduring popularity as a holiday destination is its superb beach. Fringed by palm trees, the curve of soft white sand conforms more closely to the archetypal vision of paradise than any other beach on the north coast. The quieter southern end is protected by rocky outcrops, while to the north the beach widens and stretches for almost a mile past groups of bars, cafés and handicraft stalls. Revellers from the UK and all over India come to Anjuna on holiday, lured by the club scene and the promise of big beach parties (particularly over Christmas and New Year). Outside this peak season the resort normalises to a simple, relaxed atmosphere; except on Wednesdays, when locals and tourists flock from all around to shop at the famous Flea Market and drink sundowners at one of the many restaurants and bars that stretch along the beach. The best place to spend a night out in Anjuna is the same place visitors would probably have spent the day...the beach. Stopping in at any of the beach-front bars and restaurants for a cold beer can lead to a night of fun, with the bar owners dispensing great advice about the latest impromptu party.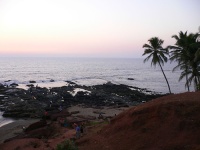 Anjuna Beach Jo N
Baga Beach
The Baga Beach holiday resort is a few miles south of Anjuna, and is basically an extension of Calangute. Lying in the lee of a rocky, wooded headland, the only difference between this far northern end of the beach and its more congested centre is that the scenery here is marginally more varied and picturesque, and the beach less crowded. It is a good swimming beach but there are no promising breaks for surfers. However, there are lots of other watersports on offer. Hawkers can be an irritation but no more than on most other popular stretches of sand in Goa; a firm 'no' usually does the trick.
Baga Beach has the best range of restaurants and liveliest nightlife in the area, with a number of popular restaurants, beach bars and clubs to choose from.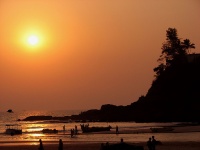 Baga Beach Extempore
Calangute Beach
Once a peaceful fishing village - and then a haven for hedonistic hippies - Calangute is now Goa's busiest and most commercialised holiday resort, a 45-minute bus ride north of the capital, Panaji. The road from the town to the beach is lined with Kashmiri-run handicraft boutiques and Tibetan stalls selling Himalayan curios and jewellery. The quality of the goods - mainly Rajasthani, Gujarati and Karnatakan textiles - is generally high, but haggle hard and don't be afraid to walk away (the same stuff will crop up again and again). The Calangute beach is nothing special, but is more than large enough to accommodate the huge numbers of holiday visitors. To escape the hawkers, visitors should head fifteen minutes or so south of the main beachfront area, towards the rows of old wooden boats moored below the dunes. There, teams of villagers haul in their nets at high tide, and fishermen can be seen fixing their tack under bamboo shacks.
Calangute's bars and restaurants are mainly grouped around the entrance to the beach, and along Baga Road. As with most Goan resorts, the emphasis is firmly on seafood, though many places also offer vegetarian dishes, and western breakfasts feature prominently. Thanks to repeated crackdowns by the Goan police on parties and loud music, Calangute's nightlife is surprisingly tame, with most bars closing by 10pm, though there are some exceptions.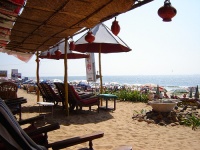 Calangute Beach Os Rupias
Colva
Colva is the oldest and most heavily-developed South Goan holiday resort. The town itself is dotted with colonial-style villas and ramshackle fishing huts, but the beachfront is crowded and blighted with unimaginative concrete hotels, snack bars and souvenir stalls. Indian tourists and local children mill around this central area and foreigners are pestered by traders and beggars. However, it is easy to steer clear of this central area: within a few minutes' stroll from here the beach is spotless and relatively quiet. Benaulim is only a 30-minute walk to the south, still on Colva beach, and attracts a more upmarket clientele, including British and Indian visitors on holiday. There are many luxury resorts along the coastal stretch, and brightly-painted wooden fishing boats litter the beach. The hawkers and touts here are persistent, but in a good-humoured rather than aggressive way. To escape completely, visitors can hire a bicycle and ride further south along Colva beach, beyond Taj Exotica, which stretches for miles with the only possible interruption likely to be a stray cow wandering along the sand.
Restaurants line the beachfront at both Colva and Benaulim, and in general the food is of an excellent standard, and the atmosphere is much better than at the hotel restaurants. For the freshest fish, aim for the more popular restaurants.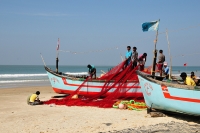 Fishermen on Colva Beach Valeria Bolotova
Palolem
For years Palolem remained a secret holiday getaway to all but the most independent traveller. Situated towards the southern tip of Goa, twenty miles south of Margao, it has now been discovered - but thankfully, due to strict urban planning restraints, tourism is kept in check. Palolem's crescent-shaped bay is lined with a beautiful white sand beach and backed with groves of coconut palms. Either side of the bay is a rocky headland covered in thick black forest, and offshore there is a tiny island whose only permanent inhabitants are a colony of black-faced langur monkeys. Although there aren't really any watersports facilities on the beach - the vibe is more relaxed than active - visitors can take boat rides out into the bay to see the dolphins and maybe even swim with them. The beach is also lined with a selection of beach shacks and bar-cum-restaurants serving up the daily catch and lots of other kinds of meals and snacks. During December and January the beach swells with day-trippers, who come to escape the more commercial resorts. However, outside this peak season, Palolem returns to a breezy, sedate pace, and one of the reasons it is so special is because it is generally less crowded and much less commercial than most beaches in Goa.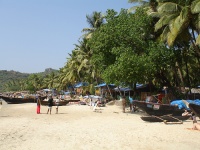 Palolem Mikhail Esteves
Goa has a tropical climate, with hot, humid weather for most of the year. In summer the temperatures can reach as high as 91°F (33°C) and there are monsoon rains from June to September. Goa has a short winter, lasting only from December to February, with temperatures averaging around 77°F (25°C).
The best time to visit Goa is during the cooler months between November and March, when the weather is warm, there is no rain, and the seas are calm and clear. The most popular time to visit Goa is over December and January, partly because the weather is ideal at this time, but also because Goa is renowned for its Christmas and New Year's celebrations. October, at the very start of the tourist season, is a good month to visit in if you want to avoid the worst of the crowds, but, although the beaches will be lovely and empty, many facilities will be closed and it'll be harder to find open restaurants and shops. March or early April are also good times to arrive, as it isn't quite as busy and not yet very hot.
Dabolim Goa International Airport
Location:
The airport is located 18 miles (about 29km) southwest of Panaji
Time:
Local time is GMT +5.5.
Transfer Between Terminals:
There are two terminals adjacent to each other, and which you can get between on foot.
Getting to the city:
Train: The airport has a train station 1km from the terminals. The Indian Rail line goes to Margoa, about 45 minutes away, as well as to Vasco da Gama, about 2 miles (4km) from the airport.
Bus: There are public buses that leave from just outside the airport terminal every half hour. They go to Panjim, Mapusa, Ponda and Margoa. Public buses also go to the nearby city of Vasco da Gama. There is also a stop at the closer Chicalim bus stop, about 0.93 miles (1.5km) from the airport.
Taxi: Pre-paid taxis are available outside the terminal building.
Car Rental:
Although it is not recommended that you do so, you can hire cars through local operator Savaari, which has pick-up points outside both the domestic and international terminals, as well as the railway station.
Airport Taxis:
Taxis available outside the arrivals area.
Fascilities:
Money and communications: Currency exchange services are available, although you might find better rates elsewhere.
Luggage: Complimentary luggage trolleys are available throughout the airport. A baggage wrapping machine is located in international departures.
Conference and business: No business facilities are available at this airport.
Other facilities: There is a first aid centre at the airport, and a child-care facility is currently under construction.
Wi-Fi: Wi-fi is available via Tata Indicom.
Information: An information desk with details on local tourism and transport options is located in the international arrivals hall.
Shopping: Shopping at the airport is very limited, but a small selection is available. Between Goa Handicraft Emporium and Peals & Leather Garments there is a fair selection of Goan mementos available from the domestic terminal, and the TR store has some local fashions in the international departures, in addition to the duty free.
Food and Drink: Best not to arrive too hungry at Goa International Airport, as options are limited once you've gone through security. There is a small snack bar in international departures, and the odd vending machine. If you haven't yet gone through security, an airport restaurant is located outside domestic arrivals.
Parking
Goa airport has capacity for 350 cars and 10 coaches. Parking is charged at INR 60 for up to four hours, and INR 360 per day.
Goa Carnival
A throwback to the days of 18th-century Portuguese colonialism, the Goa Carnival is a mardi gras-style, four-day party held every year on the weekend before Ash Wednesday, which encompasses three days of music, dancing and general merriment. The tradition comes from the Christian habit of having a big celebration before Lent, a period when meat and luxury foods are not meant to be eaten and time is set aside for prayer and charity; the Carnival is a huge party to mark the beginning of this austere period, when people are meant to indulge in all the things they will shortly give up. Though primarily a Christian custom, the carnival is celebrated with great enthusiasm by the local Hindu people, and their traditions are also evident in the festivities. Goa is known for its fun party culture year-round, but during the Goa Carnival this joyful spirit reaches its climax; as one might expect, the centre of the celebrations are the popular beaches, where festivities of all kinds run late into the night. The Carnival was once a local affair but it has grown to attract thousands of visitors from all over India and the world.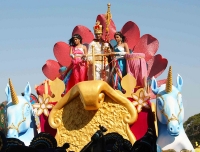 Carnival Float Parade Joel's Goa Pics
New Years Eve in Goa
Beachfront trance parties in Goa are somewhat legendary in the global party community. Revellers with a lot of stamina groove to psychedelic music under the stars, while famous Bollywood personalities put in cameo dancefloor appearances.
Although the entire coastline comes alive to party into the New Year, festivities inevitably centre on Anjuna. If you prefer a more intimate setting, then seek out one of the smaller beaches, like Palolem with its somewhat smaller gatherings.
Travellers in Goa should note that the authorities have been cracking down on the party culture over the last few years, imposing increasingly strict liquor laws. As the state is undergoing something of a transition, tourists are advised to check up on the current situation before going.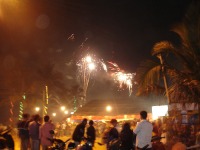 New Year's Eve in Goa Mikhail Esteves
Sunburn Music Festival
The MTV-sponsored Sunburn Music Festival is one of the fastest-growing trance music festivals in the world. In 2008, the event drew 5,000 electro heads to beautiful Candolim Beach in Goa; in 2009, 18,000 people were there; and in 2010, the crowd was in excess of 30,000. Featuring heavyweight performers, such as Avicii, Paul van Dyk, Funkagenda and Ferry Corsten, and blessed with an ideal location on the shores of the Arabian Sea, 'South Asia's first electronic music festival' is bound to keep growing in international status. There are about seven stages at each festival, allowing for a lot of variety, and other fun activities and entertainment to enjoy. The festival's organisers work closely with the Goan police department to make sure that the revelry stays safe and legal, which has gone a long way toward appeasing the local community, who initially opposed the event. The Sunburn Festival is streamed live on MTV India every year, prompting scores of celebrities to turn up and join the party. Sunburn music festivals are now held in many cities in India and even some other countries, but the Goan festival remains the most famous and popular.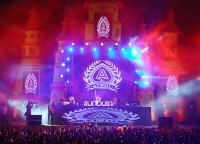 Sunburn Festival Stage Pdmsunburn
Flaunting its strong Portuguese heritage, Goa is definitely the nightlife hub of India. Goa still retains a laid-back hippie atmosphere in many areas and impulsive beach parties are a common occurrence, with visitors and locals relaxing on the beach after sunset with a couple of cold drinks and some mellow tunes. There are also numerous houses which have a room open to the public as a bar-cum-restaurant, usually serving great seafood.
Goa hosts great rave and trance music parties, especially in winter under the full moon. The venues for these raves are kept secret till just hours before they kick off, and visitors will have to ask around at local bars for details. Goa is also developing fast as a resort centre and many hotels provide their own party venues. The most famous Goan party season is over new year's eve, when visitors flood onto the beaches to dance under the stars and enjoy fireworks and trance music in this beautiful setting. If you travel to Goa for a new year's party be sure to book far in advance as it is very popular.
Travellers should note that over the past few years authorities have been cracking down on the Goan party scene, closing numerous bars and passing new liquor laws. Much fun can still be had in the state, but it is a good idea to familiarise yourself with the laws before travelling as at the moment state legislature is somewhat up in the air.
A wide variety of transport is available in Goa. Most tourist sights can be accessed by road and there are buses, rental cars, taxis and scooters available for travellers to use. The best (and the most fun) way to get around Goa is to hire a motorcycle/scooter, but be sure to carry the necessary paperwork (licence, registration and insurance) because checks on foreigners are a lucrative source of 'baksheesh' for the Indian police force. Roads and attractions are not well sign-posted, so don't hesitate to ask for directions. Note that accident and fatality rates on Goan roads have been high in the past, so it pays to be cautious. Local buses stop at the main beaches.
Auto-rickshaws are also a popular transportation option, and are available in town and from the airport, railway station and bus terminus. When taking taxis or rickshaws be sure to negotiate a fare before setting out to avoid being overcharged or having an argument. Goa is generally easy to get around and public transport is not expensive. As most visitors choose to stay near or on the beach front, limited transport is needed on a daily basis because restaurants, shops and attractions tend to be in walking distance.
Goa boasts a number of great attractions for visitors to enjoy while on holiday. This area is of course famous for its gorgeous beaches, but there are also many splendid historical sites to visit in Old Goa, colonial architecture to explore in Margao and Panaji, and a vast flea market to browse in Anjuna. The Dudhsagar Waterfall and Dr Salim Ali Bird Sanctuary are also popular Goa attractions.
There are many stunning beaches in Goa: Anjuna Beach was once the famous hippie hangout but this beautiful stretch of palm-lined sand has become popular with tourists of all kinds; Baga Beach is great for swimming and a little less crowded than Anjuna, though no less picturesque; Calangute Beach is the busiest and the most commercial, and although it is not as lovely as some of the others aesthetically, visitors enjoy exploring the beach bars, restaurants and shops; Colva Beach is a developed resort area and somewhat blighted by all the hawkers, hotels and hangers-on, but visitors who walk just a little way can still find beauty and peace along this stretch; Palolem Beach, in the south, is the most unspoiled and natural of Goa's popular beaches, and has retained its laid-back and secluded charm.
Although still known as India's party paradise, Goa is a wonderful, relaxing destination to visit with kids on holiday. Children will love the variety of things to see and do, be it renting a bike to explore the local area, catching a boat for some swimming and dolphin-watching, or simply enjoying the beaches. Please note, however, that although some hotels or guesthouses may offer childcare services, and this may be tempting, it is strongly advised that you keep your children with you at all times while in a foreign country.