Red Fort
The Red Fort, known locally as , is Delhi's signature attraction, rising high above the clamour of Old Delhi as a reminder of the power and prosperity of the Mogul Empire. The massive sandstone walls were built in the 17th century to keep out marauding invaders, and still dominate the city's skyline today. Inside is an array of exquisite buildings, which once provided the living quarters for Shah Jehan, his courtiers, family and staff of three thousand. Visitors can marvel at the intricate decoration and only imagine the scenes here at the empire's height, when the walls were studded with precious stones and a 'stream of paradise' drove an ingenious air conditioning system. The fort was the scene of the Indian Uprising of 1857 and the mighty Lahore Gate, on the west side of the fort, remains a potent symbol of India's fight for independence. There are frequent sound and light shows in the evenings at the fort but they are conducted in Hindi; some audio guides are sometimes available to translate into French and English. The fort is vast and there is a lot to explore so it is best to allow a few hours for this famous attraction; seeing everything means covering quite a lot of ground so come prepared to do some walking.
Address:
On Netaji Subhash Marg, near Chandni Chowk in Old Delhi. Entrance from Lahore Gate or Chatta Chowk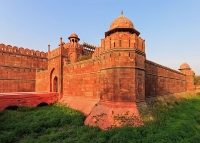 Red Fort http://artlibre.org/licence/lal/en/
Jama Masjid
Shah Jehan, the architect of the Red Fort and much of Old Delhi, built Jama Masjid between 1644 and 1656. This grand structure is situated on a hill a few hundred yards west of the Red Fort, and towers over the mayhem of Old Delhi's sprawling streets. Jama Masjid is India's largest mosque, and can hold 25,000 worshippers at one time. Wide red sandstone steps lead to entrances on the north, south and east sides of the mosque. Inside is a massive courtyard, dominated by two red-and-white striped sandstone minarets that cap the main prayer hall on the west side (facing Mecca). There are smaller towers at each corner of the mosque, and energetic visitors can climb the 122 narrow steps of the southern one to be rewarded with magnificent views of Old and New Delhi.
Those wearing shorts or skirts can hire a to cover their legs. Women wearing T-shirts should bring a scarf to cover their shoulders. Visitors will be required to leave their shoes at the entrance. Tourists frequently complain that the people managing the mosque are rude and try to get as much money as possible out of visitors by charging for things like shoe storage and modesty dresses they insist women wear even if they are appropriately clad. The best way to deal with these inconveniences is to have a local guide to help navigate through the process.
Address:
Matya Mahal, Bho Jala – a short walk west of the Red Fort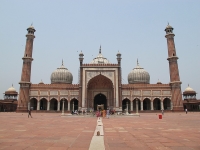 Jama Masjid Crispin Semmens
Qutub Minar
The Qutub Minar is a mammoth tower that was built between 1193 and 1369 to symbolise Islamic rule over Delhi, and to commemorate the victory by Qutab-ud-din over the city's last Hindu king. Standing 238 feet (72m) tall, the tower is decorated with calligraphy representing verses from the Quran, and tapers from 50 feet (15m) at the base to just eight feet (2.5m) at the top. There are five distinct storeys, each encircled with a balcony: the first three are built of red sandstone, and the upper two are faced with white marble.
At the foot of the minhar stands Quwwat-ul-Islam, India's oldest mosque, largely built from the remains of 27 Hindu and Jain temples destroyed by the Muslim victors. The cloisters that flank the nearby courtyard are supported by pillars that were unmistakably pilfered from Hindu temples, but fascinatingly, the faces that would have adorned these pillars have been removed to conform to Islamic law, which strictly forbids iconic worship.
Somewhat incongruously, in the corner of the mosque, stands the Iron Pillar, bearing 4th-century Sanskrit inscriptions of the Gupta period dedicating the structure to the memory of King Chandragupta II (373-413). It is said that anyone who can encircle the pillar with their hands whilst standing with their back to it will have their wishes fulfilled.
Address:
Qutab Minar Complex, Mehrauli, nine miles (16km) from Connaught Place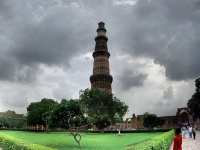 Qutb Minar Panoramas
Humayuns Tomb
Humayun's Tomb is one of the best-preserved and most beautiful examples of Mogul architecture in Delhi, and is often seen as a forerunner of the Taj Mahal in Agra. Building started on the tomb in 1564 after the death of Humayun, the second Moghul emperor, and its construction was overseen by Haji Begum, his senior widow and the mother of Akbar. The tomb is an octagonal structure capped by a double dome that soars 125ft (38m) into the sky, and is set in a formal Persian garden. In the grounds are some other worthwhile monuments, including the Tomb of Isa Khan. Some careful restoration work has been done on some of the buildings and art but nothing important has been altered and the site has not lost its sense of authentic old age. Visiting this attraction is great for the uninitiated because it is the perfect introduction to the architecture, symbolism and importance of memorial tombs in India. For photography lovers the tomb, with its red colouring and geometric designs, is a wonderful subject. Tourist infrastructure is somewhat lacking, with only a few stalls, a tiny exhibit and no real public toilets - but, on the plus side, it is also less crowded and commercial than many other sites in the city and visitors can wander freely.
Humayun's Tomb Art Poskanzer
Rashtrapati Bhavan
After his visit in 1911, the Emperor of India, King George V, decreed that the capital should be moved from Calcutta to Delhi. Edwin Lutyens was commissioned to plan the new government centre, which he focused around Rajpath - the grand, tree-lined boulevard that runs between the Secretariat Buildings and India Arch, the war memorial built in 1921. Rashtrapati Bhavan was built by Lutyens and Sir Herbert Baker between 1921 and 1929, on the gentle slope of Raisina Hill, flanked by the Secretariat Buildings. This immense palace, larger than Versailles, was created for the Viceroy and is now the residence of the President of India. With the exception of the central copper dome there are few concessions to Indian architectural style: despite its Classical columns, the building is unmistakably British and remains a potent symbol of imperial power.
Every Saturday morning between 9:35am and 10:15am guards parade before the iron gates, in Delhi's answer to London's Changing of the Guard. The gardens are open to the public every year in February and March but unfortunately no entry to the palace is permitted at any time of year. However, the exterior is very impressive and it is well worth at least a drive by.
Address:
Presidential Estate, North Avenue (formally Prakash Vir Shashtri Avenue), Rajpath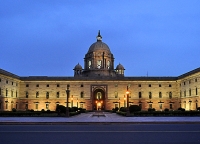 Rashtrapati Bhavan Vinay8861
Chandni Chowk
No trip to Delhi would be complete without a visit to one of the bazaars that surround Chandni Chowk (Moonlight Square) in Old Delhi, where shops and stalls display a wonderful array of goods, and offer a pungent and colourful insight into everyday Delhi life. Chandni Chowk has a large number of galis (lanes) and each one is different, with its own atmosphere and selection of goods to buy.
Naya Bazaar, on Khari Baoli, is the spice market, displaying a wonderful range of seasonings in neat, colourful piles. The nearby Gadodia Market is the wholesale spice market. Hundreds of spices and condiments can be found there, including aniseed, ginger, pomegranate, saffron, lotus seeds, pickles and chutneys, to name just a few.
Chor Bazaar sits behind the ramparts of the Red Fort and comes to life on Sundays to trade a collection of 'second-hand' goods. Chawri Bazaar was once notorious for the ladies who beckoned men from the arched windows and balconies above the street, but today these houses have made way for shops specialising in brass and copper Buddhas, Vishnus and Krishnas. Some of the busiest galis (east of Kalan Mahal) house the poultry and fish markets, but most tourists wisely avoid these areas.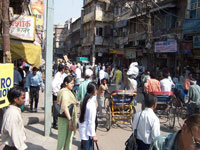 Chandni Chowk Wasted Time R
Delhi
Delhi is a city of contrasts, where an elephant can overtake a snazzy Italian sports car on the streets, where commanding colonial mansions stand next to overcrowded slums, and where cows are revered but musicians are labelled 'untouchable'. The city's pace is chaotic, yet strangely relaxed, making it ideal for exploring. Visitors are almost certain to have some strange and exotic experiences. The city is full of fascinating temples, museums, mosques and forts, each with a distinctive architectural style. In Old Delhi, visitors will find a charming selection of colourful bazaars and narrow winding alleys. In comparison, New Delhi - the city created to reflect the might of the British Empire - consists of tree-lined avenues, spacious parks and sombre-looking government buildings.
A great way to visit many of the sights around Delhi is on the Hop On Hop Off Bus, which leaves every 30 minutes and stops at close to 20 of Delhi's top tourist destinations. Tourists pay a once-off fee and can hop on and off at a variety of monuments, gardens, bazaars, museums and galleries. The city is also ideal as a base for visiting the Taj Mahal in Agra, and provides the best links for travelling to the hill stations in northern India.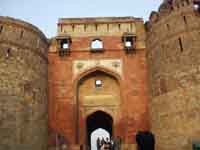 There's no question about it: Delhi is hot, crowded and intense - not the best place for kids on holiday. However, there are a number of interesting and exciting attractions for children in Delhi to enjoy. The Shankar's International Dolls Museum is located in Nehru House, on Bahadur Shah Zafar Marg, and has one of the largest collections of costume dolls in the world - a wonderful tourist attraction for young girls. On the other hand, Delhi's National Rail Transport Museum, in Chanakyapuri, is a great attraction for young boys. There are a number of bowling alleys in Delhi to take the kids to, including the Kool Kidz Little Tikes Play Zone in Gurgaon, Leisure Bowl in Vasant Kunj, and Little Paradise in Faridabad. Other fun activities include camel and balloon safaris in the nearby Thar Desert. Whatever you end up doing with the kids, one thing is for sure - Delhi is a city that children seldom forget, providing an exciting and colourful experience that will live on in their memories forever.
The climate of Delhi is semi-arid, and there is a vast difference between summer and winter temperatures. During the long summers the city swelters at highs of 104ºF (40ºC) and lows of 79ºF (26ºC), often exacerbated by a dusty, dry wind. The hottest months of the year are May and June. Winter weather in Delhi arrives in November, with temperatures between 43ºF (6ºC) and 68ºF (20ºC). Delhi's winters are generally mild but the city's proximity to the Himalayas can result in cold spells. Winter also brings heavy fog, which can decrease visibility and disrupt air, road and rail travel; January is the worst month for fog. The rainy season in Delhi is heralded in June and lasts until the end of September, during which monsoons deliver most of the city's annual average rainfall. The city does not experience monsoons to the same extent as many other Indian cities.
The best time to visit Delhi is in October and November, or in February and March, when the nights are cool and the days filled with mellow sunshine. December and January can be a little gloomy in Delhi while mid-summer (May, June and July) is uncomfortably hot.
For centuries Delhi has been a thoroughfare for traders, and the city's status as an intersection between different cultures has strongly influenced the cuisine. North Indian cuisine is the most popular and has a strong Persian/Turkish influence, especially in Mughlai and Punjabi dishes. Traditional North Indian delicacies include various korma dishes, tandoori chicken, seekh kebabs, (meatballs) and biryani. However, there are also a number of good international restaurants based in New Delhi. Some of the most common international cuisines on offer in Delhi are Chinese, Thai, Italian and American.
For those travelling to Delhi on a budget, or anyone who needs a comfortingly familiar meal on their exotic travels, international chain restaurants such as McDonalds, Dominos, Pizza Hut and Pizza Express can be found all over Delhi. Those on a budget who want to sample authentic local food can brave the road side dhabas, which sell things like kababs, rotis and biryani to be eaten on the hoof; although some of the street vendors' food should be avoided for health reasons, there are also some wonderful dhabas and some of the best can be found around Jama Masjid and Nizamuddin. Trawling the food markets is also a good way to sample local delicacies and work out what you like. Vegetarian food is available in abundance.
Chor Bizarre
Appearing more like an odds-and-ends treasure trove than the relaxed eatery that it is, Chor Bazaar (the 'thieves' market') is adorned with unusual décor pieces such as matchboxes, antique combs and ivory sandals, as well as an old jukebox. Menu favourites include the Kashmiri specialty of (lamb meatballs) with cardamom, and the Kashmiri (thali) platter. Open daily for lunch and dinner; reservations recommended.
Address:
Hotel Broadway, 4/15 A Asaf Ali Rd, Central New Delhi
Karim Hotel Restaurant
Located in the heart of Old Delhi, the true home of Mughlai cuisine, the Karim Hotel restaurant has an informal atmosphere and dates back to the early 1900s. Authentic Mughlai dishes on the menu include mutton kebabs, tandoori (lamb stuffed with chicken, rice, egg and fruit), and (chicken cooked in butter). Open daily for breakfast, lunch and dinner; reservations recommended.
Address:
16 Gali Kababian, Jama Masjid
Park Balluchi
Experience Mughlai cuisine in style at the Park Balluchi restaurant in Delhi's beautiful Deer Park. The restaurant's turbaned waiters serve a feast of kebabs and spicy tandoor dishes, including (kebabs with chicken and prawns or mince) and (tandoor grilled lamb). The restaurant has a second branch located near Leisure Valley Park in the city centre. Both are open daily for lunch and dinner; reservations recommended.
Address:
Deer Park, Hauz Khas Village
S Bar
The trendy S Bar, recently renamed from its previous name; Shalom, serves delicious Lebanese and Mediterranean cuisine in an upmarket, romantic setting. The restaurant's tapas selection includes lemon, paprika and garlic fish skewers or a Spanish asparagus and orange salad, while the main menu features dishes such as Dubai duck (served in a lemon and honey sauce, with apricot and cinnamon flavours). Be sure to leave room for the decadent molten chocolate cake dessert! Open daily for lunch and dinner; reservations recommended.
Address:
N-18, N Block Market, Greater Kailash
Bukhara
For travellers who really want to splash out, Bukhara is the only place to go. With a host of awards to its name, Bukhara has been voted 'Best Indian Restaurant in the World' by the UK's Restaurant Magazine. With dishes like dhal bukhara (tomato, ginger and garlic simmered black lentils) and mouthwateringly delicious tandoori prawns, it is easy to see why it comes so highly recommended. The restaurant designed a selection of platters named the Hillary Platter, the Presidential Platter and the Chelsea Platter following a visit by the Clinton family in 2009. Open daily for lunch and dinner, reservations are a must.
Address:
Diplomatic Enclave, Sardar Patel Marg, Chanakyapuri
Indira Gandhi International Airport
Location:
The airport is located 10 miles (16km) south-west of New Delhi city centre.
Time:
Local time is GMT +5.5.
Transfer Between Terminals:
Terminal transfer shuttles connect Terminal 3 (international) and Terminal 1 (domestic). The shuttles are free and run every 20 minutes. Some domestic airlines operate from Terminal 3 (international) so it's best to check with your airline before mistakenly transferring terminals.
Getting to the city:
The airport express Delhi Metro line connects the airport to central New Delhi. It operates from Terminal 3 between 5am and 11pm. Trains run at 20-minute intervals. Delhi Transport Corporation (DTC) buses run every 30 minutes between the airport and central Delhi's Interstate Bus Terminal and Connaught Place. The buses can be found at the 'staging area' near Terminal 3 and opposite the Centaur Hotel. The free DIAL shuttle runs between the staging area and the terminal every 15 minutes, 24 hours a day. Bus fares from the airport vary, depending on your destination. Concessions are available for parents buying tickets for their children.
Car Rental:
Carzonrent is located just after the customs area in the arrivals section of Terminal 3.
Airport Taxis:
Metered taxis are available at the airport but it is best to use pre-paid taxis. The airport has a relationship with three Cab operators, Meru Cabs, Mega Cabs and Easy Cabs. Approved fares for various locations are displayed at the taxi counters located inside the Arrivals halls. Pick-up points are just outside the terminals. Travel time to the city is about 30 minutes.
Fascilities:
Airport facilities include banks, ATMs and currency exchange; public telephones and a post office; baggage wrapping and storage; conference facilities and VIP lounges; complementary strollers, a kids play area and baby changing rooms; foot massages, a smoking area, shower facilities, prayer room, drinking water fountains, medical facilities and a pharmacy. There are also sleeping pods available at an hourly fee, and plenty of shopping and dining options.
Parking
Parking garages are just 300 feet (100m) from Terminal 1, and there is a multi-level car park attached to the International Terminal.
Republic Day Parade
The impressive Republic Day Parade is held every year in Delhi on the anniversary of the formation of the Indian Republic, and serves to showcase the country's military might. Marching columns represent the armed forces, accompanied by armoured vehicles, military bands, decorated floats and folk dancers. Although it is primarily a military parade, the many floats showcase different cultures and territories within the hugely culturally diverse country. Highlights include a display presented by the Indian Air Force and the procession of the camel mounted Border Security Force contingent, which is the only camel mounted military force in the world. Before the parade the prime minister lays a floral wreath at the Amar Jawan Jyoti, a memorial to unknown soldiers at the India Gate, which is followed by two minutes of silence in tribute to the many who died and suffered to win India's independence. Medals and special awards are given out by the president on this day as well. The parade is the main event but the celebrations are actually marked over multiple days, beginning with the impressive pomp and ceremony of the military parade and ending on the evening of the 29th January with the Beating Retreat Ceremony that takes place in Raisina Hills and an adjacent square, Vijay Chowk, next to the President's Palace.
Venue:
The parade starts at the Rashtrapati Bhavan, winds through the city, and ends at the Red Fort in Old Delhi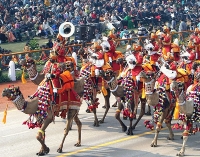 Republic Day Parade Antonio Milena
Festival of Holi
Delhi puts on a colourful face in March for the light-hearted Festival of Holi, celebrating the triumph of good over evil. Holi is the first major Hindu festival of the year and is celebrated joyously. The exuberant spring festival starts on the night of full moon, when bonfires are lit on street corners to clear the air of evil spirits. The next morning sees the streets full of people of all ages chasing each other and throwing pots of brightly-coloured powder pigment over each other in uninhibited mischief. The fun ends at noon, when everyone retires to wash off the paint and finish the day relaxing. Although the powder play is visually stunning and lots of fun, it can be a challenge to get all the pigment off your skin, hair and clothes afterwards - people are encouraged to use the traditional natural pigments that are better for the environment and the body, and these do come off far more easily. Although Holi is celebrated all over India, it reaches a unique fever-pitch in Delhi and travellers are strongly advised to coincide their time in Delhi with this unforgettable spectacle. Foreigners are enthusiastically included in the festival, which is all about friendliness and happiness. Such is the event's popularity that versions of Holi are now celebrated all over the world.
Venue:
Throughout the city, and all around India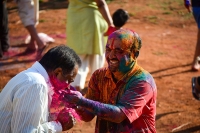 Festival of Holi Harsha K R
Diwali (Festival of Lights)
India's most popular traditional festival, with its origins deeply rooted in Hindu mythology, turns the streets of Delhi (and all major cities in India) into a carnival each year. And while Diwali (the 'Festival of Lights') is extremely important for Hindus, it is also celebrated by Jains and Sikhs, meaning that the general air of festivity is enjoyed by everyone. Traditionally, all houses are decorated with earthenware lamps and candles for the occasion, and the sound of firecrackers can reach deafening proportions - in fact, so many fireworks are usually set off during Diwali that they have been blamed for causing a spike in air pollution levels! Neighbourhoods generally bristle with fun rides, food stalls and curio-sellers during the festival and there is plenty to see and do. Keen shoppers should note that it is customary for people to buy new clothes and household utensils, and to exchange gifts (usually sweets or perfume) during Diwali. Diwali is traditionally celebrated over five days, but festivities always reach fever-pitch on a single day and usually only one day is marked for Diwali on a calendar. Rituals and celebrations do vary slightly from region to region in India but the festival is celebrated all over the country.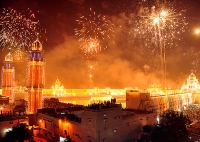 Diwali Fireworks UrbanUrban_ru
Over the past few years Delhi's nightlife scene has undergone a major transformation, and there are now hundreds of trendy bars, nightclubs and lounges ready to roll out a good time to revellers in the nation's capital. Delhi has typically been known as a city that goes to sleep early because stand-alone bars, clubs and restaurants in the city proper must legally close by midnight. However, these days it is easy to sniff out a good time in Delhi and many places manage to stay open late. Hotel bars and clubs, for instance, are not subject to this rule and tend to close much later than midnight. Late-night revellers can also move the party to the suburbs of Noida and Gurgaon, which are technically in different states and not subject to the midnight law. Having said that, many of the best places are located centrally, in the areas surrounding Nehru Park (close to Niti Marg).
Note that some clubs in Delhi institute a couples-only entrance policy, and that some places might be a little unsafe for foreign tourists. Visitors should trust their intuition. It is a good idea to ask for recommendations from hotel staff or do some research into fun night spots before travelling. Another great way to discover what's going on in Delhi and where the trendiest joints are is to get a copy of Time Out New Delhi, which is widely available.
Fleets of metered taxis, auto-rickshaws and cycle-rickshaws clog the streets of Delhi providing transport for locals and visitors. Rates fluctuate, but drivers should have rate charts available and tourists should ensure the meter is reset, or a price negotiated before departure. A ring railway starts and ends at the Hazrat Nizamuddin Railway Station with trains running in both clockwise and anti-clockwise directions around the city. The Delhi Transport Corporation runs a large fleet of buses covering the entire city, but these are always overcrowded. There are night service buses on selected routes and from the three main railway stations between 11pm and 5am. The Mass Rapid Transit System (MRTS) covers 135 miles (280km) and 164 stations between Delhi and its satellite cities of Faridabad, Gurgaon, Noida, and Ghaziabad. It also has a fast airport line. It is not advised to hire a car in Delhi as the driving is frenetic and the traffic overwhelming. There are parts of the city where walking is the best way to take in the sights and sounds, but in general transport is required to get around.
Travellers visiting the magical city of Delhi will be overwhelmed by the sightseeing opportunities available to them; figuring out where to begin will be the hardest part of the journey.
Many visitors kick off their sightseeing at the Red Fort, Delhi's signature attraction, reminiscent of the Mogul Empire that once ruled the region. Other landmark attractions include the majestic Jama Masjid, in Old Delhi's bustling streets, which is India's largest mosque and a breathtakingly beautiful building to photograph; the Chandni Chowk market, the ideal place for an authentically Indian shopping experience; and Humayun's Tomb, another classic example of Mogul architecture, which is especially important to visit for those who are not making the trip to the famous Taj Mahal.
Another must-see while in Delhi is Rashtrapati Bhavan, a palace larger than Versailles and the residence of the Indian President. Here, visitors can watch the changing of the guard and marvel at the building's architecture, built by Herbert Baker and Edwin Lutyens between 1921 and 1929. Other worthwhile attractions include the beautiful Lotus Temple; and Rajpath, the main route leading from Rashtrapati Bhavan to India Gate, a memorial monument built for the Indian soldiers who died in World War I, where visitors can relax on the grassy lawns and soak up the scenery.
A great way to visit many of the sights around Delhi is on the Hop On Hop Off Bus, which leaves every 30 minutes and stops at close to 20 of Delhi's top tourist destinations. Tourists pay a once-off fee and can hop on and off at a variety of monuments, gardens, bazaars, museums and galleries.