The heart of ancient Mayan culture lives on in Guatemala, with a Spanish influence that seamlessly blends together ancient, colonial, and modern eras. From the classical Spanish-Baroque architecture in Antigua, exemplified by such pieces as the famous fountain, Fuente de Pescado, to the legendary structural wonders of the Mayan temple complex Tikal.
Each step along Guatemala's quaint cobbled streets and jungle trails leads further into the distant past. As with many of its Central American neighbours, Guatemala has held onto local customs and cultures while developing its urban hubs to meet modern tourist standards.
Party in Guatemala City's business district during warm evenings, then travel to the markets in Chichicastenango on a Sunday, a meeting place for traditional artisans and hub for local produce. Chichicastenango is bound to entice all travellers with the sensory delicacies of Guatemala's verdant forests, farms, and plantations.
Adventurous travellers can hike up Volcan San Pedro, just behind the famous picturesque resort village of San Pedro La Laguna. Visitors should note that a local guide is considered essential to conquering the dormant volcano's peak.
While the adrenaline junkies are relishing Guatemala's many summits, other travellers can enjoy a spate of urban sightseeing. The country is also home to a wealth of ancient artefacts and numerous historical sites so history buffs will be in their element.
The country has a strong tourism industry and travellers looking for an in depth and immersive experience into authentic Central American culture should lace up their boots and pack their bags, for they need look no further than Guatemala.
Las Capuchinas
The ruins of Las Capuchinas, the biggest and most remarkable of Antigua's convents, are the best preserved and most beautiful in the city. The convent was founded in 1736 by Spanish nuns and is now a museum dedicated to religious life in colonial times. The nuns who lived here followed a strict daily routine that focused around fasting and praying. Their tiny cells can be found in the walls of the round tower, which has good views from the top. There are also fountains, gardens, and several lovely courtyards within the compound.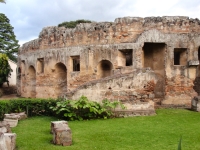 Capuchinas John Pavelka
Tikal
Set deep in the jungle of the Parque Nacional, Tikal is home to one of the most important remnants of Mayan culture: the City of Voices. First occupied around 800 BC and becoming one of the Mayan political hubs, its most striking features are the steep sided towering temples rising up to heights of 230ft (70m). Scattered around the area are countless other structures, many still partially buried in the ground or engulfed by the verdant rainforest. The Great Plaza with its five temples served as the heart of religious and ceremonial activity. The Temple of the Grand Jaguar was built to house the magnificent tomb of King Jasaw Chan K'awiil while the Temple of the Masks has two eroded masks on either side of its stairway. The surrounding jungle is alive with the sounds of animal life, particularly the roars of howler monkeys. This combination, of rainforest and ruins, make it one of the few sites declared both a Cultural and Natural Heritage to Humanity by UNESCO. There are two museums on site, containing copies of some of the elaborate sculptures, bas-reliefs, and stelae from the ruins, a map showing Tikal as it was in 800 BC, as well as items recovered from the excavations, including the burial goods of King Jasaw Chan K'awiil.
Transport:
Fly to the airport in Flores, 90 minutes away by bus.
Opening time:
Open daily 6am-5pm.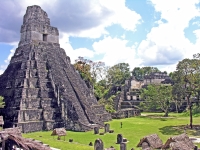 Tikal Dennis Jarvis
Volcan San Pedro
The Volcan San Pedro is located behind San Pedro La Laguna and offers one of the most spectacular views in the world. The hike is strenuous and is around 6 hours round trip depending on fitness levels, but the rewards are well worth the effort. The starting sections include a rough trail, after which it is all jungle trekking. It is advisable to hire a local guide, as there is no signage and this is one of the wildest areas in the country, a truly adventurous hiking experience.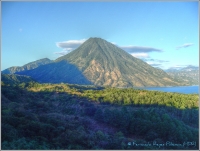 Panajachel
The holiday resort town of Panajachel in the highlands has a large population of long-term hippie expats and a distinctly Western character. The relaxed ambience accompanies breathtaking views of three volcanoes that sit near the lake. There are many hotels, small restaurants, and lively nightspots, with a mosaic of sensory delights awaiting visitors. Visit the photo museum in the Casa Cakchiquel, a historic hotel that has housed legends such as Che Guevara and Ingrid Bergman. The Church of St Francis, built in the 16th century, has survived several earthquakes, and still provides sanctuary to the locals. Panajachel is a good base for exploring the more traditional villages surrounding the lake and offers good shopping and swimming around the town. Food lovers will enjoy sampling the diverse local cuisine in one of the numerous restaurants or cafés.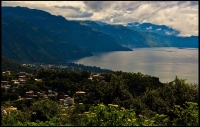 Panajachel Guillen Perez
San Pedro La Laguna
The holiday destination of San Pedro La Laguna has a relaxed bohemian feel and it comes as no surprise that it is one of the most popular places for a summer holiday in Guatemala. The village revolves around the Catholic Church and the market place, with narrow cobbled streets leading up the hill, away from the ferry docks. Coffee plantations surround San Pedro La Laguna, and picturesque paths lead to the lake, where boulders and small stretches of beach provide peaceful sunbathing and swimming spots. There are also thermal pools in the village offering superb views of the nearby volcanoes. These hidden oases are a great way to relax after some rewarding hiking up the Volcán San Pedro behind the village.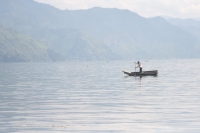 San Pedro La Laguna Carlos Adampol Galindo
Guatemala's climate is lovely year round and is generally hot throughout the county, making travel possible at any time. The rainy season is generally from May to November, with average temperatures of 72°F (22°C). Climate varies more due to altitude than season.
It's easier to see the country in the dry season, which runs from November to April and is an ideal time to explore the mountains, rainforests, and volcanoes in the country. There are some regional variations, with the highlands, including Guatemala City and Antigua, experiencing less rainfall than the coast, and slightly colder temperatures at night.
Guatemala City La Aurora International Airport
Location:
The airport is situated four miles (6km) south of Guatemala City, and about 16 miles (25km) from Antigua.
Time:
Local time is GMT -6.
Transfer Between Terminals:
The terminals are connected.
Getting to the city:
Most hotels will offer transfer services from the airport, and there are several shuttles into Guatemala City and Antigua throughout the day; however, these have no strict schedule and often rely on the shuttle filling up first. Taxis and regular buses are also available. Car rental is another option.
Car Rental:
Car rental companies include Avis and Thrifty, along with some local companies.
Airport Taxis:
Flat-rate taxis are available outside the terminal building.
Fascilities:
There are bars, shops and restaurants at the airport. Shopping at the airport is particularly good, with plenty of local crafts on offer. An ATM is available in the departure lounge. There is a currency exchange at the airport, but it is often better to find an official bank offering foreign exchange services, as they offer more reasonable rates.
Parking
Parking is available at the airport, however visitors are advised against leaving their car parked in the lot overnight due to security reasons.
Money:
The official currency is the Guatemalan quetzal (GTQ), which is divided into 100 centavos. Cash exchange is easy, but visitors are not advised to exchange money at the informal booths on the street. There are ATMs in the towns and cities, which accept American Express and Visa, while MasterCard and Diners Club are not widely accepted.
Language:
The official language is Spanish, but English is understood in hotels and tourist destinations. In addition, there are many indigenous languages spoken in Guatemala as well.
Electricity:
Electrical current is 120 volts, 60Hz. A variety of plugs are in use including the flat two-pin (Type A).
Entry Requirements:
US citizens must have a passport that is valid for the period of intended stay in Guatemala. No visa is required for stays of up to 90 days.
British citizens must have a passport that is valid for the period of intended stay in Guatemala. No visa is required for stays of up to 90 days for British passport holders endorsed British Citizen. Those holding passports with other endorsements should confirm entry requirements before travel.
Canadian citizens must have a passport or replacing document that is valid for the period of intended stay in Guatemala. No visa is required for stays of up to 90 days.
Australian citizens must have a passport valid for the period of intended stay in Guatemala. No visa is required for stays of up to 90 days.
South African citizens must have a passport valid for the period of intended stay in Guatemala. No visa is required for stays of up to 90 days.
Irish citizens must have a passport valid for the period of intended stay in Guatemala. No visa is required for stays of up to 90 days.
US citizens must have a passport that is valid for the period of intended stay in Guatemala. No visa is required for stays of up to 90 days.
New Zealand citizens must have a passport valid for the period of intended stay in Guatemala. No visa is required for stays of up to 90 days.
Passport/Visa Note:Visa:
It is strongly recommended that all foreign passengers to Guatemala hold return or onward tickets, and the necessary travel documentation for their next destination. Note that the period of stay for visa-exempt nationals is 90 days; however, 90-day extensions can be organised through the Immigration Office. For nationals requiring a visa, the consulate issuing the visa will advise visitors about the amount of deposit to be paid at the port of entry in Guatemala, which will be refunded when the visitor leaves Guatemala. It is highly recommended that your passport has at least six months validity remaining after your intended date of departure from your travel destination. Immigration officials often apply different rules to those stated by travel agents and official sources.
Travel Health:
There are a number of health risks associated with travel to Guatemala and travellers are advised to take the latest medical advice at least three weeks prior to departure. Malaria is prevalent in the low-lying areas outside Guatemala City.
Dengue fever is endemic and the Zika virus can be contracted, so strict insect-bite protection measures must be taken. A yellow fever certificate is required from travellers entering the country from infected areas. Hepatitis A and B, and typhoid vaccinations are recommended, as well as an MMR (Measles, mumps and rubella) update. Visitors should be careful what they eat and stick to bottled water, or boil all water before drinking if bottled water is unavailable. Guatemalan hospitals are unlikely to give medical treatment unless the patient has travel insurance or can pay up front.
Good travel insurance is therefore essential. State-funded hospitals are best avoided and travellers should only use private clinics where possible. All medication should be accompanied with a signed and dated letter from a doctor explaining what the medication is and why it is needed.
Tipping:
Generally a 10 percent tip is recommended for good service in Guatemala. It is customary to tip waiters if a service charge hasn't been added to the bill and tipping extra for excellent service is also customary. Taxi drivers are not usually tipped. Hotel staff and tour guides expect to be tipped for their services and can be more favourable in their service when receiving generous tips.
Safety Information:
The rate of violent crime in Guatemala is exceptionally high. There has also been a relatively high rate of violent attacks on tourists, especially in remote places and in the capital, Guatemala City, particularly after dark. Visitors need to be particularly vigilant in the central Zone 1 of Guatemala City where most of the cheap hotels and bus terminals are, and in all parts of the city at night.
Tourists arriving at Guatemala City airport and travelling to hotels in the business districts have been targeted, so visitors should be extremely alert when leaving the airport. Protest may arise without warning and should be avoided if possible. Pick-pocketing and petty theft are common in tourist areas and market places. Many robberies take place on the cheaper buses when travelling on the tourist routes from Guatemala City to Antigua, and from Antigua to Panajachel. So keep all belongings close at hand.
There have been reported incidents of attacks, including the sexual assault of female passengers on buses during the day on main routes. Hold-ups by armed gangs occur frequently on city and long distance public buses. Visitors are advised to avoid them if possible.
Armed robberies on minor roads around Lake Atitlan have taken place and visitors are advised to use the boat services between towns on the lakeshore. There have also been armed attacks on tourists at Tikal and on the approach road from Flores to Tikal. Guatemala's rainy season between April and November usually brings about heavy rain and flooding, mudslides, and hurricanes. These mudslides have claimed the lives of many people in recent years and it is best to exercise extreme caution when travelling to areas known for heavy rains and mudslides. Guatemala has active volcanoes, so it is important to always be aware of any volcanic activity.
Local Customs:
It is very common to greet most people, especially in the countryside. Clothing need not be too conservative. However, modesty is advised for female travellers in order to avoid unwanted attention.
Ask permission before taking photographs, particularly of children, as locals are suspicious of foreigners approaching kids for pictures due to incidences of kidnapping, particularly in remote areas where tourists have been attacked. A small tip might be required.
Military clothing is illegal, so avoid camouflage-patterned clothing. Public displays of affection between same sex couples should be avoided, particularly outside of Guatemala City.
Business:
Business etiquette in Guatemala is similar to the rest of Latin America. Due to the warm, humid climate, men often wear lightweight suits. Women usually wear a dress or a skirt with a blouse. Always be punctual for meetings, as Guatemalan business people are very punctual.
Use professional titles such as such as doctor, professor, ingeniero (engineer) or abogado'(lawyer), otherwise address colleagues as señor (Mr), señora (Mrs), and señorita (Miss), followed by their last names.
Speaking softly is considered polite. Business cards may be exchanged although there is no ritual around it. Business hours are generally 8am to 5pm, Monday to Friday, with an hour taken over lunch and business lunches or breakfasts are preferred over business dinners.
Communications:
The international access code for Guatemala is +502. The outgoing code depends on what network is used to dial out on, which is followed by the relevant country code (e.g. +44 for the United Kingdom). City codes are not required. There are generally surcharges on calls made from hotels. Rates are generally less expensive after 7pm. Wifi connections are available in the cities and main tourist areas and many hotels, hostels and language schools will offer reasonable internet rates.
Duty Free:
Travellers to Guatemala over 18 do not have to pay duty on 500g of tobacco in any form and five liters of liquor or spirits.