Thessaloniki has aspects of Mediterranean, steppe and humid sup-tropical climates. Summers (June to August) are hot and humid with average daytime highs of 89°F (32°C) and the possibility of thunder storms. Winters (December to February) are much cooler with dry, cold days, morning frost and possible snowfall. Winter temperatures average between 34°F (1°C) and 50°F (10°C).
Generally speaking, Thessaloniki's weather is warmer in the south than the north, with the mountainous areas being cooler. The wet season sees plenty of rainfall between September and January, but the region can receive rain at any time of year.
Although the city remains very popular during summer, which is peak tourist season throughout Greece, the best time to visit is in spring and autumn. Conditions are cooler but sunny enough to enjoy the outdoors.
For budget travellers, winter is the best time to visit as accommodation is much cheaper during off-season. Visitors will avoid crowds, but it does get cold, with rain or even snow on the cards.
Thessaloniki Macedonia International Airport
Location:
The airport is located about 10 miles (about 17km) south of the city centre.
Time:
Local time is GMT +2
Getting to the city:
Bus 78 goes from Thessaloniki Airport to the city every hour and the journey takes about 45 minutes.
Car Rental:
Car rental companies include Sixt, Avis and Hertz.
Airport Taxis:
Taxis are available from the airport to downtown Thessaloniki.
Fascilities:
Facilities include ATMs, a bureau de change, restaurants and cafes, internet access, a nursery and play area, and duty-free shopping.
Parking
Parking is available.
Thessaloniki is a pleasant city to explore on foot. However, it does have an efficient and extensive bus service. Taxis are plentiful and can be called in advance or hailed from the street. They're also available at several taxi ranks in the city.
For visitors planning to head off into the surrounding areas, hiring a car is a pleasant way to see the country. That said, there are frequent bus trips to the more famous sites.
Public transport in the city is primarily provided by the Organization of Urban Transportation of Thessaloniki (abbreviated as OASTH after the Greek). Single tickets can be bought upon boarding, while multiple-journey tickets can be bought at ticket outlets. The OASTH website provides a full list of where to find them.
Regional buses for long-distance travel can be found at the Macedonia Intercity Bus Terminal. OASTH also runs a tourist line on route 50, which provides transport to major attractions throughout the city.
Packed full of archaeological wonders, plus a wealth of early Christian, Roman and Byzantine relics, Thessaloniki truly is a treasure trove of attractions.
Its famous churches are among its greatest features. The Church and Crypt of Ayios Dimitrios, the Church of Ayia Sofia, and the Rotonda of Saint George are must-sees.
Many of the Thessaloniki's monuments are UNESCO-listed heritage sites. Two popular and interesting landmarks are the Roman Forum, situated in the ancient Greek agora, and the White Tower, an iconic building with a long and bloody history. There are also world-class museums to be explored, including the Thessaloniki Archaeological Museum, which is considered one of the best in Europe. Two other fascinating museums are the Museum of Byzantine Culture and the Jewish Museum of Thessaloniki.
The areas just outside Thessaloniki also house incredible archaeological sites. Vergina - or ancient Aigai - holds the tomb of Alexander the Great's father, and was the place where the young Alexander grew up. Visitors can marvel at the ancient palace complex and theatre, as well as numerous royal tombs at this UNESCO World Heritage Site. Mount Athos, with its mysterious monasteries and rugged scenery is also close by, though only men are allowed to visit. A permit is necessary for this excursion. Travellers can hike up Mount Olympus.
Mount Athos
Only men are welcome to make a pilgrimage to Mount Athos, the secretive 'Shangri-La' on a rugged promontory about 80 miles (129km) southeast of Thessaloniki. Here it is possible to step back in time and mingle with hundreds of monks, from more than 20 monasteries, in one of the most scenic spots in Europe. This unique, mountainous enclave on the coast is sprinkled with huge monasteries, most resembling castles, containing wonderful frescoes, mosaics and libraries. There are also smaller monasteries known as kelions attached to small churches, as well as caves on the mountain slopes where monks retreat as hermits. There are forests and pristine seashore, and beautiful gardens cared for by the monks. It is a truly astounding area to explore and there is nowhere quite like it in the world; unsurprisingly, it is a UNESCO World Heritage Site. Mount Athos is a self-governing area within Greece, and to visit it is necessary to obtain a permit from the Ministry of Foreign Affairs in Athens, or from the Ministry of Northern Greece in Thessaloniki. Women will unfortunately be unable to obtain such a permit, and the amount of visitors allowed daily is limited.
Transport:
Bus from Thessaloniki to Ierissos or Ouranoupoli and thence by Caique.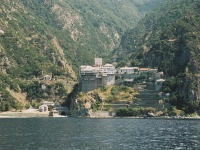 Mount Athos makryba
Vergina
Vergina, known in ancient times as Aigai, is the most important of a cluster of three archaeological sites in the area connected with Philip, father of Alexander the Great. Vergina is where Philip built a massive palace and a theatre, and where he was assassinated in 336 BC. The palace has been excavated, as has the theatre, and the site also features hundreds of burial mounds, some dating from the Iron Age, across the plain. The tomb of Philip was found here undisturbed in 1977, full of treasures that are now on display in Thessaloniki's Archaeological Museum. The vast palace is full of amazing mosaics and paintings and is really exciting to explore, as are the tombs, which are surrounded by a museum and can be seen in all their ancient splendour. The site of ancient Aigai has been declared a UNESCO World Heritage Site and is a privilege to explore for those with an interest in ancient history and archaeology. Nearby is Pella, the remains of the former capital of Macedonia from the 5th century, where Alexander the Great was born; and Dion, an important religious sanctuary once frequented by Philip and Alexander.
Address:
38 miles (61km) west of Thessaloniki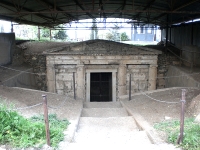 Vergina Macedonian Tomb Pjposullivan1
Mount Olympus
Towering above ancient Dion, about 48 miles (77km) south of Thessaloniki, is Greece's highest mountain, Mount Olympus, home to some of the famed Gods of Greek mythology. Olympus was the residence of the divine family, the twelve most important ruling gods and goddesses of ancient Greece, who therefore were called the Olympians. Olympus was not heaven but a dwelling place of the gods. The mountain is rich in tree and plant life, supporting more than 1,700 species, some very rare, and it is part of a National Park and a World's Biosphere Reserve. The main village in the area is Litohoro, which is connected to Athens and Thessaloniki by bus and train, and has been nicknamed the 'City of Gods' due to its location beneath the mountain. It is possible to climb the highest peak in about two days, and almost the whole hike is non-technical and can be done without experience or special equipment, along numerous mountain trails. However, the final ascent to the summit of Mytikas, the highest of Mount Olympus's 52 peaks, is a class 3 rock scramble and requires some skill and experience. About 10,000 people climb the mountain every year but most only reach the Skolio summit. Hikers generally set out from Litochoro.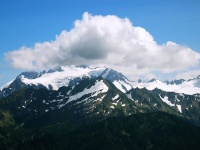 Mount Olympus Jason Pratt