Acropolis of Rhodes
The ancient Acropolis of Rhodes sits high on a hill overlooking the city's west. In the past, it featured sanctuaries, large temples and public buildings, all set on stepped terraces interspersed with gardens. Today's remains date back to the 2nd century BC, though excavations continue at the site.
The Stadium, however, has been fully excavated and restored, as has the Temple of Athena Polias on the site's northern edge. Visitors can also see the Nymphaia, a marble Odeon, the Temple of Pythian Apollo and the remains of the Gymnasium. In their day, these sites were used for recreation, worship, lectures and musical events.
All in all, the acropolis is hugely atmospheric and worth visiting. Views from the top are tremendous.
Address:
Diagoridon 68, Rodos 851 00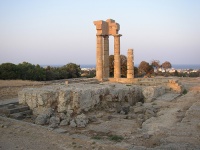 Rhodes Acropolis shadowgate
Karpathos
From Rhodes it is a short ferry crossing to the hospitable island of Karpathos where the clock has stood still in the delightful village of Olymbos in the south. Here the locals go about their business much as they did in Homer's time, wearing their traditional costumes and preserving their language and culture, partly with the aim of attracting tourists but also because they are proud of their heritage and want to preserve local customs. They are particularly proud of their unique houses, built of carved stone and decorated inside with gorgeous embroidery and other colourful folk art décor. The island has great beaches and unspoilt villages and is a pleasure to explore, with a picturesque bay and a monastery at Kyra Panagia, the Diafani village on a promontory to the north, and forested mountains. Karpathos is also renowned for its feast days and weddings. Visitors who happen to catch one in progress will usually receive a warm invitation to join the festivities. Just four nautical miles from Karpathos is the smaller island of Kassos, linked by ferry, which has a tiny community of fishermen still living the way they have for centuries.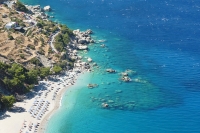 Apella beach, Karpathos Kostas Limitsios
Filerimos Hill
Filerimos Hill used to be the citadel of the ancient town of Ialysos, and its large plateau is home to some intriguing historical attractions. On the eastern side of the hill, see the foundations of the Athena Polias temple and an early Christian basilica, dedicated to Virgin Mary, as well as a Byzantine church. The Monastery of Filerimos, which is thought to have been built by knights, and was later renovated by Italians, is an important archaeological site where Mycenaean pottery and a Doric foundation have been unearthed. A lovely path to the west, lined with cypress and pine trees, leads to an impressive crucifix at the centre of a small square. Apart from all the exciting archaeological ruins and artefacts, this is a pretty area which offers visitors lovely views from the vantage of the hill with some great photo opportunities. Despite its wealth of ancient artefacts and historical significance Filerimos Hill is not as crowded with tourists as some of the other sites on Rhodes which is also a great advantage for those who like to avoid crowds. Bring a picnic and stroll through the area soaking up the sun, the history and the beautiful views.
Address:
Nine miles (15km) from Rhodes town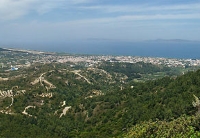 Filerimos Tango7174
Rhodes Old Town
With buildings and monuments dating back hundreds of years, Old Town offers a wealth of historic attractions and has been declared a UNESCO World Heritage Site. The medieval streets feature Gothic windows and paved courtyards lit by traditional street lamps. The most famous of these is the Street of Knights (or Knights Avenue) which leads to the Palace of the Prince Grand Master. This palace displays several artefacts from as far back as the 13th century, when the crusades first came to Rhodes. The shops and stalls of Socrates Street are worth browsing for local jewellery, pottery and clothes. Although there are many gates through which to enter the Old Town, one of the best starting points is Eleftheria (Liberty) Gate, where you'll come to Simi Square which contains the ruins of the Temple of Venus, thought to date from the 3rd century BC. Getting lost in the Rhodes Old Town is almost obligatory: there are about 200 streets and they don't even have names so it can get confusing. Getting lost here is rather wonderful but when you need to find yourself again ask for Socrates Street, which is the 'main' street of the area. The Old Town is completely pedestrianised.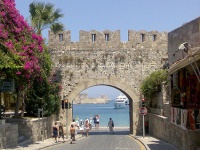 Old Town Jacob Munk-Stander
Rhodes Beaches
The beaches on Rhodes Island are a great attraction for visitors. There are about 45 attractive beaches on the island so there is a lot for visitors to choose from! Afandou beach is quite undeveloped and therefore good for those who don't like a crowd. Faliraki beach, on the other hand, is usually quite crowded and has all the necessary amenities including sunbeds, umbrellas, watersport facilities, restaurants and beach bars to enjoy. The shallow waters of Faliraki beach make it a popular holiday spot for families with children, as do the great facilities. The Faliraki Waterpark and Luna Park distinguish this beach from others on the island as they feature water slides, kamikaze slides and a gigantic wave pool, as well as fully trained and certified lifeguards for safety. Faliraki Beach is on the northeast of the island, just over seven miles (12km) from Rhodes town. Kalathos beach has crystal-clear waters, wooden sunbeds and bamboo umbrellas (very eco-friendly!) and Kallithea beach is renowned for its hot medicinal springs and beautiful palm trees. Lindos beach is right beneath the castle of the same name and is a peaceful little cove, great for a quick dip after visiting the castle.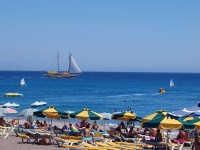 Elli Beach linmtheu
Petaloudes - Valley of the Butterflies
A wonderful place to take the kids while on Rhodes is Petaloudes, the Valley of the Butterflies, although any nature-lover will enjoy this unique experience. This attraction sees a myriad of beautiful butterflies colouring its skies and kids can follow them along the narrow streams, and over the rustic little bridges. The shaded walkways lead to rock pools and waterfalls, and carry a vanilla scent emanating from the local storax trees. The best time to visit the valley is after the rainy season (which ends in late May) when the high humidity in the area sees thousands of Jersey Tiger Moths, which are in fact butterflies despite their name, cover the landscape. They are attracted by the Oriental Sweet Gum trees in the area and can be found in the valley throughout the summer. The Valley of Butterflies is a natural park and a protected conservation area which is lovely to visit even when the butterflies are not around. There is a small Natural History Museum at the entry to the valley where visitors can learn more about this unique ecosystem.
Address:
20 minutes from Rhodes airport, near Kalamonas village.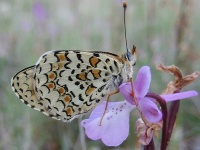 Petaloudes maarten sepp
Marine Aquarium
Children love the Marine Aquarium on Rhodes Island, enamoured by its diverse range of live Eastern Mediterranean specimens including sea flowers, turtles, octopuses and strange-looking decapods (crustaceans with 10 limbs). This venue has been used as an aquarium-museum and research station since 1963 and as such it displays an interesting collection of preserved and mounted marine specimens, as well as numerous scientific instruments. The aquarium is housed in an interesting Art Deco building which was designed by an Italian architect when the island was under Italian rule. It is officially known as the Hydrobiological Station of Rhodes and is far more than a museum; the station is a research centre and a rescue and rehabilitation centre for aquatic animals which works to re-release animals back into the wild once they have been sufficiently cared for and rested. The Marine Aquarium is a very well-respected institution, although it is not as big as many modern aquariums. The aquarium creates an underwater atmosphere which captivates visitors of all ages and the air conditioning ensures that it is a cool and refreshing place to be, especially on a hot summer day.
Address:
Cos Street, Hydrobiological Station of Rhodes
Jellyfish Shadowgate
The Rhodes climate ensures hot, dry weather in summer and mild winters. Temperatures in peak tourist season (July and August) range from 82ºF (28ºC) during the day to 72ºF (22ºC) at night, which is a bit cooler than some other Greek islands. Rainfall is almost non-existent in summer, though showers can be expected between October and March.
Despite the heat being oppressive by some standards, summer remains the most popular time to visit Rhodes. June, July and August see the island packed full of tourists, with prices escalating accordingly.
Spring and autumn may be the best times to visit. Late spring is particularly lovely, with most of the benefits of summer and fewer disadvantages. That is, the sea is getting warm, there are fewer people, and Rhodes is particularly lush. Early autumn visitors will find Rhodes warm without being swelteringly hot, balmy water and fewer tourists than in summer.
Rhodes Diagoras International Airport
Location:
The airport is located just nine miles (14km) from Rodos on the island of Rhodes in Greece.
Getting to the city:
Buses run between the Airport and the city of Rhodes. The bus stop is located between the new and the old terminal. Tickets can be purchased from the bus driver.
Car Rental:
Avis, Sixt and Hertz all provide rental cars at Rhodes Diagoras International Airport.
Airport Taxis:
Taxis can be caught from outside the terminal. They are generally metered but, if no meter is available, passengers should agree on a price before leaving the airport. The trip is about 25 minutes into Rhodes Town.
Fascilities:
ATMs, a bank, currency exchange facilities, left luggage lockers, duty free shops, souvenir stores, restaurants, snack kiosks and medical facilities are all available and the airport is accessible to disabled persons.
Parking
Short and long-term parking is available at Rhodes Diagoras Airport. It is located directly opposite the terminal.
Rhodes is one of the liveliest islands in Greece. Its varied nightlife comprises bouzouki clubs, Greek folk dance nights and dance clubs.
The streets off Faliraki beach are home to many popular cafes, bars and clubs. All told, Faliraki is a great place to party. There's a casino next to Elli Beach.
Old Town also has a number of good entertainment venues, such as the Alexis Taverna. The establishment has hosted Winston Churchill and Jackie Kennedy. The Son et Lumiere (Sound and Light) show at Palace of the Grand Masters is excellent. Visitors can see traditional Greek dancing at the Nelly Dimoglou Dance Theatre.
Rhodes offers a variety of night-time diversions, ranging from the cultural to the purely hedonistic. Visitors often find an atmospheric restaurant and enjoy a long, drawn-out supper, preferably with a lovely view and some locals around them. Many of the bigger hotels have their own restaurants, bars and entertainment programmes, and all the big resorts offer entertainment options.
Rhodes is a major port with sea links to Athens, the islands of the Aegean and Crete, as well as to international destinations such as Turkey, Cyprus and Israel. Most international and inter-island ferries dock at Rhodes Town's commercial harbour, where travellers will find high-speed catamarans, hydrofoils, car ferries or flights to other islands in the Dodecanese.
Rhodes receives direct flights from some airports in the UK during summer, and it's easy to catch a connecting flight from Athens. Public buses service the coastal towns around the island, while bus tour cover island excursions.
Shared taxis are available for shorter distances, though Rhodes taxi drivers have a bad reputation for overcharging or receiving payoffs from hotels. Visitors should always agree on a fare before setting off. Rental car agencies are readily available all over the island. Horses, donkeys and bicycles are fun ways to explore the more rural and scenic areas. Walking is also a good option in many parts of Rhodes.
While Rhodes' most popular 'modern' attractions are its beautiful beaches, this island's rich past has laden it with a wealth of cultural and religious sites. Visitors can wander Old Town's charming streets and experience an old-world way of life. Or, they can climb Filerimos Hill to visit the medieval ruins. There are interesting castles at Kastellos and Monolithos. The 200 BC Acropolis of Rhodes is another must-see.
Rhodes has a number of terrific beaches, where visitors can sun themselves, scuba dive or surf. Options include Rhodes Town, Lindos, Faliraki, Tsambika and Ixia. There are also smaller and quieter beaches at Ladiko and Afandou.
Children usually enjoy Rhodes' beaches and other attractions. The Valley of the Butterflies, local aquarium and the Faliraki Water Park are excellent choices.