Suomenlinna Fortress
The historically significant Suomenlinna Fortress is not only a major military monument worthy of the UNESCO World Heritage List, but also home to about 800 Finns who live in the renovated barracks. The entire site is a fun, multifaceted attraction for Helsinki residents and visitors. Built during Swedish rule in the 18th century, the fortress is situated on an island at the entrance to Helsinki's harbour. The fortification became a strategic military shipyard with one of the biggest dry docks in the world, comparable to the fortress at Gibraltar. Apart from admiring the architecture, there is plenty to experience at Suomenlinna, which contains six museums, galleries, restaurants, cafes, several parks, beaches, and nature areas. Guided walking tours are offered and there are always events taking place like exhibitions, jazz shows, and theatrical performances, particularly during summer.
Transport:
Ferry or water bus.
Opening time:
Open daily 10am-6pm during summer and 10.30am-4.30pm during winter.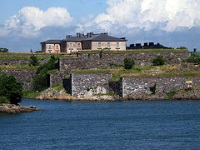 Suomenlinna Leo-setä
Senate Square
Architecture buffs will enjoy sitting in a cafe admiring the buildings surrounding Helsinki's lively Senate Square, renowned for some of Europe's finest examples of the neoclassical style. But you don't need any knowledge of architecture to enjoy this lovely square, which has a great atmosphere and is one of the central meeting places of the city. The square is dominated by the city's main landmark, the Lutheran Cathedral, designed by Carl Ludwig Engel and consecrated in 1852. The interior is as perfect as the exterior design, and is open to the public daily for no charge. Other buildings on the Square designed by Engel are the Government Palace, completed in 1822, and the University buildings, completed by 1832. The square is a thrilling place to be on New Year's Eve as this is where the locals come to celebrate with singing, dancing, and brilliant fireworks displays. There are bus and walking tours of Helsinki departing from the square, which is a good starting point for exploration of the city.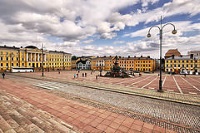 Senate Square Miguel Virkkunen Carvalho
Uspenski Cathedral
Many have compared Helsinki to the beautiful Russian city of St Petersburg, a close neighbour across a strait of water. The exotic redbrick Uspenski Cathedral cements the Russian connection, designed by Aleksei Gornostayev of St Petersburg in the mid-1800s. The ornate cathedral sits atop a rocky outcrop on the Katajanokka Peninsula opposite the fish market, fronted by a statue of Tsar Alexander II as a memento of Russia's occupation of Finland until 1919. The magnificent Byzantine edifice is topped with a characteristic golden onion dome, and the interior is opulently decorated with valuable icons. The cathedral is beautifully situated and very eye-catching as it can be seen from many places in the city. There are wonderful views of Helsinki from the hill. Parts of the church are off-limits when there is not a service being conducted but there is still plenty to see. Flash photography is not allowed inside.
Address:
Pormestarinrinne 1, Katajanokka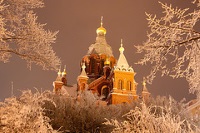 Uspenski Lassi Kurkijärvi
Market Square
Known locally as Kauppatori, the Market Square in Helsinki is the central meeting point of the city. The space is sandwiched between the sea and a row of impressive historic buildings which include the City Hall, the Swedish Embassy, and the Presidential Palace. Trams and waterbuses converge on the square, where visitors gather to watch the changing of the guard at the palace and admire the Havis Amanda mermaid statue at the west end of the Square in front of Esplanade Park. There is a longstanding tradition of displaying old American cars in the square on the first Friday of every month, which is fun for motor enthusiasts. The square is also a departure point for the ferries that travel to Suomenlinna, and it is possible to hire private vessels for sailing trips out to other nearby islands in summer. The Baltic Herring Festival occurs every year in October, serving as the oldest recurring festival in Helsinki. It's a particularly good time to visit as lots of food and craft stalls spring up in the square, with plenty of herring to sample. Seagulls have become something of a menace in the Market Square, swooping down to snatch food of all kinds from the hands of unsuspecting tourists.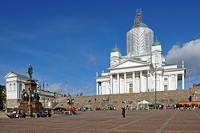 Market Square Dennis Jarvis
Temppeliaukio Church
An awesome and unique piece of architecture, the Temppeliaukio (Church in the Rock) was designed by brothers Timo and Tuomo Suomalainen and carved out of solid granite as recently as 1969. It has become one of Helsinki's most famous attractions, its rock walls roofed over with a massive concave copper ceiling, which gives it excellent acoustics and makes the roof seem like an enormous sun. From the outside, it still feels like part of the rock that surrounds it. The interior is magnificent and quite the opposite of the dark cave you would expect when looking at the rock-hewn building. It is an unusual place of worship but clearly a spiritual attraction and no matter what your beliefs this artistic church will surprise and perhaps inspire you. The church is often used as a venue for musical events due to its wonderful acoustics and there are sometimes piano recitals in the afternoons; if you visit during one of these performances you can leave a donation to show your appreciation. English services are occasionally conducted on Sundays at 2pm.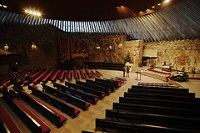 Temppeliaukio Rob Hurson
Seurasaari Open Air Museum
The Seurasaari Open-Air Museum allows visitors to step back in time and glimpse the traditional way of life in the Finnish countryside, and all this in the heart of the capital city, Helsinki. Situated on a lovely green island accessed from the mainland via a footbridge, the museum consists of a collection of cottages, farmsteads, rural churches, manor houses, and other old buildings, all preserved and relocated from their original sites around the provinces of Finland. The 87 buildings currently on the museum site have been arranged to form a complete replica of a country district, reflecting what life was like in various levels of rural society between the 18th and 20th centuries.
Address:
Seurasaari Island
Transport:
By bus and car.
Opening time:
Monday to Friday 9am-3pm, Saturday to Sunday 11am-5pm mid-May to mid-October.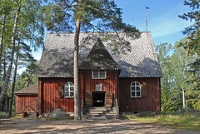 Seurasaari Jean-Pierre Dalbéra
National Museum of Finland
History enthusiasts will enjoy the National Museum of Finland in Helsinki, which depicts Finnish life from prehistoric times to the present. Housed in an impressive Romantic-style building, it looks a bit like a castle. The museum's permanent exhibition is divided into different sections: the Treasure Trove, which is a display of coins, medals, and weaponry, while the archaeological section features some rare Stone Age finds. In addition, the cultural heritage collection displays folk costumes, textiles, and furniture. The Workshop Vintti offers an exciting interactive approach to history, letting you sit on a throne, saddle a horse, or build an authentic Finnish wall. Other highlights include the section on the Vikings and the exhibition on jewellery through the ages in Finland. One common criticism of this otherwise popular museum is that there is not adequate coverage of the Finnish wars, which may be a disappointment to military history lovers. The museum has regular temporary exhibitions as well as the extensive permanent collection but these usually carry an extra cover charge. The rich history of the Finnish is relatively unknown to outsiders, which makes this museum especially intriguing. The museum also has a cafe and shop.
Address:
Mannerheimintie 34
Transport:
By foot (10 minute walk from Central Station), by tram or by car.
Opening time:
11am-6pm Tuesday to Sundays, closed Mondays and public holidays.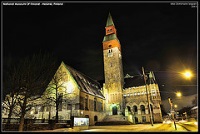 National Museum Urko Dorronsoro
Santa Claus Village
Santa Claus Village is a popular daytrip from Helsinki via trains to Rovaniemi. Every day is Christmas in this rather commercialised but still quaint Lapland hideaway of northern Finland. Here, Mr Claus spends his time preparing gifts for the world's children and meeting and greeting an estimated 500,000 delighted visitors a year. Coincidentally, the valley inside the Arctic Circle where Santa's Village is set is shaped like an ear, so it is said that Santa can listen to all kids across the planet. All sorts of activities are on offer at the village, including a reindeer park, snow safaris, and Santa's personal post office, from which you can mail letters or cards home. There are beautiful Christmas decorations on sale, along with plenty of opportunities for present shopping. Santa Claus Village and Santa Park are located just a mile from the international airport of Rovaniemi (capital of Lapland), and is also accessible by bus or train from Helsinki.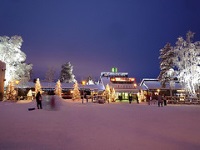 Santa Village Timo Newton-Syms
Helsinki Zoo
Situated on the popular island of Korkeasaari, the Helsinki Zoo is one of the best family attractions in Helsinki and can be reached by bus, car, or ferry during the summer. Home to about 150 different animal species and almost seven times that many varieties of plant life, the zoo makes a great stop for anyone travelling with children in Helsinki. The place is arranged in different habitats so that visitors move from one world to another through tundra, rainforest, mountains, wetlands, deserts, and tropics. Each season also presents visitors with different experiences, ranging from autumn when the big cats get more active to greeting the newborns in spring. Visitors can see Finnish wildlife like musk ox, reindeer, and snowy owls, or more exotic flora and fauna from all over the world, including rare animals like the majestic snow leopard and the red panda. As part of its mission to preserve and protect biodiversity the Helsinki zoo breeds and raises endangered animals. The zoo, founded 120 years ago, also offers rest areas, restaurants, and souvenir shops and you can bring your own picnic and enjoy it sitting on the cliff tops with lovely views.
Address:
Mustikkamaanpolku 12, Korkeasaari
Transport:
By bus, car or ferry (only in summer).
Opening time:
Daily 10am-8pm in summer and 10pm to 4pm in winter.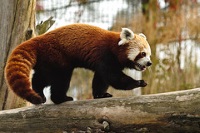 Helsinki has a climate that is transitional between maritime and continental. Summers (June to August) are warm and bright, with average temperatures ranging from a cool 59°F (15°C) to 72°F (22°C) in the warmest month of July. Days are long and sunny, with up to 19 hours of daylight. Towards the end of September temperatures cool down drastically as days grow shorter, and by November the weather is at freezing point as the cold, snowy winter sets in. The city is blanketed by snow in winter (December to February), with temperatures plummeting well below freezing to the point where the sea itself freezes over, and it is never fully daylight. Spring arrives late, in early April. The best time to visit is in summer, which is also when many of the city's festivals happen. Spring can also be pleasant as the natural areas of the city come alive with flowers and new greenery. If you are planning a trip to Finland in winter, Helsinki will be very cold but is not without its comforts and attractions.
With more than 800 restaurants to choose from, it is possible to find many international cuisines as well as places to sample tasty local food when eating out in Helsinki. Various restaurants on offer include steak houses, bistros, cafes, up-market gourmet establishments and fast food joints. Whatever else you may want to try though, the traditional Finnish food is a must.
Finnish food is generally quite healthy and simple with an emphasis on fresh produce and some influence from Russian and Scandinavian cooking traditions. The local cuisine centres on seafood and many of the trademark meals are fish dishes. Fresh berries are also common on menus in Helsinki, often served with ice-cream or pastry. Lapland has its own distinct cuisine and its most famous staples are reindeer steak and snow grouse. The most common drink in Finland is vodka but in Helsinki it is also wonderful to sample the hot spiced wine called gloggi, especially in the winter.
The best areas to find restaurants in Helsinki include the central areas of Katajanokka and Kruununhaka as well as the city's main boulevard, the Esplanadi. The Hietalahti area is good for those eating on a budget, and the Kallio quarter is a fun clubbing area with cheap ethnic food and some good bars.
Bellevue
Helsinki is renowned for its Russian restaurants, and probably the best of the bunch is Bellevue, which is reputedly the oldest Russian restaurant outside of Russia. It also claims to produce Russian favourites that are better than you will taste in the home country, and many gourmets tend to agree. Characteristics of Russian cooking are soups, black bread, pastries, caviar and fish dishes. Bellevue's menu contains all these, for example a menu featuring beetroot soup, Chicken Kiev and Baked Alaska, or try pot-roasted bear steak or roast fillet of reindeer. The ambience is pleasant, the décor unpretentious but classy, and the service friendly and efficient. Open Tuesday to Friday for lunch and dinner, and Saturday for dinner only.
Lappi
For a taste of traditional Lapland cuisine in the heart of Helsinki, Lappi should be a definite dining experience on any visitor's itinerary. Finnish dishes, including reindeer of course, are served up on the rustic wooden tables in a warm, friendly 'log cabin' atmosphere. If you want to just pop in for a drink the attached Kelonkolo bar will give a sample of the ambience to be enjoyed in the restaurant itself, where specialities include dishes like grilled fillet of elk with turnip and red wine sauce. Reservations are essential at Lappi, so popular with tourists that its menu is printed in eleven languages. The restaurant opens Monday to Saturday for dinner.
Ask
The Michelin-starred Restaurant Ask serves organic fine dining in a quiet street of Kruununhaka and while it might seem unassuming from the outside, it's known as one of the best places to eat in Helsinki. The set menu changes weekly and features modern Scandinavian food carefully paired with biodynamic wines, some available exclusively through Ask. With only 22 seats, patrons need to reserve their tables far in advance to experience this exclusive eatery. Open Friday and Saturday for lunch and Tuesday to Saturday for dinner.
Gran Delicato
Whether you're after a quick bite or a relaxed cup of coffee, Gran Delicato is one of the most popular delicatessens in Helsinki. The scent of fresh-roasted coffee pervades the air as customers linger over the stuffed ciabatta and baguette sandwiches as well as pastas, salads and other light meals. There are three locations across Helsinki, each with a slightly different atmosphere. Their flagship restaurant on Kalevankatu is a bit of a walk from the city centre, but worth it for the Greek spirit and great food.
Address:
Various locations
Lie Mi Kamppi
With a wide variety of Asian and Vietnamese dishes, Lie Mi places itself on the culinary map of Helsinki with gusto. Located in the design district of the city, it's a popular place to grab a quick lunch. Try the traditional Vietnamese Pho with beef and meatballs or the Shanghai tacos with crispy pork. During lunch, a fresh salad bar is included in the price along with coffee or tea. The menu changes for dinner, and their Runeberginkatu location serves brunch on a Sunday. Open Monday to Saturday for lunch and dinner.
Savotta
With Finnish delicacies like reindeer and bear on the menu, Savotta gives local fare an edgy twist. While the ground-level dining area looks out over the stately Senate Square, the downstairs space has been transformed into a showcase of the logging camps of Finland. As the restaurant carefully curates ingredients from small local producers, the menu changes regularly with the season, but look out for perennial favourites like fresh fish from the lake and the range of berries in both savoury and sweet dishes. Open Monday to Saturday for lunch and dinner and Sunday for dinner.
Address:
Aleksanterinkatu 22
Helsinki-Vantaa International Airport
Location:
The airport is situated about 11 miles (17km) from Helsinki city centre.
Time:
GMT +2 (GMT +3 between last Sunday in March and last Sunday in October).
Transfer Between Terminals:
Terminals are in the same building and within easy walking distance of one another.
Getting to the city:
There are regular bus services between Helsinki, the railway station and the airport. Bus transfers from the airport to local hotels and parking areas are free of charge. The Finnair City Bus also transfers passengers to downtown Helsinki.
Car Rental:
Avis, Budget, Hertz and Europcar are represented at the airport. Service desks are located in the corridor between the two terminals.
Airport Taxis:
Taxis are available at ranks outside the Arrivals hall of both domestic and international terminals.
Fascilities:
The airport has several banks with exchange facilities, and there are ATMs throughout the airport. Numerous restaurants and cafes are available in the terminals, as well as duty-free shops and shopping areas with a variety of retail outlets. Sleeping pods, a play area, travel agencies, a pharmacy and luggage storage are also available.
Parking
Parking at Helsinki Vantaa International Airport is charged at rates ranging from €10 to €35 for one day. Short-term parking for pick-ups and drop-offs is charged at €1 every 10 minutes.
Helsinki Festival
The Helsinki Festival showcases the best Finnish and international performing arts, drawing 300,000 people every year to a full programme of music, dance, theatre, popular and world music, cinema, and exhibitions. The festival, founded in 1968, takes place in a unique tented venue in the city centre. One of the most popular aspects of the festival is the Night of Arts when the city streets, parks, churches and galleries are given over to dance groups, orchestras and buskers.
The festival also features a Children's Festival. The mission of the festival is to make art of all kinds accessible to all people so tickets are quite cheap, and the Night of Arts is celebrated all over the city for the public to enjoy. The festival also runs for almost a month, in the pleasant summer season, which means that many visitors have the opportunity to experience this special event in Helsinki. Check the website for details on the programme for each year and ticket prices for different events. You can buy tickets online or at the festival venue.
Venue:
The Huvila Festival Tent at Hakaniemi, opposite the Helsinki City Theatre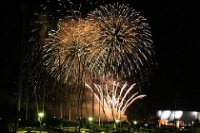 Helsinki Festival Massimiliano
May Day (Vappu)
Finns know how to have fun and when they party they do so seriously. The best party of the year in Helsinki, particularly for students, is the May Day celebration. Although neighbourhoods throughout the city celebrate to herald the arrival of spring in their own way, the main event takes place in Market Square and along the Esplanade, where crowds gather in the early evening of 30 April (Walpurgis Night) to watch the statue of Havis Amanda adorned with a white cap.
Champagne is sprayed over the mermaid statue, launching the festivities which take the form of an exuberant street party continuing well into the night. This is a genuinely fun and festive time to be in the city which comes alive after the long winter and the enthusiasm of the locals is infectious. Every year, the festival takes place on the same dates. For more information, contact the Helsinki City Tourist and Convention Bureau.
Vappu John Cullen
Helsinki City Marathon
Finland's popular annual Marathon event attracts thousands of runners from around the world, most probably because the race follows a particularly scenic course along the coastline in and around Helsinki. The race is run in summer but the sea breezes are generally the perfect accompaniment to the marathon as they keep participants cool. There is also a children's race on the same day which is great fun for spectators and little ones supporting their parents.
There is a festive atmosphere in Helsinki for the race which draws crowds of spectators. If you have the stamina, this is a glorious way to explore Helsinki! The marathon, like all races of its kind, is 26 miles and 385 yards (42.195km).
For those interested in Finland's running events there is also the popular Helsinki City Run, Finland's largest half marathon, which takes place on the same day. For more information on all running events in Finland check out the website.
Venue:
The marathon starts and ends at the Olympic Stadium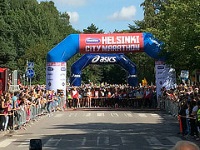 Helsinki Marathon Esko Kurvinen
Wife Carrying World Championships
In the Wife Carrying World Championships held annually in the town of Sonkajärvi, men carry their wives on their backs over an 820 foot (250m) course comprising obstacles and even a water jump. The winner is awarded his spouse's weight in beer. Several types of carry may be practised, namely piggyback, fireman's carry or Estonian-style, where the wife hangs upside-down with her legs round her husband's shoulders, holding onto his waist.
The idea of the Wife Carrying Competition sounds like a joke and the event is meant to have humorous aspects but it also has deep roots in the region's history: in the late 1800s a brigand called Rosvo-Ronkainen tested his troops by setting a challenging obstacle course for them; the part about carrying a woman seems to be a reference to the common practice by these outlaws of raiding the nearby villages and abducting local women.
These days the women have to be willing! But men keen to participate don't necessarily have to be married, they can use any woman for the race so long as she is over 17 years old and weighs more than 49kg. One of the rules is that all contestants must have fun and there is also a prize for the most entertaining couple. Contestants can be of any nationality.
Venue:
Rutakontie 21, Sonkajärvi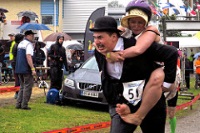 Wife Carrying Visit Lakeland
Helsinki may be cold, but the pulsating nightlife is enough to get this city hot and sweaty. With a number of trendy nightclubs, bars and pubs, visitors will have no problem making full use of the long, dark winter nights. Most of the nightlife in Helsinki is centred round Uudenmaankatu and Eerikinkatu, where bars and clubs abound and crossing from one to the other is a quick dash across the cold street. Finns love their tango music too so expect to find plenty of sultry dancing in restaurants, bars and even the streets during the summer months, with a few of the favourite outdoor dancing spots nearby the Vantaa area.
Head to the stylish bars in Uudenmaankatu 9 for a night out with the local trendoids and mingle with the ultra-hip, while sipping on designer beers and nibbling on tapas. Eerikinkatu 27 is the place to be seen working up a sweat to local techno music and a few bars here are synonymous with the gay scene of Helsinki. While in Simonkatu there are megaclubs, with some boasting up to three storeys, six bars and hundreds of Helsinki's hottest people partying the night away. For live music, Telakkakatu 8 is where some of Helsinki's hottest new bands showcase their talents, while Mikonkatu 15 is great for those looking for a heavy rock gig and a little moshing for good measure.
For a more cultured evening, head to Finlandia Hall for the Helsinki Philharmonic Orchestra and other concert performances (this is the home of Sibelius after all). The Finnish National Opera performs regularly, and Helsinki's thriving jazz scene is personified in the UMO Jazz Orchestra, which plays at various venues around town.
For updated concert listings and gig guides, pick up a copy of the Helsinki Guide, available for free at most hotels and tourist centres.
Helsinki has a simple and extremely efficient public transport system, rated one of the best in Europe, making it easy to hop onto trams, buses, the metro or a ferry with a single ticket purchased from the driver, ticket machines or even by SMS on a mobile phone. Special tourist tickets are available for visitors allowing for one, three or five days' unlimited use of the public transport system. There are also plenty of taxis available to be hailed, ordered by telephone or boarded at one of the many taxi ranks. A car in the easily navigable city of Helsinki poses no problems and it is easy to drive yourself around should you so desire. There are several car hire agencies available.
The city is compact and pleasant so that getting around on foot is an attractive option. Many of the most popular attractions are clumped together and can be easily navigated on foot. There are also many lovely parks to walk through. Alternatively, in summer make use of the hundreds of kilometres of bike trails by picking up a bicycle for a small coin deposit at one of the bike racks dotted around the city centre.
Straddling islands and lapped by the Baltic Sea, Helsinki is a uniquely attractive and interesting city to visit. Many travellers choose to enjoy the sea air and enjoy the walk along the seaside which covers around four miles (7 km), taking visitors along Lapinlahti Bay past sights like the Sibelius Monument, Seurasaari Open-Air Museum, Hietaniemi Beach, a mini golf course and Mäntyniemi, one of the official residences of the President of Finland. The best time to enjoy this stretch of coastline is on a warm summer's day.
Visit the old Swedish fortress of Suomenlinna, admire the engineering genius of the Temppeliaukio Church (Church in the rock), have your picture taken in front of the Uspenski Cathedral or sip on a cup of coffee while you watch the world go by in neoclassical Senate Square. More active visitors should hire a bike and make their way around this picturesque city as it has an impressive network of bicycle routes.
There are many things for kids to do in Helsinki, including visiting the Helsinki Zoo on Korkeasaari Island or the interactive Heureka Science Centre. There are many parks in Helsinki that offer space to run around in, with Sinebrychoff Park being popular in the wintertime for sledding. Pihlajasaari Recreational Park has a nice beach, but look carefully where you go, as some areas are designated for nudists.
Travellers should look into buying the Helsinki Card which entitles the bearer to unlimited free travel on public transport within the Helsinki area, free admission to a number of the city's attractions, and provides discounts on restaurants and other activities around Helsinki. Helsinki Cards are available for 24, 48 or 72 hours and prices start from EUR 46 for adults.