The Dominican Republic is renowned as an affordable beachdestination, and brims with package tours and enticingall-inclusive resorts. It's also a captivating blend of culture,history, and stunning natural beauty. The main tourist magnets arethe areas around Puerto Plata, Punta Cana, La Romana, and Samaná.However, the country's cultural jewel is the capital, SantoDomingo: a UNESCO World Heritage Site.
In addition to well-developed beach resorts and world-class golfcourses, the Dominican Republic is home to vast coral reefs,waterfalls, jungles, secluded islands, pine forests, and thehighest peaks in the Caribbean. Thanks to these diverse ecosystems,recreational opportunities abound. Adventure seekers head to themountains to raft the white waters of the Yaque del Norte River.The rugged alpine terrain also lures hikers and bikers with itsmany mountain trails. Along the coast, water lovers can snorkel,dive, kayak, kite board, sail, and surf.
Cabarete
Many consider the small, laid-back seaside town, Cabarete, to bethe kitesurfing and windsurfing capital of the Caribbean. Thepopular holiday destination has hosted international competitionssince the 1980s, and is the perfect tropical setting, particularlyfor younger travellers seeking sun and adventure sports. Cabaretealso has a buzzing beachside bar and restaurant scene. Touroperators offer plenty of other activities as well, such as hiking,surfing, canyoning, horse riding and mountain biking.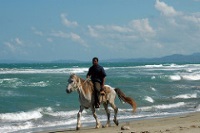 Cabarete Jeff
Cathedral of Santa Maria
Inside the Colonial City stands the oldest cathedral in thewestern hemisphere. Consecrated in 1541, it is still used to thisday. Its mix of late-Gothic and Renaissance elements provide abeautiful example of Spanish Renaissance architecture, with itsgolden coral facade and Gothic interior. Its walls have seen agreat deal of history, including the coming of Sir Francis Drake,who captured Santo Domingo in 1586 and held the town for ransom.Interestingly, the remains of Christopher Columbus were once housedat the cathedral, before their final resting place in the Faro aColon. The cathedral's treasury has an excellent art collection ofancient woodcarvings, furnishings, funerary monuments, silver, andjewellery, which visitors can explore.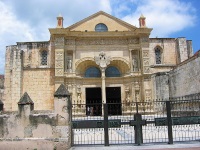 Cathedral Santa Maria Lapo Luchini
Colonial City
Known as the Colonial City, the historic enclave of SantoDomingo covers only one square mile (3 sq km), but has dozens ofhistorical sites and buildings behind its walls. Visitors will findparks, forts, churches, plazas, statues, palaces and monuments. Awalking tour of these fascinating buildings takes at least threehours, and proceeds over cobbled streets where ChristopherColumbus, Fernando Cortez and Francis Drake once walked. The city'smain street, Calle de Las Damas, is the oldest street in the NewWorld. Regarding sights, must-sees include the House of Cord, whichis the oldest European building in the Americas, and the AlcazarPalace, where Christopher Columbus' son Diego once lived. It wasbuilt between 1510 and 1514.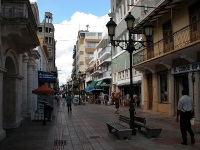 Colonial City Siso84
Columbus Lighthouse Monument
The monument was built on the eastern shore of the Ozama Riverin the early 1990s, to commemorate both Santo Domingo's status asthe oldest European city in the Americas, and the 500th anniversaryof Columbus' arrival in the New World. The building is 680 feet(210m) long, and built in the shape of a cross. It houses what areclaimed to be the remains of Columbus himself, and is fitted withintense lights that project the image of the cross into the sky atnight. The monument was designed by Scottish architect J.L. Gleave,who won an international competition with his plans for thelighthouse. The building is also the repository for numerousdocuments and artefacts associated with the early Spanish colonialtimes.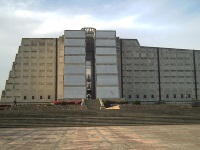 Columbus Lighthouse Jefry Lagrange Reyes
National Aquarium
One of the better aquariums in the Caribbean lies about a mileeast of the Columbus Lighthouse monument, and offers visitorsguided glimpses of the region's diverse, colourful sea life. Theopen, airy National Aquarium is equipped with a clear-glasssea-tunnel that makes viewing the enclosed sea life an awesomeexperience. Visitors can see everything from angelfish to sharks.The attraction is just a short drive out of the city.
Address:
Av. España 75, Sans Soucí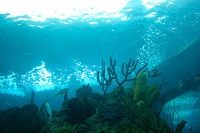 Aquarium Jen Gallardo
Plaza de la Cultura
The vast green square in the heart of Santo Domingo serves asthe city's cultural and artistic showcase. It's fronted by acluster of four museums and houses the city's most importantcultural venues, including the Teatro Nacional (National Theater).The square also boasts the likes of the Palacio Nacional, whichhouses the Presidency of the Dominican Republic; the Palacio deBellas Artes (Palace of Fine Arts), a neoclassical building that isthe permanent home of the country's National Symphony Orchestra;and the Boulevard 27 de Febrero, a pedestrian promenade located onthe busy Avenida 27 de Febrero, which displays works of art fromprominent Dominican artists and sculptors. The museums in the plazaare the Museum of Modern Art, the Museum of History and Geography,the Museum of Natural History and the Museum of Dominican Man. TheNational Theatre runs a full programme of opera, ballet, music anddrama productions year round, and visitors should certainly take ina show to round off their cultural experience in Santo Domingo.
Address:
Avenida Maximo Gomez, Santo Domingo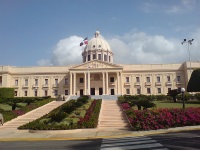 Plaza de la Cultura BigGabriel555
Los Tres Ojos National Park
Located on the east bank of the Ozama River, the 'Three Eyes'park is a surreal experience for visitors. The attraction isactually a series of huge natural caves that contain fresh-waterlagoons. One is a sulphuric lake rumoured to be bottomless. Avolcanic crater contains it. The caves are also festooned withstalactites and stalagmites. History lovers should note that thepre-Columbian Taino Indians used the caves for religiousceremonies. The site is currently one of the most-visited touristattractions in the country. The caves are open from 8.30am to5.30pm, and are illuminated at night by many coloured lights.
Address:
Av. Las Américas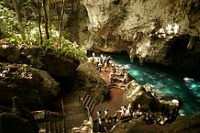 Los Tres Ojos Swatigsood
Boca Chica
The small seaside town of Boca Chica lies just east of SantoDomingo on the Avenida de las Americas, and is a popular escapefrom city life. Its calm, crystal-clear waters make for superbswimming conditions, and its golf and seafood scenes are highlyrecommended. Visitors may also enjoy the destination's yacht clubs.Along with its azure waters and pristine white sands, Boca Chica'sshort distance from the island's capital city makes it the mostpopular beach in the Dominican Republic, especially on weekends andholidays. Boating visitors can anchor off Boca Chica's two islets,La Piedra and La Matica.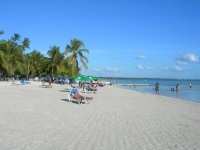 Boca Chica Bxmuchacho
Amber Museum
An attractive Victorian building in the centre of Puerto Plataon Duarte Street houses the Amber Museum, which showcases a uniquecollection of valuable Dominican amber. According to experts, theamber found in this region is the most transparent, and thereforethe most valued, in the world. Classified as a semi-precious stone,the substance is actually tree resin that has hardened acrossmillennia, often enclosing fossils of plant and insect life. Themuseum offers guided tours in several languages, and has a shopwhere a full selection of Dominican amber jewellery can bepurchased.
Address:
61 Duarte Street
Opening time:
Monday to Saturday 9am - 6pm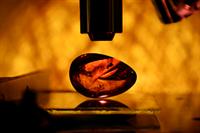 Amber Museum Michael Rhys
Mount Isabel de Torres
Towering over the city of Puerto Plata is the 2,600 feet (792m)Mount Isabel de Torres, which is a popular tourist attraction inits own right. Visitors can take a spectacular seven-minute cablecar ride up the mountainside to explore the summit. The botanicalgarden at the top boasts an amazing array of flora and fauna, aswell as a cruciform statue of Jesus Christ. The statue replicatesRio de Janeiro's Christ the Redeemer. There is also a restaurant,from which diners can enjoy breathtaking views of the city andcoastline.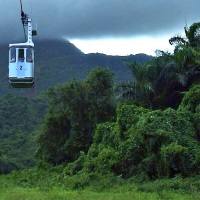 Mount Isabel de Torres Mercedes
Fuerte San Felipe
The only remnant of Puerto Plata's Spanish Colonial past is asmall fort. Built in the mid-16th century to protect the bayagainst pirates, it features a moat, and a collection of historicalartefacts in a small museum. The fort never saw great battle,though, and was mostly used as a prison. An ocean-side road knownas the Malecon lies to the east of the fort, and has many cafes androadside vendors. It is a popular promenade for walks beside thebeach.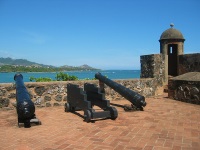 Fort San Felipe Kyle Simourd
Sosua
To the east of Puerto Plata is the holiday destination of Sosua,a small village with a cosmopolitan character. Visitors will find asuperb crescent-shaped beach and numerous cafés, bars andrestaurants. The town was developed by a group of approximately 600Jewish refugees from Europe who settled here in 1940, and foundedthe now-thriving dairy industry for which the village is noted. Theoriginal synagogue built by this expatriate community is stillstanding, and features a museum dedicated to the history of thecommunity.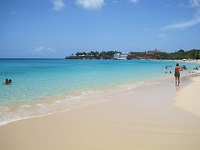 Playa Sosua Brent
Samana Peninsula
Jutting into the Atlantic like a finger, the beautiful SamanáPeninsula lies in the east of the island and is a remote area withdeserted white-sand beaches, palm forests and clear, calm waters.Hidden towns and fishing villages, brightly painted Dominicanhomes, and a Mediterranean-influenced atmosphere characterise itscommunities. Mountain passes with winding roads dominate theinterior. Visitors will enjoy their cool waterfalls, lushvegetation and magnificent views. The Samaná Peninsula is alsoknown for the migration of humpback whales. This happens betweenJanuary and March every year, when whales enter the sheltered warmwaters along its coast.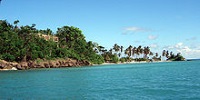 Samana Peninsula Jens Jäpel
Puerto Plata
Capital to a province of the same name, Puerto Plata sits on thecountry's north coast and is the gateway to the many holiday townsand resorts found adjacent to the shore. The coastline itself isblessed with beautiful stretches of pristine beach and lush greenvalleys, and has the majestic Mount Isabel de Torres in thebackground. Christopher Columbus described the spot as 'the fairestland under heaven' when he arrived there in 1492, and modern-daytourists tend to agree with him. The city sports a romantic air ofdays gone by, enhanced by its Victorian architecture. Indeed,filigree-lace wood and ironwork, as well as 'gingerbread' motifscharacterise most of the historic homesteads and public buildings.That said, the town has a buzzing atmosphere, with many restaurantsand clubs pumping the sultry beats of merengue and salsa into thetropical night air.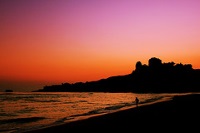 Beach walker Vishal Patel
The Dominican Republic is hot and tropical, with little seasonalvariation in temperatures, which average about 77°F (25°C). Seasonscan, however, be determined by rainfall, with October to Aprilbeing the rainy season on the north coast, while May to November isthe wettest month in the south of the country. The driest area isthe west. Cooler temperatures and less humidity are generallyexperienced between November and April, while the mountainousinterior is always cooler than the rest of the country.
Hurricanes occur on average once every two years on the island,most striking the south of the country and most happening in Augustand September. The busiest time of year to visit the DominicanRepublic is between December and April, when North Americans take atropical break from their winters, and from June to September,which coincides with European summer holidays.
Money:
The currency is the Dominican Republic Peso (DOP), which isdivided into 100 centavos. Many of the hotels and restaurants inthe main tourist destinations display their prices in US dollars aswell as in Dominican Pesos, as US dollars are widely accepted. Someplaces will also accept Euros.
The peso cannot be exchanged outside of the Dominican Republic,though major currencies can be converted into pesos at Central Bankapproved bureaux. Only a small percentage of the pesos bought canbe reconverted, and only if the original receipts are produced. So,it's best if travellers avoid buying more pesos than they're likelyto need.
Major credit cards are accepted everywhere, but a commission isusually charged. Also, it's recommended that travellers use theircredit cards at their hotels, as fraud incidents have beenreported. The best exchange rates are paid on US dollars in cash,and are best exchanged at exchange bureaux (casas/agente decambio).
Banking hours are Monday to Friday, 8.30am-4.30pm. Some banksalso open on Saturdays. ATMs are widespread.
Language:
Spanish is the official language, but English is spokenin the main tourist centres.
Electricity:
Electrical current is between 110 and 120 volts, 60Hz.American-style two-pin flat blade plugs are standard.
Entry Requirements:
US citizens must have a passport valid for period of intendedstay in the Dominican Republic. A visa is not required fortouristic stays.
British citizens must have a passport valid for period ofintended stay in the Dominican Republic. A visa is not required forholders of British passports endorsed 'British Citizen' or 'BritishOverseas Territories Citizen' travelling as tourists. Visitors arerequired to obtain a Tourist Card on arrival; these are generallyvalid for 30 days, but can be extended. Holders of passports withany other endorsement should contact the relevant embassy toconfirm entry requirements.
Canadian citizens must have a passport valid for period ofintended stay in the Dominican Republic. A visa is not required fortourist stays.
Australian citizens must have a passport valid for period ofintended stay in the Dominican Republic. A visa is not required forthose travelling as tourists.
South African citizens must have a passport valid for period ofintended stay in the Dominican Republic. A visa is not required forthose travelling as tourists.
Irish citizens must have a passport valid for period of intendedstay in the Dominican Republic. A visa is not required for thosetravelling as tourists.
US citizens must have a passport valid for period of intendedstay in the Dominican Republic. A visa is not required fortouristic stays.
New Zealand citizens must have a passport valid for period ofintended stay in the Dominican Republic. A visa is not required forthose travelling as tourists.
Passport/Visa Note:Visa:
In lieu of visas, Tourist Cards can be issued on-arrival tocertain nationals, at a cost of USD 10 for a stay of 30 days.Extensions are possible. A return or onward ticket is required byall visitors, as well as the travel documentation needed for theirnext destination. As part of the Western Hemisphere TravelInitiative (WHTI), all travellers going between the United Statesand Canada, Mexico, Bermuda, and the Caribbean region are requiredto present a passport or other valid travel document to enter orre-enter the United States. If departing from the USA, a validpassport will be required by immigration authorities.
It is highly recommended that travellers' passports have atleast six months validity remaining after their intended date ofdeparture from their travel destination. Immigration officialsoften apply different rules to those stated by travel agents andofficial sources.
Travel Health:
No vaccination certificates are required but precautions arerecommended against Hepatitis A, typhoid, rabies and polio forthose who plan to spend time outside the main tourist resort areas.There is a malaria risk throughout the year. Between May andSeptember there is a risk of dengue fever, which is contracted frommosquitoes that bite during the day. It is advisable to usemosquito repellent. Travellers should be aware of the highprevalence of the HIV/AIDS virus in the Dominican Republic and takethe relevant precautions. Water should be regarded as beingpotentially contaminated in undeveloped areas; bottled water isavailable. Some species of fish, including tropical reef fish, maybe poisonous to eat even when well cooked. There are good hospitalsand other private medical facilities located in Puerto Plata,Santiago and Santo Domingo but, outside of these cities, facilitiesare limited and staff are unlikely to understand English. Mostresorts have doctors that can treat minor medical complaints.Health insurance, including provision for medical evacuation, isrecommended.
Tipping:
Hotels and restaurants generally include a 10 percent servicecharge as well as tax, but additional tips should be given for goodservice as often the charge does not go to the staff who providedthe service. Waiters usually receive 10 percent extra for goodservice. For other services including taxi drivers, tipping isdiscretionary depending on the service provided.
Safety Information:
The Dominican Republic is generally friendly and welcoming, withthe vast majority of visits proceeding as trouble-free experiences.That said, travellers should not ignore the country's crime rate.Incidences of violent crime are infrequent; visitors should takenormal precautions against petty crime. The risk of terrorism islow.
Tensions sometimes flare up along the Haitian border, sotravellers should check the situation before crossing or visitingthe region. The Dominican Republic is vulnerable to hurricanes fromJune to November.
Local Customs:
Being polite to others and having respect for elders is integraland is expected from visitors. If taking a photograph of a local,tourists should ask permission first and then offer a giftafterwards. Dominicans take care in their appearance and formjudgements based on what people wear; they are likely to look downon tourists that are unkempt or wear clothes that are toorevealing.
Business:
Santo Domingo is the centre of business in the DominicanRepublic. Good working relationships are vital and trust is anintegral part of doing business in the Dominican Republic; knowingthe right people is half the battle won. Appearances are consideredimportant and therefore dressing smartly is advised. Meetings areinitially rather formal and a polite greeting accompanied by ahandshake is common; expect small talk. Business cards are usuallyexchanged on introduction. Punctuality is important. AlthoughEnglish is widely spoken and understood, it is still useful to haveall business material printed in English and Spanish. It isimportant to be polite and courteous at all times. Business hoursare usually 8am to 12pm and 2pm to 6pm Monday to Friday.
Communications:
The international access code for the Dominican Republic is +1,as with the US, Canada and most of the Caribbean, followed by 809or 829. The outgoing code is 011 followed by the relevant countrycode (e.g. 01144 for the UK) but this is not required for callingNorth America. Wifi is generally available in most cafes, hotelsand restaurants.
Duty Free:
Travellers to the Dominican Republic over 16 years do not haveto pay duty on 200 cigarettes or 1 box cigars; 1 bottle of alcohol,unopened and maximum of 2 litres; and up to 2 bottles of perfumefor personal use. All animal products are prohibited.