Tivoli Gardens
Copenhagen's world-renowned Tivoli Gardens are ever so much more than just a central city park. The relatively small area in the heart of the city is actually one of the world's most thrilling entertainment complexes, drawing about three million visitors during its five-month summer open season each year. Tivoli dates back to 1843 when Copenhagen was still a fortified city surrounded by tall ramparts and a deep moat. Today, the Tivoli Lake is all that remains of the moat, which now reflects the incredible trademark fireworks displays that light the sky over the gardens twice a week. Tivoli is split in two, one section housing the beautiful miniature gardens where more than 100,000 flowers bloom, and the other has the theme park, with game arcades and thrill rides. Tivoli also boasts a concert hall and open-air stages where dozens of concerts, pantomimes, and circus shows. Many of these are free and offered during the season.
Opening time:
Open 6 April until 25 September. Open daily at 11am; closing times vary according to season, but usually between 11pm and 12am. See website for details.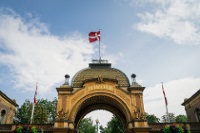 Tivoli Gardens Benson Kua
Copenhagen Historical Museums
From the age of Vikings through to the World War II resistance, the rich history of Denmark is encapsulated in fascinating collections of artefacts housed in a series of museums in and around Copenhagen. The Prince's Palace in the city centre houses the National Museum, covering Danish history in general with its international antiquities. A few miles north of the city, the open air museum makes for a fascinating excursion. Spread over 86 acres, its 100 or so historic buildings are built to illustrate and represent regions and time periods across Denmark. Visitors can get up to date on the history of the city itself at the Museum of Copenhagen.
Visitors should note that the exhibitions at the Museum of Copenhagen are closed until 2019 when the museum reopens in the city centre.
Address:
The Museum of Copenhagen, Vesterbrogade 59. The National Museum, Ny Vestergade 10. Open Air Museum, Kongevejen 100
Opening time:
Copenhagen City Museum: 10am to 5pm daily. National Museum: Tuesday to Sunday 10am to 5pm. Open Air Museum: Tuesday to Sunday 10am to 4pm (May to October).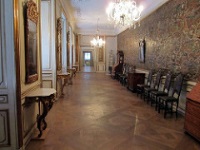 Prince's Palace Heidi De Vries
Nyhavn Canal
The picturesque and historic Nyhavn Canal dates from 1673 when it was built to connect the inner city to the sea. Today, it's jokingly referred to as the longest bar in Scandinavia because of the numerous restaurants, pubs, and cafes fronting the pretty pastel-painted townhouses. The canal itself is crammed with old wooden sailing ships which only add to the atmosphere. The area is strongly associated with fairytale writer Hans Christian Andersen, who occupied three houses in the district throughout his life. The house at number 20 is open to visitors. Visitors can take one of the many boat trips on offer to explore the canal and familiarise themselves with the area. The Nyhavn Canal is a must-see for tourists visiting Denmark and it never fails to charm. But it can get very crowded and visitors must stay vigilant with their belongings as it is a popular pickpocket haunt. The eateries can be pretty expensive but just strolling around this vibrant and visually exciting area will delight visitors, and there are plenty of great photo opportunities.
Address:
Nyhavn 1-71, 1051 København K
Nyhavn Canal Chad Kainz
Rosenborg Castle
The attractive Dutch Renaissance-style Rosenborg Castle was designed by King Christian IV and served as his home until he died in 1648. Today, the castle is an important cultural institution and acts as a public museum detailing the history of Denmark's royal family. It also acts as a repository for the Danish Crown Jewels and royal regalia, which are kept in the castle cellars and can be viewed by the public. The castle's treasures are arranged chronologically by era, allowing some insight into the history of the monarchy. Although opulent, the castle also feels surprisingly personal and intimate for a royal residence. The magnificent castle gardens are a welcome retreat from the city's hustle and bustle. The Rosenborg Castle will delight anybody interested in the royal family or the history of Denmark.
Address:
Øster Voldgade 4
Transport:
Bus routes: 14, 42, 43, 184, 185, 5A, 6A, 173E, 150S, 350S.
Opening time:
January to May: 10am to 2pm. June to August: 9am to 5pm. September to October: 10am to 4pm. November to December: 10am to 2pm Tuesday to Sunday. Times can vary month to month and at certain times the castle is closed on Mondays so be sure to consult the website for specific dates.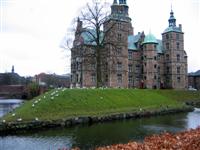 Rosenborg Castle Bluedog423
The Little Mermaid Statue
The Little Mermaid sits on a rock at the Langelinie Harbour and is one of Copenhagen's biggest tourist attractions. The sculpture was built in 1913 and enchants over a million people visitors every year. At only about four feet (1.25m) high, she is small and seems to be in her true element when the waves crash against her rock. The sculptor Edvard Eriksen modelled the head after ballerina Ellen Price. The statue is beautifully executed and fits so well into its natural surroundings that it may take a moment to notice it. Of course, Hans Christian Andersen's story of 'The Little Mermaid' is beloved the world over which goes some way to explaining the popularity of this wistful artwork.
Address:
Langelinie Harbour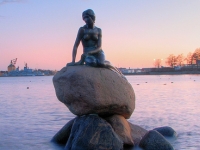 The Little Mermaid Tuan Hoang Nguyen
Christiansborg Palace
When sightseeing in Denmark, the Christiansborg Palace is a gem for lovers of architecture and history. A winter snowfall adds to its romantic fairytale appearance. This major attraction's appeal is further enhanced by the presence of ruins dating as far back as 1167 AD, when it existed as Absalon's Castle. The complex consists of several different buildings, centred round a Neo-Baroque core and is home to important institutions: the Danish Parliament, the Prime Minister's Office, and the Supreme Court. The royal family uses the palace church, the Royal Reception Rooms, and the Riding Ground Complex. From the front steps of the main castle there are also some stunning churches within easy viewing distance. This attraction embodies the essence of Danish history, architecture, and royalty. It is best to do a guided tour of Christiansborg Palace as, although the state rooms and everything else are very impressive, there is not much information available. A guide will enrich the visit by explaining the historical, cultural, and political significance of what visitors are seeing. Tours are usually conducted twice a day and there is no extra charge.
Address:
Prins Jørgens Gård 1, 1218 København
Transport:
Busses: 1A, 2A, 26, 40, 66, 350S; and Metro line: Kongens Nytorv Station or Nørreport Station
Opening time:
Most of the palace is open daily between 10am to 5pm; between October and April it is closed on Mondays. It is always possible that the palace might be closed for special events.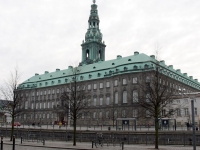 Christiansborg Palace Tomasz G. Sienicki
Bakken Amusement Park
The oldest amusement park in the world and one of Denmark's favourites, Bakken Amusement Park has delighted countless visitors since it first opened in 1583 and now features 34 thrilling rides. Despite its age, the park and its amenities are modern and safe. There are also lots of games, activities, and gambling facilities. Bakken has about 40 restaurants and bars where exhausted families can relax and refuel. Just outside the amusement park gates is the beautiful woodland area of Dyrehaven which offsets the artificial glories of the park with natural charm. The woods are a lovely place to stroll and are home to thousands of free-ranging deer.
Opening time:
Opening times vary depending on the day and month - check the calendar on the official website for details.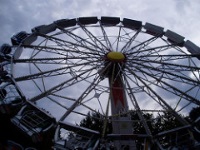 Bakken Amusement Park Michael Welsing
Denmark Aquarium
Boasting more than 300 species of marine life from across the globe, the Denmark Aquarium features more than 70 tanks with the largest containing 85,000 litres of water. There is also a biological museum with interactive themed exhibits for children and a touch pool for the little ones to enjoy. Other facilities include a café where visitors can take a break and get meals, treats or hot drinks, with lovely views. A good time to visit the aquarium is during feeding times: check the official website listed below to find the various times. The Denmark Aquarium is not large compared to other huge aquariums in Europe but it is well-maintained and a wonderful attraction for the whole family; kids lap will up a few hours spent in this magical underwater world, making for a good break from traditional sightseeing in Copenhagen.
Opening time:
Open daily: 10am - 9pm (Monday); 10am - 5pm (Tuesday to Sunday).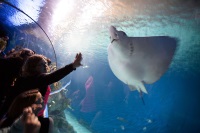 Denmark Aquarium Johan Wessman
Copenhagen Zoo
Founded in 1859, the Copenhagen Zoo is one of the oldest in Europe and features an amazing selection of animals from all over the world. Some of the zoo's most popular features include the Elephant House, designed by renowned architect Norman Foster, the Tasmanian Devils, very rarely found in any zoo outside of Australia, the polar bear enclosure, the lion den, and countless more. Notable animals in the 27 acre (11 hectare) park include tigers, red pandas, hippos, yaks, and camels. The animals are well looked after and the habitat designs are impressive. The staff are famous for their care for their animals and are usually willing to chat to visitors about them. Visitors are invited to view feeding and training sessions; check the website for details on when these events occur. Copenhagen Zoo is a joy for the whole family and it is worth putting aside at least half a day to enjoy its numerous attractions.
Opening time:
November to February: 10am - 4pm daily. March: 10am - 4pm weekdays, and 10am - 5pm weekends. April, May and September: 10am - 5pm weekdays, and 10am - 6pm weekends. 1 - 27 June and 11 - 31 August: 10am - 6pm daily. 28 June - 10 August: 10am - 6pm daily. October: 10am -5pm daily.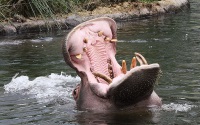 Hippopotamus at Copenhagen Zoo mcamcamca
Experimentarium
Featuring almost 300 interactive exhibitions for children of all ages to enjoy, the Experimentarium is a hands-on science museum that aims to encourage children to take an interest in science while learning and enjoying themselves at the same time. There are numerous exhibits, including ones on energy, the human body, and mathematics, as well as other interactive areas. With permanent and temporary exhibitions, visitors can be sure that there is always something fun and exciting for children to enjoy. The bubble section tends to be a great favourite with kids, and the Experimentarium has great staff on hand to help entertain and educate, both young and old. The museum also features a cafe and restaurant, conference and workshop facilities, and a gift shop with a range of exciting scientific toys and games. This is a great activity for the whole family and is the perfect kid-orientated break from traditional sightseeing.
Address:
Tuborg Havnevej 7
Opening time:
Open daily: Monday, and Wednesday to Friday, 10am to 5pm; Tuesday 10am to 9pm; Weekends 11am to 5pm.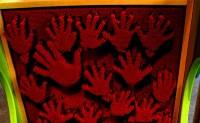 The Experimentarium Guillaume Baviere
Copenhagen is a safe and friendly place with world-class amenities. Visitors travelling with children in Copenhagen will find an abundance of fantastic and exciting attractions geared towards kids, making this a wonderful city for the whole family to enjoy.
A trip to Copenhagen must include a visit to Tivoli Gardens, which boasts beautiful miniature gardens, a theme park with arcade games and rides, and even open air stages where plays and concerts take place.
The Bakken Amusement Park is great for warm days and is the oldest of its kind in the world, having opened in 1583. The Nature Playground, located at Valbyparken, is also a must for a day out in the sunshine and fresh air, and a good place for a picnic. There are numerous parks and green areas in Copenhagen where families can play and relax.
On colder days when outdoor activities with kids aren't an option, head off to the Denmark Aquarium, the wonderful Copenhagen Zoo, or the Mystic Exploratorie, a fantastic place where kids are equally thrilled and perplexed.
For toddlers, the Kompan indoor playground is a wonderland of slides, balls, and bright colours. Children will also enjoy some of the more traditional sightseeing attractions which delight young imaginations, like the palaces and castles.
Copenhagen's continental climate is mild through all four seasons. Summers (June to August) bring temperatures averaging around 68°F (20°C), while in mid-winter (December to February) temperatures hover just above or below freezing. The hottest month is July and the coldest month is February. Rainfall is moderate too, but showers are possible in any season. Winter days get far fewer daylight hours than summer days, which are long. Early summer is the best time to visit Denmark; the month of June is particularly lovely because the days are longest and the weather is at its most pleasant.
The lords of Michelin dining have bestowed 13 restaurants in Copenhagen with their mark of guaranteed fine dining. While obviously many popular restaurants in Copenhagen are not included, the honours are indicative of how far dining has progressed in the city.
Traditionally Denmark has not been known for its food, Frikadeller meat balls and cabbage being among the most popular of dishes. While there are some great Danish foods - their hot dogs and open-faced sandwiches are some of the best in the world - much of the truly great dining in Copenhagen deals in international cuisine. Particularly good in Copenhagen are French and Asian restaurants.
Dining in Copenhagen is usually a leisurely affair and patrons are encouraged to take their time and make a night of it. For quicker eats, cafés and hot dog stands are very popular and a fun way to meet people, or you can grab a fresh sandwich at one of the city's many bakeries. Stoget, Central Station, and Grey Friars Square are all hotspots for restaurants. Tivoli also has a great selection of casual places to eat in a fun setting.
A service charge is included in the bill, but great service is often rewarded with a tip regardless. Save money by paying with cash, as many restaurants charge a fee for transactions on foreign credit cards.
Ida Davidsen
Ida Davidsen is the queen of the smorgasbord in Copenhagen, specialising in Denmark's undisputed gourmet speciality. Known as smørrebrød, smorgasbord refers to a range of open sandwiches served for lunch and usually made up of a variety of fish and seafood. The owner of the eponymous restaurant is the fifth in her family to serve this unique cuisine and offers the longest smorgasbord menu in Denmark, measuring six feet (2m) long. A favourite is the Preben Elkjær, a mix of plaice fillets, asparagus, and smoked salmon on rye bread. Open Monday to Friday, 10.30am to 5pm. Reservations recommended.
Address:
70 Store Kongensgade
Paludans Book and Cafe
Situated in a busy bookshop and art gallery popular with Copenhagen's student population, this cosy restaurant is a great place to relax whether you want a small cup of coffee or a huge plate of lasagne. Open for breakfast, lunch, and dinner, the cafe offers local beer on tap and is the perfect place to simply watch people go about their daily lives. There is a good selection for vegetarians too. It's open the whole week, usually closing at 10pm except on Fridays and Saturdays when it closes at 11pm.
Address:
Fiolstraede 10-12
Cafe Sorgenfri
For a traditional meal bound to bring a smile, follow the locals to the popular lunch spot of Cafe Sorgenfri. The simple 19th-century basement restaurant in the heart of the city's pedestrian precinct was originally a sailors' tavern and is still a very lively drinking hole once the kitchen closes. The décor reflects old Copenhagen with its gilt-framed pictures, wrought-iron chandeliers and leather-panelled walls. At lunch time it serves excellent classic smorrebrods (open sandwiches), ideally washed down with a local brew. Open daily from 11am to 9pm, with Sundays closing at 6pm. Reservations recommended.
Address:
8 Brolæggerstræde
Det Lille Apotek
Known as the oldest restaurant in Copenhagen, Det Lille Apotek is a gorgeous trip back in time. Its four low-ceilinged rooms were frequented by such famous artists and writers like Hans Christian Andersen, with leaded window panes and woodland motifs of forest gods and nymphs resplendent in the glow of petroleum lamps. Translated as 'The Little Pharmacy', it aims to offer a genuine Danish culinary experience with selections of smorgasbords, lunch and dinner menus, and a delightful choice of desserts, coffees, and cheeses. Det Lille Apotek is open every day of the week.
Address:
15 Store Kannikestræde
Restaurant Promenaden
In Copenhagen's famous Tivoli Gardens, the bustling Restaurant Promenaden is a great place for the whole family. On offer are staples like its steaks, pastas, or its famous barbeque ribs, along with affordable snacks at the sausage bar and beef sandwich deli. It enjoys live music performances on weekends, with a vibrant atmosphere and international menu catering towards locals and tourists alike. The restaurant functions during the summer season only when Tivoli itself is open from 12pm to midnight.
Address:
Vesterbrogade 3, Tivoli
Godt
Known as one of the classiest establishments in Copenhagen, Restaurant Godt is an exclusive restaurant catering to a maximum of 20 guests at a time. The setup makes for a personalised and intimate dining experiences. This refined approach is extended to the polished Danish menu, offering a selection of the finest veal, seafood, and vegetables, all prepared with fresh local herbs. Open Tuesday to Saturday for dinner and reservations are essential.
Noma
Set in an 18th century waterfront warehouse, Noma exudes Nordic charm in its functional simplicity. The décor combines oak, stone, and leather with glass and metal in a light and spacious dining area. Its menus are split into three seasons, each with a distinct flavour: vegetable season, seafood season, and game and forest season. Vegetables are foraged from local woodlands, meadows, and streams, while some crops are grown on its very own farm. During the meat season, offerings cover leg of moose, wild duck, and reindeer tongue. Open for lunch Tuesday to Saturday, and dinner Monday to Saturday. Reservations recommended.
Khun Juk Oriental
Set in Boltens Gård, Khun Juk is a stylish Thai restaurant celebrated for its authentic cuisine. Favourites from the menu include spicy Thai beef salad or steamed mussels with horapa (Thai sweet basil) and lemongrass. The dining room has classic décor and a warm atmosphere, while the outdoor area has lovely café umbrellas and potted plants. Open Monday to Saturday for dinner, reservations recommended.
Address:
9 Store Kongensgade
Peder Oxe
Restaurant Peder Oxe is set in an historic 19th-century building on Gråbrødretorv, one of the oldest squares in Copenhagen. Visitors will sit in lovely light-filled rooms with classic décor and high ceilings. The kitchen focuses mainly on high quality steaks and a mix of French and Nordic influences. Menus vary with the changing seasons, including everything from classic lamb and beef dishes to fresh seafood and game. For something lighter, there are selections of cheeses, desserts, and Danish . Open daily for lunch and dinner, reservations recommended.
Address:
Gråbrødretorv 11, 1154 Copenhagen K
Copenhagen International Airport
Location:
Copenhagen Airport is situated five miles (8km) southeast of Copenhagen city centre.
Time:
GMT +1 (GMT +2 from last Sunday in March to the last Sunday in October).
Transfer Between Terminals:
The terminal bus runs from P1 to Terminals 2 and 3 and on to the train station in Terminal 3 and to the car parks P15 and P17.
Getting to the city:
Buses, trains, and taxis provide transport from the airport to Copenhagen city centre and vice versa. Train and metro tickets are available from the ticket office above the railway station in Terminal 3. The metro is serviced at four to six second intervals during the day and every 15 to 20 minutes at night. Taxis can be hired from outside the arrival areas. Fares can be paid by credit card.
Car Rental:
Europcar, Hertz, Budget, Sixt, Enterprise, and Avis are among the companies represented at the airport.
Airport Taxis:
Taxis pick up passengers outside of Terminal 3. Drop-off points are found outside Terminals 2 and 3. Fares can be paid for with cash or credit card, and drivers expect a tip. There are Danish taxis specially reserved for travel to Sweden.
Fascilities:
All terminals have banks, bars, restaurants, and meeting rooms. There is also a wide variety of shops, ranging from boutique fashion brands to Lego retailers.
Parking
There are multiple parking areas at Copenhagen International Airport, which charge higher fees the closer to the terminal they are located.
Cultural Harbour Festival
Copenhagen's harbour comes alive with this annual cultural festival, three to four days crammed with dance, music, theatre, art and sports events both on the sea and ashore. Events include regattas, trampoline-diving, evening concerts by the water, workshops for children, a triathlon and much more. All the cultural and leisure activities made available are open to participation for locals and visitors and are free of charge; they are organised to celebrate and promote the culture and traditions of Copenhagen's lively harbour. It is a family-orientated festival and there are numerous activities for children. If you are planning a trip to Copenhagen, particularly if you are travelling with kids in Denmark, it is worth organising your visit to coincide with this fun and interesting festival which will quickly give you a feel for the city.
Venue:
The main area for the Cultural Harbour festival is the Harbour Park at Islands Brygge; also Havneholmen and Kalvebod Brygge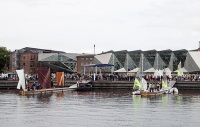 Cultural Harbour Festival newsoresund
Tivoli Christmas Market
Tivoli is a magical amusement park in Copenhagen. Not just a summer fun venue, the park has opened for the Christmas season in a festive guise. It provides an unforgettable yuletide experience for hundreds of thousands of visitors, young and old. Not only are many of the rides open for business, but there are the added attractions of thousands of fragrant Christmas trees, miles of fir garlands, candles and electric lights, a skating rink, and Santa Claus with his elves. Shoppers can also find an array of presents in Nordic Village, Alp Village, Forest Troll Town, or Old England. Restaurants serve up traditional Christmas fare, while several musical and theatrical productions take place in the park's indoor entertainment venues. Tivoli knows how to stage a merry Christmas and the festivities on offer will delight everybody lucky enough to be in Copenhagen during the festive season.
Venue:
Main entrance to Tivoli is at 3 Vesterbrogade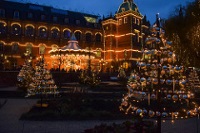 Tivoli at Christmas Maria Eklind
Nightlife in Copenhagen has a couple of gears and the real party doesn't start until late at night. Most jumpstart the evening in a variety of cafes and bars, ranging from renovated historic buildings with new edgy décor to newly-built and fashionable eateries.
Hybrid bars are a perfect way to begin the night as they change themes and almost reinvent their venue several times in a single night. This lets patrons enjoy easy listening music and nice meals before late night DJs take over with more energetic tracks. Certain areas of the city, such as Nyhavn and Boltens Gård, are long time Copenhagen nightlife districts that can always promise great venues. These often stay open until about 5am.
The 150-year-old Pantomime Theatre stages commedia dell'arte productions with free admission, while the modern Tivolis Koncertsal offers classical entertainment from opera to symphonies. You can often find last-minute discounted tickets at the ticket kiosk across from the Nørreport train station at the corner of Fiolstræde and Nørre Voldgade.
Copenhagen's public transport is exceptionally safe, reliable, clean and inexpensive. The Metro, buses and trains in the city and surrounds operate on a one-fare system, where tickets are valid for all three types of transport with no extra cost for transfer.
Bus services are frequent between 5am and 1am, with night buses operating after regular hours. The Metro runs from Vanlose Station to Lergravsparken in East Amager, to Orestad in West Amager and to Frederiksberg, operating on a 24/7 basis.
A favourite mode of transport for locals and visitors is the bicycle, and Copenhagen has cycle paths and routes along all major streets. Copenhagen is well supplied with licensed taxis. Traffic is usually congested in the city centre and a car can be a liability rather than an asset.
Attractions in Copenhagen are a mix of living history and fun activities. Its many cobblestone streets and rows of old Danish houses are much like they've been for centuries, occupied by wonderful shops and carnival-style entertainment.
The Little Mermaid statue in Langelinie harbour is the city's most sought after sight for visitors, despite its small size. Other attractions await in unique neighbourhoods, grand museums, and entertainment venues, usually reached on foot and mostly found in the old city centre of Copenhagen.
A walk along Nyhavn Canal reveals the best of historic Copenhagen with old architecture and wooden boats showcasing the city's maritime history. For those interested in delving deeper into the Danish past, the National Museum at the Prince's Palace is a central Copenhagen attraction, as is the Copenhagen City Museum.
Copenhagen also has a proud heritage of art and design, well showcased in numerous museums, galleries, and the architecture. Of course, no visit to Copenhagen is complete without idling in the Tivoli Gardens or playing in its famous theme park.
The Copenhagen Card is very useful, giving free entry to more than 70 museums and attractions, free rides on public transportation, and discounts in many restaurants and shops. The cards can be purchased at the airport or at many tourist offices around Denmark.
Odense
60 miles (96km) west of Copenhagen and located on the island of Funen, Odense is Denmark's third largest city and a vibrant centre of commerce and nightlife. In this busy harbour city, the quaint streets of the Old Town offer interesting shops, cafes, and restaurants buzzing with activity. Odense has a long history going back thousands of years, with archaeological finds dating to the Viking era. Birthplace of famed storyteller Hans Christian Andersen, there's a strong affinity between the city and the writer: numerous shops and restaurants are dedicated to him. The town has several beautiful castles, cathedrals, and museums. The music and nightlife in the city is among the best in Denmark, with symphonies, theatre, live music and a non-stop parade of outdoor festivities in the idyllic summer months. There is always something happening, and visitors to the city will never be at a loss for things to do.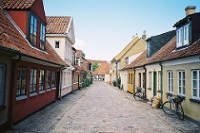 Odense Nigel Swales
Bornholm
Sometimes referred to as the Pearl of the Baltic, Bornholm is wildly popular as a holiday destination for people from Sweden, Poland, and Germany. Often overlooked by visitors from the US and UK, tourists enjoy the island's sunny beaches and natural beauty. It's loved for activities like sailing, fishing, camping, and hiking. The Almindingen Forest is among the largest in Denmark, while Dueodde boasts some of the best sandy beaches in the Baltic. Numerous small towns have their own attractions, including Gudhjem's sunrises and charming winding streets, the jazz festival at Allinge, and the bustling markets and local beers of Svaneke. The biggest town on Bornholm is Rønne, which is where most ferries disembark, and features pretty 19th-century architecture and a collection of museums, shops, and restaurants.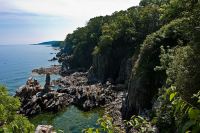 Bornholm Andreas Lippelt
Legoland Billund
Legoland Billund, the original Legoland Park, is a holiday must for children visiting Denmark. Opened in 1968, it plays host to numerous visitors from all over the world and is conveniently situated next to the original Lego factory. The features are divided into 'Worlds', including Denmark's iconic Miniland as well as Duplo Land, Imagination Zone, Legoredo Town, Pirate Land, Polar Land, and the Knights' Kingdom. With a legendary selection of rides, shops, and eateries, Legoland Billund has something to offer everyone in the family and is a must-do for families on holiday in Copenhagen. Some rides, like Pirate Water Falls, are closed when temperatures drop below a certain point. The admission costs vary because there are so many different ticket options, including season passes, family tickets, multiple pre-booked online ticket options, as well as ordinary gate prices. Check the website for these details to work out the best deal for your group as the costs given below are just a guideline.
Address:
Nordmarksvej 9, 7190 Billund
Transport:
The train stations in Vejle, Kolding, Fredericia will connect you to Legoland with a bus connections to Billund. Buses stop right outside Legoland.
Opening time:
Seasonal, open April to October. Check the website for specific dates as opening times vary month to month and sometimes even more frequently.
Legoland Billund Bobby Hidy
Esbjerg
Esbjerg grew up around its harbour, which was established by the state in 1868 to serve as a strategic North Sea port. It has become a popular holiday town with its lovely beaches, attractive shops, thriving café society, and jolly nightlife. Art is everywhere, from major galleries to small, private studios. Not surprisingly, most of Esbjerg's tourist attractions are nautical by nature, including the Sealarium at the Fisheries and Maritime Museum. A boat trip round the harbour is a must, and for the more active the city offers a wonderful swimming stadium, angling, golf, and windsurfing. Being a city with a large youthful population, there's always a fair share of dancing and music in its bars and clubs. The best thing about the city is its proximity to the scenic Jutland Peninsula coastline, with wide windswept sand dunes and popular family attractions like Legoland at Billund (about an hour's drive away) and the picturesque medieval town of Ribe. Denmark's favourite offshore vacation islands of Romo and Fano are within easy reach by ferry.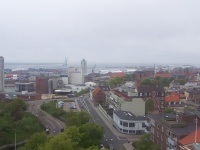 Esbjerg Chris Nyborg