Croatia's popularity as a European holidaydestination has grown rapidly over the last few decades. There ismuch to see and do along its magnificent coastline, boasting over1000 islands, islets, and reefs. Most visitors come to Croatia forthe cruising, boating and beaches, but the country also boastscultural attractions and plenty of ancient history.
Many of Croatia's cities are built on the sites ofancient Greek and Roman settlements dating from as far back as the4th century BC. Explore the Roman ruins in Zagreb and Split, strollthrough the cobblestone streets of the fairytale medieval villages,or just enjoy taking in the local cuisine and history. The CroatianHistory Museum in Zagreb features an impressive display ofNeanderthal remains, while culture vultures will enjoy a trip tothe Croatian National Theatre in Zagreb.
Dubrovnik, and in particular its medieval old city,is one of Croatia's top holiday destinations, boasting exquisitebeaches along its rugged coastline and a very picturesquecityscape. Split is a great base for exploring the Dalmation coastand is a breathtakingly beautiful old town. It is a UNESCO WorldHeritage Site and promises some exciting attractions, such as thecity of Trogir and Brac Island just off shore.
Spring and autumn are good seasons to visit as milderweather, fewer crowds, and lower prices mean tourists can explorethe country more freely; however, summer (June to August) is peakseason and the best time to enjoy the country's stunningbeaches.
Travelling by bus is economical, while ferries andcatamarans are the only mode of transport to the islands and a wayof life on the coast. For a more relaxed but slightly moreexpensive option, hiring a car allows visitors to get off thebeaten track and explore the stunning country at a leisurelypace.
Diocletians Palace
Roman Emperor Diocletian, having abdicated his thronein AD 305, decided to spend the last years of his life in Dalmatiaand built a palace for that purpose on the bay of Aspalathos, onthe south side of a peninsula extending into the Adriatic Sea.
The spot he chose is now the very heart of the cityof Split and the palace is still one of the city's main touristattractions. The building and the entire historic Split inner cityarea around it have been declared a UNESCO World Heritage Site.
Within the palace walls are a network of narrowcobblestone alleyways that house a mixture of residentialapartments, modern shops, cafes and restaurants, ancient Romanrelics, and a magnificent cathedral.
The palace is interesting in that it was designed tocombine a luxurious residence with the defences of a military camp,having towers and fortifications on its landward sides with threemonumental gates.
Originally situated on the water, the palace is nowfronted by the city's popular waterfront promenade and faces ontothe harbour. The buildings are made from local white limestone,quarried on the nearby island of Brac.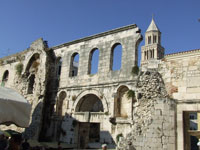 Diocletian's Palace Judith Duk
Archaeological Museum
Founded in 1820, the Archaeological Museum in Split is theoldest museum in Croatia. Its displays include artefacts fromprehistoric times, the Greek colonial period, and from the Roman,early Christian, and Medieval ages.
Most of the relics found in excavations of the Roman city ofSalona are displayed here, and there is an interesting collectionof submarine archaeology. The museum also contains a largecollection of antique coins and a prominent library. Outside themuseum there is a lovely garden with a covered walkway and a numberof statues on display, which makes for a good opportunity to wandera bit and take some photographs.
Those who have smartphones can make use of the free wifi audioguide, which is informative and enhances the experience. Althoughthis museum is not extensive, it remains very interesting and agreat place to get familiar with Croatian history.
Address:
Zrinsko-Frankopanska 25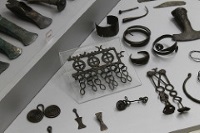 Ancient artefacts on display Connie Ma
Franciscan Monastery
The original Franciscan monastery in Dubrovnik was built in the13th century in the Pile area. But when war broke out in the 14thcentury, the monks were forced to relocate to gain the protectionof Dubrovnik's formidable defensive walls.
Parts of the current monastery, and most of the church, have hadto be rebuilt over the centuries due to damage. But parts of thecomplex date back to 1317. This Franciscan church and monastery,still enclosed in the walls of medieval Dubrovnik, boast one of themost beautiful Romanesque cloisters in Dalmatia.
Within the monastery complex there is also a working pharmacy,which has been in business since 1317 and is thought to be thethird oldest pharmacy in the world. A museum houses relics from theoriginal medieval pharmacy such as medical books, instruments, andweight scales, as well as some gilded church relics.
The massive monastery library, one of the richest in Croatia, isrenowned globally by historians for its inventory: it contains some30,000 volumes with 1,500 handwritten documents. The monastery is agreat refuge after sightseeing in the heat and crowds of the city.It is cool and quiet and also has some tranquil gardens to ventureinto.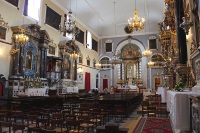 Franciscan Monastery Interior Sailko
Dubrovnik City Walls
The impressive walls enclosing the ancient city of Dubrovnikwere laid out in the 13th century and became an ongoing project foralmost two centuries. They are among the finest in the world andare featured prominently on the HBO Series, Game of Thrones.
The fortified walls are up to 10 feet (3m) thick on the sea sideand at least twice as thick on the land side. Made to guard againstinvasion by the Turks in the 15th century, they reach 82 feet (25m)in height. Visitors can access the walls via a steep stone stairwayand once they reach the top they'll be rewarded with superb viewsover the old city and out to sea.
A walk around the old city from this fascinating vantage pointis a must for visitors to Dubrovnik. In fact, it's a good way toget acquainted with the city. The detached Lovrjenac Fort to thewest of the old city stood guard against both land and sea invasionand is also worth a visit for some stunning views.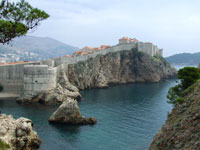 Dubrovnik City Walls Judith Duk
Marin Drzics House
Marin Drzic is Croatia's best-known literary genius,immortalised in his Dubrovnik home which serves as a museumdedicated to the famous playwright and author. It gives visitors agreat insight into the writer with a 40-minute presentation on hislife and work.
Drzic was born in Dubrovnik, probably in 1508, and hewas a popular playwright, entertainer, and musician. The houseitself has been restored to reflect the 16th-century Renaissanceperiod that Drzic lived in.
The Marin Drzic House is more than just a memorial.Indeed, it is an exhibition space and museum of theatre. The museumcollects theatrical material for study and further disseminationand it is the only institution of its kind in Croatia.
The museum has a collection of posters, programmes,and photographs from performances of Drzic plays all over theworld. While the exhibition provides a good introduction into thehistory and culture of Dubrovnik itself, those without a particularinterest in Croatian literature and theatre may find the museum abit obscure.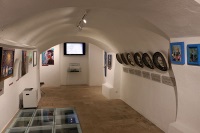 Marin Drzic's House Sailko
Cathedral Treasury
Dubrovnik has had at least three cathedrals on thesame site during its long history (some argue there have been asmany as five since the 6th century). The first was a Byzantinebuilding dating from the 7th century; the second a RomanesqueCathedral which was destroyed by the great earthquake of the 17thcentury; and at present the beautiful Baroque structure which wasdesigned by Italian architect Buffalini from Urbino and completedin 1713.
Within the current cathedral, called the Cathedral ofthe Assumption of Mary, there are several magnificent statues andpaintings, including the appropriately themed 'Assumption of Mary'by Titian, which dates back to about 1552. This cathedral hasstunning Baroque features as well as valuable art and is definitelyworth a visit.
The cathedral also has a treasury where hundreds ofreligious relics are stored. There is a cover charge for seeing thetreasury, which is rich in artefacts, icons, and paintings. Theorganisation of the artefacts is somewhat chaotic but there issomething intriguing about this mysterious collection of treasures.Visitors will also see the archaeological excavations that continueon the cathedral site.
Address:
Kneza Damjana Jude 1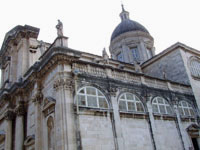 Dubrovnik cathedral Judith Duk
Andautonia Archaeological Park
Near the village of Scitarjevo, close to Zagreb, are the remainsof the excavated ancient Roman town of Andautonia. Andautonia was aprominent administrative, economic, cultural, and religious centreabout 400 years ago.
Archaeologists are still excavating the site. However, at theAndautonia Archaeological Park, visitors can view a26,910-square-foot (2,500 sq m) area of the Roman City, includingparts of the main street, city baths, colonnades, and sidestreets.
There is a museum at the site which exhibits artefacts from theGreek and Roman periods. Additionally, tourists can also visit thepresent-day village of Scitarjevo to get a glimpse into rural lifeand see some traditional wooden housing.
Address:
Archaeological Museum: 19 Nikola Subic ZrinskiSquare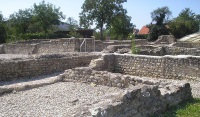 Andautonia Fraxinus
Croatian History Museum
The building that houses Croatia's history is itself a part ofthat history. Situated in the historical town centre, it is thebeautiful Baroque palace, Vojkovic-Orsic-Rauch, built at the end ofthe 18th century and formerly the private residence of threesuccessive baronial families. In the late 1930s the palace becamethe residence of Zagreb's mayors, before being designated as arepository for the historical relics of the city. It currentlyhouses more than 140,000 artefacts in various collections, fromstone monuments to fine art, religious artefacts to heraldry.
The exhibitions in this museum are not permanent but constantlychanging so that all the collections get an airing. This means thatit is possible to visit the museum many times and never tire of theexhibitions. The artefacts are grouped into 17 collections whichinclude maps, coins, religious items, stone mouments and militaryuniforms, among other thing. Despite being quite a small museum theexhibits are well-curated and interesting.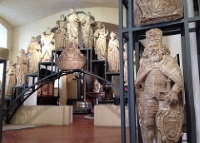 Croatian History Museum Andrew Nash
Croatian National Theatre
The building housing the Croatian National Theatre(or HNK Zagreb) is as much a national treasure as the world-classtheatre, opera, music, and ballet productions that take place onits stage. Construction began on the theatre building in 1894, withCroatian artist Vlaho Bukovac painting the ceremonial curtain whileViennese artist Alexander Goltz decorated the ceiling of theauditorium.
The building was officially opened byAustro-Hungarian emperor Franz-Joseph I at the end of 1895. Thetheatre is owned and operated by the Croatian Ministry of Cultureand it is constantly busy with full performing arts programmes. Atthe entrance to the theatre visitors can see the famed wallfountain called 'The Source of Life', designed by Croatian artistand sculptor Ivan Meštrovic in 1905.
The Croatian National Theatre has hosted famousartists and performers from all over the world and culture vulturesshouldn't miss seeing a show. If travelling with a group, themezzanine boxes are a wonderful way to experience the performancestogether. It's worth taking a walk by simply to admire the buildingeven for those who don't have the time to catch a performance atthe venue itself.
Address:
Trg Marsala Tita 15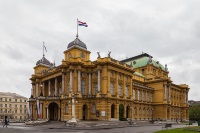 Croatian National Theatre Diego Delso
Town Squares
Praska Street, in the lower part of old Zagreb, leadson to a sequence of attractive park squares, each flaunting theirown attractions and worth a walking tour. Zrinski Square features amusic pavilion dating from 1895 and fountains, with theArchaeological Museum at No.17.
This square also features a row of busts ofdistinguished Croatians and the palace of the Croatian Academy ofArts and Sciences, which houses the Strossmayer Gallery. OnStrossmayer Square is a monument to Bishop Josip Juraj Strossmayer,founder of the academy, as well as several other historicbuildings.
Tomislav Square features the Art Pavilion, fronted bya monument to Croatian Renaissance painter Andrija Medulic. KingTomislav rises on horseback at the southern end of the square.Starcevic Square is home to the City Library and Hotel Esplanade,and gives access to the Botanical Gardens and Frane BulicMonument.
In Marulic Square, the University Library buildingstands as a magnificent example of Art Nouveau architecture. MimaraMuseum is on Roosevelt Square, and the neo-Baroque CroatianNational Theatre stands on Marshal Tito Square. Any or all of thesesquares are worth a visit so it is best to take a leisurely strollaround them all with camera in hand.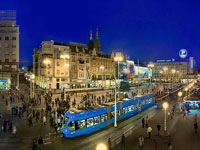 Jelacicplac Square Miljenko Hegedic
War Photo Limited
Located in the historical centre of Dubrovnik, theWar Photos exhibition space features temporary, changingexhibitions of photographic works relating to war and conflict. Thephotos aim to showcase war as it really is, exposing the horror andbrutality that is experienced by innocents and combatants alikethrough the photographic medium.
War Photo Limited exhibitions are intended to beeducational and showcase the work of world-renownedphotojournalists. Although they have no political agenda, the mindsbehind War Photos Limited consider war a disease and the intentionis to expose its cruelties and rid people of the perception that itcan be at all glorious and righteous. They showcase some of theirexhibitions at schools, universities, and other educationalcentres.
Anybody interested in military history or photography(or indeed the strength of the human spirit) will be fascinated byWar Photo Limited. As the exhibitions change frequently, it is ofcourse possible to visit the space many times and the documentationof particular wars and atrocities is very informative and wellhandled. Although some exhibitions may be quite shocking, a visitto War Photo Limited is an overwhelmingly rewarding experience.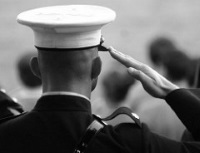 War photography David
Brac Island
Brac's main claim to fame is the strip of beach nearthe resort of Bol that stretches out like a finger into the sea,featuring on almost all Croatian tourist brochures. Brac is thelargest of the central Dalmatian group of islands and its majoragricultural products are wine, olive oil, and fruit. The island isalso known for its exported white stone, which was even used tobuild Washington DC's White House.
Bol and Supetar are the two main resorts on Brac,with attractive old towns and a laidback charm. Bol is thewindsurfing capital of Croatia, and Brac is a great destination fora number of watersports. The rest of the island boasts numerousvillages and dramatic coastal scenery.
Like much of Croatia, the beaches on Brac Island aremainly rocky, boasting stunningly clear blue water and calm seas.If you are desperate to find a sandy beach head down to Lovrecina,which has its own beach bar and restaurant and is a lovely spot tospend the day. Brac is generally less crowded than Split and otherpopular areas on Croatia's mainland, but can get very busy duringthe peak summer months.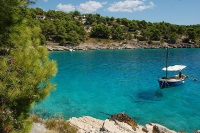 Brac Island Zuffe
Sponza Palace
Built between 1516 and 1522, the Sponza Palace was the centre ofmedieval Dubrovnik. Apart from featuring the customs office, thepalace once also housed a number of the Dubrovnik Republic's stateoffices, the mint, the bank, the treasury, and the armoury.
A mixture of Gothic and Renaissance architectural styles, Sponzais one of the most beautiful palaces in the city and has beenwell-preserved so visitors today can still enjoy its stunningfacade.
It has been suggested that the architectural style of thiswell-preserved old palace gives some indication of what the publicbuildings in Dubrovnik may have looked like, before they weredestroyed in an earthquake in 1667. Although this natural disastercaused considerable destruction to Dubrovnik, the palace itself waslargely undamaged.
Today, it houses the Dubrovnik archive, which contains 7,000volumes and about 100,000 individual scripts. The atrium of thepalace is an art gallery which showcases various exhibitions fromcontemporary artists as well as those who were prominent inDubrovnik's past.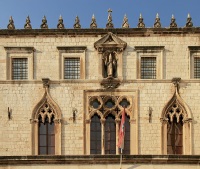 Sponza Palace Marcin Konsek
Dubrovnik Port
Lined with palm trees, Dubrovnik's Old Port is amajor focal point of the city thanks to its unforgettable scenery.Located right next to the picturesque UNESCO World Heritage Site ofthe Old Town, the port features great shopping at small marketsalong its tiny cobblestoned streets as well as fantasticsightseeing opportunities.
Known as the 'Jewel of the Adriatic', the beauty andfun of the Old Port makes Dubrovnik a popular cruise port. Thecruise liners generally stop off at the modern Port of Gruz inDubrovnik, which is less than two miles (2,5km) from the Old Town.The old harbour has a rich history as a trading hub and continuesthis tradition through its delightful markets and quaint shops.
Many different kinds of boat tours are operated fromthe Old Town harbour and these trips offer a wonderful chance toexplore the stunning coastline from the water. Many of these tourswill point out attractions and landmarks, and provide insights intothe port's history and Dubrovnik in general.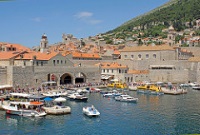 Dubrovnik Port Dennis Jarvis
Stradun
The biggest, longest, and widest street in Dubrovnik, theStradun dates back to the 13th century, while the uniform housesthat line it were mostly built in the 17th century. The street is958 feet (292 metres) long and is the commercial, entertainment,and spiritual centre of Dubrovnik. The shiny, slippery,marble-paved Stradun is the main walkway of Dubrovnik's Stari Grad,and the best place to get a feel for the pulse of Dubrovnik.
The Stradun holds many of the city's monuments and some greatrestaurants and shops. One of its more famous attractions isOnofrio's Fountain, which is located in a small square near thePila Gate and Franciscan Monastery. This large fountain was builtin 1438 by the famous Italian architect from Naples, Onofrio dellaCava. After sustaining severe damage in a 1667 earthquake, thefountain was repaired and now features 16 masked faces, known asmaskeroni, which supply water via an aqueduct. This constructionwas a masterpiece of its time. A smaller Onofrio's fountain islocated on the opposite side of the Stradun.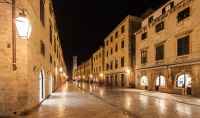 Stradun Diego Delso
Croatia's climate differs quite dramatically from thecoast to the interior of the country. The coast has a typicallyMediterranean climate with hot, dry, and sunny summers (June toAugust) and relatively mild, sometimes wet winters (November toFebruary). Summer temperatures average around 79°F (26°C) but itfrequently gets as hot as 90°F (32°C).
Winters are significantly colder but they are notsevere and along the coast snow is unusual. Winter temperaturesseldom drop below 41°F (5°C). Visitors should experience some sunnydays in autumn and even a few in winter, but the colder months canbe rainy.
In the interior of Croatia the climate is continentaland more extreme with colder winters and more common snowfall;temperatures in winter frequently drop below 32°F (0°C). Summers,on the other hand, are similar in temperature to the coastalregions but feel hotter in the interior due to the lack ofrefreshing cool breezes from the sea.
The peak tourist season in Croatia is in the summermonths when the weather is hottest and driest, but the best time tovisit is probably September or May when the weather is still warmenough for swimming but the country is less crowded.
Money:
The official unit of currency is the Kuna (HRK). One Kuna isdivided into 100 Lipa. ATMs are plentiful throughout the countryand banks, authorised bureaux de change, post offices, and mosthotels will exchange foreign currency.
Banks open Monday to Saturday and some banks also open onSundays in the main cities. Major credit cards are widely acceptedat the main hotels and restaurants, and may be used to draw cashfrom ATMs which are widely available throughout the country.
Language:
The official language is Croatian.
Electricity:
Electrical current is 230 volts, 50Hz. European-style,round, two-pin plugs are standard.
Entry Requirements:
US citizens must present a passport valid for three monthsbeyond period of intended stay. Visas are not required for stays ofup to 90 days.
UK nationals must have a passport valid for the period ofintended stay in Croatia, or valid for three months beyond periodof intended stay, depending on the endorsement in the passport. Forstays of up to 90 days, a visa is not required for holders ofBritish passports endorsed British Citizen, British National(Overseas), British Overseas Citizen, British Overseas TerritoriesCitizen, British Protected Person or British Subject. Other UKpassport holders should check with the embassy whether a visa isrequired for travel.
Canadian citizens must have a passport valid for three monthsbeyond period of intended stay in Croatia. No visa is required forstays of up to 90 days.
Australian citizens must have a passport valid for three monthsbeyond the period of intended stay in Croatia. No visa is requiredfor stays of up to 90 days.
South African nationals must have a passport valid for threemonths beyond the period of intended stay in Croatia, and a visa isrequired, unless already holding a multiple-entry Schengen Cvisa.
Irish nationals must have a passport valid for the period ofintended stay in Croatia. No visa is required.
US citizens must present a passport valid for three monthsbeyond period of intended stay. Visas are not required for stays ofup to 90 days.
New Zealand citizens must have a passport valid for three monthsbeyond the period of intended stay in Croatia. No visa is requiredfor stays of up to 90 days.
Passport/Visa Note:Visa:
All foreign passengers to Croatia must hold return/onwardtickets and the necessary travel documentation for their nextdestination, as well as proof of sufficient funds (at least EUR70.- per day of stay, at least EUR 30.- per day of stay if holdinga confirmed invitation or a tourist voucher). It is highlyrecommended that your passport has at least six months validityremaining after your intended date of departure from your traveldestination. Immigration officials often apply different rules tothose stated by travel agents and official sources.
Travel Health:
No vaccinations are required. The medical facilities and care inCroatia are fairly good, with free emergency medical care availableto EU citizens with a European Health Insurance Card (EHIC). Somemedicines are in short supply in public facilities. Non-EUnationals are advised to invest in comprehensive travel insuranceand those who need particular medications should take the supplyneeded for the duration of their stay with them, with a doctor'sletter on hand to get them through customs.
Tipping:
In tourist or upmarket restaurants a tip of 10 percent will beappreciated, but otherwise it is usual to just round up the bill ifthe service has been good, unless a service charge has already beenadded. Tour guides expect to be tipped. Most other services receivea small tip by rounding up the bill.
Safety Information:
Most visits to Croatia are trouble-free. Crime levels are lowand violent crime is rare; however, petty theft can be a problem inbusy tourist areas so it is worth keeping a careful eye onvaluables. Outside the normal tourist routes, travellers should beaware that unexplored mines might remain in rural areas,particularly in Eastern Slavonia and the former Krajina.
Tourists are urged to be cautious in former conflict areas,including Eastern Slavonia, Brodsko-Posavska County, KarlovacCounty, areas around Zadar, and in more remote areas of thePlitvice Lakes National Park. They should stay on known safe roadsand areas. If in any doubt, check with authorities before settingout into remote areas.
Local Customs:
Passports or some form of identification should becarried at all times. I some towns and cities, it is prohibited, orconsidered inappropriate to walk around town centres shirtless orin swimming costumes.
In some places, such as parts of Dubrovnik, there issignage indicating that people are required to cover up and thatfines will be imposed on those that don't comply. Even when thereis no such signage, travellers are advised to be sensitive to localconventions and sensibilities.
Business:
Business in Croatia tends to be quite formal. Punctuality iskey, dress should be smart and conservative (suits and ties are thenorm for men), and polite greetings are made with a handshake.
Titles and surnames are usually used unless otherwise indicatedand business cards are often exchanged at the beginning of ameeting. English and German are widely spoken but any attempt atspeaking some Croatian will be appreciated. Women frequently holdhigh positions in business and are well respected.
Building a good working relationship is important in Croatia andit is useful to work with a reliable local partner. AlthoughCroatia appears typically European in its dealings, business cantake some time to conclude. Business hours are usually 8am to 4pm,Monday to Friday.
Communications:
The international access code for Croatia is +385. The outgoingcode is 00 followed by the relevant country code (e.g. 0044 for theUnited Kingdom). The city code for Zagreb is (0)1 and for Dubrovnik(0)20.
Duty Free:
Non-EU travellers to Croatia can enter the country with thefollowing items without incurring customs duty: 200 cigarettes or50 cigars or 250g of tobacco; 4 litres of wine, 1 litre of spirits,and up to 16 litres of beer; and other goods up to the value of HRK3,200 if arriving by air, or HRK 2,200 if arriving by other meansof transport. Regulations apply to firearms and radio instruments.No item of archaeological, historical, ethnographic, artistic,cultural, or scientific value may leave the country without alicense issued by the appropriate authorities.