Olympic Park
Montreal's futuristic Olympic Park was built for the 1976 Summer Olympic Games and still serves as a showpiece today. Designed by French architect Roger Tallibert, it is impressive in both size and shape and is able to hold up to 80,000 spectators gather for concerts and baseball games.
The landmark tower on the main stadium, standing at 575 feet (175m), is the world's tallest inclined tower. Visitors can enjoy a spectacular view of Montreal and its surroundings from the observation floors, accessible by a funicular-type elevator. Pop over to view the wonderful Botanical Gardens opposite the park, which are the second largest in the world.
Address:
4141 Pierre-De Coubertin Avenue
Olympic Park Tony Hisgett
St Joseph's Oratory
St Joseph's Oratory is a landmark in Montreal, its imposing dome on the northwest flank of Mont Royal visible for miles. This oratory is a famous pilgrimage site, despite only being completed in 1967, attracting over two million visitors and pilgrims each year.
It was founded by Brother Andre, a beloved monk who was known as the miracle-worker of Mont Royal because of his healing abilities. Work began on the basilica after his death in 1937. Its dome is the second largest in the world, being 318 feet (97m) high; it is second only to St Peter's in Rome.
The Oratory's carillon is made up of 56 bells that were originally cast for the Eiffel Tower in Paris; the Oratory acquired them in 1956. Visitors can climb the 283 steps from street level to the basilica's portico for beautiful vistas over the city.
Address:
3800 Queen Mary Road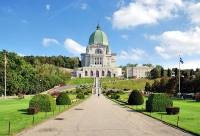 St Joseph's Oratory Taxiarchos228
Montreal Museum of Fine Arts
During the past 140 years, the Montreal Museum of Fine Arts has assembled one of North America's finest encyclopaedic collections, totalling more than 30,000 objects. The collections include Canadian art, contemporary art, Inuit and Amerindian Art, European Masters, prints, drawings, and decorative arts.
The museum also regularly features special exhibitions and activity programmes for adults, students and children. The Montreal Museum of Fine Arts is one of the best of its kind in Canada and a treat for art lovers and culture vultures in Montreal.
Address:
1379-1380 Sherbrooke Street West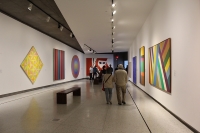 Montreal Museum of Fine Arts Shinya Suzuki
Montreal Botanical Garden
In close proximity to the Olympic Park, the Montreal Botanical Garden is one of the largest of its kind. Home to more than 22,000 plant species and roughly 30 exquisitely mapped out gardens, it's well worth a visit any time of year.
Begun in 1931, in the midst of a financial crisis in the city, the garden provided work for thousands of unemployed Montrealers and has since developed into a popular tourist attraction, with an astounding array of plants and trees.
An array of interesting sights and sounds await the visitor, including the Tree House (highlighting the important role of trees in our lives), a First Nations Garden (illustrating the interaction of Inuit and Amerindians with nature), a Chinese Garden, the Quebec Butterfly House, a Medicinal Plant Garden, Planetarium, and so much more.
Address:
4101 Sherbrooke East Street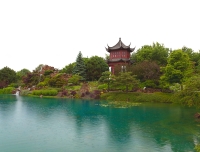 Montreal Botanical Garden Patrick
With predominantly wet, warm summers and cold, snowy winters, the humid continental climate of Montreal is varied and seasonal. In winter (December to February), snowfall is abundant and common both in spring and autumn. Temperatures well below freezing are experienced in winter, with average low temperatures dropping to 7°F (-14°C) in January, with the bitter weather is exacerbated by wind chill.
Summer (June to August) brings sunshine and pleasant days, with high humidity on occasion, although highs seldom exceed 86°F (30°C). Rain can be expected any time of year in Montreal, but summer tends to be the wettest season. A feature of the climate of Montreal is the possibility of late autumn heatwaves, enjoyed as 'Indian summers', which frequently occur.
Montreal is predictably and deservedly famous for its French cuisine, with a number of glorious French restaurants and bistros calling the city home. The best dish to try in Montreal is poutine, Quebec's signature food, a pile of fries, gravy, and cheese curds. French classics like bagels and croissants are also very popular in the city.
Old Montreal is naturally the main tourist district and many quality restaurants can be found along the narrow streets. Downtown Montreal also boasts a bustling restaurant scene. Boulevard Saint-Laurent (La Main to locals) splits the city into eastern and western sections and is one of the best streets for eating out in Montreal.
Another good stomping ground for grazing travellers is Plateau Mont-Royal, a gourmet paradise of restaurants, bakeries and snack stalls. For a break from French-style cuisine, and good budget options, take a stroll through Montreal's Chinatown, of which Rue de la Gauchetiere is the main, pedestrianised strip.
Foodies wanting to explore the fresh produce scene in Montreal should visit either the celebrated Marche Jean Talon or the smaller Marche Atwater to browse the stalls, both food markets sure to delight serious gourmets.
Le Club Chasse et Peche
One of the most highly rated restaurants in Montreal and a multi-award winner with the local press, Le Club Chasse et Peche is a great option for a special occasion. Known as CCP, this eatery has reinvented 'surf 'n turf' with mouth-watering Kobe beef and lobster tail.
The décor enhances the dining experience with low ceilings fostering an intimate atmosphere while the chic décor further suggests that this is a truly special dining experience. The restaurant is open for lunch, Monday to Friday from 11:30 to 2:30pm, and for dinner Tuesday to Saturday from 6pm to 10.30pm.
La Chronique
For a taste of Montreal's rural surrounds, La Chronique is a highly regarded eatery that exclusively uses fresh local ingredients in its modern French cuisine with interesting Mediterranean and Southwestern touches. The décor is centred on dark wood and red hues framed with black and white photographs, and the wine list, exceeding 250 titles, can be ordered by the glass or bottle.
Reservoir
Although a microbrewery, Réservoir is developing a name as the best value restaurant in the city, combining perfectly fresh ingredients with inventive recipes from the fertile imagination of founding Chef Samuel Pinard.
The brunch has been described by one critic as 'the most interesting (and for my money, the best) brunch experience in town'. The evenings are naturally a bit lively but this in no way detracts from the dining experience.
L'Express
It would be remiss to list Montreal eateries without mentioning the one best known in cinema and literature: L'Express, Montreal's beloved brasserie. The eatery has handwritten menus in the style of Parisian sidewalk cafes with similar décor and serving staff attitude.
The noise reaches epic proportions when the premises is full but the food, decent prices, and all-you-can-eat pickles and baguettes makes this an essential experience for visitors to Montreal. Open weekdays 8am-2am; Saturdays 10am-2am; and Sundays 10am-1am.
Address:
3927 Rue St. Denis
Jun I
Montreal does not have a great reputation for sushi, a sore point for maki-addicted and sashimi-fixated locals. Thank goodness then for Jun I, which flies the flag high for high-quality authentic Japanese sushi. Chef Junichi Ikematsu has developed an interesting menu based on fresh local fish, exotic rolls, and flawless nigiri, all complemented by a fine range of sake.
International Jazz Festival
Montreal's annual jazz festival (Festival International de Jazz de Montreal) is one of the best and biggest in the world. Superstars of jazz, like Oscar Peterson, Ray Charles, Dave Brubeck, and Chuck Berry have featured on the annual programme.
Today, the jazz festival features 3,000 artists and hosts more than 650 concerts (the majority of which are free outdoor events) every year. The celebrated event attracts more than two million visitors, over 30 percent of which are tourists.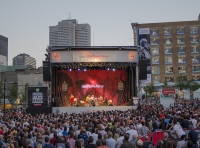 International Jazz Festival Matias Garabedian
Montreal High Lights Festival
Montreal's lively 11-day midwinter festival is designed to bring some light and warmth into local lives and is said to be one of the largest winter festivals in the world. It is billed as three festivals in one, having gastronomic, musical, and artistic components.
There are more than 100 concerts scheduled, more than 200 culinary and wine events, and various shows and exhibitions, many of them free of charge. Fun outdoor winter activities are also organised for the whole family. The festival attracts nearly a million spectators and foodies in particular await the event eagerly.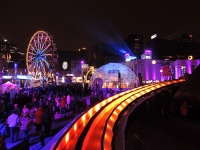 High Lights Festival art_inthecity
Canadian F1 Grand Prix
For more than a quarter of a century, the world's top racing drivers have been meeting at the demanding Circuit Gilles Villeneuve in Montreal to battle out an important race in the Formula One World Championship.
The circuit lies on Ile Notre-Dame, a man-made island in the St Lawrence River. It includes the notorious Bienvenue au Quebec wall, which is wryly known as the 'Wall of Champions' because of all the F1 superstars who have crashed into it. Locals support the event enthusiastically and many people travel to attend it.
Venue:
Gilles Villeneuve Circuit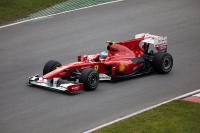 Canadian F1 Grand Prix Patrick
Ever since it earned its nickname of 'Sin City' during the Prohibition era, Montreal's nightlife has been famous for the last century and even today the city is arguably home to the hottest nightlife in Canada.
One of the best areas for a night out is Saint-Laurent, with trendy, fashionable clubs, and bars that are constantly being reinvented. Crescent is a popular area with those wanting a chilled evening and is hence a good choice for couples and diners.
The Latin Quarter lives up to its name with a lively party scene, attracting students and tourists in substantial numbers during the summer months when the good times spill into the streets. The Gay Village is a very lively cocktail of charming cafés and pumping nightclubs joints, enjoying a reputation as having the most raucous nightlife among both gay and straight crowds.
Bars in Montreal close around 3am. Clubs tend to open late and close around dawn. Entrance fees are usually charged but these can be avoided by calling ahead and talking your way onto the guest lists, not nearly as hard as it sounds.
Be aware that Montreal has some fairly advanced public health regulations that mean smoking cigarettes in bars or even near them is strictly forbidden. Do so at the risk of a fine. A drawcard for visiting young Americans is the legal drinking age of 18, as opposed to 21 across the border.
Montreal is also a paradise of culture, the city enjoying its own symphony orchestra, dozens of theatres, and countless venues for live music concerts, ranging from intimate clubs to international arena tours.
Montreal is one of those rare international cities where shopping actually enhances one's experience of the destination. Rather than kitsch souvenirs from plastic chain stores, the shopping in Montreal is as cultured and glamorous as any other aspect of the city.
Not only does Montreal have boutiques and organic markets in equal measure, but it is the world's only underground city in which to shop. If you're here in winter, this subterranean retail experience will be a welcome refuge from the icy gloom above and a highlight of your trip to Montreal. The Underground City has more than 20 miles (30km) of passageways connecting all the Montreal Metros with something like 1,600 little boutiques, 200 restaurants, and 34 cinemas. Over 500,000 local people use the underground city every day, so plan your visit during office hours when it is much quieter.
Montreal's two best markets are at opposite ends of the city. Marché Jean-Talon is an enormous open-air market selling high-quality goods, including fresh and organic maple syrup which you can buy by the litre, perfect as a truly authentic Quebec gift for sweet-toothed friends back home. Marché Atwater is another good option: it has wonderful baked goods like artisanal breads and other fresh produce on offer.
The best Montreal shopping districts are Avenue Laurier Ouest, a centre of designer boutiques and foodie stores; Cours Mont-Royal for its haute couture and fashion accessories; and Ste-Catherine Street which attracts trendy stores and their customers. You can also find the iconic shopping centre Faubourg Ste-Catherine near here.
For unique Montreal gifts, don't miss the Canadian Guild of Crafts Québec, which sells aboriginal art and local artisan works. This is a good place to pick up classic Canadian souvenirs like furs and Native Indian crafts like dream weavers, polished stone jewellery, leather goods, and musical instruments. Another must-visit is Marché Bonsecours in Old Montreal, which has an eclectic and interesting range of shops that are well worth visiting.
Montreal's sensible layout combined with an extensive and super-efficient public transport system (Metro, bus and commuter rail services) make getting around the city easy. In fair weather, hundreds of kilometres of bike paths spanning the island offer a healthier, pleasant option.
Public transport is run by the Montreal Transport Society, or STM. The pristine metro has dozens of stations along four different lines with numerous stops in the subterranean mall. The metro stops are all integrated with a comprehensive network of city bus routes. Most metro services and buses run between 5.30am and 1am, with a limited night bus service filling in. The inner city services in turn connect to a commuter rail network that serves the suburbs.
Fares are standard on both the bus and metro and transfers are free; a tourist pass is available for bus and metro. Metered taxis can be hailed in the streets downtown or ordered by telephone. There are numerous car rental firms in the city, but roads are often heavily congested and traffic jams are common.
Despite its harsh winters, Montreal is in fact a year-round destination and travellers will be able to enjoy the bustling city's attractions and festivities no matter what season they choose to visit in. Whether you enjoy outdoor sports or a trip to the opera, there are plenty of things to see and do in Montreal.
Check out Olympic Park, which hosts baseball games and concerts, or visit Old Montreal which contains beautiful historical buildings dating from the 17th to 19th centuries, as well as a few museums. The nearby old port (Vieux Port de Montreal) is a popular place for tourists as it features a huge open-air skating rink, IMAX cinema, plenty of restaurants and cafes, and a Science and Technology Center. Many tourists also take boat tours from here and a good option is to take a ferry ride across to the Parc des Iles, where the 1967 World's Fair site offers facilities for picnicking, swimming, skating or skiing in winter.
The dome of St Joseph's Oratory, visible on the flank of Mont Royal from miles away. This famous pilgrimage site attracts more than two million visitors each year. In downtown Montreal, several blocks are connected by 18 miles (30km) of underground arcades and malls, where shoppers will be able to enjoy enclosed walking areas and great shopping opportunities even when the weather is bad. Visitors should purchase the STM Tourist Card which allows unlimited access to the bus and metro service for either one or three consecutive days.