Parliament Hill
Parliament Hill is a place for decision-making, but also a place for people. Visitors can tour some of the buildings, watch Parliament in action, and enjoy ceremonial spectacles like the Changing of the Guard ceremony.
Three buildings make up Canada's parliament complex. The centre block, with its distinctive Peace Tower, houses the Senate and Commons chambers. Visitors can watch either chamber in action, take a tour of the building, and climb the Peace Tower for a view of the capital city region. The historic east block contains the restored offices of Canada's first prime minister, Sir John A Macdonald, and other early statesmen. Visitors can enjoy tours of these historic rooms. The west block contains the offices of members of parliament, and is not open to the public.
Address:
Wellington Street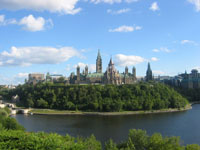 Parliament Hill Servez-vous
Canadian Museum of History
The Canadian Museum of History welcomes over 1.2 million visitors every year. Created to enhance Canada's understanding of its own past and to strengthen the country's awareness of world history, the museum is an interesting stop for anyone travelling to Ontario.
Along with its ongoing exhibitions, such as the striking Grand Hall, the museum presents many tremendous exhibitions focusing on Canadian history, world history and civilisation. Visitors arriving with kids may want to check out the Canadian Children's Museum as well. It offers a truly child-friendly experience by including games, toys, costumes and hands-on props. The museum also has a 500-seat theatre, and a 295-seat movie theatre equipped with a giant 3D screen. All told, the combination of attractions should keep the entire family happy for hours.
Address:
100 Laurier Street, Gatineau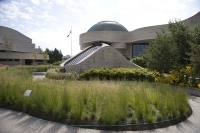 Canadian Museum of Civilization Michel Rathwell
Gatineau Park
Locals and visitors treasure Gatineau Park. Located just 15 minutes from downtown Ottawa, it is the capital's conservation and matchless outdoor-recreation haven. Travellers can expect a fun menu of activities, regardless of which season they arrive in.
Swimming, hiking, biking, camping, cross-country skiing and snowshoeing are all on offer within an area renowned for its hilly woodlands and clear lakes. Visitors typically enjoy exploring the beautiful Luskville Falls, the diversity of forests along the King Mountain Trail, and Lusk Cave: a marble cave and geological phenomenon. Gatineau Park is definitely worth a full-day trip.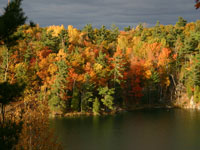 Gatineau Park Lezumbalaberenjena
Ottawa's humid semi-continental climate boasts a vast range of temperatures between summer and winter. Essentially, the city has unpredictable weather conditions. Winters are generally snowy and icy. Average low temperatures in winter (December to February) can drop to 5°F (-15°C) at night. However, averages are misleading because days can be much warmer or colder. Ice storms can occur. Summer (June to August) in Ottawa is warm and humid, with temperatures exceeding 80°F (27°C) fairly often, sometimes as early as April and as late as October. Summers are usually short, though, while spring and autumn are unpredictable, with potentially early or late snowfalls, or unseasonal heat waves.
For sightseeing purposes, most visitors enjoy exploring Ottawa's compact downtown area on foot or by bicycle. However, the OC Transpo company provides a top-class integrated public transport system. Travellers can purchase tickets when boarding buses and streetcars. Day passes and discount tokens are available. Taxis are freely available, but fairly expensive. Rates should be displayed in the taxi cab and the meter rate should be set at one at the start of a journey.
Ottawa is a green city, packed with parks and open spaces. As the capital of Canada, it sports numerous national attractions and top museums. Without question, a holiday in Ottawa is a busy whirl of sightseeing.
The city also has a hectic events calendar, so it is wise to check what's on when planning to visit. Fun festivals take place throughout the year, from ice-carving in winter to exploring tulip gardens in the spring.
Everyone will enjoy a holiday in Ottawa, though the city is particularly well suited to more active vacationers. They'd enjoy cycling along the city's miles of trails, or ice-skating down the Rideau Canal in winter. Extreme outdoor activities like bungee jumping and white-water rafting are also on offer just outside Ottawa.
Top attractions include the National Gallery of Canada, and Parliament Hill, the seat of Canada's federal government and the site of frequent pomp and ceremony. Visitors should also stop at the Canadian War Museum, the UNESCO-listed Rideau Canal, and the ByWard Market, an historic farmers' market by day and popular entertainment venue by night. Visitors can tour the city on one of the open-topped tourist buses.