Choco-Story Museum
Chocolate lovers can't take a holiday to Bruges without stopping at the Choco-Story Museum, which details the history of chocolate dating back to the Mayans in 250 BC, and also demonstrates how the raw ingredients of cocoa are turned into the sweet treats everyone loves.
Of course, each tour includes a tasting session and plenty of time in the gift shop. It's tempting to buy right then and there, but keep in mind that Bruges has more than 40 chocolate shops throughout the city!
Address:
Wijnzakstraat 2, Sint-Jansplein
Opening time:
10am - 5pm. 10am - 6pm in July and August. Closed on Christmas, New Year's Day, and from 8 January to 12 February.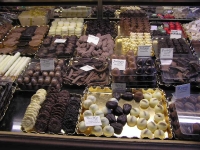 Choco-Story Museum frank wouters
Bruges Diamond Museum
Bruges has a long history of diamond polishing, going back to 1450 when local goldsmith Lodewijk van Berquem invented the modern technique of using diamond powder on a rotating disk. The Bruges Diamond Museum (Diamantmuseum Brugge) has a variety of exhibits on this craft, as well as mining and setting diamonds.
The museum also offers live polishing demonstrations each day and often hosts temporary exhibitions with famous stones and jewellery. The gift shop stocks rough and synthetic diamonds, as well as more reasonably-priced souvenirs.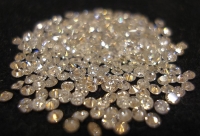 Bruges Diamond Museum Swamibu
Groeninge Museum
Considered one of Bruges' best museums, the Groeninge Museum houses a large collection of fine art going back to the 15th century, including works by famous Flemish painters Jan van Eyck, Hieronymus Bosch, Rogier van der Weyden, and Hans Memling.
Though some of the works are from recent years, the museum's collections focuses exclusively on works with classical techniques and has some beautiful pieces. For fans of classical art and those wishing to gain an insight into Belgian and European life in the past, this is a museum not to be missed.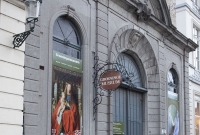 Groeninge Museum Navy8300
Bruges enjoys a temperate maritime climate with more consistent temperatures than in other parts of Belgium. Rainfall is common throughout the year and the winter and spring months are the wettest. Summer weather in Bruges is mostly dry with mild to warm temperatures. Travellers should be aware of the possibility of rain, regardless of the season. Average summer highs hover around 26°C (79°F) and July and August are usually the hottest months in Bruges making it the best time of year to visit. The average temperature during the winter months is 9°C (48°F) and heavy rainfall is not uncommon in January and February with frequent fog.
While not on a par with London or Paris, the restaurants in Bruges offer wonderful variety to suit all tastes and budgets. On one end, you have Michelin-starred establishments like De Karmeliet and Den Gouden Harynck, and at the other you have humble shopfront vendors serving up local specialties like fricadellen, frites (chips or french fries dipped in mayonnaise). Other typical Belgian dishes include moules-frites (mussels and chips), waterzooi (a rich chicken and vegetable stew), and tomate-crevette (a hollowed-out tomato stuffed with prawns and mayonnaise.
Belgian beer is also a specialty, and local varieties are brewed in a range of styles to pair with certain dishes; don't be afraid to ask your waiter to recommend something.
One important thing to remember about dining in Bruges is always to leave room for dessert. Belgium is well-known for its amazing chocolate, often considered the standard by which even Swiss chocolate is measured. Delicate seashell pralines make a great end to any meal. If you have a bit more stamina however, be sure to try a light and crispy Belgian waffle, dusted with powdered sugar and served with whipped cream and strawberries.
t Brugs Beertje
't Brugs Beertje is a popular beerhouse that offers unpretentious pub fare for a cheap meal in Bruges. The real star of the show is the beer though, as there are more than 300 Belgian beers available. The staff is knowledgeable and friendly, and the pub is open for dinner, Thursday to Monday.
Gelataria Da Vinci
Anyone with a sweet tooth will want to stop at Gelateria Da Vinci, a popular ice cream parlour near the centre of town. Offering a wide variety of gelato and dairy-free sorbet, the bustling shop has a relaxed atmosphere and is the perfect place for a treat. Note that the shop tends to be busy and seating is not always available.
Address:
Geldmuntstraat 34
Gingerbread Tea Room
Gingerbread Tea Room is a sweet little family-run tea house offering delicious homemade breakfasts and lunches. Specialties include comfort food like bagels, quiche, and soup. However, be sure to sample their selection of teas and sweet baked treats. Note that only cash is accepted as payment.
Gruuthuse Hof
Reservations are a must at this small restaurant. Gruuthuse Hof offers excellent Belgian cuisine in an elegant environment. If possible, book one of the few outdoor tables for a leisurely lunch and people-watching. Closed on Wednesday, Thursday, and Friday.
Park Restaurant
Park Restaurant is one of the most popular eateries in Bruges, known for its classic, romantic atmosphere. Its location near prominent attractions makes it convenient for sightseers. The food is simple and filling. However, note that on weekends and holidays only four-course set menus are offered.
Address:
Minderbroedersstraat 1
Getting around Bruges on foot is easy, as the city centre is compact and has many pedestrian streets. Another good way to get around in Bruges is by bicycle, as you can hire bicycles from the train station for €9 per day. If you do hire a bicycle, it's a good idea to familiarise yourself with the traffic regulations in Bruges to avoid fines.
If the weather is less than perfect, Bruges has public buses that operate regular service during the day, and day passes can be purchased for €5. Multi-day passes are available as well, but keep in mind that tickets cost marginally more when purchased from the bus driver than from a De Lijn sales office or machine.
Driving in Bruges is not recommended, as the narrow streets and numerous pedestrian thoroughfares add to the frustration of very limited parking options.
There is no end to the charming attractions of Bruges. Visitors can simply wander the streets enjoying the swans floating in the canals and the restored medieval buildings lining the cobbled streets. The winding streets are lined with gorgeous facades and churches and among them are a collection of museums housing some of the country's finest art, notably the Stadhuis and the Groeninge Museum.
A must-see for visitors to Europe, the entire historic centre has been recognised as a UNESCO World Heritage Site. Bruges is also known also as the 'Venice of the North' and as such attracts many romantics to its intimate streets and canals; the graceful ambience of its ancient buildings provides the perfect backdrop for a special weekend away. For a spectacular view of Bruges over the red-tiled roofs, the more energetic can climb the 366 stairs of the central bell tower.