Barbados has a lot to offer visitors regarding beach life andsightseeing. Resorts in St James and St Peter are dream settingsfrom which to appreciate this tropical paradise. More specifically,guests will find luxury, relaxation and a touch of hedonism on theisland's renowned west coast.
On the sightseeing front, Harrison's Cave and the JacobeanMansions are certainly worth visiting. So too is the little fishingvillage of Bathsheba, which is favoured by surfers andphotographers. Graeme Hall Swamp has even more in the way ofunusual sights.
All in all, the island is an irresistible option for thatperfect, sunny, coastal vacation.
West Coast Beaches
Western Barbados is known as the 'Platinum Coast'. North of thecapital, Bridgetown, visitors will find many splendid beach resortsbeside the Caribbean shore's warm, clear waters.
Beaches such as Batts Rock, Paynes Bay and Mullins Bay arepopular for swimming and sunbathing. Treasure Beach is a splendidhideaway with a reputation for fine Bajan cuisine and luxuryaccommodation.
All things considered, leisure seekers will relish a trip tothis tropical paradise.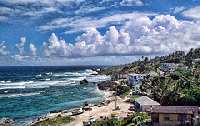 barbados scaturchio
Bridgetown
Steeped in British colonial history, Bridgetown exudes adistinctly English sensibility, with a laidback West Indian feel.Island lovers visit from around the world to browse the duty-freeshops on Broad Street, frolic in the azure waters of Carlisle Bay,and explore the city's museums. History buffs can also enjoy theBarbados Garrison, which is a UNESCO World Heritage site, as wellas the city's magnificent colonial buildings.
Otherwise, Bridgetown boasts many wild and scenic naturalattractions. These include a large variety of wildlife and plantlife not far from the city centre. Among other things, outdoorenthusiasts can wander through bright green tropical forests anddive beautiful coral reefs off the town's shores.
Foodies should stop in the Careenage for fresh, Caribbean-stylefish and lobster. Shops near the harbour sell staples like MountGay Rum. All things considered, visitors will find themselves inthe perfect spot to appreciate Barbados.
Graeme Hall Swamp
Located near Bridgetown, the Graeme Hall Nature Sanctuary isBarbados' largest expanse of inland water. Its red and whitemangrove trees are home to a number of bird species.
Unfortunately, government plans to develop much of the area haveforced the park to close most of its grounds to visitors. Only theSanctuary Cafe and Lakeside Lawn remain open to the public, thoughon a limited basis.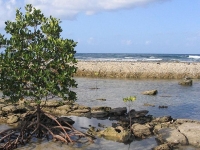 Red mangrove Muriel Gottrop
Barbados Garrison
The British Government established permanent land forces in theWindward and Leeward Islands in the 18th-century, taking Barbadosas its headquarters. It built the Barbados Garrison a few yearslater, making the fort a significant legacy of that era.
Today, this elegant Georgian building is the GarrisonCommittee's headquarters. The group unearths the numerous oldcannons scattered around the island's beaches, cellars and gardens,or buried beneath its fortifications. At present count, historylovers can view around 400 pieces.
Visitors will find the most important pieces in front of theMain Guard House, where they present irresistible photoopportunities. The Garrison complex also features the BarbadosMuseum. Housed in the old military detention barracks, itscollections chronicle the arts, crafts and natural history ofBarbados.
Otherwise, the Garrison Historic Area is home to a racetrackthat hosts the Barbados Derby, and other prestigious events on theBarbados horseracing calendar.
Address:
Near Hastings in the Christ Church parish.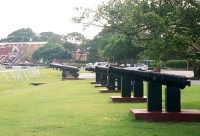 Garrison Historic Area Caribdigita
Gardens
Barbados has many beautiful tropical gardens. All of them areworth visiting for the tranquillity they inspire.
Travellers who begin their adventure in the island's capital,Bridgetown, should visit the nearby Lazaretto Gardens. Located inthe parish of St Michael, they're home to several species oftropical flora and feature a magnificent waterfall.
The Flower Forest lies in the Scotland District of Barbados,farther towards the east coast. Visitors will encounter an awesomevariety of plants, including brilliantly coloured flowers such asbegonias and heliconias, all set against the jungle's lushgreenery.
The Andromeda Botanical Garden is another option. Situated inthe parish of St Joseph, it contains several varieties of fern,palm, orchid, hibiscus and bougainvillea, as well as other exotictrees and flowers.
Turners Hall Woods are in the Parish of St Andrew. They're oneof the last remnants of the indigenous tropical forest that coveredBarbados before the first settlement in 1627. Visitors can viewindigenous trees like the Sand Box, Silk Cotton, Cabbage Palm,Trumpet Tree and Macaw Palm.
The Parish of St Thomas has a long gully known as Welchman HallGully. It contains some impressive tropical trees and rockformations.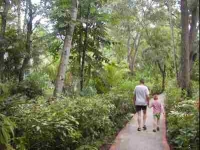 Casuarina Garden Hanumann
Wildlife
Barbados is a treasure trove of tropical wildlife. Visitors willenjoy encountering the island's colourful species on land andbeneath the sea.
Ocean lovers should head north to the Animal Flower Cave.Located in the rugged parish of St Lucy, it's home to vibrantsea-anemones. Some of its pools are deep enough to swim in.
The Folkestone Marine Park is a must for Scuba divers. Situatedin St James, its artificial reef was created by deliberatelysinking the Greek ship, Stavronikita, in 1976. Snorkelers canadmire corals, sponges and marine species in the park'sRecreational Zone. The park also has a museum and an aquarium.
The Barbados Wildlife Reserve is mainly a monkey sanctuary. Setin a natural mahogany wood in the parish of St Peter, its Greenmonkeys are hugely entertaining as they play in their naturalenvironment. Birds, ducks, deer, peacocks, otters, raccoons,turtles and tortoises also roam in the woods.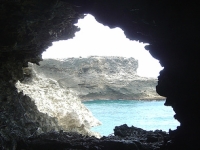 Animal Flower Cave Garybembridge
Harrison's Cave
This huge underground cavern boasts an amazing gallery of deepemerald pools, breath-taking waterfalls, and stalagmites andstalactites. Visitors take electrically operated trams down throughan extensive system of caves, ultimately reaching a spectacularwaterfall at the bottom level.
Address:
Allen View, Barbados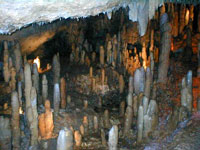 Harrison's Cave NeilEvans
Bathsheba
Bathsheba is home to a small community of fishing folk. Locatedon the island's east coast, its rocky terrain makes it a dreamsetting for photographers. Visitors can look forward to local rumshops, fine restaurants and one of the island's most spectacularbeaches, Bath Beach. Locals know it as the 'Soup Bowl' because ofits foaming surf. Discerning tourists will enjoy this Caribbeanhideaway.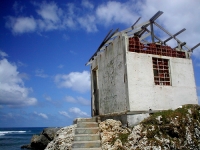 A Bathsheba shack NorthJoe
Jacobean Mansions
Constructed in the 1650s, Drax Hall in St George and St NicholasAbbey in St Peter are two of the oldest buildings in Barbados. Bothare world-renowned examples of Jacobean architecture, and featurecurved Dutch gables and coral-stone finials. Each of them isfurnished with antiques.
Drax Hall was one of the earliest and largest sugar plantationsin Barbados. James and William Drax established it. The twobelonged to a wealthy and influential family, as did manyplantation owners who prospered by growing sugarcane.
The Morgan Lewis Mill at St Andrew is another relic of theplantation days. Maintained by the Barbados National Trust, it isone of two restored sugar mills in the Caribbean.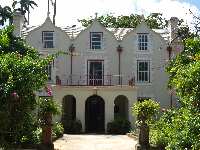 St Nicholas Abbey Pontificalibus
Surfing the Soup Bowl
Serious surfers should head to the Soup Bowl. Located onBarbados' east coast, the beach is home to the island's biggest andmost powerful waves. Its coral-reef coastline, strong, constanttrade winds and year-round swell create the region's most reliablesurf conditions. Beginners can rent boards and book lessons.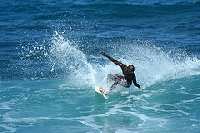 IMG_2675 Tarik Browne
Carlisle Bay Diving
The Carlisle Bay Marine Park is a superb site for beginner andveteran divers. Its diverse and wonderfully coloured marinepopulation includes rays, reef squids, frog fishes, moray eels, seahorses, barracudas, octopuses and more. Divers can also expect afine selection of wrecks. Old anchors, cannons and pylons lead fromone wreck to the next, roughly marking out the park.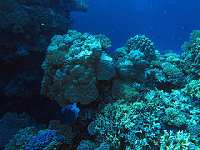 Coral Derek Keats
Andromeda Botanic Gardens
Located on a cliff overlooking the town of Bathsheba, theAndromeda Botanic Gardens make a great day out for the entirefamily. Kids will have plenty of space to run around and adultswill be impressed by an array of flowers that includes orchids,hibiscus and heliconia. The attraction is also renowned for itsmagnificent palm trees and tremendous bird population.
Address:
Bathsheba, St. Joseph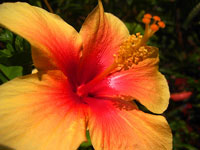 Hibiscus Sudarshan V
Flower Forest
Barbados' Flower Forest is a wonderful stop for families.Parents can admire beautifully coloured tropical plants and flowerssuch as roses, hibiscus, begonias and heliconias, or join theirchildren as they venture off to discover more gardens.
Otherwise, the area's topography features gentle hills, whichoffer amazing vistas of the lush countryside and eastern coastline.Cameras are essential.
Address:
Richmond Plantation, St. Joseph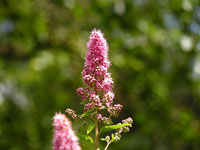 Flower in forest Frapestaartje
Folkestone Marine Park
Combining a museum and an aquarium, the Folkestone Marine Parkfeatures an artificial reef, purposely formed by sinking a shipcalled the Stavronikita. Divers can expect to see some incrediblemarine life at the site. Snorkelling equipment is available forhire, though only experienced divers should venture to theStavronikita because of its depth. Visitors can also enjoy theaquarium, which displays some rare and fantastic marine life.
Address:
Church Point, Holetown, St James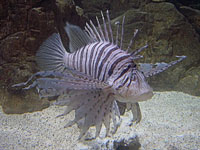 Tropical fish Margaret Anne Clarke
The weather is mostly fair and sunny in tropical Barbados, withdaytime highs averaging between 75°F and 85°F (24°C and 29°C).These hot conditions are tempered by cool, northeast tradewinds.
The dry season occurs from January to June and the hurricaneseason extends from June to October. Hurricanes, however, usuallymiss Barbados. Instead, the island experiences some spectaculartropical rainstorms. These usually last for short, heavy spellsthat dry up quickly.
Grantley Adams International Airport
Location:
The airport is situated 10 miles (16km) east ofBridgetown, near Christchurch.
Getting to the city:
A regular bus service to the city departs every hour, andofficial airport taxis with fixed rates are available.
Car Rental:
Travellers will find three authorised rental car companies atGAIA: Courtesy Rent-A-Car, Drive-a-matic and Stoute's Car Rental.Their offices are located in the public area outside Arrivals.
Fascilities:
Airport facilities include a bank and foreign exchange, a barand restaurant, duty-free, a business centre with Internetfacilities, and an information desk. Facilities for the disabledare good.
Parking
There is open-air parking near the terminal, charged at BDS 2per hour and BDS 12 per day. Car parks are within walking distanceof the terminals.
Money:
The Barbados Dollar (BBD) is fixed to the US Dollar at a rate ofBBD 1.98 to $1 and does not fluctuate. Its rate is relative toother currencies fluctuations based on the particular currency'srelation to the US Dollar. US Dollars are also widely accepted onthe island, and well-known international credit cards are acceptedin most stores and restaurants. Banks and ATMs are freely availableand cash withdrawals can be made.
Language:
English is the official language in Barbados.
Electricity:
Electric current in Barbados is 110 volts,50Hz.
Entry Requirements:
US nationals require a valid passport but do not require a visafor a stay of up to 6 months.
British nationals require a valid passport, but do not require avisa for a stay of up to 6 months.
Canadian nationals require a valid passport, but no visa forstays up to six months.
Australian nationals require a valid passport, but no visa forstays of up to six months.
South African nationals require a valid passport. No visa isrequired for stays of up to six months.
Irish nationals require a valid passport, but no visa for staysof up to six months.
US nationals require a valid passport but do not require a visafor a stay of up to 6 months.
New Zealand nationals require a valid passport, but no visa forstays of up to six months.
Passport/Visa Note:Visa:
Tourists don't usually require a visa for stays of up to sixmonths but they do require a return or onward ticket, proof ofsufficient funds, and documents for onward travel. Passports mustbe valid for the period of intended stay. However, it is recommendthat passports always be valid for six months after departure fromthe destination.
Travel Health:
There are no mandatory requirements regarding vaccinations forvisitors to Barbados. However, a yellow fever vaccinationcertificate is required from travellers over one year of age comingfrom infected areas, and Hepatitis A vaccinations are recommendedfor those aged over two years. There has been an increase in theoutbreaks of dengue fever and mosquito repellent is stronglyrecommended. Medical care is good but very expensive and seriouscases are usually transferred overseas (usually to the USA). Healthinsurance is therefore strongly recommended.
Tipping:
Tipping in Barbados is not necessary if a service charge hasalready been included in the bill. Otherwise it is generally about10-15%. Tipping is normal in bars.
Safety Information:
As in most places, crime is not unknown in Barbados. Violentcrime doesn't usually affect travellers, though, and normal safetyprecautions should suffice. Travellers should watch out forpickpockets in Bridgetown, and hustlers at the entrance to StLawrence Gap, as well as around south-coast nightlife venues.
Otherwise, beach-goers sometimes encounter Portuguese man-of-warjellyfish in Bajan waters. Fortunately, they're usually large, slowand easy to spot. Poisonous manchineel trees grow on a few beaches;tropical storms and hurricanes may occur between June andNovember.
Local Customs:
It is an offence to wear camouflage clothing in Barbados as itis reserved for the military. Topless bathing is frowned upon andnudism is illegal.
Business:
Bridgetown is generally the centre of business in Barbados.Business protocol is fairly formal, including greetings (use Mr orMs) and dress, which is smart. Handshaking between both men andwomen is expected and business cards are handed out onintroduction. Punctuality is expected at meetings. Business hoursare generally 8am to 5pm Monday to Friday. Banks and post officesclose at 3pm.
Communications:
The international access code for Barbados is +1, in common withthe US, Canada, and most of the Caribbean, followed by 246. Theoutgoing code is 011, followed by the relevant country code (e.g.01144 for the United Kingdom). No outgoing code is needed to callthe US. Mobile phone networks are readily available and internetaccess is common in tourist areas.
Duty Free:
Travellers to Barbados do not have to pay duty on 1 litre ofalcohol. Restricted items include most fresh produce and articlessuch as drugs, pornography and weapons are strictly prohibited. Asof 2010, Barbados was legally declared as a no smoking zone. Thosefound smoking in public areas will be prosecuted and the import ofany form of tobacco is restricted.