Hamra Street
If Beirut is indeed the Paris of the East, then Hamra Street is the Champs Elysees. A centre of intellectual activity during the 1970s, Pulitzer Prize-winning journalist Borzou Dragahi described it as a "bastion of liberalism, embracing multiple religions and political views amid sectarian conflict."
Hamra remains a wonderfully cosmopolitan, open-minded area, full of shops, pavement cafes, and trendy bars, thick with tourists and students from nearby universities. The street houses five-star establishments and budget backpackers alike.
And so, visitors to Beirut who want to experience authentic Lebanon but who also don't want to miss out on the luxurious comforts that really make a holiday abroad, would do well to make Hamra Street their home base.
Ultimately, Hamre Street is the perfect home base for those who want to experience authentic Lebanon but not sacrifice the luxurious comforts that really make a holiday abroad.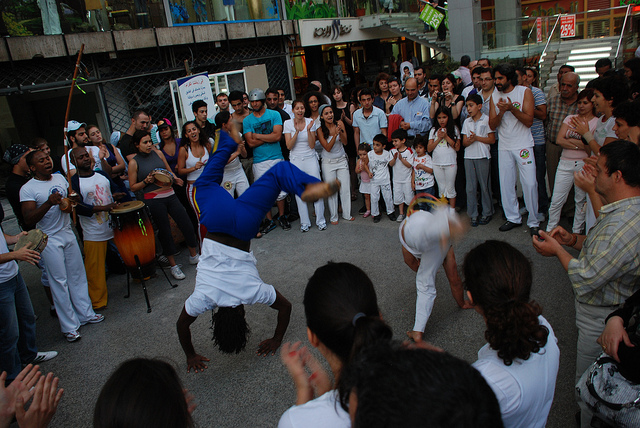 Capoeria in Hamra Street Youssef Chaker
National Museum of Beirut
Located on Museum Street in the heart of the city, the National Museum Beirut has a history that rivals its artefacts. During the Lebanese Civil War, the museum stood on the demarcation line between warring factions and the Egyptian Revival-style building suffered extensive damage.
Many of its treasures would have been destroyed had it not been for heroic pre-emptive measures undertaken by a committed group of individuals. These days, the museum is spread over three floors and renowned for its collection of ancient Phoenician antiquities.
There are also beautifully-organised exhibitions which take the visitor on a journey spanning numerous eras, including prehistory, the Bronze and Iron Ages, and the Hellenistic, Roman, Byzantine, and medieval Malmuk periods.
Address:
Damascus Boulevard, Beirut, 1100, Lebanon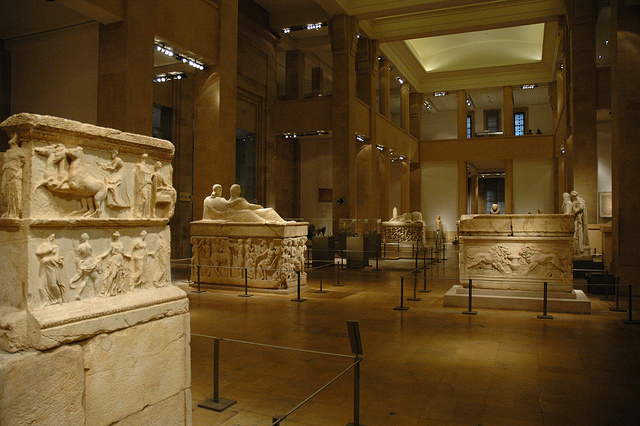 Exhibit american_rugbier
The Corniche
Encircling Beirut's promontory, the Corniche is a seaside promenade and pedestrian walkway that constantly bustles with daily life. Offering perfect views of the resplendent Mediterranean and towering Mount Lebanon to the east, the Corniche is extremely popular with walkers, joggers, and bikers.
A wonderful place to hang out in the sun and socialise, with push-cart vendors peddling tasty snacks and drinks, the Corniche is to Beirut what the Malecon is to Havana. It also stands as testament to Lebanon's troubled past, with many of the palm trees lining the promenade still pock-marked with bullet-holes.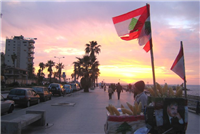 Corniche Evening Samfay
Beirut Hippodrome
Officially the Hippodrome Du Parc De Beyrouth, the Beirut Hippodrome comes highly recommended by visitors to Lebanon's capital city. Every Sunday, Beirut's elite mingle as they gather for an afternoon at the horse races. During spring, the annual Garden Show attracts crowds in excess of 25,000.
The pristine grounds of the Beirut Hippodrome remains the property of the city's municipality and are maintained by a non-profit organisation known as SPARCA, the Society for the Protection and Improvement of the Arabian Horse in Lebanon.
Head to the Beirut Hippodrome for a late Mezze lunch, and revel in the sight of the beautiful Arabian horses pounding their way around the track. There are also betting offices aplenty at the Hippodrome, for those who fancy a flutter.
Address:
Abdallah El Yafi Street, Mathaf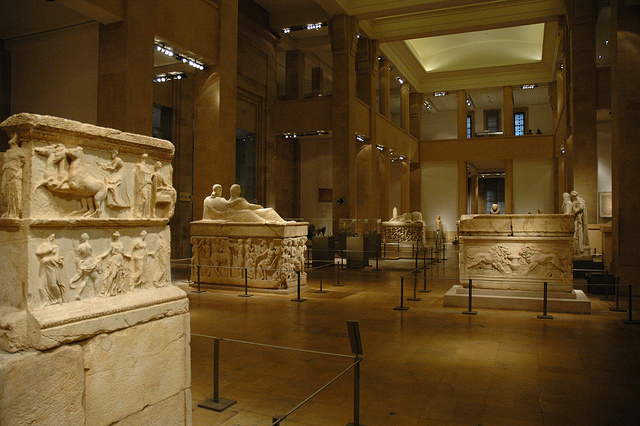 Exhibit american_rugbier
Al-Omari Mosque
One of the biggest and oldest mosques in Lebanon, the Al-Omari Mosque in Beirut is a worthwhile tourist attraction, boasting an interesting history. Built in 1291, the Al-Omari mosque was one of the first buildings restored after the Lebanese Civil War.
The Al-Omari Mosque started life as a Crusader church in the guise of the Cathedral of St John. But when the Mamluks took control of Beirut from the crusaders they immediately began converting the cathedral into the large, impressive mosque that we see today.
Visitors to the Al-Omari Mosque should dress appropriately with no revealing clothing, and should request permission before entering. Note that the mosque is closed to visitors during prayer times and over the whole month of Ramadan.
Address:
Corner of Rue Weygand and Rue Allenby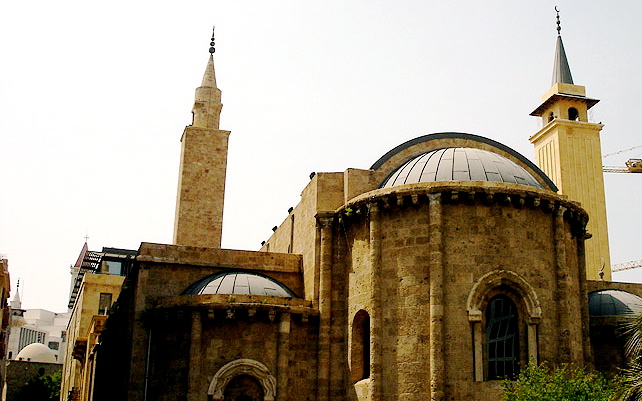 Al Omari mosque Aboluay
Beirut has a typically Mediterranean climate, characterised by hot, dry summers and cool, wet winters. The hottest month is August, with temperatures reaching 86°F (30°C), and the coldest months are January and February, with temperatures between around 50°F (10°C) and 63°F (17°C). The best time to visit Beirut is in spring (May) or autumn (September), when the weather is perfectly mild and there is plenty of tourist accommodation available.
Beirut Rafic Hariri International Airport
Location:
The airport is situated four miles (7km) south of the city.
Time:
GMT +2 (GMT +3 from the last Sunday in March to the last Sunday in October).
Getting to the city:
Taxis are available outside the arrivals hall and can be organised through hotels or reputable companies online prior to arrival, and Uber is also available in Beirut. Authorised vehicles bear the airport logo on their side and charge an official rate. Other taxis are also available but their charge is subject to bargain.
Car Rental:
Car rental companies located at the airport include Dealers, Budget, City Car, National, Avis, Europcar, and Hertz. The car rental operators' desks can be found in the arrivals hall.
Airport Taxis:
Organising taxis through reputable companies online or through hotels prior to arrival is the easiest way to get a reliable taxi. Otherwise, certified airport taxis are usually available outside the arrivals hall and have a unified official rate. Uber is an increasingly affordable and reliable option.
Fascilities:
Airport facilities include ATMs, currency exchange services, offices, a bank, pay phones, a post office, luggage wrapping services, lost baggage complaints, business lounges, wifi access, separate Muslim and Christian prayer rooms, and first aid and emergency medical services.
The Information Centre staff members are multilingual, generally speaking Arabic, French, and English. There are a number of cafés and restaurants open to the public, located in the arrival zone. There are also a number of shops, including duty free.
Parking
Parking for 2,350 cars is available at the airport. The parking area is connected to the terminal by an underground walkway. Parking rates start at LBP 5,750 for less than an hour, and go up to LBP 22,000 per day.
Public transport in Beirut is not very well established as most residents use their own vehicles for getting around the city. Buses operate along set routes, but schedules can be erratic. They are generally modern, comfortable, and air-conditioned.
To avoid embarrassment, men should be aware that seats at the front of the bus are usually reserved for women. Taxis are a popular mode of transport and easily hailed off the street. They are not metered so it's best that passengers agree on the fare before getting into the vehicle. Visitors should try to use reputable companies or a ride-hailing app to get fair prices.
Car hire is available and a viable option for travelling around Beirut, though traffic congestion can be extreme during peak times and Lebanese roads have a very poor safety record. Travellers should consider this option carefully.
Uncommonly blessed with a wide range of sights and activities, Beirut is truly able to cater to tourists' every whim. Culture junkies should check out the National Museum of Beirut, housing important archaeological artefacts. Additionally, the world's finest example of imperial Roman architecture survives in the form of the Temples of Baalbek.
Beachgoers head to Ramlet al-Baida, while adventurers go skiing on nearby Mount Lebanon in the winter. Visitors can also go snorkelling among shipwrecks and ruins in the Mediterranean Sea, or hike up to the Our Lady of Lebanon statue in Harissa.
Whether mixing with locals on the Corniche at sunset, browsing some of Beirut's cosmopolitan shops and restaurants, or exploring the incredible underground cave network of the Jeita Grotto, visitors will be blissfully busy while on holiday in Beirut.
Jeita Grotto
Undoubtedly Lebanon's premier sight, the Jeita Grotto is a must-see tourist attraction. Located just 14 miles (about 22km) from Beirut, the Jeita Grotto is an underground complex consisting of two separate, but connected, limestone caves, spanning an overall length of 5.6 miles (about 9km).
Situated in the Nahr al-Kalb river valley, the caves are accessible by boat and house a series of limestone concretions shaped for millennia into unique formations, sizes, and colours. Known as 'Mother Nature's Masterpiece', the Jeita Grotto also features an incredible upper gallery.
The upper gallery is accessible via walkways carved into the natural rock where travellers can observe the world's largest stalactite. A finalist in the New 7 Wonders of Nature competition, no holiday in Beirut would be complete without checking out these extraordinary caves.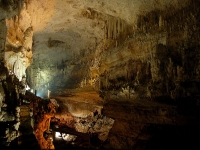 Jeita Grotto caves of Lebanon kcakduman
Temples of Baalbek
A UNESCO World Heritage Site, the temple complex found at Baalbek contains the world's best surviving example of imperial Roman architecture. The small town in Lebanon's Beqaa Valley is just 53 miles (86km) from Beirut.
An ancient area rich in history, it was known as Heliopolis, meaning 'City of the Sun', during the Hellenistic Period. Today, the towering, intricately-carved monuments of Baalbek continue to amaze and delight visitors to the region.
Even for non-history buffs, a visit to the acropolis at Baalbek is deeply fascinating. It represents a confluence of exquisitely-preserved Greco-Roman architecture built over the course of two centuries.
Consisting of 24 monoliths, numerous religious structures, and the grand Temple of Jupiter, the temples of Baalbek are an essential inclusion in any Lebanese travel itinerary. Moreover, the town of Baalbek is a wonderful place to stop over and rest for a few days on your Middle Eastern adventure.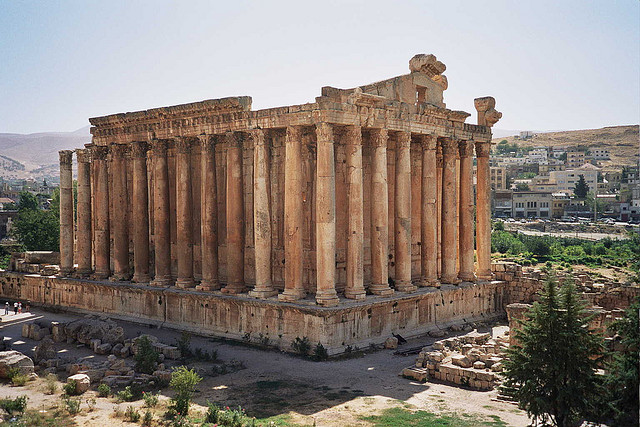 Baalbek Temple Complex upyernoz
Our Lady of Lebanon
Our Lady of Lebanon is a bronze statue of the Virgin Mary, painted white for added splendour. It dates back to the early 20th century, erected on a hill overlooking the beautiful Bay of Jounieh. A major Lebanese pilgrimage site, the statue is also a roundly-celebrated tourist attraction.
Towering 2,130 feet (650m) above sea level, unforgettable views unfurl at sunset when the western sky darkens over the sea. An added benefit is the cable car system, offering thrilling and affordable rides up the pine-forested mountain towards the shrine.
Those looking to make a day out of their trip to see Our Lady of Lebanon can also walk up the steep hillside, about 5.5 miles (9km) from the town of Jounieh to Harissa at the summit. Jounieh is located just 12.5 miles (about 20km) north of Beirut, considered an obligatory stop for holidaymakers in Lebanon.
Address:
Harissa, Lebanon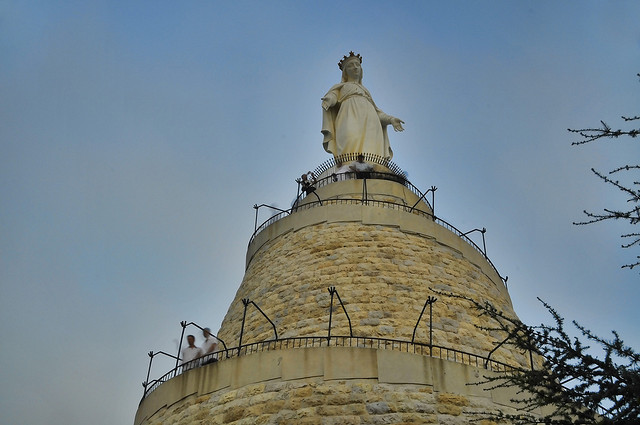 Our Lady of Lebanon Serge Melki
Sidon (Saida)
The third-largest city in Lebanon, Sidon is full of interesting cultural sites and shopping opportunities. A worthwhile excursion from Beirut, it's located just 27 miles (43km) south of the capital. Known as Saida in Arabic, it's primarily a destination for day-trippers from Beirut.
By far the main attraction of the city is its legendary stretch of covered market-places (souqs), where tourists eager to find some Lebanese souvenirs can shop to their heart's content. A bustling, atmospheric place, shopping in Sidon's Old Souq makes for an enriching experience.
Other notable sights in Sidon include the Sea Castle, which is a fortress built by the Crusaders in the 13th Century, the Sidon Soap Museum, and the Temple of Eshmun, a Phoenician structure erected in honour of the god of healing, dating back to the 7th century BC.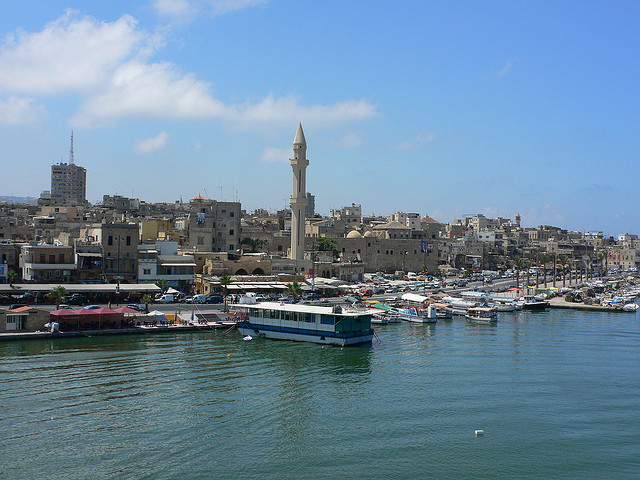 Sidon Port Heather Cowper