Jet dEau
One of the tallest fountains in the world, the Jet d'Eau is a Geneva attraction that cannot be missed. Projecting 460 feet (140m) into the air at a speed of 124 miles per hour (200km/h) and pumping 132 gallons (500 litres) of water per second, the fountain was initially established to release pressure for hydropower generation on the Rhone River, but was so loved by the populace that in 1891 the city created a permanent fountain. As Paris has the Eiffel Tower and New York has the Empire State Building, Geneva has the Jet d'Eau. For a breathtaking and romantic sight, tourists should visit at night, when the fountain is lit up.
Address:
Quai Gustav-Ador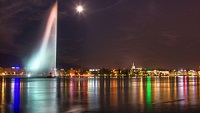 Jet d'Eau edwademd
International Red Cross and Red Crescent Museum
One of the most creative and thought-provoking museums in Europe, the International Red Cross and Red Crescent Museum brings together sculpture, installation, photography and film to highlight the importance of human rights, the history of conflict in the 20th century and the humanitarian work the Red Cross has done in providing aid to combatants and civilians caught up in both war and natural disasters. Funded entirely by outside donors, the museum is appropriately situated on the hillside opposite the United Nations, within the headquarters of the International Committee of the Red Cross. A significant stopover on a visit to Geneva, the International Red Cross and Red Crescent Museum provides insight into the gross implications of war and the tragedy that surrounds, as well as the committed work of the volunteers and Red Cross representatives alike. All the exhibits have an English language option.
Address:
17 Avenue de la Paix
Opening time:
10am-6pm (April to October), 10am-5pm (November to March)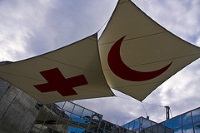 Red Cross Michael Dawes
St Peters Cathedral
With initial construction commencing in 1160 and lasting nearly a century, St Peter's Cathedral has over the years become a hotchpotch of architectural styles with Romanesque, Gothic and Neoclassical features. A former Catholic cathedral, St Peter's became a Protestant church in 1536 at the advent of the Reformation and was cleared of its ornate fittings such as altars, statues, paintings and furniture, but the stained-glass windows remained. Prominent theologian John Calvin preached at St Peter's Church between 1536 and his death in 1564 and the church soon became the centre of Protestantism. Recently, the remains of a fourth-century church were discovered under the existing building, providing an insightful look into early Christianity. Some of it is open to the public and can be viewed through the small museum on the site. For a breathtaking panoramic view of Geneva and Lac Leman, visitors can climb the 157 steps that lead to the summit of the cathedral's north tower.
Address:
24 Place du Bourg-de-Four
Opening time:
Monday to Saturday 10am-5:30pm; Sunday 12am-5:30pm (October to May) and Monday to Saturday 9am-6:30pm; Sunday 12am-6:30pm (June to April)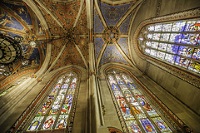 St Peter's Valerii Tkachenko
Public Parks
Public parks cover over one quarter of Geneva providing the populace with a quiet haven of rolling lawns and tree lined walkways. Dotted with many curious sculptures and attractions, there are a few parks worthwhile visiting. Bastion Park houses the 328-foot (100m) Reformation Wall, a monument commemorating the major figures and events of the Protestant Reformation, as well as life size chess boards at the north end of the park.
To view the famous flower clock, a symbol of the Swiss watch industry, head to the English Garden close to the water fountain and for outstanding views of Mont Blanc and the lake, Park Moynier is a firm favourite, with the History of Science Museum situated in the centre. Twenty hectares of woodland and hiking trails is what you will find at Batie Woods on the outskirts of the city.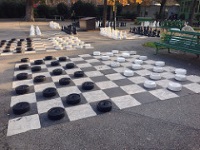 Bastion's Park Shinji W
Museum of Modern and Contemporary Art
Opened in 1994, the cutting edge Museum of Modern and Contemporary Art refuses to conform and as former museum director Christian Bernard says, the museum 'is not here to present the acceptable face of contemporary art'. With modern works dating from the 1960s to the present day, exhibited in a turn of the century factory, visitors to MAMCO will spend hours marvelling at the range of contemporary art that covers three floors. The Museum of Modern and Contemporary Art constantly reinvents itself, changing its exhibits and interior construction three times a year. The works of famous Dadaist Marcel Duchamp are on display all year round.
Address:
10 rue des Vieux-Grenadiers
Transport:
By tram (lines 12 and 15, stop at Plainpalais) and by bus (lines 2 and 19, stop Musée d'ethnographie; line 1, stop at École de médecine)
Opening time:
Tuesday to Friday 12pm-6pm; Saturday and Sunday 11am-6pm.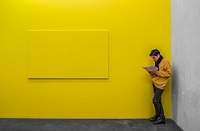 Museum of Modern Art ALwinDigital
Palais des Nations (United Nations)
Built between 1929 and 1937 to host the League of Nations, the Palais des Nations now houses the United Nations Office at Geneva, which was inaugurated in 1966 after the dissolution of the League of Nations. The biggest United Nations station outside of the headquarters in New York, the office at Geneva provides critical support to the organization. Situated in 45-hectare Ariana Park, the extensive Palais des Nations is bordered by century old trees, and it is not uncommon to see peacocks darting around; the result of a request by the former owner of the land who bequeathed it to the City of Geneva on condition that peacocks may run freely on its grounds. Tours include the council room with frescoes by José Maria Sert and the Assembly Hall. Identity documents are required.
Address:
Pregny Gate, 14 avenue de la Paix
Transport:
By bus (lines 8, 28, F, V and Z stop at "Appia"; lines 5 and 11 stop at "Nations") and by tram (Tramway 15 Terminus "Nations").
Opening time:
Monday to Friday (September to March); Monday to Saturday (April to August). Guided tours take place at 10:30am, 12pm, 2:30pm and 4pm, subject to availability.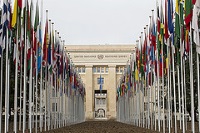 United Nations United Nations Photo
Barbier-Mueller Museum
Featuring a comprehensive collection of 7,000 artworks and artefacts from civilisations around the world, the Barbier-Mueller Museum in Geneva is the outcome of the tireless accumulations of Josef Mueller, whose collection began in 1907 and is continued to this day by his heirs. Founded in 1977, the museum wanted to preserve and study the sculptures, fabrics and ornaments brought from "primitive" civilisations that were once isolated communities. Visitors should look out for the megalithic monuments from Indonesia, the statues and items of worship from Oceania, pre-Columbian art from the Americas and ancient masks and shields from Africa.
Address:
10 Rue Jean-Calvin
Transport:
By bus: 2, 3, 6, 7, 10, 12 (Molard stop) and 36 (Hôtel de Ville stop)
Opening time:
11am to 5pm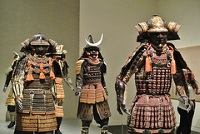 Barbier-Mueller Collection Lorianne DiSabato
Place Neuve
The cultural hub of Geneva, Place Neuve sits just outside the former ramparts and is a great access point for the Old Town, which lies on the other side of the high retaining walls. Home to three of Geneva's regal performance and exhibition halls, the Grand Theatre (opera house), Conservatory of Music and Rath Museum, the Place Neuve is worth visiting to witness the architectural aesthetic of these buildings. In the centre of the square is the emblematic statue of Swiss general Henri Dufour, who was the first person to establish a map of Switzerland and also presided over the First Geneva Convention. The highest mountain in Switzerland, Dufourspitze, is named after him.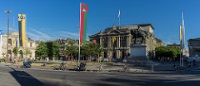 Place Neuve Brigitte Djajasasmita
Museum of Art and History
Comprising three sections, the captivating Museum of Art and History explores the passage of western culture and international civilisations with over 7,000 pieces covering archaeology (Roman, Greek, Egyptian and Etruscan), fine arts (paintings from the Renaissance to modern times) and applied arts (found objects from the Middle Ages to the 20th century). One of Geneva's largest museums, the colossal Museum of Art and History was built at the beginning of the 20th century, between 1903 and 1910. When visiting, travellers should look out for paintings by legendary artists Van Gogh and Renoir.
Address:
Rue Charles-Galland 2
Opening time:
11am-6pm, closed on Monday.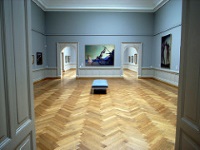 Museum of Art and History Erik Starck
Patek Philippe Museum
The museum offers a fascinating presentation of Genevese, Swiss and European watches and enamels dating from the 16th to the early 19th century, including a great number of masterpieces that have left their mark on the history of horology. Audiovisual multilingual presentations of selected masterpieces animate the exhibit. Visitors can explore the roots of time-measurement through a visual timeline, which details the key events in watchmaking's evolution from the Antique creations of the 1500s, through to the founding of Patek Philippe in 1839, up to the present day. The intricate details and designs, moving parts and beautiful colours of the collection will provide hours of fascination.
Address:
Rue des Vieux-Grenadiers 7
Transport:
By bus ( line 1, stop at Ecole-de-Médecine) and by tram (line 12 and 15, stop at Plainpalais).
Opening time:
Tuesday to Friday 2pm-6pm; Saturday 10am-6pm.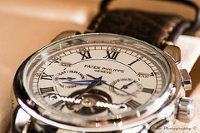 Patek Philippe Sergio S.C
Musée dHistorie Naturelle
When people in Geneva say they go to Museum, they mean The Natural History Museum. This museum presents an educational look at the world of nature with special emphasis on the ecological history of Switzerland. Included is a life-size model menagerie of bears, foxes, alligators, aardvarks and other animals from around the globe, as well as a complete collection of every mineral and plant indigenous to Switzerland. There is also a special children's area. A great place to bring the kids, the Musée d'Historie Naturelle contains numerous historical collections left to the museum by world-renowned scientists, such as Lunel, Saussure and Fatio. Children will be amazed by displays of animals and specimens including a leatherback turtle, giant spider crabs, tiger sharks and even a coelacanth.
Transport:
By bus (Museum stop) or tram.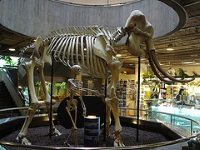 Natural History Museum emagdi
Aquaparc
A visit to Aquaparc is a must for families on holiday in Geneva, especially with children. This water park caters to children of all ages and features indoor and outdoor swimming and water adventure rides and slides in a tropical theme. Brave children will love rides such as the Devil's Fall and Morgan's Thrill, while parents can indulge in a massage with thousands of bubbles in the hot tubs. The water and the air are heated to 28°C and some attractions are open all year round. Regardless of the weather (if it's raining, if it's windy or if it's snowing), Aquaparc is open.
Address:
Route de la plage, 122
Transport:
By train (Bouveret Station), by bus (Bouveret Aquaparc or Bouveret Village) or by boat.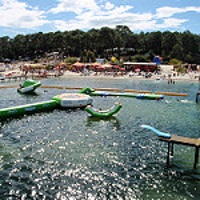 Aquaparc Port Maguide Biscarrosse
Geneva is a great city for children on holiday to explore. On warm days, parents can take the kids to the tropical Aquaparc, where they can splash and play, or enjoy a spot of horseback riding, putt-putt golf or bowling. Or for something special, they can pack a picnic and head to Labyrinthe Aventure in Evionnaz, where children can let off some steam in the 1.7 mile (3km) adventure maze.
On colder days when outdoor activities with kids are off the menu, families can head to one of the many indoor playgrounds found throughout the city, such as at Yatouland, which features bouncy castles, Noah's ark, slides and even a mini 4x4 circuit. There are many great things for children to see and do in Geneva, and the little ones need never be bored.
Geneva is situated at a high altitude, which together with the lake, tempers the prevailing continental climate. Summers are pleasantly warm to hot, and winters relatively mild with temperatures hovering just above or below freezing. In summer, between June and August, temperatures average between 54°F (12°C) and 79°F (26°C). In winter, between December and February, temperatures average between 29°F (-1°C) and 43°F (6°C). Rain falls all year round, and occasionally the city suffers the ravages of a harsh north wind known as the bise.
Eating out in Geneva is a gratifying affair. The city offers a fantastic selection of traditional and local fare, as well as excellent international and ethnic cuisine.
Local Geneva specialities include fresh fish from the lake and a variety of pork dishes, including petit salé (salt pork) and longeole (pork sausage). While Swiss cheese is enjoyed worldwide, Geneva has copious amounts of Raclette, Emmenthal and Gruyere, among other well-known cheeses on offer. These can be tasted in the quintessential Swiss fondue. Traditional Swiss restaurants can be found throughout the city but Place du Cirque and Quay Turrettini host some of the best.
Diners eating out in Geneva will find a variety of international restaurants offering modern, traditional, ethnic or fusion menus. There are good French restaurants in the hotels on Quai Du Mont Blanc and Chemin du Petit Saconnex and on Rue de Lausanne. For Italian eateries, travellers should try Rue de Fribourg, while Spanish food is best on Rue de Coutance. Rue du Prieuré has a delightful Indian restaurant, and there are great cafés on Boulevard Helvetique.
While the prices at top restaurants can be astronomical, the standards are just as high. There are also fixed-price menus available to lighten the load. A 7% service charge is included in all restaurant bills. Many Geneva restaurants close on weekends and especially Sundays, so travellers should call ahead to enquire; reservations are recommended.
Les Armures
Those in search of authentic Swiss cuisine prepared to perfection need look no further than the Les Armures. This renowned eatery located in the 5-star Hotel Les Armures features three dining rooms for patrons to choose between, namely the Terrace, Salle des Artistes and Carnozet and serves Swiss favourites with a French flair and elegance. Patrons should try the wild mushroom soup, sliced breaded veal or the roasted duck breast served in a raspberry vinegar sauce. Open daily for lunch and dinner. Reservations recommended.
Address:
1 Rue Puits-St-Pierre
Café des Bains
A warm and friendly bistro situated opposite the Museum of Modern and Contemporary Art in the trendy Plainpalais district, Café des Bains serves fresh innovative dishes from all over the world. With a varying daily lunch menu, patrons can expect mouth-watering quality dishes, prepared with only the finest ingredients, which are creatively presented. They can take lunch at the bar area where they can access free wifi or just sit back and enjoy a freshly brewed coffee. In the evenings patrons can choose from an attractive a la carte menu that is accompanied by a good winelist. For a relaxed dining experience in Geneva, travellers should head to Café de Bains. Open Monday to Friday for lunch and dinner, and Saturday for dinner.
Address:
Rue des Bains 26
La Perle du Lac
Popular with tourists and locals alike, La Perle du Lac is the only restaurant in Geneva that is situated directly on Lac Leman. Known for its large flowered terrace overlooking the Alps mountain range and the tranquil lake, guests at La Perle du Lac easily unwind whilst relishing the flavours of their pan fried escalope of duck liver with apple or the much loved slow-cooked lamb shanks. Situated in pretty Mon Repos Park, La Perle du Lac has been serving five star French cuisine to diplomats and businessmen for over 30 years. Open Monday to Sunday for lunch and dinner.
Address:
Rue de Lausanne 126
Café du Soleil
Situated about three miles (five kilometres) outside of central Geneva, city slickers and tourists alike cannot help but gravitate towards Café du Soleil. With a leafy outside sitting area dotted with blood red tables and a simple interior with antique wooden chairs and elaborate framed mirrors adorning the bare white walls, the frank décor of Café du Soleil only highlights the scrumptious cuisine. Regarded as one of the oldest restaurants in Geneva and one of the best fondue restaurants to boot, there is no uncertainty over what to order. For a light lunch, patrons should try their brochettes or freshly prepared salads otherwise the sirloin and rump steaks are a good bet. Open daily for lunch and dinner.
Address:
Place du Petit-Saconnex 6, Petit-Saconnex
Auberge de Floris
Ideal for a business lunch or gastronomic night out, Auberge de Floris is a sophisticated terrace restaurant overlooking the lake in the picturesque village of Anières, 15 minutes southwest of the city. Claude and Inès Legras warmly welcome patrons to this Michelin star restaurant known for its delectable seafood. Patrons should try the tuna carpaccio starter drizzled with orange zest and olive oil and follow with pecorino-stuffed calamari in octopus ink sauce with chorizo potatoes and steamed courgette flowers. Next door is the bistro, offering less complex but still inventive dishes at slightly cheaper prices. Open Tuesday to Saturday for lunch and dinner.
Address:
Route dHermance 287
Les Papilles de Lavinia
A haven for wine lovers, Les Papilles de Lavinia is a new wine and tapas bar that combines the sweet and savoury dishes with a wonderful selection of wines from leading producers around the world. Guests can sit intimately at a table for two or join a larger group around the heavy wooden tables. With tasteful décor and a trendy wine bar atmosphere, Les Papilles de Lavinia is ideal for a sophisticated lunch or after-work drink. Open for lunch and early dinner from Monday to Saturday.
Address:
Rue de Coutance 3bis
Parc des Eaux-Vives
The elegant Restaurant du Parc des Eaux-Vives is situated in a historic mansion dating back to the 18th century in the picturesque Parc des Eaux-Vives along the lake. The gourmet restaurant, decorated with two Michelin stars, is overseen by talented chef de cuisine Julien Schillaci whose refined menu is composed according to the produce of the season. The art deco dining room is complimented with world-class wines and outstanding service. In summer, the Parc des Eaux-Vives terrace is one of the most beautiful settings in Geneva. Ideal for business or leisure, the Parc des Eaux-Vives is open daily for lunch and dinner.
Address:
Quai Gustave-Ador 82
La Mamounia
Met by an ornate fountain in the entrance way and draped in rich ochre, red and orange décor, this cosy Moroccan restaurant features rugs, cushions, tapestries and belly dancers on Saturday nights. A popular eatery with locals and almost always bustling, La Mamounia serves traditional Moroccan dishes and delicious tagines. Rooms with different colours and décor can be booked for private parties and large tables. The flagship dish, the chicken 'Mamounia' with toasted almond sauce is not to be missed. Reservations accepted. Open daily.
Address:
3 Avenue de Frontenex
Le Chat-Botte
Serving some of Geneva's finest French cuisine, Le Chat-Botté boasts renowned chef Dominique Gauthier, who prepares innovative and delicious gourmet food night after night. Located in the Hotel Beau Rivage, this stylish and sophisticated restaurant is tastefully decorated and boasts one of Switzerland's finest selections of wines. Patrons should try the tartar of slipper lobster with lime and ginger, coco milk and citronella gaspacho, or the Pyrenean spring lamb and polenta fries served with a delicious light cream. Whatever guests choose to eat, Le Chat-Botte does not disappoint. Open daily for lunch and dinner. Reservations recommended.
Address:
Quai du Mont-Blanc 13
LAnge des Dix Vins
Located in the leafy green suburbs of Carouge, this bustling classic restaurant has fast become one of Geneva's favourites. The ever-changing art adorning the walls and wine list allows patrons to sample some exciting new additions while dining on traditional French fare. Open Monday to Friday from January through August and Monday to Saturday September through December. Reservations accepted.
Address:
31 Rue Jacques-Dalphin
Geneva Airport
Location:
The airport is situated three miles (5km) north of Geneva.
Time:
GMT +1 (GMT +2 between the last Sunday in March and the last Sunday in October).
Transfer Between Terminals:
Terminal 2 is only used for charter flights in the winter months and is usually closed.
Getting to the city:
Public buses leave for the city centre every few minutes from the departures and arrivals levels. Passengers can pick up tickets for public transport from the machines in the baggage collection area on the arrivals level; information is available at the Unireso information counter in the arrivals hall. A free hotel shuttle transports passengers to major hotels. A Unireso train leaves for Cornavin RR Station in the city centre roughly every 10 minutes, from where connections can be made to destinations throughout Europe.
Car Rental:
Car rental companies include Alamo, Avis, Budget, Europcar and Hertz. Travellers should ensure they hire their car on the French side of the border if they are going to France, and vice-versa. It is only about three miles (5km) into town.
Airport Taxis:
Taxis can be found outside of the arrival terminal. The trip is three miles (5km) and commute times vary according to traffic. Taxis are metered and there are around 60 registered taxi ranks in Geneva.
Fascilities:
Luggage lockers can be found in the Train Station Mall and on the arrivals level. A Skycom Airport Business Centre and Business Corner offer a range of business facilities. Other amenities include banks, bureaux de change, ATMs, bars and restaurants, tourist information, a hotel reservation desk, post office and shops, including duty-free. Facilities for disabled passengers are good; those with special needs should contact their airline in advance.
Parking
Parking at Geneva Airport ranges upwards from about CHF 5 an hour for short-term parking, to CHF 30 daily and CHF 120 weekly in long-term parking. Note that tariffs vary dramatically depending on the parking lot. P51 is the cheapest long-term option. Eurocard, American Express or Visa cards can be used to pay for parking in parking lots.
L'Escalade Celebration
No Geneva festival rivals the pomp and ceremony of L'Escalade, one of the oldest and most popular events in the city. A patriotic celebration of the city's independence, it's the Genevese equivalent of Guy Fawkes and commemorates the vain attempt by the Duke of Savoy's troops to invade the old walled city in 1602.
Mother Royaume is the most famous legend, with her cauldron of hot vegetable soup emptied out on attackers below. A custom includes selling cups of soup in streets, with windows of sweet shops displaying chocolate and nougat pots decorated with Geneva colours and marzipan vegetables.
The highlight of the festival is the torchlight procession through the Old Town by participants in period costume, with musketeers, horsemen, pipers and drummers, accompanied by crackers and gun salutes. Many people appear in fancy dress in the boisterous carnival atmosphere.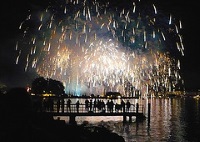 L'Escalade Lionel Martinez
Montreux Jazz Festival
Held on the eastern shore of beautiful Lake Geneva, the Montreux Jazz Festival attracts around 200,000 people each year. Specialising in jazz, blues, rock and pop, the festival provides groove-busting beats that make concert-goers want to move their bodies or just listen in musical awe.
The Montreux Jazz Festival has hosted the likes of Stan Getz, Nina Simone, Ella Fitzgerald, Charlie Mingus and Dexter Gordon since its inception in 1967, and every year leading artists in their respective genres are showcased. Travellers should head to the fringe 'Off Festival' for free open-air concerts, providing a platform for up-and-coming artists.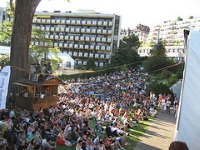 Montreux Jazz Festival Chris Schaer
Geneva does not have the ribald party scene or vibrant nightlife culture that travellers might except for a city of its size and importance. The youth of the city tend to go to Lausanne when they let their hair down, while the wealthy expats and local bankers frequent expensive restaurants and gentlemen's clubs.
The city's most lively area is the Plaine de Plainpalais, which features many student bars due to its proximity to the University of Geneva; and the Place du Bourg de Four, near the old Town Hall. The city certainly does have excellent classical music, opera and dance, particularly during the Fêtes de Genève arts festival in early August. Other entertainment options include gambling at the Casino de Divonne and Movenpick Casino on the outskirts of town.
For local listings, visitors should check out the free publication Genève-Agenda, available at the tourist office and hotels, and the quarterly La Clef magazine. Tickets for concerts and shows can be bought from City-Disc at the train station or the UBS Ticket Corner. For a full listing of venues visit www.geneva.info/entertainment.
Public transport in Geneva consists of a very dependable network that includes trams, buses, some trains and even the yellow taxi boats that cross the lake. The excellent bus and tram network operates from about 5am to midnight with a night bus service running on weekends. Tickets must be pre-purchased and validated on boarding; however, tourists should receive a Geneva Transport Card from their hotel or hostel, allowing for unlimited free use of public transport. If there is no hurry, it is cheaper and more practical to walk or cycle. From mid-April to mid-October city bicycles can be borrowed from Geneve Roule outside the main train station free of charge. Taxis are plentiful but generally an expensive means of transport. Driving in the city is not recommended as parking is very difficult, though to tour around Lake Geneva, hiring a car is the most practical way to get around.
Sightseeing in Geneva offers something for everyone, with historic, cultural, religious and natural attractions galore, all within or very near to the city and best visited during the summer months.
The most obvious Geneva attraction is Lake Geneva, one of the largest lakes in central Europe, and its Jet d'Eau, the huge fountain that shoots water 150 metres up into the air. Jardin Anglais is a garden that has been frequented by scribes and philosophers for years, and the nearby Ile Rousseau monument is dedicated to Jacques Rousseau and the inhabitants of Geneva.
Other things to see in Geneva include St Peter's Cathedral, a must for travellers interested in religious landmarks, and the Town Hall (Hotel de Ville) is another impressive building. Maison Tavel (believed to be the oldest private house in Geneva) and the 18th century, Italian-style suburb of Carouge are historic Geneva attractions. With so much to offer, sightseeing in Geneva is a rewarding experience.
Lake Geneva (Lac Léman)
One of the largest lakes in central Europe and shared by both Switzerland and France, Lake Geneva (Lac Léman to its French-speaking inhabitants) has for decades drawn visitors to its shores. Attracted by the alpine panorama, quaint wooden chalet villages, vineyard-covered slopes and sailboats skimming across the blue waters, many famous writers, musical composers, actors and poets came to settle and the area has become something of an inspiration to the arts. Situated in the westernmost district of Vaud, the region contains a diversity of attractions and activities, from wine-growing villages and mountain ski resorts, picturesque castles, and magnificent cathedrals, to low-key lakeside resorts, boat cruises, and cosy fireside pots of fondue. Sophisticated shopping and cultural life can be found in the cities of Geneva and Lausanne, with sweeping views across the sparkling lake to the Alps and the distinctive pinnacle of Mont Blanc. Among the vineyards and affluent villas clinging to the slopes lie the lakeside towns of Vevey and Montreux, the pearls of the Swiss Riviera.
Scenic winding roads stretch along the shores, and train trips offer outstanding views, while below steamers crisscross the waters of Lake Geneva, offering a variety of ways to experience the splendour of its location.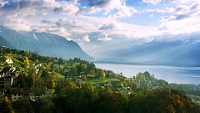 Lake Geneva Kosala Bandara
Lausanne
Located on the shores of Lake Geneva, the energetic city of Lausanne is built above the lake on a sequence of tiers connected by a small metro. The upper or Old Town contains the grand Gothic cathedral, Notre-Dame; its turreted towers a well-known symbol of the city. The lower town on the lakeshore was once the small fishing village of Ouchy and is now the prime waterfront area with outdoor dining and cafés, promenades and sporting activities. The gardens around the Quay d'Ouchy are home to the city's foremost attraction, the Olympic Museum, containing a wealth of sporting memories and a collection of unique objects pertaining to the Olympic Games from its beginning until the present. Lausanne relishes its importance as the Olympic World Capital and headquarters of the International Olympic Committee.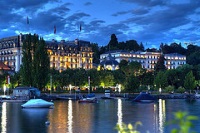 Laussane edwademd
Château de Chillon
One of the best-maintained medieval castles in Europe, the 13th-century Château de Chillon is the most visited historical building in Switzerland. With its stunning lakeside location near the chic town of Montreux, jutting out into the water and framed by mountains, it is one of the most photographed castles in Europe. An important fortress in the Middle Ages, it was positioned to control the narrow passage between mountains and lake, protecting the major north-south route. It was also the favourite summer residence of the Counts of Savoy; while later, it served as a state prison. Visitors can tour the dungeons where the castle's most famous prisoner was chained for four years, the priest François Bonivard: a supporter of the Reformation. The fortress became famous when Lord Byron wrote about Bonivard's fate in an inspired poem entitled Prisoner of Chillon. Besides the dungeons, visitors can wander round the towers and courtyards, discover narrow secret passages, and see the grand knight's halls, frescoed chapel, luxurious bedchambers and rooms containing medieval weapons, furniture and paintings.
Address:
Avenue de Chillon 21
Transport:
By car, train (Veytaux) or bus (line 201 from Vevey, Montreux and Villeneuve).
Opening time:
April to September, 9am-7pm (last entry at 6pm); October, 9:30am-6pm (last entry at 5pm); November to February, 10am-5pm (last entry at 4pm); March, 9:30-6pm (last entry at 5pm)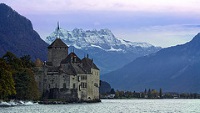 Château de Chillon Kosala Bandara