Home to eight of the world's highest peaks, Nepal isa mountaineer's dream. Most tourists begin journeys in the bustlingcapital of Kathmandu, soon making their way to the Himalayas.Whether exploring the Annapurna, Langrang, or Everest regions,trekkers will encounter turquoise lakes, mountain villages, andlush valleys with snowy titans towering above.
Visitors will have no problem finding treks that suittheir level of experience and budget. Hikers lighten their loads on'teahouse treks' by relying on teahouses for food andaccommodation, with both casual and veteran mountaineers equallycaptivated by the country's majesty.
Travellers can further take advantage of thecountry's diverse natural beauty by embarking on white waterrafting trips or exploring the jungles of the southern Tarai belt,seeking sightings of Bengal tigers from the back of anelephant.
With countless shrines and temples scattered acrossthe county, Nepal's spiritual and religious heritage attractsnumerous pilgrims. Travellers can visit Pashupatinath, one of theworld's largest Hindu temples dedicated to Shiva, and step back inat the ancient royal cities of Patan and Bhaktapur.
The UNESCO World Heritage site at Lumbini is seen asthe birthplace of the Buddha while the 5th-century Swayambhu Stupais one of the most sacred Buddhist sites in the country, withprayer flags fluttering from its golden spire.
Durbar Square
Protected as a UNESCO World Heritage Site, DurbarSquare is the religious and social heart of Kathmandu's old city.Built between the 12th and 18th centuries by the ancient kings ofNepal, it's a complex of palaces, temples, shrines, statues, andcourtyards.
The square is a queer assortment of the old and thenew: elaborately carved architectural features and curving roofsprovide shelter for cows and weary tourists. Brahman priests andpainted sadhus perform rituals and pose for photos, while souvenirsellers and rickshaw drivers compete for attention among thecrowds.
Stone lions guard the gates to the Old Royal Palacewhich contains a number of courtyards and houses the NarayanhityDurbar Museum. Set into the palace wall is a 17th-century stoneinscription written in 15 languages. It's believed milk will flowfrom the spout if anyone deciphers the entire inscription.
Opening time:
Durbar Square: daily 8am-5pm. Old Royal Palace:Tuesday to Saturday 9:30am-4pm.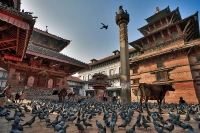 Durbar Square Alexander Shafir
Swayambhunath Stupa
Colourful fluttering prayer flags adorns the goldenspire of the 5th-century Swayambhu Stupa. It crowns a hilloverlooking the Kathmandu Valley and offers fantastic views overthe capital city of Kathmandu.
The Swayambhunath Stupa is one of the mostrecognisable symbols in Nepal, with the painted eyes of the Buddhawatching all those who ascend the worn stone steps. A UNESCO WorldHeritage Site, it is one of the holiest Buddhist sites in Nepal andis at the source of the valley's mythical beginning.
Legend has it that the history of the valley beganwith the draining of an ancient lake by an Enlightened Being, whena lotus flower was transformed into the hill and the shining lightbecame the stupa itself.
Also called the Monkey Temple, swarms of pilgrims andred-clad monks circle the complex, spinning the prayer wheels whilescores of monkeys which give the temple its nickname prance aboutin irreverent troupes.
The temple complex is scattered with shrines andstatues of Buddhist and Hindu deities, and the assortment ofpilgrims from both faiths characterises the country's uniquereligious harmony. Visitors should note that although they areoften adorable and entertaining, the monkeys can sometimes becomeaggressive if you have something they want.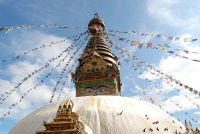 Swayambhu Stupa Peretz Partensky
Namche Bazaar
One of the most popular stops on any Himalayan trek,Namche Bazaar makes a good rest stop on the climb to Mount Everestbase camp. Many trekkers spend at least a day there to acclimatiseto the high altitude, with two days being better.
Namche is the unofficial capital of the Khumburegion. It started out as a trading post, a place where locals metto barter and exchange goods. Despite its popularity as a stop fortrekkers, it has remained a small settlement.
The town has a variety of accommodation, restaurants,teahouses, and shops that mostly sell supplies. From just above thevillage, trekkers will get their first view of Mount Everestitself. The main attractions in Namche Bazaar include the weeklymarket at the centre of the village and the small NamcheMonastery.
The Sagarmatha National Park Visitors Centre islocated in the top end of the village and offers information onwildlife in the area. The Museum of Sherpa Life, located just abovethe village, is worth a visit while the Museum of Local MedicinalPlants is interesting for those curious about traditional healingtechniques.
As Namche is the only place in the region to offermoney changing facilities (besides Lukla), trekkers should ensurethat they have sufficient cash for the remainder of their journeybefore leaving.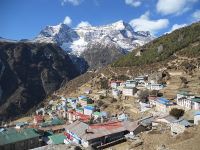 Namche Bazaar Krish Dulal
Pashupatinath Temple
One of the most sacred Hindu shrines in the world, the UNESCOWorld Heritage Site of Pashupatinath is one of the major templesdevoted to Lord Shiva on the Indian subcontinent. It attractsthousands of Hindu pilgrims each year, with Shiva being the patrondeity of Nepal.
The Temple of Pashupatinath is renowned for its beautifularchitecture and stands on the banks of the holy Bagmati River, atributary of the Ganges. Other temples, shrines, statues, andpagods surrounded this large temple complex, which can take sometime to explore. The temple buildings are closed to non-Hinduvisitors but the grounds are not.
Shiva devotees and holy Hindi ascetics called sadhus roam thecomplex in great numbers, meditating and praying on the stepsthroughout the temple. One of the richest temples in Nepal, itreceived a great deal of wealth from kings and aristocrats indevotion to the god.
The complex is also home to Kathmandu's funeral ghats, a seriesof cremation platforms spread along the river where the bodies ofHindus are burnt and the ashes scattered into the holy river.Tourists should be respectful when witnessing these cremationceremonies and particularly cautious about taking photographs.
Address:
Three miles (5km) east of Kathmandu, in Deopatan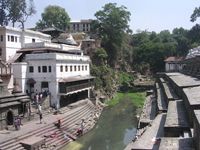 Pashupatinath Temple JoonYoung Kim
Boudhanath Stupa
The Boudhanath Stupa is the largest in the KathmanduValley, standing about 131 feet (40m) tall. It's one of the biggestand most important Buddhist stupas in the world. The all-seeingred, white, and blue eyes of the Buddha are painted on all foursides of the stupa, similar to Swayambhunath.
Hundreds of fluttering prayer flags, prayer wheels,and small images of the Buddha surround the building. It is centralto the Tibetan culture in Nepal and said to date back 500 years,although there is some debate about the exact date ofconstruction.
The Boudhanath Stupa is on the ancient trade routefrom Tibet to Nepal, and Tibetan pilgrims and merchants have beenpraying at the site for centuries. The influx of Tibetan refugeshas led to more than 50 Tibetan monasteries built around the stupa.It's a UNESCO World Heritage Site and one of the most populartourist attractions in Kathmandu.
It is conveniently close to the city, located just6.8 miles (11km) outside Kathmandu. Buddhist festivals cause aflurry of activity at the stupa, with thousands of pilgrims joiningtogether in the sacred rituals, such as the Tibetan New Year, orLhosar, in February every year.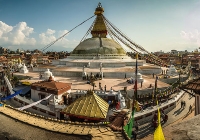 Boudhanath Stupa GONG Jie
Annapurna Region
The most popular region for trekking in Nepal, theAnnapurna region passes through some of the most spectacularscenery in the country. It has deep valleys, ancient stonesettlements, Tibetan culture, Buddhist temples and monasteries, andmountains over 22,966 feet (7,000m) tall.
Excellent lodges line the main routes of theAnnapurna Circuit, the Annapurna Sanctuary, and the Jomsom trek toMuktinath. The Annapurna Circuit is one of the most walked treks inthe country and is one of the most exceptional routes on earth,crossing Thorong-La pass at 17,769 feet (5,416m) and requiringabout three weeks to complete.
The Sanctuary requires about 10 days and is a directroute straight to the heart of the Himalayas, where tremendoussheer-walled peaks of 19,685 to 26,247 feet (6,000 to 8,000m)encircle the reverent trekker at the Annapurna Base Camp.
Easily accessible via a short flight from Pokhara orKathmandu, Jomsom is a town situated between two gigantic mountainsin the Kali Gandaki Valley, at the bottom of the world's deepestgorge.
From Jomsom, there are options to walk in eitherdirection along the Annapurna Circuit. The trek to the holy shrineat Muktinath is very popular and follows the ancient trade andpilgrimage route across the Himalayas.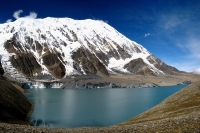 Tilicho Lake Ester Inbar
Mount Everest Region
The sight and challenge of the highest mountain theworld draws trekkers and mountaineers from across the world. Theyset out to explore the Sagarmartha National Park in the northeastof Nepal, even if not attempting an ascent.
The Sagarmartha National Park is a UNESCO WorldHeritage Site, containing a mixed terrain of deep gorges, glaciers,and rocky landscapes. Home to some interesting fauna and flora, thealpine vegetation nevertheless gives way to bare rock and snow asthe altitude increases.
Most trekkers fly to the airstrip at Lukla at analtitude of 9,350 feet (2,850m) from where the trek begins toEverest Base Camp. From Lukla, the trail winds up the DudhkoshiRiver Valley to the famous Sherpa village of Namche Bazaar.
Above Namche, travellers will find the smallertraditional villages of Khunde and Khumjung, and across the canyonfrom Khunde is the fascinating Tengboche Monastery, one of thehighlights of the area. Visitors will find lodges and campsites atthe monastery.
By flying in and out, the trek requires about twoweeks. It's also possible to walk in but this requires much moretime. Multi-day treks in the region are a wonderful opportunity toobserve and participate in the daily life of the Sherpa people, andof course, the views and landscapes are breath-taking.
Mount Everest Rdevany
Nepal has two seasons: the dry season from October toMay, and the rainy monsoon season from June to September. Climaticconditions vary according to altitude in Nepal, with temperaturesbecoming steadily lower as altitude increases.
In the north it is seldom hot, with cool summers andfreezing winters. In the south, it's almost tropical with mildwinters and hot summers. In the Terai, summer temperatures canexceed 98°F (37°C) and winter temperatures range from 44°F to 73°F(7°C to 23°C).
Kathmandu has a pleasant climate, with temperaturesaveraging 66°F to 95°F (19°C to 35°C) in summer, and 35°F to 53°F(2°C to 12°C) in winter. Nepal is actually a year-rounddestination, especially the more tropical south.
However, early spring (March to April) and lateautumn (October and November) are the best times to visit Nepal,and also offer the clearest mountain views and good weather fortrekking. In the winter, from December to February, there is snowon the mountains with freezing temperatures at high altitudes. Thesummer months of June to August can be very hot for travel to thesouth.
Money:
The official currency is the Nepalese rupee (NPR) which isdivided into 100 paisa. As getting change can be a problem, onerecommends visitors have a supply of small notes handy. Touristactivities are often quoted in US Dollars.
It is advisable to carry new dollar bills in varieddenominations. There are ATMs in Kathmandu and Pokhara. Visa,MasterCard, and American Express credit cards are accepted in manytourist hotels, shops, restaurants, and travel agencies.
Banks and moneychangers are present in all tourist centres andmajor cities. All receipts from foreign exchange transactionsshould be kept so rupees can be exchanged back into foreigncurrencies on departure. Cash is needed when trekking.
Language:
Nepali is the official language. English is spoken in allmajor tourist areas.
Electricity:
Electrical current is 220 volts, 50Hz. Round two andthree-pin plugs are used.
Entry Requirements:
US citizens must have a passport that is valid for six monthsbeyond their date of arrival in Nepal. A visa is required, and canbe obtained on arrival for a maximum of 90 days.
British citizens must have a passport that is valid six monthsbeyond their date of arrival in Nepal. A visa is required, and canbe obtained on arrival for a maximum of 90 days.
Canadian citizens must have a passport that is valid six monthsbeyond their date of arrival in Nepal. A visa is required, and canbe obtained on arrival for a maximum of 90 days.
Australian citizens must have a passport valid for six monthsbeyond their date of arrival in Nepal. A visa is required, and canbe obtained on arrival for a maximum of 90 days.
South African citizens must have a passport that is valid forsix months beyond their date of arrival in Nepal. A visa isrequired, and can be obtained on arrival for a maximum of 90days.
Irish citizens must have a passport valid for six months beyondtheir date of arrival in Nepal. A visa is required, and can beobtained on arrival for a maximum of 90 days.
US citizens must have a passport that is valid for six monthsbeyond their date of arrival in Nepal. A visa is required, and canbe obtained on arrival for a maximum of 90 days.
New Zealand citizens must have a passport valid for six monthsbeyond their date of arrival in Nepal. A visa is required, and canbe obtained on arrival for a maximum of 90 days.
Passport/Visa Note:Visa:
Most foreign passengers to Nepal can obtain a tourist visa onarrival in the country. These visas are valid for a maximum of 90days, and cost between USD 25 and USD 100 (depending on the lengthof intended stay). Note that extensions of touristic stays (up to150 days) can be arranged after arrival, by applying at theDepartment of Immigration in Kathmandu or Pokhara (fee: USD 20,plus an additional charge of USD 2 per day extended). All touristvisas are valid for Kathmandu Valley, Pokhara Valley, and TigerTops (Meghauli airport) in Chitwan. However, if travellers wish tovisit other places, or trek in Nepal, permits can be obtained fromthe Central Immigration Office. Note also that passengers who needa visa for India, and who also want to visit Nepal, should hold avisa valid for two entries into India; and that persons wishing tore-enter into Nepal, and having in their passports any previousNepalese visas cancelled (invalidated) by the Central ImmigrationOffice, will be refused entry and deported. A yellow fevervaccination certificate is required, if arriving in Nepal withinsix days of leaving or transiting through an infected area.
It is highly recommended that your passport has at least sixmonths validity remaining after your intended date of departurefrom your travel destination. Immigration officials often applydifferent rules to those stated by travel agents and officialsources.
Travel Health:
Travellers arriving from infected areas require ayellow fever vaccination certificate. Malaria is a health riskbetween June and September in the low-lying areas of Nepal,including Chitwan National Park, but not in the common trekkingareas.
Travellers should consult their doctor about whethermalaria prophylaxis is necessary. Outbreaks of Japaneseencephalitis occur annually, particularly between July andDecember, and vaccination is advised.
Vaccinations are also recommended for hepatitis A,hepatitis B and typhoid. Those who will be in contact with animals,especially bats, may want to consider a rabies vaccination as well.Cholera outbreaks occur and food and water precautions should befollowed.
Untreated water must be avoided; visitors should buybottled water or purify their own. When trekking it is preferableto treat river water rather than leaving a trail of plastic bottlesbehind. Purifying water with iodine is the cheapest and easiest wayto treat water.
Altitude sickness is a real risk for trekkers: manypeople suffer from altitude sickness above 8,202ft (2,500m); ifsymptoms persist it is wise to descend as quickly as possible. Thestandard of care in hospitals varies, but there are traveller'sclinics in Kathmandu and numerous pharmacies in the majortowns.
Medical insurance is essential, and should includeair evacuation. All required medications should be taken into thecountry in their original packaging and accompanied by a signed anddated letter from a doctor detailing what they are and why they areneeded.
Tipping:
Restaurants and hotels may add 10 percent to bills, in whichcase no further tip is required. Otherwise, a 10 percent tip iscustomary in places that cater to tourists. It is customary to tipguides and porters on treks. Elsewhere, gratuities are not expectedbut always appreciated.
Safety Information:
There are safety concerns in Nepal. Demonstrationsand public gatherings should be avoided as there is a risk ofviolence. Due to previous bomb attacks and shootings in publicplaces, including the main tourist areas of Kathmandu, Pokhara, andLukla, as well as on popular trekking routes, visitors are warnedto be particularly vigilant.
Tourists have been involved in several violentincidents, with foreigners targeted in recent attacks in the Thameldistrict of Kathmandu. All visitors are advised to be cautiousafter dark and to stay in a group at night.
There have been incidences of violent robbery againsttrekkers and there is an armed Maoist presence on many of the majortrekking routes who demand a 'tax' before allowing trekkers topass.
Trekkers are advised to stay on established routesand walk in groups or with professional guides. Foreigners havebeen attacked in the Nagarjun Forest Reserve just outside Kathmanduand visitors are advised to be cautious in the area and to travelin a group.
Local Customs:
Nepal has numerous cultural practices that may be unusual forforeigners. In the tourist areas, there is a high degree oftolerance towards visitors. But away from these places, foreignersshould be sensitive to local customs. Never accept, offer, or eatanything with the left hand.
Do not eat from someone else's plate or offer food from one'sown. Women should dress conservatively and cover up as much aspossible. Permission should be sought before taking photographs,particularly at religious sites. Public displays of affectionbetween men and women are frowned upon.
Business:
The Nepalese are warm and friendly, with business conducted witha combination of formality and sincerity. Much time is given tosmall talk and socialising. Handshakes are fairly common but oneshould wait to see if offered a hand.
Alternatively, a traditional namaste greeting involves a smallbow accompanied by hands clasped as if in prayer. Visitors shouldreturn the greeting as it is given. Dress tends to be formal andconservative, with suits and ties the norm.
Titles and surnames are usually used. The elderly in particularare treated with great respect and the word 'gi' is added after thename as a polite form. Punctuality is important, although it maytake some time to get down to business, and negotiation can be along process.
English is widely spoken and understood. But discussions inNepali may occur between locals within a meeting. Business hoursare usually 9.30am or 10am to 5pm, Sunday to Thursday. Closing timeis 4pm in winter. Saturday is a holiday.
Communications:
The country code for Nepal is +977, and the outgoing code is 00,followed by the relevant country code (e.g. 0044 for the UK).City/area codes are in use, e.g. (0)1 for Kathmandu and (0)41 forPokhara. Two mobile phone operators provide GSM 900 networkcoverage in the main cities and towns. In the main tourist centresof Kathmandu and Pokhara, there are internet cafes on everycorner.
Duty Free:
Travellers to Nepal do not have to pay duty on 200 cigarettes,50 cigars or 20g of tobacco. 1.15 litre of spirits or wine, andperfume for personal use. It is illegal to export goods that areover 100 years old.