Myanmar has a tropical monsoon climate and three seasons: thevery hot summer from March to May; the wet and humid monsoon fromMay to October; and the cold, dry winter from November to February.During the long rainy season it can rain almost daily, and typhoonsoccasionally occur in Myanmar between April and October. There isless rainfall in the interior than on the coast. It is a hotcountry, and the average daily temperatures usually reach around86°F (30°C) in the hot months, while the evenings are slightlycooler. During the winter season, average temperatures are around77°F (25°C) with evening temperatures dropping to 59°F (15°C).Coastal areas are usually much more humid, but slightly cooleroverall. The hottest and driest months are March and April, whentemperatures can rise as high as 110°F (43°C), with high humiditythrown in. Visitors should note that climate in Myanmar variesaccording to altitude and can be quite changeable.
The best time to visit Myanmar is between November and February,which allows you to miss the rainy monsoon season and the worst ofthe heat, which can be extremely oppressive. Myanmar is still afairly undiscovered travel destination so whatever time of year yougo, you are unlikely to have to deal with crowds of tourists.
Money:
The official currency is the Kyat (MMK) pronounced 'Chat'. Thebest foreign currency to travel on in Myanmar is the US Dollar. TheForeign Exchange Certificate (FEC) is a legal currency for visitingtourists that is usable in government shops and hotels. US Dollarnotes will not be accepted if they are damaged or torn in any way,or have pen marks on them. There is a big difference between theofficial and unofficial exchange rates in Myanmar; streetmoneychangers offer favourable rates at hotels and markets. Fewmajor hotels, airlines, shops, and restaurants accept credit cardsand ATM cards can rarely, if ever, be used. It is advisable tocarry cash.
Language:
Burmese is the official language, yet English is widelyspoken and understood.
Electricity:
Electrical current is 230 volts, 50Hz. European plugswith two circular metal pins are most common.
Entry Requirements:
US citizens must have a passport that is valid for at least sixmonths beyond the date of their arrival in Myanmar. A visa isrequired.
British citizens must have a passport that is valid for at leastsix months beyond the date of their arrival in Myanmar. A visa isrequired.
Canadian citizens must have a passport that is valid for atleast six months beyond the date of their arrival in Myanmar. Avisa is required.
Australian citizens must have a passport that is valid for atleast six months beyond the date of their arrival in Myanmar. Avisa is required.
South African citizens must have a passport that is valid for atleast six months beyond the date of their arrival in Myanmar. Avisa is required.
Irish citizens must have a passport that is valid for at leastsix months beyond the date of their arrival in Myanmar. A visa isrequired.
US citizens must have a passport that is valid for at least sixmonths beyond the date of their arrival in Myanmar. A visa isrequired.
New Zealand citizens must have a passport that is valid for atleast six months beyond the date of their arrival in Myanmar. Avisa is required.
Passport/Visa Note:Visa:
All foreign passengers to Myanmar must hold confirmedreturn/onward tickets, and the necessary travel documentation fortheir next destination. They will also require a tourist visa,which is valid for 28 days. Note that applications for visaextensions are not possible once in Myanmar; however, a fine of USD3 per day overstayed, can be paid at Immigration upon departure.Foreign passengers are only allowed to travel to/from Myanmar byair or sea, and will be required to convert a minimum of USD 200into local currency upon their arrival in the country. Note that ayellow fever vaccination certificate is required to enter Myanmar,if arriving within six days of leaving or transiting through aninfected area. NOTE: It is highly recommended that your passporthas at least six months validity remaining after your intended dateof departure from your travel destination. Immigration officialsoften apply different rules to those stated by travel agents andofficial sources.
Travel Health:
Vaccinations for hepatitis A and hepatitis B are recommended forall travellers. Malaria is common in Myanmar, especially during therainy season (May to October) and visitors are usually encouragedto take anti-malaria medication, although there is no danger if youare only visiting the cities of Yangon and Mandalay. Travellersfrom yellow fever infected areas require a vaccination certificateto enter Myanmar. If you will be spending a lot of time outdoors inrural areas you should also consider getting vaccinated for rabiesand Japanese encephalitis.
The tap water should not be drunk unless it has been boiled,filtered or chemically disinfected.
There are basic medical facilities in Yangon (Rangoon) andMandalay, but in general medical facilities in Myanmar are poor andevacuation is recommended for serious medical cases. Payment incash is usually required before any treatment. Comprehensivemedical insurance is advised.
Tipping:
The Burmese offer their help freely and genuinely, and don'texpect much in return, though gratuity is greatly appreciated.Tipping 10 percent on a meal is considered quite generous. Porters,drivers and tour guides expect a small tip.
Safety Information:
Due to the ongoing risk of armed conflict, travellers areadvised to avoid some parts of Myanmar, including most of thestates of Rakhine and Kachin and the north of the state of Shan.Special care should be taken in border areas; there are only ahandful of legal crossing points. While Myanmar does boast one ofthe lowest crime rates in the world, violent political protests arestill common and should be avoided at all costs. Visitors are alsoadvised not to take any photographs of the police, military, ordemonstrations.
The monsoon season is June to September in the southwest ofMyanmar and December to April in the northeast, and flooding mayoccur. Severe weather often also precedes monsoon season.
Local Customs:
It is rude to step over any part of a person or touch an adulton the head, and hugging and kissing in public is frowned upon.Most Burmese families don't wear shoes in their homes and ifvisiting it is advised to remove shoes before entering the house.Monks should be treated with respect, even if they are children,and women should not speak to or touch monks. Religion practices,beliefs and sites should be treated with respect; insultingreligion is a prosecutable offense in Myanmar. Homosexuality istechnically illegal but the law is seldom enforced.
Business:
Business hours are generally 9.30am to 4.30pm from Monday toFriday. Lightweight suits are recommended during the day andjackets are needed for top-level meetings. Most commercial businesstransactions will be conducted in English. Business cards inBurmese script can be useful. It is important to maintain trust,honesty, and friendship in a business relationship. Favoursreceived, such as a reference, should be repayed later in thefuture.
Communications:
The international dialling code for Myanmar (Burma) is +95. Theoutgoing code is 00 followed by the relevant country code. The areacode for Yangon (Rangoon) is (1) and Mandalay is (2). Internetcafes are widely available in Mandalay and Yangon and publictelephone booths can be found on nearly every street corner as wellas at railway stations and airports; however, international callsare expensive. The government has been known to monitor and censorinternet usage and some websites may not be available.
Duty Free:
Two bottles of liquor, 200 cigarettes or 50 cigars, and halflitre of perfume are allowed per person. Valuables includingjewellery, cameras, electronic equipment, etc, should be declaredat customs upon arrival. Purchases of locally bought goods mayrequire receipts upon departure.
The shining jewel of Yangon's many attractions is SchwedagonPagoda, the golden temple visible throughout the city and an iconicsight emblematic of the country and its strong Buddhist influence.Other major attractions include the 2,200-year-old Sule Pagoda,Little India and Chinatown, and the vibrant night markets includingBogyoke Aung San Market, which is also arguably the best place tochange money. Inle Lake is lined with gardens and luxurious villas,providing a cooling distraction at sunset, when locals and visitorscan enjoy the views. Other popular attractions in Yangon includethe Taukkyan War Cemetery, a beautifully maintained graveyard andmemorial to those who died fighting the Japanese is World War II,the Musmeah Yeshua Synagogue and Old Jewish Cemetery, and theKyaikto, or Golden Rock, which is a glorious landmark.
The city has seen a big increase in tourists recently, andinfrastructure is improving to accommodate visitors, but one hopesYangon won't lose its charm and off-the-beaten track appeal as itbecomes more popular. It is a safe and exciting city to explore,though it still retains its off-beaten-track appeal.
Bagan
Bagan is an ancient city dating back to the 9th century that washome to the first kingdom of a unified Myanmar. A seeminglyimpossible collection of thousands of temples and monumentsscattered over a vast plain, the buildings range in condition fromruined to resplendent, although many retain the power and majestytheir devout designers intended. Most of the structures were builtbetween the 11th and 12th centuries, when Bagan was the capital ofthe First Burmese Empire. Regrettably, many temples have sufferedunder the government's poor attempts at restoration, but othershave been well-preserved by organisations like UNESCO.
The temples can best be viewed via bicycle which allows forindependent exploration as bike trails link all the temples. Thisattraction still feels relatively undiscovered and allows visitorsto fell that they are the only ones exploring a temple. Each isthoroughly unique so one can spend days exploring and remainenthralled. Sunset is prime time in Bagan as locals and visitorsalike head for the highest temples to enjoy the magnificent sunsetsover the stupa-dotted plain. Another popular way of seeing thetemples is from the air, in a hot air balloon.
Address:
Bagan is located 90 miles (145km) southwest of Mandalay.The temples are situated within the Bagan ArchaeologicalZone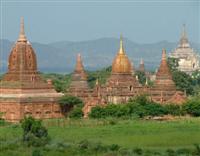 The temples of Bagan Lisa de Araujo
Ngwe Saung
This beautiful 10-mile (15km) palm-lined beach is almost free oftourists. A small touristy village has materialised on the beach'sparallel road, with craft stalls selling cheap trinkets anddelicious seafood. At low tide a small island appears which you canwalk to and around.
Package tours can arrange transport and hotel, but the beach iseasy to get to from Yangon without pre-arrangement. The bus stationnext to Yangon's train station sells tickets for the five to sixhour ride to the lovely coast. However, passengers should be waryof being passed off to smaller buses and charged again. Ngwe Saungis not yet thronged by the crowds of tourists it deserves, andthose who like their beaches remote and pristine will love thiscoastline. It is a popular excursion from Yangon, and many chooseto stay one or two nights to enjoy the lovely beaches.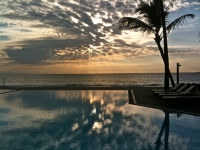 Palm Beach Hotel, Ngwe Saung Juan de Dios Santander Vela
Mandalay
Mandalay is Myanmar's second-largest city and the former royalcapital of the Burmese kingdom. A good place to start a visit is tohike up the 780-foot (240m) stairwell to the top of Mandalay Hill,a holy site with an ornately decorated temple with a Buddha statueoverlooking the former capital city and far-reaching flatlands.Dominating the city's centre are the 150 year-old palace grounds ofKing Mindon and King Thibaw, with an adjacent temple andsurrounding moat. For local travellers the Mahamuni Buddha is oneof the most important pilgrimage sites for Buddhists inMyanmar.
Aside from sightseeing, shopping is Mandalay's major pastime. Ajewel market, where visitors can watch craftsmen shape gems, isworth a visit. Crafts such as monk's umbrellas, gold leaf, ornatefurniture, and lacquer-ware are made and sold within the city.Motorbike taxis are avalible, as are trishaws which aretraditionally used in rural Myanmar.
Kuthodaw Pagoda, Mandalay Paul Arps