Despite some truly heavy-hitting historical and culturalattractions, Armenia remains an underappreciated touristdestination. As the first country in the world to adoptChristianity it is no surprise that Armenia is dotted with ancientchurches and monasteries, making the country primarily a religioustourist destination. Being off the radar of package tours and alittle hard to get to only adds to the mysterious biblical allureof the region.
The biggest tourist attractions include the 17th-century KhorVirap Monastery, an important pilgrimage site loomed over by theiconic Mount Ararat, where Noah is said to have landed the Ark; theEtchmiadzin Cathedral, reputed to be the oldest state-built churchin the world; the 2,000-year-old Garni Temple, a gloriouslywell-preserved Pagan temple; the archaeological site of Carahunge,called the 'Stonehenge of Armenia'; and the UNESCO-listed Monasteryof Geghard, built in 1215.
Visitors will also enjoy making their way along the scenic DebedCanyon, past old villages and monasteries such as Haghpat andSanahin. The Erebuni Archaeological Museum dates back to before theestablishment of Rome, giving insight into the lives of the greatkings of Urartu. Sunset over Norovank ('New Monastery') is said tobe one of the most spectacular sights in the country.
In the global imagination Armenia is also strongly associatedwith the horrific Armenian Genocide of 1915, during which Turkishtroops killed about 1.5 million Armenians. This tragic history ismemorialised at Tsitsernakaberd, part museum and part memorial,where travellers can learn about the Armenian holocaust and paytheir respects.
Garni Temple
The Greco-Roman Garni Temple is a popular tourist attraction,putting the small, rural village of Garni on the map. This2,000-year-old building was constructed out of basalt on the banksof the Azat River and was the summer residence of the ArmenianKings, featuring constructions like a two-storey royal summerpalace, a bath complex, a church, a cemetery and a Greco-Romantemple built in the Ionic style. While much of the temple wasdestroyed in the ensuing millennia, it was restored to its formerglory in the 1960s. Archaeologists are still working at the site,and many artefacts have been uncovered.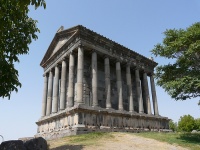 Garni Temple Rita Willaert
Tsitsernakaberd (Genocide Museum and Memorial)
Tsitsernakaberd is a memorial honouring the memory of thevictims of the 1915 Armenian Genocide that took place in theOttoman Empire. It is estimated that over one million Armenianswere killed in the genocide. The monument is made up of twosections: the 140-foot (44m) stele symbolizes the national rebirthof Armenians, while the circular construction of 12 slabsrepresents the 12 lost provinces in present day Turkey. Every yearon 24 April, Genocide Remembrance Day, hundreds of thousands ofpeople gather at the monument and lay flowers. The attached museumtells the story of the genocide through photographs, films andnewspaper clippings.
Address:
Memorial Complex of Tsitsernakaberd, Yerevan
Tsitsernakaberd Johan van Elk
The Monastery of Geghard
The Monastery of Geghard, or 'Monastery of theSpear', is perhaps Armenia's most memorable attraction. Partiallycarved out of an adjacent mountain, and surrounded by thespectacular cliffs of the Azat River gorge, the monastery wasfounded in the 4th Century at the site of a sacred spring deepinside the cave. The impressive main chapel was built in 1215 andis a lasting testament to the devotion and architectural skill ofthe Armenian people. The monastery complex takes its name from theweapon which wounded Jesus Christ, and was supposedly brought toArmenia by Jude the Apostle.
Address:
Near Goght, Kotayk Province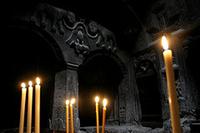 Monastery of Geghard John Barker
Cafesjian Center for the Arts
Yerevan's Cascade Complex - an enormous white stairwell builtinto the hillside, replete with flowing water fountains to mimic anatural cascade - links Yerevan's CBD with the MonumentNeighbourhood at the top of the hill, and is an important culturalhub in Armenia's capital city. The awe-inspiring structure playshost to a variety of free cultural events that operate year-round,from music concerts, to art exhibitions, and more. The CascadeComplex is a wonderful place to walk, jog or bike around, whilesoaking up magnificent views of Mount Ararat and Yerevan's citycentre.
Address:
Tamanyan Street, Yerevan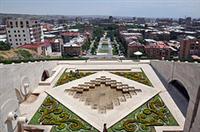 Yerevan's Cascade Complex Nina Stossinger
Carahunge
Carahunge is an ancient astronomical observatory complexconsisting of over 200 stones huddled on a hilltop. Often referredto as 'Armenia's Stonehenge', this description may be unjust:Armenia's stone circle complex was established long beforeStonehenge, making it one of the oldest megalithic sites in theworld outside of Turkey. The stones still display the angled holesthat were carved into them by Armenian priests for the purpose oftracking celestial bodies. Also referred to as Zorats Karer,Carahunge is perhaps one of the last places in the world you canvisit and literally be surrounded by 7,500 years of humanhistory.
Address:
Near Goris, Syunik Province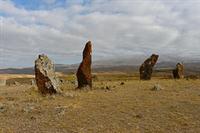 Carahunge Rita Willaert
Yerevan has a continental semi-arid climate that is influencedby its mountainous location. The city experiences hot dry summersand cold snowy winters. This large variation between seasons is dueto Yerevan's location on a plain surrounded by mountains as well asits position in relation to the sea. Temperatures during the summer(June to September) are very hot in Yerevan, ranging between 72°F(22°C) and 93°F (34°C). In contrast, winters (December to February)in Yerevan are freezing cold, with average temperatures dropping tolows of 19°F (-7°C) and reaching highs of 42°F (6°C). Precipitationlevels are low throughout the year, amounting to about 12.5 inches(318mm) per year.
Most of Armenia experiences a continental climate due to itshigh elevation, with hot summers and cold winters. The higherelevations receive more precipitation and are cooler. Summer is themost popular season for travellers, but spring and autumn are thebest time of year to travel in Armenia for those who prefer mildertemperatures. Yerevan's summer temperatures (June to September) arehot, with averages ranging between 72°F (22°C) and 93°F (34°C), andoccasionally reaching 104°F (40°C). In contrast, winters in Yerevanare freezing cold with temperatures dropping to between 5°F (-15°C)and 32°F (0°C). Precipitation levels are low throughout theyear.
Armenia International Airport
Location:
The airport is situated seven miles (12km) fromYerevan.
Getting to the city:
Taxis are the best form of getting to and from the airport. Theycan be found at the exit near the baggage claim area, 24 hours aday. Many local hotels provide shuttle transfers for pre-bookedguests and rental cars are available.
Car Rental:
Sixt car rental has a branch at the airport.
Airport Taxis:
Passengers can find taxis at the airport. The prices are fixedand differ depending on the route.
Fascilities:
Airport facilities include a business centre, post office, VIPlounge, shopping (including duty-free and souvenir shops), currencyexchange, ATMs, restaurants, bars, and an information desk.
Parking
The parking lot is located opposite the terminal building andcosts AMD 500 per hour. The daily rate is AMD 2,000.
Money:
The official currency of Armenia is the Dram (AMD), which isdivided into 100 luma. Foreign currency can be exchanged at banksas well as many hotels, with US dollars the most widely recognisedand easily changed, although notes should be in good condition.Credit cards are not widely accepted other than in some largehotels and restaurants. ATMs are now widely available in cities aswell as small towns. It is advisable to carry plenty of smallchange in local currency as shops and markets will often not havechange.
Language:
Armenian is the official language, and it has its ownalphabet. Russian is widely spoken and English is becoming moreprominent.
Electricity:
Electrical current in Armenia is 230 volts, 50Hz.Round, two-pin attachment plugs and Schuko plugs are inuse.
Entry Requirements:
US nationals require a valid passport but a visa is not requiredfor stays of up to 180 days.
UK citizens require a valid passport but do not require a visafor stays of up to 180 days.
Canadians require a passport valid for duration of stay and avisa for entry to Armenia. It may be possible for tourist visas tobe issued on arrival at Yerevan (EVN) for stays of up to 120 days,but this should be confirmed in advance.
Australians require a passport valid for duration of stay inArmenia. Nationals of Australia are visa exempt for a stay of up to180 days.
South Africans require a passport valid for duration of stay anda visa for entry to Armenia. It may be possible for tourist visasto be issued on arrival at Yerevan (EVN) for stays of up to 120days, but this should be confirmed in advance.
Irish nationals require a valid passport, but no visa isrequired for stays of up to 180 days.
US nationals require a valid passport but a visa is not requiredfor stays of up to 180 days.
Nationals of New Zealand require a passport valid for durationof stay in Armenia. New Zealanders are visa exempt for stays of upto 180 days.
Passport/Visa Note:Visa:
All passports must be valid for the period of intended stay. Itis highly recommended that passports always be valid for six monthsafter departure when travelling. It is recommended that allvisitors requiring a visa should obtain it prior to arrival fromthe Armenian Embassy in their home country; however, visas areobtainable for some nationalities for a tourist stay of up to fourmonths at Yerevan Airport, if holding sufficient funds and proof ofonward travel. This is payable in local currency only.
Travel Health:
There are no immunizations required for travellers to Armeniabut vaccinations for hepatitis A and hepatitis B should beconsidered. There is a small risk of malaria between June andOctober in some of the villages of the Ararat Valley. Tap watershould not be drunk, unless filtered or boiled. Medical care islimited, particularly outside of Yerevan, and treatment is notrecommended for anything major. Comprehensive medical insuranceshould include emergency medical evacuation. All requiredprescription medication should be taken along, in the originalpackaging and accompanied by a signed doctor's note.
Tipping:
Many restaurants in the capital will add a service charge ontothe bill, but this generally does not go to the staff, so tips arewelcome in Armenia. A tip of about 10 percent is fair.
Safety Information:
Crime is relatively low in Armenia, but travellers should stillbe careful with their personal possessions and avoid anyunnecessary displays of wealth. Pickpockets take advantage ofcrowded market areas. Avoid travel near the border with Azerbaijandue to continuing tension between the two countries.
Local Customs:
Armenia is an orthodox Christian country and the locals tend tobe conservative, especially outside of the capital. Women shouldavoid wearing shorts and short skirts, particularly outside ofYerevan. Military bases and installations should not bephotographed. Homosexuality is no longer illegal in Armenia, buthomophobia is still a problem.
Business:
Business is conducted fairly formally in Armenia; dress tends tobe conservative and good etiquette is important. Business hours areMonday to Friday from 9am to 6pm, though there is some variationbetween businesses.
Communications:
The international dialling code for Armenia is +374. Mobilephone networks have coverage throughout Armenia. Post offices andmajor hotels have international dialling access, but calls areexpensive. Internet cafes are available in Yerevan and other largecities. Armenia still tends to be a bit backwards with regard tocommunications, but fibre cables are being laid, and wifi isavailable in built up areas such as Yerevan, in hotels, cafes andbars.
Duty Free:
There is free import on 400 cigarettes or 10 cigars, 2 litres ofalcohol, perfume within a monetary limit and personal goods of upto US$400 in value.
Yerevan has an extensive public transport network, predominatelyserved by numerous bus and trolley lines. There are also minibuses,known locally as marshrutka, which operate on various routes in thecity. While they are a cheap mode of transport, vehicles areusually overcrowded. The Yerevan Metro has just a single line with10 stations on it, but many people use the service each day.Yerevan also has a central train station that is connected to themetro system. From here, travellers can catch intercity trains toother destinations in Armenia or to neighbouring Georgia. Trainservices also connect Yerevan's city centre to suburbs such asArmavie, Gyumri, Yeraskh, Ararat, Hrazdan and Shorzha. Taxis areabundant in Yerevan and there are lots of different taxi companiesoperating in the city, so prices are competitive. It is easy toflag an empty taxi down on the street. Visitors are advised toensure the driver has the meter turned on before the start of ataxi ride. Those with an international driving licence can hire acar in Yerevan.