Zimbabwe is blessed with a host ofglobally-recognised touristic gems, mostly of the natural variety,beckoning outdoor enthusiasts, and nature lovers. The two mostfamous areas to visit in Zimbabwe are the incomparable VictoriaFalls (on the western border), and the wide expanse of Lake Kariba(on the northwestern border).
In both cases, wondrous natural features have ensuredthe development of tourist hubs which are comparatively safe forvisitors, boast plentiful activities and attractions, and offerwell-developed amenities.
Victoria Falls alone justifies travelling toZimbabwe, with the Zambezi River, where the falls are located, alsofamed for its high-volume whitewater rafting adventures. LakeKariba is a favourite playground for fishermen and boaters,particularly renowned for its house boating potential.
Of course, Zimbabwe is also home to diverse wildlifeand some game viewing is a must during a visit to the country. TheMatusadona National Park, which incorporates Lake Kariba, is a goodoption for animal sightings. Other popular game parks includeHwange National Park, Mana Pools National Park and Matobo HillsNational Park. Keen bird watchers will find the Honde Valley andEastern Highlands well worth a visit.
Culturally, the most popular attraction in thecountry is Great Zimbabwe, a UNESCO World Heritage Site dating backto the 11th century. Exploring the well-preserved ruins of thismysterious ancient culture is thrilling.
Kariba
Located in the north of Zimbabwe near the Zambianborder, Kariba is the Zimbabwean centre for the tourist industryorientated around the magnificent Lake Kariba. It is also a goodbase from which to explore surrounding game reserves andattractions in northern Zimbabwe such as Mana Pools, a UNESCO WorldHeritage site.
It's also useful as a stopover en route to Zambia.The town has a number of restaurants, casinos, quality resorthotels, and safari lodges, not to mention a number of large luxuryhouseboat hotels which use Kariba as a base.
The airport at Kariba town is small, but regularflights to Kariba come in from Victoria Falls and Harare. The townis also only about four hours from Harare by road. Once there, thetown is easily walkable, or you could make use of local taxis.
Lake Kariba itself is one the largest manmadelakes in the world. It powers the hydroelectric Kariba Dam in theZambezi River Basin, which provides much of Zambia and Zimbabwe'selectricity. The large dam walls are an impressive sight, and wortha day trip.
Such a large body of water attracts a multitude ofgame, especially in the dry seasons, so the game reserves borderingthe dam make for excellent game viewing. Lake Kariba has a thrivingcommercial fishing industry and is also a world-renowned tigerfishing spot. The annual tiger fishing contest attracts teams fromaround Southern Africa and beyond every year.
Because of its size and the abundance of wildlifeit attracts, Lake Kariba is ideal for a safari holiday. You cantravel the lake by canoe or on a houseboat for several days at atime, camping on the shore at night at designated spots as yougo.
For a more relaxed lake trip, hire a luxurycruiser or join a tour guide group for a day. The lake is no lessimpressive for being manmade: there are lots of islands andthousands of tiny inlets to explore. The Matusadona National Park,with its iconic half-submerged forest still standing after the lakewas flooded half a century ago, is a favourite withphotographers.
Lake Kariba David Holt
Victoria Falls
The majestic Victoria Falls, or Mosi-oa-Tunya (theSmoke that Thunders), is located on the Zambezi River, betweenZambia and Zimbabwe. Explorer David Livingstone named the fallsafter Queen Victoria when he first saw them in 1855. One of theseven natural wonders of the world, the falls have been attractingtravellers and adventure-seekers for decades, its pounding waterscreating a mist that can be seen for miles and the sound of thefalls, especially in the rainy season (November to April) making itdifficult to hear anything else. There is a trail that runs alongthe cliff adjacent to the waterfall which visitors can use to reachthe scenic viewpoints; a helicopter tour is another phenomenal wayto see the falls from above. Guided tours are available, and thereare opportunities to bungee jump (one of the world's highest) andwhite water raft down this section of the Zambezi. It is impossibleto visit the Victoria Falls without being blown away by its beautyand power, and both Zimbabwe and Zambia are justifiably proud ofthis great wonder.
Victoria Falls Timo Newton-Syms
Matobo Hills
The granite formations in Matobo National Park contain rock artand San artefacts that date back thousands of years. Surrounded byhuge rock formations and delicately balanced boulders, this UNESCOWorld Heritage Site is a scenic place to see game like white andblack rhinos, leopards, zebras, monkeys and much more. One of thestrangest, but most fascinating attractions in Matobo Hills is thelizard feedings that take place three times daily at World's View,which is also where Cecil John Rhodes is buried. Although the gameviewing can be spectacular, this area is mainly fascinating becauseof its ancient cultural remnants, making it a particularly excitingZimbabwean attraction for those interested in rock art.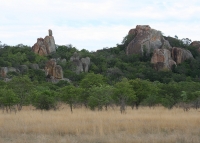 Matobo Hills tfengreen
Devils Pool
A popular but somewhat risky Vic Falls attraction is Devil'sPool, a naturally formed swimming spot right on the edge of thefalls. The pool is only safe to swim in between September andDecember (and not always, even in these months), when the riverflow is at the right level, but even then this is quite a daringadventure and not for the faint hearted. Aside from the thrill ofswimming on the edge of the falls, Devil's Pool is also a greatspot for those once-in-a-lifetime holiday photos. Ferries fromLivingstone Island take visitors to this exciting attractionwhenever the water levels are deemed safe enough, however thisactivity is predominantly accessible only from the Zambian side ofthe Falls.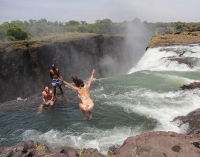 Devil's Pool joepyrek
National Parks
There are three primary national parks to explore while onholiday in Vic Falls - the Victoria Falls National Park, theMosi-oa-Tunya National Park on the Zambian side of the falls and,about 120 miles (193km) further south, the Hwange National Park.These parks feature a vast selection of wildlife includingelephant, buffalo, giraffe, zebra and various antelope; there arealso occasional sightings of lion and leopard. There are a numberof operators in Vic Falls town offering safaris to these nationalparks, as well as elephant-back safaris on Nakavango Estate and the'walking with lions' experience at Masuwe Estate.
The Victoria Falls National Park incorporates the iconic falls -a UNESCO World Heritage Site - and is therefore an absolute mustfor travellers in the region. Apart from the falls, and thegorgeous rainforest beneath, the national park includes variedlandscapes populated by diverse game, including the Big Five:elephant, lion, buffalo, leopard and rhino.
The Mosi-oa-Tunya National Park is situated along the upperZambezi River, on the Zambian side, and also incorporates part ofVictoria Falls. Travellers will find that crossing the borderbetween Zimbabwe and Zambia at Victoria Falls is generally verypain-free as border officials are totally accustomed to peoplepopping over for a few hours to view both sides of the falls.Naturally both countries want to encourage tourism.
The largest game reserve in Zimbabwe, Hwange National Park,covers more than 5,637 square miles (14,600 sq km) of land in thewestern tip of Zimbabwe, near the Kalahari Desert. The parkcontains large numbers of gemsbok, hyena, African wild dogs, andelephants, and safari lodges within Hwange offer a range of safariseither on foot, by 4x4, or on horseback.
Hwange Lion Laura
Mana Pools National Park
Mana Pools National Park has a split personality: itincorporates a vast expanse of flat, arid land which becomes abroad expanse of glorious lakes after each rainy season, whichlasts from November to April. Animals follow the pools in search ofwater, and as the lakes dry up Mana Pools National Park is one ofthe best places in the country to view game like elephants, hippos,crocodiles and buffalo as they make the most of nature's bountybefore it disappears. Mana means 'four' in Shona, and refers tofour permanent pools in the middle Zambezi that make up the UNESCOWorld Heritage Site. Far from any human settlement, Mana PoolsNational park is a great place to experience a truly wildZimbabwe.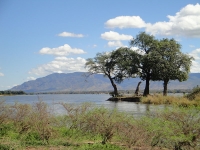 Mana Pools National Park Babakathy
Great Zimbabwe
The capital of Zimbabwe during the Iron Age and dating back tothe 11th century, Great Zimbabwe was home to the royal palace andan estimated 18,000 people in its heyday. At some point the citywas abandoned, and now it stands empty and ruined, with its mostprominent features being the mighty stone walls that reach 16 feet(5m) high, and the famous Zimbabwean Birds that were perched on topof eight monoliths around the city. A UNESCO World Heritage Site,the ruins are majestic and impressive, and form the largest ancientstructure south of the Sahara Desert. Exploring the ruined city isextremely thrilling; it is a mysterious place, inviting flights ofthe imagination and with a palpable sense of age.
Great Zimbabwe Jan Derk
The climate in Zimbabwe is sub-tropical with a summer season ofabout eight months (October to April), with hot, sunny days thenorm. Summer daytime temperatures range around 86ºF (30ºC) in themain centres, though the low-lying areas such as the ZambeziValley, Kariba, and Victoria Falls tend to be hotter, and there isalways a possibility of an afternoon thunderstorm.
The Zimbabwean winter climate is pleasant, with warm, dry daysfrom June to August (though temperatures do drop more extremely atnight) and the average temperature is around 68ºF (20ºC). Rainoccurs mostly between November and March in Zimbabwe, thoughrainfall patterns do vary according to region.
The best game viewing time is during the months of August,September and October: this is the dry season when animalscongregate at the waterholes. The best time of the year for whitewater rafting on the Zambezi is September, October, andNovember.
Money:
The de facto official currency is the US Dollar (USD). TheZimbabwe Dollar (ZWD) was effectively abandoned as the officialcurency in early 2009 after runaway inflation. The South AfricanRand (ZAR) and British Pound (GBP) are also sometimes accepted.
Major international credit cards are accepted in most of thelarger hotels, restaurants and shops. Many smaller establishmentsstill do not have credit card facilities. Diners Club and AmericanExpress are often not accepted. ATM facilities, dispensing USD, areavailable in the cities, although in smaller towns and rural areasyou'll need to bring cash.
Language:
English is the official language in Zimbabwe, although itis only spoken as a first language by a tiny percentage of thepopulation. Several indigenous languages are spoken including Shonaand Ndebele.
Electricity:
Electrical current is 220-240 volts, 50Hz. Three-pinrectangular blade plugs are common.
Entry Requirements:
US passport holders must have a passport valid for at least theduration of their stay. A visa is required. A 90-day tourist visaor 30-day business visa can be obtained on arrival.
Passports must be valid for at least 6 months after departuredate. A visa is required. A 90-day tourist visa or 30-day businessvisa can be obtained on arrival.
Passports must be valid for at least the period of stay in thecountry. A visa is required. A 90-day tourist visa or 30-daybusiness visa can be obtained on arrival.
Australian passport holders must have a passport valid for atleast the period of stay in the country. A visa is required. A90-day tourist visa or 30-day business visa can be obtained onarrival.
South Africans must have a passport valid for at least theperiod of stay in the country. A visa is not required for stays ofless than 90 days.
Irish nationals require a passport valid for at least the periodof intended stay. A visa is required. A 90-day tourist visa or30-day business visa can be obtained on arrival.
US passport holders must have a passport valid for at least theduration of their stay. A visa is required. A 90-day tourist visaor 30-day business visa can be obtained on arrival.
New Zealand nationals require a passport valid for the period ofintended stay. A visa is required. A 90-day tourist visa or 30-daybusiness visa can be obtained on arrival.
Passport/Visa Note:Visa:
All visitors require travel itineraries, tickets, and documentsfor return or onward journeys, as well as sufficient funds for theduration of their stay. Visa fees, where applicable, are payable inUS dollars. Fees vary depending on nationality and type of visa. Itis highly recommended that passports have at least six monthsvalidity remaining after your intended date of departure from yourtravel destination. Immigration officials often apply differentrules to those stated by travel agents and official sources. Iftravelling on business, you'll also need multiple copies of aletter from your company and an invitation letter from a Zimbabweancompany, both on company stationery.
Travel Health:
Travellers to Zimbabwe who are coming from infected countriesrequire a yellow fever vaccination certificate. Vaccinationsagainst hepatitis A, hepatitis B, and typhoid are recommended. Ahigh prevalence of AIDS/HIV exists in Zimbabwe. There is a risk ofmalaria all year in most of the country, particularly in theZambezi Valley, Victoria Falls, Hwange National Park and in theEastern Highlands; the risk is very small in Harare and Bulawayo.Mosquitoes are chloroquine resistant. Precautions against mosquitobites should be taken to avoid any number of mosquito-bornediseases. Cholera outbreaks occur usually during the rainy seasonwhen flooding and contamination of water sources takes place.Rapidly declining health standards are also responsible forZimbabwe having one of the lowest life expectancies in the world,according to the World Health Organization. Visitors are advised totake food and hygiene precautions. The standard of tap water inurban areas is considered low, and bottled water is available. Thecurrent economic instability has led to shortages of medication inpublic hospitals, and striking is common; it is advisable to bringa supply of personal medication. Medical insurance is essential.Private clinics expect cash payment and medical costs can behigh.
On 6th September 2018, a Cholera outbreak was declared inHarare. The situation is being monitored by the World HealthOrganisation. Visitors are advised to seek the advice of a healthprofessional before traveling.
Tipping:
A service charge is usually included in the bill in Zimbabwe,otherwise a 10 percent tip is customary for staff in restaurants,hotels and taxis. In general, tipping for good service isdiscretionary. Some tour guides and game rangers depend largely ontips for their income.
Safety Information:
There have been violent protests in Zimbabwe inJanuary 2019, and the current situation is unsettled. Tourists areadvised to exercise caution, and to monitor news and travel advicewebsites for updates. Note that access to internet has beendisrupted and some apps may not be available. Visitors should avoidpolitical activity, demonstrations, and rallies. There is amoderate level of crime. Thus it is wise to use taxis and hire carsto avoid walking the city streets alone at night.
Victoria Falls is considered the most safe andwell-policed of Zimbabwe and the majority of visits arehassle-free. The resort areas around Lake Kariba are alsoconsidered to be safe, especially on guided tours and packageholidays.
*In March 2019, the Tropical Cyclone Idai hitZimbabwe, causing significant flooding and mud slides, especiallyacross the eastern parts of the country. Roads and bridges havebeen affected, as have electricity, water and telecommunications.Visitors travelling to affected regions should follow advice givenby local authorities. They are also advised to check prior totravel that their hotel is still open, and they should monitorlocal and international weather updates.
Local Customs:
In Zimbabwe it is against the law to take photographs of publicbuildings or government institutions, and it is not advisable totake photographs anywhere in the vicinity of such buildings, or anyroadblocks and illegally occupied farms, as this could lead toarrest. It is also illegal to take photographs of police andmilitary personnel, as well as of demonstrations. It is a criminaloffence to make insulting comments about President Mugabe and hisgovernment. It is also an offence to continue driving when thePresident's motorcade goes past, no matter which side of the roadyou are on. Visitors should be aware that an open hand is thepolitical symbol of the main opposition political party, theMovement for Democratic Change, and a friendly wave may thereforebe misinterpreted as a provocative gesture. Homosexuality isillegal. Civilians are not permitted to wear camouflageclothing.
Business:
Business in Zimbabwe is conducted in English, and is fairlyinformal, with drinking and socialising very much part of thebusiness scene. Dress is fairly conservative, but lightweight suitsor casual jackets are more suited to the hot climate than formalbusiness wear.
It is customary to shake hands with men and women at thebeginning and end of a meeting. Business hours are generally Mondayto Friday, 8am to 4.30pm, although hours vary considerablydepending on the establishment; some businesses close at 11am onWednesdays, and some are open on Saturday mornings.
Communications:
The international dialling code for Zimbabwe is +263. Localmobile phone operators provide network coverage in most cities,towns, and tourist areas throughout the country. Internetfacilities are available in most towns and cities, but internetcafes are often crowded.
Duty Free:
Travellers to Zimbabwe do not have to pay duty on items to thevalue of US$200 provided this allowance is not claimed more thanonce in a 30-day period. These include goods for personalconsumption, including tobacco, and alcohol up to 5 litres with nomore than 2 litres of this being spirits. Prohibited items includenarcotic and amphetamine drugs, indecent or obscene readingmaterial, toy firearms, and blade knives.