Pike Place Market
Rachel, a giant piggy bank, stands guard over the Pike Place Farmer's Market in downtown Seattle, placed there to raise funds to preserve this National Historic District founded in 1907. The bustling market has provided the local people with producer-priced goods for decades, and continues to do so today as about 100 farmers and fishmongers tout their wares. The focus is on local and organic food. They have been joined by more than 150 local craftsmen and artists who have also set up shop here, along with street performers, dozens of restaurants, and numerous speciality shops.
The world's first Starbucks coffee shop opened here in 1971, and is still brewing up its famous beverage on the original site. At the north end of the market, Victor Steinbrueck Park provides a popular grassy place to sit in the sun and escape the milling crowds. Events are hosted at the market, such as the May Flower Fest Market, Sunset Supper at the Market, a Busker's Festival, and Arcade Lights: a Celebration of Artisan Food, Beer and Wine.
Address:
First Avenue, between Pike and Pine Streets
Opening time:
Open daily. Hours vary for different businesses, and Sundays are voluntary opening days so some shops may be closed.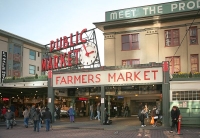 Pike Place Market Daniel Schwen
Seattle Space Needle
Anyone who has seen a picture of the Seattle skyline will be familiar with Seattle's internationally recognised symbol, the futuristic Space Needle building. From afar it looks like a spinning top, with the needle pointing skywards. The Space Needle was built for the 1962 World's Fair to showcase upcoming architectural development, and proved itself by withstanding an earthquake in February 2001 measuring 7.6 on the Richter scale. It has since been declared a historic landmark by the City's Landmarks Preservation Board. Visitors can get to the top of the Space Needle using one of the elevators that travel at ten miles an hour, reaching the observation deck within 43 seconds. On windy days, however, the elevators are slowed down to 5 miles an hour for safety reasons. Visitors can ascend the 607-foot (185m) building as far as a revolving observation deck 520 feet (158m) above the city, where high-powered telescopes are positioned to allow you to pick out the city sights. There is a revolving restaurant on top of the tower that allows visitors to take in every part of the panoramic views while enjoying a meal.
Address:
400 Broad Street
Transport:
Monorail from downtown
Opening time:
Daily 8am-12am.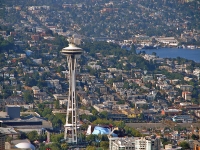 Space Needle informant
Museum of Pop Culture
Housed in a colourful psychedelic building at the base of the Space Needle is one of Seattle's most popular attractions, the Museun of Pop Culture, a rock 'n roll music museum with a difference.
The museum was planned originally by Microsoft entrepreneur Paul Allen as a memorial to Jimi Hendrix, the superstar guitarist who was born in Seattle and died more than 30 years ago. The Hendrix exhibit, featuring artefacts associated with the rock legend, remains the biggest drawcard at the museum. However, the collections and interactive exhibits have been expanded to include the general history of American popular music, and another exhibition dedicated to Seattle's other famous musician, Kurt Cobain.
Exhibits range from the first electric guitars of the 1930s, to a rock 'n roll thrill ride akin to a roller coaster. In interactive rooms visitors can try their hands at mixing on DJ turntables or playing various instruments. The museum is also the venue for numerous concerts. There are several venues for changing exhibitions that have in the past included exhibitions on Battlestar Gallactica, Unforgettable Rock 'n Roll Photographs, the First Decade of Hip Hop, Disco: A Decade of Saturday Nights, as well as art exhibitions and some science-related exhibitions.
A Science Fiction Hall of Fame honors the lives, work, and ongoing legacies of some of the world's most influential science fiction writers, amongst them Isaac Asimov, Ray Bradbury, Sir Arthur C. Clarke, Ridley Scott, George Lucas, Jules Verne, H.G. Wells, and many more.
Address:
Seattle Center, 325 Fifth Avenue North
Opening time:
Daily 10am-7pm (June to August); 10am-5pm (September to May).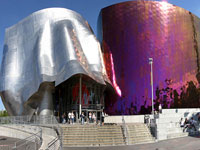 Experience Music Project Cacophony
Seattle Art Museum
Seattle's downtown Art Museum is landmarked by the animated thudding massive steel sculpture by Jonathon Borofsky called 'Hammering Man' that stands outside. Inside the remarkable building, designed by Robert Venturi, are a large range of exhibits covering European and American art, from ancient art through to a vast 20th-century collection devoted to Northwest contemporary art.
The museum has a focus on collecting and exhibiting art from around the world, covering many cultures and a great expanse of time, and trying to find and explore the connections between cultures and over time. Some of the permanent collections include textiles, porcelain, Native and Mesoamerican art, Decorative art, and Australian, Aboriginal and Oceanic Art. Currently the museum has over 23,000 pieces, with recent acquisitions including an untitled 1937 Morris Graves painting, Portrait of Bartolomeo Sirigatti by Francesco Traballesi, In the Well of the Wave of Kanagawa by Katsushika Hokusai, and more. Free guided tours of the different collections are offered.
A Seattle Asian Art Museum is affiliated to the original musuem and is located at 1400 East Prospect Street, filled with Asian art from as far back as the 2nd century, and the Olympic Sculpture Park is a permanent outdoor exhibition of sculptures, including Eye Bwnches I, Father and Son, Schubert Sonata and more.
Address:
1300 First Avenue
Opening time:
Wednesday to Monday 10am-5pm; Thursdays 10am-5pm; closed Monday.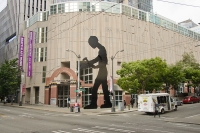 Seattle Art Museum Natokh
Pioneer Square
Billed as 'where Seattle begins', the historic district of Pioneer Square features more than 20 city blocks of historic buildings, more than 30 galleries, a vibrant retail sector, and the city's most exciting nightlife. Some of the businesses that have premises on the square are Intrigue Chocolates, the Bicycle Alliance of Washington, Gallery Frames, Distant Lands, and many more.
The district is south of the main downtown area and encompasses two major attractions. The Klondike Gold Rush National Historical Park recalls the days when Seattle was a jumping off point for hopefuls heading for the goldfields. Another visitor favourite is the unique Underground Tour, taking in the sunken storefronts of the original 'Skid Road', where timber used to be slid down to the steam-powered mills on the shores of Elliott Bay.
On the first Thursday of every month, the square hosts First Thursdays Art Walks when all the art galleries and museums remain open for the evening, serving snacks and drinks and allowing visitors to mingle and visit while looking at the artwork on display. Holiday Trivia Nights are also hosted at various venues on the square, giving attendees a chance to pit their trivia skills against one another.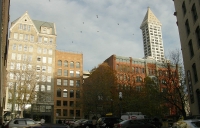 Pioneer Square Joe Mabel
Museum of Flight
Next to Boeing Field, south of downtown Seattle, the Museum of Flight consists of a six-story glass and steel construction, which was the original Boeing factory and used to be one of the mainstays of Seattle's economy. Inside is a collection of more than 130 aircraft, some suspended from the ceiling, including some of history's most famous airplanes. There is, for example, a replica of the Wright Brothers' first glider and the original Air Force One presidential plane used by Eisenhower. The museum covers the entire history of flight right up to the space programme. The Museum's most recent acquisitions include a British Airways Concorde, the only one on America's West Coast, and NASA's Full Fuselage Trainer. Concorde arrived in true style setting a new world record time from New York to Seattle, while NASA's FFT has been retired from use and is making its new home at the museum. Changing exhibitions are hosted and changed regularly to keep things interesting. Restoration work on various aircraft is constantly ongoing at the museum, with 2 to 4 new acquisitions every year and about twelve aircraft being worked on at any one time. The museum also contains exhibitions of aircraft photography, artefacts, and archives.
Address:
4097, 9404 East Marginal Way South
Opening time:
Daily 10am-5pm; open until 9pm the first Thursday of every month. Closed Thanksgiving and Christmas.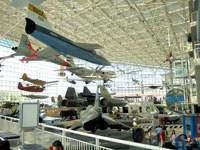 Museum of Flight Fawcett5
Seattle Aquarium
Located on Seattle's waterfront, the Aquarium provides a window through which to see amazing sea creatures and colourful coral life of the Pacific. The aquarium contains exhibits such as touch pools with animals like sea stars and urchins from Puget Sound and Washington's outer coast. The Window on Washington Waters is a huge exhibit filled with native marine life, where dive shows take place three times daily, while the Marine Mammal exhibit features sea otters and seals viewed from both above and below the water.
The Underwater Dome is one of the largest exhibits, an undersea room that provides 360 degree views of the fish and sharks as they swim. Some further exhibits available at the aquarium are Ocean Oddities, Life of a Drifter, Pacific Coral Reef, Marine Mammals, Orca Activity Center, Searching for Sixgills, and more. The aquarium hosts events on a regular basis, some of which include a Celebrate Sharks event, the Naturalist Program, parts of the Seattle Science Festival, and more.
Conservation is a big focus at the aquarium, and the attendants and guides take care to educate visitors about marine conservation. The aquarium is in a part of Seattle that's full of very good restaurants, so making a day trip out of a visit to the aquarium is a good idea.
Address:
1483 Alaskan Way, Pier 59
Transport:
Waterfront Streetcar Line Bus
Opening time:
Daily 9.30am-5pm, exhibits close at 6pm.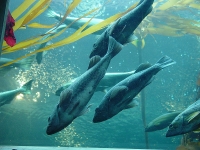 Rockfish at the Seattle Aquarium merelymel
Washington State Ferries
A quintessential part of experiencing the city is a ferry ride to Seattle. Coffee mugs are adorned with ferries, little model ferries are offered to tourists as trinkets, ferrying is a culture and a way of life to Seattle residents, many of whom commute to work across the Union Lake and Elliot Bay areas. Wake up early and drink your morning coffee, Seattle's other cultural pastime, on the water with the friendly locals.
If possible, try to plan sight-seeing of the city around several ferry trips going from point to point, which allows for maximum sightseeing. Trips to local attractions like the San Juan Islands are available on the ferries, as well as trips to Victoria in nearby Canada. Be sure to remember a passport and any other necessary and valid travel documents before embarking on a ferry ride to Victoria. Ferries are operated by Washington State Ferries and a schedule is available on their website.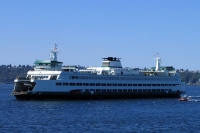 Seattle Ferry Kandykornhead
Woodland Park Zoo
Located in the Green Lake neighbourhood of Seattle, the Woodland Park Zoo is a great place to take the kids for a day out exploring and meeting the animals. Kids can enjoy animals such as African elephants, Arctic foxes, sloth bears, and red pandas, or birds like snowy owls, parrots, Chilean flamingos, and golden eagles as well as a fantastic variety of invertebrates such as spiders and butterflies. Over 1,100 animals from more than 300 species are included in the zoo's collection.
The animals' enclosures are carefully landscaped to include all kinds of interesting exotic plant life, and there is also a rose garden for peaceful strolling if the animals get to be a bit too much. A cafe attached to the rose garden provides further respite and nourishment for those making a full day of the outing. For families on holiday in Seattle, a trip to the Woodland Park Zoo is not to be missed.
Occasional special events are hosted at the zoo, such as the swish annual Jungle Party aimed at raising funds through donations, and the Zoo Tunes summer concerts that runs from June to August, featuring well-known local artists every weekend, with all proceeds going to fundraising for the zoo and conservation efforts.
Address:
500 Phinney Avenue North
Opening time:
Open daily 1 October to 30 April 9:30am-4pm; 1 May to September 30 9:30am-6pm. Closed 25 December.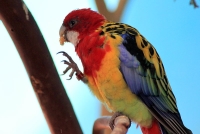 An Eastern Rosella at Woodland Park Zoo pixelgerm
Kids, when in the rainy city of Seattle, will have a fabulous time exploring all the sights on offer, most of them being child-friendly and all-inclusive. Take a trip to the Seattle Aquarium where children can learn and be mesmerised by the exquisite displays of fish and marine life, or head over to the Woodland Park Zoo to meet some furry friends. More active children will love a day out at the Olympic National Park where glacier-capped mountains meet lush green forest where they can stretch their legs and take in a hike, walk, or even mountain bike. Children who are interested in aviation will love the Museum of Flight, and children with a penchant for the decorative should visit the Rosalie Whyel Museum of Doll Art. On days when the rain sets in and outdoor activities with the kids are not an option, head to the Children's Museum with the little ones, while older kids will love the Experience Music Project, even if just for the zany design of the pink building.
Seattle generally has a wet climate, with the most rain falling between January and May, and October and December, but daytime temperatures are mild throughout the year. June to August is the warmest and driest time of year, with summer temperatures averaging around 75°F (24°C), while winter temperatures rarely drop below 32°F (0°C), with little snowfall. April to November is the best time to visit, with less chance of rain and long summer days.
Dining in Seattle is much like the city itself, a cosmopolitan affair born from the fruits of the wilderness. The surrounding Puget Sound, with reserves from Alaska, is one large barrel of seafood, coupled with produce grown from many small local farms in Seattle, resulting in masterful and memorable dishes. In addition to the traditional North-western cuisine like wild salmon or Dungeness crab, there is a strong Asian influence borne out of the large Asian-American communities and Seattle's importance as a trade port on the Pacific Rim. This means that the food in Seattle is eclectic and caters to many tastes. Restaurants are helped by great views of the sea and many funky neighbourhoods giving either a quiet romantic feel, or a fun and festive ambiance to a meal. Some of the best areas for eating out in Seattle are the waterfront district near Pike's Place Market, a long line of fine dining along 1st and 2nd Ave, and Capitol Hill. In general the Northwest's formality is a little toned down and most top restaurants don't require a jacket. Tipping is between 15 to 20 percent and most places require a reservation.
Pike Place Chowder
A small restaurant across the road from the bustling Pike Place Market, Pike Place Chowder is famous for one thing: its delicious chowder. There's more than just your standard clam chowder fare though, as the restaurant serves five different varieties each day, ranging from New England Clam Chowder to Seafood Bisque to Southwestern Chicken and Corn Chowder, and even a vegan option! There are sandwiches, salads, and even fish tacos on the menu as well. A must for seafood lovers!
Canlis
One of the best restaurants in Seattle, Canlis has been wowing diners since 1950 with its contemporary Northwest cuisine, and is a long-standing favourite for those celebrating a special occasion. The stylish interior complements its fine cuisine, and its wine list is one of the city's best. Canlis is famous for its steaks, but there are also favourites such as the prawns, oysters, and fresh fish, and the desserts are sublime. A tasting menu is available. Open for dinner Monday to Saturday. Bookings essential for Fridays and Saturdays. Dinner jacket required for men.
Address:
2576 Aurora Ave North
Cafe Campagne
A cosy Parisian café that has won many awards, Café Campagne is popular for its weekend brunches, but also serves a delicious lunch and dinner, and has a wine bar with 40 wines available by the glass. The menu changes seasonally, but fare includes dishes like the French-style rolled omelette, lamb burgers, quiche, and a variety of salads and sandwiches. For dinner it is possible to have the fixed price three-course menu or a choice of meat and fish dishes from the regular dinner menu. Open for lunch Monday to Friday, dinner nightly, and for brunch on weekends until 4pm.
The Herbfarm
One of the most unique restaurants in the Northwest, the farmhouse styled exterior is decorated within by a rich and ornate décor. Herbfarm itself and its neighbouring farms grow much of their ingredients to create weekly changing nine-course meals complete with five matching wines. Lummi Island reef-netted sockeye in a squash with lemon thyme is a glimpse into the night's menu. Reservations are essential.
Address:
14590 NE 145th Street, Woodinville
Metropolitan Grill
'The Met' is primarily a business venue, situated within the heart of the financial district in a historical building built in 1903. This traditional steakhouse has been a Seattle favourite for years, specialising in prime beef and serving up classics cooked to perfection, such as filet mignon, New York peppercorn steak, or the porterhouse steak, but there is also a good selection of pastas and salads. Meals are complemented by an excellent wine list. Open for lunch and dinner on weekdays, and dinner only on weekends. Reservations are recommended.
Rays Boathouse
The spectacular bay side view over Puget Sound is a perfect complement to the fresh Northwest seafood on a menu that changes regularly to reflect what is locally and seasonally available. Favourites include the crab cakes, oysters, wild salmon, or any fish prepared in sake kasu. Upstairs there is a more casual and less expensive café with an outdoor deck that serves lunch, while the downstairs restaurant serves dinner only. Reservations are required.
Address:
6049 Seaview Avenue NW
Serafina
One of Seattle's best Italian restaurants, Serafina is charming and romantic with a rustic ambience. The freshest ingredients are presented in a homey atmosphere that transports diners to the Italian countryside. Enjoy the bruschetta's, pasta dishes, or Serafina's signature dish, the eggplant rolled with ricotta cheese, basil, and Parmesan and baked in tomato sauce. There is live music on Friday, Saturday, and Sunday evenings, while live jazz on Sunday mornings makes this one of the most popular brunch spots in the city. Dinner daily, lunch Monday to Friday, brunch on Sundays from 10am. Reservations recommended.
Address:
2043 Eastlake Ave. E, Lake Union
Wild Ginger
Southeast Asian inspired food that now sets the benchmark for all Asian food in the Northwest, the Wild Ginger Restaurant is consistently chosen as a favourite among northwest dining awards and diners alike. The Chefs varied backgrounds reflect the eclectic Asian foods, and ingredients from Chinese to Indonesian and also provide a rare chance to mix great wines with Asian cuisine. Reservations are advised.
Address:
1401 Third Avenue
Andaluca
Local ingredients are thrown together to create a sumptuous Mediterranean-style menu at Andaluca. Dishes to try on the menu include the crab tower, stuffed dates, shellfish stew, or lamb dolmas, and end off with one of the tempting desserts accompanied by a dessert wine or port. Open for breakfast and dinner daily, and lunch Monday to Friday.
Address:
407 Olive Way, Mayflower Park Hotel
Ettas Seafood
Overlooking Pike Place Market, Etta's is always packed with both locals and tourists, who come to savour the delicious crab cakes, oysters on the half shell, or Alaskan halibut. Besides a variety of fresh seafood dishes there are also other options such as beef burgers, Thai chicken salad, or lime leaf coconut curry. The breakfast menu offers a range of egg dishes, along with French toast, oats and granola with yogurt, while the brunch menu comes straight from the sea.
Address:
2020 Western Avenue
Seattle-Tacoma International Airport
Location:
The airport is situated 12 miles (19km) south of Seattle and 15 miles (24km) north of Tacoma.
Time:
GMT –8 (GMT –7 from March to November).
Transfer Between Terminals:
The terminals are connected by an underground people mover.
Getting to the city:
The SeaTac/Airport Station provides passengers a direct connection between the airport and downtown Seattle. The station is on the fourth floor of the airport's main parking garage. Line Shuttle Express offer door-to-door shuttle services leaving regularly for the nearby towns and cities. Public King County Metro Transit buses run on schedule to destinations in and around Seattle. Sound Transit operates two express bus routes around the city.
Car Rental:
Alamo, Avis, Budget, Hertz and National have facilities at the airport.
Airport Taxis:
To arrange for a taxi, use one of the curbside phones or visit one of the Information Booths.
Fascilities:
Facilities at the airport are extensive, including a variety of fast-food and full-service restaurants, several bars and retail outlets. The airport has ATMs and currency exchange desks, and also offers a pet relief area, a massage bar, shoe shine services, smoking areas and a baggage storage service.
Parking
Parking rates at Sea-Tac Airport range from $4 per hour to daily rates of $37. Long term rates of $30 per day or $140 per week are also available.
Making a name for itself on the international music scene with its grunge explosion in the early 1990s, some of Seattle's best nightlife and entertainment has nothing to do with music. Amongst the ubiquitous live music clubs there are scores of local bars, Irish bars, dive bars, posh lounges, clubs, and trendy eateries to enjoy. After catching a sunset at the waterfront, Bell Street Pier, or Myrtle Edwards Park, head to Pioneer Square where bars, live music, and nightclubs prevail. Those planning to spend their evenings here should get the Pioneer Square Club Stamp, which lets patrons pay one admission to get into six clubs, though it is worth noting that this area can attract quite a rowdy frat crowd. Belltown is also a popular spot for young and hip nightclubs, while in Capitol Hill the gay scene is always buzzing. Culture vultures should check out the Seattle Opera, which is ranked at the top of companies in the country while the renowned Seattle Symphony is also worth checking out. The Seattle Repertory Fringe Theatre is great for the more avant-garde productions. It's worth picking up a copy of or the on Fridays as this includes a section called 'Ticket' listing all the week's arts and entertainment offerings.
Seattle city centre is well serviced by public transport, with an excellent bus system, historic streetcars along the waterfront, and a high-speed elevated Monorail that links downtown to the Seattle Center and offers views over the harbour and beyond. The bus system is the most extensive and runs throughout the night, but less frequently after 8pm. Fares on buses and trams are slightly more expensive during peak hours. Taxis can be hailed from taxi ranks or ordered by telephone. Parking in Seattle is expensive and limited, but traffic isn't too bad outside of rush hour and the city is fairly easy to navigate. Renting a car for excursions outside the city is a good option.
Seattle's skyline, with the prominent Space Needle, is one of America's most recognisable cityscapes which hints at the eclectic attractions below. The attractions in Seattle both celebrate and preserve various roles in history, alternating from aviation and shipbuilding industries, the music epicentre and the Native American and contemporary art centre. Other attractions let visitors enjoy the moment, including three sports stadiums, an aquarium, zoo, music laboratory, and festive city districts. Sightseeing Seattle's watery attributes can be enjoyed criss-crossing Puget Sound in state ferries or from the lively waterfront shopping area Pikes Place Market. Among the other highlights are the great museums showcasing the history of flight, contemporary art, an ode to Rock 'n Roll at the Museum of Pop Culture, and of course, the views from the Space Needle. Yet perhaps the best thing to do is follow the locals in and around the city to see and enjoy Seattle the way they do.
Puget Sound Islands
Washington State Ferries depart regularly from the Seattle waterfront piers carrying passengers to and from the many islands in scenic Puget Sound. Visitors generally favour Bremerton, about 20 miles (32km) west of the city, on the tip of the Kitsap Peninsula. Here stands the Puget Sound Naval Shipyard Museum. Visitors can also explore the historic destroyer, the USS Turner Joy that is tied up at the ferry dock.
A popular island destination is Bainbridge, just 10 miles (16km) west of Seattle, which has its own winery. Winslow, the main town on Bainbridge Island, is a pretty historic town with some fine restaurants, shops, and a great view of Seattle. Vashon Island, 10 miles (16km) southwest of the city is an artist's colony. A little further afield are the San Juan Islands boasting miles of unspoilt beaches, state parks, whale-watching opportunities, and primeval forests.
Many recreational activities are on offer throughout the area, such as kayak trips around several islands including beach landings, whale watching on board ferries, bicycle tours of islands through bicycle clubs, diving, golf, mountain climbing and hiking, beautifully kept running trails for runners, wine tastings at the many wine farms, and much more.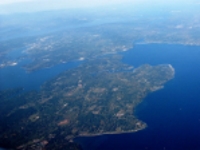 Aerial view of Bainbridge Island Dcoetzee
Olympic National Park
Wilderness lovers revel in retreating to the wild Pacific Coast with its glacier-capped mountains, magnificent stands of ancient forest, fascinating biological diversity, and wild Pacific coastline. About 95 percent of the park has been designated a wilderness reserve, which protects the unique ecosystem on the Olympic Peninsula. The park contains three major ecosystems and almost a million acres, including eight kinds of plants and 15 species of animals occurring nowhere else on earth.
Fishing, hiking, canoeing, kayaking, backpacking, horse-back riding, mountain bike riding, and many more activities are all available at the park, although you will have to bring your own equipment to carry out these activities. Fishing is particularly popular, given that there are 3,000 miles of rivers and stream throughout the park, filled with many species of fish and shellfish. All visitors keen to fish should take care to pick up a booklet of the fishing regulations in place throughout the park, these are different for the river and sea areas. Hiking is very popular too, although hikers should be aware that the weather is very changeable, and dress accordingly. It's also not safe to drink water from the streams and lakes, so hikers and camper should always bring their own water. The Peninsula separates Seattle from the Pacific Ocean.
Address:
3002 Mt Angeles Road, Port Angeles
Transport:
Ferry from the city, or Olympic Bus Lines and Tours services Port Angeles (main visitor centre) from downtown Seattle
Opening time:
Open daily, 24-hours a day. Some roads may be closed during winter. Visitor centre hours vary throughout the year.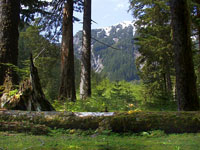 Olympic rainforest National Park Service
Alaskan Ferry
Large cruise ships regularly travel to major ports in Alaska, however a better, smaller option is the Alaskan Ferry. Departing from Bellingham Washington, these large ferries travel around the major coastal towns of Canada, the Gulf of Alaska, and the Alaskan Peninsula. The landscape is staggering, revealing hundreds of craggy forest-dense islands and coastlines. Eagles, killer whales, bears, and other wildlife are all part of the view.
The months of operation are May to September, when the weather is bearable and sunshine illuminates most of the 'night' hours, making the days long so there is plenty of time to fit in lots of sight-seeing. Costs vary greatly on length of voyage and accommodation. Most ferries rent cabins, but those in tune with Alaska's pioneer spirit can pitch a tent on deck or just use a blanket. However, if you do choose to go with a cabin, there are some very comfortable options available. It's possible to plan an extensive tour of Washington's, Canada's, and Alaska's coast lines, stopping off at various points of interest along the way. Special fares are available throughout the year upon request.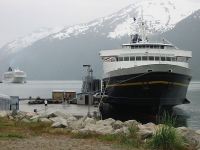 Alaskan Ferry Jarfingle
San Juan and the Gulf Islands
The San Juan Islands and the Canadian Gulf islands form one of the most scenic boating routes in the world. The hundreds of islands are separated by nationality but are part of the same scenic, rugged archipelago, located off the northwest coast of Washington State.
Much of the area is in a rain shadow behind Vancouver Island, making a surprisingly dry and sunny reprieve in the northwest. Little island communities, great wildlife, and the open water provide a retreat from the mainland. Frequent government ferry services connect the mainland and larger inhabited islands to each other, but many are only accessible by smaller shuttle boats and yachts.
Friday Harbour is San Juan's largest town and an enchanting tourist destination. Seemingly out of a Norman Rockwell painting, the islands contain many little farms and fisheries, and agri-tourism has become an important part of the island's tourist trade. For the most part, farms that take part in agri-tourism are the island's beautiful wine farms, where guests stay in charming cottages overlooking vineyards and learn more about grape growing and wine making. However, there is also a lovely lavender farm and a somewhat more unexpected alpaca farm. Anchorages are bustling throughout summer, but largely empty in other seasons. Yacht charters are available out of Bellingham.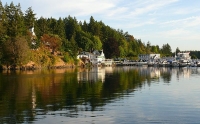 San Juan County Michael Feist