Texas State Capitol
Austin's impressive pink granite capitol building is rivalled only by that of the US Capitol in Washington, DC. Encircled by its original wrought-iron fence topped with gold Lone Stars and standing proudly in a hectare (three acres) of ground, the domed building was constructed in 1882 out of granite quarried from Granite Mountain 75 miles (121km) away.
The design used the Renaissance Revival style and is an excellent example of late 19th century public architecture. The building was expanded with an added wing in 1993, and throughout the 1990's both the building and its park-like grounds were given extensive renovations and restoration work.
Events and exhibits are regularly hosted at the Capitol Building. Visitors can take guided tours of this interestingly designed building, or attend legislative sessions, which are open to the public. The grounds are also open to the public and are well worth a visit, filled as they are with seventeen monuments including those to the Heroes of the Alamo, Volunteer Firemen, Confederate Soldiers and Terry's Texas Rangers.
Address:
Congress Avenue between 11th Street and 14th Street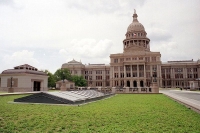 Texas State Capitol Gerritcap
Zilker Park
The 140-hectare (347-acre) Zilker Park, donated to the city by the German immigrant who gave it its name, is Austin's most popular public recreational area, dominated by its ancient spring-fed natural swimming pool, known as Barton Springs, which Native Americans believed to have healing properties. The pool is about the size of a football field with water at a constant warm temperature all year round.
Zilker Park has other attractions, too, including a botanical garden which features dinosaur tracks, a nature preserve, the Umlauf Sculpture garden and museum, canoes for rent and eight miles (13km) of biking and walking trails; there are sports facilities aplenty and amusements for children like the Zilker Zephyr miniature train and paddleboat rides.
The Zilker Hillside Theatre hosts musical concerts throughout the year, and the park also plays host to the Austin Nature and Science Center where exhibits and workshops run throughout the year. The Zilker Park's annual Christmas tree-lighting ceremony is a popular event, boasting a tree that stands 155 feet (47m) tall and is made up of 39 streamers each holding 81 lights, making for a grand total of 3,309 lights.
Address:
2100 Barton Springs Road
Zilker Park Historic District Airainix
Ladybird Johnson Wildflower Center
Texas hill country is renowned for its glorious spring blooms, and former First Lady, Lady Bird Johnson, founded this centre dedicated to the study and preservation of native plants in 1982. There are 72 hectares (178 acres) of wildflowers in display gardens, including a garden designed to attract butterflies. There are also some interesting indoor displays, and the centre offers free lectures and guided walks at weekends.
The centre's exhibition area hosts displays of artwork and photography inspired by nature, especially flowers. In 2006, the centre was made an Organized Research Unit for the University of Texas at Austin. A new feature at the centre is the Mollie Steves Zachry Texas Arboretum, where visitors are invited to learn more about Texas' trees all in an easy-to-navigate, compact space. The focus is on the Texas oak, but many other species are included.
Address:
4801 LaCrosse Avenue
Opening time:
Daily 9am-5pm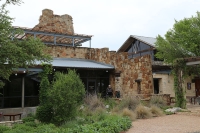 Ladybird Johnson Wildflower Center Margaretwmiller
Governors Mansion
The opulent plantation-style mansion home to the Texas State governor is one of the oldest buildings in the city, dating from 1856. Although it is still lived in when the governor is in town, the mansion is open to the public for limited hours each day and many historical artefacts are on display, including portraits of Davy Crockett and Sam Houston, and a collection of mementoes from each administration. The mansion has been recently renovated, guided tours are available, which offer interesting anecdotes about previous governors.
Address:
1010 Colorado Street
Opening time:
Monday to Friday 7am-10pm, Saturday to Sunday 9am-8pm.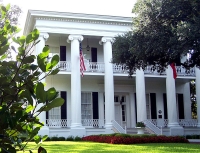 Governor's Mansion Larry D. Moore CC BY-SA 3.0
Jack S. Blanton Museum of Art
A major stop on national art circuit tours, the Blanton Museum of Art at the University of Texas in Austin is ranked among the top 10 university art museums in the country. Highlights here are the Suida-Manning Collection of European paintings featuring 250 works by the Continental masters, and the collection of 20th-century American Art assembled by novelist James A. Michener.
There is also a large collection of Latin American Art consisting of more than 500 key works. The permanent exhibitions on show at the museum include Stacked Waters by Teresita Fernandez, a piece of installation art in the museum's atrium. Changing exhibitions often have themes that focus on aspects of American history and scenery as depicted in art, as well as displays of current artists' work.
Address:
University of Texas (at the intersection of Martin Luther King Jr. Boulevard and Congress Avenue)
Opening time:
Tuesday to Friday 10am-5pm, Saturday 11am-5pm, Sunday 1-5pm, closed Monday.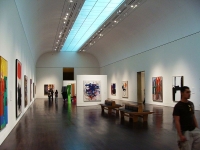 Jack S. Blanton Museum of Art Zereshk
Congress Avenue Bridge
One of the more unusual tourist attractions in Austin, is the nightly flight of millions of Mexican free-tailed bats emerging from their roosts under the Congress Avenue Bridge. The bridge was revamped in the 1980s and regularly-spaced crevices underneath the new structure inadvertently created a perfect resting spot for thousands of bats.
The bat colony takes up residence under the bridge in mid-March each year and returns to Mexico in early November. There can be up to 1.5 million bats living under the bridge at the height of bat season. During their sojourn in Austin visitors are amazed by their mass evening emergence from their roost, which generally takes place at dusk.
The Congress Avenue Bridge is 10 blocks south of the State Capitol building, spanning Town Lake. A Bat Observation Center is located on the southeast side. During bat season hundreds of people gather on and around the bridge each evening to witness the spectacle.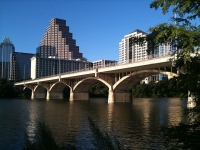 Congress Avenue Bridge Stuart Seeger
Guadalupe Mountains National Park
The rugged wilderness of the Guadalupe Mountains in west Texas was originally a barrier reef under the waters of an ancient sea. Today fir trees and pockets of lush vegetation cling to this mountain range rising from the desert. Formerly the home of the Apache nation, the National Park is now occupied by hundreds of plant and bird species, 60 species of mammals and 55 varieties of reptiles and amphibians.
Visitors can traverse more than 80 miles (129km) of trails on foot or horseback, or take the 4WD route provided. There are several historic sites in the park including Frijole Ranch History Museum and the ruins of a stagecoach station. McKittrick Canyon in the northeast corner of the park is regarded as the most beautiful spot in Texas, where oaks and maples make a colourful display in fall. There is a Junior Ranger program available to keep children entertained. Horseback riding is allowed, although not provided by the park.
Opening time:
Daily 8am-4.30pm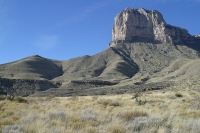 Guadalupe Mountains National Park Leaflet
Austin has a humid subtropical climate with hot and long summers and mild winters. At the height of summer (June to August), temperatures average between 72°F (22°C) and 97°F (36°C). In winter (December to February), the temperatures stay well above freezing, averaging between 41°F (5°C) and 65°F (18°C). Humidity is at its highest between May and September, and rainfall is fairly evenly distributed throughout the year, with an average of seven rainy days per month.
Austin-Bergstrom International Airport
Location:
The airport is situated five miles (8km) from downtown Austin.
Time:
GMT -6 (GMT -5 from mid-March to the first Sunday in November).
Transfer Between Terminals:
Passengers will have to leave the Barbara Jordan Terminal and organise a taxi to the South Terminal or take a shuttle.
Getting to the city:
The Capital Metro bus serves the airport every 30 minutes from the stop outside baggage claim. The trip takes 20 to 30 minutes to the city. Several hotels offer free shuttles, while taxis and car rentals are available too.
Car Rental:
Onsite rental companies include Avis, Budget, Hertz, Enterprise, Payless, Thrifty, National, E-Z Rent-A-Car, and FOX Rent A Car.
Airport Taxis:
Taxi companies servicing Austin-Bergstrom airport include Yellow Cab, Austin Cab, ATX Co Op, and Lone Star Cab. A trip from the airport to the CBD should take about 20 minutes. The minumum fare is $12.30 plus a $1 surcharge. Ride hailing services such as Uber and Lyft are also available.
Fascilities:
Postal services are available at the airport, and there are several ATMs in the terminal. Shops include newsagents and a gift shop, and there are numerous restaurants and bars to choose from. There is also artwork on display, and live music performances on selected dates. The Business and Technology Center in the east concourse offers foreign currency exchange, standard airline trip insurance, and internet access. There is also an on-site airport hotel.
Parking
The parking garages one and two, opposite the terminal charge up to $25 per day. The Economy Lots charge $8 per day and are connected to the terminal by a free shuttle service.
The excellent public transport system in Austin provides cheap public buses and vans that cover all neighbourhoods, including downtown and the university campus, for a flat fare. Transfers between buses are free and valid for three hours. Single fares start from $1.25. Taxis are available from hotel taxi stands during the day and by phone at night. Pedicabs can also be found on the streets in the entertainment districts like East and West 6th Street, and the Warehouse District. Multiple local ride-hailing services are available along with larger companies like Uber and Lyft.
Driving in Austin can be very confusing, with a lack of clear east-west routes through the city centre and the fact that locals tend to refer to highways by unofficial names. The city centre can become congested at rush hour.
There is no shortage of things to see and do in Austin. The city centre is easily explored on foot and has a good concentration of attractions and museums around the magnificent Texas State Capitol building. These include the Austin History Center, City Hall, the Austin Children's Museum, Bob Bullock Texas State History Museum, the MEXIC-ARTE Museum, and the O. Henry Museum.
The University of Texas contains a number of attractions, including the Blanton Museum of Art, the Texas Natural Science Center, and the President Lyndon B. Johnson Library and Museum.
West Austin is home to pleasant outdoor spaces and natural attractions in the famous Zilker Park, which includes Zilker Botanical Gardens and the Umlauf Sculpture Garden and Museum. Zilker Park is a must-visit in Austin, and a pleasant place for a picnic on one of the city's many sunny days.