Country Music Hall of Fame and Museum
Situated at the central hub of Nashville in the Downtown entertainment district, is one of the world's largest museums and research centre for American music, the Country Music Hall of Fame.
The main permanent exhibit, 'Sing Me Back Home', is a journey through the history of country music, drawing on the museum's rich collection of historical costumes, memorabilia, instruments, photographs, and manuscripts. In addition to the main exhibit, temporary exhibits focus on individual Hall of Fame Inductees, and the Archive Spotlight Series highlights specific themes from the main exhibition. Live performances, interactive exhibits, and lots of great music supplement these artefacts.
The museum is home to vast collections of moving images, recorded sound, and photographs, portraying country music as well as the development of recordings, filming, and photography. Among the exhibits are Elvis Presley's gold-leaf covered Cadillac, Emmy Lou Harris' jewelled cowboy boots, and Bob Dylan's autographed lyric sheets.
Live music is played in the atrium and digital film presentations are offered in the theatre. Visitors can also watch museum archivists and restoration experts at work, and study a vast wall displaying chart-topping gold and platinum country records.
Address:
222 Fifth Avenue South
Opening time:
Daily 9am-5pm.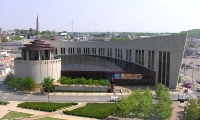 The Country Music Hall of Fame Sean Russell
Ryman Auditorium
This National Historic Landmark in downtown Nashville, nicknamed the Mother Church of Country Music, is regarded as the founding home of country music, having been the performance venue for the Grand Ole Opry from 1943 to 1974.
The theatre was originally built in 1892 by Thomas G. Ryman as a gospel tabernacle after his sudden conversion to Christianity. The building served as an evangelical meeting hall immediately after being erected, with regular performances by gospel singers and choirs becoming more and more common with the passing years. Eventually musical performances became the building's main focus, and a stage was built for the Grand Ole Opry's broadcasts. Such great names as Sarah Bernhardt, Patsy Cline, and Elvis Presley trod the boards here in their time.
Today the Grand Ole Opry has moved on to a new theatre, but the Ryman Auditorium has been restored and is still a popular performance venue where concerts are held regularly. By day the theatre acts as a museum, which visually portrays the stories of its rich history with a series of displays and exhibits highlighting the building's history as well as all the great names that have performed there over the years.
Address:
116 Fifth Avenue North
Opening time:
Daily 9am-4pm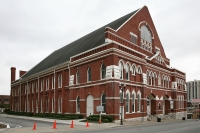 Ryman Auditorium Daniel Schwen
Grand Ole Opry
No visit to Nashville is complete without attending a show at the Grand Ole Opry, which has been going strong on the airwaves since 1925. The home of the world-famous country music show, the Grand Ole Opry, is now in Opryland Drive in a vast 4,400 seat auditorium which is part of the Opryland resort complex north of Nashville's city centre. From here the world's longest running radio show is still broadcast on the Nashville station WSM (650 on the AM dial), featuring new stars and legends of country and bluegrass music performing live on stage.
From February to October, the shows are hosted by the new Grand Ole Opry House while the winter run from November to January is hosted by the Opry's former permanent home, the Ryman Auditorium. The Ryman Auditorium housed the Grand Ole Opry shows from 1943 until 1974, when the Grand Ole Opry House was built with a much larger capacity.
Address:
2802 Opryland Drive, Opry Plaza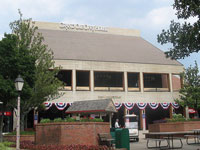 Grand Ole Opry House Adam Mcmaster
Belle Meade Plantation
Belle Meade Plantation, known as 'the queen of Tennessee plantations', is home to an 1853 Greek revival mansion that has been carefully restored to show its original elegance.
The plantation was founded in 1807 by John Harding, who brought thoroughbred horses for racing and breeding to Tennessee from the commonwealth of Virginia. Despite a horse racing hiatus during the Civil War, the Belle Meade Plantation developed under Harding and in 1867 he held the first sale of horses bred on his farm.
Visitors to the plantation today can view the authentic Civil War bullet holes that riddle the old mansion's pillars. Among the outbuildings that survive on the 12-hectare (30-acre) site is one of the oldest houses in Tennessee, a log cabin built in 1790. There is also a carriage house, visitor centre, tearoom, and gift shop. Tours of the antebellum furnished mansion and grounds are given by guides dressed in period costume.
Address:
5025 Harding Pike
Opening time:
Daily 9am-5pm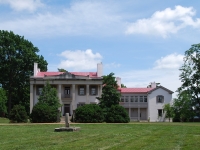 Belle Meade Plantation Colin1769
Parthenon
The centrepiece of Nashville's Centennial Park is the world's only full-scale replica of the Parthenon temple in Athens, Greece, complete with a re-creation of the 42ft (13m) high statue of Athena that stood outside the temple in ancient Greece. Like the original, the Parthenon in Nashville faces east to let in light as the sun rises.
The Parthenon was originally built for Tennessee's 1897 Centennial Exposition, its plaster decoration being direct casts of the Parthenon Marbles and original sculptures which adorned the pediments of the Greek Parthenon that was built in 438 BC. The massive bronze doors measuring 24 feet high and 7 feet across come in two sets of two, making them the largest set of matching doors in the world. The building today serves as Nashville's art museum, with a permanent collection of 63 paintings donated by James M. Cowan that highlights 19th and 20th century American artists. 57 artists are represented by the collection, and all of the paintings are oil on canvas. Many of the paintings are Impressionist in style. A variety of temporary shows and exhibitions are also presented, and lectures covering a wide variety of topics related to the arts are hosted at the museum on a regular basis.
Address:
Centennial Park, 2500 West End Ave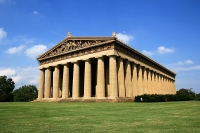 The Parthenon Mayur Phadtare
Tennessee State Museum
The Tennessee State Museum is one of the largest of its kind in America with a huge array of permanent exhibits telling the story of Tennessee, starting out 15,000 years ago in prehistoric times and culminating in the early 20th century. The museum was originally founded in 1817 by a portrait artist in order to display paintings. However, the collections grew into much more than that, and in 1937 the General Assembly combined the original museum collection with artefacts from World War I and other state museum collections into one museum, housed on the lower level of the War Memorial Building.
In 1981, the Tennessee State Museum moved to the James K. Polk Center, where it now occupies three floors, approximately 60,000 square feet of exhibits. Much of the museum is focused on history and is displayed in the form of permanent exhibits, while changing exhibits often display the works of local and other artists.
Prominent historic figures are highlighted, like former US President Andrew Jackson, Daniel Boone, and legendary frontiersman Davy Crockett. Exhibits include displays of furniture, silverware, weapons, uniforms, battle flags, quilts, and artworks from the civil war period. The museum also features reproductions of a 19th-century gristmill, and 18th-century print shop, a frontier cabin, antebellum parlour, and a Victorian painting gallery.
Address:
505 Deaderick Street
Opening time:
Tuesday - Saturday 10am-5pm, Sunday 1pm-5pm, closed Monday.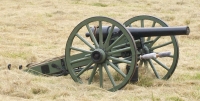 American Civil War cannon Charles Edward
Nashville has a humid subtropical climate with hot summers and cold winters. Ample annual rainfall keeps things green, but there are enough sunny days in between to keep everyone happy. Summers (June to August) can be very humid, which pushes up the discomfort index even if temperatures do not hit major highs; temperatures average between 79°F (26°C) and 90°F (32°C) in summer. Winters (December to February) are mild to cold, with light snowfall. Average temperatures range from 28°F (-2°C) to 52°F (11°C). Nashville has long springs and autumns and with its diverse array of trees and flowers, this could make it uncomfortable for allergy sufferers.
Nashville International Airport
Location:
The airport is situated six miles (10km) southeast of downtown Nashville.
Time:
GMT -6 (GMT -5 from mid-March to the first Sunday in November).
Getting to the city:
The Nashville Transit Authority has bus service from the airport to the downtown transit station via Route 18; it operates roughly once an hour from around 7am to 10.40pm on weekdays, and from 6am to just before 10pm on weekends and holidays.
Car Rental:
Car rental companies represented at Nashville International Airport include Advantage, Alamo, Enterprise, Avis, Budget, Dollar, Hertz, National, Payless, and Thrifty.
Airport Taxis:
Taxis are available from the airport, however it is advisable to book a taxi in advance. Taxi companies approved by the airport are 1-800-Taxicab, Allied Cab, American Music City Cab, Checker Cab, Green Cab, Kwik Cab, Magic Taxi, NashVegas Cab, Nashville Cab, Pink Cab, TennCab, TN National Cab, Volunteer Cab, and Yellow Cab.
Fascilities:
There are extensive facilities at the airport including a bank, ATMs and postal services. There are numerous restaurants, from fast food outlets to fine dining eateries, as well as several shops. The airport also has art exhibitions and live music performances on the ticketing level, children's play areas, meditation rooms and a massage bar, where professional massage therapists offer seated chair massages. Smoking is permitted in designated lounges. A business centre offers fax, photocopy and internet services. There are good facilities for the disabled; those with special requirements should contact their airline in advance.
Parking
Short-term parking is free for the first 20 minutes, and $3 per hour up to a daily rate of $23. Long-term Lot A is $3 per hour with a daily rate of $18, and Lot B charges $11 per day. The short-term lot is within walking distance of the terminal, while the other lots offer free shuttle services, beginning at 3.30am daily and ending 45 minutes after the last flight of the day.
Rock n Roll Marathon
Music lovers take to the streets each year when thousands of runners descend on the city to run the Rock n Roll Marathon (or a half marathon), vying for trophies and prizes with all proceeds of the race going to charity.
The race is part of the Rock 'n Roll Marathon series and is well-organized and smoothly run. The runners are encouraged by the strains of more than 50 bands belting out their best from about two dozen stages set up along the marathon route.
The courses for both the marathon and half marathon are not too difficult, and the weather in April in Tennessee is perfect for running. The day also includes the spectacle of a cheerleading contest and the final of a Kid's Marathon. It all culminates in a massive evening concert featuring a top country music star, with free entry for runners.
Venue:
The marathon begins near Centennial Park in West End Avenue, continues through downtown and finishes at the Coliseum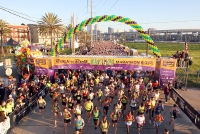 Marathon runners Mike Spille
Fan Fair
Country music lovers should make sure to be in Nashville during June, during the four-day Fan Fair, when the Country Music Association lines up a feast of four big concerts and numerous other events to add up to Country Music's biggest party. Created in 1972, the CMA allows fans to interact with the big names of country music who go all out to meet the fans and happily pose for photographs and sign autographs as they wander through the event and activity venues.
The Fair is aimed at artists getting to know their fans who flock to Nashville in their tens of thousands for the nightly concerts and all-day non-stop music at Riverfront Park. Some artists have been known to sign autographs for 23 hours non-stop. New up-and-coming artists are also showcased and festival-goers are given the chance to be the first to see tomorrow's stars in concert. Festival-goers are encouraged to extend a visit to the festival for a few days and take some time taking in the city once the festival wraps up. Four day passes are available, though they sell out quickly.
Venue:
Various throughout downtown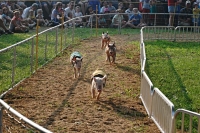 Pig Race Lorax
Bonnaroo Music Festival
Bonnaroo is an American music festival that attracts premier artists, and has rapidly grown into one of the country's coolest and most popular outdoor festivals. Each year, Bonnaroo draws up to 80,000 youngsters looking to recreate the 'Woodstock Experience' on a 700-acre farm just outside Manchester, Tennessee. Not only is the setting of the festival idyllic, but year after year, a diverse line-up grace the festival's many stages, showcasing the very best in a huge array of musical genres. Notable past performers include Pearl Jam, Radiohead, Bruce Springsteen, and Elton John.
The festival also features craftsmen and artisans selling unique products, organic food and drink, a comedy tent, a silent disco, a cinema tent and a Ferris wheel. The campsites and general amenities are very well-organised, as are entry procedures, although with thousands of people arriving from all over the country things are bound to take some time. All in all, a great time is pretty much guaranteed. Book well in advance, as the festival is routinely sold-out.
Venue:
Just outside Manchester, Tennessee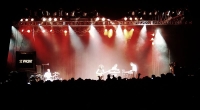 Bonnaroo Music Festival Jon Elbaz
The home of country music, Nashville is big on entertainment, with a music industry that keeps on churning out headlining acts, visitors are sure to have a good time when they hit the Nashville streets for a night out.
Don't be fooled by the charming southern drawl, Nashville is not just about country music. Visitors will find enough rock, jazz, bluegrass, country, and gospel to meet their musical needs. First stop has to be the District. A historic neighbourhood, the District contains beautiful architecture and great southern mansions, with trolley rides or a horse-drawn buggy both good options for taking in the area's sights and sounds. Crammed with nightclubs, bars, and restaurants where country music reigns supreme, the District is the heart of Nashville's nightlife, particularly Second Avenue's clubs and restaurants. Also a good spot for a night on the town, is Printer's Avenue, one of the oldest areas in the District, as is Lower Broadway, home of the legendary Tootsie's Orchid Lounge, where many an unknown artist has been discovered.
For a more relaxed night out, look no further than Music Valley where you'll find the long-running country music radio broadcast known as the Grand Ole Opry as well as Nashville Palace and the Opryland Hotel. These bars feature live music while Five Points neighbourhood contains some great bars and cafés for a mellow night out.
Buses and trolleys operate in the streets of Nashville, with the Metropolitan Transit Authority running several dozen bus routes seven days a week. Bus 34 is the Opry Mills Route that links the downtown district with Opryland. This service operates every 40 minutes daily between around 6.40am and 10.30pm. The Wildhorse Shuttle travels around downtown and stops at most tourist sights. The shuttle runs all hours.
For sightseers, the free Music City Circuit bus leaves the Riverfront Station every 15 to 30 minutes between 6.30am and 11pm on weekdays, and from 11am to 11pm on Saturdays, stopping at many popular downtown attractions. There are several taxi companies operating in Nashville, and the major car rental companies offer services. Driving in Nashville's small downtown area can be frustrating, but a hire car is useful for excursions out of town. Visitors staying downtown will find that most attractions are within easy walking distance.
Nashville is well-known as the Country Music Capital of the World, so it's no surprise that many of its most popular attractions are music-related.
The Country Music Hall of Fame and Museum is a great place to learn about the history of the beloved genre, while the Grand Ole Opry, and Ryman Auditorium offer the opportunity to catch popular acts in equally-famous settings. The General Jackson Showboat also offers dinner entertainment on a historic 300-foot (91m) paddleboat.
However, Nashville does have more to offer tourists other than country music. Visitors can learn about the city's long and proud history at the Tennessee State Museum and the Belle Meade Plantation. The city also has plenty of pretty outdoor spaces, including Centennial Park (home to Nashville's famous Parthenon) and Radnor Lake, as well as seven golf courses. Children will enjoy the Nashville Zoo at Grassmere, and the Adventure Science Center.
Great Smoky Mountains National Park
East of Nashville on the border between Tennessee and North Carolina lies the Great Smoky Mountains National Park. Covering more than one and a half million acres, the park is the largest in the eastern United States, and America's most visited park. The park is a designated International Biosphere Reserve and a World Heritage Site, drawing millions of visitors every year to enjoy the panoramic views, tumbling mountain streams, uninterrupted forest, and historic buildings it encompasses.
The main route to the park is via Knoxville, Pigeon Forge, and Gatlinburg, all worth a visit in their own right. Inside the park itself there are more than 270 miles (435km) of road through the ancient mountains, which are home to a variety of plant and animal life, many of the species unique to the area. The American Black Bear is the symbol of the Smokies and the park's most famous resident, while some more rare residents have been reintroduced into the area since the park's inception include the river otter, elk, and the Peregrine Falcon.
The park offers numerous outdoor recreational pursuits and offers a glimpse into the lives of early southern Appalachian farming families, with 77 historic structures like log cabins, barns, churches, and gristmills. There is also a research library open by appointment that contains documents relating to the area's history.
Opening time:
Primary roads are open 24 hours a day all year round.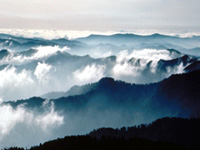 Chattanooga
The fourth largest city in Tennessee, Chattanooga lies at the junction of four interstate highways, is easily accessible and well worth a visit. The city has brought about a renaissance in recent years, redeveloping its riverfront and downtown area to offer an extensive greenway system and river walk that takes strollers through the historic art district and several beautiful parks.
Main attractions in the city are the Tennessee Aquarium, Civil War battlefields, the African American Museum, and a Creative Discovery Museum, as well as the renowned Jack Daniels distillery. Some visitors may know the Chattanooga Choo Choo song. The Chattanooga Choo Choo Hotel, named after the song, provides the opportunity to sleep in historically decorated train cars and to look at models of trains and trolleys used in Chattanooga over the years.
However, the main destination for visitors to Chattanooga is Lookout Mountain, offering its historic Incline Railway, the steepest passenger railway in the world that offers panoramic views of the city and the Great Smoky Mountains 100 miles (161km) away. Lookout Mountain is also home to The Battles for Chattanooga Museum, Ruby Falls (a waterfall that plunges 145ft (44m) inside the mountain), and Rick City Gardens, from where it is possible to view seven states on a clear day. There are zipline tours available from Ruby Falls, an adventurous way to take in both the falls and the beautiful mountains.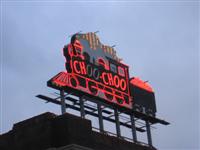 Chattanooga Choo-Choo sign
Knoxville
The third-largest city in Tennessee, Knoxville, although not as illustrious as Memphis or Nashville, is well worth a visit. Serving as Tennessee's capital from its admission into the Union in 1796 until 1817, early reports of Knoxville described it as an 'alternately quiet and rowdy river town.'
Modern-day visitors to Knoxville, just three hours east of Nashville on Interstate 40, have plenty of attractions to choose from. The Great Smoky Mountains National Park is a stone's throw away, while downtown Knoxville is home to the Women's Basketball Hall of Fame, and the historic Tennessee Theatre.
Knoxville is also home to the University of Tennessee. If at all possible, buy a ticket to a UT Vols football game. Their fanatical, orange-clad supporters are a sight to behold on game-days, easily filling the 100,000-seat Neyland Stadium, and raising a cacophony that can be heard right around the city. The downtown area known as the Jackson Avenue Warehouse District, immortalised by Cormac McCarthy's sprawling novel Suttree, is full of soot-blackened buildings, jazz bars, and funky home-style restaurants.