Carnegie Museums
In 1895, Pittsburgh industrialist Andrew Carnegie established an institute which he intended to improve and educate local people. Today, his ideal is realised in the form of a collection of four museums funded by the Carnegie Institute: a Museum of Art, Natural History, a Science Center, and The Andy Warhol Museum.
The Carnegie Museum of Art on Forbes Avenue has a notable collection of contemporary art that includes film and video works. The adjacent Natural History Museum takes visitors on a trip through time detailing the wonders of planet earth.
The Carnegie Science Centre at Allegheny Avenue offers planetarium and laser shows and a variety of hands-on activities and exhibits for old and young. The final museum in the Carnegie bouquet is the Andy Warhol in Sandusky Street, featuring extensive permanent collections of art and archives relating to one of the most influential American artists of the 20th century.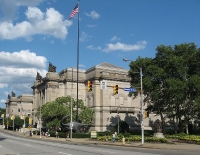 Carnegie Music Hall HoboJones
National Aviary
Situated in historic West Park on Pittsburgh's North Side, the National Aviary is a few minutes from downtown. It's the only independent indoor non-profit bird zoo in the USA and home to more than 600 birds of more than 200 species, many of which are threatened and endangered.
There are birds from just about every corner of the world, from hummingbirds to Andean condors. The zoo places emphasis on rainforest and wetland habitats with most birds kept in natural planted exhibits, allowing for close up views. The National Aviary is a great family attraction in Pittsburgh.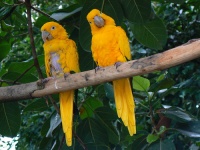 Golden Conures Benny Mazur
Point State Park
Formerly a slum, Point State Park in Downtown Pittsburgh is now a recreational delight. Declared a National Historic Landmark, it played a key strategic role during the French and Indian War in the middle of the 1700s.
Paved promenades feature along the Ohio riverfront, providing dramatic views of the city with its busy waterways, scenic hillsides, and bridges. The park is naturally landscaped and enhanced by a 150 foot (46m) fountain. There's also a biking trail, outdoor amphitheatre, and an inline skating route.
The Fort Pitt Museum is housed in one of the five original bastions of the ruined fort, devoted to displaying local history. The Fort Pitt Blockhouse are the oldest authentic building in Western Pennsylvania and also open to the public.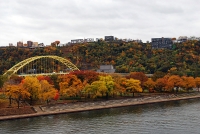 Point State Park John Marino
PNC Park
Since its opening in 2001, PNC Park has awed all those who've entered it. Consistently voted in the top three of all baseball stadia in America, PNC Park is a breath-taking example of how sports stadium architecture can be both artful and spectator-friendly.
With a capacity of just under 40,000, it is a relatively small stadium. But even the cheap seats command perfect views of the playing diamond. Beyond the bleachers, views of the river, the Roberto Clemente Bridge, Pittsburgh's skyline, and towering Mount Washington catch the eye.
While daytime tours of the stadium are thoroughly rewarding, visitors to Pittsburgh should do their best to attend a Pirates game. A magical atmosphere bubbles inside PNC Park as evening descends, the city lights starting to sparkle in the distance.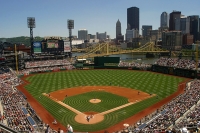 PNC Park alpineinc
Fallingwater
Just 60 miles (about 95km) southeast of Pittsburgh on Interstate 76, Fallingwater is a must-see attraction for visitors to the area. Designed by Frank Lloyd Wright in 1935 for retail giant Edgar J. Kaufman, the house sits among the waterfalls and woods of the beautiful Bear Run Nature Reserve.
It remains arguably the world's best example of organic architecture. A wondrous achievement, Wright managed to design a fully-functioning personal residence that blends fluidly and harmoniously with its natural setting.
The sound of rushing water is a constant, a whispering presence within the house. A boulder juts out into the living room and doubles as a hearth, while the windows open outward from the corners of the walls and leave no panes to obstruct the natural view.
This triumphant feat of individualistic artistic expression so inspired Ayn Rand that she largely based her novel The Fountainhead on the ingenuous creation. Fallingwater is included in the Smithsonian magazine's list of '28 places to see before you die' and visitors to Pennsylvania shouldn't pass up the opportunity. Make sure to booki well in advance.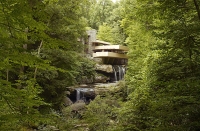 Fallingwater, Pittsburgh Carol M. Highsmith
Pittsburgh's climate fluctuates between humid continental and humid subtropical, with four distinct seasons. Pittsburgh winters, between December and February, are cold, with average temperatures between 21°F (-6°C) and 39°F (4°C), although the temperature can drop significantly lower.
In spring, things warm up quickly and summers, between June and August, are hot and sunny, with a range in humidity, and temperatures averaging between 58°F (14°C) and 82°F (28°C). Pittsburgh receives heavy rainfall, which is fairly evenly distributed throughout the year, but late spring and summer tend to be the wettest. Some snow does fall in winter.
Pittsburgh International Airport
Location:
The airport is located about 14 miles (22km) west of central Pittsburgh.
Time:
GMT -5 (GMT -4 from mid-March to the first Sunday in November).
Transfer Between Terminals:
The Landside and Airside terminals are linked by a moving walkway.
Getting to the city:
Several taxi, shuttle bus and limousine companies service the airport, providing transport to the city and nearby centres. Uber and other similar mobile app based taxi services are also available. Public transportation is limited to the Port Authority Transit 28X Airport Flyer, which departs roughly every 30 minutes, connecting to downtown Pittsburgh.
Car Rental:
Car hire companies represented at the airport include Alamo, Hertz, Enterprise, Avis, Budget, Dollar, National and Payless.
Airport Taxis:
Taxis are readily available at the airport.
Fascilities:
There are a wide variety of shops, restaurants and bars in the two terminals. ATMs, currency exchange services, a business lounge and an information desk are also available. Disabled facilities are good.
Parking
Short-term parking is available just outside the terminal. It costs $1 for the first hour, and $4 per hour thereafter, up to $24 per day. Long-term parking at Pittsburgh International Airport costs $14 per day, and the extended-stay lots are just $8 per day.
Downtown Pittsburgh is compact and designed to benefit pedestrians, with parks and plazas spaced out between the office towers and shopping streets. If visitors need to travel further, they descend to the subway known locally as the 'T'. It's a small, clean, and reliable light rail system.
The city has an extensive bus network with multiple routes connecting downtown to the attractions on the north side, as well as Oakland and surrounding neighbourhoods. The Central Business District is a Free Fare Zone and buses are free from 4am to 7pm daily, while the 'T' is free 24 hours a day.
Pittsburgh's taxi cabs usually need to be called by telephone or hired at a taxi rank, rather than hailed on the street. Cars rental companies offer services in the city. Uber, Lyft, and other similar ride-hailing apps and taxi services are also available.
Set between rivers and sprawling across seven hills, a holiday in Pittsburgh offers a plethora of leisure options in a city built on the hard work and struggle of immigrant labour. It has neighbourhoods rich in culture, as well as important traditional treasures.
Pittsburgh is filled with things to do and see, from an 18th-century French fortress to the National Aviary. Strolling along the many picturesque footpaths is a pleasant way to while away the hours, boasting more bridges than any other city in the USA.
Culture enthusiasts particularly vacations in Pittsburgh, sporting world class museums, theatres, and the famed Carnegie Library. The Burgh also appeals to anyone interested in industrial history and architecture.
The best seasons to travel to Pittsburgh are spring and autumn when the weather is pleasantly mild. These seasons occur during the months of April, May, September and October.. Summers tend to endure uncomfortable heat waves, while winters are bitterly cold.