International Rose Test Garden
The International Rose Test Garden is the foremost of the famous rose gardens of Portland, founded in 1917 during World War I. It began when hybridists sent roses from around the world to keep them safe from the bombing in Europe.
Since then, the garden has served as a testing ground for new varieties. Fountains, paths, and statues enhance more than 7,000 rose bushes, representing some 550 varieties. Trained volunteers offer free tours.
Highlights of the garden are the award-winning miniature roses planted along the centre aisle, the Shakespeare Garden in the southeast corner, and the Frank L Beach Memorial Fountain, designed and built by local artist Lee Kelly. The Rose Test Garden is the centrepiece of the Portland Rose Festival, held each spring in Portland.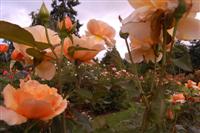 International Rose Test Garden Shubert Ciencia
Oregon Zoo
The award-winning Oregon Zoo is the oldest of its kind west of the Mississippi, founded in 1887. It covers 74 acres and is home to a vast variety of animals, including elephants, penguins, and polar bears. With the animals housed in their natural habitats, the zoo is an internationally recognised centre for wildlife preservation and research.
Combined with a programme of summer concerts, a variety of seasonal events, and an old fashioned railway ride connecting Washington Park, Oregon Zoo is one of the most popular tourist attractions in Portland. It draws around a million visitors a year. Opening times vary depending on the season so it's best to check the official website listed below for details.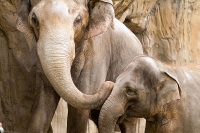 Asian Elephants at Oregon Zoo Stuart Seeger
Lan Su Chinese Garden
Named the 'Garden of Awakening Orchids', this walled classic garden in Portland's Chinatown is a replica of traditional gardens found in Suzhou, Portland's sister city in China. It combines the elements of water, stone, architecture, literature and plants to create balance and harmony.
The garden is both a living museum of flora and fauna and a cultural heritage garden, containing interesting specimens like Chinese paper bush, water daphne, and Chinese plum. The classical tea house in the evocatively named Tower of Cosmic Reflections.
It offers a tactile experience of the art and culture of Chinese tea. This attraction adds variety to a garden tour of Portland and generally receives rave reviews. Opening times vary according to season.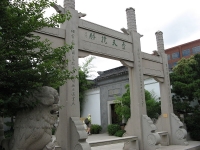 Lan Su Chinese Garden, Portland Eleonora Corsi
Pearl District
The trendiest neighbourhood in downtown Portland, the Pearl District is the place to see and be seen. The district was once a decaying industrial area, but today the old buildings have come alive with new purposes.
Old warehouses have been turned into desirable loft residences and the streets are lined with restaurants, cafes, wine bars, upmarket shops, and art galleries. Gallery walks occur on the first Thursday of each month.
The Pearl is also home to Portland's iconic Powell's Bookstore, arguably one of the finest in the entire country. The Pearl District is well worth a visit, especially for those interested in urban renewal and sustainable redevelopment.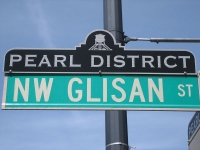 Pearl District, Portland AtlasPDX82
Museum of Science and Industry
Affectionately known as OMSI, the Oregon Museum of Science and Industry is a feast of fun for young and old. It includes fascinating permanent exhibits dealing with maths, science and technology, and laboratories where children can undertake science experiments.
The complex also contains a planetarium, one of the most technologically advanced in the country. There's also the Omnimax theatre and the USS Blueback submarine. The museum also hosts a plethora of interesting temporary exhibitions, proving captivating for the whole family and a great Portland attraction for a rainy day.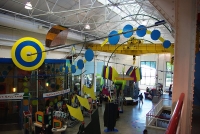 Oregon Museum of Science and Industry M.O. Stevens
Hoyt Arboretum
The Hoyt Arboretum is home to an outstanding collection of rare and exotic tree species. Located within Washington Park and about two miles west of downtown Portland, the 187-acre arboretum is nothing less than a living laboratory.
It boasts more than 10,000 individual trees and shrubs, from more than 1,100 different species. These include a few specimens of Dawn Redwood, a tree thought for many years to be extinct. The trees are arranged by taxonomy and geography, making them easy to identify.
The arboretum consists of 12 miles (19km) of walking trails, a visitor's centre that is open six days a week, an enormous picnic shelter, and a meadow. Guided tours are available Saturdays between June and September, for a small fee. Visitors of all ages will enjoy spending time in this urban oasis on the banks of the Willamette River.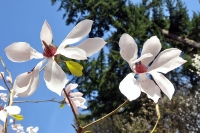 Hoyt Arboretum, Portland Sean Fornelli
Portland has a temperate oceanic climate, with four distinct seasons. Winters, between December and February, are mild and wet, while summers, between June and August, are warm and comparatively dry. Summer temperatures average between 53°F (12°C) and 81°F (27°C), but temperatures can be substantially higher during heatwaves.
Winter temperatures average between 35°F (2°C) and 51°F (11°C). Spring and autumn are generally mild but unpredictable seasons. Rain is less common between June and September, but the weather is extremely wet between November and April.
The restaurants in Portland have developed a great reputation over the past few years, with fresh local ingredients being prepared in creative ways by ambitious young chefs. There is no end to dining options in Portland, with many small neighbourhood eateries proving to be hidden gems.
Portland cuisine tends towards organic, locally-produced foods. In keeping with the city's eco-friendly reputation, there's an abundance of venues that cater to vegetarians and vegans. There isn't any real dining district, so one of the main inconveniences may be simply finding the establishments.
However, both the Pearl District and Nob Hill neighbourhoods have a good selection of restaurants to please most tastes. A fun and budget dining option for travellers on the go is the army of food carts in the downtown area, with options including Mexican tacos, Korean barbecue, Belgian fries, and American hot dogs.
Blossoming Lotus
This delightful vegan restaurant has a creative and varied menu which will please everybody, even those who ordinarily can't imagine a meal without meat. The world cuisine is tasty and the dishes are colourful and pretty, benefiting greatly from organic ingredients. The Blossoming Lotus is open for lunch on weekdays, brunch on weekends, and dinner daily.
Address:
1713 NE 15th Avenue
Andina
This immensely popular restaurant is ideal for special occasions, serving up beautifully presented Peruvian dishes. The menu reflects a pleasing balance between the traditional and the modern, with inventive twists on Peruvian favourites. The restaurant is open daily for lunch and dinner. Reservations recommended.
Address:
1314 NW Glisan Steet
Screen Door
A bastion of Southern comfort food in the American Northwest, Screen Door serves up classics like brisket, pulled pork, gumbo, and their famous fried chicken and waffles. All have generous sides of cornbread and sweet potato fries. Screen Door is casual and doesn't take reservations, so be prepared to wait up to an hour for a table at peak times.
Address:
2337 East Burnside
Voodoo Doughnut
One of the most famous and quirkiest restaurants in Portland is Voodoo Doughnut, a wildly popular doughnut shop in 3rd Avenue. Patrons can buy pastries, have a beer, and get married all in the same venue. Doughnuts range from the popular Bacon Maple Bar to strangely-named creations like the cereal-covered Captain My Captain. Voodoo Doughnut is open late and can have queues around the block on Saturday and Sunday mornings, so one should go late at night or during the week.
Portland International Airport
Location:
The airport is situated nine miles (14km) from downtown Portland.
Time:
GMT -8 (GMT -7 from mid-March to the first Sunday in November).
Getting to the city:
Portland's MAX light rail system serves the airport, connecting to the heart of the city. There's a travel time of around 40 minutes and trains depart roughly every 15 minutes. Taxis, shuttles, buses, and rental cars are also available. All transportation pickups occur on the airport terminal's lower roadway which is on the baggage claim and departure level.
Car Rental:
The Car Rental Center on the first floor of the parking garage includes Avis, Dollar, Enterprise, National, and Hertz offices. Alamo, Budget, Payless, and Thrifty have shuttles which take people to their premises off site.
Airport Taxis:
There are a few taxi companies which serve the airport. They may need to be ordered by telephone for late night arrivals. Reputable providers include Broadway Cab Company and Green Cab, amongst many others.
Fascilities:
The airport has several ATMs, a currency exchange bureau, and a shopping mall which includes restaurants, coffee bars, and pubs. There is also wifi, a postal service, an information desk, and a state-of-the-art conference centre.
Parking
Portland International offers ample parking options, including long-term and economy in close proximity to the terminal building. Valet parking costs about $10 per hour or $30 per day. Short-term parking starts at around $3 per hour and costs $27 per day. Long-term parking costs about $21 per day and economy parking is $10 per day.
Portland Jazz Festival
The annual Portland Jazz Festival aims to promote jazz by presenting international jazz masters as well as talented local musicians in a series of concerts, free performances, films, lectures, and exhibitions. February is also Black History Month, with jazz education and outreach programs.
The dynamic sounds of jazz have enlivened the Portland area since the days of World War II, when thousands of African Americans came to work in the Kaiser shipyards. After the war, local jazz pioneers hosted backyard jam sessions. Past festivals have included artists such as Dianne Reeves, McCoy Tyner, Don Byron, Eddie Palmieri, and Nancy King.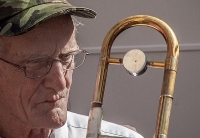 Trombone Lip Paul VanDerWerf
Portland Saturday Market
The Portland Saturday Market is one of America's largest open-air craft markets. There are more than 250 stalls selling handcrafted items and delicious homemade and ethnic food. There is an intimate, down-to-earth spirit here as visitors interact with the artists and watch them work.
Situated in Portland's historic Old Town, the market features live music and other events to add a festive atmosphere to the shopping scene. Portland is proud of its famous market, which is a community institution and well-loved by both locals and visitors. For information on what's available at the market, check out the official website listed below.
Venue:
Old Town at SW Ankeny Street and Naito Parkway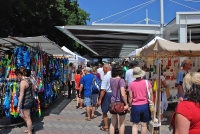 Saturday Market, Portland Steve Morgan
Oregon Brewers Fest
The Oregon Brewers Festival is one of America's longest-running and most beloved craft beer festivals, taking place every year at Tom McCall Waterfront Park on the banks of the Willamette River. Over the course of the weekend, a crowd in excess of 80,000 consume craft beers from more than 80 of the nation's foremost microbreweries.
There will also be live music on the go for all four days of the festival, home-brewing demonstrations, and an assortment of high-quality food stalls dotted around the venue. The best part is that with the MAX Light Rail system just a stone's throw away, visitors won't even have to drive home.
Venue:
Tom McCall Waterfront Park, Portland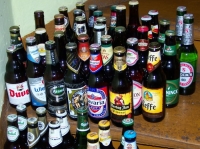 Assorted Beers Nejmlez
Getting around Portland is quick and easy on the city's award-winning light rail system, nicknamed 'MAX' (Metropolitan Area Express). It extends to the east and west of downtown, with a spur to the Portland International Airport.
MAX also connects to the popular attractions at Washington Park about 10 minutes from the city centre. Portland has a streetcar system connecting the downtown cultural district to the Portland State University, the Pearl District and Nob Hill.
The Tri-Met bus service covers the town centre and suburbs. Taxis are readily available, with regulated rates, and those who prefer to hire a car will find plentiful car rental companies.
Recently certified as America's greenest city, Portland is flush with beautiful parks and gardens which grow alongside a river. On its backdoor sits mountains, ocean seascapes, and arid desert, making it the ideal base for those looking to experience the state's great outdoors.
The most celebrated scenic areas in the region include the Columbia River Gorge National Scenic Area, Forest Park, Washington Park and Oneonta Gorge. There are also famous gardens, with favourites including the International Rose Test Garden, the Portland Japanese Garden, the Lan Su Chinese Garden, the Hoyt Arboretum, and the Crystal Springs Rhododendron Garden.
The city is a flouring centre for the arts and boasts one of the best public transport systems in the country. There may be tourist passes available, providing more affordable entry to some of the city's most popular attractions.
Cannon Beach
Cannon Beach in Oregon is the most famous and popular stretch of coastline known to Portland tourists. The dominant Haystack Rock is a 235-foot (71m) steep formation that is reachable on foot when the tide is low.
William Clark of the Lewis and Clark Expedition first set foot on the sand in 1805. The same nine miles (14.5km) of beach, beautiful hiking trails, and tidal pools filled with sea life are there for new explorers to discover.
A tourist-focused beach town gives present day travellers quaint hotels, cottages, and restaurants. Cannon Beach hosts a number of popular events in the summer, including a sandcastle building competition in June.
The town's Fourth of July celebrations are also festive, including a parade and military flyover. Visiting the area during the events requires forward planning as accommodation is generally booked far in advance.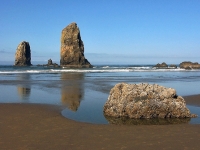 Cannon Beach Tobias Haase
Mount Hood
Mount Hood, 67 miles (108km) east of Portland, is one of the most popular ski resort areas in Oregon. Dominating the Portland skyline, Mount Hood is a great place to get away from the city for a weekend ski break.
The mountain is home to three resorts: Mount Hood Meadows, Timberline, and Skibowl, all allowing for both downhill and cross-country skiing, as well as night skiing. Mount Hood is also a much loved summer getaway from Portland.
It has a wide range of activities on offer, such as horseback riding, mountain biking, and many good hiking trails. Several lakes, including Trillian Lake and Little Crater Lake, have camping facilities as well as water sports.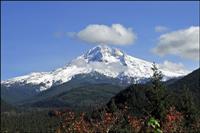 Mt Hood Tony Fischer
Eugene
As one would expect from a city with a memorial statue of the 'Merry Prankster' Ken Kesey, Eugene is an offbeat place. It has students from Oregon University a well as people seeking out alternative lifestyles, from old school hippies to new age hipsters.
Despite its modest size, Eugene has a thriving arts community. There are also lots of outdoor sports opportunities available to visitors, with running, cycling, white-water rafting, and kayaking proving especially popular.
There are plenty of art museums in Eugene, and the region is also famous for its wineries. Some of them are just a short scenic drive away. Visitors are strongly encouraged to walk the streets of the city and to chat to some of the locals before enjoying the vibrant nightlife that's on offer.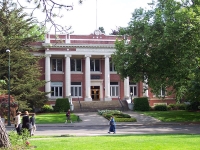 University of Oregon, Eugene Adam850