Omaha Zoo
In carrying out its mission of conservation, the Omaha Zoo has created Lied Jungle, America's largest indoor rainforest. Visitors can also explore the Scott Aquarium, Desert Dome, Cat Complex, Hubbard Gorilla Valley, and Orangutan Forest. The zoo also offers train and tram rides, the TreeTops Restaurant overlooking the rainforest and a variety of other fun activities, attractions, and refreshment options. For those who don't want to visit the restaurants, there are lovely picnic areas at the zoo, and plenty of snack kiosks.
Omaha's Henry Doorly Zoo & Aquarium is widely acknowledged as being one of the best in the USA and should delight visitors of all ages. The zoo can easily fill a whole day with family entertainment if explored thoroughly.
Address:
3701 South 10th Street
Opening time:
March to October 9am-5pm daily. November to February 10am-4pm.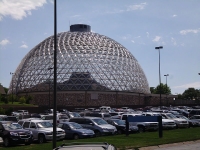 Desert Dome at Omaha Zoo Dual Freq
Strategic Air and Space Museum
The Strategic Air and Space Museum in Omaha, regarded as the nation's foremost facility of its kind, showcases World War II and Cold War era aircraft and artefacts to illustrate the historical role of strategic air command in securing peace. The museum's exhibits, multimedia displays, and educational programmes are also forward-looking, generating excitement among the next generation about the future of aviation, aerospace, and engineering. The whole family should enjoy a visit to this interesting attraction, which is both educational and entertaining. Many special events and exhibitions are also hosted by the museum - check the official website listed below for information on what is showing during your visit.
Address:
28210 West Park Highway, Ashland
Opening time:
Open daily 9am-5pm.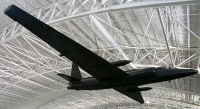 Strategic Air and Space Museum unbekannt
Bemis Center for Contemporary Arts
The Bemis Center for Contemporary Arts, just south of the Old Market district, was founded on the principle that exceptional talent deserves to be celebrated. Artists from around the world apply to participate in the centre's residency program, in which they are given studios and accommodation, freeing them to focus on creative growth and experimentation. The centre presents more than 20 exhibitions annually in its three main galleries, featuring emerging and established artists and spanning all visual media. Check the official website listed below to see what's showing at the Bemis Center during your stay in Omaha.
Address:
724 South 12th Street
Opening time:
Gallery Hours: Wednesday 11am-5pm, Thursday 11am-9pm, Friday 11am-5pm, Saturday 11am-5pm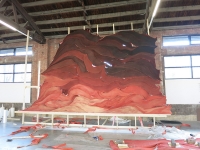 Bemis Center for Contemporary Arts Charlie Vinz
Omaha Childrens Museum
This fun-filled and award-winning interactive museum is designed to educate and engage kids of all ages. The various exhibits and activities include the ever popular Imagination Playground and Sandy's Splish-Splash Garden. The Charlie Campbell Science and Technology Center features the Inventor's Workshop, the amazing whirligig station, and live science presentations like Whiz Bang Super Science and The Amazing Bubble Show. At the Creative Arts Center children can release their inner artist and create their own masterpieces in whatever medium takes their fancy. Although the exact diversions on offer may change from time to time, the Omaha Children's Museum guarantees a great day out for kids and adults alike.
Address:
500 South 20th Street
Opening time:
Tuesday to Friday 10am-4pm, Saturday 9am-5pm, Sunday 11am-5pm, closed Monday.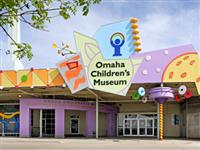 Omaha Childrens Museum Ckahler
Omaha has a humid continental climate, with hot, humid summers and cold winters. Violent thunderstorms and even tornadoes are possible in the summer months. In July, the hottest month of summer, temperatures frequently reach 90°F (32°C) and can rise significantly higher. In January, the coldest month of winter, temperatures regularly drop as low as 0°F (-18°C), though the daily average temperature is 23°F (-5°C). Snow is common in winter, and can range from a light dusting to heavy blizzards. Many visitors prefer the milder weather of spring and autumn in Omaha.
Eppley Airfield - Millard Airport
Location:
The airport is located four miles (6km) northeast of downtown Omaha.
Time:
GMT -6 (GMT -5 from mid-March to the first Sunday in November).
Transfer Between Terminals:
The terminals are all connected.
Getting to the city:
Taxis, shuttles, and rental cars are available at the airport. Bus route 16 (East Omaha/North 16th) services the airport on weekdays between about 6am and 6.25pm.
Car Rental:
Alamo, Avis, Budget, Dollar, Enterprise, Hertz, National, Payless, and Thrifty offer car rental services at the airport.
Airport Taxis:
Taxis are available at the airport including companies, Happy Cab, Checker Cab, Yellow Cab, Safeway Cab, and City Taxi.
Fascilities:
Facilities at the airport include food courts and snack bars, lounges, retail outlets, ATMs, a bank, conference rooms, and a shoe shine service.
Parking
The covered parking facility has both quick-park and long-term spaces. Surface parking within walking distance of the terminal is available, as is long-term economy parking with shuttle service. Charges vary by lot, but most charge $1 per 15 minutes for the first hour, with daily rates from $7 in the North Long Term Economy parking to $26 in the Quick-Park Garage.
Omaha is a Midwestern city and is therefore no stranger to urban sprawl, being designed primarily to be navigated by car. Thus, a rental car is the most convenient option for getting around. A fairly comprehensive fixed-route bus service is provided by Metro Area Transit, however, travellers should note that many bus routes only operate on weekdays. In the central downtown area, walking is a pleasant option when shopping and dining in the Old Market area, attractions like the riverfront and the Convention Center and Arena can be reached on foot. However, taxi availability can be erratic, and for sightseeing outside this downtown area, a car is best.
With its indie music scene and various arts initiatives, including the Bemis Center for Contemporary Arts residency programme, Omaha is becoming a beacon for the progressively creative. Rooted in the Midwest, however, it is also a great place for families, who will enjoy the zoo, Omaha Children's Museum and Fun Plex, Nebraska's largest water park.
Old Market is the undisputed tourist hub of the city with numerous wonderful shops, restaurants and historic buildings to explore. When pounding Old Market's charmingly uneven pavements becomes tiring, the Heartland of America Park next door is perfect for leisurely strolls along the mighty Missouri River and a rest in the shade. Visitors can also explore the largest indoor rain forest in the US at the famous Henry Doorly Zoo & Aquarium; historic aircraft and missiles at the Strategic Air and Space Command, the foremost museum of its kind; and perhaps catch a glimpse of one of America's richest men and lifelong Omaha resident, Warren Buffett, dining at Gorat's, his favourite local steakhouse.
For financial gurus, the only time to visit is in the spring, during the annual Berkshire Hathaway meeting, when Omaha becomes the centre of the financial universe for one weekend. Even for the less stock-savvy, spring is a good choice, as is autumn, when the weather is milder than in summer and winter.