Billings, an old railroad town in Montana with humble beginnings, is a unique destination offering a big city appeal as well as access to open spaces and beautiful landscapes.
History is a key drawcard to this city. Visitors to the Pictograph Cave State Park can venture to the prehistoric era with its cave paintings over 2,000 years old, still in their original state. The Western Heritage Center in downtown Billings, home to over 16,000 historical artefacts from the Yellowstone River Valley, is a popular choice with history buffs, as is the Moss Mansion Historic House. Placed on the National Register of Historic Places, the 1903-built Moss Mansion has been preserved to capture family life as it was way back when in the state of Montana and draws in many visitors each year.
For those with a penchant for the arts, the Yellowstone Art Museum is a most memorable stop with exhibits of both contemporary and historic art from the Rocky Mountain West. Billings is also home to a Performing Arts Center as well as several theatres and a symphony orchestra.
Visitors in search of some open space and natural beauty need only take a short drive to the Chico Hot Springs set in the aptly-named Paradise Valley. Chico Hot Springs is home to two open-air mineral pools as well as many outdoors activities such as horseback riding, hiking, white-water rafting, fly fishing, and more. A drive to Missoula will prove a unique excursion filled as it is with hippies and students.
With a history of providing visitors with much to explore, as well as some incredible outdoor activities, Billings makes for a memorable visit.
Custer National Forest
The Custer National Forest is scattered across Montana, North Dakota and South Dakota, but the forest headquarters are in Billings, Montana, and most hiking and camping is undertaken in the part of the forest located about an hour's drive to the south of the city. Custer is the most ecologically diverse forest in the north of the USA, renowned for its lake and stream fishing and home to mountain goats, big horn sheep, elk, muley and white-tailed deer, black bear, cougar, and moose. A popular outing from Billings is to follow the spectacular Beartooth Scenic Byway. The Beartooth area is also one of the gateways to Yellowstone National Park.
Address:
1310 Main Street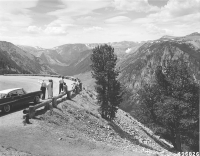 Custer National Forest Forest Service Northern Region
Yellowstone National Park
The world's first national park, Yellowstone was established in 1872 and despite its popularity today, most of the park still remains an undeveloped wilderness of magnificent mountain scenery, waterfalls, alpine lakes and rivers. It is renowned for its geothermal wonders and abundance of wildlife. Spilling over into Wyoming and Idaho, the enormous park is situated on top of the Yellowstone Caldera, a collapsed volcanic crater that was formed 600,000 years ago and holds within it the greatest geothermic area in the world. This unique environment includes features such as exploding geysers, thousands of steaming fumaroles, hot springs and bubbling mud pools. The park also includes one of the state's most popular attractions, the Old Faithful Geyser, which draws thousands of tourists to witness its regular eruption of steaming water.
Yellowstone is home to the largest concentration of wildlife in lower USA, including grizzly and black bears, wolves, moose, and large herds of bison and elk. The two narrow waterfalls of the Grand Canyon of the Yellowstone River cut a striking picture in the yellow-coloured rock that gives the park its name, with superb views and hiking trails for all abilities. The large alpine Yellowstone Lake fills the eastern part of the caldera and offers opportunities for boating and fishing expeditions in summer. All places of interest are accessible along the loop roads, but the intensity of visitors in summer, especially between July and August, means that one needs to hike away from the main paths to experience the true wilderness of Yellowstone National Park.
Transport:
A bus service from Bozeman to West Yellowstone is available all year. Commercial transportation from Bozeman to Gardiner is available during the winter and summer seasons
Opening time:
The five major visitor centres are open in summer only, generally from 8am to 7pm daily, except the Albright Visitor Center, which is the largest and is open year-round with reduced hours in winter. Of the park's five entrances, the North Entrance near Gardiner is the only one that remains open year-round to traffic. Some areas and roads are not accessible during winter.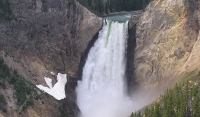 Yellowstone Falls in Yellowstone National Park Scott Catron
Missoula
The 'Garden City' doesn't have much in the way of gardens, but Missoula is an outdoor sportsman's Eden. Downtown is a collection of unique shops and lively bars where it is easier to walk or bike than drive. The University of Montana starts right where the hill ends and is a beautiful campus to wander, or catch a football game to see the Montana Grizzlies playing.
Tourists often visit Missoula for outdoor activities of all kinds from skiing, kayaking, hiking, and rock climbing, to hang-gliding and mountain biking. Festivals from Ale Fest (beer) to Testy Fest (cow balls) make their home here, so come ready to celebrate and play.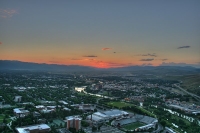 Missoula and the surrounding scenery. Prizrak 2084
Pictograph Cave State Park
Listed as a National Historic Landmark, Pictograph Cave State Park, located just six miles (10km) south of Billings, provides an ideal setting for a wonderfully scenic, historically fascinating day-trip.
Covering an area of 93 acres, the park is home to a complex of three caves, Ghost, Middle, and Pictograph, all linked by a paved walking trail. Two of these three caves contain evidence of habitation dating back over 4,500 years ago. To date, more 30,000 historical artefacts, such as bone tools, arrow heads, and beaded jewellery, have been discovered within the park. The pictographs that give the park its name date back more than two millennia, and their meaning is still being debated by archaeologists.
Visitors to the park can anticipate pristine picnic areas, and interpretive signage, which provides good information about the prehistoric paintings, as well as the area's geology and vegetation.
Address:
3401 Coburn Road
Opening time:
September, April, and May: daily 9am-6pm (Visitor Center 10am-4pm). May through August: daily 9am-7pm (Visitor Center 10am-6pm).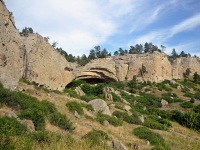 Pictograph Cave in Pictograph Caves State Park Tbennert
Chico Hot Springs
Though they're hardly in a fashionable area, the unpretentious Chico Hot Springs are quickly becoming a popular attraction in Montana, drawing guests from New York and Hollywood. Set in the aptly-named Paradise Valley near the town of Emigrant, the springs contains two open-air mineral pools with temperatures around 93°F (34°C), perfect for relaxing. There's a restaurant and a lively bar onsite, and outdoor activities like horseback riding, dogsledding, hiking, fly fishing, white-water rafting, and cross-country skiing are on offer.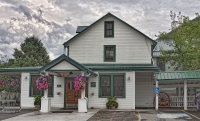 Chico Hot Springs David Coats