Walker Art Center
Internationally renowned for its permanent collection of 20th century paintings, drawings, prints, photography and sculptures, the Walker Art Center is one of the country's leading contemporary art centres and is one of the most visited museums in the USA. It features works by top artists in a range of styles, utilising various multi-media installations and educational programs.
Contemporary art can also be experienced here through theatre, dance, video, music and film. Next door is the Minneapolis Sculpture Garden with creative contemporary work spread across a huge area of parkland. It is the largest urban sculpture park in the country and includes the colossal Spoonbridge and Cherry Fountain by Claes Oldenburg and Coosje van Bruggen, and Frank Gehry's Standing Glass Fish. Visitors can also cross the highway to Loring Park via the Irene Hixon Whitney Bridge, and enjoy the poetry written along the walkway.
Address:
1750 Hennepin Avenue, Minneapolis
Opening time:
Sculpture Garden: daily 6am to midnight. Galleries: Tuesday to Sunday 11am-5pm, closes 9pm on Thursday.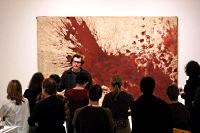 Walker Art Center www.walkerart.org
Mall of America
Located in the southern suburb of Bloomington, the futuristic superstructure of the Mall of America is recognised as the largest enclosed shopping and entertainment complex in the country. It welcomes more than 42 million visitors each year and is the fifth most visited attraction in the USA with world-class shopping, family entertainment, nightlife and numerous dining options. Located conveniently close to the airport, some international tours are specially arranged for holiday shopping!
There are more than 500 stores and specialty shops including the Lego Store, international department stores such as Bloomingdales, more than 70 restaurants and fast food outlets, cinemas, theatres and nightclubs, a wedding chapel, bowling alley, and a mini-golf course.
Sea Life Minnesota is a massive aquarium with touch pools featuring sharks and stingrays, and glass-enclosed tunnels with moving walkways that go right through the aquarium. The Mall of America's famous centrepiece is Nickelodeon Universe, an indoor theme park with more thirty rides and adventures for children and adults.
Address:
24th Ave S. and Killebrew Drive, Bloomington
Opening time:
Mall open Monday to Saturday 10am-9.30pm, Sunday 11am-7pm. Hours for restaurants, nightclubs and other attractions may vary, as well as summer and holiday hours. Nickelodeon Universe: Monday to Thursday 10am-9.30pm, Friday and Saturday 10am-10pm, Sunday 10.30am-7.30pm. Aquarium: Monday to Thursday 10am-7pm, Friday 10am-8.00pm, Saturday 9.30am-8.00pm, Sunday 10am-6.30pm.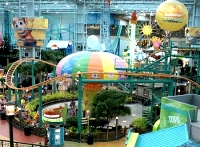 Nickelodeon Universe at the Mall of America Flickr: Aine D
Valleyfair
Valleyfair is the largest amusement park in Minnesota, with 125 acres of rides and attractions ranging from high-speed roller coasters to midway games and an IMAX theater. Valleyfair also has the Soak City Waterpark with a range of waterslides and pools, and Challenge Park, which features the RipCord SkyCoaster.
The amusement park's most famous ride is the Wild Thing roller coaster, which travels at 74 mph (120kph) with a drop of 196 feet (60 metres). There is also a Berenstein Bears children's play area and a variety of restaurants and food court areas. Open from spring to autumn, Valleyfair hosts ValleySCARE Halloween-themed attractions every October.
Address:
1 Valleyfair Drive, Shakopee
Opening time:
Daily June-August, selected days in May, September and October with varying hours. Check the website for specific dates.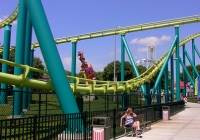 Fair grounds www.stevemease.com
Target Field
Home to the Minnesota Twins Major League Baseball team, Target Field was built in 2010 and is considered one of the most state-of-the-art baseball stadiums in the world. Minnesotans tend to be rather affectionate toward their team, and a day at the ballpark is a fun family activity for Minnesota tourists of all ages; an added bonus is that fans get a picturesque view of the downtown Minneapolis skyline.
The stadium itself is beautifully and intricately constructed, and daily tours reveal hidden secrets like the players' locker rooms, clubhouse, and the elaborate underground systems that both heat and irrigate the field.
Address:
1 Twins Way (3rd Ave. N, between 5th St. N and 7th St. N), Minneapolis
Transport:
The Hiawatha Light Rail and Northstar Rail line both have stops at Target Field.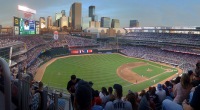 Target Field drumminhands
Minnesota Zoo
A huge state-of-the-art zoo with over 40 acres of habitats housing more than 2,000 creatures of all kinds, the Minnesota Zoo is a fantastic attraction for those travelling with kids in Minneapolis. It features animals from every continent in large habitats that mimic their natural environments, and an enormous aquarium. Popular attractions include the gorillas, tigers, meerkats, and red pandas.
Kids can interact with animals in the touch pool and petting zoo, and when the weather is uncooperative the IMAX Theatre is a place to escape. The various themed trails of the zoo are long, and one can easily spend an entire day exploring them. The zoo has a food court and gift shop, and hosts concerts in the summer. A new attraction is the enormous carousel, featuring 56 hand-carved animals representing zoo inhabitants.
Address:
13000 Zoo Boulevard, Apple Valley
Opening time:
Hours vary according to season. See the website for current times.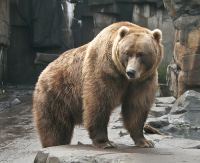 Minnesota Zoo clairity
Minnesota History Center
This large museum showcases everything about Minnesota's history, with interactive exhibits ranging from blizzard and tornado simulations to a grainbelt exhibit with slides and a 24-tonne boxcar, and even a Rock n Roll Hall of Fame with Prince's famous purple jumpsuit. Ever-changing temporary exhibits as well as events and lectures mean there is always something new to learn.
The museum is family-friendly, with plenty of activities and programmes for kids, including the Museum Theatre and History Players. Conveniently located in downtown St Paul, the Minnesota History Center is a must-visit for anyone interested in learning about the state's fascinating history.
Address:
345 W. Kellogg Boulevard, St Paul
Opening time:
Tuesday 9am-8pm, Wednesday to Saturday 9am-4pm. Closed Sundays and Mondays.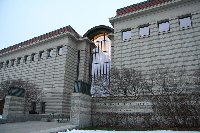 Minnesota History Center Jonathunder
Minnesota Childrens Museum
Children in the Twin Cities will love the Minnesota Children's Museum, aimed at kids six months to ten years old. Fun interactive exhibits allow children to go ice fishing, operate a crane, shovel coal into a locomotive engine, burrow their way through a giant anthill, or create a thunderstorm. Having entertained more than five million children since the 1980s, the award-winning Children's Museum is a must for families in Minneapolis and St Paul.
Address:
10 7th Street West, St Paul
Opening time:
Tuesday to Thursday 9am-4pm, Friday and Saturday 9am-8pm, Sunday 9am-5pm. Closed Mondays.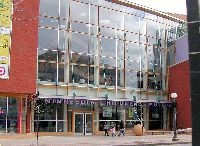 Minnesota Children's Museum Appraiser
Chain of Lakes
Minnesota is known as the 'Land of 10,000 Lakes', and there are plenty of lovely lakes within the Twin Cities for visitors to enjoy in the summers; some of the best are located southwest of downtown Minneapolis.
Lake Calhoun has a few sandy beaches with lifeguards on duty, good for sunning, swimming and volleyball, and a few good restaurants. The park offers canoe rentals and sailing lessons, and sailboarding is a popular activity here.
Lake of the Isles is a great place for a family picnic, and kids will enjoy the excellent climbing trees in the park. There are no public swimming beaches, however visitors can access the lake on boats rented from the adjacent Lake Calhoun.
Lake Harriet has excellent bike and jogging trails around the lake, and an outdoor bandshell that hosts local musicians on weekends. A popular area for families, Lake Harriet has swimming beaches, and a marina with boat rentals.
Lake Nokomis also offers a few swimming beaches and boat access. The park is conveniently located near shops along Cedar Avenue, making spur-of-the-moment picnics a fun option.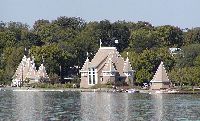 Lake Harriet William Wesen
Minnesota Science Museum
The Minnesota Science Museum is a much-loved family tourist attraction in St Paul. Often called the most popular museum in the Midwest, the building is a state-of-the-art facility housing dozens of interactive exhibits where children can learn about weather, biology, anthropology, paleontology, and many other branches of science.
The museum is also home to a 3D laser theatre, and the Midwest's only Omnitheater, a movie theater with reclined seats that shows stunning documentaries on its giant domed screen. Conveniently located near downtown St Paul, the Minnesota Children's Museum is an absolute must for those travelling with children in the Twin Cities.
Address:
120 West Kellogg Boulevard, St Paul
Opening time:
Sunday to Wednesday 9.30am-5pm, Thursday to Saturday 9.30am-9pm. Closed Mondays.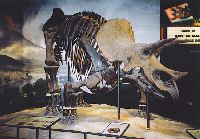 Science Museum of Minnesota Minnesota Jones
The Twin Cities have lots on offer to keep the little ones enthralled and entertained. With activities both indoors and out in the open air, children are guaranteed a great time no matter the weather.
With a number of top-notch museums for the whole family, children will be learning something as well as having fun. With the likes of the Science Museum with an Omnimax theatre and interactive exhibits; or the Mill City Museum, which showcases local history in a restored flour mill on the Mississippi River, children will love what the Twin Cities have to offer. The interactive Children's Museum, which offers lots of places to explore and things to do for younger children is also a popular choice, as is the Bell Museum of Natural History, with hundreds of animal specimens and an interactive 'touch and feel' room.
A visit to the Minnesota Zoo, with thousands of animals on display along with a monorail and IMAX theatre, is always a good way to keep children occupied and gives them an opportunity to learn along the way. For some pure unadulterated fun the Valleyfair amusement park is always cause for excitement, giving both kids and their parents a good time on any one of its many rides.
Families with children will not feel limited in any way when in the Twin Cities. There is lots to see and do, and there is lots of fun to be had at any one of its wonderful attractions.
The continental climate of the Twin Cities, Minneapolis and St Paul, is rather harsh because of the northerly and land-locked location. Winters, which fall at the end of the year, are bitterly cold, with abundant snow and average low temperatures plunging well below freezing. In fact, records show that the Twin Cities have maximum temperatures of below freezing point on 76 days out of the year. Summers, which fall between June and August, are mild to hot with highs of 84°F (29°C), but short-lived. The best time to visit Minneapolis is between August and September, which has idyllic weather around the 77°F (25°C) mark, and all the festivals and events the region can fit into the two-month period. Rainfall can occur all year round, but is most plentiful in June. The driest month is February.
Traditional Minnesota food conjures up images of hamburger casserole (locally referred to as 'hot dish') and 'jello salad' (jello filled with sliced bits of fruit). However, the restaurant scene in Minneapolis is quite trendy, and visitors will have no trouble finding any kind of cuisine they desire, ranging from Peruvian to sushi.
Dinkytown and Stadium Village (near the University of Minnesota) provide a variety of low-priced options for the collegiate crowd, while Northeast Minneapolis has a wide range of ethnic spots, ranging from Mexican and Ecuadorian to Middle Eastern and Polish.
Downtown, the options are even more varied: Nicollet Avenue is known as Eat Street for its eclectic fare, including many Southeast Asian options.
During the day, 2nd Avenue and Marquette Avenue become a foodie's paradise, as dozens of food trucks of varying descriptions descend on the curb to provide the city's office workers with fresh food.
A particular specialty of Minneapolis is the Juicy Lucy, a type of hamburger where the cheese is sealed into the meat patty rather than put on top. Two local restaurants, Matt's Bar and the 5-8 Club, both claim to be the inventors. However, local loyalty is split down the middle and either venue provides a filling experience.
Mickeys Diner
While it may not be haute cuisine, Mickey's Diner is a landmark on the St Paul map. The quintessential greasy spoon is open 24 hours a day, seven days a week, and isn't shy about much of anything. They'll boast about their thick milkshakes, juicy burgers and cranky waitresses with equal fervour. The iconic dining car is done up in a distinctive art deco style, and has been featured in several movies, including The Mighty Ducks and A Prairie Home Companion.
Address:
36 W. 7th Street, St. Paul
Loring Pasta Bar
The decor in this Dinkytown restaurant shouldn't be missed. It's both chic and whimsical and totally unlike any other eatery in the Twin Cities. The three-storey dining room is light and airey during the day, but packed at night when the Loring hosts live music, which is almost nightly. The menu is aimed at the university crowd as it's right on the edge of the University of Minnesota campus, but with a sophisticated flair. It heats up on weekends with Salsa nights.
Address:
327 14th Ave SE, Minneapolis
Mannys Steakhouse
Manny's Steakhouse in downtown Minneapolis is focused on the best: the best cut of meat, the best liquor, and the best service possible. This comes at a price, of course, as Manny's is one of the most expensive restaurants in the Twin Cities. Loyal patrons insist you get what you pay for though, as the food is excellent and the portions huge. The tables are close together and the atmosphere is usually bustling, so it isn't the place for a quiet, intimate meal.
Address:
825 Marquette Ave, Minneapolis
Midtown Global Market
The Midtown Global Market is an international hodgepodge of of freshly-prepared food from every corner of the world. Visitors can sample fare from Mexico, Italy, Israel, Sweden, Vietnam, and other exotic locales. The market also features specialty groceries and eclectic international shops, making it a one-stop shop for food, gifts, and more. Stalls trade Monday to Saturday 10am-8pm, and Sunday 11am-6pm.
Address:
Lake Sreet & Chicago Avenue
Chino Latino
This popular Minneapolis restaurant in the heart of Uptown blends Latin and Asian cuisine for a mixture that seems to please everyone. The food is served family-style, and includes diverse options like Jamaican Jerk Chicken and Philippine Paella. Reservations are recommended, and there are several dishes that must be ordered in advance, including Fidel's Capitalist Pig Roast (Havana-style suckling pig), and the Cuy Disponible (guinea pig).
Address:
2916 Hennepin Ave, Minneapolis
Minneapolis-St Paul International Airport
Location:
The airport is situated 12 miles (19km) from Minneapolis and 8 miles (13km) from St Paul.
Time:
GMT -6 (GMT -5 from March to November).
Transfer Between Terminals:
The airport's two terminals are linked by covered walkways, shuttles and a free light rail.
Getting to the city:
A Ground Transportation information booth provides passengers with information and directions. City buses leave from the Lindbergh Terminal to both Minneapolis and St Paul. A light rail operates between the airport, downtown Minneapolis and Mall of America. SuperShuttle provides a shared van door-to-door service to the local cities and towns. Taxis are also available.
Car Rental:
Car rental companies include Alamo, Avis, Budget, Dollar, Enterprise, Hertz and National. Shuttle buses to the off-site rental companies are accessible from the Transit Center.
Airport Taxis:
Taxis are available at both terminals. The journey from the airport to Minneapolis is approximately 12 miles (19km), costing $39-49; and to St Paul is around 8 miles (13km), costing $31-38. To reach the taxi booth from the Lindbergh Terminal, cross through the Tram Level (Level T) toward the parking ramp and go up one level.
Fascilities:
North Star Crossing in the Lindbergh Terminal is a collection of numerous shops, restaurants and food courts. Other facilities include ATMs and bureaux de change, duty-free and a children's play area. Business centres situated throughout the airport offer internet, fax and photocopying services. Wireless internet access is also provided. The nearby Hilton hotel offers its rooms and gym facilities at day rates. Disabled facilities are good. Those with special needs should contact their airline in advance.
Parking
Parking for the Humphrey Terminal is in the orange and purple ramps; Lindbergh Terminal parking is in the blue, green, red and gold ramps. All parking is connected to the terminals via skyways. Short-term parking is $5 for the first hour and $3 per hour thereafter up to $26 per day. Value parking in the orange ramp is $19 per day, connected to the Humphrey Terminal by skyway and the Lindbergh Terminal by light rail.
The Twin Cities' nightlife is concentrated mostly in Minneapolis. While St Paul has a number of relaxed bars and pubs and a few live music venues, it tends to be much quieter and goes to sleep earlier than its counterpart across the river.
Minneapolis buzzes at night, with enough bars, clubs, pubs, restaurants and live music venues to satisfy those with voracious cultural appetites. Minneapolis' nightlife is concentrated in several neighbourhoods, each with its own personality. The Warehouse District is an up-and-coming hotspot with trendy restaurants, clubs, and cocktail bars for those who like to see and be seen; Nicollet Mall has some of the city's longest-running music venues, like the Dakota Jazz Club, next to Orchestra Hall and a number of top restaurants; the Hennepin Theatre District is home to the Block E collection of restaurants and bars, along with Minneapolis' big three theatres, the State, the Orpheum, and the Pantages. A more offbeat experience can be had at the Wabasha Street Caves in St Paul, which served as speakeasies during prohibition and now host swing dancing on Thursdays.
Minneapolis is known as a hub of theatre and classical music in the midwest United States, with several venues, like the Guthrie, Ordway, State and Orpheum Theatres, enjoying national reputations. The Minneapolis Fringe Festival happens every August and showcases highlights from local companies. The Minnesota Opera, the St Paul Chamber Orchestra, the Minnesota Orchestra, and the Minnesota Dance Theatre are all highly regarded, and the various universities in the area stage various productions during the school year.
Dinkytown is the place to go for a cheap and funky night out, as long as classes are in session. The neighbourhood is dominated by students from the nearby University of Minnesota, and there are a few buzzing venues that draw big crowds, like the Loring Pasta Bar and the Varsity Theatre, which hosts indie bands, film screenings, and dance nights.
Uptown is the ultimate hip destination, however, with quirky clubs and music venues that create a unique atmosphere. While some come and go, there are established favourites like Famous Dave's BBQ, which hosts live blues music; and the Bryant Lake Bowl, which combines food and live music with bowling.
The Twin Cities are a major concert destination, with the biggest events happening in the Target Center and the Xcel Energy Center. Those arenas host everything from rock concerts to circuses to sporting events and rodeos.
Grab a free copy of The City Pages for the latest entertainment listings while you're in town.
For many tourists, shopping in the Twin Cities means one thing: the Mall of America. The largest mall in the US, it houses more than 500 stores under one roof, along with an aquarium, amusement park, and numerous restaurants, bars, and theaters. The 'Megamall' is a tourist attraction in itself but offers mostly chain stores with a few exceptions, including the Lake Wobegon USA store with its Prairie Home Companion merchandise; and Love From Minnesota, which stocks a range of Minnesota souvenirs.
The Twin Cities have a number of other major shopping centres, including Rosedale Centre in Roseville, Gaviidae Common on Nicollet Mall in downtown Minneapolis, and the upscale Galleria in Edina. Most offer the same varieties of chain stores. There are many other places to shop in Minneapolis and St Paul, however, with unique local flavour.
Minneapolis has several unique shopping districts, include Nicolett Mall, a pedestrian avenue in the downtown area with many upscale shops; the arty and multicultural Uptown district surrounding Lake Street; and the emerging Warehouse District near the iconic Target Centre. You'll find interesting vintage shops and used bookstores in the University of Minnesota-dominated Dinkytown neighbourhood. St Paul has its own vibrant neighbourhood in Grand Avenue, with dozens of quirky independent boutiques, cafes and markets. Minneapolis and St Paul each have their own bustling Farmers Markets on Saturday mornings, offering fresh produce and flowers alongside local arts and crafts.
Popular souvenirs from Minnesota include fashionable (and locally-made) Minnetonka Moccasins; Prairie Home Companion merchandise and books by Garrison Keillor; and sports memorabilia for the Twins (baseball), Vikings (American football), Timberwolves (basketball) and Wild (hockey). There are good bargains to be had on fashion, as Minnesota does not impose a sales tax on clothing.
Getting around on foot in the downtown areas of the massive metropolitan area of Minneapolis and St Paul is a fascinating experience on the famous skyways, a network of enclosed walkways that connect buildings in the city centre at second-storey level, ensuring no pedestrian needs to be exposed to bad weather. About 50 blocks of downtown Minneapolis are connected by skyways. When your feet are tired, hop on the bus: Metro Transit operates one of the largest public transport systems in the United States. Trip planners and route information are readily available in the city and from hotel concierges. The METRO Blue Line Light Rail Transit route links downtown to the airport and the Mall of America, and the Northstar Corridor route takes passengers as far north as Big Lake. The twin cities also have numerous taxi services, available on call or outside hotels and other public venues.
Sightseeing in Minneapolis and St Paul can feel like a treasure hunt, as it is a constant process of uncovering hidden gems and unknown delights. The Twin Cities area is full of natural beauty but also home to a vibrant artistic and cultural community, the biggest within a thousand-mile radius.
There are a number of museums that are suitable for the whole family, such as the Science Museum, the Mill City Museum and the Children's Museum. As numerous as the museums are the galleries. Minneapolis is a cultural centre of note, with two world-class art centres: The Minneapolis Institute of Arts and the Walker Art Centre. The Walker's famous sculpture garden is home to the Cherry Spoon Fountain, an iconic symbol of the Twin Cities. A newer addition to the art scene is the Frederick R. Weisman Art Museum, a modern steel-covered building designed by Frank Gehry at the University of Minnesota.
Minneapolis and St Paul have a number of interesting architectural sights as well, including the St Paul Cathedral and the immense St Mary's Basilica. There are a number of interesting mansions from the early 20th century in neighbourhoods like Summit Avenue, including the James J Hill House, which offers tours to the public.
The innumerable lakes in the Twin Cities offer their own attractions. Lake Harriet is a tranquil area with jogging and biking paths, a bandstand, and scenic views of the city. Lake Calhoun has its own small sandy beach, with opportunities for boating, waterskiing and jet skiing.
There is much to do in Minneapolis and St Paul, even in the harsh winter months. Minnesotans are passionate about winter sports, and there are many places for sledding, snowmobiling, ice fishing, cross-country skiing, and ice skating. Though the state is relatively flat, there are several good ski resorts within a few hours' drive of the Twin Cities, including Wild Mountain, Buck Hill, and Lutsen.