Freedom Trail
The two and a half mile (4km) Freedom Trail follows a line of red bricks, or a painted red line on the pavement, linking 16 historic sights associated with the early struggle for freedom from British control and the events leading up to the revolution.
Markers identify the stops and provide information from downtown to the North End to Charlestown and Bunker Hill Monument. Sights along the way include Paul Revere House, Boston's oldest surviving house that was home to the famous revolutionary.
The Old North Church is also nearby, where two lanterns were hung in the belfry to warn the revolutionaries of the British movements while Revere went on his famous horse ride to warn of imminent British attack.
The elegant Old State House was the seat of British colonial government and where the Declaration of Independence was read in 1776. There is a museum of Boston history inside. At the Old South Meeting House, Samuel Adams addressed the revolutionaries in the significant meeting prior to the Boston Tea Party, and a circle of cobblestones marks the site of the Boston Massacre.
In Charlestown, the USS Constitution, also known as 'Old Ironsides', is the oldest warship still afloat. Its name was earned after the sinking of the British frigate, HMS Guerriere, during the war of 1812. Bunker Hill Monument is the site of the first formal battle of the American Revolution, fought in 1775.
Also along the trail is the beautiful white steeple of Park Street Church, the site of several important anti-slavery speeches, and the Old Granary Burying Ground, where a number of revolutionaries are buried.
Add to that the Quincy Market and Faneuil Hall that once was the meeting place for revolutionaries as well as a bustling marketplace. Although a complete self-guided trail, the National Park Service also conducts free tours with guides in historic costumes that cover some of the trail's highlights.
Address:
The trail starts from the Visitor Information Center on Boston Common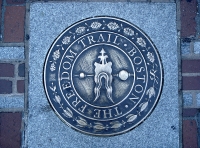 Freedom Trail dancingnomad3
Black Heritage Trail
Today Beacon Hill brings to mind images of affluence and luxurious living, yet until the end of the 19th century it contained a community of free blacks and escaped slaves from the southern states who owned businesses, built houses and schools, and worshipped together in the churches.
Although the black community has since shifted to other parts of Boston, the Black Heritage Trail covers 14 sites important in local black history. Massachusetts was the first state to abolish slavery in 1783.
Beginning at the Boston Common, there is a memorial to slave abolitionist Robert Shaw who led the first black regiment recruited during the Civil War. Various sites on Beacon Hill include homes of famous citizens, the city's first racially integrated public school with exhibits portraying the struggle for equal school rights, and a house that was part of the famous 'Underground Railroad' that sheltered runaway slaves from their pursuers.
The African Meeting House, part of the Museum of Afro-American History, is one of the most interesting stops on the trail. It was the first black church in the United States, known as 'Black Faneuil Hall' during the anti-slavery campaign.
Here, famous abolitionist speeches were made and black people were called to take up arms in the Civil War. There is an informative audiovisual presentation in the gallery. Although a self-guided trail with brochures and maps provided by the Museum of Afro-American History, park rangers also give free daily two-hour tours, which start at the National Park Service Visitor Center.
Address:
The trail starts from the Visitor Information Center on Boston Common or at the Museum of Afro-American History at 46 Joy Street, Beacon Hill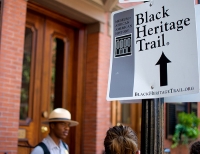 Black Heritage Trail Edgar
Boston Tea Party Ship and Museum
Moored to the bridge is the Beaver II, known as the Boston Tea Party Ship and Museum, and one of the three ships stormed by patriots in 1773 as an act of rebellion against British rule and in particular against the new tax laws imposed on tea.
A group of revolutionaries disguised as Mohawk Indians burst from the South Meeting House and boarded the ships that were loaded with tea. They emptied the crate contents into the harbour in an event known as the Boston Tea Party.
The Beaver II is an exact replica of the original Beaver I and visitors can learn about the event on board the ship. The museum has recently been renovated and improved, receiving rave reviews from visitors of all ages and recently voted 'Best Family Attraction in Boston'.
Address:
Congress Street Bridge
Transport:
South Station subway
Opening time:
Tours run between 10am and 5pm during peak season, with slightly reduced hours in winter.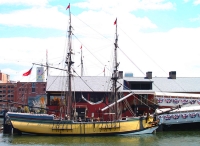 Boston Tea Party Ship and Museum Martyn Smith
MIT Museum
The MIT Museum is located in Cambridge, near the campus of the Massachusetts Institute of Technology, one of the most prestigious universities in the US. The relatively small museum houses technology-themed collections.
These include holograms, artificial intelligence, robotics, and maritime history, placing specific importance on MIT's contributions to the history of technology. Some of the most interesting exhibits are those of the MIT Hacks, elaborate pranks pulled by students each year. Don't miss the Arthur Ganson gallery of kinetic sculptures, which is also something special.
Address:
265 Massachusetts Avenue, Cambridge
Opening time:
Daily 10am to 5pm.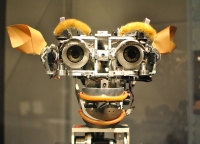 MIT Museum angela n.
Cambridge
Just across the Charles River from Boston, Cambridge is actually a city in its own right. But the two cities are so closely associated that many people believe them to be one and the same. Cambridge is home to two of the most prestigious centres for education in the country, Harvard University and the Massachusetts Institute of Technology.
It has a young and vibrant atmosphere due to the 30,000 university students from around the world that reside and study here.
The city centres on Harvard Square, a gathering spot that reflects the international culture of its learning community as well as the influence of its students, residents, and business owners. Surrounding the square and lining the streets that spread out from Harvard Square are dozens of bookstores and music shops, cafes, coffee houses, and restaurants.
Harvard Square, occupied on one side by the university, is a lively mixture of students and professors, buskers, evangelists, and political campaigners, and is a great place to have a cup of coffee, watch the activity, and soak up the atmosphere.
Transport:
The subway Red Line to Harvard Square from Boston Commons Park Street Station.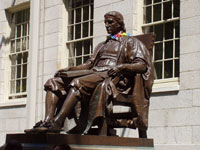 Statue of John Harvard, Harvard Yard Jessica Williams
Harvard University
Established in 1636, Harvard University is the oldest in the country and one of the most prestigious institutions of higher learning in the USA. It's famous for its brilliant faculties, which have produced economists, biologists, prize-winning poets, and famous graduates like President John F. Kennedy.
It is perhaps equally well-known for its famous dropouts, such as actor Matt Damon who left in second year to write the Oscar-winning film Good Will Hunting, and tech icon Bill Gates who left to start up a small software business, also dropping out in his second year.
The focal point of the university is Harvard Yard, a courtyard surrounded by ivy-covered colonial buildings from the 18th century until the present that was named for John Harvard, a graduate of Cambridge University in Britain, who died leaving the college half his estate and his entire library.
The shoe of John Harvard's statue is rubbed for good luck. Harvard also has some outstanding museums, including the Harvard Art Museums and the Museum of Natural History. The Fogg Art Museum is the most famous art museum.
The huge collection covers works from the European Renaissance period to the modern day, including works by Renoir, Monet, Van Gogh and Klee. The Bush-Reisinger and Arthur Sackler Museums are included in the same ticket while the Natural History Museum is renowned for its display of hand-blown glass flowers.
Transport:
The subway Red Line to Harvard Square from Boston Commons Park Street Station
Harvard University Roger W
Boston Public Garden
The first botanical garden in the United States, the Boston Public Garden provides a tranquil escape from the fast pace of the city centre. Maintained by the Boston Parks and Recreation Department and the Friends of the Public Garden, the botanical garden is a must-see on any exploration of Boston.
With more than 600 varieties of trees and colourful displays of well-ordered decorative flowers, visitors can go for a relaxing swan boat ride on the three acre lagoon, enjoy the attractive vista of the city's sardined skyscrapers through the trees, or take pleasure in the numerous public works of art that border the meandering paths. The gardens are a great stop for families wanting a break from sightseeing.
Address:
87 Mount Vernon Street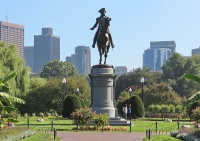 Boston Public Garden Robert Linsdell
Faneuil Hall Marketplace
A great Boston day trip and shopping destination, Faneuil Hill Marketplace offers superb shopping at some familiar designer stores, quality arts and crafts, as well as great restaurants and sidewalk cafés. Four places in one, Faneuil Hall Marketplace encompasses Faneuil Hall, Quincy Market, North Market and South Market.
Set around a cobblestone promenade, the market is a haven for the performing arts with jugglers, mimes, musicians, and magicians entertaining passers-by. Centrally located and operating for more than 250 years, the Faneuil Hill Marketplace is the hub of Boston city life. Drawing large crowds excited by the electric energy, visitors can shop, stroll, eat, and wander.
Address:
4 South Market Building
Transport:
Blue line to Aquarium/Faneuil Hall, green line to Government Center, or orange line to State Street
Opening time:
Monday to Thursday 10am - 7pm; Friday and Saturday 10am - 9pm; Sunday 12pm - 6pm.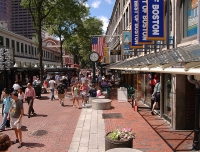 Faneuil Hall Marketplace 6SN7
Boston Museum of Fine Arts
An artwork in itself, the Museum of Fine Arts in Boston houses some of the most famous European paintings in the US. Boston's oldest, largest, and best-known art institution, the MFA's collection is one of the planet's most comprehensive, with something like 22,000 artworks including masterpieces by some of the finest artists in the world.
With a striking collection of Impressionist paintings by artists like Monet, Egyptian sculptures, and a moving exhibition of Japanese and other Asian artworks, visitors should make sure they have ample time to explore the exhibition rooms of the MFA.
Have a break and enjoy a coffee or lunch at one the three gallery restaurants or browse the outstanding museum bookstore and shop.
Address:
465 Huntington Avenue
Opening time:
Saturday to Tuesday 10am - 5pm; Wedensday to Friday 10am - 10pm.
Boston Museum of Fine Arts Bill Damon
Codzilla
Codzilla takes passengers on a high-speed cruise around Boston's harbour. People on board will scream in pure delight as the boat curves, spins, and rips through the harbour for 40 minutes, with music such as Bobby Darin and AC/DC blaring.
You'll be travelling at a heart-pumping 40 miles (70km) per hour. Reservations are recommended. Very young kids may be frightened, but generally the whole family will relish the thrill. Numerous other boat tours and cruises are available in Boston's harbour, with more sedate options for those who aren't keen on braving Codzilla.
Address:
Boston Harbour Cruises, Long Wharf
Transport:
Take the MBTA Blue Line to Aquarium Station.
Opening time:
Hours vary according to season, visit the website for current times.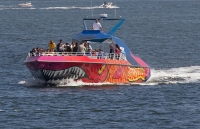 Codzilla Tony Hisgett
New England Aquarium
The New England Aquarium is home to Simons IMAX Theatre and the New England Aquarium Whale Watch, which runs from April through October. It features a plethora of some of the world's most amazing marine species, such as the impressive giant pacific octopus, sand tiger shark, green sea turtles, and North Atlantic Right whales.
It is an absolute must for children of all ages and any adult in love with the underwater world. The aquarium is a wonderful family attraction for a rainy day. Basic admission includes the aquarium, while the IMAX and Whale Watch charge additional fees.
Opening time:
Saturday to Thursday 9am to 6pm; Friday and Saturday 9am to 7pm. Hours are slightly reduced in winter.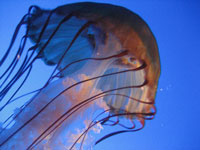 Jellyfish at New England Aquarium Smart Destinations
Fenway Park
The Boston Red Sox are a much-beloved part of life in New England. The 'Curse of the Bambino' and their infamous near 100-year losing streak only made their supporters more fanatical. Fenway Park is the oldest Major League Baseball stadium still in use, and has quirky features like The Triangle, Pesky's Pole, and the famous Green Monster left-field wall.
Visitors will notice a lone red seat in the right field bleachers, which is where Ted Williams hit the longest home run at Fenway, measuring 502 feet (153m). A baseball game at Fenway Park is a must for any summertime visit to Boston, hot dog, crackerjacks and all.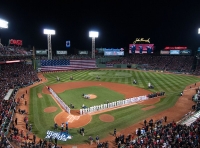 Fenway Park Rick Berry
Sam Adams Brewery
Visitors to Boston can take an informative tour of the Sam Adams Brewery and get a look at the brewing process for the popular beer. Named for the revolutionary war hero, the beer has been brewed in Boston since the 1980s. The tour showcases the entire process and allows visitors to taste the special malts used.
Tours depart roughly every 45 minutes and last about one hour, with a free glass included for visitors using the Go Boston Card. The brewery does not accept reservations, but they do recommend that visitors arrive fairly early in the day to avoid long waits, especially on Saturdays. All donations benefit local charities.
Address:
30 Germania Street
Opening time:
Monday to Thursday 10am - 3pm, Fridays 10am to 5.30pm, Saturdays 10am to 3pm, closed Sundays.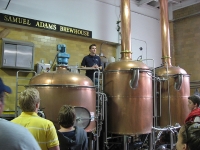 Sam Adams Brewery ep_jhu
Children on holiday in Boston will be enthused by the exciting attractions and activities that abound in this buzzing city. With museums, kids' theatres, parks, playgrounds and everything in between, deciding where to start will be the difficult part.
Of course, many of the city's most famous attractions are fun and educational for the whole family, but there are also many activities and attractions designed specifically for kids in Boston. Head to the stadium and watch a local Red Sox game at Fenway Park if you can, or for a more leisurely activity, enjoy seeing Boston by foot along the Freedom Trail.
Little ones would be better suited to the less exhausting option of the 'Boston by Little Feet' tour, giving kids the opportunity to enjoy the highlights of the Heritage Trail, come rain or shine. Activities like Monster Golf and indoor playgrounds like Jump On It are great options for those days when activities for kids out of doors are not an option.
In the evenings, why not take the kids out to see Shear Madness, a hilariously funny and constantly changing play where the whole family can be involved, along with the rest of the audience, in solving the mystery. With so much to see and do, parents will find Boston to be one of the most child-friendly and accommodating cities in the United States.
Boston has a continental climate with very changeable weather patterns such as wide temperature swings in a matter of days, and unseasonal snowfalls. Summers (June to August) are usually sunny, hot and humid, with temperatures in July hitting averages of 82°F (28°C).
Winters, by contrast, are bitterly cold, windy, wet and snowy, with temperatures in January averaging between 22°F (-6°C) and 35°F (2°C). Boston averages 42 inches (108cm) of snowfall annually, much of it deposited in northeasterly storms.
The best time to travel to Boston is in late spring or early autumn, when the weather is warm and pleasant. Autumn is particularly lovely when New England's trees wear their colourful fall foliage.
Due to its shared cultural roots with greater New England, the very freshest in local seafood dominates Boston's regional cuisine, along with a large emphasis on rum, salt and dairy products. Tourists eating out in Boston will want to try a cannoli before leaving, with some of the best found at Mike's Pastry and Modern Pastry.
Ideal for a takeaway lunch by the harbour or a quick bite to eat, Faneuil Hall still comes out tops with a fantastic cross-section of the city's cosmopolitan cuisine and manages to be a wonderful tourist attraction simultaneously.
The North End is a firm favourite with locals and features wonderfully intimate cafés, bakeries and eateries with enough gastronomic treats to get just about everybody's mouth-watering. Hanover Street offers many good restaurant choices.
The South End boasts some of the most elegant restaurants in Boston's dining scene, with bookings a priority. Most restaurants in Boston close by 10pm or 11pm; however, those looking for late-night dining can head to Chinatown, where some eateries stay open as late as 2am.
Pomodoro
A tiny, unpretentious Italian restaurant with hard working staff and authentic Italian cuisine, Pomodoro is one of those neighbourhood restaurants frequented by locals and foreigners who keep coming back for more. Situated in the Northend, Pomodoro serves a wide range of Italian cuisine from traditional linguine marinara with lots of garlic and fresh herbs to seafood wonders like tiger shrimp. The affordable prices and quality of food make up for the simple décor, with most patrons being mesmerised by the activity and aroma escaping from the open kitchen and the food on their plate. Reservation recommended. Open Tuesday to Sunday for lunch and dinner.
Address:
120 Salem Street
Mistral
Located in Boston's trendy South End, Mistral promises uncomplicated and stylish fine dining. This upmarket restaurant specialises in French cuisine, with an emphasis on fresh, seasonal ingredients. The chef, Jamie Mammano, is highly acclaimed in Boston and the restaurant has a lovely ambience. Reservations are recommended.
Address:
223 Columbus Avenue, Boston
The Capital Grille
The Capital Grille is an American steakhouse institution, serving up extremely high quality food in generous portions. Despite being a restaurant chain, The Capital Grille is an upmarket fine dining experience and a good option for special occasions. If you are visiting for a special celebration, mention it to them when you make a reservation as they really do go the extra distance. Although steak of all kinds is the speciality, there are also tantalising seafood and vegetarian options on the menu. The Capital Grille is open for lunch and supper Monday to Friday and supper only on Saturdays and Sundays. Reservations are recommended.
Address:
900 Boylston Street, Boston
Pho n Rice
The Boston area's eclectic heritage is best appreciated through its foods and nowhere better than at Pho 'n Rice. For the uninformed, pho is deceptively simple traditional Vietnamese soup consisting of light but strong broth and noodles, with pieces of meat and vegetable that continue to cook in the bowl. Pho 'n Rice has added great variations to the traditional meal along with some Thai-style dishes that promise to be light on the wallet and the waistline. They'll even deliver your dinner to you for a small extra charge.
Address:
289 Beacon Street, Somerville
Legal Sea Foods
Known for serving some of the best clam chowder in Boston, Legal Sea Foods offers a range of fresh local seafood and steaks. The large restaurant has three levels, and the top dining room and balcony offer stunning views of the harbour, and the staff is attentive and knowledgeable. Booking ahead is recommended, as there can be long queues at peak times.
Address:
270 Northern Avenue, Liberty Wharf
Durgin Park
'Your father and grandfather probably dined with us' says the advertising slogan for this Faneuil Hall market restaurant, which has been feeding the hearty appetites of locals for well over a century. Today, the restaurant is a tourist attraction simply because the cuisine it serves is still authentic old style New England. The food is unpretentious, honest and good, including favourites like clam chowder, fish chowder, fish cakes and beans, chicken pot pie, prime rib, roast turkey, cornbread, Indian pudding, and apple pie. Open daily for lunch and dinner.
Address:
340 Faneuil Hall Market Place
Atlantic Fish Company
Consistently ranked one of the top restaurants in Boston, the Atlantic Fish Company serves up local seafood like crab cakes, mussels, clam chowder, Atlantic cod, and lobster pot pie to hungry tourists and locals alike. The menu changes daily according to the day's catch. The dining room is built to resemble the interior of a classic cruising ship, and the outdoor patio. Atlantic Fish Company is open Sunday to Thursday from 11.30am-11pm, and Friday and Saturday from 11.30am-midnight. Reservations are recommended.
Address:
761 Boylston Street
Boston Logan International Airport
Location:
The airport is situated four miles (6km) northeast of Boston.
Time:
GMT -5 (GMT -4 from mid-March to first Sunday in November).
Transfer Between Terminals:
A free shuttle bus services the four terminals.
Getting to the city:
The Massachusetts Bay Transport Authority provides regular bus service for free, on the Silver Line, and a faster subway connection, on the Blue Line, to and from the city centre, costing about $2.65. Massport's free water transportation bus connects from all airport terminals to the Logan dock where private water taxis and public commuter boats are available to multiple destinations in the Boston Harbour.
Car Rental:
Car rental companies include Avis, Budget, Hertz and National.
Airport Taxis:
Taxis are available outside all terminals and a taxi from Logan International Airport to downtown Boston takes between 20 minutes and an hour, depending on traffic. Some companies offer shared vans that provide door-to-door services.
Fascilities:
There are ATMs and bureaux de change in all terminals. Other facilities include restaurants and bars, shops, duty-free shopping, children's entertainment, tourist information, and hotel reservations.
Parking
Parking at Boston Logan starts at $7 for an hour, $18 for two hours, and up to $26 per day. Weekly rates are charged at $182. The three parking lots closer to the terminal are more expensive if you stay more than a couple of hours, and all lots are serviced by a free shuttle to the terminals.
Boston Harborfest
The Boston Harborfest celebrates the nation's independence and the maritime and colonial heritage that is part of Boston's history. There are over 200 events, including re-enactments, concerts, historic walking tours, and parties, climaxing with the 4th of July orchestra and fireworks display over the Charles River. Main events include the Opening Ceremony, the Chowderfest and Children's Day. The festival is thought to be the largest celebration of patriotism in the country.
The 4th of July is no ordinary date in Boston. As one of the pivotal locations of the Revolutionary War, the city celebrates the American Independence Day like no other. The July 4th Boston Pops Fireworks Spectacular includes a performance by the Boston Pops Orchestra and one of the biggest fireworks displays in the US, as well as parades, festivals, and many other parties.
Venue:
Historic downtown and waterfront districts, and City Hall Plaza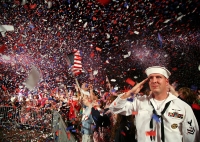 Boston Harborfest Gary Ward
Boston Marathon
The oldest marathon in the world and ranked as one of the most celebrated and popular road racing events, the marathon sees 20,000 runners take to the streets of Boston every year. Entry is by qualification: would-be runners must complete a certified marathon in a qualifying time determined by age and so qualifying is highly competitive.
After the terrorist attack at the Boston Marathon in 2013, in which two bombs exploded, killing three people and injuring about 264 others, security has been increased at the marathon and Boston is working hard to put a positive spin on the famous race despite the tragedy.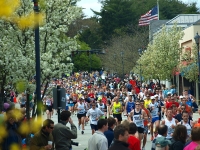 Boston Marathon Peter Farlow
First Night Boston
Said to be the oldest and largest New Year's Eve celebration in the country, First Night Boston features performances and entertainment at more than 40 indoor and outdoor venues throughout the city. Highlights include ice sculptures, glittering fireworks displays, and a Family Festival
As well as the First Night Grand Procession, there is a variety of theatre, dance, music, film, and storytelling on offer. Of course, First Night is also a big party and Boston becomes a kind of friendly winter wonderland with fireworks, street parties, live music, and performance art.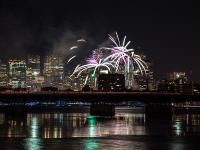 First Night fireworks Bill Damon
Surprisingly, considering the huge student population, Bostonians don't take their nightlife too seriously. Most clubs close by 2am and Massachusetts state law forbids smoking in all bars, nightclubs, and restaurants.
That said, Boston's entertainment and nightlife scene is still thriving with live bands, comedy acts, and shows taking centre stage in the Theater District. Contrary to popular belief, not everybody knows your name in Boston's bar scene, but a beer at the Cheers bar on 84 Beacon Street is a must for fans of the 80s TV show.
Don't be disappointed though if you don't find your friends here, they're probably hitting some of Boston's hipper nightspots. Boston's nightlife has a sophisticated edge, with a good dose of culture in the entertainment.
Popular spots to drink and mingle include venues like the Museum of Fine Arts, which often features live music, and a cash bar on summer evenings. Crowds of classy 20- to 30-somethings mingle and socialise in the galleries and museums while sipping on cocktails and wine.
Many Bostonians prefer to start off an evening with drinks in hotel lounges and bars, as patrons are able to chat more easily than in many clubs and bars. Once warmed up, the clubs are the place to be and Bostonians can party hard.
Pool and bowling are popular pastimes in Boston and visitors are spoilt for choice with the amount of bowling alleys and pool halls to choose from. Couple these activities with a few beers and you've got yourself a recipe for a more relaxed evening out.
Those looking for theatre or classical music will love the city. Both the renowned Boston Pops Orchestra and the Boston Symphony Orchestra have regular performances at Symphony Hall. The New England Conservatory is also nearby, offering top-notch student performances for no admission charge.
Boston's transport network consists of the country's oldest subway system, buses, trams, ferries around the harbour, and the commuter rail. For getting around the Boston-Cambridge area, the subway is the best as it's easy to use, fast, and safe.
It serves most of the city and on the whole visitors will have little use for the bus network, which is cheaper but more confusing for newcomers. Buses operate from 5am to 11.30pm and the subway until around 1am. A 'Night Owl' bus service has been introduced to provide transport along main bus routes and parallel to subway lines on Friday and Saturday nights until 2.30am.
Taxis are plentiful but expensive, with water taxis a novel way to explore the city. Licensed metre cabs park at cabstands, usually near hotels, but can also be reserved by phone. Boston is a motorist's nightmare and there's no need to rent a car while in the city, unless planning excursions.
An historical treasure trove, Boston is full of fascinating sites crucial to America's history. Following a line of mostly red bricks and linking 17 of Boston's top attractions, from Paul Revere's house and the statue of Benjamin Franklin to the Bunker Hill Monument and Boston Common, the Freedom Trail is a must for history buffs and anyone sightseeing in Boston.
Head to the New England Aquarium, featuring more than 70 exhibits with aquatic animals from around the world; marvel at the Bengal and white tigers at the Franklin Zoo; visit the Museum of Fine Arts; and get away from the buzz of the city by wandering through the first botanical garden in the United States, the Boston Public Garden.
After a long day of exploring the city, what could be better than appreciating Boston from a distance aboard a sunset cruise on one of the many boats that leave the harbour. Enjoy sipping on a glass of wine, a magnificently prepared seafood dinner and breathtaking views while the sun dips below the horizon.
Visitors keen on viewing a number of the city's greatest sights would be wise to get a Go Boston Card which grants travellers admission to more than 70 of the best activities, tours and attractions in Boston.