Mardi Gras World
If you're not able to visit New Orleans during its famous annual celebrations, don't worry. Mardi Gras World offers the festival experience all year long. The museum is actually the working studio of the foremost carnival float designer, Blaine Kern, for whom producing floats and props for the city's annual Mardi Gras is a fulltime job.
Visitors can watch Kern and his team design and construct the giant sculptures including everything from cartoon characters to mythological figures and creatures that they'll eventually parade through the streets. Tours are offered every half an hour, including a Mardi Gras costume display, a historical video and even a free slice of traditional Mardi Gras King Cake.
Address:
1380 Port of New Orleans Place
Transport:
A free shuttle is provided with ticket purchase, and has pick-ups at 20 convenient downtown locations.
Opening time:
Daily 9am-5.30pm.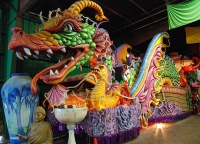 Mardi Gras World Paul Mannix
Louisiana State Museum
The Louisiana State Museum, affectionately called the Cabildo, is an entertaining and informative attraction in the city's vibrant French Quarter. The exhibitions explore the history of Louisiana from a multicultural perspective, from the first European explorations to the post-Civil War Reconstruction era.
The museum is the flagship of the Louisiana State Museum facilities and housed in the historic building of its namesake, dating back to 1799, originally serving as the Spanish city council offices. Two major historic events took place in the Cabildo building: the Louisiana Purchase Transfer ceremonies in 1803, and the landmark Supreme Court decision that legalised racial segregation. The Cabildo takes pride in the fact that five American presidents have visited it.
Address:
701 Chartres Street
Opening time:
Tuesday to Sunday 10am-4.30pm. Closed Mondays and state holidays.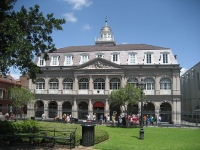 The Cabildo Infrogmation
The National WWII Museum
Founded in 2000 by historian and author Dr Stephen Ambrose, the unique D-Day National World War II Museum is as a highlight of any New Orleans sightseeing tour. Situated in New Orleans' Warehouse District, the museum depicts the June 6, 1944 invasion of Normandy, the Home Front during World War II, and the D-Day Invasions in the Pacific.
Exhibits include text panels, artefacts, and personal account stations where visitors can listen to the stories of war veterans. A panorama exhibit recreates a Normandy beach landing and there are also regular film shows. This is a modern, imaginatively curated museum which brings the war to life for visitors.
Address:
945 Magazine Street, New Orleans. Entrance on Andrew Higgins Drive
Opening time:
Open daily 9am-5pm. Closed Mardi Gras Day, Thanksgiving Day, Christmas Eve and Christmas Day.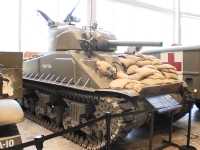 National World War II Museum Nolabob
Audubon Aquarium of the Americas
Situated on the banks of the Mississippi River is the New Orleans' state-of-the-art Audubon Aquarium, regarded as one of the best in America. Underwater tunnels allow visitors to marvel at a Caribbean Reef and a re-creation of the Gulf of Mexico, complete with sharks.
There's also a walkthrough Amazon rainforest and an exhibit displaying the inside story of swamp life. The aquarium features almost every type of aquatic creature imaginable, from jellyfish and sea horses to otters and penguins.
Audobon Aquarium's sister attractions, also run by the Audubon Institute, are the excellent New Orleans City Zoo, situated in Audubon Park further uptown, and the Audubon Insectarium, situated in the historic Custom House on Canal Street.
The zoo is a fun diversion for kids, and the insectarium, a more unusual attraction, is one of the largest freestanding insectariums in the US, housing more than 900,000 species.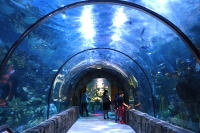 Audubon Aquarium of the Americas Gary J. Wood
French Quarter
Regarded as the heart and soul of New Orleans, the French Quarter is the historic part of town covering about 90 square blocks radiating out from Chartres Street and Jackson Square. Established in 178, the French Quarter is also known as the Vieux Carre.
Originally a French military outpost, which was later taken over by the Spanish, it gradually developed into a cultural hub incorporating slaves, pirates, mercenaries, call-girls and various freemen of every colour and creed.
Today, the area looks and feels much as it did before Hurricane Katrina, with its wrought-iron railings and tall doorways. There's a thrilling offering of nightclubs, bars, live music venues, Cajun-seafood restaurants and all sorts of shops.
By day it is one of the best people-watching spots in the world and is the focus for visitors to New Orleans. By night, areas such as the famous Bourbon Street become giant street parties, with a world-class dining districts backed by a soundtrack of jazz music.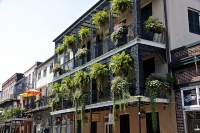 French Quarter Michael Bentley
Hurricane Katrina Tour
Since Hurricane Katrina decimated New Orleans in August 2005, its people have been rebuilding. The beautiful, vibrant city has largely recovered but remnants of the tragedy remain. In many ways, the memory of the hurricane has become integral to the city's identity.
Gray Line Tours offers a three-hour bus ride around some of the hardest hit areas in New Orleans, including Lakeview and Gentilly, and is aimed at gathering support to continue the rebuilding of the city. To respect the privacy of the locals, buses will not allow tourists off the bus to take pictures.
Instead, they will pass around pictures of the storm and its destruction, and guides will describe the events before and after the storm hit the city, as well as explaining the significance of the levee system.
Address:
Tours depart from Gray Line Lighthouse ticket office, Toulouse Street, French Quarter
Opening time:
Three-hour-long tours are conducted daily at 1pm.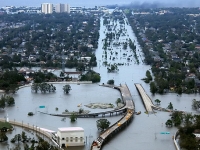 New Orleans flooding Public Domain
Preservation Hall
Historic Preservation Hall is New Orleans' most popular jazz venue, where Preservation Hall jazz bands serve up first-rate Dixieland Jazz every night in the French Quarter building, originally built as a residence in 1750. There are three performances a night, each lasting about 45 minutes.
No seating, food or drinks are available, but crowds of all ages flock here simply for the wonderful music. It's possible to get tickets at the door without booking in advance, but it's advisable to arrive about 30 minutes before the show to avoid long queues or disappointment when tickets sell out.
Address:
726 St Peter Street, French Quarter
Opening time:
Nightly showtimes are 8pm, 9pm and 10pm.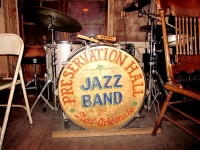 Preservation Hall Infrogmation
New Orleans Museum of Art
The New Orleans Museum of Art (NOMA) is a world-class facility. The permanent collection at the museum features over 40,000 objects, from the Italian Renaissance to the modern era, and is celebrated for its collection of both American and European works, including art by masters like Degas, Matisse, Rodin, Jackson Pollock, Monet, Renoir, Georgia O'Keeffe and Picasso.
The museum sits in the lovely City Park, surrounded by ancient oak trees and lagoons. There is also a small amusement park and Storyland, a charming fairytale playground, in the park to help amuse younger travellers.
One of the most impressive parts of the museum is the superb Sydney and Walda Besthoff Sculpture Garden. The Sculpture Garden provides a unique opportunity for visitors who treasure the arts, with a varied collection of modern and contemporary sculptures presented in an exquisite natural setting.
Address:
1 Collins Diboll Circle, City Park
Opening time:
Tuesday to Thursday 10am to 6pm; Friday 10am to 9pm; Saturday 10am to 5pm; Sunday 11am to 5pm; closed Mondays.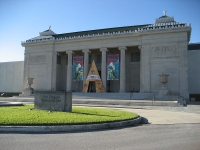 New Orleans Museum of Art Infrogmation
Louisiana Childrens Museum
The Louisiana Children's Museum offers kids a vast selection of exhibits, art activities and educational programmes to help make learning fun. The kid-sized Winn-Dixie grocery store is a favourite, as are the climbing wall and the giant bubble that kids can play in.
Eye to Eye has fun showing the workings of the human eye, and Art Trek features drawing, painting and sculpture lessons. The games and facilities change fairly often and the museum hosts regular events and activities to keep eager young minds captivated. A great option for a rainy day!
Address:
420 Julia Street
Opening time:
Tuesday to Saturday 9.30am to 4.30pm, Sunday 12pm to 4.30pm. Closed major holidays.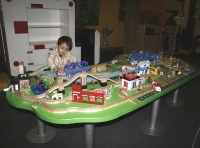 Children's Museum Samantha Chapnick
Mississippi River Boat Rides
The Mississippi River is really the primary reason New Orleans exists. It is the trade and transport artery which made the situation of the city such an asset over the centuries. New Orleans is therefore a great place to take a boat ride, whether it's simply a fun paddle boat excursion with the kids, or a historic riverboat tour.
The Natchez steamboat traverses this great river and passes many of the city's historical sites, while the John James Audubon ferries passengers between the Aquarium of the Americas and the Audubon Zoo. There are also a number of Louisiana swamp tours which are fun for the whole family. You can't visit New Orleans without experiencing the Mississippi!
Address:
Many boats dock near the foot of Canal Street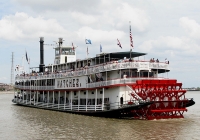 Steamboat Natchez baldeaglebluff
With its reputation for indulgent street parties and voodoo, parents might think twice about a family holiday in New Orleans. But the city should actually delight children and it's quite possible to avoid the more adult forms of entertainment while still experiencing the best of the city.
Kids are welcome at New Orleans' institutions like Preservation Hall and children of all ages delight in the fancy dress and parades of the many festivals. The city also has fantastic attractions tailored to children on holiday, including fun parks, aquariums, and museums.
The little ones love to visit the Audubon Aquarium as well as the creatures at the Audubon Insectarium. While adults take in the exhibitions at the New Orleans Museum of Art, kids can play at nearby Storyland and the Carousel Gardens Amusement Park.
Another popular destination is the Louisiana Children's Museum while children also adore going on boat rides up and down the Mississippi River or out into the bayous and Louisiana swamps.
New Orleans has a humid subtropical climate with very hot and humid summers and mild, short-lived winters. Summers in New Orleans are relatively long with high temperatures hovering around 90°F (32°C) from May to September.
In winter, from December to February, temperatures average between 44°F (7°C) and a comfortable 62°F (17°C). New Orleans experiences high annual rainfall, most of it falling in mid-late summer, often as a spin-off from tropical storms.
Heavy rain during the June to September Gulf Coast hurricane season has occasionally caused flooding in the city. Snow and ice are rarities in New Orleans, but there have been incidences of light snowfall causing a 'White Christmas'.
Known for its use of Cajun pepper, tropical fruits, and spices, dining out in New Orleans is an exciting sensory experience. Creole cuisine is a melting pot, incorporating French, Spanish, Mediterranean, Caribbean and African flavours, as well as hearty comfort food from the Deep South.
Travellers will find the world-famous French Quarter, mostly geared towards tourists and this is where just about any and every kind of Creole restaurant is found, particularly on the famous Bourbon Street. Restaurants serve mouth-watering arrays of jambalaya, red beans and rice, gumbo and Cajun crawfish, amongst other local favourites.
Those with a sweet tooth are in for a treat in New Orleans, where the desserts are as sticky as they come. Favourites include pecan pie, while pralines and Bananas Foster are staples on most restaurant menus.
Don't forget an order of deep-fried beignets with your coffee. Nor should you miss the cocktail menus in New Orleans, particularly as they sport the trademark, notorious cocktail called the 'Hurricane'.
New Orleans has its own special take on the sandwich, which comes in two varieties. Po'boys, served on a round French loaf and packed to the rafters with beef, oysters, shrimp, gravy and all the trimmings. Muffalettas are huge Italian loaves stuffed with cold meats and olive salad.
Arnauds
A classic old restaurant in New Orleans, grand Arnaud's offers a taste of history along with its ambitious menu. Arnaud's glitters with chandeliers, leaded windows and a mosaic floor, all look over by a portrait of the founder, Count Arnaud Cazenave. The eatery consists of 13 buildings in the French Quarter, including a brasserie, bistro, grill bar and banqueting halls. The main restaurant requires formal attire as one needs to look their best when sampling its celebrated fish dishes, as well as traditional favourites like filet mignon. Open daily for and brunch on Sundays.
Address:
813 Bienville Street, French Quarter
Galatoires
An institution on Bourbon Street, Galatoire's has been serving up French-Creole specialities since 1905 and still uses many of the original recipes. Starched white linen and shiny crystal set the tone in this establishment where tradition reigns and New Orleans fine dining shows off. Locals and visitors return again and again, usually to enjoy the fresh local seafood. Galatoire's requires business casual dress for lunch, and jackets for men starting at 5pm. No shorts or t-shirts. Open Tuesday to Saturday for lunch and dinner.
Address:
209 Bourbon Street, French Quarter
Steamboat Natchez
The sounds of jazz music and the beautiful skyline of downtown New Orleans provide a wonderful backdrop for a moonlight dinner cruise. Upon the mighty Mississippi River, diners sit aboard the Steamboat Natchez. The cost of the two hour cruise includes a traditional southern buffet dinner. A Sunday brunch option at 11am is also available, with a mouth-watering buffet menu. Cruises depart from the Toulouse Street Wharf, opposite Jackson Square in the heart of the French Quarter.
Address:
600 Decatur Street, Suite 308
Herbsaint
Along the historic Saint Charles Avenue, Herbsaint respects its location's culinary history. The name gives a clue to the seasoning of this French and Louisianian blend of fine dining, along with more rural and rustic aspects of Italian cooking. An esteemed, award-winning chef and menu of classic dishes betray the restaurants' casual atmosphere, and an extensive French wine selection puts a classy spin on the delicious gumbo dishes. Reservations are advisable.
Address:
701 St. Charles Avenue
Parkway Bakery and Tavern
Founded in 1911, Parkway Bakery and Tavern is an institution with more than a century of New Orleans pedigree. It's not fine dining, it's better. The po'boy is a New Orleans classic fried sandwhich packed with so many ingredients it's better to try one than read about it. Parkway is the best and oldest place to grab a po'boy mouthful, and the shrimp and beef options have been voted the top po'boys in New Orleans. Parkway also doubles as a fun place to grab a beer. Note that Parkway is closed on Tuesdays.
Address:
538 Hagan Avenue
Casamentos
An institution nearing its centenary year, Casamento's is one of the many jewels in the Big Easy's culinary crown. Much like the menu's delicious oysters, the rugged exterior of the restaurant betrays just how great this oyster bar really is. One of the oldest oyster bars in town, Casamento's serves them every-which-way, although the best way is to line up a big serving of fresh ones on the counter. Cheap prices and reliably tasty shellfish make it a favourite for locals. The restaurant is closed Mondays, Tuesdays, and Wednesdays, as well as in June, July, and August.
Address:
4330 Magazine St.
Mulates
Mulate's is the original Cajun restaurant, featuring authentic Cajun cuisine that embraces the small town cultures dotted along southern Louisiana's bayous. Be sure to try the Zydeco Gumbo and don't miss the homemade bread pudding. Live Cajun music and dancing each night attracts many New Orleans visitors. Even Bob Dylan stopped by when he was in town. This restaurant and bar is open for lunch and till late at night. While not required, prospective diners should make reservations.
Address:
201 Julia Street
Ralphs on the Park
Ralph's on the Park offers food fresh from the farms and waters of Louisiana, with a side helping of splendid City Park views. Their shrimp rémoulade is a favourite, creamy and not a bit spicy, and the filet mignon brings mutterings of 'buttery, so buttery…' to mind. The chocolate Kahlúa mousse or Creole cream cheese ice cream on peach cobbler wraps things up nicely. Ralph's is open for dinners and Sunday brunch.
Address:
900 City Park Ave
Louis Armstrong New Orleans International Airport
Location:
The airport is situated 11 miles (19km) west of downtown New Orleans.
Time:
GMT -6 (GMT -5 from mid-March to the first Sunday in November).
Getting to the city:
The Airport-Downtown Express (E-2) stop is on the second level of the airport. The Airport Shuttle offers a service to and from the hotels throughout the Metropolitan area. The Airport Shuttle ticket booths are located in the baggage claim area on the lower level.
Car Rental:
Numerous car rental companies are represented at the airport, including Alamo, Avis, Budget, Enterprise, Hertz, National, Dollar, Payless and Thrifty.
Airport Taxis:
There are taxis available on the lower level outside the baggage claim zone.
Fascilities:
Banks and business centres offer foreign money exchange, ATMs and a host of other banking and business services. Internet access is available, as well as duty-free shopping, gift shops, a post office, advance baggage check-in and a visitor information service. Facilities for the disabled are good. There are a number of restaurants in the terminal and concourses. Smoking is prohibited in the main terminal building; however, there are designated smoking locations on the upper and lower ramps outside the terminal.
Parking
Short-term parking at Louis Armstrong International Airport starts at $2 for the first hour and $2 for every half hour thereafter up to a daily limit of $18.50. Long-term parking charges are similar, but with a daily maximum of $15. A third, ticketless 'credit card lot' charges $11 per 24 hours. All vehicles are subject to a search before parking.
New Orleans is a city of music and rhythm, most famous for jazz, Cajun and zydeco music, and its nightlife reflects this with enthusiasm. Publications like Gambit, Offbeat and WhereY'at, as well as local radio stations, are useful for discovering upcoming gigs and events.
There are countless bars along Bourbon Street, and the party invariably pours out onto the sidewalks. While most places have a cover charge, it's not always necessary to actually go inside! Some of the best clubs and bars are in the neighbourhoods of the French Quarter and Faubourg Marigny.
Preservation Hall is a must for jazz fans, while Maple Leaf Bar is another popular spot for live music. Molly's is said to be the best bar in the French Quarter and Napoleon House offers a fantastic Pimm's Cup Cocktail. Nightclubs come and go but the best nightlife districts are lively and fun almost every night of the year.
When in New Orleans, the vintage electric rail vehicles or 'streetcars' are the way to go. With various lines crossing the city, most destinations are accessible by these trams.
The Jazzy Pass allows unlimited rides on buses and streetcars. The Canal Street Ferry takes passengers across to the suburb of Algiers, offering fine views of the city skyline. Walking, cycling, taxis and rental cars are some of the other options, with many tourist areas, like the French Quarter, being most enjoyable on foot.
Home to one of the world's largest street parties, New Orleans isn't short on attractions and the place to start is without a doubt the world-renowned French Quarter. Take a stroll along the legendary Bourbon Street to lap up the sights, sounds and smells of the Big Easy.
To gain more perspective into the city's history, visiting D-Day National World War II Museum is a number one destinations. The New Orleans Voodoo Museum shows off the city's underbelly while tourists can marvel at Mardi Gras floats at Mardi Gras World.
The city has many marvellous parks, not least of all the City Park which is ideal for a picnic and bring a book for a bit of fresh air and relaxation. Areas of the city are navigable on bike, with a favourite route taking riders through Garden District, a suburb favoured by several celebrities.
If one is a sports fan, they should see if there are any football games on at the Mercedes-Benz Superdome. Regardless, it's worth checking out anyway as its 680 ft (210m) diameter makes it one of the largest dome structures in the world.
Visitors will do well to purchase the New Orleans Power Pass. Available in one, two, three or five consecutive day options and includes discounted admission to about 27 of New Orleans' top attractions, offering cheaper admission and the opportunity to skip the queue at many locations.
Jean Lafitte National Historical Park and Preserve
Jean Lafitte National Historical Park and Preserve is a great place to experience bayou life in Louisiana. The park, named after the notorious early-19th century pirate, consists of six physically separate sites and a park headquarters.
These include the Acadian Cultural Center in Lafayette, the Prairie Acadian Cultural Center in Eunice, the Wetlands Acadian Cultural Center in Thibodaux, the Barataria Preserve in Marrero, the Chalmette Battlefield and National Cemetery in Chalmetter, and the French Quarter Visitor Center in New Orleans.
The park offers a variety of activities, including bayou cruises from the Acadian Cultural Center, birdwatching and swamp walks in Barataria Preserve, and paddlewheel boat trips from New Orleans to the historic Chalmette Battlefield sites.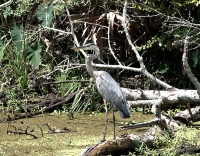 Jean Lafitte National Historical Park and Preserve Gary J. Wood
Grand Isle
A great weekend getaway from New Orleans, Grand Isle is a popular holiday town located on an island in the Gulf of Mexico. Formerly a busy port of call for notorious pirates like Jean Lafitte, Grand Isle is now a peaceful haven for relaxation, fishing and birdwatching, revelling in its reputation for being a sportsperson's paradise.
Grand Isle State Park is home to one of the top winter beaches in the US, and there is a small town nearby with a few restaurants and self-catering accommodation. Grand Isle comes alive each year for the Grand Isle Tarpon Rodeo, a salt-water fishing rodeo that draws some 15,000 people annually. Another popular event is the Grand Isle Migratory Bird Festival, held each spring.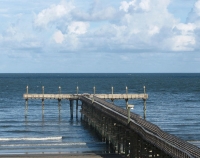 Grand Isle State Park Rebecca Milby
Avery Island
Avery Island is located on an eight-mile (13km) deep salt dome located in Iberia Parish, 137 miles (220km) west of New Orleans. A rock salt mine opened on the island during the American Civil War, producing enormous amounts of salt for the Confederacy.
Known as the birthplace of Tabasco Sauce, Avery Island is still home to the Tabasco Pepper Sauce Factory, which offers tours to the public. The island also contains the Jungle Gardens wildlife refuge, home to alligators, deer and raccoons, and Bird City, a pond with specially-built piers for viewing snowy egrets, among other birds.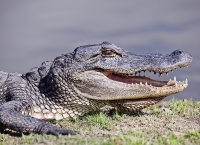 Avery Island Brad Kebodeaux